Discover the culinary treasures of Baja California in our comprehensive guide to the best Cabo restaurants. From local delights to luxury dining, here are the vibrant flavors of Cabo San Lucas.
Cabo San Lucas, a renowned resort city on Mexico's Baja California peninsula, is celebrated for its diverse culinary scene. It's known particularly for its Mexican cuisine, with dishes like enchiladas, tacos, and tamales prevalent in many local eateries.
The city's coastal location ensures a bounty of fresh seafood, including marlin, shrimp, and lobster, often prepared in traditional ceviche or grilled. Additionally, the influence of the Baja Med cuisine is significant, merging Mexican, Mediterranean, and Asian flavors.
Also, Cabo's coastal location contributes to the unique Baja-style fish tacos, a must-try street food that's become synonymous with the region. Cabo restaurants range from unpretentious street food stalls to opulent fine dining establishments.
On the one end, there are taquerias and seafood shacks where one can enjoy simple, authentically prepared dishes, often using age-old recipes passed down through generations.
At mid-range eateries, you can find a balance of traditional Mexican fare and international cuisine, often served in a relaxed, family-friendly atmosphere.
On the other end of the spectrum, the city boasts several upscale restaurants, many located within luxury resorts or boasting cliffside views of the sea.
These establishments often employ internationally renowned chefs, offering innovative menus that fuse Mexican culinary traditions with global influences.
Plan your trip to Mexico with us! Get expert travel advice and customized trip-planning itinerary from our local experts on the ground.
🗺️ Best Cabo Restaurants Map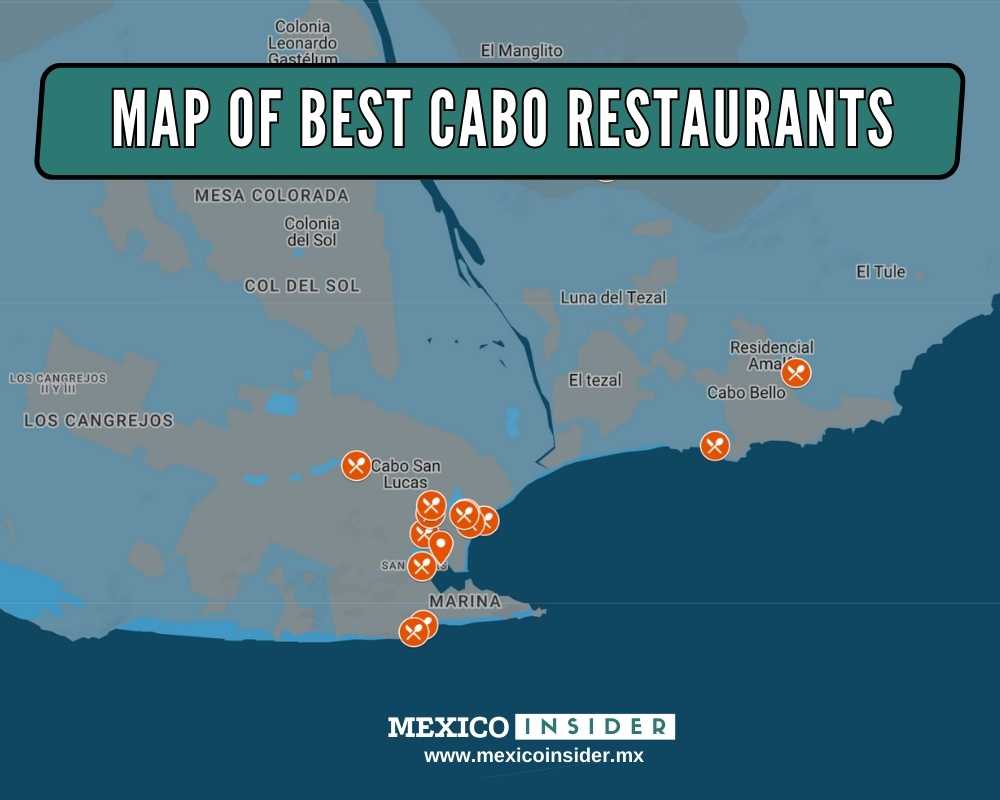 🌟 Editor's choice: must-visit Cabo restaurants
Manta at The Cape
📍Carretera Federal 1 Km. 5 Misiones Del
💲from $6 USD

Manta at the Cape is considered the culinary centerpiece of The Cape, a Thompson Hotel in Cabo San Lucas. It is led by a renowned Mexican Chef, Enrique Olvera, that specializes in serving excellent seafood dishes.
This intimate and elegant restaurant space is perfect for special occasions, featuring a dramatic exhibition kitchen and a selection of beverages.
At Manta at the Cape, they have a tasting menu which is highly recommended you get when dining here.
This way, you can try a wide range of menu options and combine them with wine pairing for a complete experience.
If you decide to get an a la carte dish, you can always order their bluefin tuna sashimi and fish a la talla.
Their 5-course tasting menu starts at $158 USD per person. Meanwhile, other menu items range between $6 USD to $32 USD.
Torote
📍Demasías de San Cristóbal, Lomas Altas
💲from $1 USD
Torote is a famous Mexican restaurant that serves brunch food made of farm-to-table ingredients. This place is excellent for outdoor dining as the area is situated on an open space offering a scenic view of the city from above a hill.
Torote is considered one of the city's best, showcasing the finest local flavors with some twists prepared by a renowned chef.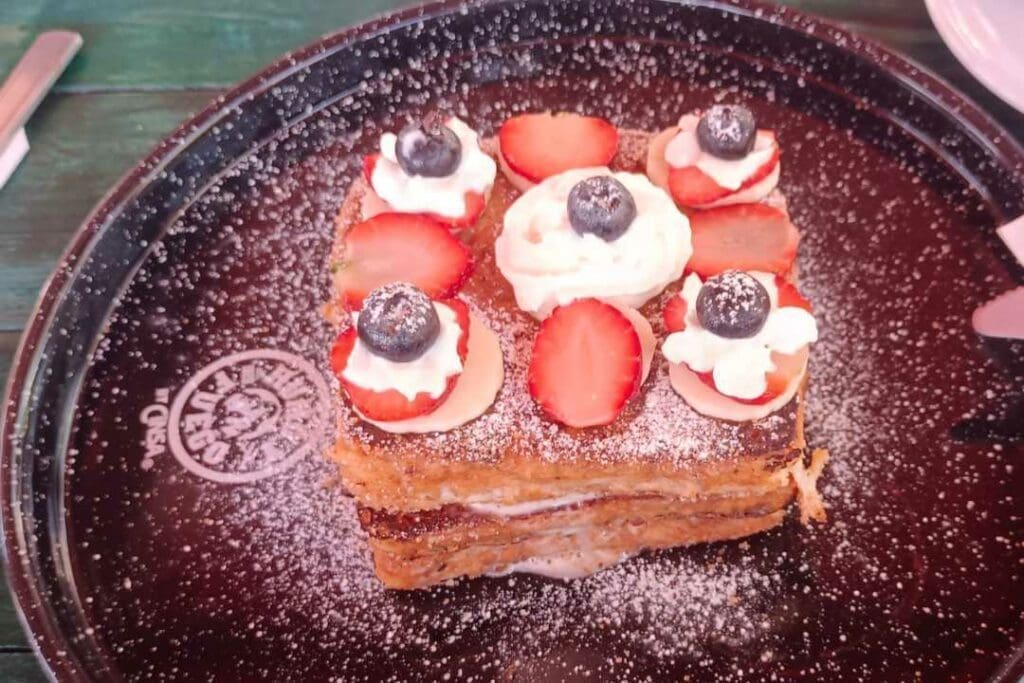 One of Torote's best-selling menus is the Milanese and chilaquiles. Everything is served in huge portions, even enough to share between two persons.
Another must-try dish (especially for breakfast) is their french-toast. All these you can pair with a glass of fresh juice or coffee.
For a full-on Sunday Brunch course experience, you must pay at least $84 USD per head. Other food and items cost $4 USD and more, while drinks can be as cheap as $1 USD for a bottle of soda.
Rodizio Grill
📍C. Niños Heroes, Downtown, Ildefonso Green
💲from $9 USD
Rodizio Grill is a Brazilian steak house offering a buffet and a la carte dishes. The atmosphere here is more of a rustic and modern vibe, with wooden furnishings and dark monochromatic tones surrounding the area. You should book ahead of time here if you want to get good tables.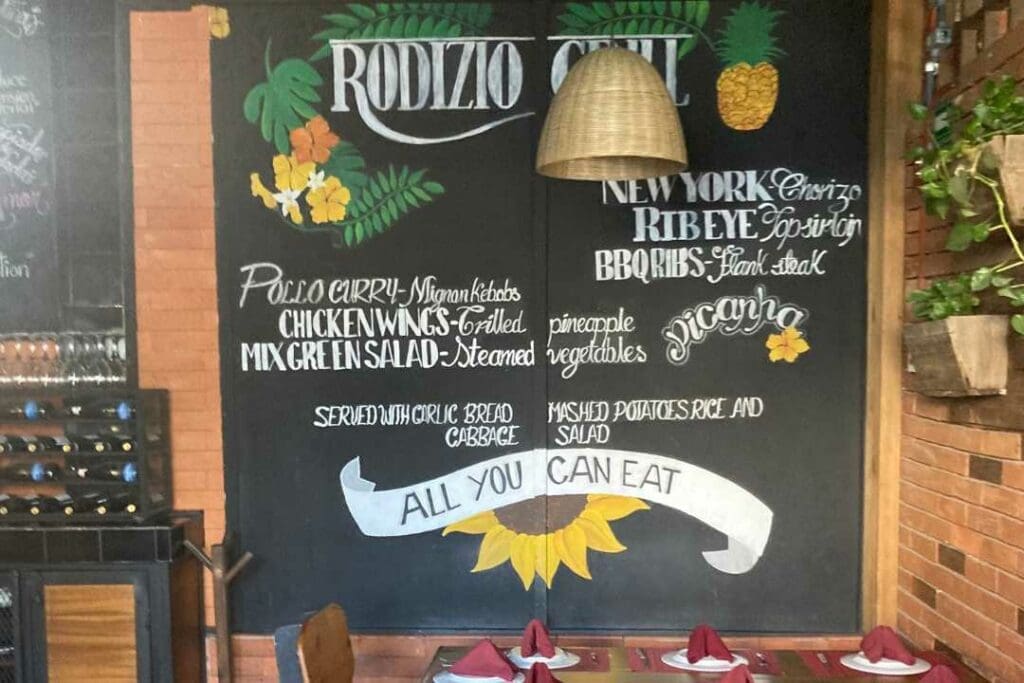 Their all-you-can-eat meat promo includes Brazilian-style beef, steaks, and chicken, as well as side dishes such as mashed potato and rice. And with their long list of wine selections, you should also order a glass or two to pair with your food.
You'll need to pay $35 USD per person for the all-you-can-eat meat. Meanwhile, their drinks can vary between $9 USD to $30 USD per glass.
Toro Latin Kitchen
📍Carretera Transpeninsular Km 6.5 Punta, Ballen
💲from $13 USD
Toro Latin Kitchen is considered one of the most outstanding gastronomic Cabo restaurants for its excellent Nuevo Latin food and its location and atmosphere.
Housed inside a spacious property, this restaurant has several options, including indoor seating, a patio, and a garden near the property's fountain.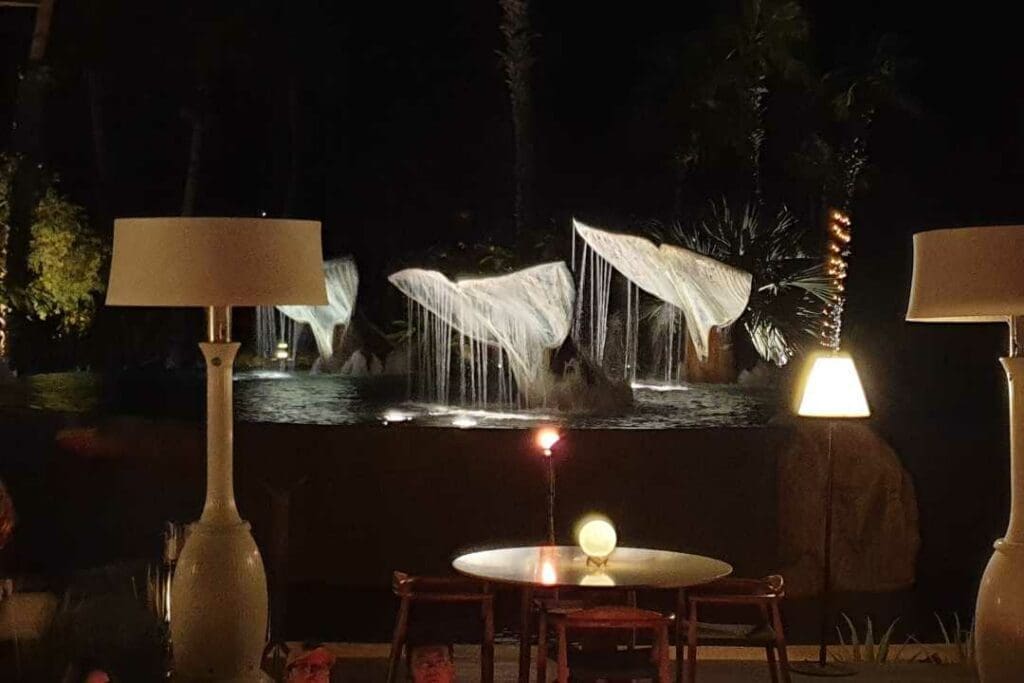 The food presentation at Toro Latin Kitchen is intricately studied to serve them in good plating.
Meanwhile, among many dishes on the menu, one of their best-sellers is the short rib tacos. Another dish that you should give a try is the yellow ceviche.
Do not miss getting a glass of cocktails or tequila to cap off your food experience!
The food here can be pretty expensive, ranging between $13 USD to $70 USD. You can always pay with your card, if not cash, here at Toro Latin Kitchen.
Animalon by the Sea
📍K Dock, Centro, 23450 Cabo San Lucas
💲from $96 USD
Animalon by the Sea offers a different kind of dining experience when in the city. You'll not only enjoy food created by a renowned Mexican chef but also get to see a great view of the Cabo Arch.
The restaurant is on a big yacht, which is big enough to accommodate several tables, a bar, and a second-floor patio for more seating capacity.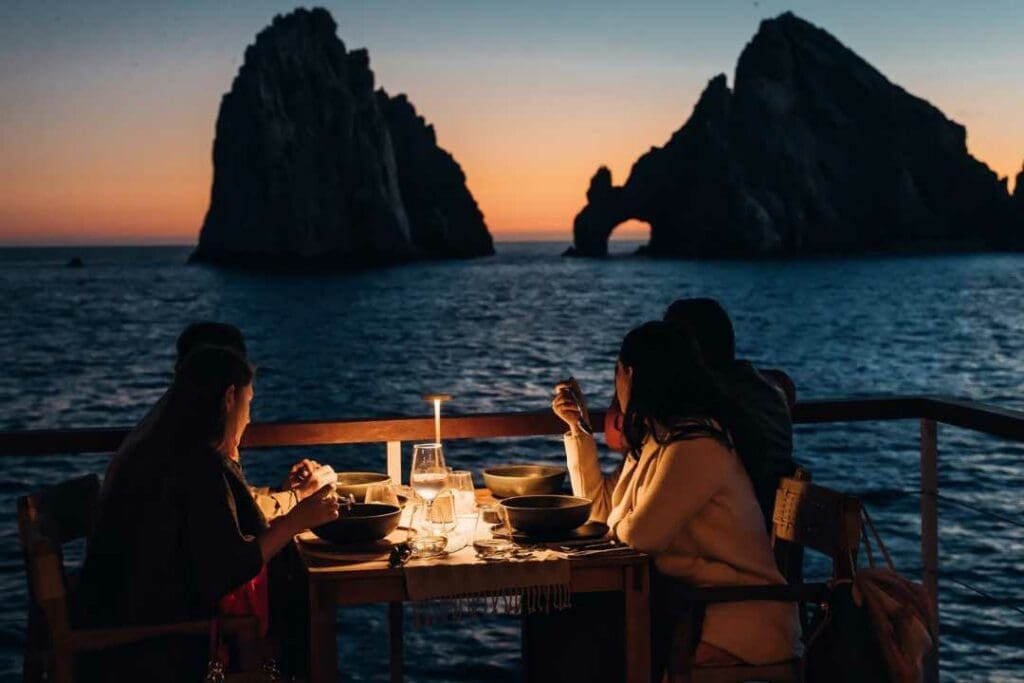 You will get different menu items for a 5-course seasonal menu depending on what the Chef prepares. This can vary from seafood to meat courses equipped with fresh ingredients.
It is also highly suggested that you avail some sunset drinks to enjoy the experience at the yacht's top deck lounge.
The course menu costs $160 USD per head, while the sunset drinks (unlimited) cost $96 USD per head. You can pay these in advance as you book a ticket online.
Don Manuel's
📍Cam. del Mar 1, Pedregal, 23455 Cabo San Lucas
💲from $8 USD

Don Manuel's is an in-house restaurant at a beach resort in Cabo. The atmosphere here is lively and chill, with several Mexican and tropical elements surrounding the beachside restaurant, which is excellent for chill and romantic dinner dates.
This has been a go-to place for many locals and visitors, making it one of the best Cabo restaurants.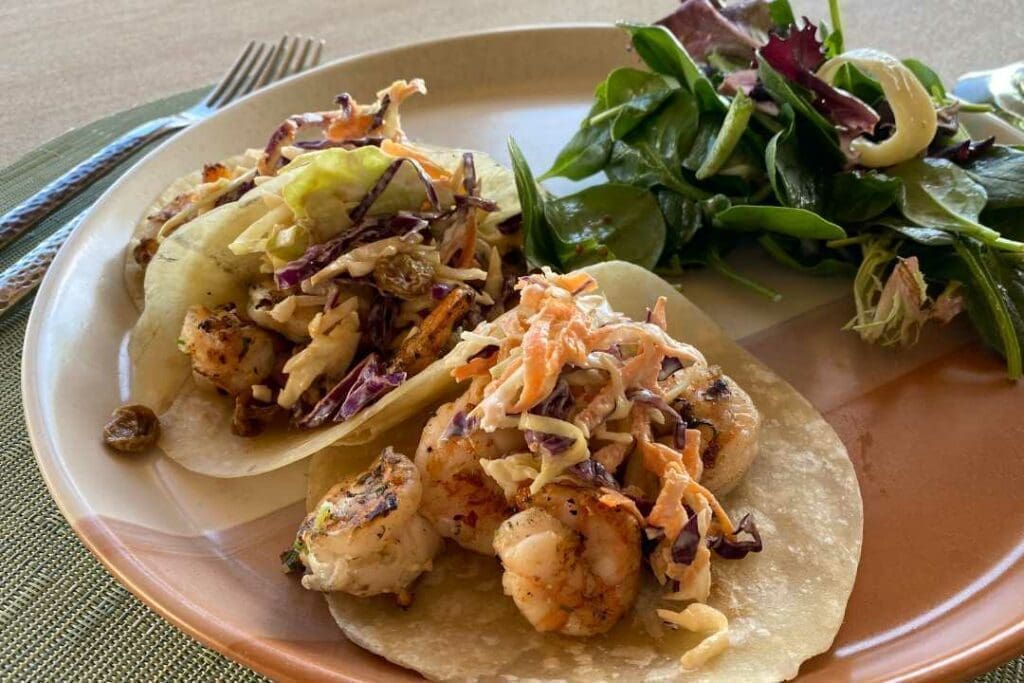 Some of Don Manuel's best-selling dishes are the rib-eye steak and the mac and cheese with Black Truffle.
If you're visiting during lunch, you can always get a lighter meal like the mushroom burger or fish & shrimp tacos.
The price range of food and drinks here is on the expensive side. A meal here costs $10 USD, while drinks start at $8 USD.
Los Tres Gallos
📍Leona Vicario esquina 20 de Noviembre S/N, Centro
💲from $7 USD
If you want to enjoy a dining experience while experiencing how it will look like during a Mexican festival, you should consider eating at Los Tres Gallos.
This is a local Mexican restaurant decorated with colorful bandiritas and parasols. Expect the vibe during lunch to be relaxed and chill, but at night it turns into a lively space with a mariachi band playing inside.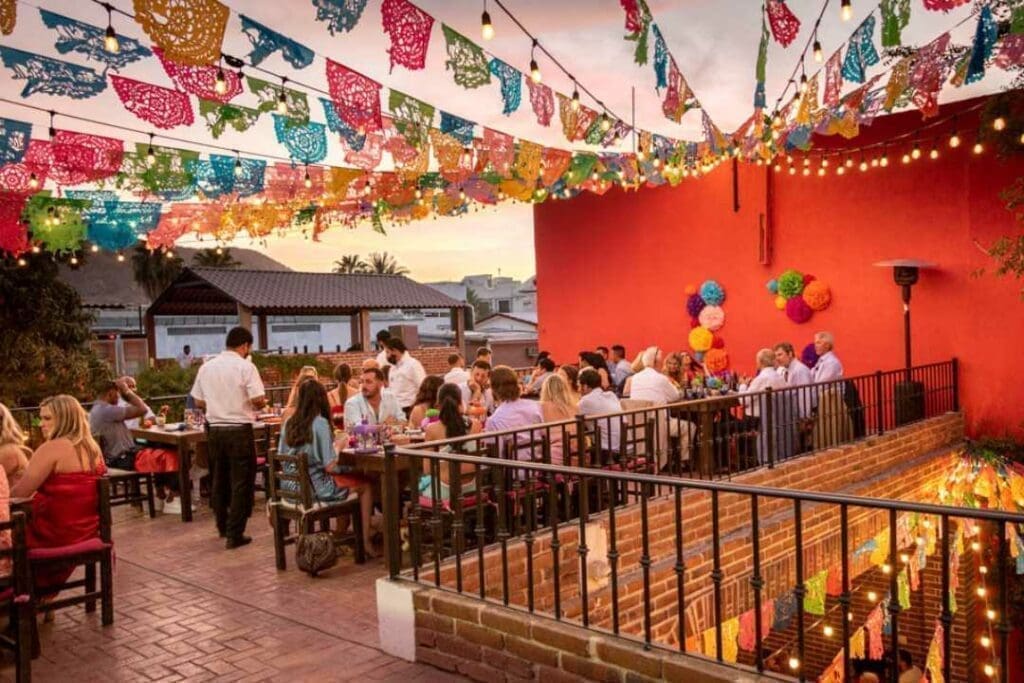 You can start your meal with their best-selling trio tacos (shrimp, scallops, and lobster). And then, for your main meal, try the Chile Relleno or Enchiladas Verdes.
Get their famous chocolate churro or a fishbowl margarita to enjoy something sweet!
Prices at Tres Gallos ranges between $7 USD to $25 USD. They also accept cash and card as a form of payment.
El Farallon
📍Cam. del Mar 1, Pedregal, 23455 Cabo San Lucas
💲from $7 USD
El Farallon is a high-end seafood restaurant mostly known for its prime location, beneath a cliff, and beside the beach.
They offer various indoor and outdoor seating options, including a patio set-up and a beach seating area. All these are recommended to be reserved and booked in advance to avoid waiting in line.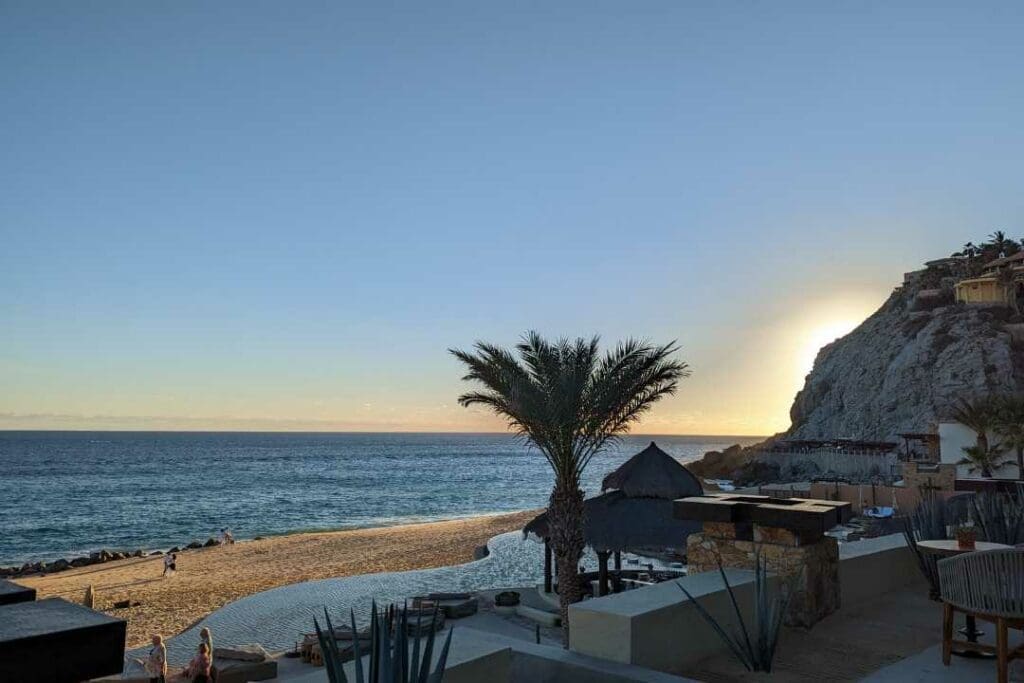 When dining here, it is highly suggested that you already have their four-course dinner meal.
You should try their best-selling bluefin tuna and grilled steak for single meals.
Their menu can range from $7 USD to $60 USD. Meanwhile, the meal course starts at $150 USD, depending on what will be served during your preferred dining time.
Funky Geisha
📍Acuario, Playa El Medano, Zona Hotelera Lote 2
💲from $10 USD
Funky Geisha is considered one of best Asian restaurants in Cabo. The atmosphere here brings you to a tropical zone, seeing lots of wooden furnishings inside, sand tables with boho chic rattan lanterns, and pillows on the outdoor seating. If you want to experience having dinner on the beach, make sure to book ahead of time online.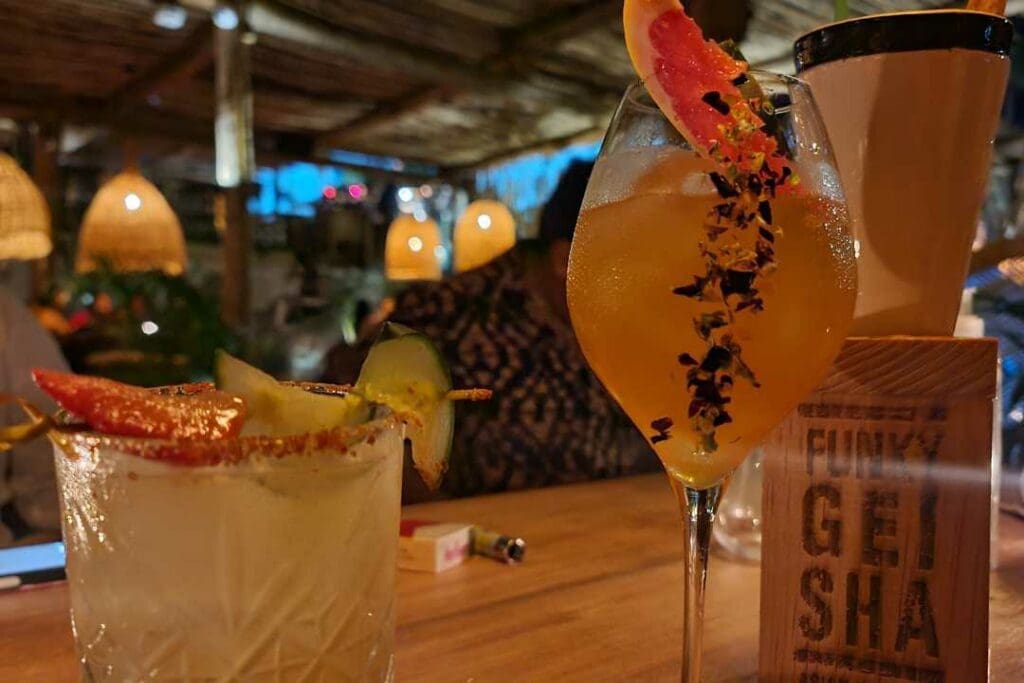 One of their best-selling dishes is the Mongolian beef bowl. Another favorite item on the menu is the lamb chops and sushi. All these you can pair with a great glass of wine or cocktail of your choice.
Compared to other Asian restaurants in the city, the food here is expensive. Drinks start at $10 USD, while their food menu starts at $15 USD.
Chamuyo
📍Pescador s/n, El Medano Ejidal, 23453 Cabo San Lucas
💲from $7 USD
Chamuyo is an intimate restaurant that lets you experience what it's like to dine in a typical Argentine neighborhood.
The place is relaxed and casual, with available indoor and outdoor seating. Just make sure you book a reservation on time to get good seats.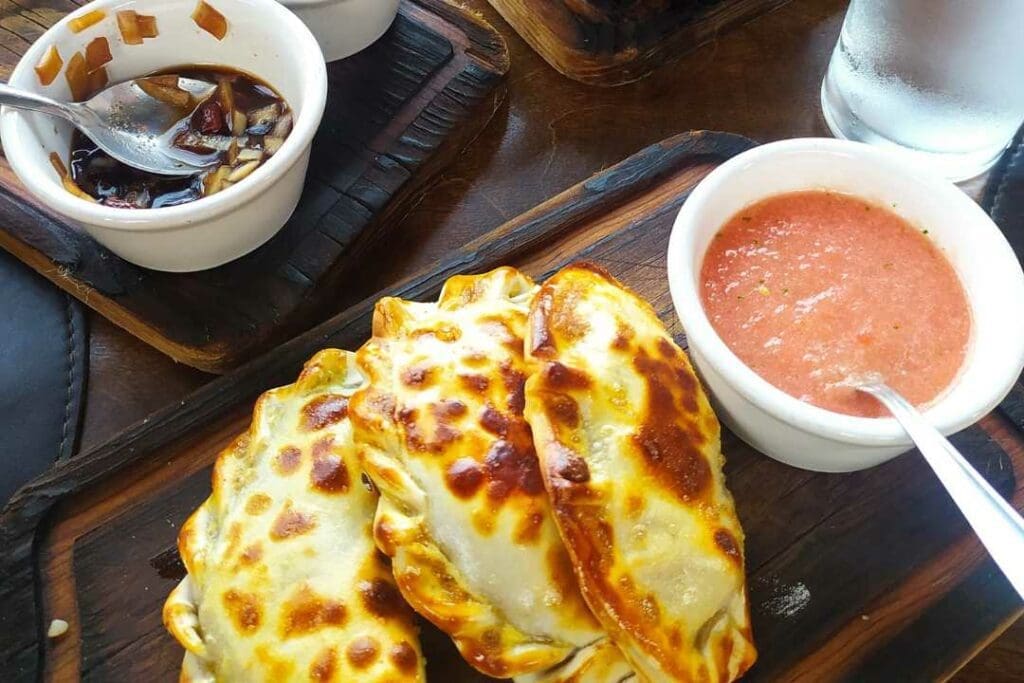 You can get their small empanadas in three types (spinach, beef, and cheese). Getting their best-selling lobster tail or rib-eye is highly recommended for your entree. They also have a selection of drinks, but their cocktails are the most famous.
Their food at Chamuyo starts at $8 USD, while the drinks cost $7 USD or more. You also have the choice to pay with a card or cash when dining here.
Bar Esquina
📍Avenida del Pescador, Medano s/n, 23453 Cabo San Lucas
💲from $4 USD
Bar Esquina has been a go-to among locals and travelers who want to enjoy a good time, whether in the late afternoon or at night.
They serve International cuisine and various drinks such as cocktails and wine. In addition, the vibrant atmosphere and spacious area with counter, couch, and outdoor seats are available, making Bar Esquina well-known.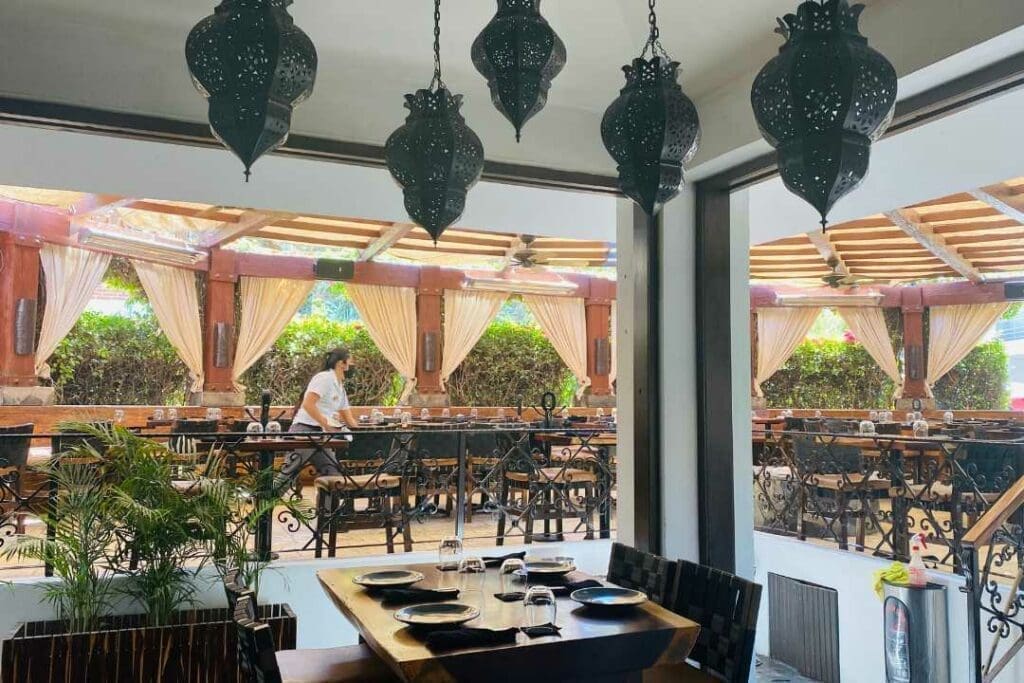 One of their best-selling dish that goes well with any drink is the pesto and truffle oil pizza. You should also give their lobster rolls and arugula salad a try. With a wide selection of drinks, getting a good glass of wine is always great.
Prices of drinks here start at $4 USD, while their food can range starting at $8 USD. However, this does not mean it's enough to get you their best-selling and main options.
Roasted
📍Av. del Pescador s/n, El Medano Ejidal, El Medano
💲from $9 USD
Roasted is a bar-and-grill restaurant that serves all kinds of grilled food. Many locals frequent here to enjoy barbeque and drinks inside a simple dining set-up.
They have available bar counter seats, inside tables, and an outdoor seating area.
Among their best-sellers include the jumbo Baja shrimp and lobster tails. One dish is enough for two to share in large portions and on big plates.
The food here is affordable but not as cheap as local eateries. Prices start at $9 USD, which can get you a single dish.
Salvatore G's
📍S/N, Vicente Guerrero, Emiliano Zapata, Centro
💲from $25 USD
Salvatore G's is a relaxed local eatery in an open space offering Italian cuisine. It is famous among locals and travelers for its excellent service and food quality.
Plus, the atmosphere here is just right for a casual dinner with friends and family.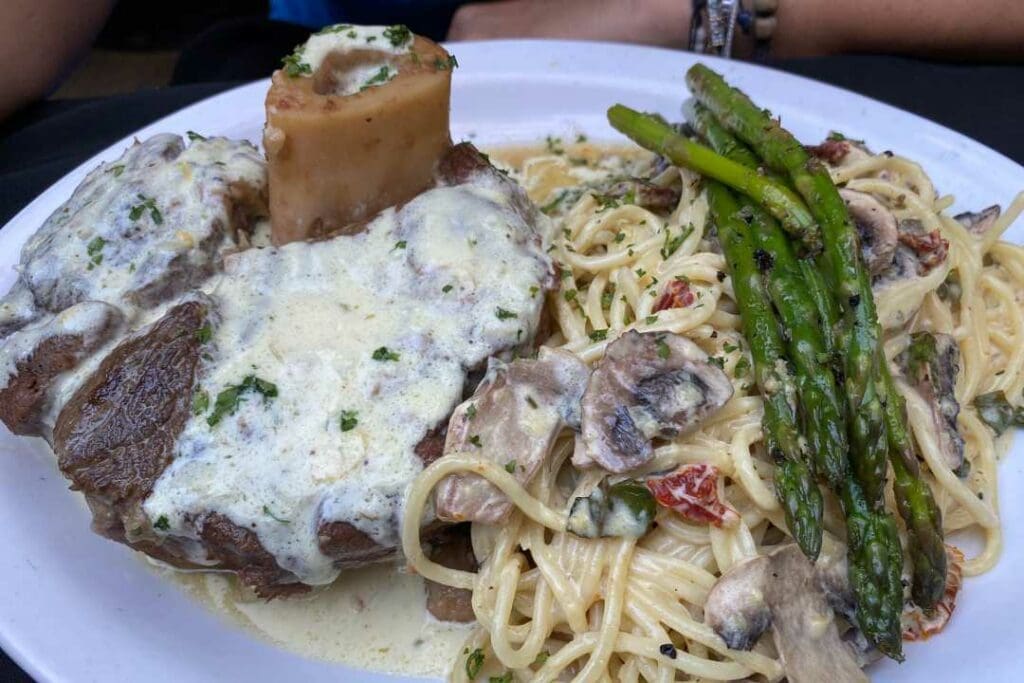 The food here is served in family style, in large portions. So, expect to share each dish with a friend or family. And with an extensive list of menus, one of their best-sellers is the chicken risotto.
The shrimp and sausage diablo are another crowd favorite you can pair with your pasta.
The food prices at Salvatore G can range starting at $25 USD. This price point is already based on the family portion size of food.
Mariscos Las Tres Islas
📍Revolución de 1910 23469, Downtown, Juárez
💲from $7 USD
Mariscos Las Tres Islas is a local seafood restaurant that is a go-to place among the locals. Tucked in the corner of Cabo's streets, you'll be seated inside an old house turned restaurant.
The place's vibe is casual, straightforward, and lively, with a mariachi band playing for diners.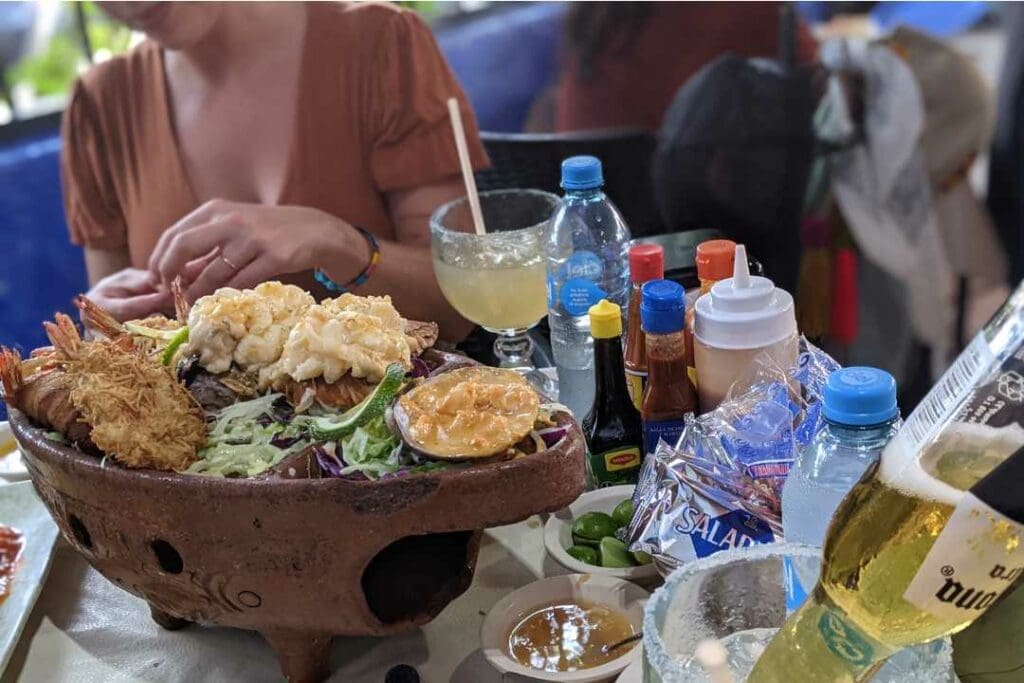 Specializing in seafood, one must-try in Mariscos Las Tres Islas is their Red snapper with salsa. Another recommended dish is the tacos gorbernador; pair it with a glass or two of margarita.
Drinks here start at $3 USD, while their food is reasonably priced at $7 USD or more. You should also bring cash when dining here as they do not accept cards as payment.
Toro Guero
📍C. Adolfo López Mateos S/N, Mariano Matamoros
💲from $9 USD
Another great seafood restaurant in the city is El Toro Guero Seafood. It is a local eatery specializing in seafood dishes made from fresh catch and ingredients.
The ambiance is casual, laid-back, and spacious enough to house several diners.
Their food at Toro Guero is served in large portions, which can be shared between two or three persons.
One of their best-selling dish that you should not miss out on is the shrimp ceviche and fried fish. Another item to not miss out on is the callo de hacha.
The food here is affordable and reasonably priced, starting at $9 USD for a serving of two. Considering the portion size, this is already cheaper than other famous seafood Cabo restaurants.
🇲🇽 Cabo Travel Guide
Trisha traveled to Mexico in 2018 and after a year, she found herself obtaining a 4-year residency visa in Mexico. She is the Editor-in-chief for our Living in Mexico Series which has helped over 3,000 Americans move to Mexico with ease. Trisha currently resides in Cabo San Lucas, Baja California Sur.