Steakhouses in Cabo San Lucas are big hits as many Americans and tourists are fans of steak when they travel. There is no shortage of steak restaurants in Cabo; most of them are evaluated by highly-skilled USDA meat graders.
Regarding fine dining and impressive food quality, Los Cabos is the top destination in Mexico. Our Editors have chosen the best steakhouses in Cabo San Lucas not only the fine dining choices but also street steak finds and Brazilian rodizios.
Plan your trip to Mexico with us! Get expert travel advice and customized trip-planning itinerary from our local experts on the ground.
🗺️ Cabo Steakhouses Map
🥩 10 best steakhouses in Cabo San Lucas
Chamuyo
📍 Pescador s/n, El Medano Ejidal
💲 from $25 USD
The Argentines have brought their third branch of Chamuyo steakhouse to Cabo San Lucas with a bigger menu.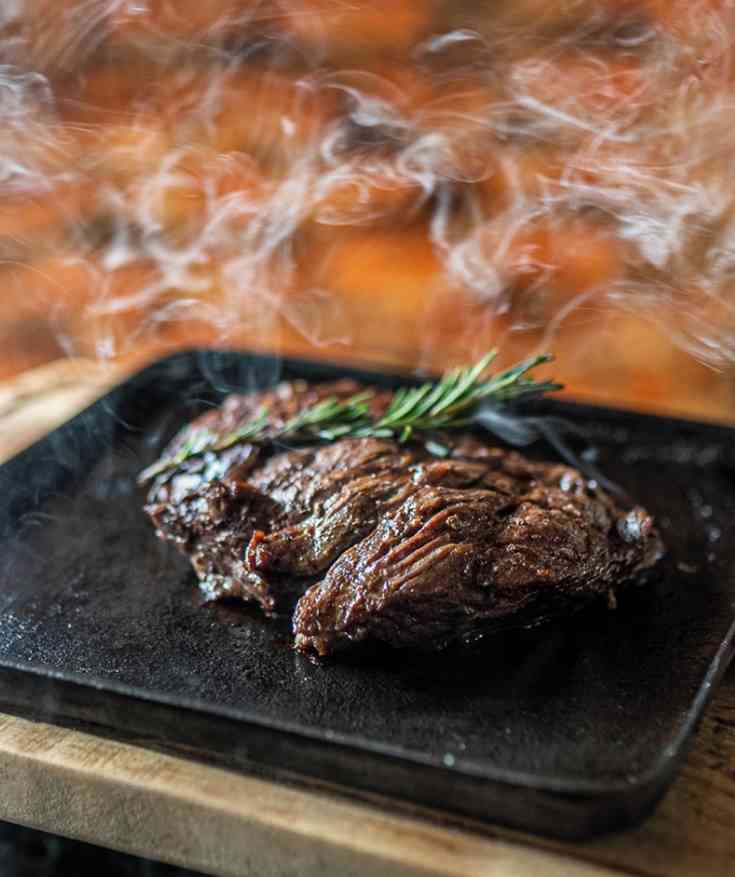 If you've been to Buenos Aires, you probably know how the Argentines are good at grilling their meat. This is one of the best steakhouses in Cabo San Lucas and is on top of our list!
Tomahawk and ribeye are their specialties. These steaks are big and are good for sharing. They have an open kitchen where you will see all the grilling action and they also hold live music every weekend.
#2: JM Italian Steakhouse
📍 Calle Emiliano Zapata entre Hidalgo y Guerrero
💲 from $35 USD
JM Italian Steakhouse is spearheaded by chef Jimmy Maddin who once worked as an Executive Chef at Caesar's Palace. Now he's opened his steakhouse in Cabo San Lucas that has an Italian twist.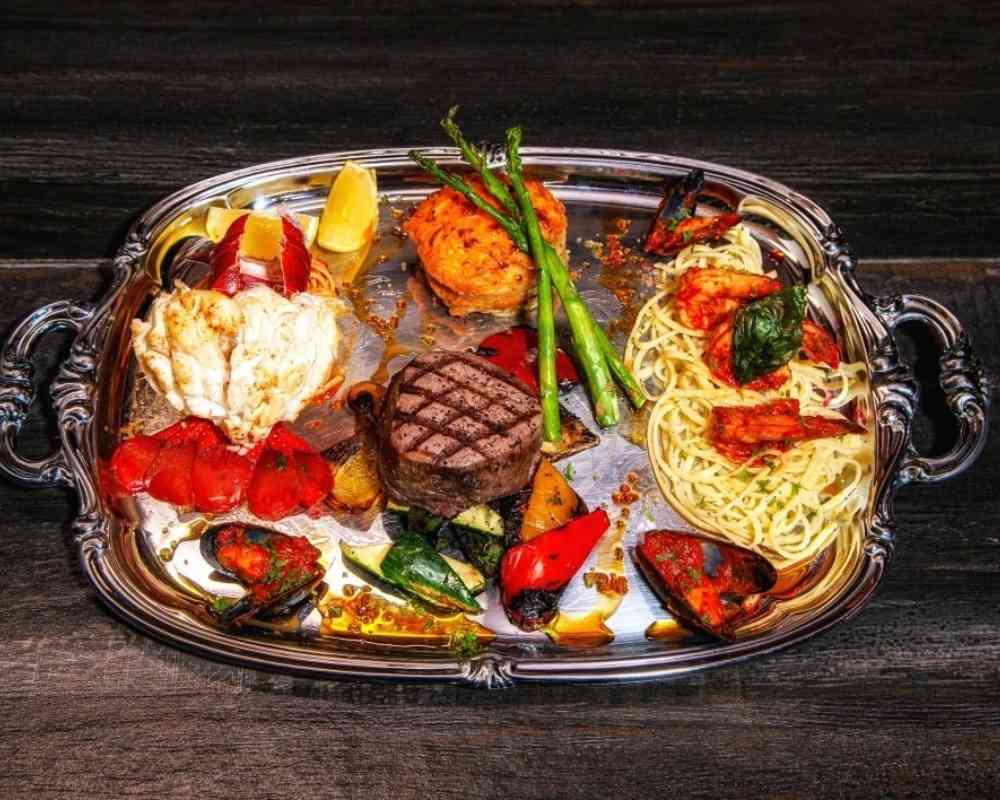 The restaurant ambiance is good for dinners (candle-lit, dark setting). The staff is very attentive and you will often see Jimmy walking around and saying hi to guests. He is really hands-on at JM's!
JM's has a lot of wine bottle selections not just from Italy but from Argentina and Mexico as well. Our favorite dish to order here is the surf and turf (US$70) and the slow-roasted prime rib (US$55).
#3: Asador La Tradicion
📍 Miguel Ángel Herrera, Glorieta s/n
💲 from $10 USD
La Tradicion is not your regular steakhouse in Cabo San Lucas because this is a street food stall! This group of Argentines decided to open their steakhouse on the streets of Los Cabos. Go here if you want to have a unique local experience!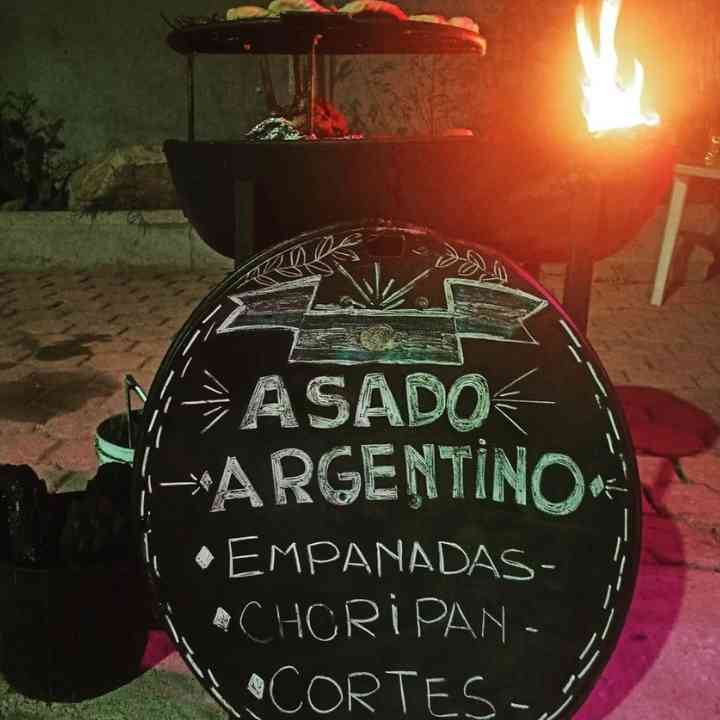 They do not have tables and chairs as they are only a takeaway place. While waiting for your steaks at La Tradicion, you will also get to see the local life outside of the Cabo tourism circuit. This is a very local neighborhood!
#4: Quivira Steakhouse
📍 Predio Paraíso Escondido S/N Quivira
💲 from $30 USD
A little far from the center is Pueblo Bonito where Quivira Steakhouse is located. Quivira is a private compound with Airbnbs and vacation rental homes. Just in Quivira, there are over 5 restaurants to try!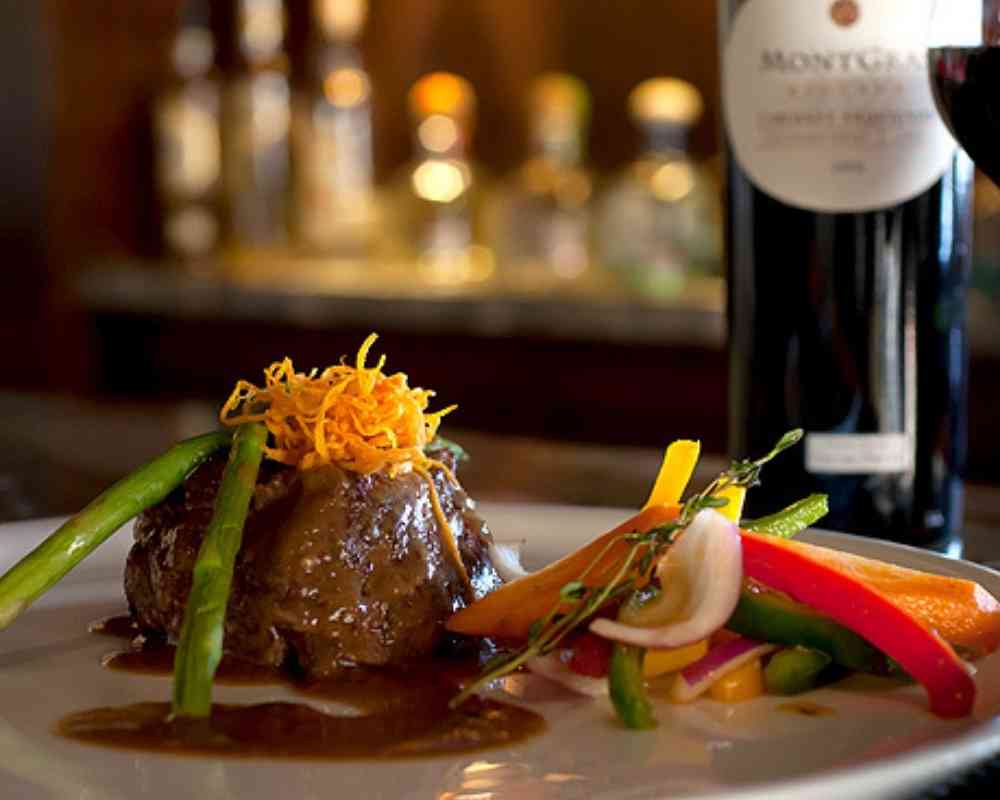 Quivira Steakhouse is facing the ocean and has views of the golf course. The best time to come here is before sunset — sit at the bar for cocktails before ordering your steak dinner. You need to reserve in advance because they prioritize those who are staying within the Quivira compound.
#5: Roasted Grill and Bar
📍 Av. del Pescador s/n
💲 from $25 USD
Local tip: Roasted owns the coolest curbside bar called Cock's Cantina so before coming here, get some mezcal cocktails at Cock's! It's just right next to Roasted!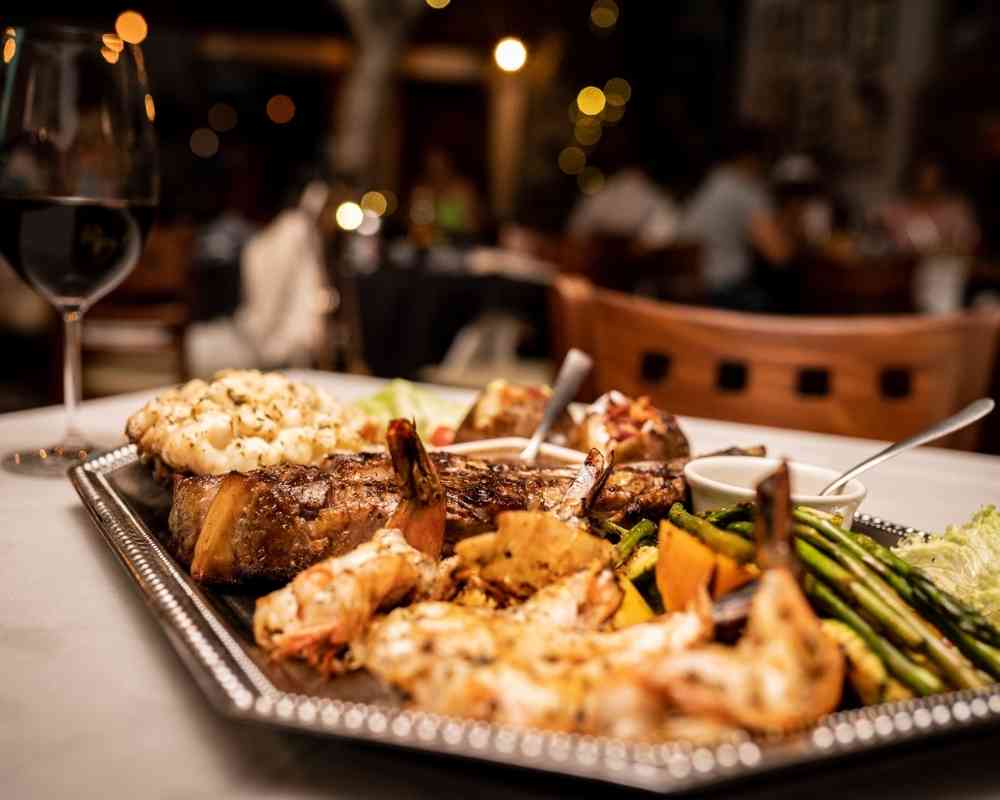 Definitely come to Roasted for their surf and turf which is not only our favorite but is also the most affordable steak option in town. Some surf and turf in other steakhouses in Cabo San Lucas cost over US$100 but at Roasted, you will get a good quality surf and turf for less!
???? Get genuine and honest content like this by subscribing to our newsletter. We send high-quality information once a month. NO SPAM. NEVER.
#6: Latitude
📍 Km.18.5 Carretera Transpeninsular San José-San Lucas
💲 from $30 USD
Located inside Villa La Valencia Resort, Latitude is the new up-and-coming steakhouse in Cabo San Lucas. You can get a reservation here even if you're not a guest at the resort but make sure to book in advance.
There are over 10 different kinds of steaks to choose from at Latitude but our favorites are the cowboy and Tomahawk. For vegetarians, we recommend cauliflower steak (pictured above).
#7: Ardea Steakhouse
📍 Polígono 1. Fracción, Diamante Blvd
💲 from $30 USD
Ardea Steakhouse is located inside the Nobu Hotel at Diamante Cabo San Lucas. They welcome non-guests for dinners with advanced reservations but if you are looking for hotels in Los Cabos, Nobu is a great place to stay!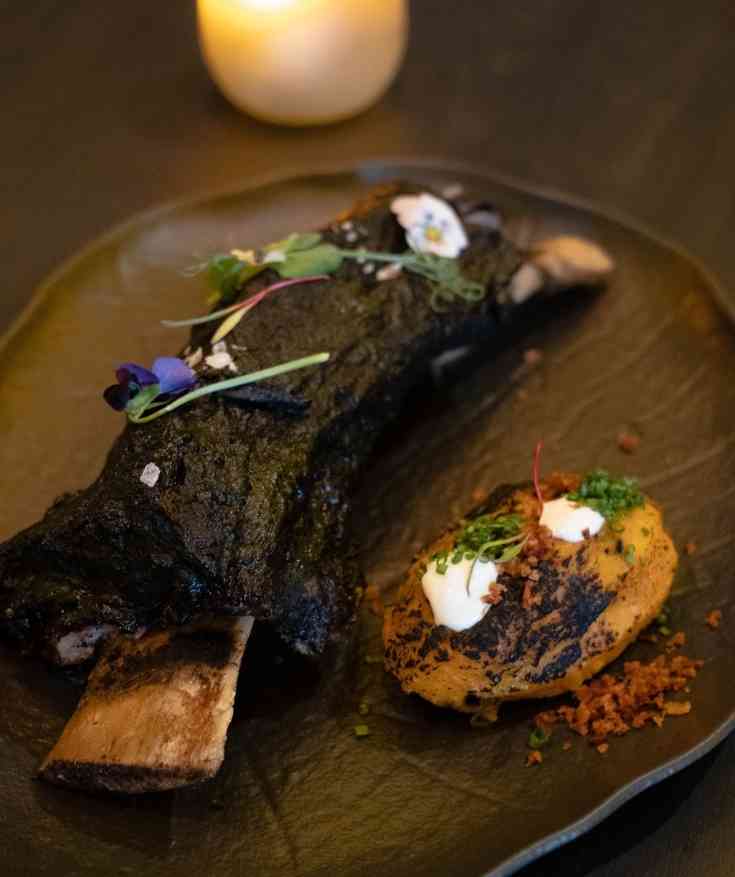 Our favorites at Ardea Steakhouse are the prime Tomahawk beef for 2 people (US$125) and the Flap Meat American Wagyu (US$38). Not feeling steak? Ardea has a long list of pasta options and other Italian dishes, too!
#8: Ruth Chris Steakhouse
📍 Blvd. Lázaro Cárdenas s/n
💲 from $40 USD
Looking for something familiar? There's a Ruth Chris steakhouse at Cabo San Lucas! It is located at the marina so it won't be hard to spot. Choose the outdoor dining tables to get fantastic views of the marina!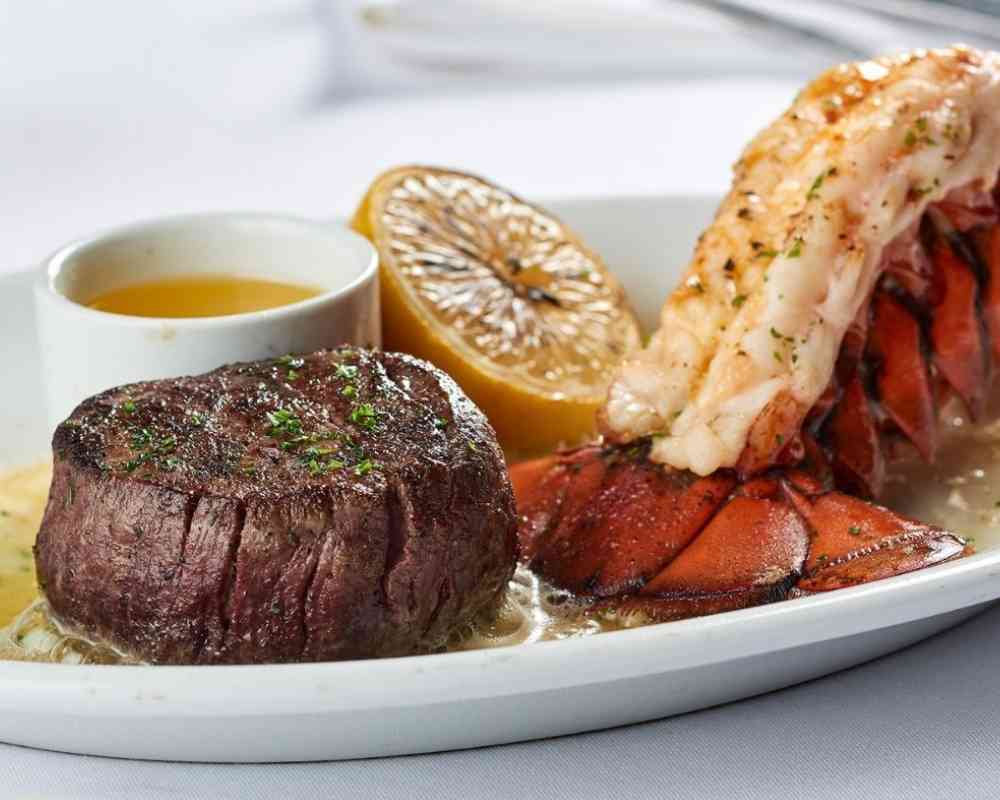 Overall, the food and service are great but sometimes, their steak menu is short. They don't always have the full list available.
#9: Rodizio Grill
📍 C. Niños Heroes, Downtown, Ildefonso Green
💲 from $25 USD
Like the Argentines, the Brazilians are also well-known for their meat. Rodizio is an all-you-can-eat meat service style popular for Brazilian birthdays and occasions. You pay a fixed price of US$30 (est) and the waiters at a rodizio will serve over 20 different kinds of meat until you say NO.
There is a 20% discount for eating all you can from 4:00 PM – 6:00 PM. This is a great and affordable steakhouse option for voracious meat-eaters. Plus you get to live the Brazilian meat culture while in Mexico!
#10: Jack's Steakhouse
📍 Marina Golden Zone Muelle, B Dock
💲 from $40 USD
Another steakhouse in the Cabo San Lucas Marina, the grill at Jack's is visible to the people walking by the marina. It's such a delight to see their meat show!
They have over 10 steaks on their menu and they don't just focus on regular steak styles. They also have an array of Mexican steaks such as arrachera (skirt steak) Mexican style!
⭐ Are steakhouses in Cabo San Lucas expensive?
Steakhouses in Cabo San Lucas are honestly California (USA) prices but a little bit cheaper. By Mexican standard, US$85 steak is expensive but it is affordable for those who are traveling.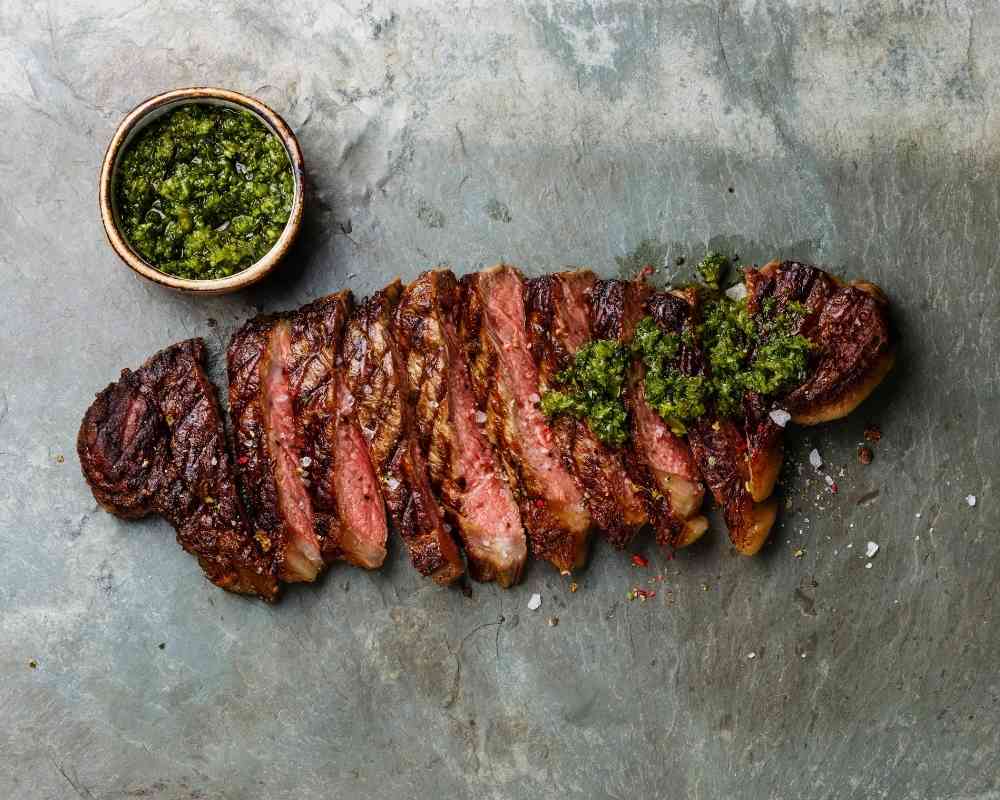 Expect to pay from US$70 – US$200 for steaks in Cabo San Lucas. A good bottle of red wine that goes with the steak is a little over US$100.
🏆 What is the best steakhouse in Cabo San Lucas?
We vote for Chamuyo as the best steakhouse in Cabo San Lucas. We are fans of Argentina (as we travel consistently to Mendoza and Buenos Aires). Aside from steaks, you can also get other Argentina cuisine stars like choripan and empanadas.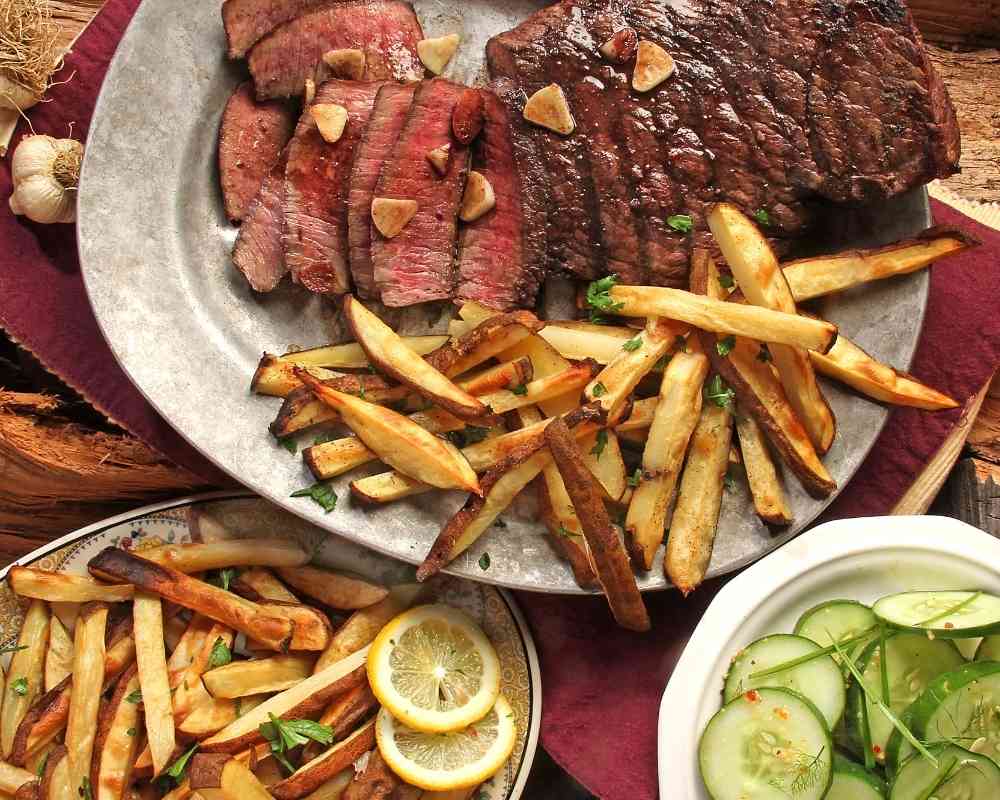 JM Steakhouse Cabo is second on the list. Ex Caesar's Palace Executive Chef Jimmy Maddin is very famous in town for being active at JM's. He would go around the tables and make you feel at home. People always rave about Jimmy's hospitality!
All steakhouses in Cabo San Lucas are good but in this article, we ranked them according to what we've tried. Here's the complete list.
🇲🇽 Cabo Travel Guide
Trisha traveled to Mexico in 2018 and after a year, she found herself obtaining a 4-year residency visa in Mexico. She is the Editor-in-chief for our Living in Mexico Series which has helped over 3,000 Americans move to Mexico with ease. Trisha currently resides in Cabo San Lucas, Baja California Sur.