Discover the best Italian restaurants in Cabo, offering a fusion of traditional Italian flavors with a unique local twist. Here are our favorite places for authentic pasta, risotto, pizza, and Italian wine!
Italian cuisine in Cabo, much like in other international locations, tends to blend traditional Italian cooking styles and ingredients with local tastes and available ingredients.
This fusion can result in unique and exciting flavor profiles.
Italian restaurants in Cabo offer a variety of dishes, including pastas, risottos, pizzas, antipasto platters, and more, all featuring Italian cooking techniques and flavors.
The wine lists often have Italian options alongside local and international wines, catering to a broad range of preferences.
Italian food culture in Cabo can greatly vary from one restaurant to another. Some may lean more toward traditional Italian dishes, while others might incorporate more local ingredients or fusion dishes.
Due to the local seafood availability in Cabo, you may also find Italian seafood dishes being a significant part of the menu in many places.
These could include dishes such as Frutti di Mare (seafood pasta), calamari, and Italian-style fish preparations.
Plan your trip to Mexico with us! Get expert travel advice and customized trip-planning itinerary from our local experts on the ground.
🗺️ Map of Italian restaurants in Cabo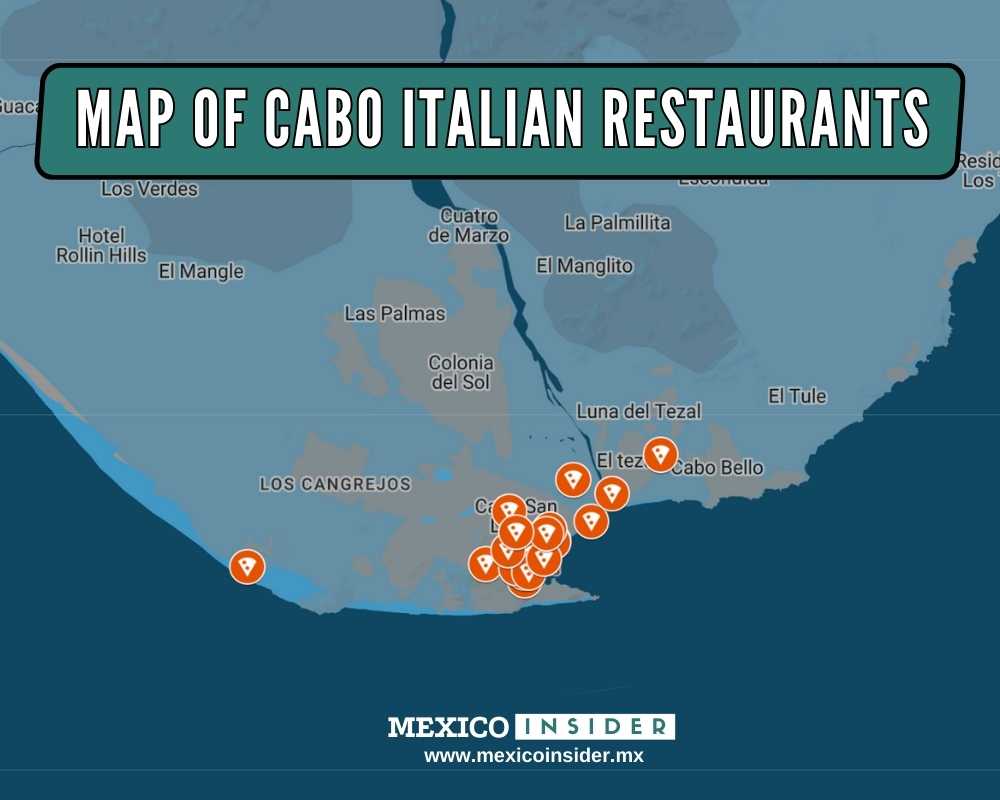 🍝 The best Italian restaurants in Cabo San Lucas
JM Steakhouse
📍 Calle Emiliano Zapata entre Hidalgo y Guerrero Centro
💲 from $10 USD
JM Steakhouse is a well-known Italian dining destination offering a cozy, intimate, and relaxed ambiance with rustic decor featuring wooden tables and chairs. The restaurant also has dim lighting, creating an intimate and welcoming environment. But aside from that, the restaurant serves steaks and a range of delectable Italian dishes catering to various palates.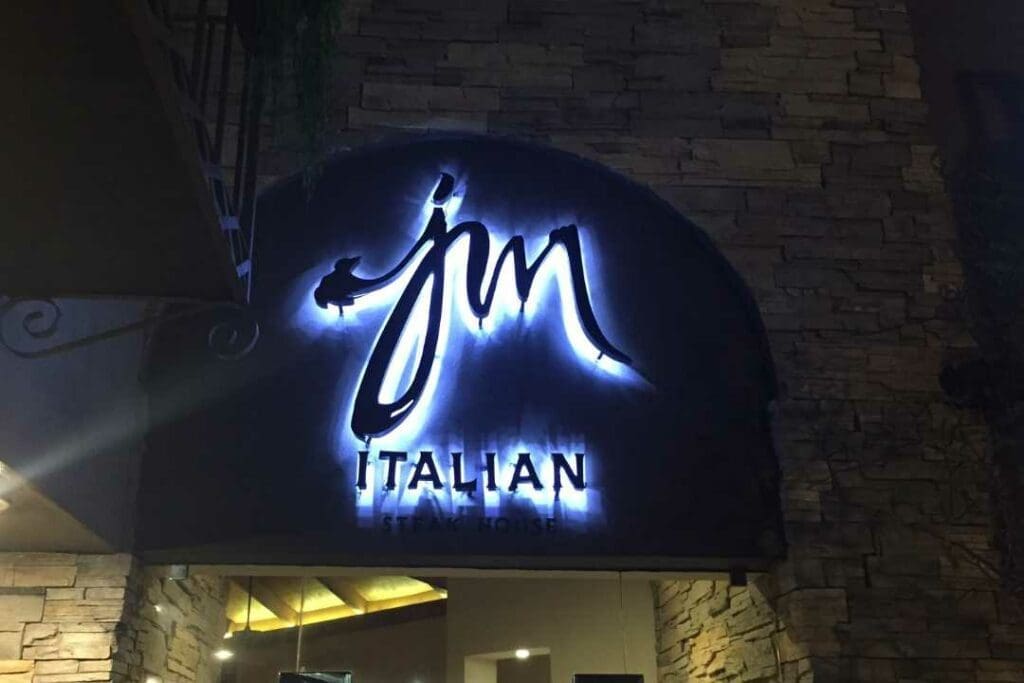 The restaurant offers starters, salads, and sides to complement the main dishes and a variety of desserts, and one dish you should try at JM Steakhouse is the Spicy Rigatoni and Ribeye Steak. For your dessert, you should try their famous Key Lime Pie.
With such an extensive menu, the food prices here at JM Steakhouse can range from $10 USD to $725 USD. These will depend on the kind of dish you will order, but at least a budget of $100 USD per person will be enough to cover your meals.
Il Forno
📍 Avenida Paseo el Pescador, Medano
💲 from $12 USD
Il Forno is a casual yet highly sought-after Italian restaurant nestled along the streets of Cabo. The decor here pushes to wooden tables and chairs, creating a laid-back tropical atmosphere with soft lighting.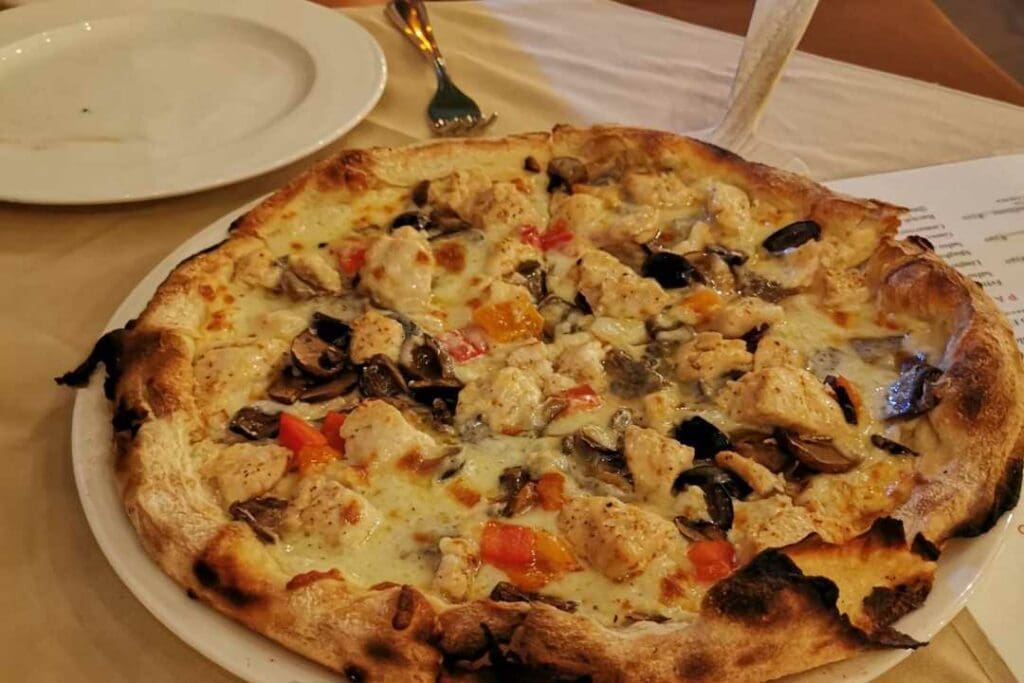 As a renowned authentic Italian restaurant, locals and travelers come here to taste their famous gnocchi with black truffles and shrimp. And to balance out flavors, getting their best-selling Pizza Tutti Gusti is highly recommended. And for dessert, they offer this sweet and tasty hot chocolate lava cake.
Their food here at Il Forno starts at $12 USD. When it comes to payment, they both accept cash and credit cards.
Italian Job
📍Av. del Pescador 7, El Medano Ejidal
💲from $22 USD
The Italian Job is a local and casual restaurant set inside an old house turned into a business establishment. While the outside may look old and rusty, once you set foot inside, you will be welcomed with warm lighting and lush plants that make the place feel cozy and spacious—the restaurant's cuisine focus on creating authentic Italian dishes to serve to locals and tourists in Cabo.
One dish you should try when dining at Italian Job is their famous Spinach Ravioli or Lobster Ravioli. The Monster calzone is another food on their menu that is most recommended by diners. You can pair all your food with a good glass of wine or a shot of limoncello.
Given that Italian Job uses quality and fresh ingredients, at least $50 USD per person is reasonable. Menu items here start at the price of $22 USD.
Salvatore Gs
📍 S/N, Vicente Guerrero, Emiliano Zapata, Centro
💲 from $25 USD
Salvatore G's is a relaxed local eatery in an open space famous among locals and travelers for its excellent service and food quality. The restaurant's culinary offerings blend Italian and Mexican cuisines, and they prepare them using the freshest and highest-quality ingredients. In addition, the atmosphere here is just right for a casual dinner with friends and family.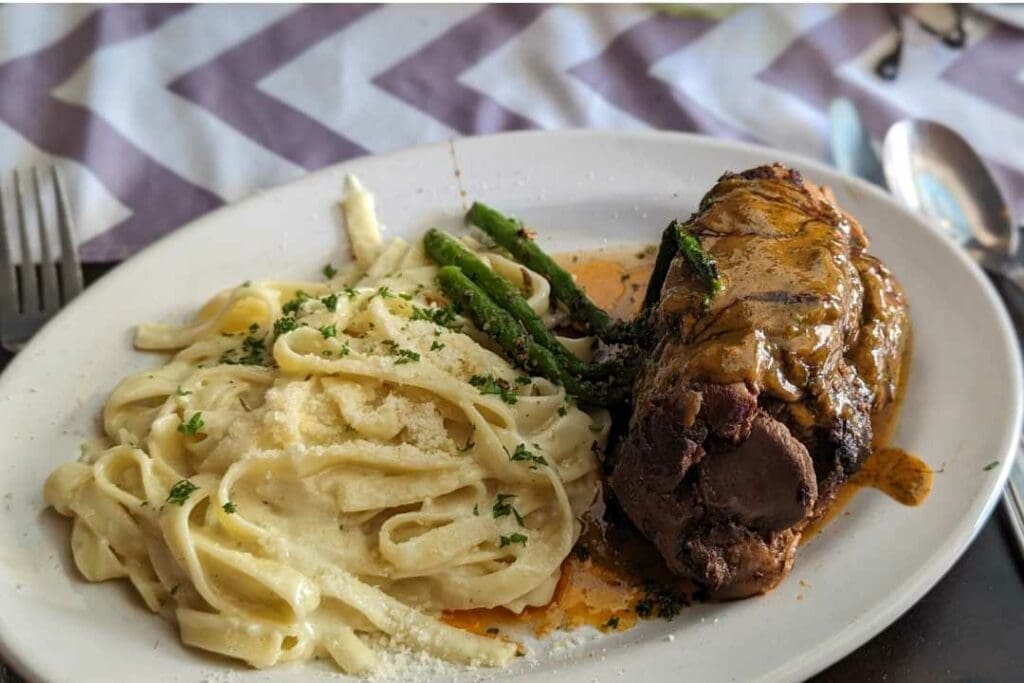 The food here is served in family style, in large portions. So, expect to share each dish with a friend or family. And with an extensive list of menus, one of their best-sellers is the chicken risotto. Another crowd favorite you can pair with your pasta is the shrimp and sausage Diablo.
The food prices at Salvatore G can range starting at $25 USD. This price point is already based on the family portion size of food, which is reasonable and affordable for group meals.
Romeo & Julieta
📍Blvd. Paseo de la Marina S/N, Centro
💲from $6 USD
Romeo & Julieta is a local eatery that offers a fusion of modern and classical Italian elements showcased not only through its food but also on the decors, walls, and rustic wooden embellishments. This creates an intimate and cozy ambiance, perfect for enjoying Italian cuisine. Moreover, the restaurant is spacious enough, with indoor and outdoor seating available.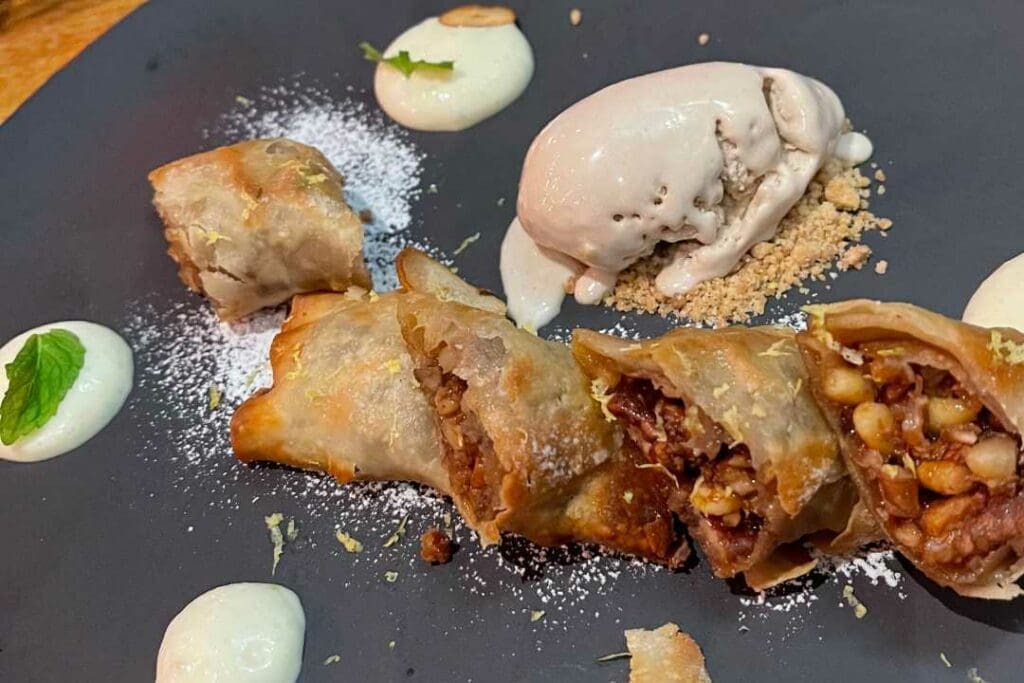 The restaurant's risotto with octopus is an excellent choice for those who want to eat seafood for their meal. Meanwhile, their best-selling Ceasar Salad is also a must-have if you want something lighter.
Food and drinks here start at $7 USD but can cost $250 USD. And to enjoy food at Romeo & Julieta, a budget of at least $60 USD per person is recommended.
Pan Di Bacco
📍Ignacio Zaragoza, Blvd. Paseo de la Marina
💲from $5 USD
Pan Di Bacco is an Italian restaurant that serves not only traditional Italian cuisine but also Mexican food. Inside the restaurant, you'll be in a charming, inviting atmosphere with Italian decor, warm lighting, and classical music. It also has open seating on the first floor, offering an open-air setup.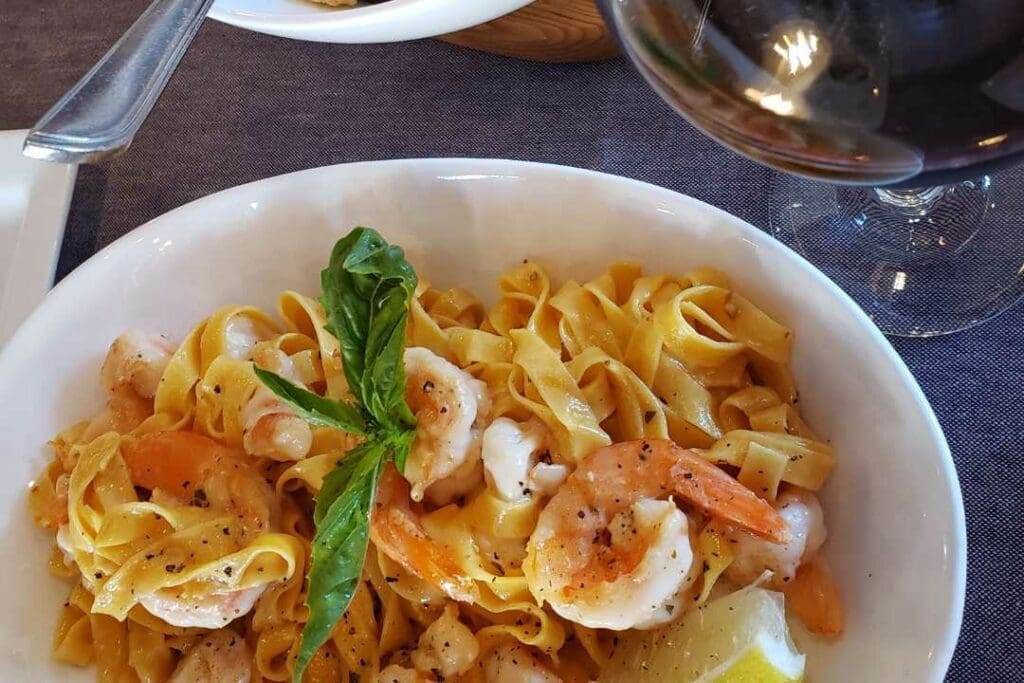 The menu at Pan Di Bacco features a wide range of authentic Italian dishes crafted with fresh and high-quality ingredients.
One dish you should try is their famous Margherita Pizza. You'll surely enjoy the Al Pastor Pizza if you want to try a different flavor.
The food here at Pan di Bacco can range from $5 USD to $26 USD. This price range is cheap and affordable compared to other Italian restaurants in Cabo.
Bella California
📍Tourist Corridor, 23454 Cabo San Lucas
💲 from $8 USD
Bella California is one of Cabo's famous Italian restaurants on Palmar's side beach. This restaurant fuses Italian and Californian cuisine in an avant-garde and sophisticated ambiance. Plus, with its location, diners can enjoy a great ocean view from the patio seats (reservations are a must).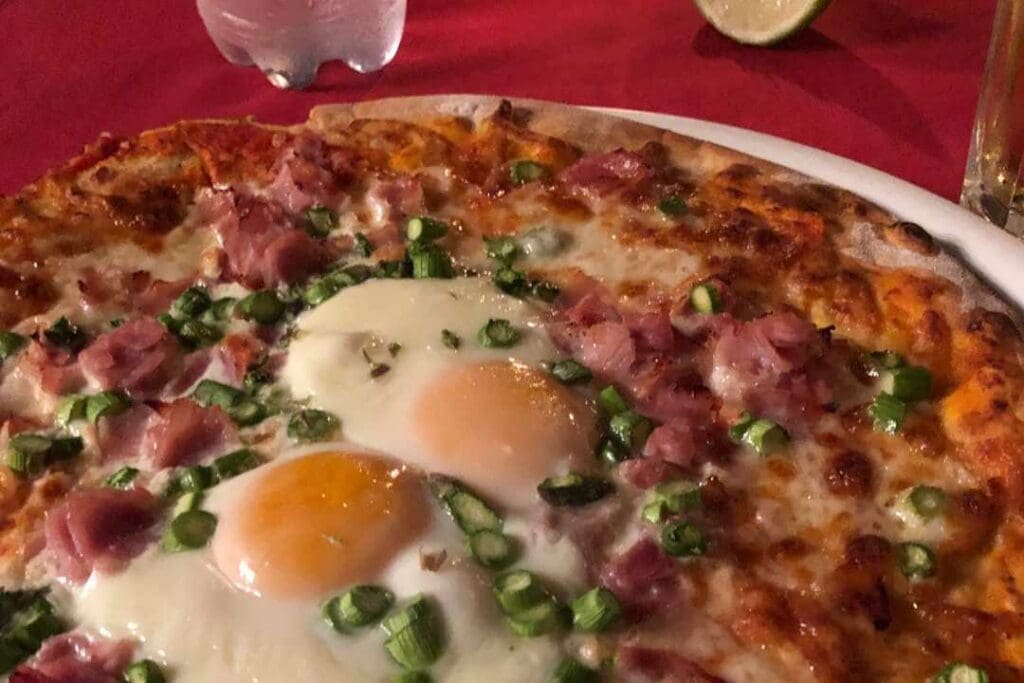 The restaurant's extensive menu comprises many dishes, but the lasagna stands out. You can also enjoy their breakfast buffet, which serves fresh seafood and other menu items.
The breakfast buffet at Bella California starts at $30 USD, and may vary depending on season. Meanwhile, single menu items start at $8 USD. They also accept cash and card for payments.
Ciao
📍Cabo San Lucas, Baja California Sur, Mexico
💲from $20 USD
Ciao is an authentic Italian restaurant that has a warm and inviting atmosphere. This restaurant is perfect for romantic dates and intimate dinners while you enjoy authentic Italian food. If you wish to dine here, you must make a reservation in advance.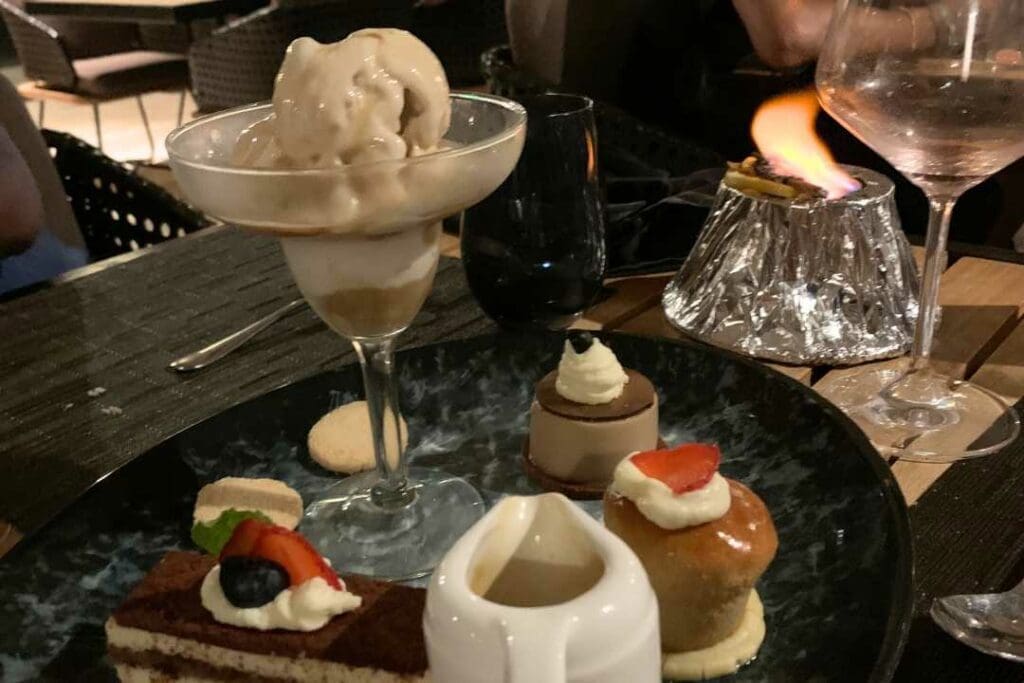 At Ciao, a popular must-try option is their Linguine Frutti di Mare. They also have a series of appetizers, but their calamari is the most popular. Lastly, for your dessert, you'll never go wrong with gelato.
The prices of food and drinks here at Ciao start at $20 USD. For payment, you have the choice between using cash or cards.
Alcaravea Gourmet
📍 Ignacio Zaragoza S/N, Downtown, Centro
💲 from $10 USD
Alcaravea Gourmet is renowned for its relaxing and cozy ambiance, boasting a garden-like atmosphere. The small property offers spacious seating but maintains an intimate dining experience. Meanwhile, the cuisine at Alcaravea Gourmet is Italian-Mediterranean inspired.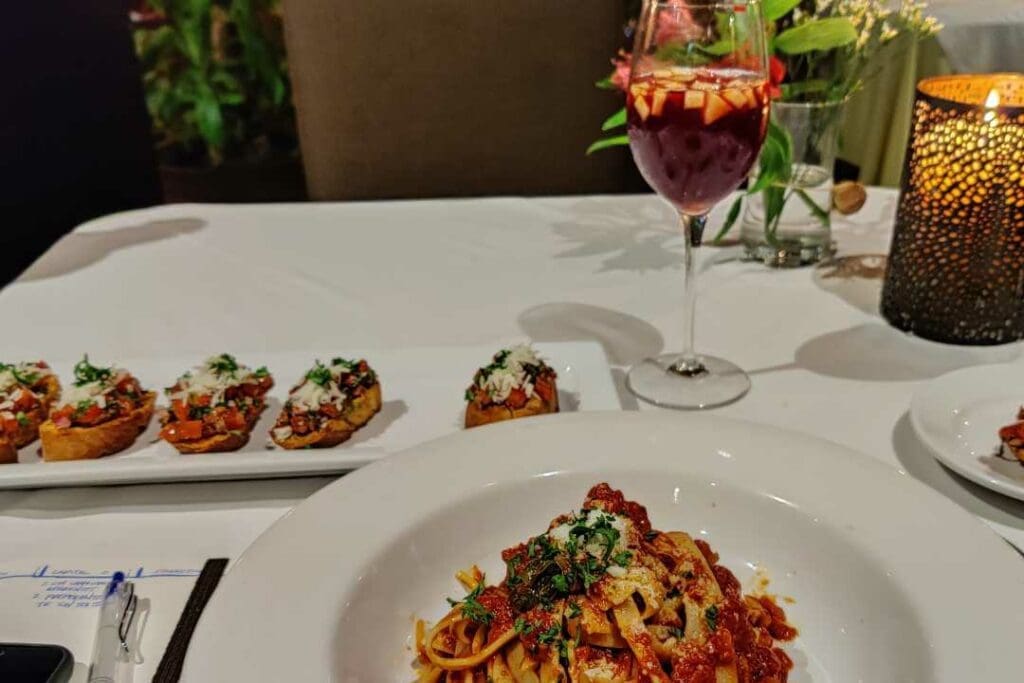 One of the must-try dishes at Alcaravea Gourmet is their Lasagna, a crowd favorite from local and tourist diners. Meanwhile, they also have a Lunch special that goes with chicken, beef, or fish (depending on your pick), which you should try during your visit.
Prices of food and drinks here at Alcaravea Gourmet are reasonably fair, starting at $10 USD. A budget of at least $40 USD will be needed to enjoy your dining experience.
Eataliano
📍 Carretera Transpeninsular km O.5 Lote 22 Plaza San Lucas
💲 from $14 USD
Eataliano is a recently opened pizzeria in Cabo that has gained popularity because of its quality Italian food. It has a reputation for being a well-regarded choice for diners seeking a hearty meal and sharing with locals what it's like to eat like an Italian local. Upon entering Eataliano, the restaurant's decor is modern and stylish, with an overall casual ambiance.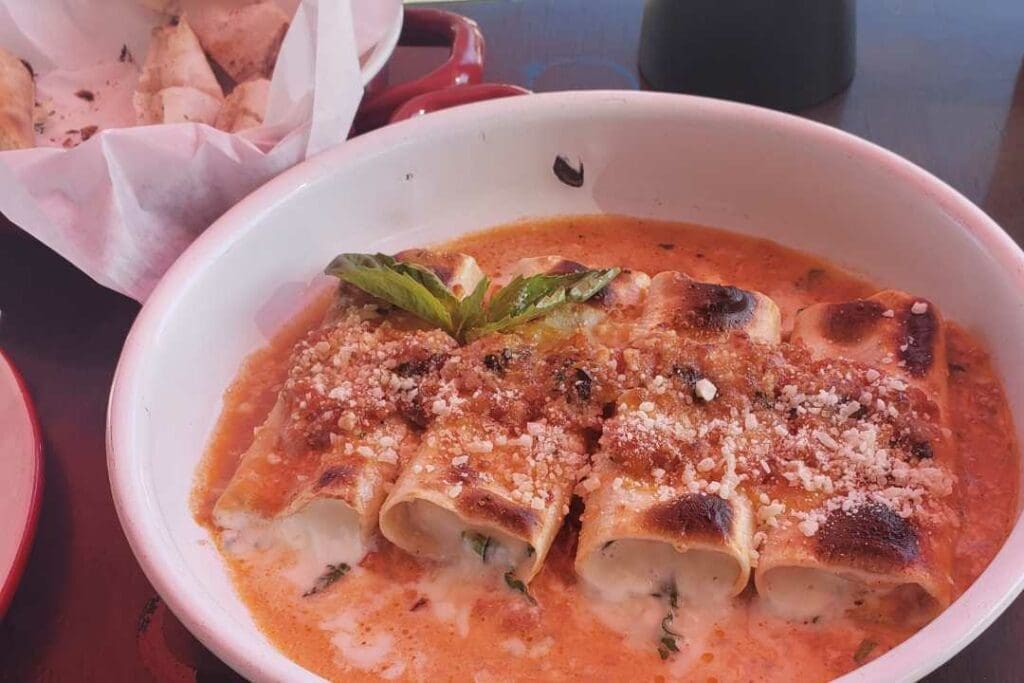 The cuisine at Eataliano is focused on classic Italian dishes with a modern twist. But one must-try dish when dining here is their best-selling Pesto Pizza cooked on an oven brick. You should also pair this with gnocchi, a chef's recommendation.
The food and drinks here at Eataliano are reasonable daily, costing at least $14 USD or more. This can vary depending on what dish you will be ordering.
Invita Bistro
📍Calle Miguel Hidalgo, S/N Lt3, Centro
💲from $5 USD
Invita Bistro is just one among many restaurants in Cabo. But what makes it stand out is its offering of authentic Italian-Mediterranian experience, from its atmosphere to authentic Italian cuisine. Moreover, the restaurant has an Italian atmosphere with its chic and modern decor, as well as its comfortable seating and contemporary lighting fixtures.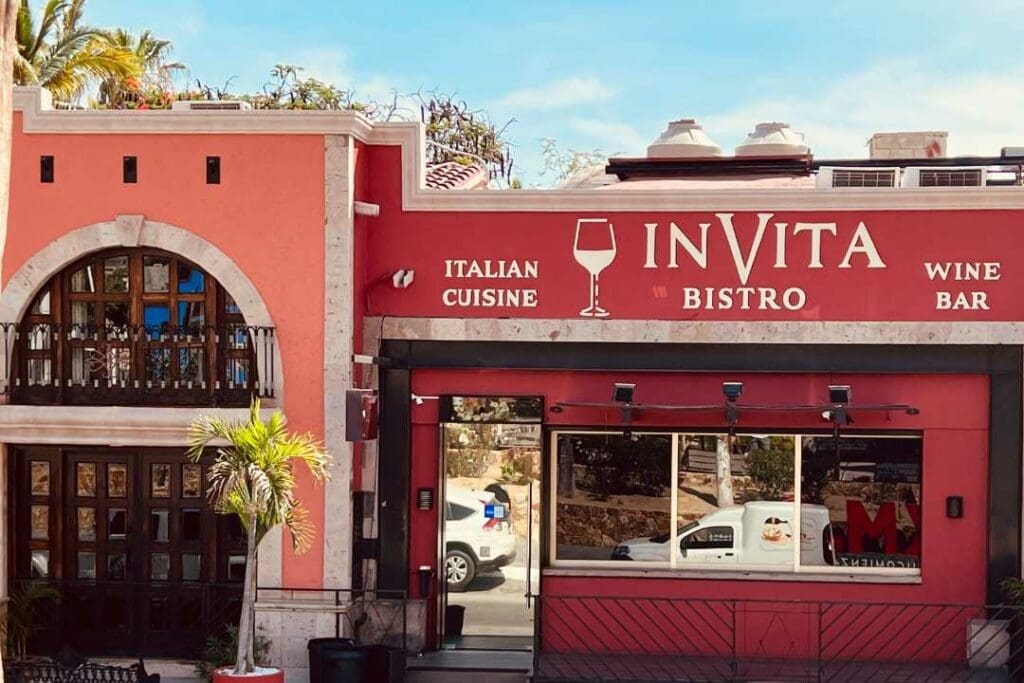 Their menu features a range of Italian dishes, but there are menu items that stand out. One dish that is a must-try is the best-selling steak and fettuccine. Meanwhile, for a lighter meal, you can order their classic take on Greek Salad. You can pair these with a good glass of wine too.
You can buy food and drinks here at Invita Bistro for $5 USD. But, a budget of at least $30 USD is recommended.
Trattoria Da Pietro
📍Plaza Novva El Tezal, 23454 Cabo San Lucas
💲from $8 USD
Interior with modern and contemporary decor and furniture, Trattoria Da Pietro exudes a warm and cozy atmosphere. They specialize in traditional Italian cuisine, using freshly sourced ingredients. When dining here, booking a table in advance is recommended.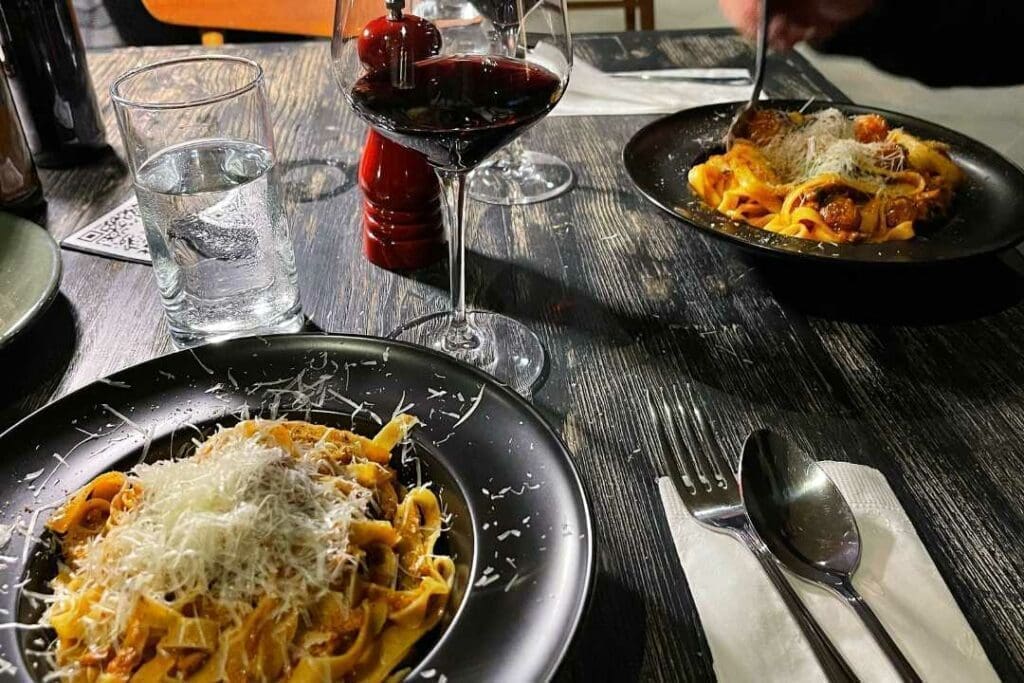 One of the dishes that has caught the attention of many is the lobster Ravioli. Another must-try menu item is risotto and vodka salmon. Trattoria De Pietro has a selection of wines that you can choose from to complete your dining experience.
Prices of food here start at $8 USD. You also have the choice to pay with cash or a card at Trattoria Da Pietro.
Da Vinci's
📍 The boat ramp, Plaza Bonita, Local 1-A, Marina
💲 from $7 USD
Da Vinci's is an Italian fine-dining restaurant that exudes a high-end atmosphere with its exquisite decor. The restaurant prides itself on its authentic Italian cuisine using farm-to-table ingredients. Moreover, you will be surrounded by city lights and water at this seaside restaurant, which has an outdoor and indoor seating arrangement.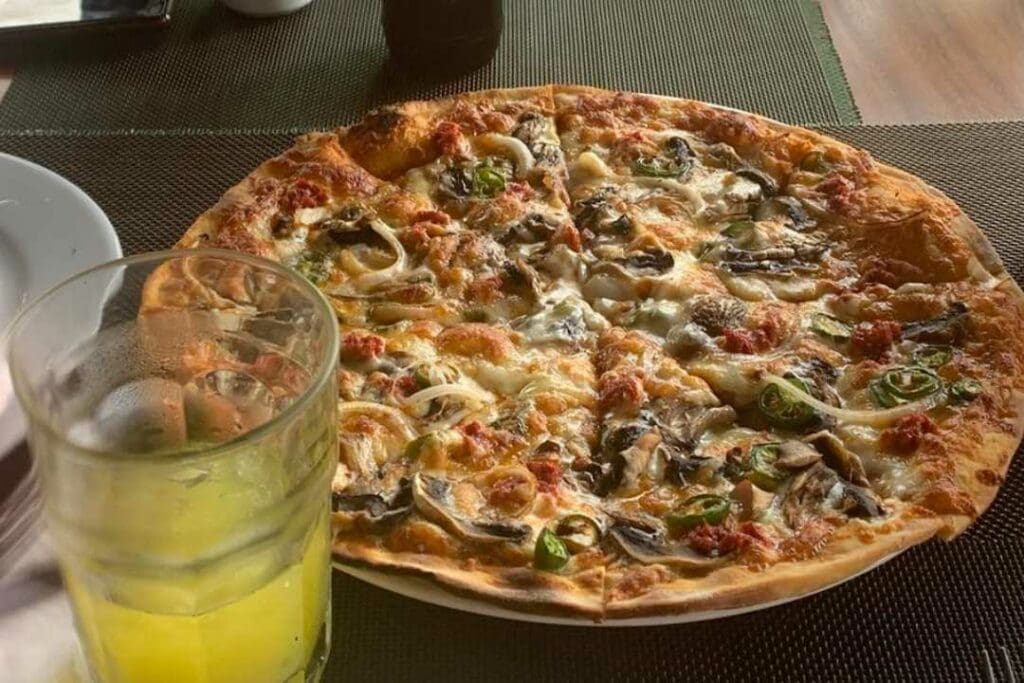 With a diverse menu featuring antipasti, pasta, risotto, and more, their most recommended dish at Da Vinci is shrimp carbonara and spinach ravioli. They also have a vast wine list boasting local and international labels that you can choose from.
For at least $50 USD per person, you'll be able to enjoy a whole meal experience at Da Vinci's already. Their food here starts at the price of $7 USD.
La Dolce Cabo San Lucas
📍 Calle Miguel Hidalgo, Emiliano Zapata Esq
💲 from $8 USD
Another well-known Italian restaurant that prides itself on its menu, accurately representing classic Italian cuisine, is La Dolce Cabo San Lucas. The restaurant itself feels like a local Italian restaurant, with traditional touches of Italian decor. And although the property is small, it promises diners a home and intimate feel.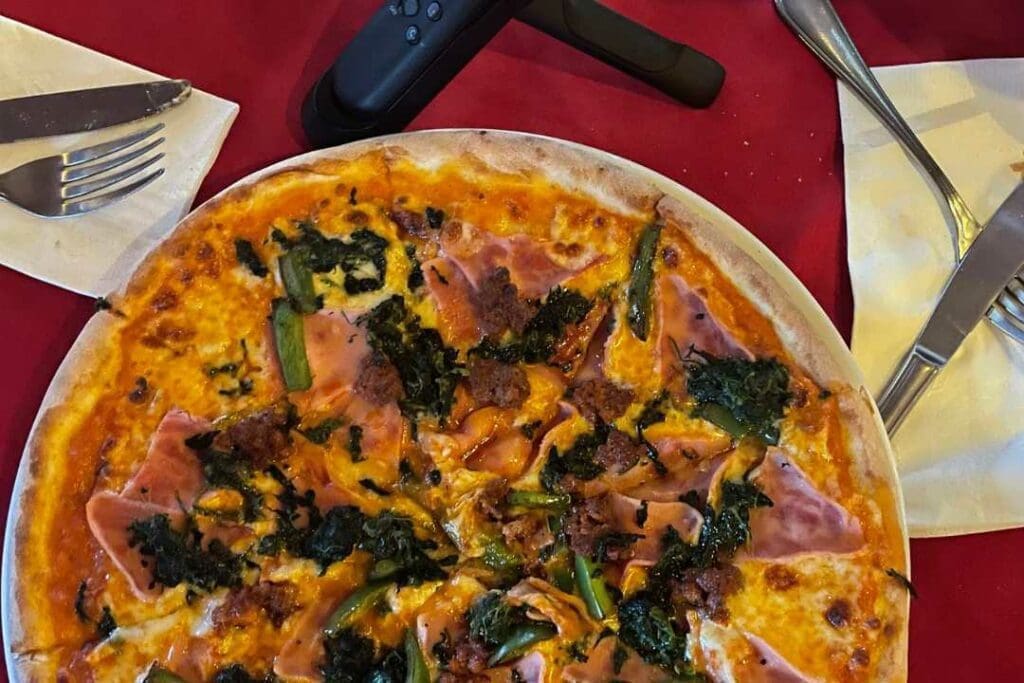 Among the standout dishes that one must try is the Gorgonzola pasta. Other best-sellers in La Dolce Cabo San Lucas include the ravioli and linguini. They also serve excellent focaccia bread, which you can order as an appetizer. The Tiramisu, a classic Italian dessert, should be noticed to cap off the meal.
Prices of food here at La Dolce start at $8 USD, while drinks can be as cheap as $4 USD.
La Pizza Nostra
📍 Blvd. Lázaro Cárdenas 9, El Medano Ejidal
💲 from $6 USD
La Pizza Nostra offers a warm and relaxing ambiance with Italian-style decor reminiscent of Italy. Plants and wooden furniture surround the restaurant and offer indoor and outdoor seating. Moreover, they provide an extensive list of Italian dishes, including pizzas, pasta, salads, and desserts.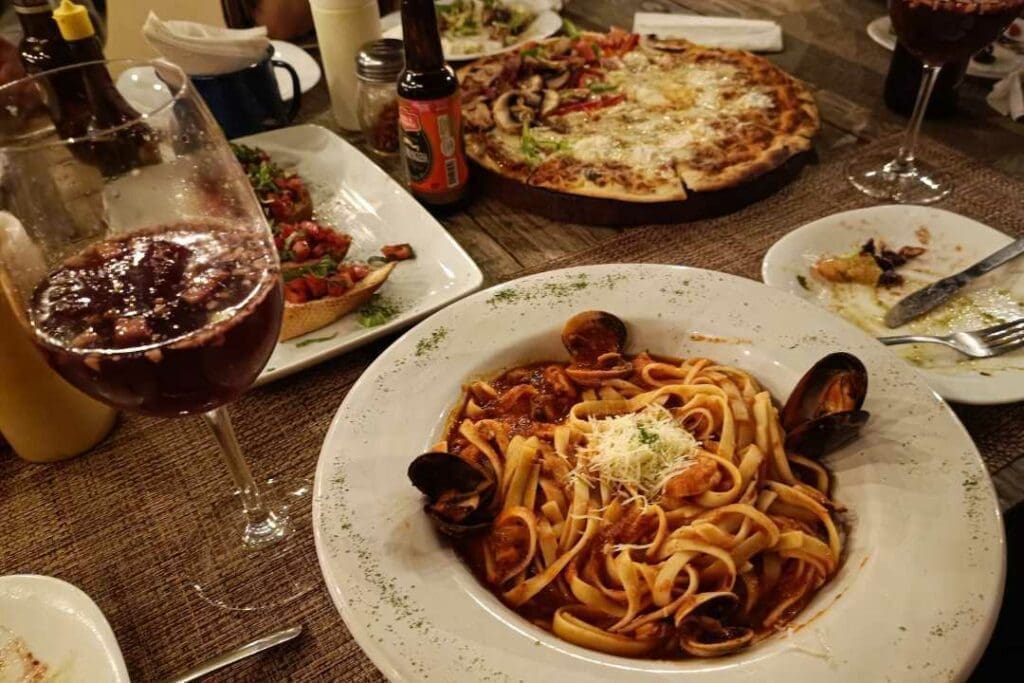 Their lasagna is one of the best, with various vegetarian and gluten-free offerings. They also offer different kinds of pizza, which you can order in half-and-half flavors. Meanwhile, try their pink fettuccine with chicken to enjoy something new.
If you want to dine in here, you'll need at least a budget of $30 USD. Food and drinks start at $6 USD, which you can pay in cash or by card.
Luna Italiana
📍 Delfines, Libertad, Lienzo Charro
💲 from $13 USD
Luna Italiana is an Italian restaurant with great food and an excellent city view. Situated atop a hill, when dining here, you will be surrounded by nature and get a panoramic view of the city and ocean from their terrace and indoor seating. More than that, they are also known for serving authentic Italian cuisine.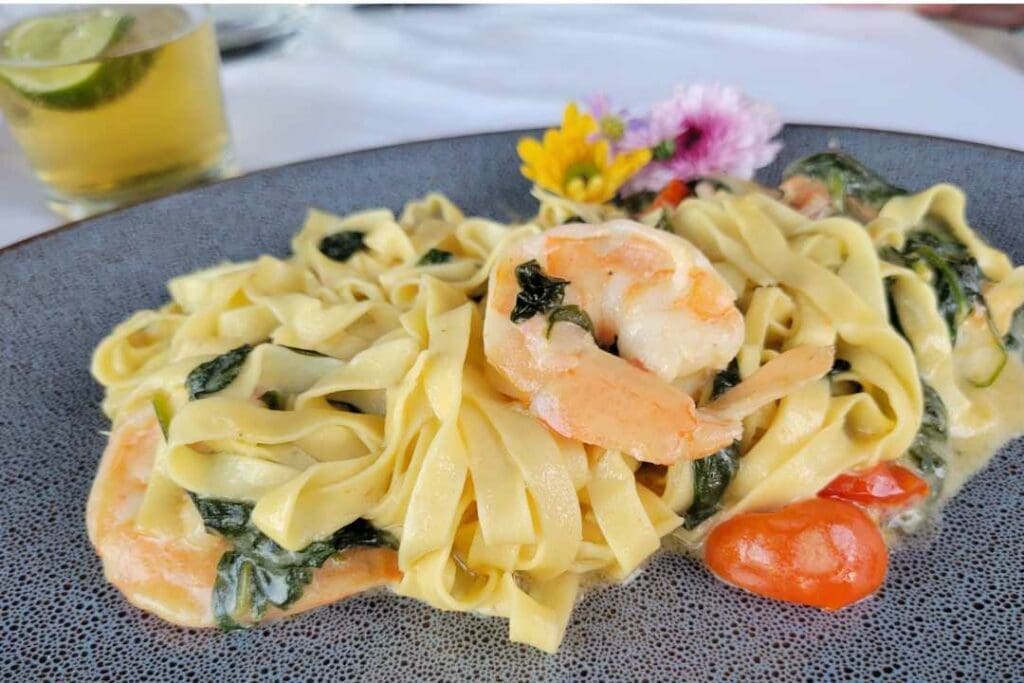 Among the most sought dishes here at Luna Italiana are the Carpaccio di Selvaggina and Ravioli di Wagyu. Meanwhile, their classic take on Shrimp fettuccine is also something to look forward to. For your drinks, you should order a shot of limoncello.
The food prices at Luna Italian can be, on average, from $13 USD. And for payment, you can pay with cash or a card.
Carusso
📍 Tourist Corridor, 23455 Cabo San Lucas
💲 from $25 USD
Carusso is an upscale Italian restaurant with a modern and chic atmosphere and an open kitchen, allowing diners to witness the chefs in action. They offer a buffet-style dining option, serving authentic Italian-Mediterranean cuisine. Caruso is an in-house hotel restaurant near the beach, providing a great ocean view.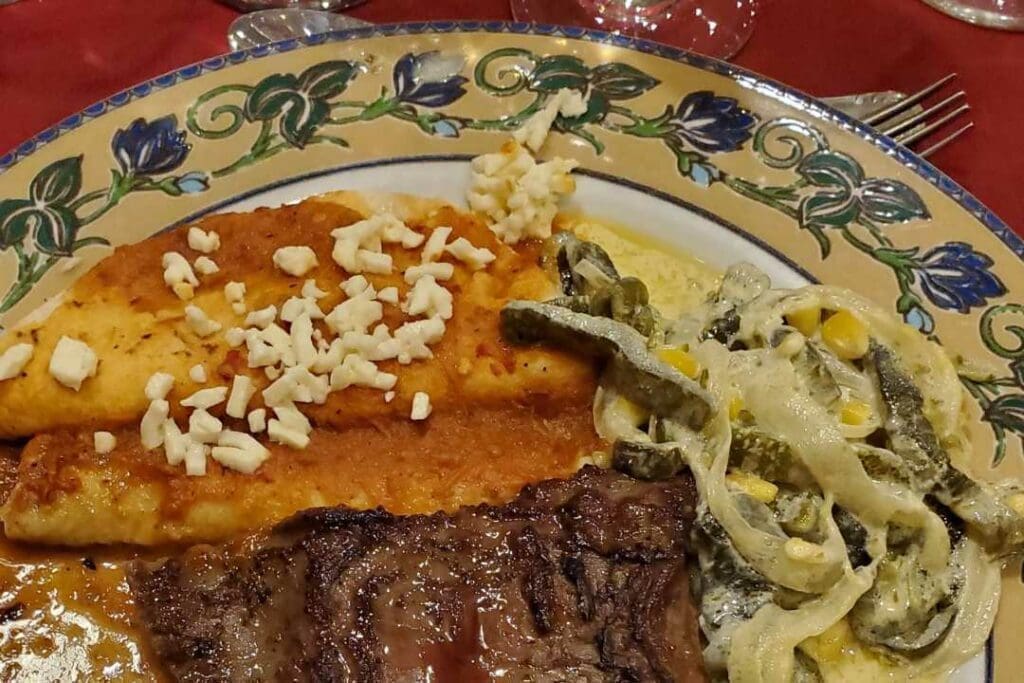 Featuring a wide range of classic pasta dishes, seafood, and meat options, and an extensive wine list, Caruso uses freshly sourced ingredients to produce its buffet food. A favorite among their buffet dishes is the pasta and steak.
Their buffet starts at $25 USD and can vary depending on the day of your visit. It will increase in price if you make a memorable holiday or celebration reservation.
Delizioso
📍 Plaza Nova local 27 Col, El Tezal
💲 from $7 USD
Delizioso is a small and cozy pizza boutique offering authentic Italian food. While the restaurant is small, they still have tables and chairs that accommodate at least eight people inside and eight outside. Delizioso's decor has a touch of modernity, featuring Italian-inspired artwork and a bar displaying a wide range of drinks and wines.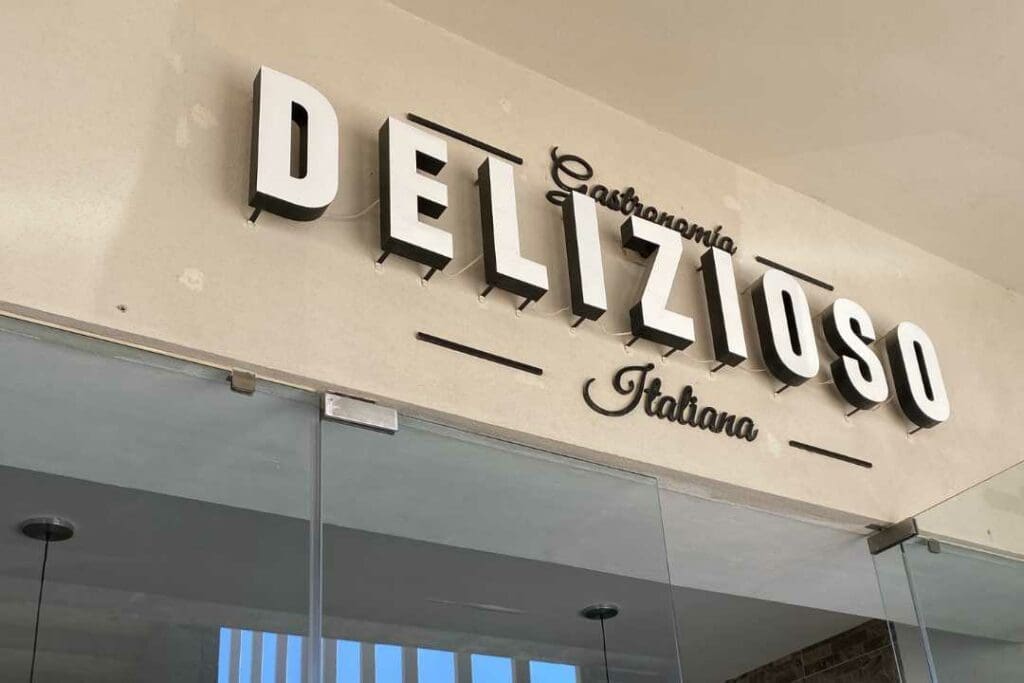 The restaurant specializes in making pizza with contemporary twists. One of their best-sellers is the Mexicana Pizza, which you should try. Other dishes famous in Delizioso are the Pesto Pasta and cold cuts. You can also get a scoop of gelato, which is excellent for capping your meal.
The cheapest for a single dish is $11 USD; their gelato and beverages only cost $7 USD. A budget of at least $30 USD will be enough for a complete meal experience.
Albahaca Pizza and Pasta
📍 Downtown, Ejidal Chamizal
💲 from $9 USD
Albahaca Pizza and Pasta are a Restaurant Bistro that serves Italian and other International food and drinks. The restaurant's atmosphere is warm, using wooden tables and comfortable chairs, and the inside is dimly lit but is also decorated with Italian elements.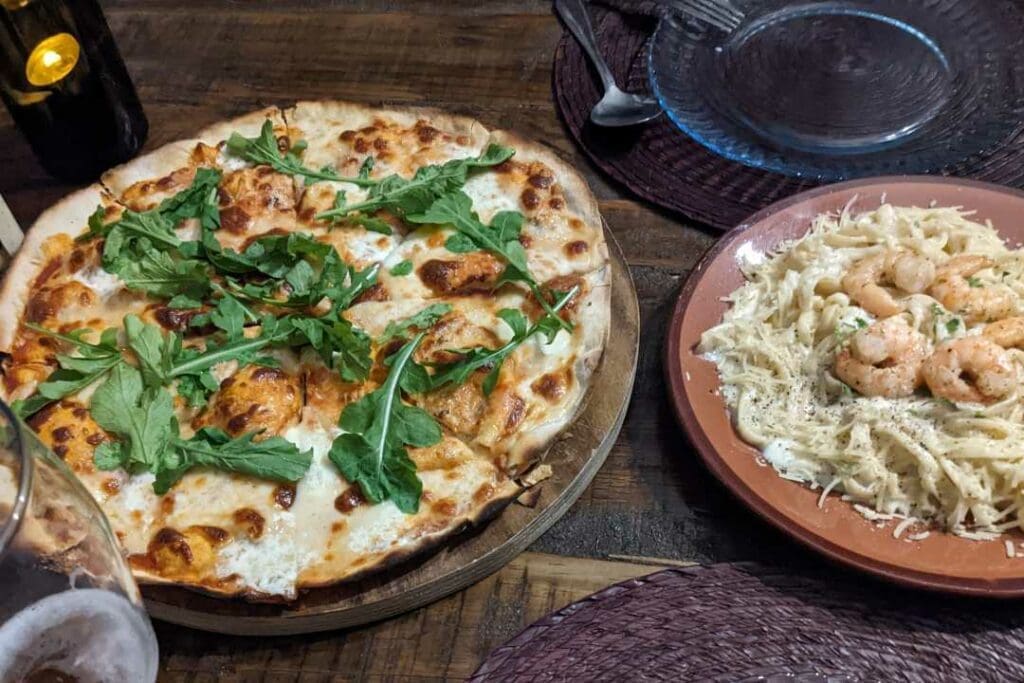 Meals here are served in large portions, enough to share between the two. Their 4-cheese pizza and the classic Lasagna Bolognese are a crowd favorite, and you should take advantage of the traditional Italian Tiramisu for your dessert.
The food and drinks here are affordable and reasonably priced, starting at $9 USD. They also accept card and cash payments.
🇲🇽 Cabo Travel Guide
Trisha traveled to Mexico in 2018 and after a year, she found herself obtaining a 4-year residency visa in Mexico. She is the Editor-in-chief for our Living in Mexico Series which has helped over 3,000 Americans move to Mexico with ease. Trisha currently resides in Cabo San Lucas, Baja California Sur.