When it comes to finding where to have breakfast in Mexico City, you'll be absolutely spoiled for choice. Here are the best recommendations from our resident writer in Mexico City.
From french-style bakeries to hole-in-the-wall locales offering classic Mexican dishes, there's pretty much an endless array of options when it comes to breakfast spots in the city. These are them:
Even though there are hundreds of thousands of restaurants in Mexico City, when it comes to the best places, we always like to take several aspects into account: a great menu in which quality is more important than quantity, good service, and setting.
With that said, we put together the ultimate list of our favorite spots in CDMX to welcome the morning.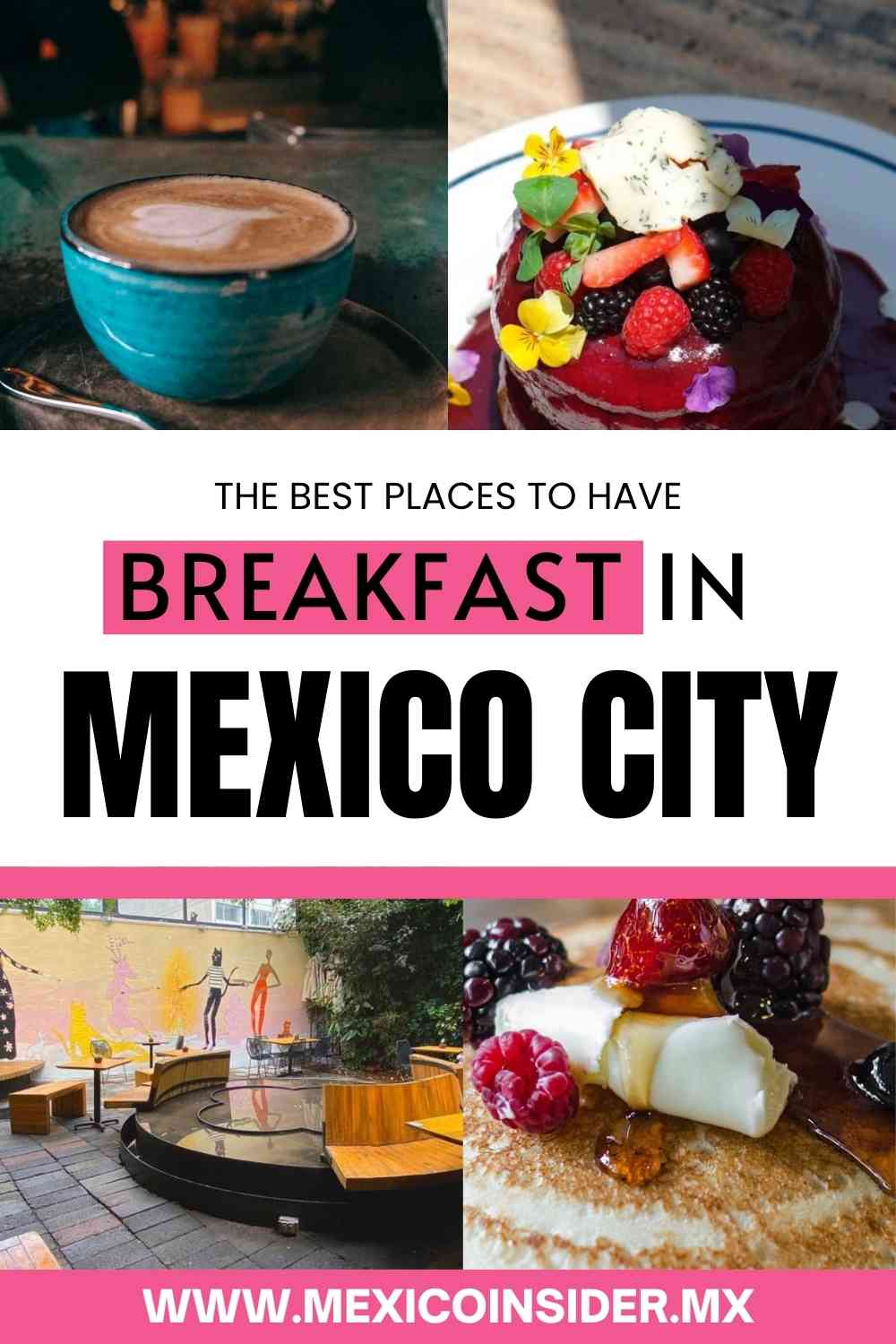 🥐 Where to have breakfast in Mexico City
#1: Café de Nadie
📍 Chihuahua 135, Roma Nte., Cuauhtémoc
Café de Nadie is constantly ranked as one of the best bars in the world on the 50 Best list, but it also happens to be a magnificent place to have breakfast in Mexico City.
Even though evenings are meant for drinking at this unique listening bar (the music almost always is played on vinyl record players!), this spot in Roma Norte transforms itself into a cozy coffee shop during the mornings.
If you're not exactly against drinking in the morning, you can also order a few of their cocktails. Their menu changes on a seasonal basis, but we guarantee you'll love it every time (we recommend ordering a White Room for breakfast, which is made of tequila, pixtle, and mamey cream and feels kind of like a smoothie!)
#2: Freims
📍 Amsterdam 62B, Hipódromo, Cuauhtémoc
This gorgeous restaurant and café offers a wide menu of food to please all palettes, but the real magic lies in its decoration.
From vinyl LPs to bookshelves and boho chic furniture, this space will make you feel like you entered a work of art. They also have a patio at the back, which is draped in greenery and has seasonal murals at the back!
#3: Milo's Bistrot
📍 Amsterdam 308, Hipódromo Condesa, Cuauhtémoc
Located in a very chic corner of Condesa and presenting a bistro concept, this restaurant has dishes that vary depending on the ingredients of the season. Most of the menu is classic Mexican cuisine, but you'll also find an assortment of foreign delicacies.
#4: Cityzen
📍 Av. Paseo de la Reforma 297, Cuauhtémoc
Perched on the 38th floor of the Sofitel Hotel, Cityzen provides glorious views of the Angel of Independence and Reforma Avenue from its terrace.
This incredibly classy spot is one of the best places to have breakfast in Mexico City, especially if what you're after is high-end cuisine to enjoy paired with mimosas or a glass of champagne.
Do note that Cityzen only offers breakfast on Saturdays and Sundays. Its doors open at 10 am (perfect if you're a late riser or are looking for a weekend brunch spot!).
#5: Madre Café
📍 Orizaba 131, Roma Norte, Cuauhtémoc
In the heart of the Roma Norte neighborhood, you'll find Madre Cafe, a hotspot in a colonial-style casona (mansion) that is easily one of the best places to have a late breakfast in Mexico City if an instagrammable location and food are what you're looking for.
The restaurant is found in an extremely charming garden. Photogenic berry pancakes, avocado toast, and fruit bowls are just a few of the dishes on their menu.
Plus, you can pair them with a few mimosas or their creative carajillo flavors (matcha, horchata, taro, oreo, waffle, and more!)
Reservation is recommended on weekends.
#6: Panadería Rosetta
📍 Colima 179, Roma Norte, Cuauhtémoc
Love bread and pastries? Panadería Rosetta in Roma Norte is guaranteed to please!
Set inside a centuries-old casona, Rosetta is one of the most beloved places for breakfast in Mexico City for locals and tourists alike.
This classic spot offers some of the most delicious sweet treats in the city. Think blueberry scones, quinoa-based cookies, guava buns, croissants, and plenty more!
#7: Qué Sería de Mí
📍Alfonso Reyes 164, Hipódromo Condesa, Cuauhtémoc
If you're in the mood for pancakes, you'll find some of the best ones in Mexico City at Qué Sería de Mí.
This cozy restaurant is located over pedestrian Alfonso Reyes avenue and offers outdoor tables perfect to do people (and dogs!) watching during the mornings.
They deliver all sorts of pancakes, including a special recipe made out of ricotta cheese! Aside from their wide menu of pancakes, they also offer traditional chilaquiles, fruit bowls, omelets, and more.
#8: La Esquina del Chilaquil
📍 Alfonso Reyes 139, Hipódromo, Cuauhtémoc
If street food is what you're after, La Esquina del Chilaquil is one of the best spots to have breakfast in Mexico City.
The name of this food stand in Condesa translates into "the chilaquiles corner", an apt name considering it stands on the corner of Alfonso Reyes street and Tamaulipas Avenue.
The main dish? Its famous tortas de chilaquiles, which are usually new to foreigners visiting Mexico City for the first time (this is very typical CDMX food!).
This food stand has been around for over 70 years in the exact same spot. For a while, they served tamales, but they changed their menu to their famous tortas a couple of decades ago.
Expect the waiting line to be long any day of the week. On weekdays, you'll find office workers, moms, and all sorts of local hipsters waiting to grab their lunch, while weekdays are usually for hungover zombies looking for Mexico City's favorite comfort food.
#9: Peltre Condesa
📍 Saltillo 73, Hipódromo, Cuauhtémoc
With outside tables to enjoy the morning sun, Peltre is one of the best places to have breakfast in Mexico City.
Choosing what to order for breakfast at Peltre is no easy task because they have so many options, but some of our favorites include the chilaquiles and their molletes for classic Mexican breakfast dishes.
If you're more in the mood for something sweet, you can try their incredible concha con nata or you can choose one of their iconic sandwiches.
#10: Casa de los Azulejos
📍 Av Francisco I. Madero 4, Centro Histórico
An absolute icon, la Casa de los Azulejos is one of the most emblematic buildings of the city's historic downtown and a wonderful place to have breakfast in Mexico City.
Casa de los Azulejos translates into "House of Tiles". The restaurant belongs to the Sanborns chain and is set inside an 18th-century Baroque palace whose facade is intricately decorated by blue and white tiles.
Here, you'll be able to sample authentic Mexican recipes that are as old as time. Breakfast classics include chilaquiles, molletes, enchiladas suizas, enfrijoladas con cecina, and scrambled eggs.
🇲🇽 Mexico City Travel Planning
🛫 Where can I book cheap flights to Mexico City?
Use the code MXINSIDER to get cheap flights to Mexico City upon checkout on WayAway.
🚑 Do I need insurance to travel to Mexico City?
Yes, you do! This is the number one requirement when traveling to Mexico. I use SafetyWing and I only pay $40 USD per month for my digital nomad travel insurance!
🛏️ Where can I find cheap hotels in Mexico City?
Budget travelers, use Hostelworld when looking for accommodations in Mexico City. A bed in a hostel dorm starts at $25 USD per night. Booking.com is best for boutique hotels while sustainable Airbnbs can be booked with Casai.
Daniela is a Mexican travel blogger who has been traveling the world for the last 7 years. She contributes content on Mexico Insider to showcase her beloved hometown, Mexico City.