The bad Puerto Escondido Internet situation was one of the reasons why I didn't permanently move here. I visit once a year every April-May and in each visit, I had to make sure I don't have any major jobs, tasks, or projects.
I love traveling Puerto Escondido as I have created great circles of friends despite not living here. I was 100% sure to trade it off with my life in Sayulita but I still found the Internet situation in Sayulita better.
Through the years that I am consistently visiting this town, I have figured out a way to be productive and manage to find better Internet connection in Puerto Escondido.
There are only 7 places that worked for me but remember to not be discouraged from moving here just because of Internet. I hope these tips will help!
☕ Do you like our content? Help us continue to do better! Support our honest and transparent journalism by donating to our coffee fund.
???? Puerto Escondido Internet situation
You will see many posts discouraging you to move to Puerto Escondido because of the wifi situation. I hate to be the bearer of bad news but IT IS TRUE – wifi in Puerto Escondido has been problematic.
But the good news is it all depends on what you do as a remote worker/digital nomad. Puerto Escondido can still be your slice of paradise in Mexico if you identify what tasks you need heavy download and upload speeds.
For example, I work in editorial content, social media, and Youtube uploads. When I am using WordPress, I don't need fiber optic. I can usually go by without fast Internet speed. The same goes for checking e-mails.
This absolutely means that I can't do heavy stuff like Zoom calls or Youtube uploads whenever I am vacationing in Puerto Escondido. I already come prepared for my annual trip there – I make sure all the heavy tasks are done before I arrive at PE.
Which also makes my vacation a 'real' vacation. As a digital nomad, I don't remember the last time I have gone on a real vacation (literally zero work) so my life has greatly improved when I travel here – I don't need to be online because I will just get frustrated with the Puerto Escondido internet.
???? Puerto Escondido Internet speed
As soon as you come here, many locals and digital nomads will give you advice on how to hack Puerto Escondido Internet speed. Many Internet data plans will be suggested to you and out of frustration, you will definitely try all these hacks.
Internet data is not the issue but the processing speed in Puerto Escondido is super slow. Let's say you get a 15 GB unlimited Internet from Telcel, the GB is not the problem but the Telcel infrastructure cannot process at faster speeds.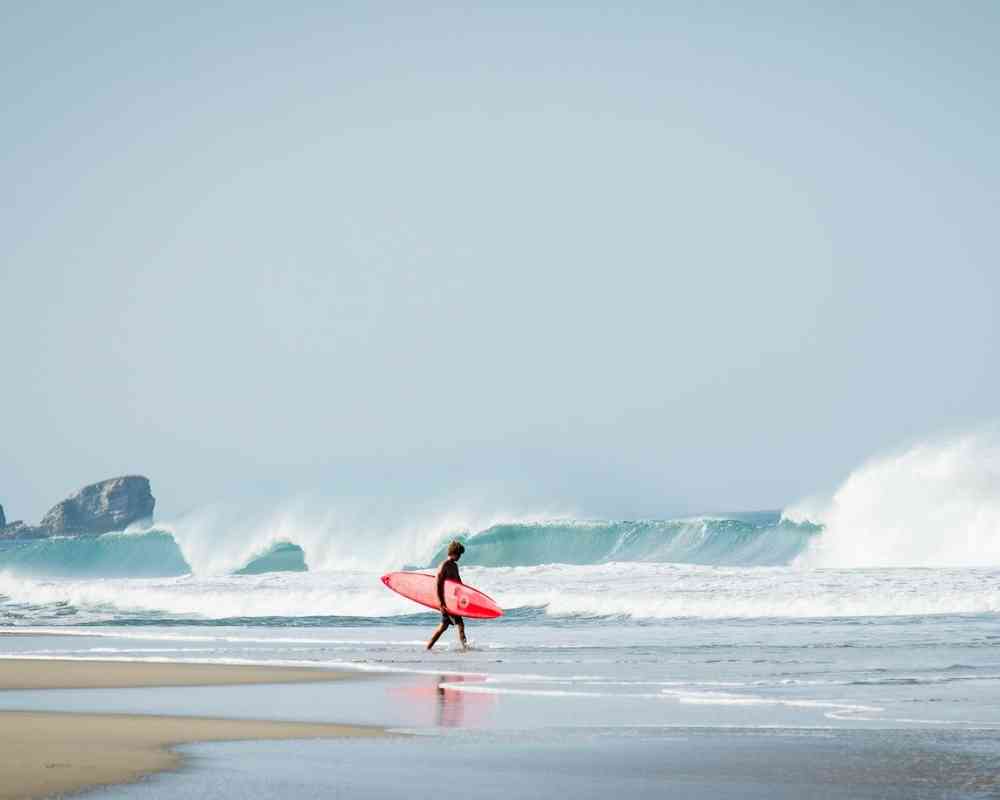 You can use Ookla speed test on a 15GB unlimited Internet on Telcel but you will see that it won't give you a download/upload speed of more than 32 Mbps.
Ookla or any other Internet speed website will give you a router location that you will find at the bottom of the results. For Puerto Escondido, it always says "Puebla," a state that's a 12-hour drive away from Puerto Escondido.
This was shocking for me because then I found out that the state of Oaxaca (where Puerto Escondido is) is relying on the Internet from another state that is so far from it.
The state of Oaxaca declared they will have better Internet infrastructure by the third quarter of 2022 but us locals don't really think it will happen. Mexico always announces these things and in the end, it will extend to another year, and another year, and another year.
???? Puerto Escondido Internet providers
Telmex is the main provider for homes, restaurants, offices, and establishments in Puerto Escondido. The problem is they will only give you the basic plan because they don't have enough fiber-optic infrastructure in the state of Oaxaca.
Many expats and digital nomads are now relying heavily on StarLink, an International provider which is more costly than Telmex. Right now, you can install this in your home/Airbnb but there is a waitlist and we don't know for how long!
Some residents rely on Viasat, another provider that is extra expensive but so far, has been performing well. Before booking your accommodations in Puerto Escondido, make sure to ask your host/reception what is their Internet provider.
Pin the image below on Pinterest and save it for later!
????️ Puerto Escondido accommodations with good wifi
It is so stressful to work in Puerto Escondido without good Internet. Believe me, I've tried to sit down in many places and for me, I find it better to stay in hotels with fiber optic.
There aren't a lot of options on this list and it took me a while to crack this code. There are 3 hotels that I always stay in for good Internet (fiber-optic) but make sure to book in advance so you'll get a spot – they are always fully booked!
Below are some of the hotels and accommodations with fiber-optic wifi in Puerto Escondido:
Hotel Aqua Luna
???? Fiber-optic (over 80 Mbps)
???? Vista Hermosa s/n, Sta Maria
I didn't stay in this hotel but a friend of mine recommended it. She sent me a screenshot of 80 Mbps download speed when she was working there and suggested I stay there. Hotel Aqua Luna has a rooftop pool with ocean view and many working spaces within the hotel.
???????? Book your stay at Hotel Aqua Luna
Villa Mango Hostel
???? Fiber-optic (over 100 Mbps)
???? Tehuantepec 27, Bacocho
I always stay in hostels in Puerto Escondido but this is the only hostel with decent Internet, considering it is basic accommodation. You can stay here for as low as $US15 per night.
???????? Book your stay at Villa Mango Hostel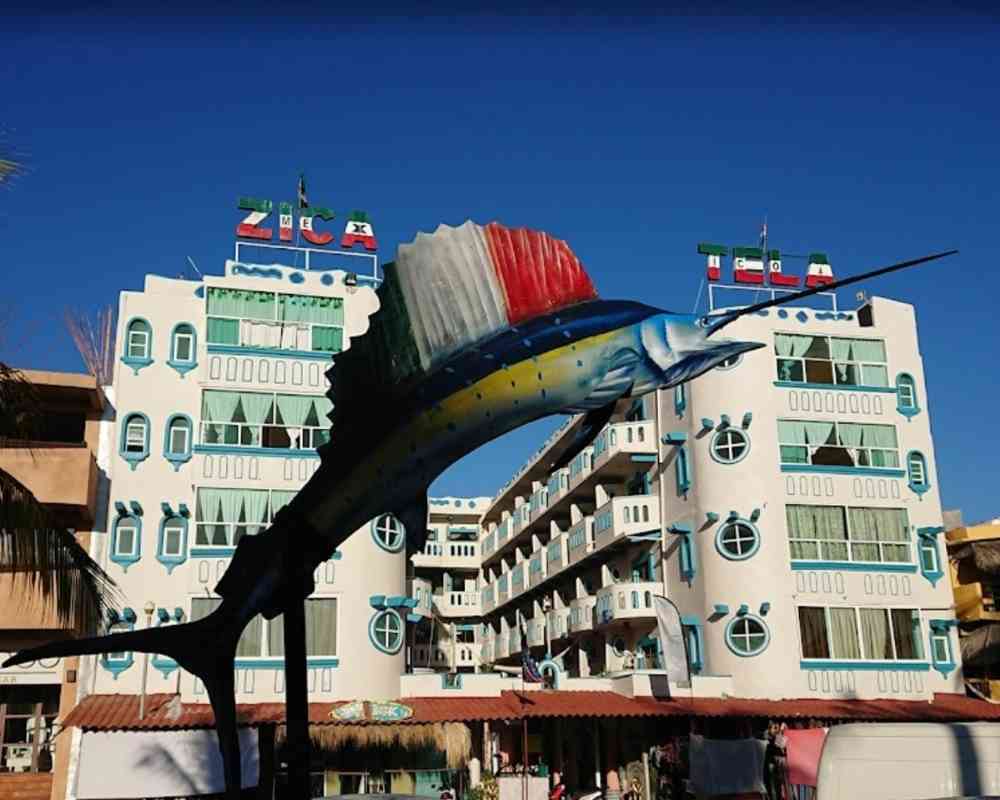 Hotel Zicatela
???? up to 75 Mbps
???? Av. Del Morro s/n, Marinero
Hotel Zicatela is right in the heart of the center so you won't miss this building. It is in front of the beach and is close to restaurants, bars, surf shops, and many other establishments.
???????? For bookings, call +52 954 119 6698
???? Get genuine and honest content like this by subscribing to our newsletter. We send high-quality information once a month. NO SPAM. NEVER.
☕ Puerto Escondido cafes with good wifi
As a digital nomad, I know there was a point in your life when you sat down at a cafe without knowing what the Internet speed is. Then you order 3 cups of coffee and a big breakfast plate only to find out their wifi is not working.
Then you realize you wasted money from ordering because you have to leave and find another place for your call. Or you sit there, eat your food quickly, and waste another hour doing nothing.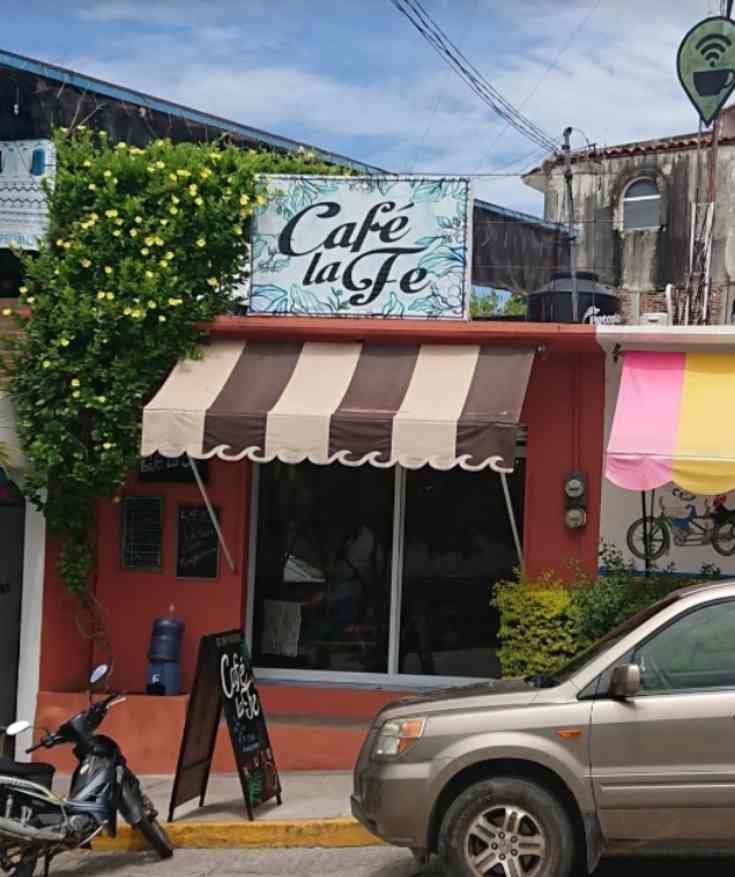 I did this a lot in Puerto Escondido until I discovered Cafe La Fe. The wifi is really fast but the thing is their opening/closing hours are not very clear. There were many times when I came and it was closed!
If they're open, better come early since everyone goes here for the fiber optic wifi, especially during peak hours.
????‍???? Puerto Escondido coworking spaces with good wifi
Puerto Escondido coworking spaces are most of the time reliable since they all have fiber-optic. I never had an issue with the Internet connection and the daily rates are about US$15.
Below are 3 coworking spaces in Puerto Escondido you can choose from but mind you, they are always full so you better get the weekly or monthly passes if you want to maintain a working rhythm and guarantee your spot.
Casa Losodeli Puerto Escondido Coworking
???? Fiber-optic (over 100 Mbps)
???? Prolongación 2a. norte s/n
Casa Losodeli is the most popular coworking in Puerto Escondido and has been welcoming digital nomads for years. They were the first ones who were able to get fiber-optic connections in town.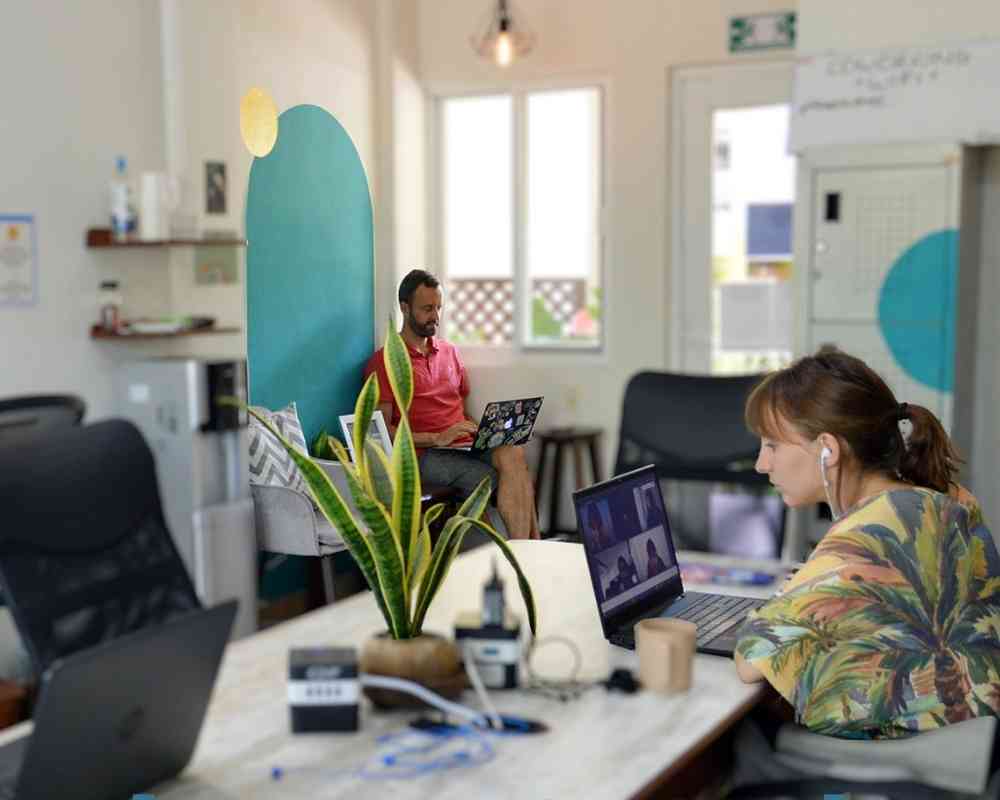 The guests in this hostel are mostly young professionals (from 27 years old) and it is always fully booked. The working areas are great spaces with comfortable tables and chairs. They also have a pool!
???????? Book your stay at Losodeli
Selina Puerto Escondido Coworking
???? Fiber-optic (over 100 Mbps)
???? Av. Del Morro 4, Playa Zicatela
Guests who are staying at Selina Hostel can avail of free decent speed wifi. If you want the fiber optic, you have to pay for it separately which is around US$15 per day and you can sit at the coworking space.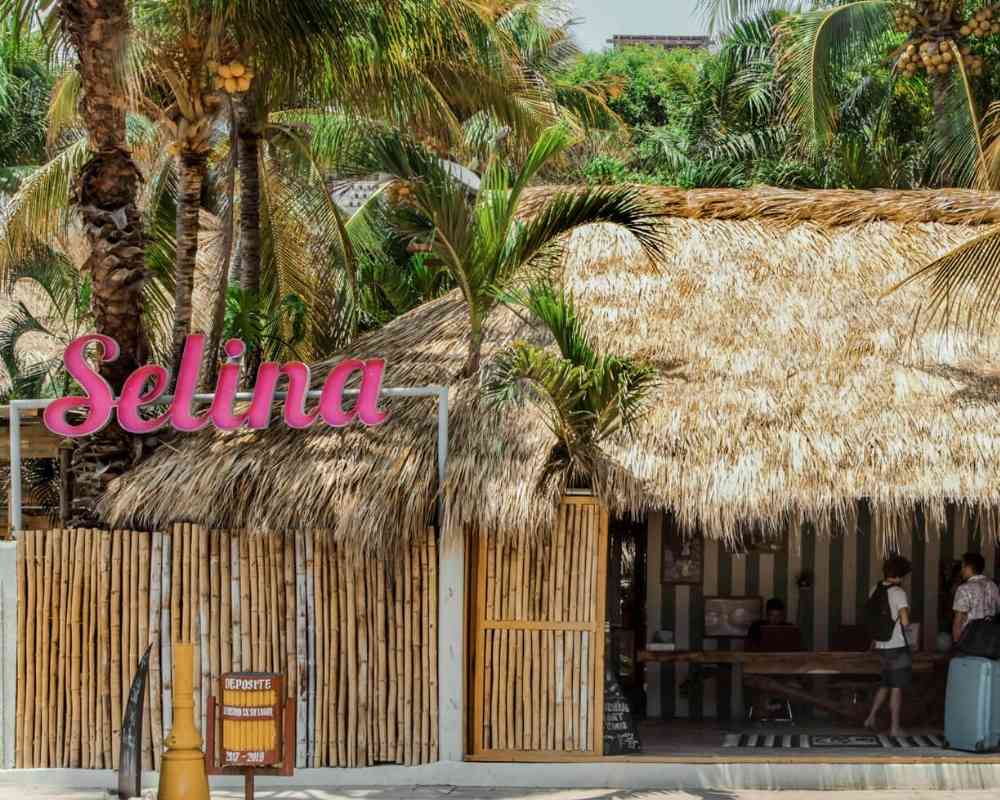 Selina is actually a good and clean hostel and it's not that expensive. They also have discounts for weekly and monthly stays. They also have a digital nomad program all over Mexico which entitles you to discounts on all their branches.
???????? Book your stay at Selina Puerto Escondido
La Semilla Puerto Escondido Coworking
???? Fiber-optic (over 80 Mbps)
???? Marina Nacional 15
I love this place because their food is way better than Selina! They have a selection of vegan and raw meals, smoothies, sandwiches, and great coffee.
The outdoor area with ocean views is perfect for planning a productive day. The rate is less than US$10 (coffee included) to use this coworking space.
????????✨ Tip: Don't travel to Puerto Escondido without insurance! Our digital nomad insurance only costs US$40 per month and it covers COVID-19, too! Check out SafetyWing and see which insurance plan works for you as a nomad.
Puerto Escondido Internet tips and tricks
Internet in Puerto Escondido will always be unreliable
Until the government of Oaxaca figures out how to provide fiber optic to one of the most visited beach towns in Mexico, there isn't really a solution.
The wifi speed in Puerto Escondido is shockingly bad but there isn't one. Sometimes, Internet will be off for one week straight which isn't really convenient for those who are working online full-time.
Another problem is when your router is down, the data plan is down too because they are all from the same providers with different names.
Buy a portable wifi device at Coppel
There is a portable wifi device that you can buy at Coppel in Centro. Coppel is a Mexican gadgets store and is all over the country. The price of the device is US$75 and 15 GB of Internet is included.
If you want to top it up, you can simply buy it for US$10 for every extra 15 GB. I've relied on this heavily while I was traveling in Puerto Escondido and it worked well!
Telcel plan: US$15 for 2 hours
Upon arrival at Puerto Escondido, you can buy a sim card. Telcel has the best signal in the country although I also tried my T-Mobile sim card and was surprised that it was faster.
A Telcel unlimited Internet plan costs US$15 for 2 hours (strong connection). If you don't need to connect it to your laptop, just get the normal data plan of US$10 for 30 days.
There are Telcel kiosks in airports in Mexico and all over Puerto Escondido. It won't be difficult to buy a sim card or top-up the data plan.
Use the Ethernet wire from your accommodation
If you're staying in a rental home in Puerto Escondido, connect the Ethernet wire to your computer – this always works! However, you have to have your own wire since not all Airbnbs/Vrbos provide this.
Schedule your calls during the day
After sunset sessions at the beach, everyone goes home and uses the Internet heavily. This leads to poor connection even if you have fiber-optic.
With this, I learned to schedule my calls early in the day and/or do it while everyone's at the beach. If you want to live in Puerto Escondido, you need to be creative! 5:00 AM – 7:00 AM always works for me and it also encourages me to get up early!
Find places to stay in La Punta or Centro
I don't have any specific places to recommend in La Punta or Centro but in my experience, the Internet connection here is stronger and more decent than in other areas.
✈️ Ready to move to Puerto Escondido? If you need more information about Puerto Escondido Internet, I'd be happy to update this post – just leave your questions below!
Trisha traveled to Mexico in 2018 and after a year, she found herself obtaining a 4-year residency visa in Mexico. She is the Editor-in-chief for our Living in Mexico Series which has helped over 3,000 Americans move to Mexico with ease. Trisha currently resides in Cabo San Lucas, Baja California Sur.