I lived in PV for a year, and in this article, I will share my personal cost of living in Puerto Vallarta Mexico.
📥 Hi Trish, a friend of mine from LA recommended your blog and I love your helpful content. I am writing to you because I see that you lived in Puerto Vallarta. I want to pick your brain about the costs. How much did you spend living there? How did you find cheap rent? I am planning to move to Puerto Vallarta this year. Any help and advice would be appreciated. Thank you for all you do!

Charles Mullen, Los Angeles (CA)
Hola Charles!
Thanks for following this blog, and I'm glad you are considering moving to Puerto Vallarta! I luckily enjoyed living there for a year before moving to my home now in Cabo San Lucas.
I always tell people who read this blog and ask about the cost of living in Mexico: it will all depend on your lifestyle.
As we all our unique individuals with different budgets, it is really hard to answer if the cost of living in Puerto Vallarta Mexico suits you.
So in this post, I wrote only about my personal expenses and not some general expenses from a cost of living website.
You can also check my Living in Mexico series where I talk about banking, visas, and everything that you need to know before moving to Mexico or while living in Mexico.
I will try my best to answer all your questions but if you feel like it's incomplete, send us a message again, and I will happily update this post.
Xx, Trisha
🧐 Questions about Puerto Vallarta Mexico? Ask us on Tiktok.
Your cost of living in Puerto Vallarta Mexico will depend on your lifestyle. Just a little bit about me: I was a single woman with 2 big dogs when I was living in PV.
I think this is important to mention since single households are always more expensive. I know that because I now live with my partner in Cabo San Lucas, Baja California Sur and I've noticed how my expenses differ.
In Puerto Vallarta, I also had a car and lived in different set-ups. I lived in a 3-BR house in Nuevo Vallarta ($650 USD per month) and also an oceanfront condo in Marina Vallarta for $3,500 USD per month.
See the difference in those prices? A $3,500 USD condo vs a $650 USD house? It all depends on the areas you want to live in.
The cost of living in Puerto Vallarta Mexico when it comes to rental prices is all different and will depend on your location.
🗺️ Puerto Vallarta Mexico Map
📍 Where do expats live in Puerto Vallarta Mexico?
Zona Romantica
The main draw of Zona Romantica is its vibrant atmosphere. This neighborhood offers plenty of options when it comes to entertainment, dining, and nightlife.
Expats love that they can walk around the cobblestone streets or stroll along the beach and find something interesting around every corner.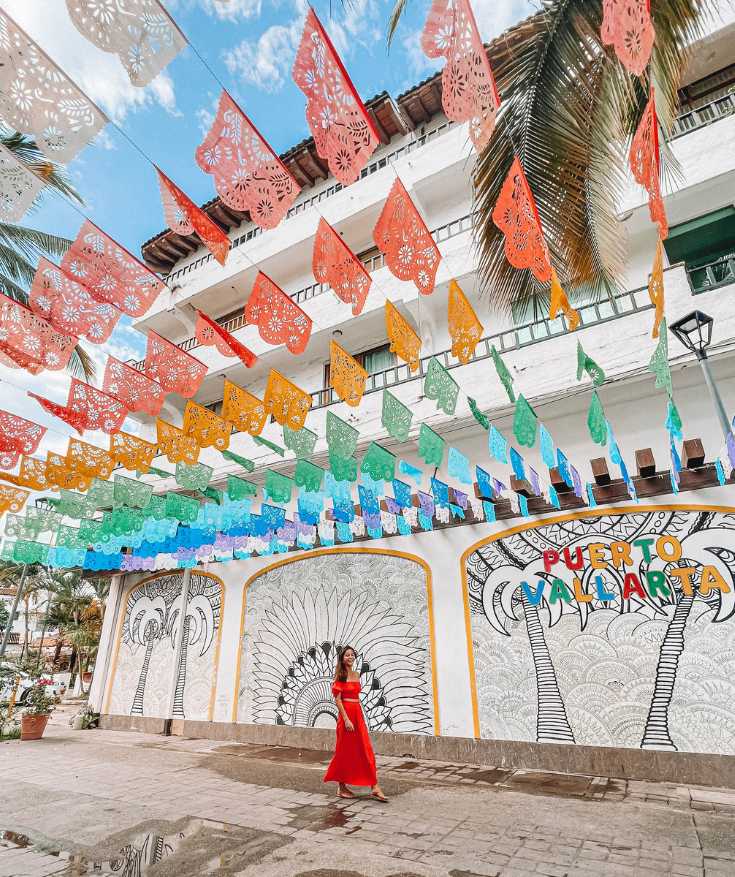 Plus, there are many international restaurants where you can taste your favorite dishes from home.
Zona Romantica also boasts an incredible selection of accommodations ranging from luxury condos with ocean views to smaller apartments from $600 USD up to $5,000 USD per month.
Versalles
Versalles is one of the most popular choices among those seeking a relaxed lifestyle with plenty of amenities nearby.
It is still not that popular in PV and attractive to young people and digital nomads looking for a cheaper cost of living in Puerto Vallarta Mexico.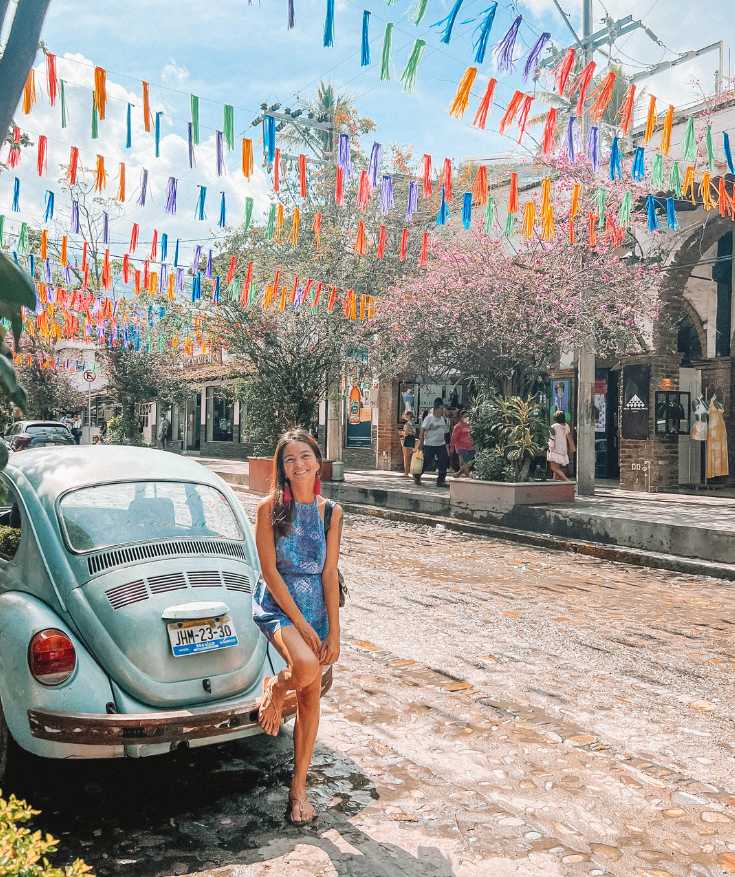 It offers easy access to the beach and other attractions while remaining peaceful and quiet. There are plenty of restaurants and shops within walking distance, making everyday life convenient and stress-free.
The locals are friendly and welcoming to newcomers, providing a safe environment for people from all over the world who want to experience life in Mexico without feeling isolated or intimidated.
Marina Vallarta
Marina Vallarta is a luxury residential and resort community that offers something for everyone. Located just minutes from downtown Puerto Vallarta and the airport, it's easy to get around and explore all this vibrant location offers.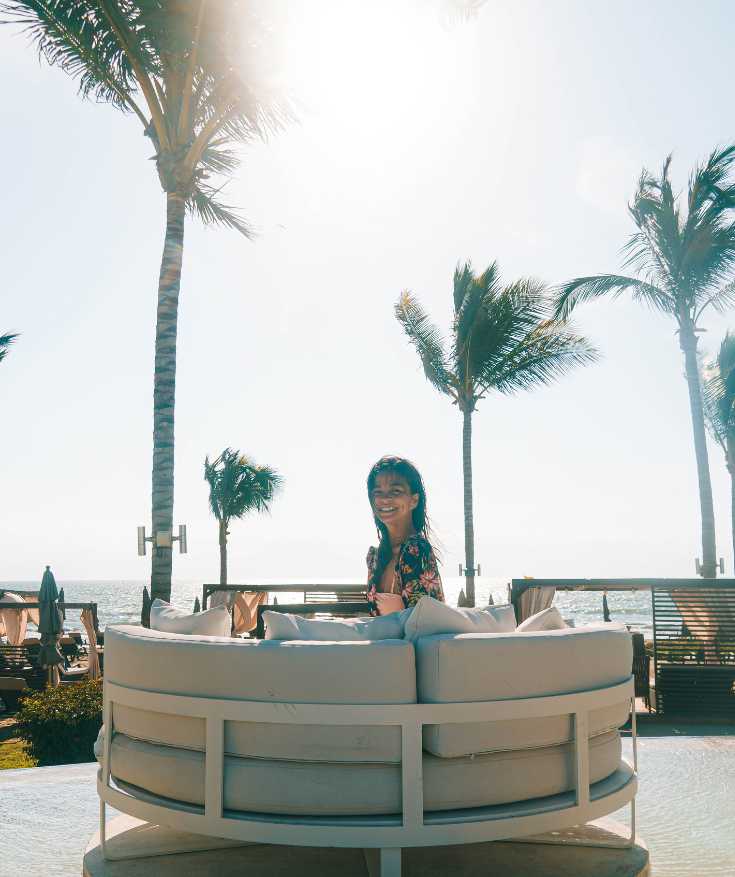 Expats come here because they can enjoy the convenience of modern amenities while still having access to some of Puerto Vallarta's most beautiful beaches and attractions.
From high-end shopping malls to delicious restaurants, there is no shortage of things to do throughout Marina Vallarta. This is where I had the oceanfront condo for $3,500 USD per month (4-bedrooms, 9th floor, with pool).
🏘️ Cost of living in Puerto Vallarta Mexico: rent/housing
The average monthly rent for a one-bedroom apartment in Puerto Vallarta is about $408 USD. For those looking for a bit more room, two-bedroom apartments start at around $545 USD per month and go up from there.
Of course, prices vary depending on location and amenities; if you're looking for something luxurious, expect to pay over $1,500 USD per month.
Utilities such as electricity can also quickly add up; Again rates vary but the average runs about $90 USD per month for basics such as water and power.
Now it is not that easy to find housing in Puerto Vallarta Mexico but below are some websites that I can suggest.
The only issue with these websites are they are in Spanish but you will see pretty much all the details of these rentals from each individual listings.
If you need further assistance, I have a service where my local staff on the ground will take you around for rentals viewing. Just get in touch and we'll set you up!
🌮 Cost of living in Puerto Vallarta Mexico: eating out/food
Fortunately, the cost of living in Puerto Vallarta for food and groceries is affordable. And not only affordable but in Mexico, you can have access to healthy and good quality food at a lower cost.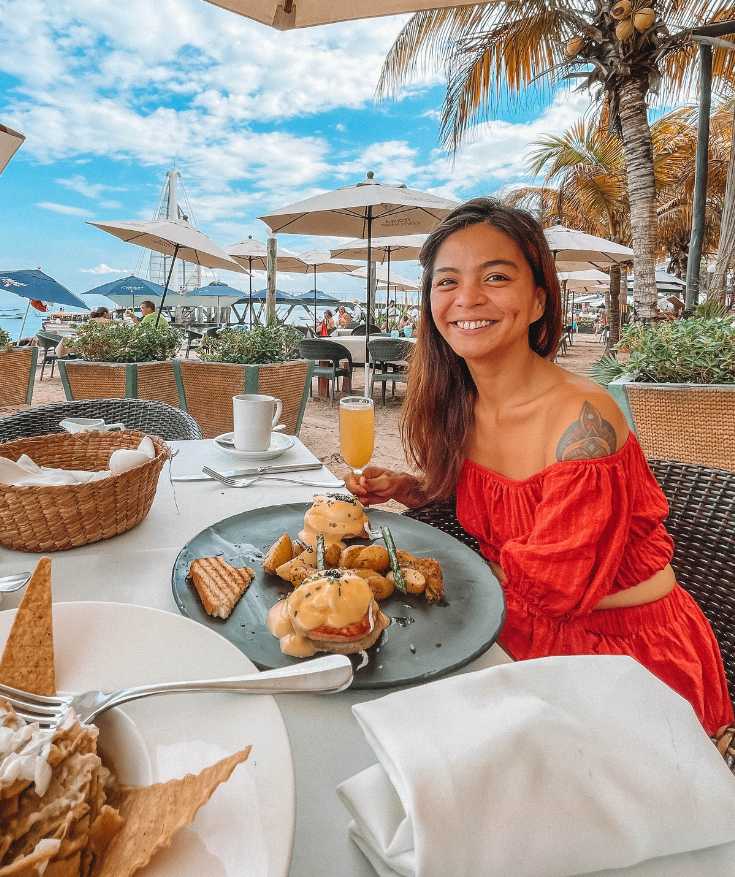 A meal at an inexpensive restaurant usually costs between $2-7 USD, while a three-course meal for two people at a mid-range restaurant can range from $11-$25 USD.
Meanwhile, basic grocery items such as milk and eggs are much cheaper than in other parts of the world (less than $5 USD).
🚕 Cost of living in Puerto Vallarta Mexico: transportation
Most public transportation options in Puerto Vallarta Mexico are relatively inexpensive. Taking the bus will only run you about $0.50 USD per trip and a one-way ticket on the light rail is just $1.10 USD.
Taxis are available as well, but they are more expensive, typically costing between $3-$5 USD per ride depending on your destination. You can use Uber in PV, and it's cheap.
As for me, I have a car that I bought in Mexico when I received my residency visa in 2021. I waited for my visa because they can't put the car in your name if you are on a tourist visa.
Cost of living in Puerto Vallarta Mexico: personal care
From haircuts to spa treatments, there are plenty of reasonably-priced options available. For example, you can find a basic women's haircut for just $6 USD and men's haircuts start at around $4 USD.
That is what a general cost of living in Puerto Vallarta article would say but there are tiers and levels for salons here.
Those who have regular expat clients (as in the go-to haircut guy) can charge up to $15 USD for a haircut and in Mexico, that's already expensive.
When it comes to beauty treatments such as waxing and manicures, prices begin at around $10 USD depending on where you go.
Where I go, a massage will be $75 USD and waxing can go up to $40 USD per area. I also pay a housekeeper $15 USD per visit (8 hours of work).
🏖️ Cost of living in Puerto Vallarta Mexico: entertainment
A meal for two at an inexpensive restaurant will set you back around $25 USD while going out for drinks can range between $9-15 USD.
Movie tickets are also quite affordable at just under $5 USD each. Other activities such as bowling or visiting an amusement park will only cost around $10-20 USD per person.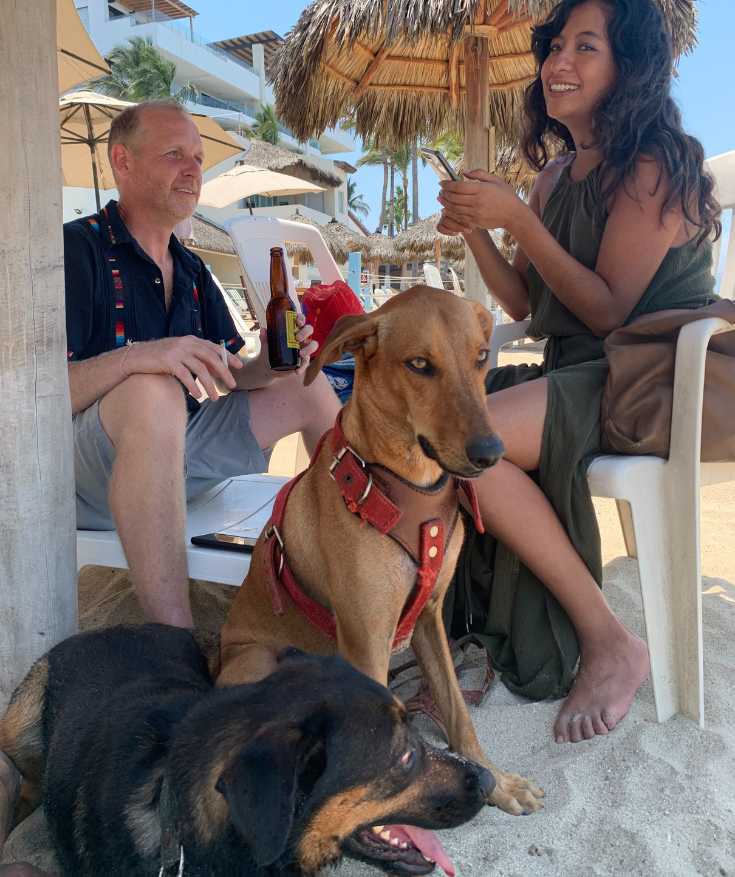 Again, we are all different individuals so for me, my form of entertainment is usually traveling around Riviera Nayarit or small towns near Puerto Vallarta.
🚗 Do you need a car to live in Puerto Vallarta Mexico?
No, you don't. But take note that Mexico is like the United States when it comes to cars – everyone has it. The reason why I bought a car is that I wanted to explore nearby towns from Puerto Vallarta.
In my line of work, which is travel and helping expats move to Mexico, it is necessary for me to know the places so I can recommend and give better advice to my clients.
Basically, for me, it is for work. But if you don't plan to go around or travel all the time, you will be fine in Puerto Vallarta without a car.
Occasionally, if you want to do some day trips from Puerto Vallarta, it's so much easier to ask a driver to drive you around. I can recommend you my PV driver, too!
💵 Is it expensive to live in Puerto Vallarta Mexico?
The cost of living in Puerto Vallarta depends on each individual's lifestyle and preferences. For example, if you opt to stay in a condo near downtown Puerto Vallarta, your rent could be anywhere from $600-$2500 USD per month.
However, if you are looking for something more budget-friendly, plenty of options are available outside the downtown area that can be as low as $350/month.
There is no exact and concrete answer to this. You can even live up to $5,000 USD per month in Puerto Vallarta if you want to (and if you can afford it). There's no limit!
💲 What's the average rent in Puerto Vallarta Mexico?
The average rental price for a one-bedroom apartment for rent in Puerto Vallarta is $350 USD per month. This is significantly lower than most major international cities like Tokyo, New York, or London.
On top of that, you'll find plenty of shared housing options available if you're looking for more affordable options.
Plus, it's easy to negotiate deals with landlords during the slower months (May-September). So don't be afraid to haggle!
Of course, haggling requires Spanish skills and I've seen how different it is when I talk to landlords in English and in Spanish. The deals are always different!
🙋 Is Puerto Vallarta a good place to move to?
Puerto Vallarta Mexico is one of the most beautiful places in the world. It boasts white sandy beaches, crystal blue waters, and an abundance of culture and entertainment.
When it comes to the cost of living in Puerto Vallarta Mexico, it's surprisingly affordable. Groceries are on average 40% cheaper than in other countries and housing prices are some of the best in Latin America- perfect for those looking for more bang for their buck.
Not only that but there are plenty of job opportunities available in tourism-related industries as well as small businesses throughout the city.
You can get a great quality of life in Puerto Vallarta Mexico cheaper than in the United States, Canada, Australia, or Europe.
💰 How much do you need to retire in Puerto Vallarta Mexico?
It is impossible to give an exact figure for how much money you will need to retire in Puerto Vallarta, there are some important factors to consider when calculating your retirement budget.
The cost of living in Puerto Vallarta is lower than in many other cities around the world. For example, rent prices are significantly cheaper than those found in North America or Europe; groceries and other essentials also tend to be more affordable than elsewhere.
It's important to take into account that taxes and import fees can have an effect on your total costs too.
Additionally, if you plan on starting a business or investing in real estate, these costs should also be considered.
💸 What is a good wage in Puerto Vallarta?
Generally speaking, a good salary to live a comfortable life in Puerto Vallarta would be somewhere between $1,500-$2,500 USD per month.
This could cover rent/mortgage payments on an apartment or house; food and other basic necessities; entertainment expenses such as going out to dinner or the movies; occasional shopping trips; transportation costs; and more.
But take note that with $1,500 USD to $2,500 USD a month, you will need to find the cheapest rent and you won't necessarily live in an oceanfront condo with this monthly budget.
🏡 Is it worth buying a house in Puerto Vallarta?
ABSOLUTELY! Buying a house in Puerto Vallarta is a good investment since it's becoming a popular travel destination. You can rent your property in Puerto Vallarta to tourists and that is very lucrative business.
Of course, some of you are buying a home for personal use and wouldn't want to rent your property to strangers. Buying in Puerto Vallarta is a good investment because of its prime location.
Plus, you have the beach and city at the same time, which is an environment most expats and travelers are looking for.
If you want to know more about buying in Puerto Vallarta, contact me and I will connect you to the realtor who helped me buy a home in Mexico!
Trisha traveled to Mexico in 2018 and after a year, she found herself obtaining a 4-year residency visa in Mexico. She is the Editor-in-chief for our Living in Mexico Series which has helped over 3,000 Americans move to Mexico with ease. Trisha currently resides in Cabo San Lucas, Baja California Sur.