Even in my 30s, I still stay in hostels. I worked in a lot of hostels when I was younger and the vibe doesn't get any better! Here are the Puerto Escondido hostels I love with honest reviews on what I think about each of them.
I was just there last May and I go there every 4 months. It's one of the best destinations on the Pacific Coast. I still stay in hostels up until now. I worked in many hostels when I started backpacking Mexico so I never feel old!
Anyway, here are 10 Puerto Escondido hostels that I love. I didn't write them in order because I had different experiences in each. If you need any more help, feel free to e-mail me or contact me via Instagram, @mexico.insider.
Get access to our local travel experts who can help you with your hassle-free vacation in Mexico! Click here for more info.
🛋️ What to expect from hostels in Puerto Escondido
Puerto Escondido is a popular party place so expect that most hostels have that vibe. A majority of Puerto Escondido hostels have bars and restaurants.
In Puerto Escondido, expect hostels to have lots of common areas like pools. Tourists who visit Puerto Escondido are most likely young backpackers and surfers. PE is known for its outstanding waves!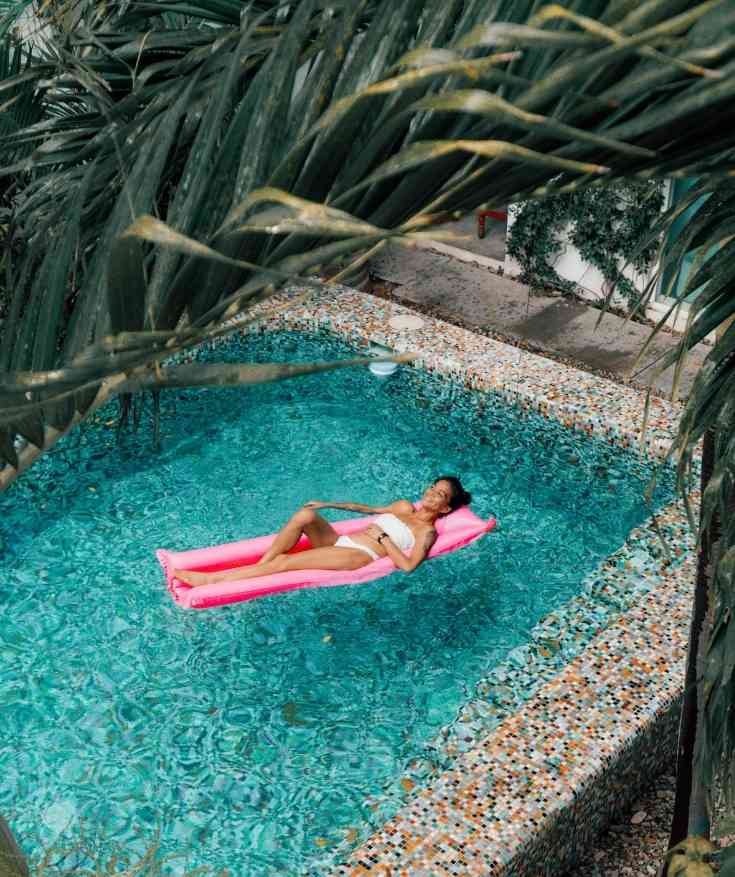 Puerto Escondido hostels prices start at US$10 (most basic dorm room). Although I have never encountered anything 'basic.' They're all very beautiful and are great to stay in.
Also, note that I only stay in hostels if I know that I will be always out and socializing. If I am traveling Puerto Escondido as a digital nomad, like a work vacation, I will stay in hotels or serviced apartments.
Lastly, some hostels in Puerto Escondido require a minimum of 2-nights booking.
🛎️ Platforms to use for booking your Puerto Escondido Hostel
I will also include prices of Puerto Escondido hostels in this post but please note that during the low season (like right now!), prices for accommodation, not just for hostels are cheaper.
The low season in Puerto Escondido is from June to mid-October. It's too hot and it rains a lot. When I was here in 2020, I picked the wrong month and ended up staying in. There was a typhoon when I visited in August!
For hostels, I exclusively just use Hostelworld because their website is easy. I never had reservation problems with them when it comes to hostels.
They charge a 10% reservation fee and for the rest of the payment, you have to pay at the property.
Not a lot of hostels in Puerto Escondido are listed on Booking.com. I sometimes use these two platforms because you can get a reservation here without paying!
Both these websites are also sometimes cheaper because of the deals. I am sometimes surprised how the prices here are so different from other platforms.
🏨 What are the best hostels in La Punta Puerto Escondido?
I would say it's Bonita Escondida, especially if the purpose of your travel to Puerto Escondido is to party and socialize like crazy. The rooms are surprisingly quiet. When I do afternoon naps there, I don't even hear the day drinking outside!
On a smaller scale, I really like Hostel Akumal as well. People are more chill and are always very active. I was able to read a book while I was there – something I wouldn't be able to do in other Puerto Escondido hostels!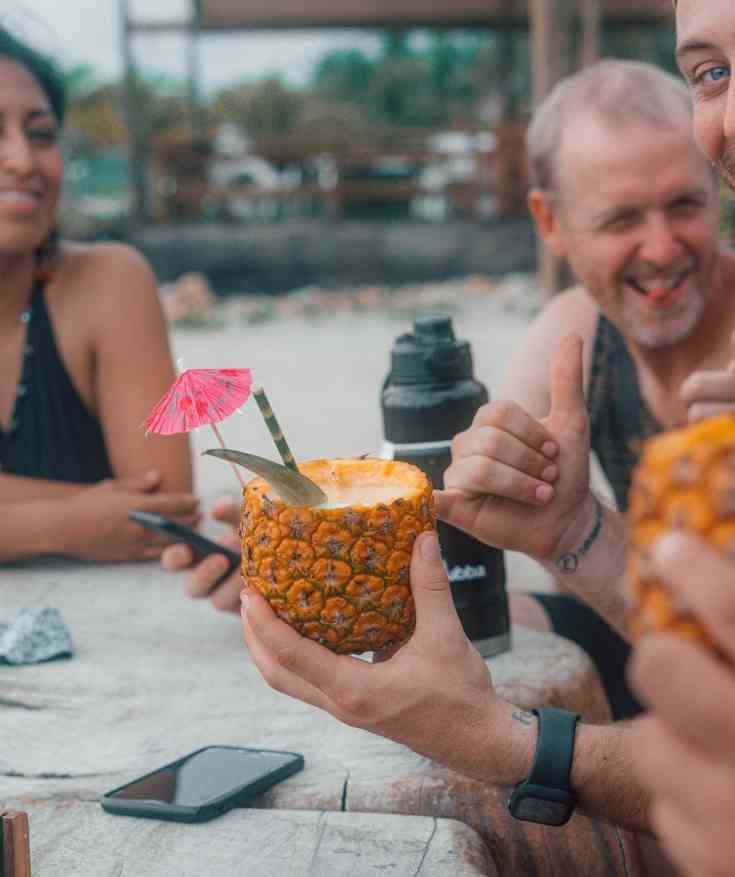 I know that these are super basic things when looking for a hostel in Puerto Escondido but look at these choices below then set the mood you want your vacation to be.
You can be chill (and healthy) in Puerto Escondido – yoga, surf, sleep early. There are many hostels in Puerto Escondido that is suitable for that. Don't think that PE hostels are always crazy!
☕ Readers who buy us coffee help Mexico Insider FREE for all. Consider donating to our coffee fund so we can continue updating the best of Mexico travel to you without a cost.
🛌🏼 10 best hostels in Puerto Escondido
#1: Bonita Escondida: best location
💲 dorms from US$25; private rooms from US$80
👉🏽 book your stay at Bonita Escondida
❤️ What to love: There's a sundeck pool, ocean-facing rooftop, palapa area, chaise lounges, and grassy space. All these are there to cater to different kinds of personalities. This hostel is also pet-friendly and offers free breakfast.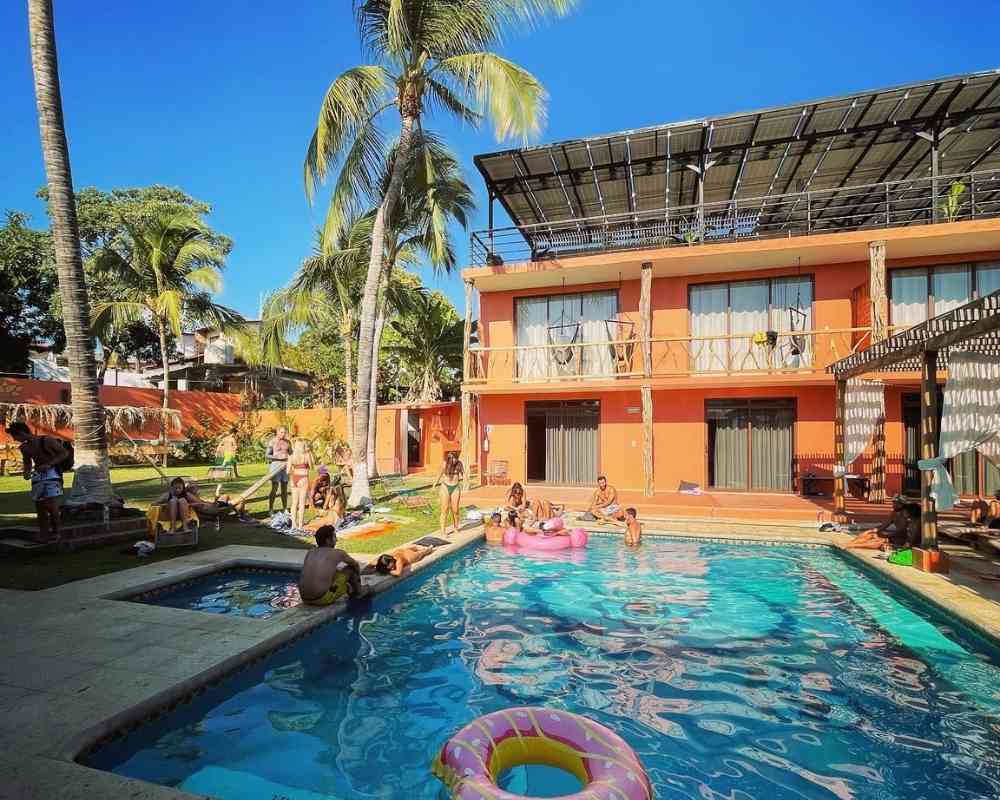 📍 Location: Positioned close to the center, there are bars, restaurants, shops, and attractions around so you enjoy convenience.
On top of this, you can experience a nice stroll at the beach, surf waves, go for a quick dip, or let the sunset mesmerize you as the world-famous La Punta Zicatela Beach is just nearby.
💃🏽 Social activities: If you're the type who likes to mingle and mix with others, Bonita Escondida is one place you may want to explore because it serves as a hotspot for lively and diverse people coming together.
There are many activities for the guests every day so you can collect memories of fun during your stay here.
#2: Selina Hostel Puerto Escondido: best in design
💲 dorms from US$25; private rooms from US$140
👉🏽 book your stay at Selina Hostel Puerto Escondido
❤️ What to love: Selina is best for digital nomads! With its free wifi, paid co-working space, meeting rooms, and phone booths, this hostel is suitable for guests who work remotely online and are busy during the day.
If you're particular with the looks of a place, then you won't get disappointed as Selina has a tropical bohemian vibe and modern style combined.
There are unique structures all placed nicely up the side of a hill. An extensive garden, pools, on-site bar, common kitchen, and communal areas tucked in nature are accessible to guests, be it group or solo.
📍 Location: It's in Playa Zicatela, about 5 minutes from La Punta. Even if it's not in the famous La Punta where everyone stays, Selina is a few steps to the beach!
💃🏽 Social activities: At night, there are social activities, music, and parties to cap off the evenings. Most travelers who stay at Selina are digital nomads so sometimes, they are not very social.
#3: Vivo Escondido Hostel: best in value
💲 dorms from US$10; private rooms from US$32
👉🏽 book your stay at Vivo Escondido
❤️ What to love: Built with high ceilings, it's a lovely house with a big staircase. There's a patio, an outdoor pool, bar, a spacious kitchen with self-catering facilities, hang-out areas, a table tennis area, self-curated furniture, and a shared TV lounge.
All are laid out nicely to give that homely laid-back atmosphere, especially to guests traveling solo.
📍 Location: Located in an unbeatable spot, this hostel is close to local shops, restaurants, bus stations, supermarkets, surfing schools, and the beautiful beaches of Carazilillo, Bacocho, and Puerto Ángelito.
💃🏽 Social activities: Home-style dinners are prepared by an in-house chef. There are plenty of hammocks on the rooftop where you can lounge around while appreciating the view of the sea.
Its walls are decorated with murals which makes Vivo Escondido indeed a colorful house by the sea.
#4: Tower Bridge Hostel Puerto Escondido: most tranquil
💲 dorms from US$10; private rooms from US$22
👉🏽 book your stay at Tower Bridge Hostel Puerto Escondido
❤️ What to love: Intimacy plus activity — this is what you can have from the Tower Bridge Hostel.
This property prides itself on its resort-vibe utilities and variety of activities and tours.
There are private rooms, a standard apartment, and dormitory units. A beautifully designed pool and patio sit on the property and give great vibes to the crowd.
There's a bar, games area, big kitchen, fitness center, wifi, and free parking. There's a free shuttle service, too.
📍 Location: This is a quiet place nestled a bit away from the touristy strip and commercial walkway. It's just across the road from Zicatela Beach and is 7 km away from Puerto Escondido International Airport.
💃🏽 Social activities: Because of its nice layout, guests have more chances to commune and build friendships around what is offered within.
The theme nights, barbecue parties, and unique side trips bring the guests together, making the hostel an enclave for fun, entertainment, and camaraderie.
#5: Puerto Dreams Hostel: best for digital nomads
💲 dorms from US$12.50; private rooms from US$37
👉🏽 book your stay at Puerto Dreams Hostel
❤️ What to love: 3Cs for Puerto Dreams Hostel — communal areas, co-working space, and the cafeteria.
With the communal areas available, guests find it easy to connect with others and with the staff.
As for their cafeteria, they serve a great selection of coffee. They have an awesome kitchen and a bar. A coworking space with a decent wifi connection is accessible to travelers who might need to work even on their holidays.
📍 Location: Puerto Dreams is close to downtown. Local shops, markets, public transport, and restaurants are easy to find. Bikes are available for rent so guests can explore the Mexican neighborhood.
💃🏽 Social activities: A sociable place where you can meet different kinds of travelers, this hostel has a chill rooftop terrace where it gets lively in the evenings. Activities are organized to keep the guests engaged and involved.
#6: Paziflora Hostel: best bunk beds
💲 dorms from US$10; private rooms from US$30
👉🏽 book your stay at Paziflora Hostel
❤️ What to love: You'll love this if you prefer quietness over socialization. Choices in this accommodation range from bunk bed dormitories, private rooms, apartments, and family rooms.
The rooms are air-conditioned. There's free internet access in the rooms and in the common areas. Moreover, there's a 24-hour front desk operation.
📍 Location: Situated in the lower part of Puerto Escondido´s downtown, without having to hire a passenger service, it's easy and convenient for guests to get around local eats, bus terminals, supermarkets, and the beaches.
💃🏽 Social activities: Paziflora Hostel is family-managed so the atmosphere you get is homey. A shared lounge, common outdoor kitchen, a garden, and wifi are available on the property.
One thing that guests rave about in this hostel is the presence of trees and plants. This peaceful area serves as a hang-out place for them to relax.
#7: Hostal Akumal La Punta: most popular
💲 dorms from US$12; private rooms from US$37
👉🏽 book your stay at Akumal Hostel
❤️ What to love: If what you aim for in your visit is the laid-back feel, i.e. sun, sand, and simplicity, then Hostal Akumal La Punta is the place to be in.
The most popular facilities of this cute rustic hostel include a roof terrace, an open kitchen, a dining room, and an adjoining cafe.
You can cook in the shared kitchen or you can also order coffee and smoothies from the on-site cafe. Good music while watching the sunset at their nice rooftop is a good way to forget your routine for a while.
📍 Location: Hostal Akumal La Punta is conveniently located in a beautiful spot near La Punta Beach and close to restaurants, shops, and transportation.
💃🏽 Social activities: If you're backpacking or solo traveling, the vibe of this cozy place would suit you. Although it is not a party hostel, good activities are held with guests. The most popular ones are barbecue, surf lessons, and tours.
#8: Casa Punta: best for surfers
💲 dorms from US$20; private rooms from US$43
👉🏽 book your stay at Casa Punta
❤️ What to love: With private rooms and a shared dormitory to choose from, Casa Punta hostel is a good choice for those setting their sights on surfing.
This is where you'll find one of the best point breaks in the world! Not only that, if you're down for an outdoor or camping-style vibe and traveling with friends, Casa Punta is one great location for it.
There's a barbecue area on the property. Rooms are spacious and there's a kitchen with self-catering facilities.
📍 Location: If you're down for an outdoor or camping-style vibe and traveling with friends, Casa Punta is one great location for it. It's a 3-minute walk from the famous Zicatela Beach.
💃🏽 Social activities: If you're looking for a happy-go-lucky atmosphere, where you can just spend nights under the palapa, swing by the hammocks, or walk in the garden, this hostel is one place you should not miss.
If you're wanting to gain friends during your stay, there are volleyball games, art fun, chess games, movie nights, group dinners, and many more for you to join in.
#9: Nopalero Hostel: budget backpacking
💲 dorms from US$9
👉🏽 book your stay at Nopalero Hostel
❤️ What to love: Nopalero offers a bar, a terrace, a garden, a shared kitchen, and a karaoke bar. Their spacious rooms come with air conditioning units, a shared closet, and a common bathroom. They use digital check-in so you can find out more about the location in advance.
📍 Location: Situated within more or less a kilometer from Bacocho, Carrizalillo, and Puerto Angelito beaches. It's surrounded by many restaurants and bars.
💃🏽 Social activities: With free bikes to go around the area, guests can try the local market and get fresh produce. With internet access in the property, you can get computer work done if you are a digital nomad.
There's an organic garden where you can stay to read a book or chill out. There's free coffee and drinking water for guests. At night, the place changes as they hold activities for everyone.
#10: Pacific Buddha Hostel: best small hostel
💲 dorms from US$17; private rooms from US$37
👉🏽 book your stay at Pacific Buddha Hostel
❤️ What to love: Designed for backpackers, this snug and uniquely decorated hostel have a private room and dormitory to choose from.
Guests will feel comfortable as the accommodations are spacious and overlook the garden. Amenities include a shared lounge and a common kitchen.
Wireless internet is available in the entire hostel for free. Although the rooms are not air-conditioned, the rooms come with quality ceiling fans.
📍 Location: It is located right in the heart of La Punta. Local markets, restaurants, and convenience stores are nearby and close to the beach.
💃🏽 Social activities: Since it's a small hostel, it is easy to form a strong community among the guests. Although it's not a party hostel, there are plenty of activities arranged by the hotel: volleyball, board games, surf classes, mountain trips, shisha sessions, language lessons, yoga, horseback riding, motorbikes, and many other physical games.
✈️ Ready for your trip to Puerto Escondido? If you need more information about the best hostels in Puerto Escondido, I'd be happy to update this post – just leave your questions below!
Trisha traveled to Mexico in 2018 and after a year, she found herself obtaining a 4-year residency visa in Mexico. She is the Editor-in-chief for our Living in Mexico Series which has helped over 3,000 Americans move to Mexico with ease. Trisha currently resides in Cabo San Lucas, Baja California Sur.