Planning to visit Oaxaca City? We know the best Oaxaca itinerary! Every year, I spend the day of the dead in Oaxaca together with the Mexico Insider crew and we truly love this city!
When planning a trip to Oaxaca, it's important to consider a few things before finalizing your itinerary. Firstly, the climate can vary depending on the time of year, so make sure to pack accordingly.
Oaxaca is a city rich in culture and history, so take the time to research and prioritize the sites you want to see. Oaxaca is known for its delicious cuisine, so make sure to indulge in the local specialties like mole and tlayudas.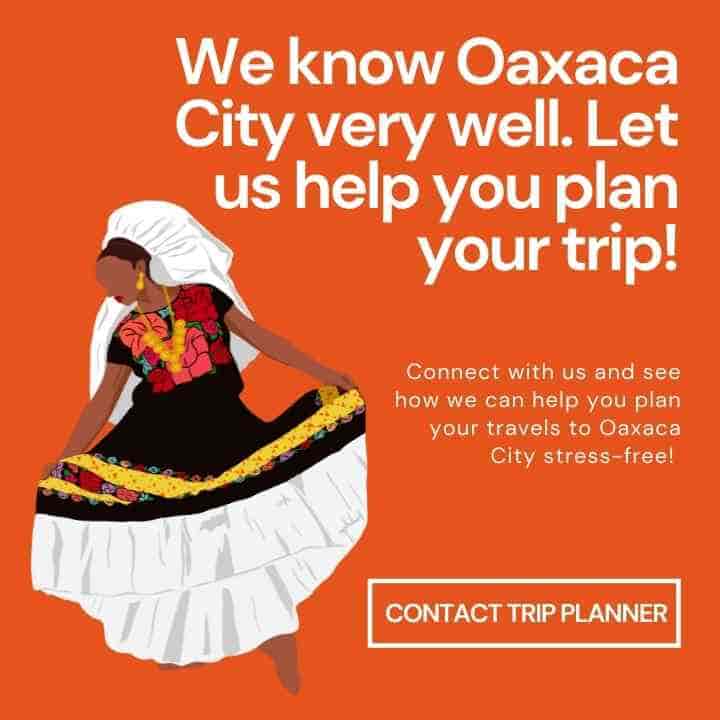 Lastly, be open to experiencing the city's vibrant arts and crafts scene, whether it's visiting local markets or attending a traditional weaving workshop.
Oaxaca, a city that's brimming with culture, history, and flavor. From stunning colonial architecture to traditional markets and exquisite cuisine, this city has something to offer every kind of traveler.
In this Oaxaca itinerary, we'll take you on a journey through the best of Oaxaca, from the iconic landmarks to the hidden gems, all through our first-hand and local experiences!
🧐 Questions about Oaxaca itinerary planning? Ask us on Tiktok.
🔗 Oaxaca Itinerary 5 days: quick links
💃 How to use this Oaxaca itinerary
Where to eat in Oaxaca
Oaxaca is the food capital of Mexico so when you are here, make sure that you try every local food that you can get a hold of. There's no shortage of that in Oaxaca.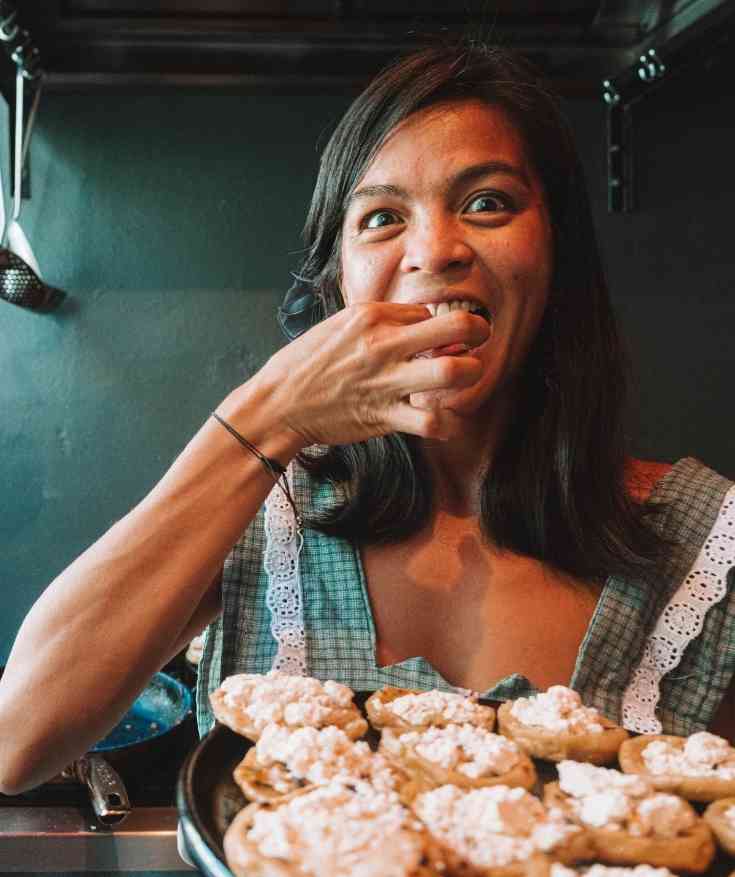 I've had many trip planning clients who are not very adventurous with food and are always comfortable with Western food. Oaxaca has a lot of that too but this city is more focused on Mexican Cuisine.
I only put the important food to try in this Oaxaca itinerary but you can refer to my Oaxaca restaurants list if you want more options.
Things to do in Oaxaca
There are so many things to do in Oaxaca but I only put the important (and must-dos) in this itinerary. Remember that you only have 4 days so the smartest way to plan your trip is to only do the essentials.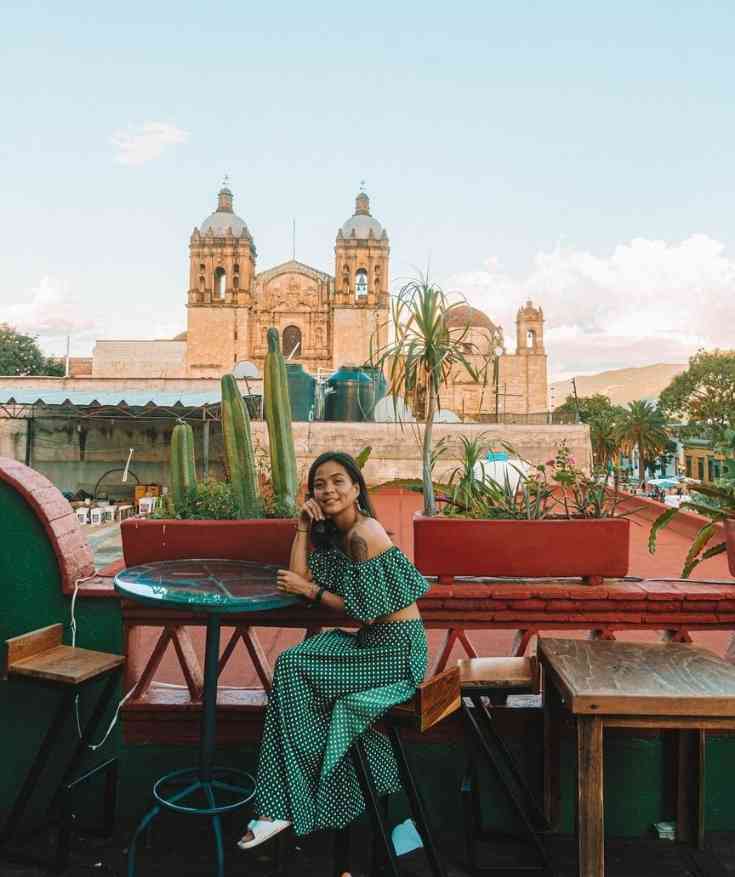 If the activities in this Oaxaca itinerary do not interest you, feel free to check the link above for other activities that will fit your preference. But I assure you that the ones in this article are perfect for your short visit.
Where to stay in Oaxaca City
I usually don't suggest where to stay in every destination as I feel like we are different travelers and have our own preferences when it comes to accommodations.
A piece of advice I can give: the key thing in booking your accommodation in Oaxaca is to know the distance from the landmarks and spots you need to visit.
Check the distance of your hotel/Airbnb from The Zocalo or Andador Turistico as these two are in the center of the city and are good points of reference.
Oaxaca is a big city and if it's your first time here, you might not have any idea how far you are and how accessible it is for you to get to points A to B easily.
For those who are traveling on a budget (solo or backpacker), I have a list of Oaxaca hostels from $15 USD per night that is centrally located.
➡️ Day 1 in Oaxaca City
Note that check-in time in Oaxaca City is 3:00 PM. I know that's super late especially if you took the night bus from Mexico City to Oaxaca but this is a very common check-in time in Mexico.
You can definitely leave your things at your hotel or ask for an early check-in depending on availability and fees. While waiting for check-in time, explore the city on your day 1 Oaxaca itinerary!
Lunch at Oaxaca Market: Mercado 20 de Noviembre
Welcome to Oaxaca! Since it's your first hour in the city, the best way to familiarize yourself with this culture is to have a great meal in the markets. Oaxaca is well-known for their markets and this has become a tourist destination.
But don't worry, you won't see a lot of tourists here. The Oaxacan markets are part of the daily life of the Oaxaqueños so you'll see many locals having lunch here. Inside the Mercado 20 de Noviembre (mercado means market), you will find many food stalls that sell big plates of the typical Oaxacan food.
Go explore further and you will see the meat tunnel, an indoor bbq place in the market. It will be very smoky inside but that's part of the experience! Here, you can order big chunks of meat for sharing and many stalls sell sides such as rice, potatoes, salads, etc.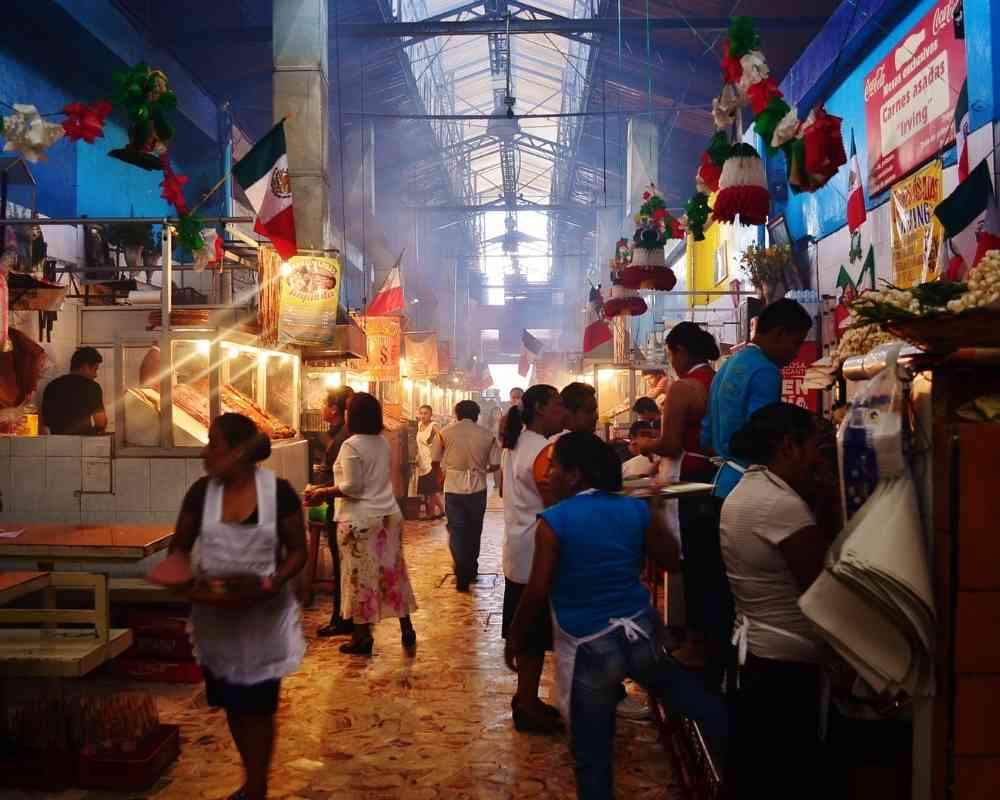 Explore the streets of Oaxaca
Those colorful photos of Mexico on Instagram and Pinterest? They're all taken in Oaxaca City. This is probably the liveliest and most upbeat city you'll ever visit in Mexico because of its vibrant colors. I have never been in a city as colorful as Oaxaca.
Honestly, there is no route to take. Just walk around and you'll find yourself in narrow alleys with impressive murals that tell stories. What I love about walking around Oaxaca City is just discovering cafes and restaurants that aren't in any guidebooks!
Below are some of the areas that you need to explore during your Oaxaca City walk:
Andador Turistico: the main tourist corridor of Oaxaca City
Oaxaca Zocalo: markets, local plaza life, bars, and restaurants
Jalatlaco neighborhood: the best neighborhood in Oaxaca City that's about 20 min walk from the center
Dinner at a local Tlayuda stand
Tlayuda is an original Oaxacan dish and the best one I've tried (not just in Oaxaca but in the country) is the Tlayuda cart at the corner of Minas and Bustamante streets in Oaxaca. This place is flocked by locals but you won't be in line for long because of their very efficient system.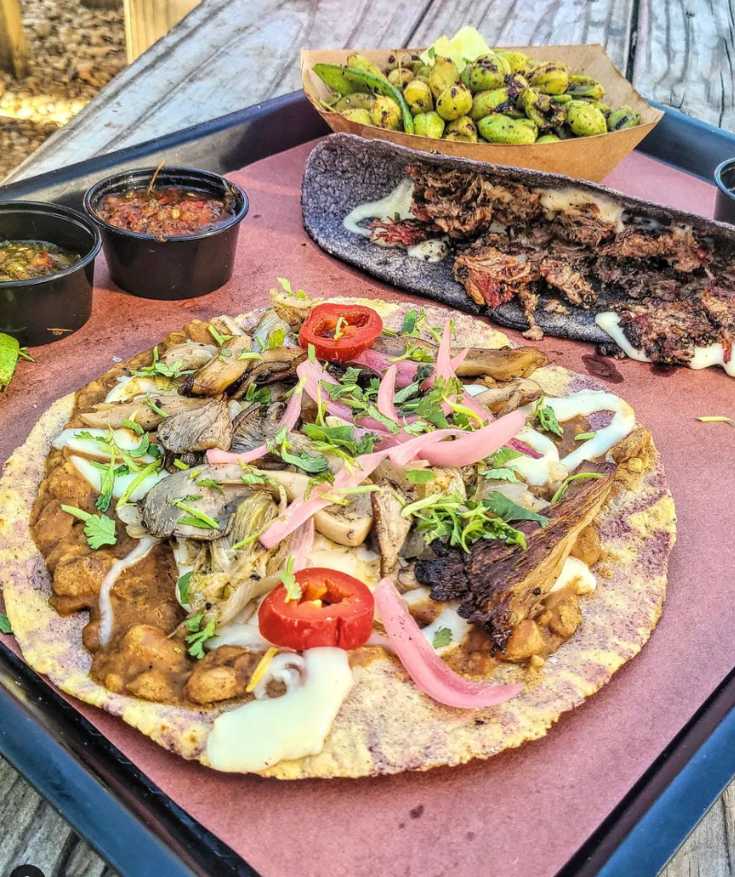 For only $4 USD, you can get a big Tlayuda which is good for 4 people sharing. I always come here with friends since I am not capable of finishing one on my own so if you're with a group, it's best to just order one and split it. Unless you're really hungry and can eat one by yourself.
Mezcal at Los Amantes mezcaleria
Now, for your first mezcal in Oaxaca, I am going to bring you to a super cool place called Los Amantes. Located in the center of town, this is where you can find the premium-grade mezcal in the city.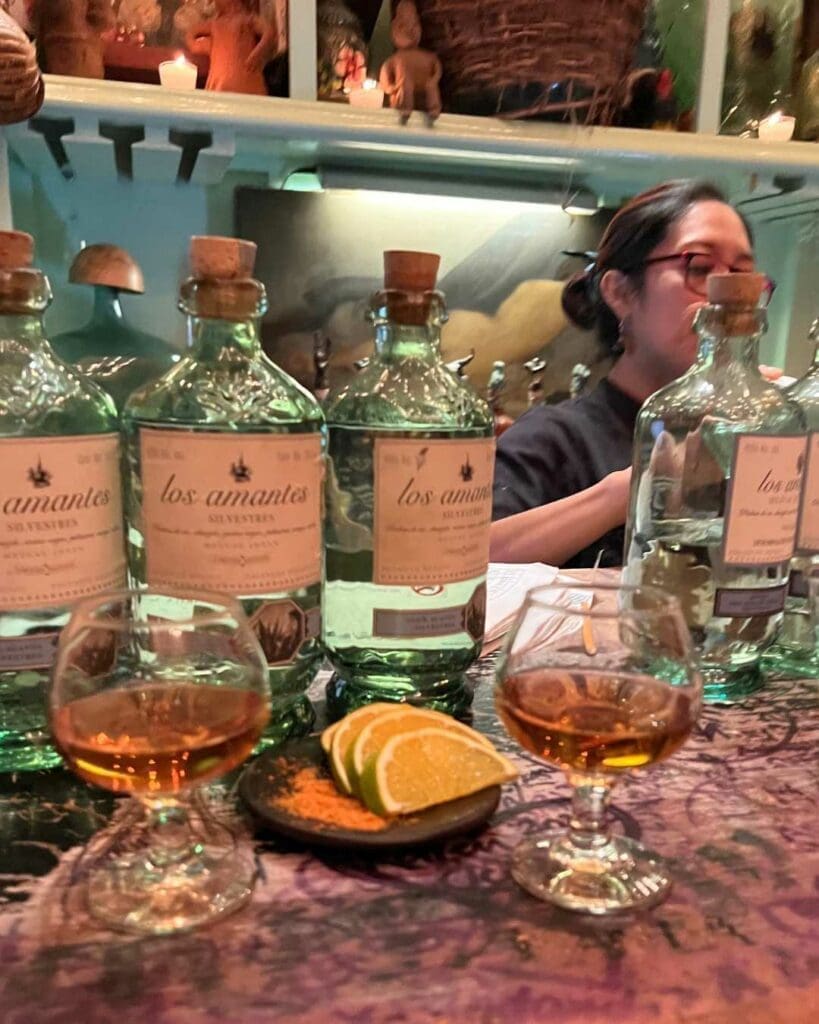 It's not cheap, let me tell you. I was really surprised when we paid $12 USD per shot when we first went here but my local friends explained that their mezcal is really high-quality. Of course, you're also paying for the ambiance of the place.
This is one of the best mezcalerias in Oaxaca and I really love coming here!
➡️ Day 2 in Oaxaca City
Breakfast at Cafe El Volador
I stumbled upon Cafe El Volador during a random walk around Oaxaca City. The facade was so colorful that it made me enter the building. It doesn't always mean that when a place is cute, their food is great so I went ahead and tried to have breakfast there.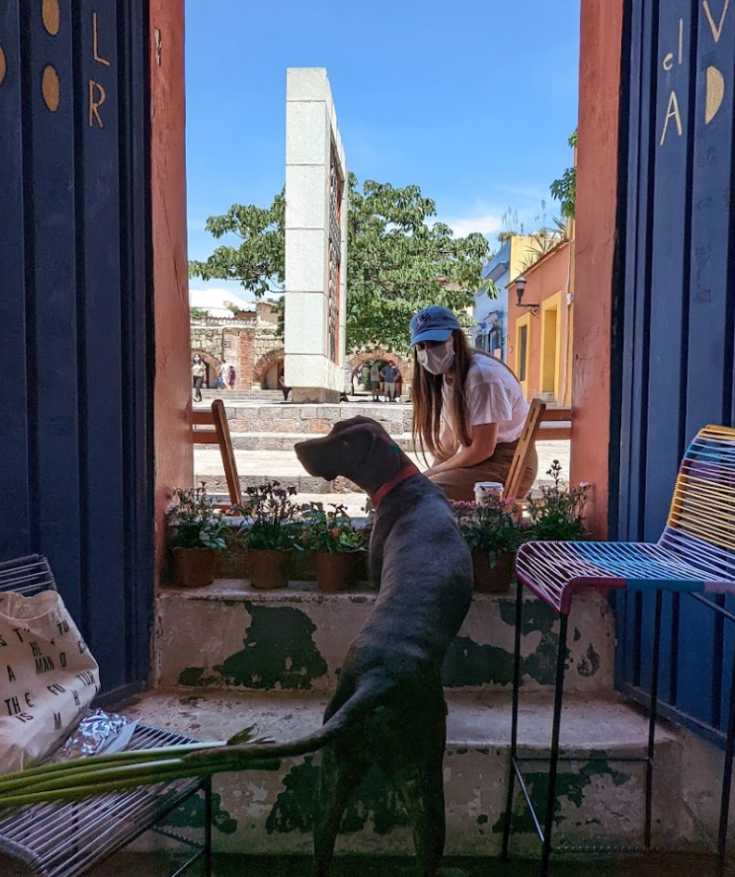 There are many cafes in Oaxaca City. As you know, Oaxaca is not only the food capital of Mexico but is also very well-known for its coffee beans. I honestly feel like there is not one bad cafe in Oaxaca. You can almost go everywhere and have a great coffee experience.
Oaxaca mezcal tour (6-7 hours)
You are already in Oaxaca so it's not right to miss a mezcal tour. Take an hour drive out to Santa Catarina de Minas, about an hour's drive from Oaxaca City. I had the great pleasure of visiting this local family-owned palenque and was able to learn everything about the production of mezcal.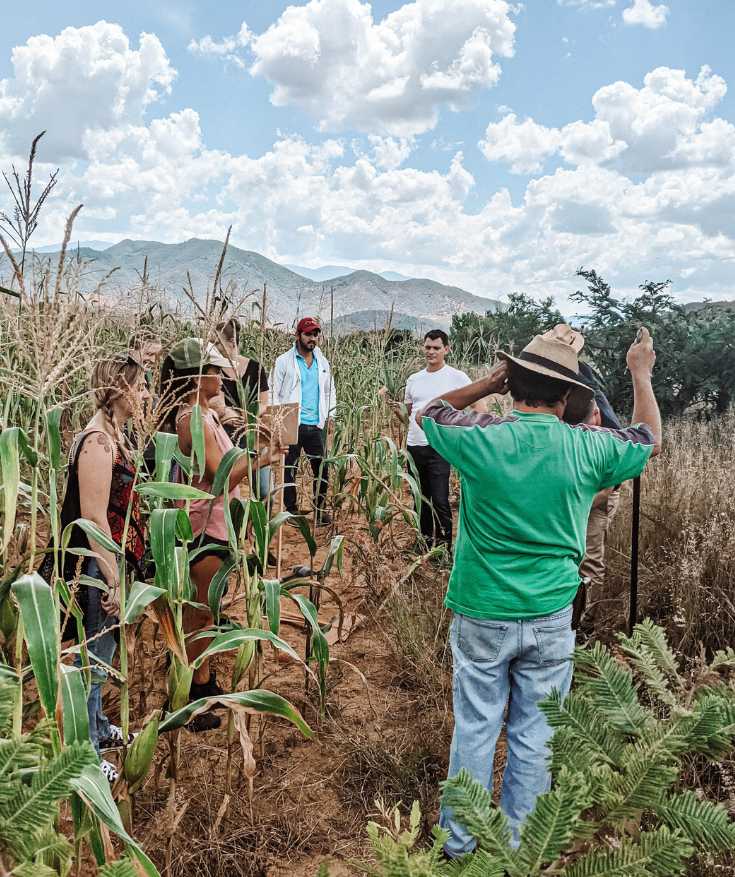 The best part of this tour is that they took me to the agave fields where they are growing wild agave plants. After the field trip, they set-up tables and chairs for a home-cooked lunch prepared by the family's mom. It was so nice to sit out there and have the place to ourselves!
There is no shortage of mezcal shots here. They will give keep giving you shots so make sure to have breakfast before coming here! I made a mistake of not eating so I ended up being really drunk.
Sunset drinks and early dinner at Vaca Marina
I've been to Oaxaca City many times but last day of the dead (2021), I discovered the recently-opened Vaca Marina, a new rooftop bar that serves seafood and meat. I am usually doubtful with eating seafood when there's no ocean around (Oaxaca is inland) but I also remembered how this city is close to the Oaxacan coast.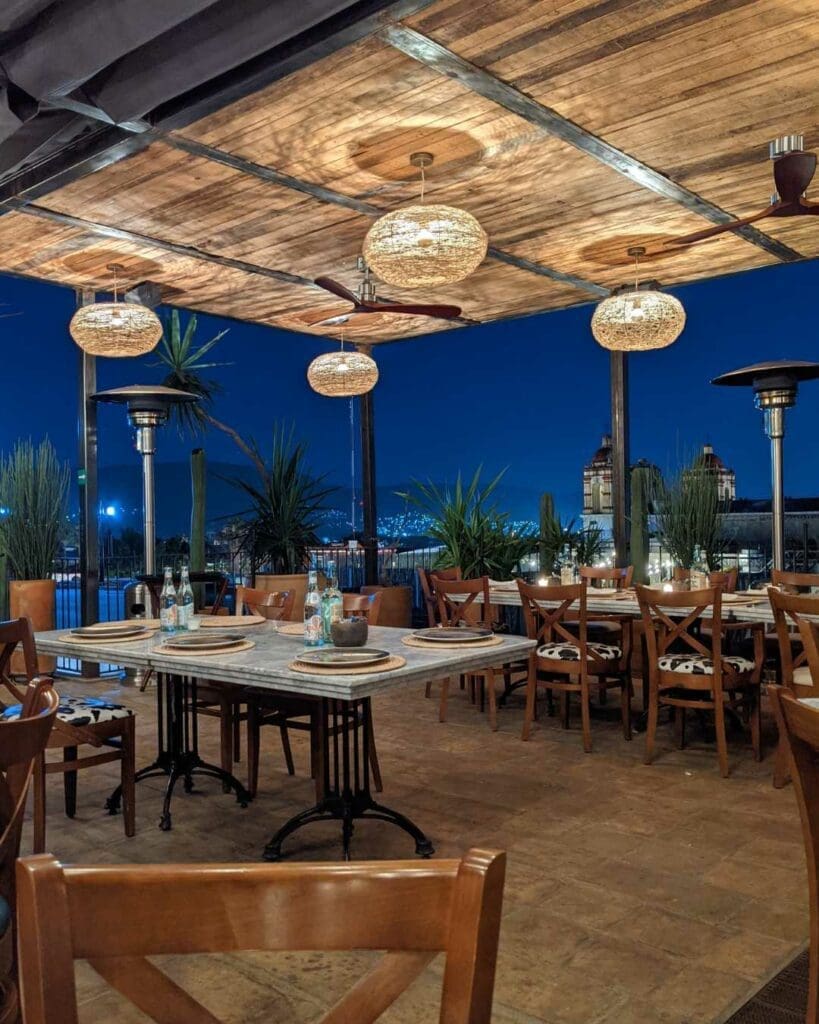 Rooftop bars and restaurants are pretty common in Oaxaca. It is a cultural trend as you get to enjoy great views of the city, with the Oaxaca Cathedral as center-stage. Vaca Marina is a good place for brunch – you can spend hours and hours here drinking and eating.
They have small plates so the best thing to do is order a couple of plates then share it. I really love coming here and I will bring my tour group to this place next year!
More drinks at Selva
By this time of the day, you are probably already drunk but some of us can't get enough of maximizing our Oaxaca itinerary. So I am giving you an extra. After brunching/early dinner at Vaca Marina, you can go to Selva and check out the Oaxaca nightlife.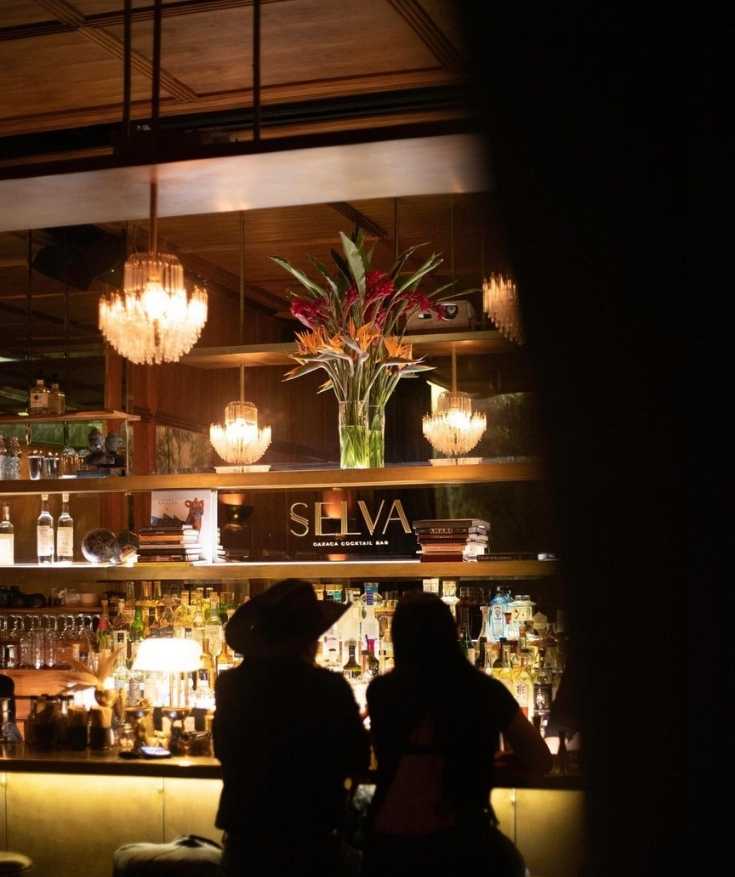 Selva is a cocktail bar and it's pretty chill. You don't have to have a crazy night because you have another tour the next day. At Selva, you can order fresh mezcal cocktails (as in made with real fruits). I also love the ambiance of the place and the locals who work here are super duper friendly!
☕ Support this blog's honest and transparent journalism. Help us add value to what we are sharing. Keep Mexico Insider FREE for all by donating to our coffee fund. Muchas gracias!
➡️ Day 3 in Oaxaca City
Breakfast at Boulenc
I should probably stop promoting Boulenc in this blog since the lines are getting crazier every time I visit Oaxaca. But this is still one of the best breakfast spots in Oaxaca City because they have their own bakery!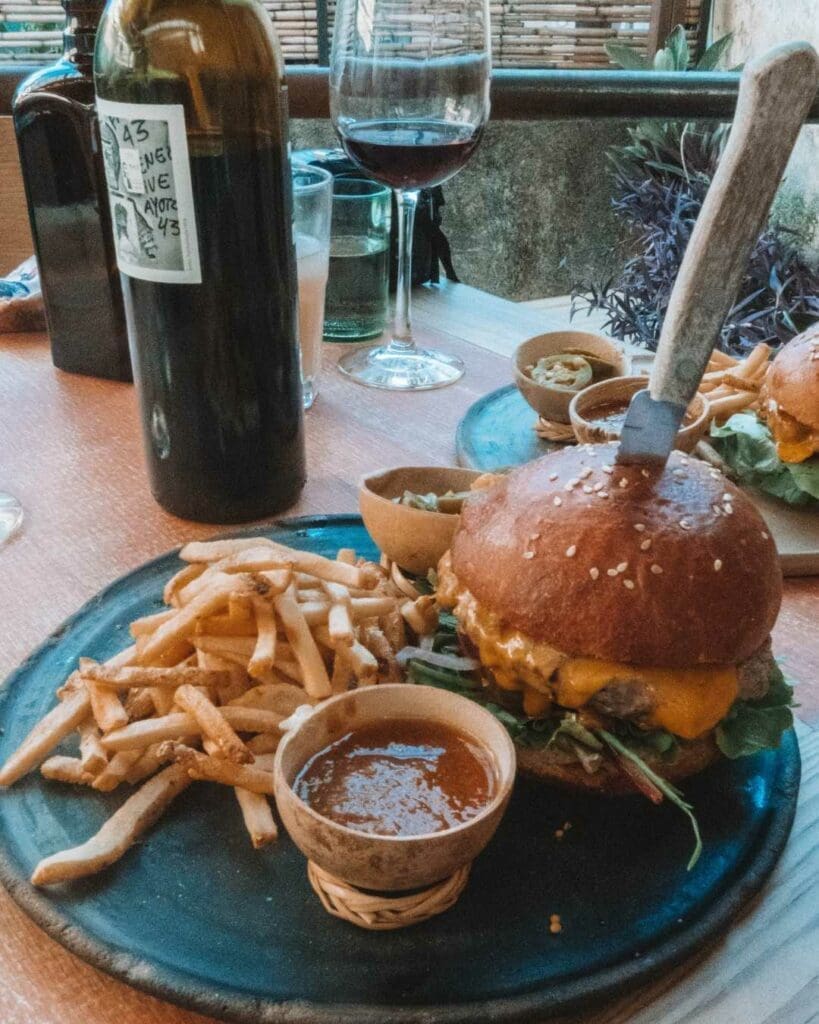 It would be great if you can sit down at the restaurant but if it's full, you can definitely just do takeaway from their bakery (left side of the restaurant entrance). Also, order coffee that will go along with your fresh bread!
Oaxaca textile tour (6-7 hours)
Another activity that will make your Oaxaca itinerary complete is the textile tour in Teotitlan. It's less than an hour's drive from Oaxaca City and it's something you shouldn't miss because textile is very iconic to Oaxaca.
On this tour, you will get to experience and see the tedious process of making bags, carpets, and even yoga mats from their old-school machinery. This is also a very local tour as you will particularly go to the house of the artisan family.
Everything you see in the markets all over the country is from here. I went crazy shopping when I did this tour because the products here are way more affordable than that of the markets at the center.
Dinner and drinks at Jalatlaco neighborhood
Jalatlaco is very pretty during the day but the bars and restaurants are livelier in the evening. For the best experience, come here during your city walk and then come back to spend the evening drinking and eating.
There are many cool places to have dinner here. If you just want to walk around, the street food stalls start at 8:00 PM. Here, they also sell many iconic Oaxacan foods.
Pisa Pizza is a really cheap pizza place in Jalatlaco. It's an Italian place but they also serve mezcal. I was so shocked to find out that a glass of wine here was less than $5 USD. My friends and I love having dinner here before strolling the streets of Jalatlaco at night.
➡️ Day 4 in Oaxaca City
Private trip to Hierve el Agua (you decide how many hours!)
It is still possible to get on a tour on the last day. Hierve El Agua just opened on November 2, 2021, after being closed in March 2020.
Hierve El Agua Oaxaca is one of the weird natural wonders of the world. I've never seen anything like it! It's quite a drive to get there but it's definitely worth seeing.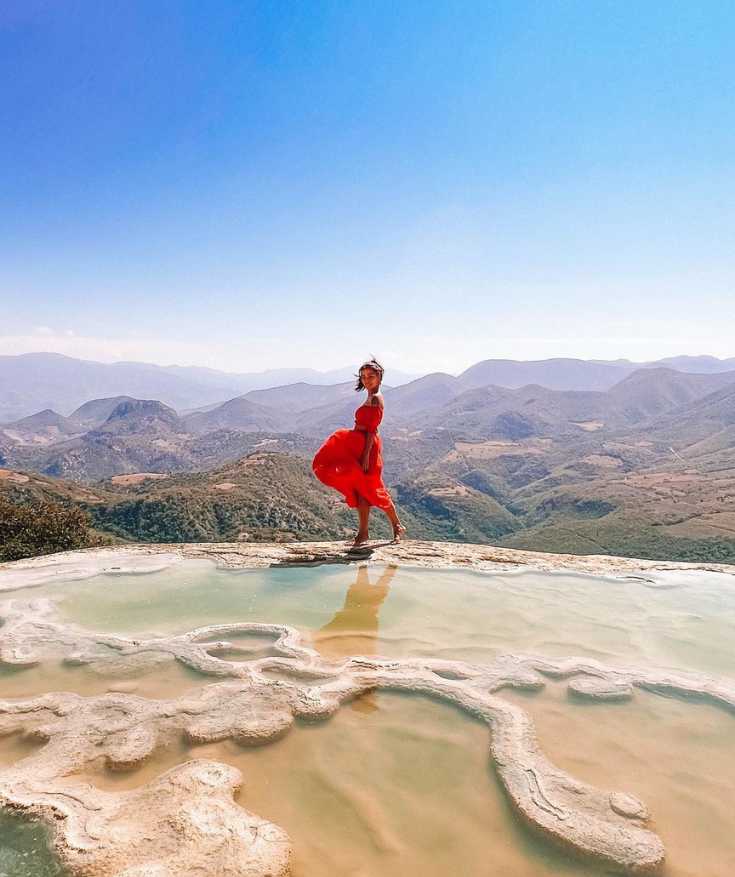 You can enjoy great views, hike to see the waterfalls up close, and even swim in the natural waters! You can easily spend half a day here but take note of the best time to visit.
A private Hierve El Agua tour starts at $120 USD with a private driver for 6-10 hours. With this, you can decide your own pace at your own time.
Additionally, you can also combine Hierve El Agua with a short visit to the world-famous Tule Tree and Mitla Archaeological Site.
➡️ Day 5 in Oaxaca City
Shopping and souvenir shopping
For your last day, you can dedicate it to shopping for souvenirs or going around the city to visit the areas you missed.
One of the best places to start is at the Mercado de Artesanias, a large indoor market filled with stalls selling all kinds of traditional handicrafts, including textiles, pottery, and wooden carvings.
For high-quality textiles, head to the Casa de las Artesanias de Oaxaca, which is run by the state government and showcases the work of skilled artisans.
For unique and eclectic finds, visit the Tianguis de la Merced, a weekly outdoor market that takes place on Fridays in the La Merced neighborhood. And for those looking for high-end folk art, the Galeria Quetzalli is a must-visit destination.
Haggling is a common practice in Oaxaca City, and it's expected that you negotiate on the price of goods before making a purchase.
To start, greet the vendor with a friendly "buenos dias/tardes" (good morning/afternoon) and ask "¿cuánto cuesta?" (how much does it cost?).
If you think the price is too high, you can respond with "es muy caro" (it's too expensive) or "¿me puedes hacer un descuento?" (can you give me a discount?).
If the vendor is not willing to budge on the price, it's okay to walk away and try your luck at another stall. Remember to always be respectful and polite, and to have fun with the process!
Departure from Oaxaca City at night
In all my Oaxaca visits, I always opt for the night flight to Mexico City or take the overnight bus to Mexico City to save on accommodations. Busses in Mexico are super comfortable so if you are flying to your home country from Mexico City, there are many night busses and probably 2-night flights that cater to this route.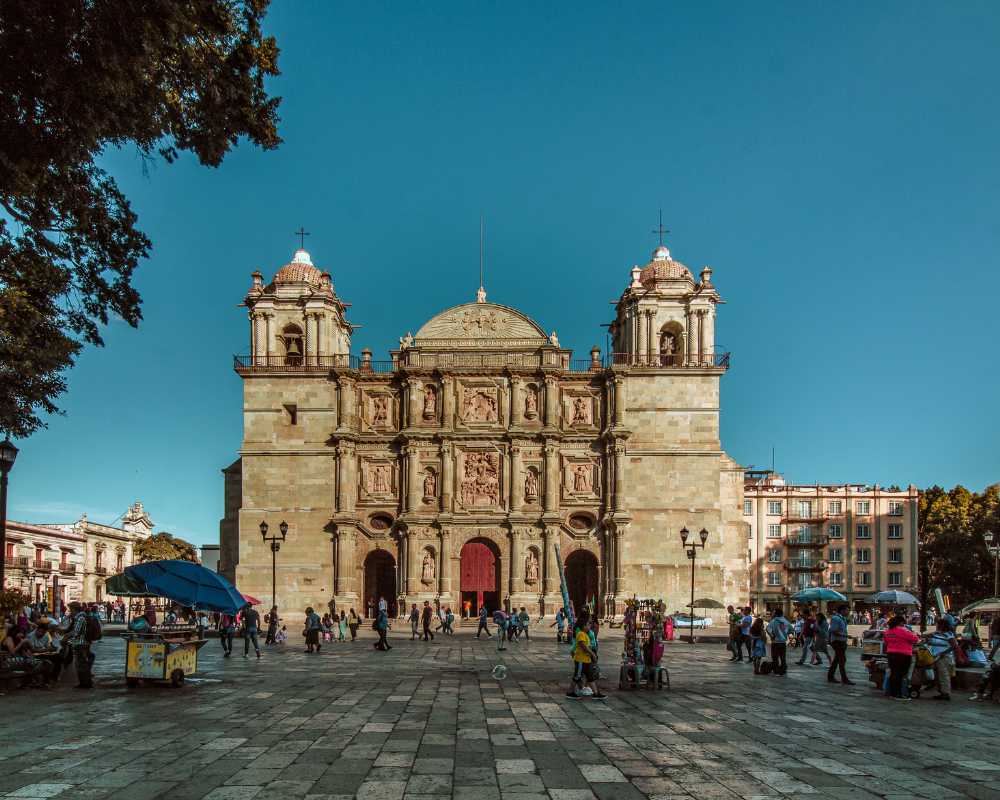 This way, you can still enjoy a full day in Oaxaca City. The bus to Mexico City from Oaxaca City starts at $28 USD and the trip duration is about 6-7 hours. These buses are comfortable for sleeping on so don't worry!
✅ Oaxaca Itinerary 5 days summary
Here's the summary of a sample Oaxaca itinerary for 5 days. Feel free to save it and modify according to your liking!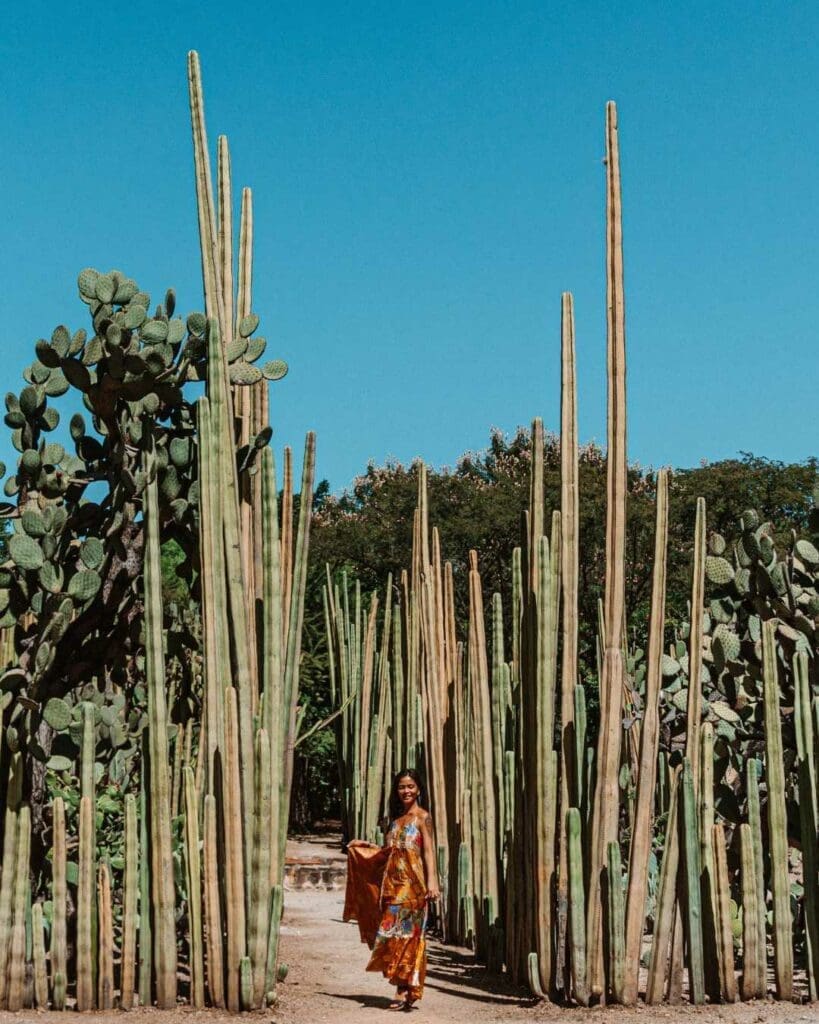 Day 1
Arrival/check-in at your hotel
Lunch at Oaxaca Market: Mercado 20 de Noviembre
Explore the streets of Oaxaca
Explore the streets of Oaxaca
Mezcal at Los Amantes mezcaleria
Day 2
Breakfast at Cafe El Volador
Oaxaca mezcal tour (6-7 hours)
Sunset drinks and early dinner at Vaca Marina
More drinks at Selva
Day 3
Breakfast at Boulenc
Oaxaca textile tour (6-7 hours)
Dinner and drinks at Jalatlaco neighborhood
Day 4
Private trip to Hierve el Agua (8-12 hours)
Street food dinner (Tacos del Carmen)
Day 5
Shopping and souvenir shopping
Visit areas you missed
Departure from Oaxaca City at night
⁉️ FAQ: Oaxaca itinerary 5 days
What is the best time of the year to go to Oaxaca?
The best time of the year to visit Oaxaca City is during the day of the dead – a festival in Mexico that you should not miss! This event takes place from October 31 to November 2. I always come every year so feel free to tag along if you plan to visit Oaxaca on these dates!
Either way, the high season in Oaxaca is from October to May when the area experiences great weather. You won't like to spend summers in Mexico because of the extremely hot weather plus summers in the US and Europe are always the best.
What is there to do in Oaxaca in 4 days?
There are many things to see and do! However, in this Oaxaca itinerary, I will only share with you the essentials, especially if you only have 4 days.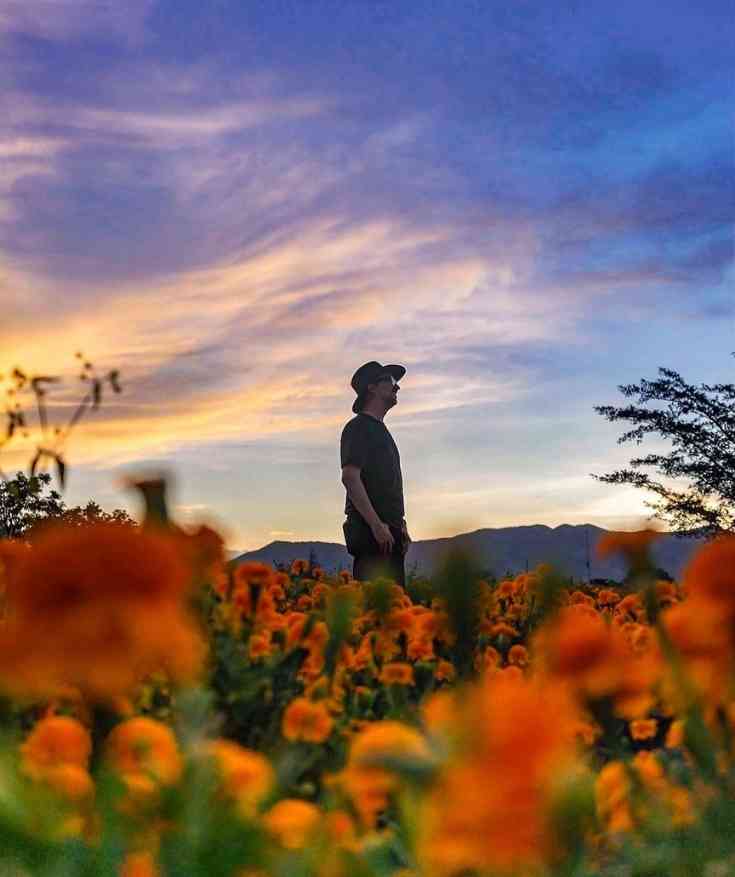 It can get too overwhelming to do them all. The key things that you have to remember when planning your Oaxaca itinerary are mezcal tastings, Hierve El Agua, and artisan trips.
These three are the most important highlights of the Oaxacan culture because you will not experience this in other parts of Mexico. These are things that you will only find in Oaxaca City!
How many days do you need in Oaxaca?
I feel like 4 days in Oaxaca is already enough but I always tell clients and readers who have more time in Oaxaca to combine it with other places like Puerto Escondido.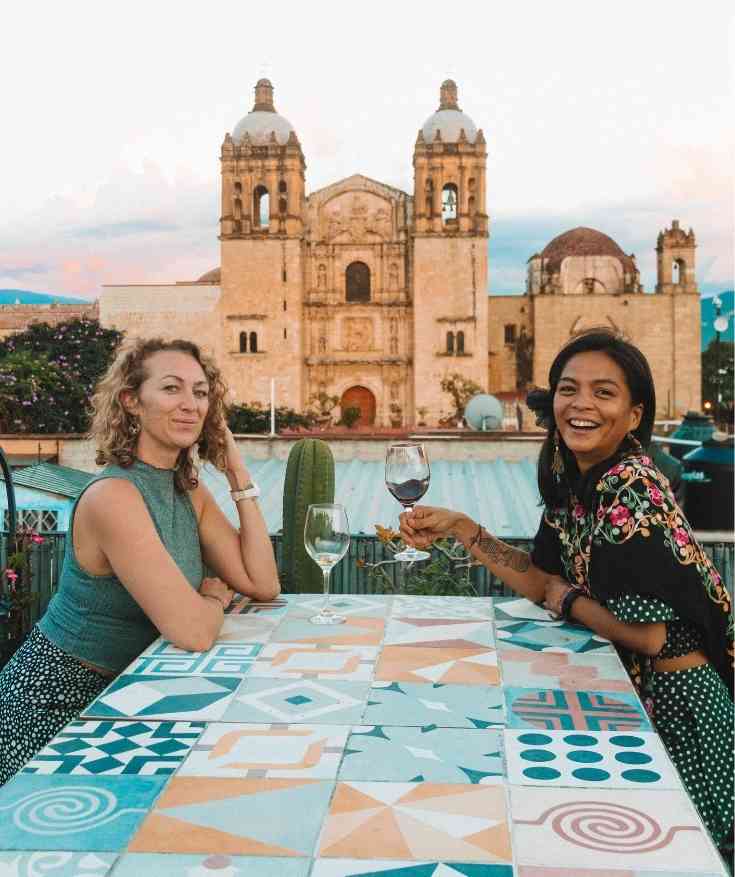 I did a Oaxaca road trip covering Oaxaca City, San Jose del Pacifico, Huatulco, Mazunte, and Puerto Escondido for 14 days! If you have 10 days in Mexico, this is one of the best trips to take.
Is Oaxaca safe to visit?
I always traveled to Oaxaca alone but when I arrive, I have many friends who live there and can hang out with me. In the evenings, they never let me walk alone.
They always make sure they walk with me to my accommodation or send me off in a proper taxi. For your safety, only take yellow taxis in Oaxaca and not the white ones.
Personally, I never felt unsafe in Oaxaca (even on my own) but you have to understand that I travel to this city once a year and already know my way around. I am familiar on how to move and how to act in Oaxaca in order to keep me safe.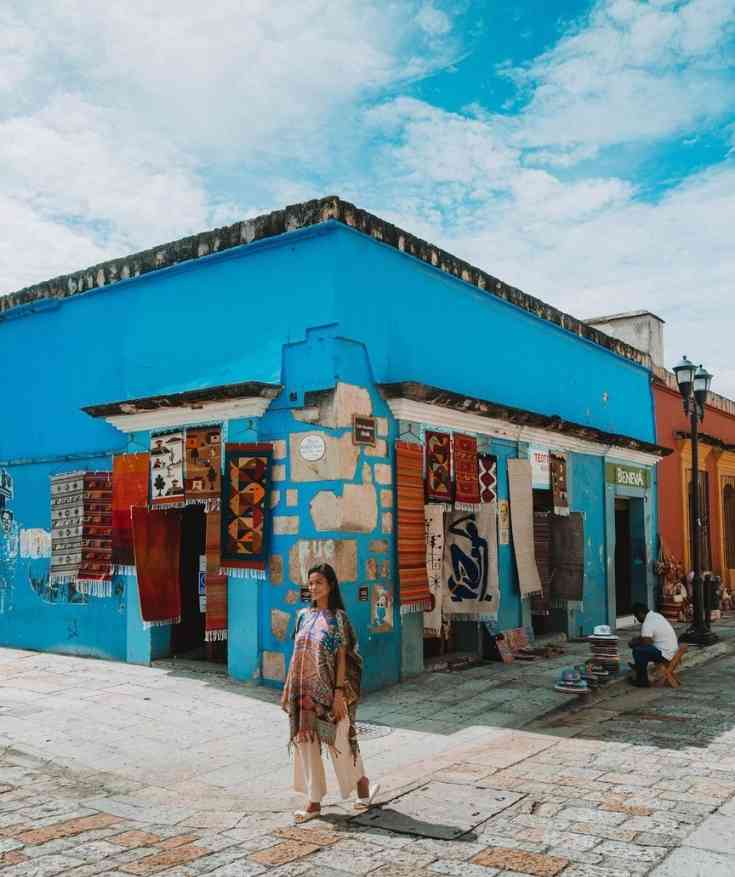 First-time travelers should not be afraid to travel to Oaxaca City because honestly, this is still safer than Mexico City. The only thing you have to worry about safety in Oaxaca City is taking care of your belongings.
Do not go out with valuables dangling on your neck nor leave your bags unattended. Credit cards are widely accepted in Oaxaca (except in the street food stalls) so don't bring too much cash.
Oaxaca is a walking town I encourage you to walk as much as possible as this is the best way to explore the city. Walking during the day is not a problem but after 10:00 pm, always take a Didi (the taxi app used in Oaxaca City).
If it makes you feel safer to know, that there are many foreigners living in Oaxaca full-time, mostly Americans and Canadians. It's also a popular spot for European expats.
Trisha traveled to Mexico in 2018 and after a year, she found herself obtaining a 4-year residency visa in Mexico. She is the Editor-in-chief for our Living in Mexico Series which has helped over 3,000 Americans move to Mexico with ease. Trisha currently resides in Cabo San Lucas, Baja California Sur.