I moved from Puerto Vallarta to Los Cabos and the easiest way to do it is via Baja Ferries. Moving alone is already very stressful and believe me, the process to take the car was very unclear – I had so many different opinions from people I asked.
As usual, when you live in Mexico as a foreigner, you already know that there are many things that are unclear when it comes to things like this. I had to learn everything on my own and in this Baja Ferries guide, I will share my journey with you!
Please note that I came from Puerto Vallarta so I have to drive all the way to Mazatlan. The trip duration was 6 hours. From mainland Mexico, you can also go to Baja California Sur via Topolobampo, a small town in Sinaloa.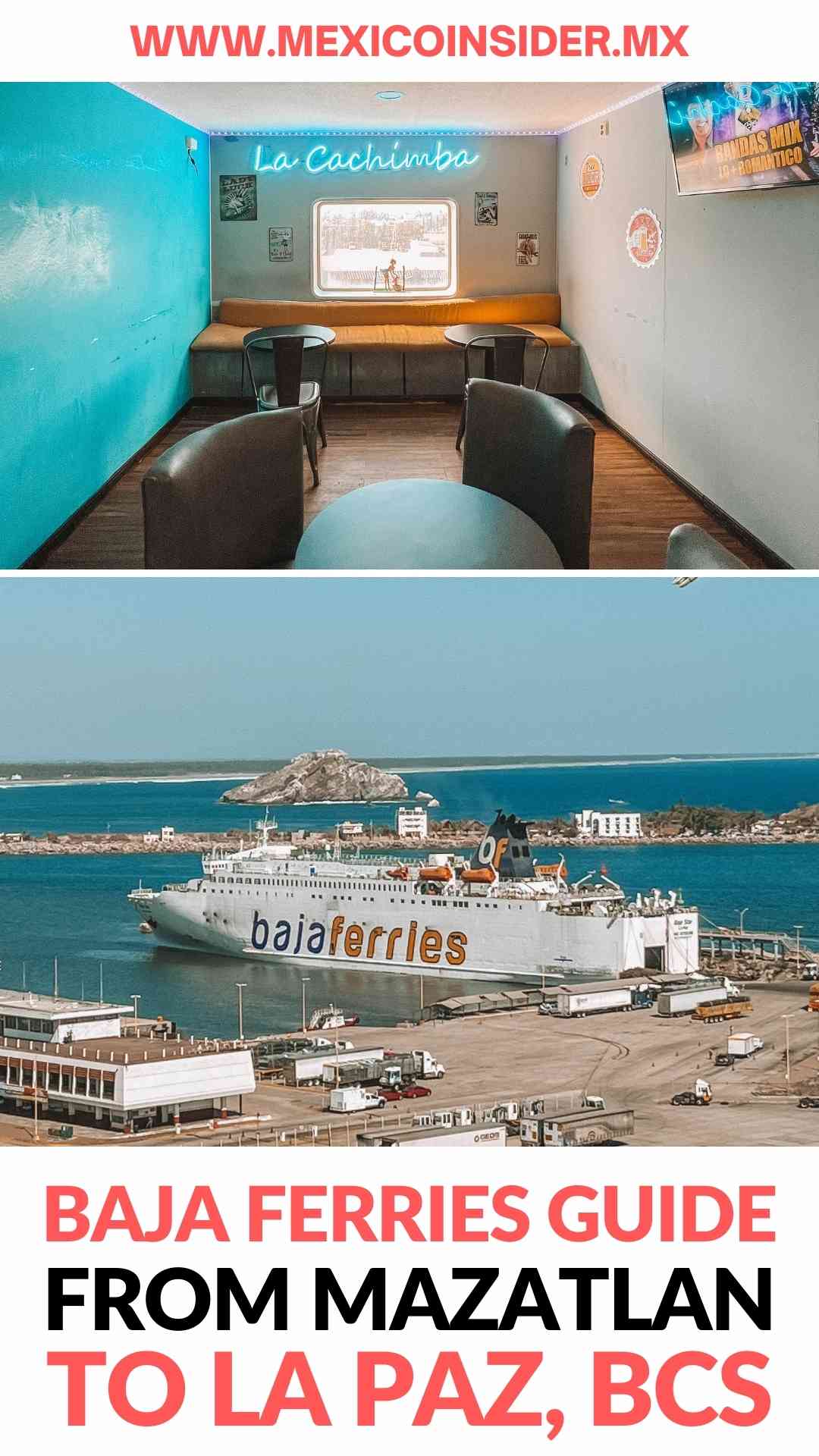 ⁉️ Is there a ferry from Baja to mainland Mexico?
Baja Ferries is the vessel that runs from Baja to mainland Mexico and back. The ferry leaves from Mazatlan at 5:00 PM every Wednesday, Friday, and Sunday. Departure from La Paz is at 7:00 PM every Tuesday, Thursday, and Saturday. The ferry port in La Paz, Baja California Sur is called Pichilingue.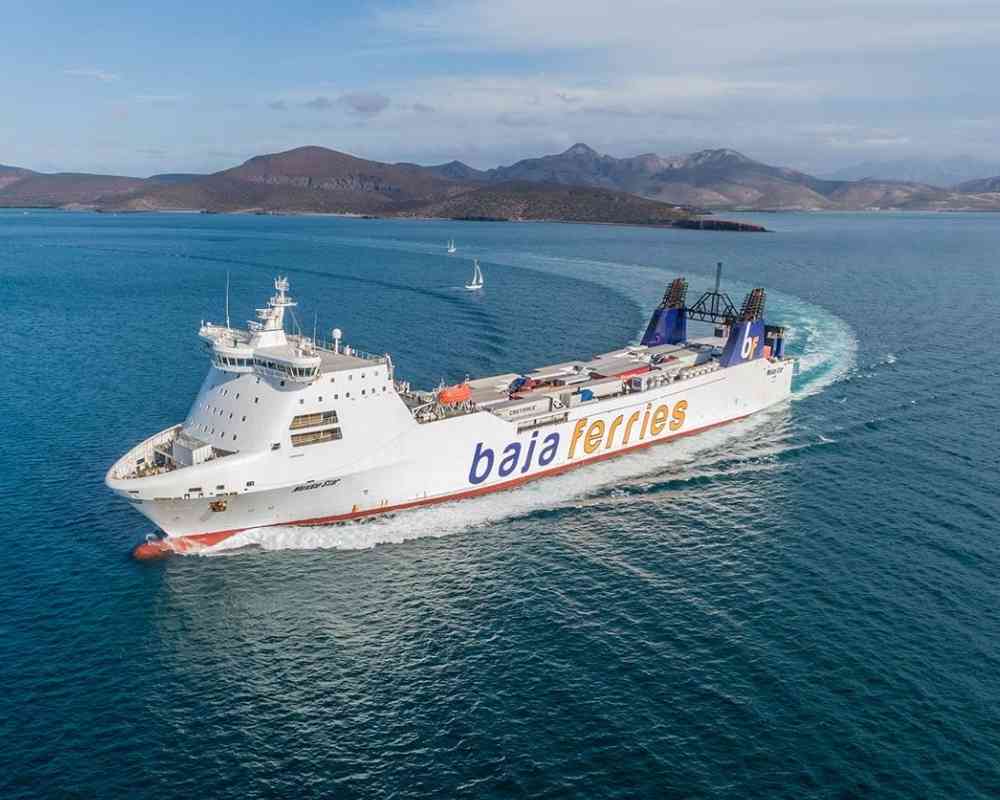 This ferry is always full as it transports many trucks and workers between Baja and mainland Mexico. I booked my tickets 5 days before the trip and all the cabins were already full, let alone they didn't have space for my car. Buying your Baja Ferries tickets at least 7-10 days in advance is better.
🕒 How long is the ferry from La Paz to Mazatlan?
The ferry from La Paz to Mazatlan and back is about 12 hours. This is only the journey but if you are traveling with a car, you will have to wait in line for boarding. Thankfully, I did not wait long.
There weren't many private cars traveling and our ferry was full of trucks. I think there were less than 10 private cars on my trip! Before going on the Baja Ferries journey, many people told me that the wait will be long but I found out that this is a case-to-case basis.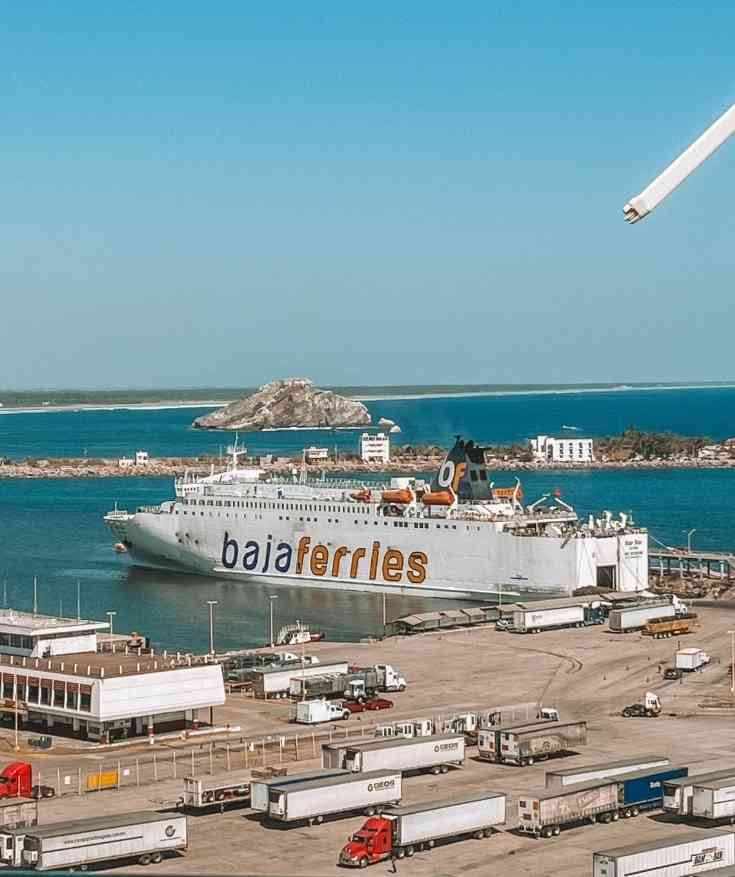 You can also take Baja Ferries from Topolobampo if that's closer to you. I only went from Mazatlan because I had to see some friends there. The journey to (and from) Topolobampo is about 8 hours.
✨ Tip: Don't travel go onboard without insurance! Our travel insurance only costs US$40 per month. Check out SafetyWing and see which insurance plan works for you.
🧳 Preparing for your Baja Ferries journey
You will only use one portal to buy your fare tickets, car tickets, and cabin tickets. All these can be done using the Baja Ferries booking website. The only thing you have to book separately is your pet fare. They don't have that option on the website so you have to call.
🎫 Baja Ferries ticket prices
Buying Baja Ferries tickets is very easy and not confusing. The Baja Ferries website is user-friendly but they don't have the site in English. If you don't speak Spanish, you may want to ask for help but like many booking platforms, it's easy to understand how to buy the tickets.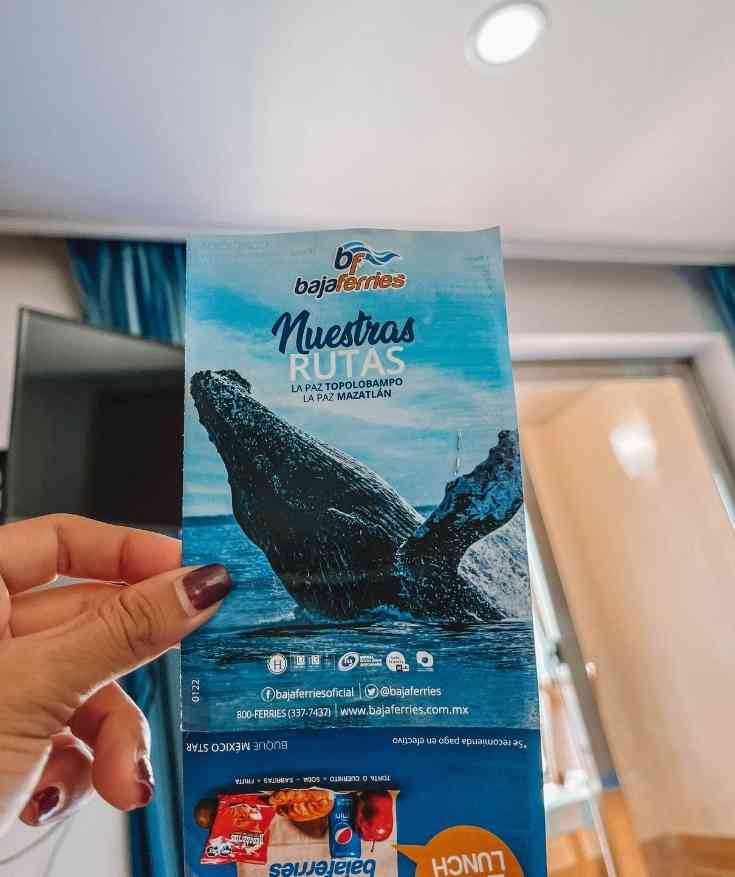 If you call their office, there will be an option to talk to an English-speaking operator and ask questions. The number to call is +52 800 337 7437. Baja Ferries ticket price per person is US$85. For those who want to book a cabin, you will have to pay for that separately.
With or without a cabin, you will have to pay US$85 per person as a base fare. The add-ons come later. You will see detailed cabin pricing below including other things you have to pay for like cars and pets.
🛏️ Baja Ferries cabin prices
When you buy your ticket, you will be asked if you want to add a cabin to your ticket. If you don't want to add a cabin, you will stay in the common passenger seats that are also comfortable for a 12-hour journey. Below are the cabin prices:
Standard: US$74
Suite: US$90
Junior Suite: US$112
Executive Suite: US$122
VIP Suite: US$150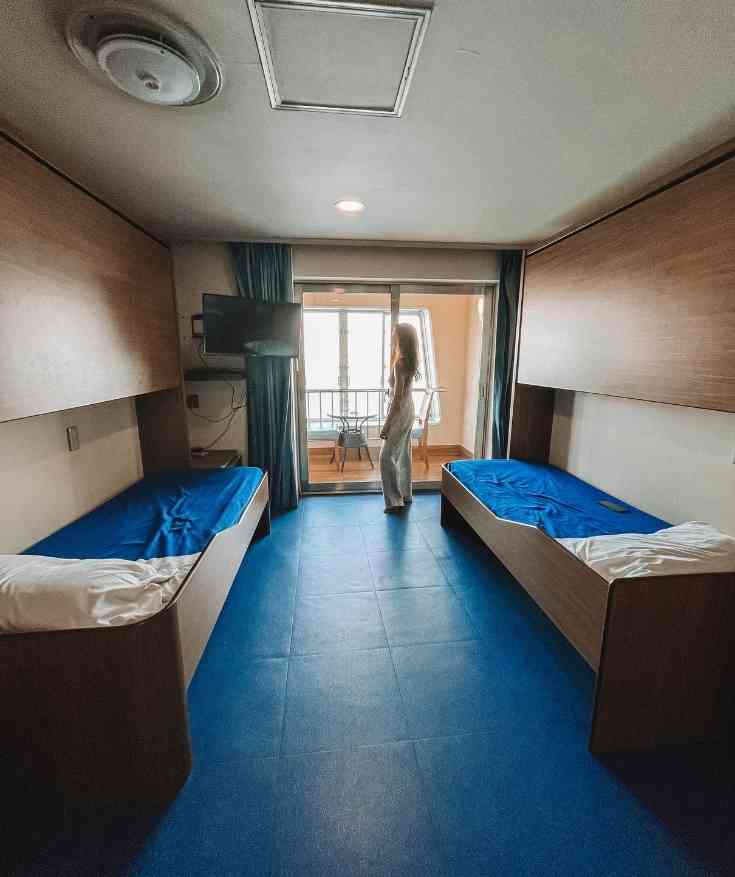 The prices above are per cabin, not per person. A cabin in Baja Ferries can usually accommodate up to 4 people so assume you are dividing these cabin prices among 4 people (plus the US$85 base fare).
Again, if you want a cabin, you need to reserve it 7-10 days in advance or even more. Baja Ferries is always fully booked so I had a hard time booking accommodation that was fit for me and the dogs (more on that later).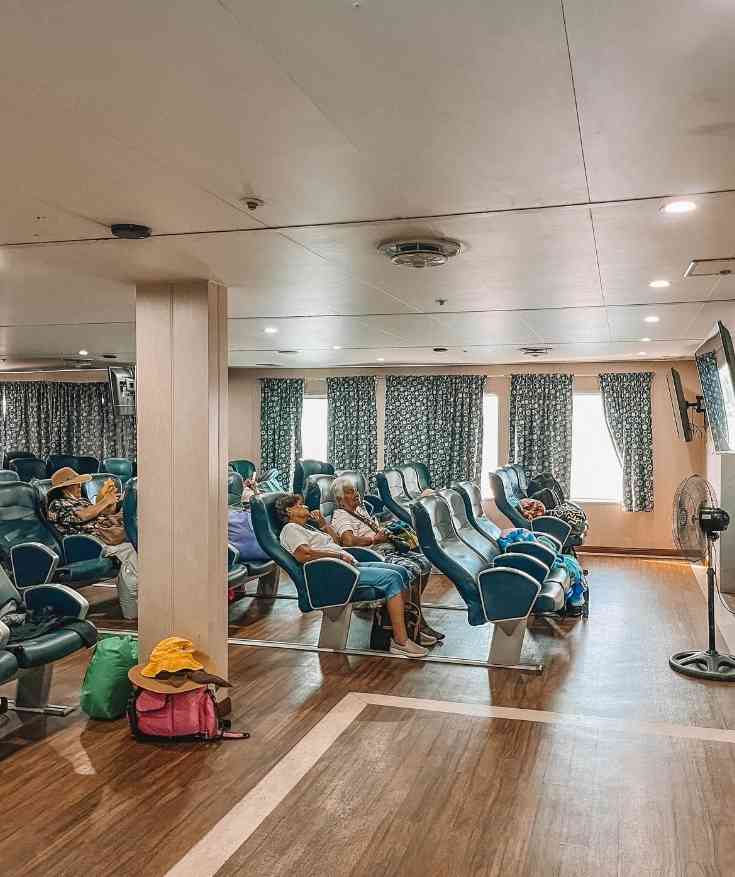 You will see very little difference with the cabin prices above so I aimed to book for the VIP Suite. Since there was no availability, I ended up getting a pet-friendly Junior Suite (US$112) that had 4 single beds.
To be honest, there isn't a big difference between the rooms. I didn't see the other rooms but I've seen the VIP area and they look the same size to me. There was also a TV and a terrace in my suite but the windows of the terrace are sealed.
🚗 Baja Ferries car requirements
Prices depend on the vehicle you are transporting. They are open to transporting any type of vehicle and I paid US$268 for an SUV. See the vehicle prices below. Those with an asterisk mean that the driver's fare is included.
Tractor (up to 7 meters): US$580
Trailer: US$1,514
Motorbike: US$210
Car/SUV: US$268
Bus: US$1,100
Together with paying the car fees, you also have to provide the plate number, model, and build of the car.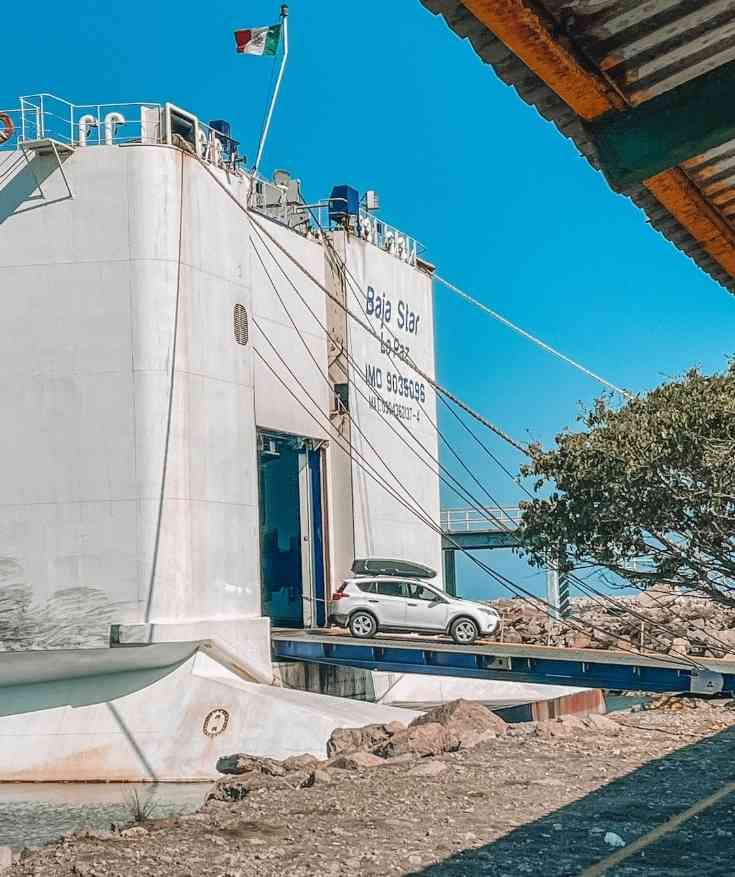 I bought my car when I was still a non-resident in Mexico. You can buy brand new cars from distributors like Toyota, Chevrolet, Mitsubishi, etc, but as a tourist visa holder, you are not allowed to put the car in your name. And that's what happened to me.
I paid for the car and had to find a trusted person who can put the car in his name. The person must be a Mexican national or a permanent resident. They don't accept temporary residency.
Anyway, a friend of mine who did Baja Ferries from La Paz to Mazatlan years ago told me that the person driving the car must be the name on the car's paperwork. This, I had a 50-50 doubt because I believe many people hire drivers to drive their cars. I mean that should be a normal thing, right?
Just to be sure, I asked the friend whose name is on the paperwork of my car to send me a letter stating that he is allowing me to go onboard Baja Ferries without him. A lawyer friend suggested this but he wasn't also sure if it will work (nor if it's necessary).
Finally, the guards and checkpoints at Baja Ferries did not mind if the car was in my name. I also asked them about it and they said as long as I have the paperwork, it doesn't matter. Below are the documents you have to present for your car:
Import papers/entry permit to Mexico if the car is not bought here and is from another country. This is required for all vehicles with International plate numbers
Purchase receipt: literally the receipt of payment you got when you bought your car. This is not a major requirement but if the car was bought in Mexico, they may ask for it.
Car registry: complete papers of the car registered in Mexico
Car policy insurance: it is illegal in Mexico to go around without car insurance (although many people do it)
Driver's ID or passport: for expats, make sure to present your FM card
Note that only the designated driver can board the car which means only one person in your group can go in. Passengers must walk to go in and fall in line.
🐶 Transporting pets with Baja Ferries
Passenger tickets, car fees, and cabin fees can be booked all at the same time (in one transaction) on the Baja Ferries website. As for the dogs, you have to call to book tickets. The price per pet is US$27 no matter what size or weight. They also need to be in a transport cage.
If you're not availing of a cabin, your pets will go to the pet area (in their cages) and you will be allowed to visit them twice for the duration of the voyage. Those who want to bring their pets to the cabin must book pet-friendly accommodation which you can do by calling.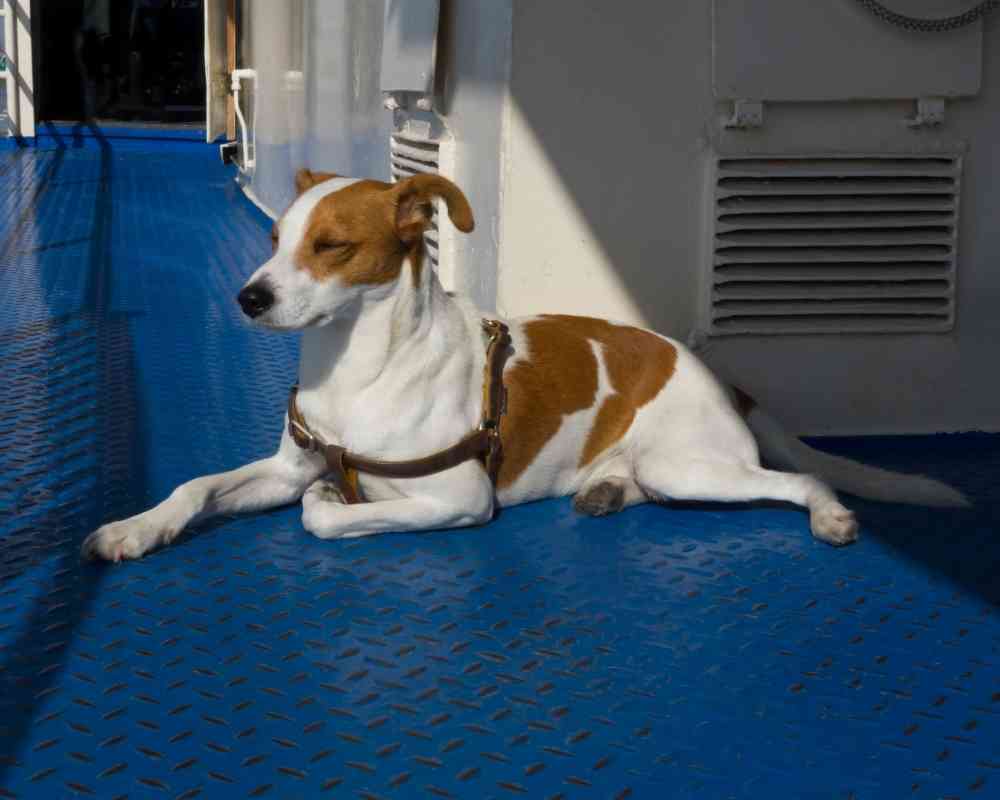 They don't have that option on the booking website and the pet-friendly rooms are limited, which delayed my reservation again since everything should be in sync. Below are the pet requirements to board Baja Ferries:
Original and copy of vaccination card (rabies) that is updated within the year
Original and copy of the certificate of good health valid one week before the trip. You can get this from any vet or pet shop in Mexico
Young pets (less than 2 months) must carry a certification/permission from the vet that the pet is in good health and it is safe to travel with it
Please note that pets (any kind) are not allowed to board Baja Ferries without the company of a human. Also, check the list of animals that you can transport via ferry.
⛴️ Baja Ferries Guide: transporting your car from Mazatlan to La Paz
Arrival at Mazatlan Port
I left Puerto Vallarta around 9:00 AM and arrived in Mazatlan around 2:00 PM. My ticket says 5:00 PM but one of the policemen that I encountered on the drive to Mazatlan gave me the wrong information. He told me that the boat leaves at 7:00 PM. It only says 5:00 PM on my ticket because that's the boarding time.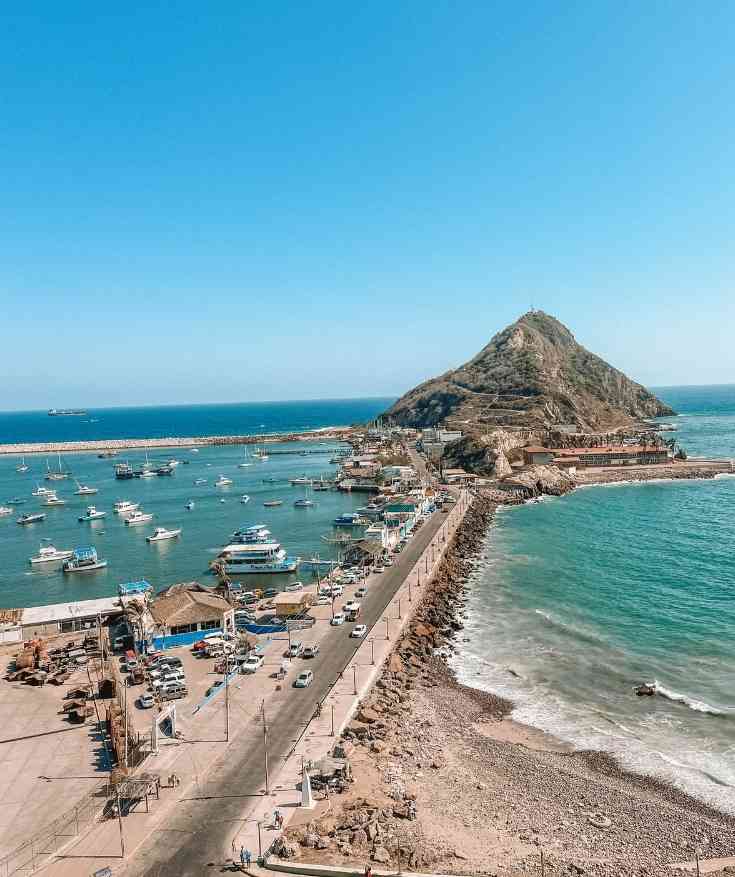 Which, I proved to be wrong. I arrived in Mazatlan 3 hours before 5:00 PM and chose to sit down, relax and have lunch. I did not go to the port right away! The ferry will literally leave at 5:00 PM and when I entered the gates of the port, the guard told me to hurry up and run because the ferry will leave on time.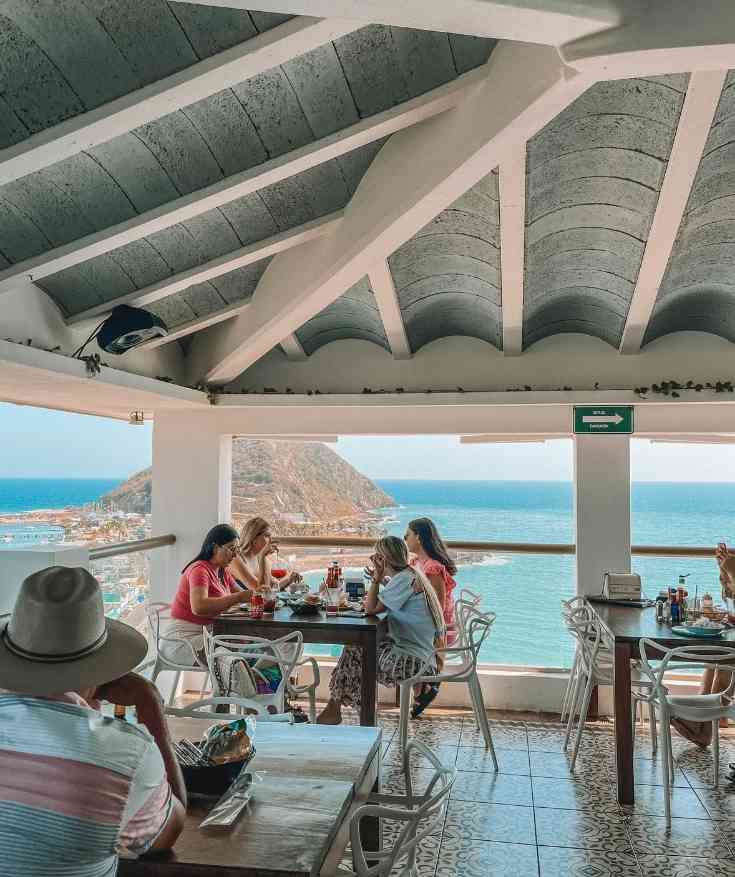 3 hours before the trip is the ideal time to board. However, I got super lucky to be late. Since my car was last to board, it is also the first to go down when we are in La Paz! I'm in front of the line!
✨ Tip: If you arrive early and have extra time, the best restaurant to have lunch before your trip is La Marea Restaurant which is next to the Baja Ferries Port in Mazatlan.
Get your tickets at the office
Notice that if you book your Baja Ferry tickets online, you won't really get a PDF receipt or ticket. You will only get an e-mail confirmation but that's not the actual ticket. Before doing the boarding process, you must park your car and get your tickets printed at the ticketing office.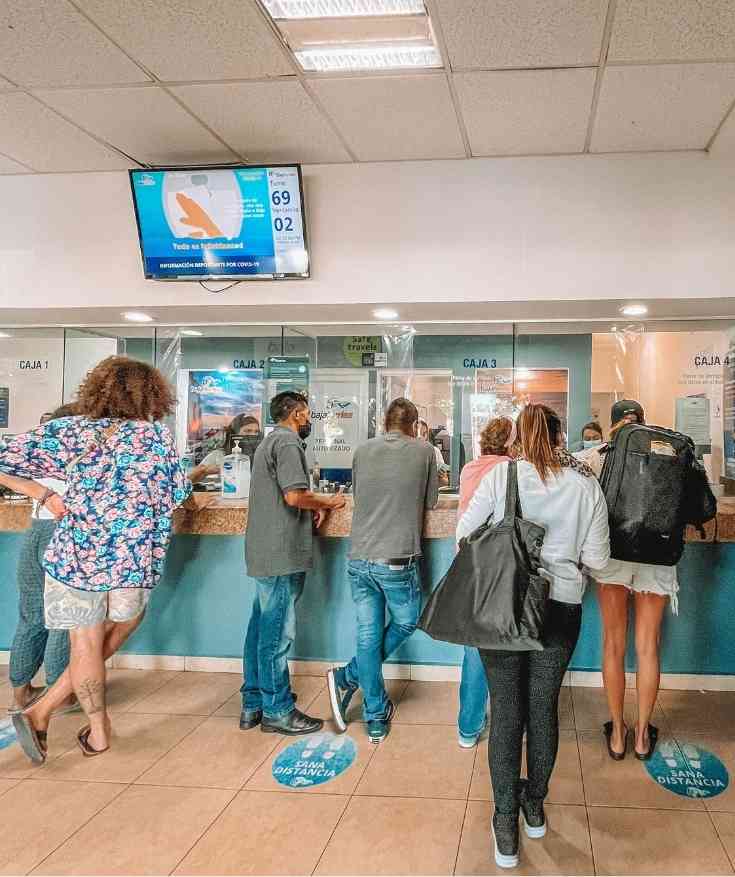 The line was very long when I arrived at the ticketing office. There was also a lot of fighting as people really want to go onboard (but there is a shortage of passenger tickets).
They will only ask for your passport or residency card to be able to print your tickets. As soon as you have your tickets, you have to go back to your car and drive to the boarding area.
Check-in (car)
The check-in for cars is not very visible. Just look at where the national guards and the dogs are – I almost passed this checkpoint! At the car check-in, they will thoroughly check your car and the dogs will go into your car for inspection.
The National Guard will ask for your identification, car paperwork and dog paperwork (if applicable). If you are traveling with other people, this is also the point where they have to go down the car, walk to the ferry, and do their check-in. Only the driver is allowed to drive the car into the ferry.
Check-in (cabin)
Don't worry – they will not take your car keys. You alone will be responsible for your car after check-in. Once you find a parking space inside the ferry, you will be instructed to go up to reception (about 3 floors up) to check in your seats or cabin.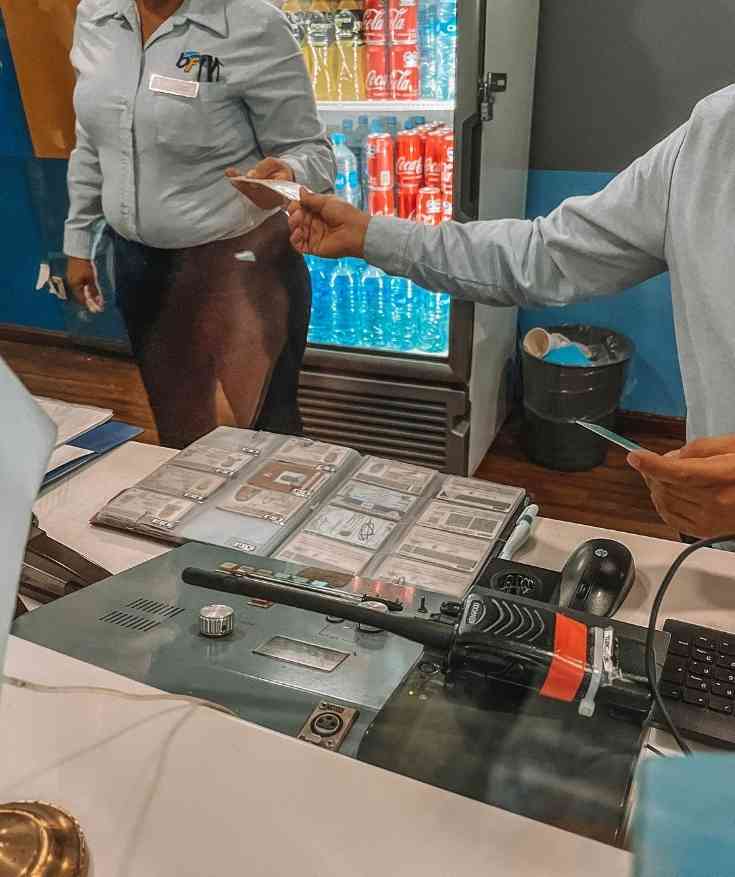 They also take your ID as a deposit for the cabin (i.e. if something breaks, etc). I didn't leave my passport but I left my Mexico resident card instead. The receptionist will bring you to your assigned cabin.
They will also inform you that a meal is included with your ticket but you have to avail it at the restaurant before the ferry leaves. Food service stops as soon as the ferry is underway and there is no room service. There will also be free coffee and bread the next day
What else?
There is one restaurant with a bar inside the ferry. They have dinner shows and it's always packed since it's the only restaurant
There is no room service available but there are vending machines that sell Mexican junk food should you get hungry
There is an outdoor area that you can access anytime (smoking, watching sunset, taking fresh air)
Wearing of mask is not required inside Baja Ferries
❌ Baja Ferries cancellation policy
When I asked them about the cancellation policy, they said that you can't do it. You just need to modify your trip and pay 180 pesos ($10 USD) for changing the dates or modifying anything on your trip.'
We continuously update this post every 6 months so if there are any changes to this Baja Ferries cancellation policy, we will modify this post accordingly.
Trisha traveled to Mexico in 2018 and after a year, she found herself obtaining a 4-year residency visa in Mexico. She is the Editor-in-chief for our Living in Mexico Series which has helped over 3,000 Americans move to Mexico with ease. Trisha currently resides in Cabo San Lucas, Baja California Sur.