Looking for your next Mexico vacation destination? Discover the best cities to visit in Mexico, including travel tips, safety advice, and more!
📧 Hello, Trisha! I found your blog online and I must say that your Mexico content is impressive! I know that you live there now and I am looking into moving to Mexico. But first, I want to travel there to have a glimpse. Can you recommend the best cities to visit in Mexico for travelers? I know you already have the best places to live in Mexico in this blog but my girlfriend and I are city people. Safety tips are always welcome although we're never scared to travel in Mexico! Also thinking if we should ditch the Mexican cities trip and go for the beaches? Would love to pick your brain – thanks for all that you do!

Simon S., Denver (CO)
Hola, Simon!
Thanks for reaching out! I am glad you are keen to explore Mexican cities, as it is not that popular to travelers! A city vacation in Mexico can offer a unique cultural and historical journey that beach destinations may not provide.
You can explore ancient Mayan ruins, visit colonial churches and plazas, shop local markets, and experience vibrant nightlife when visiting cities like Mexico City, Guadalajara, or Cancun.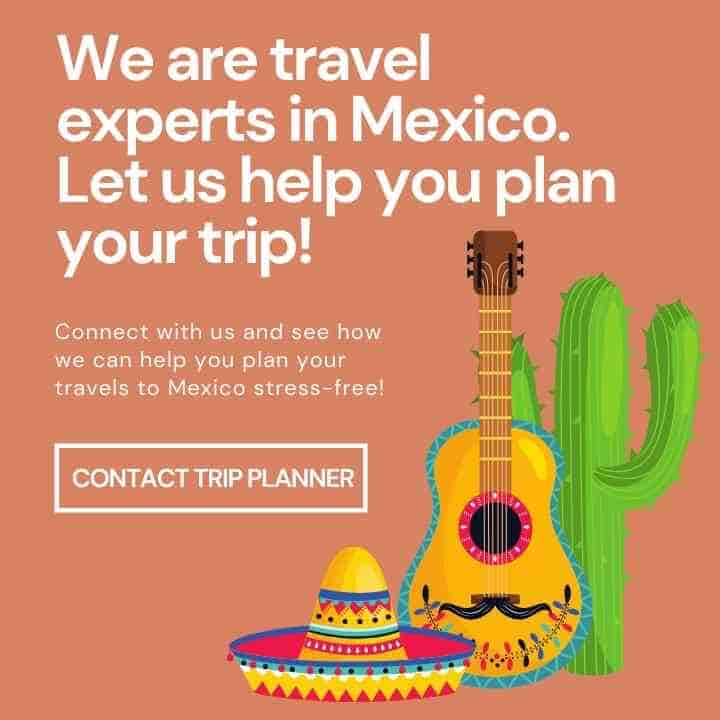 On the other hand, a beach vacation in Mexico is best if you're seeking rest, relaxation, and an opportunity to recharge your batteries away from the hustle and bustle of daily life.
Ultimately, what type of Mexican getaway best suits your needs will depend greatly on personal preference as well as budget considerations – both types of holiday experiences come with their own unique advantages when considering a trip south of the border!
In this best cities to visit in Mexico guide, I will tell you everything you need to know when traveling to these Mexican cities. I also lived in some of them, so please don't hesitate to reach out!
Xx,
Trisha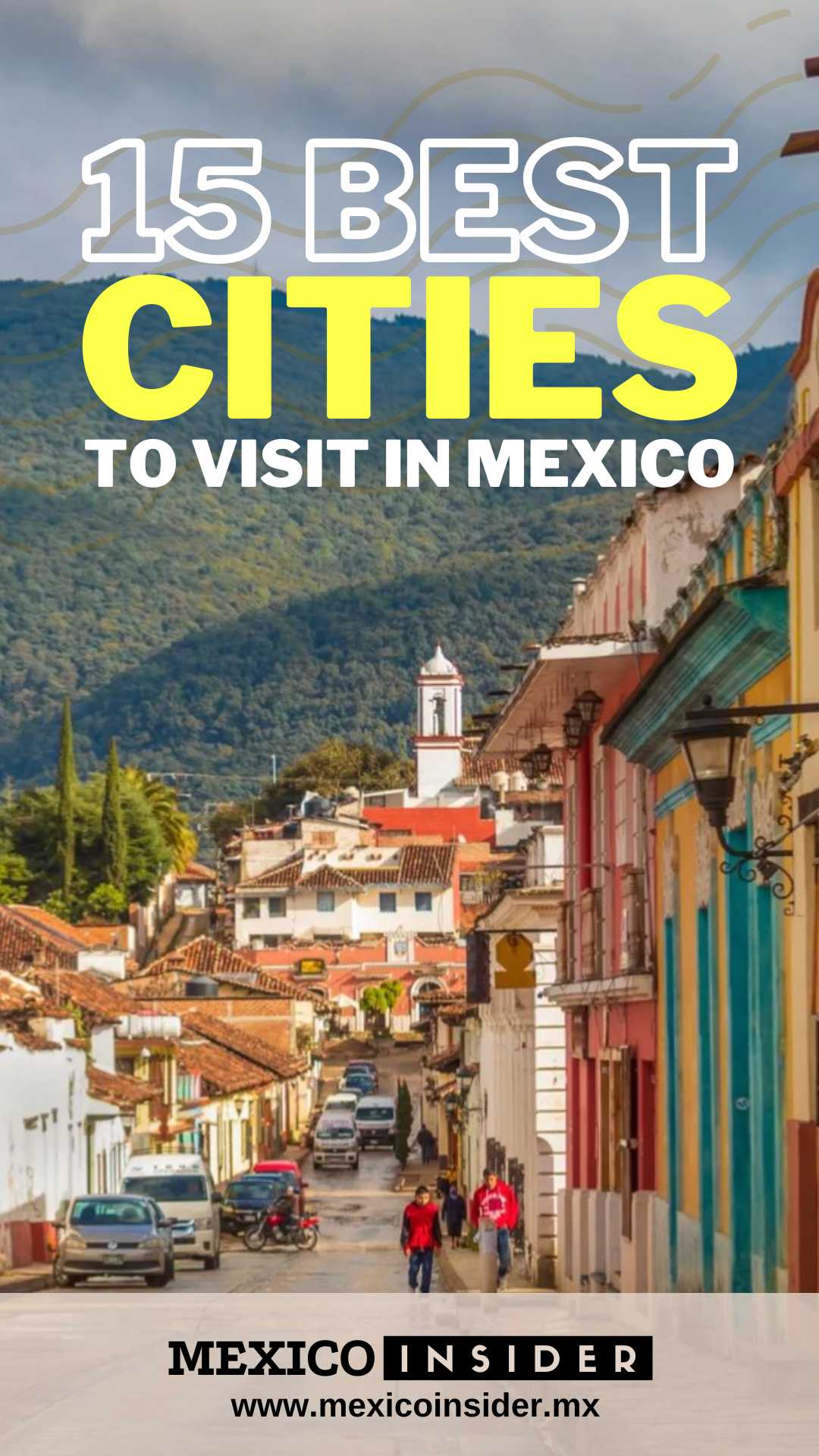 🗺️ Best cities to visit in Mexico map
🌟 Top cities to visit in Mexico
#1: Mexico City
Mexico City is one of the best cities to visit in Mexico. It uniquely blends modern and traditional attractions, boasting a rich cultural history, vibrant nightlife scene, and incredible culinary experiences.
There are also plenty of museums, art galleries, historic sites, and parks throughout the city and so many things to do!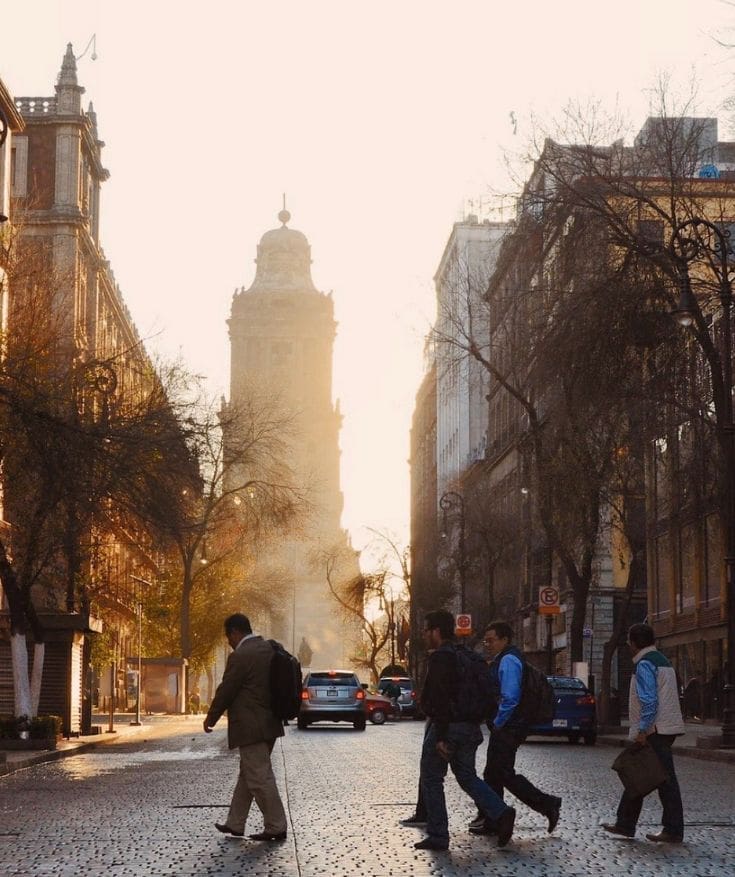 Mexico City was once the largest city in North America. This incredible feat was accomplished by its founders, who established it as the capital of New Spain in 1521. The city's population today is estimated to be over 8 million people!
The cuisine in Mexico City is not to be missed either, with influences from Spanish, Aztec, and Mayan cultures all coming together to create a unique flavor experience.
Mexican food lovers will find plenty here — think tacos al pastor (pork tacos), enchiladas, pozole (a traditional stew) and so much more!
#2: Oaxaca City
Oaxaca City is an exciting destination with its vibrant culture and stunning colonial architecture. It's also home to some of the best food in Mexico, with delicious local dishes such as mole oaxaqueño and chapulines (grasshoppers).
Plus, it's an excellent place for outdoor activities like hiking and camping. Oaxaca City is one of the best cities in Mexico to visit!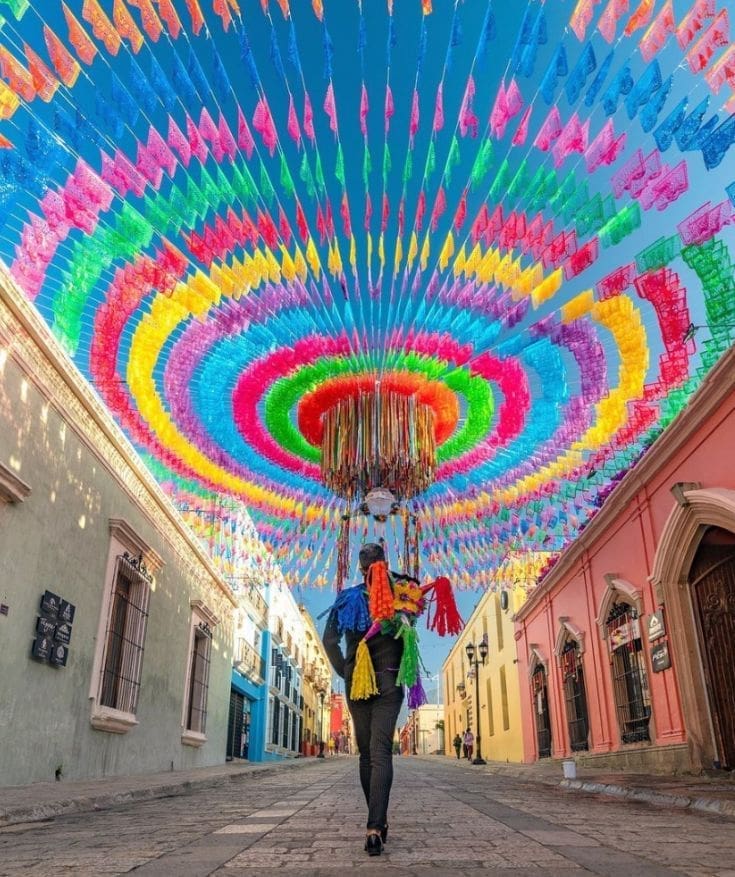 Oaxaca City is known as "the land of seven moles" due to the variety of complex sauces made with dried chiles, nuts and spices. Each dish has its unique flavor profile, making it a popular spot for foodies!
This city is also home to numerous archaeological sites, making it the perfect destination for history buffs. You can visit the ancient ruins at Monte Alban and El Tule Tree, which are over 2,000 years old!
#3: San Miguel de Allende
San Miguel de Allende is one of the most beautiful cities to visit in Mexico. It features stunning colonial architecture and a vibrant cultural scene, making it a great destination for art and history lovers.
The city also offers stunning views of the picturesque Sierra Madre mountain range, while its cobblestone streets are lined with colorful buildings.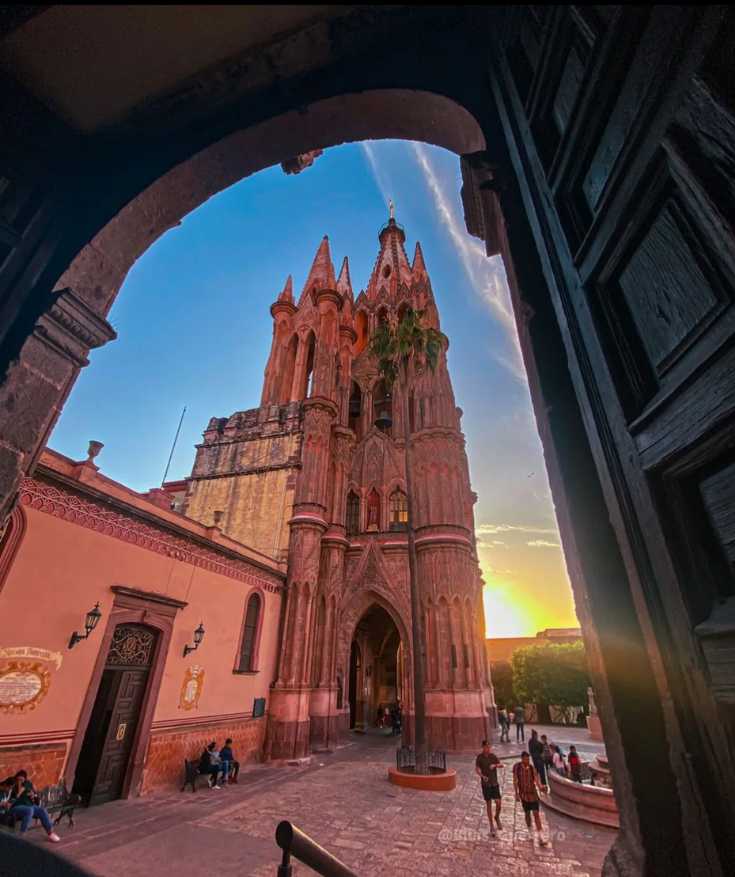 San Miguel de Allende also boasts excellent restaurants serving traditional Mexican cuisine, music festivals, markets, galleries, and lively nightlife options. You'll find plenty to explore in this charming Mexican city!
San Miguel de Allende is a UNESCO World Heritage site (2008). Most buildings were constructed during Spanish Colonial times and have been well preserved throughout centuries. This makes it a fantastic destination for sightseeing and exploring!
San Miguel de Allende also has several festivals yearly, including Carnival every February. During this festival, residents celebrate with parades and special events throughout the city streets.
#4: Queretaro
Santiago de Queretaro is an excellent destination for travelers exploring the best Mexican culture and history. It offers a variety of attractions, from colonial architecture to street art, as well as delicious cuisine and vibrant nightlife.
The city is also conveniently located close to several stunning natural attractions like aqueducts and canyons, making it one of the top cities to visit in Mexico. Queretaro is also the cheapest city to visit!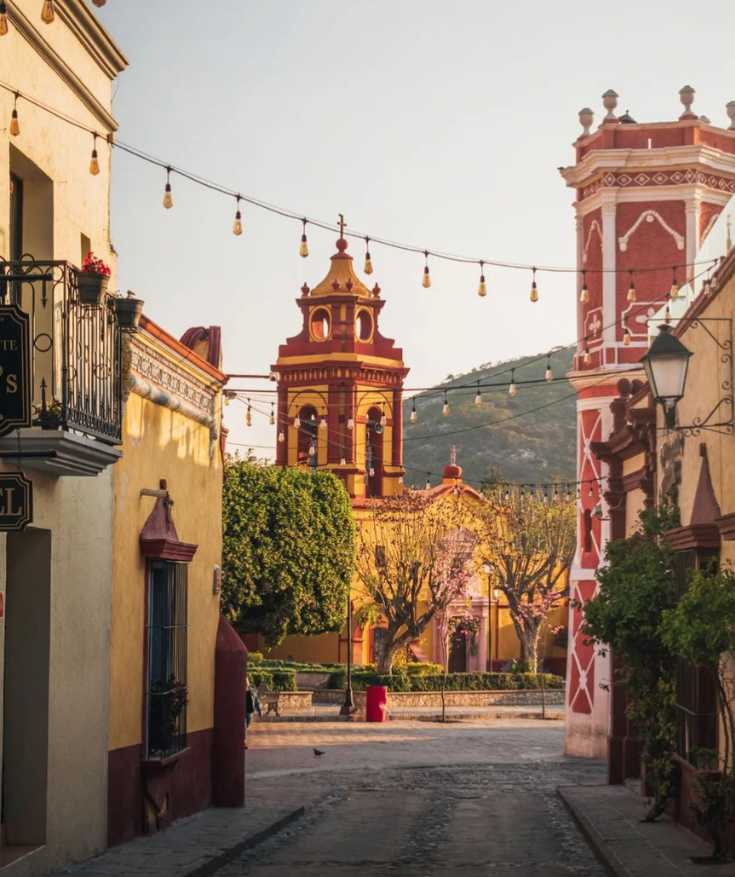 Queretaro is one of the most beautiful colonial cities in Mexico. The historic center was declared a UNESCO World Heritage Site in 1996 and features stunning churches and plazas, including the Plaza de Armas and Templo de Santa Rosa.
#5: Guanajuato City
Guanajuato City has beautiful colonial-era architecture, cobblestone streets, and plenty of traditional markets and restaurants serving delicious local cuisine.
In addition, the city is surrounded by picturesque mountains offering amazing views and plenty of outdoor activities such as hiking, biking, horseback riding, and caving.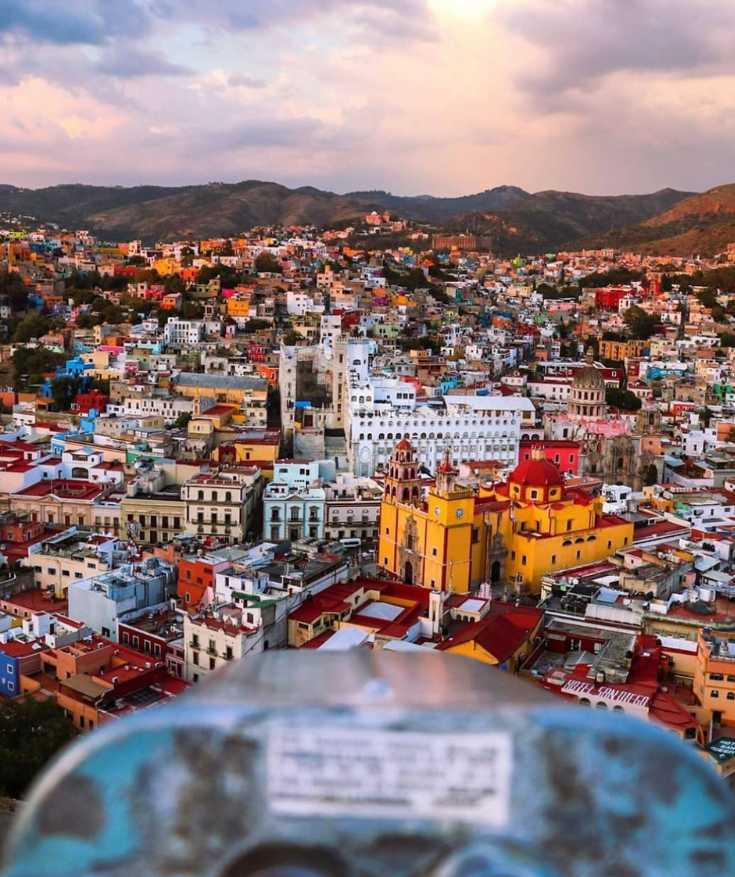 Guanajuato City was founded back in 1559 by the Spanish Conquistadors! It's now one of the most important cities in central Mexico and home to over 170,000 people.
It's also known for its unique street layout, which follows a series of tunnels built below the hillside. This makes getting around on foot or by bike easy but can be tricky for first-time visitors!
#6: Tijuana
Tijuana is a great destination for travelers looking to experience an exciting cultural city. It offers delicious Mexican cuisine, vibrant nightlife, intriguing street markets, and unique attractions like the Bullring by the Sea.
With its mild climate and beautiful beach resorts nearby, Tijuana is perfect for those wanting to soak up some sunshine on their trip.
Plus, it's close enough for day trips to San Diego and other cities in Southern California.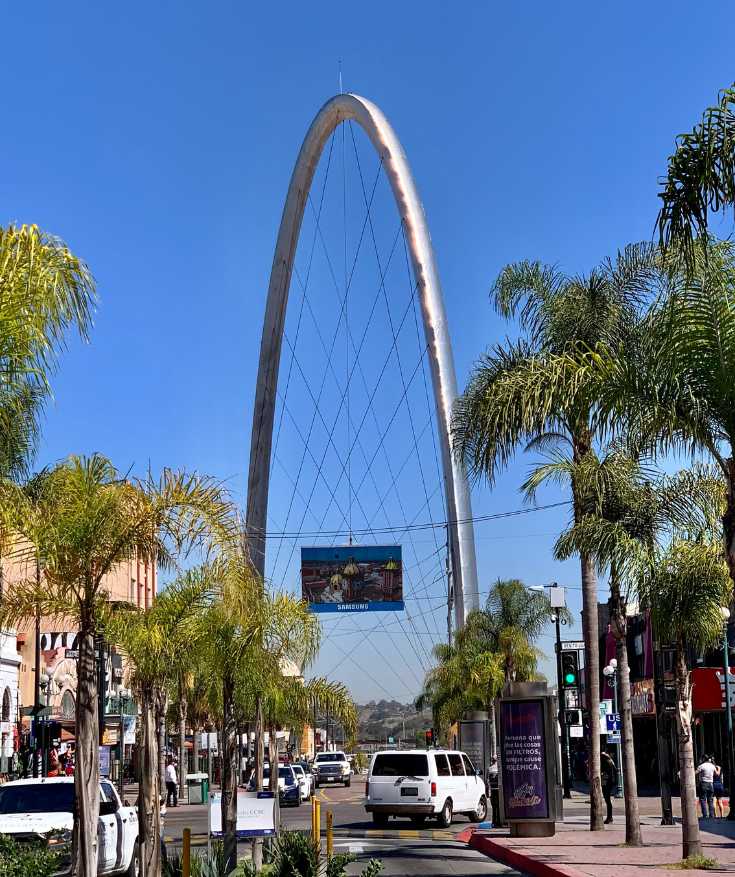 Tijuana is the largest city on the U.S.-Mexico border. With over 1.6 million people, it's a vibrant, diverse metropolis with plenty to explore!
It's also home to some of Mexico's best nightlife spots – from cantinas to nightclubs, there's something for everyone in this lively destination.
One of Tijuana's most iconic landmarks is Avenida Revolución – it's filled with shops, restaurants, and bars that make up the heart and soul of the city!
#7: Monterrey
Monterrey has a vibrant culture, delicious cuisine, and incredible historical landmarks, it's a must-see city for anyone visiting Mexico.
Monterrey has something for everyone: outdoor activities at beautiful parks like Macroplaza and Cerro de la Silla to world-class shopping at Plaza Fiestas del Norte or Citadella.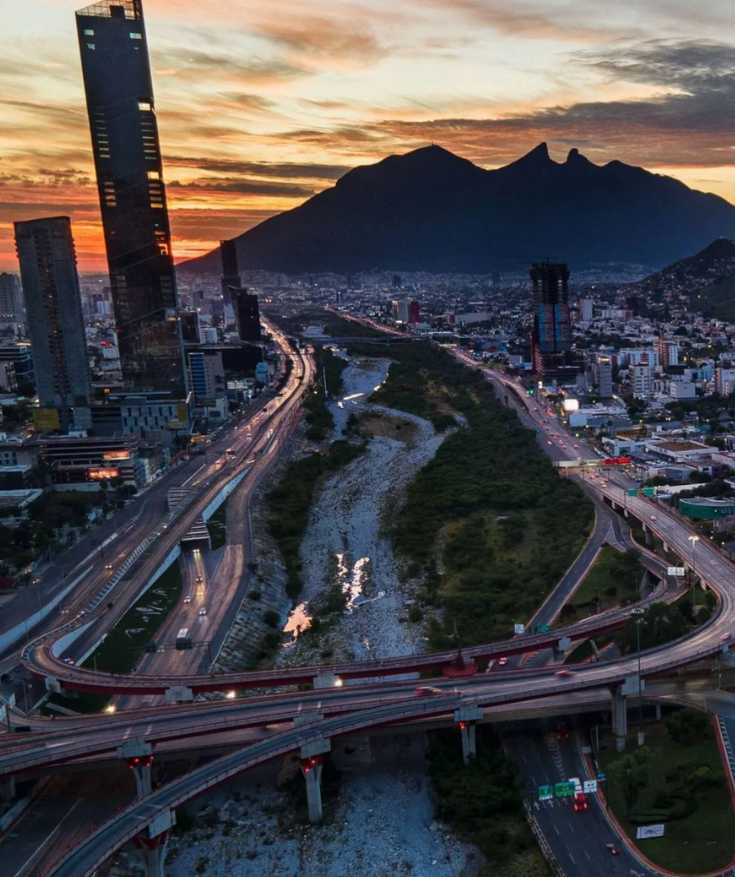 Monterrey is home to Latin America's highest mountain. Cerro de la Silla stands at 2,903 meters (9,523 feet) high above sea level and offers breathtaking city views.
Monterrey also has a diverse wildlife population. The nearby canyonlands are home to rare species like ocelots and jaguarondi cats that visitors can sometimes spot!
And if you're up for an adventure, there's plenty of opportunity to go hiking and camping in the wilder parts of Monterrey's surroundings.
#8: Puebla
Puebla City has an interesting history and culture, amazing food, and some of the best-preserved colonial buildings in Latin America.
There are also plenty of outdoor activities nearby that many visitors enjoy. Puebla City is a vibrant city full of life and bursting with color. I consider Puebla the most beautiful city in Mexico.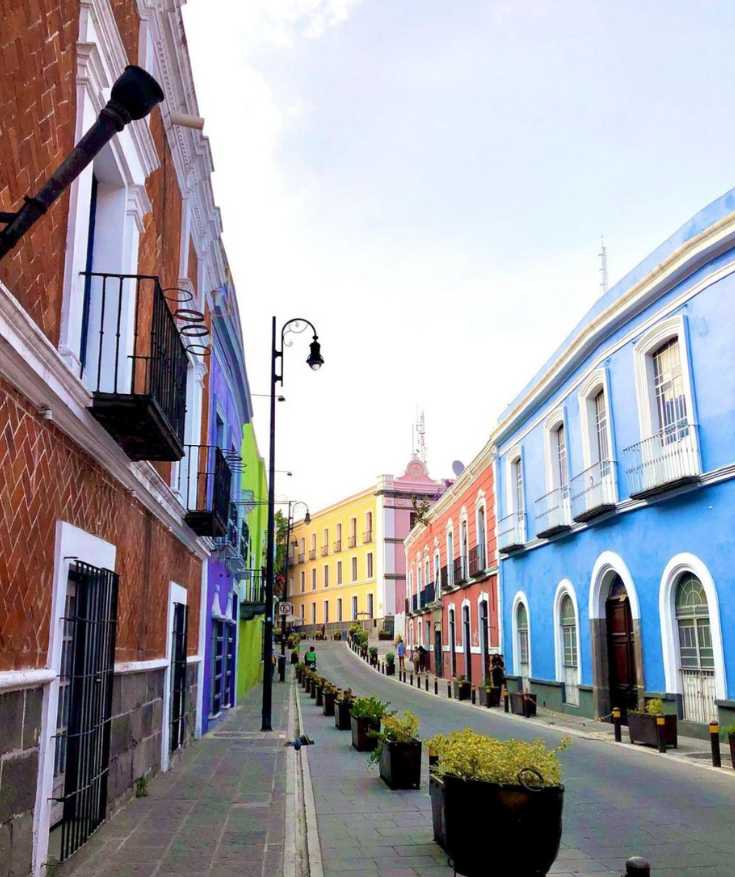 Puebla de Zaragoza has one of the highest altitudes in all of Mexico. The average elevation here is 7,215 feet above sea level. This makes it an ideal spot for outdoor activities like hiking and mountain biking.
Plus, with its stunning views across the Valley of Analco, you'll be able to appreciate nature in all its glory. Another fun fact about Puebla de Zaragoza is that it has been declared a UNESCO World Heritage Site due to its many beautiful colonial buildings.
#9: Merida
Merida is one of the best cities to visit in Mexico due to its vibrant culture, beautiful colonial architecture, excellent local cuisine, and welcoming people.
Merida offers something for everyone – from beaches to archaeological sites and shopping centers to day trips. With plenty of activities for the whole family, it's an ideal destination for those looking for a great vacation experience!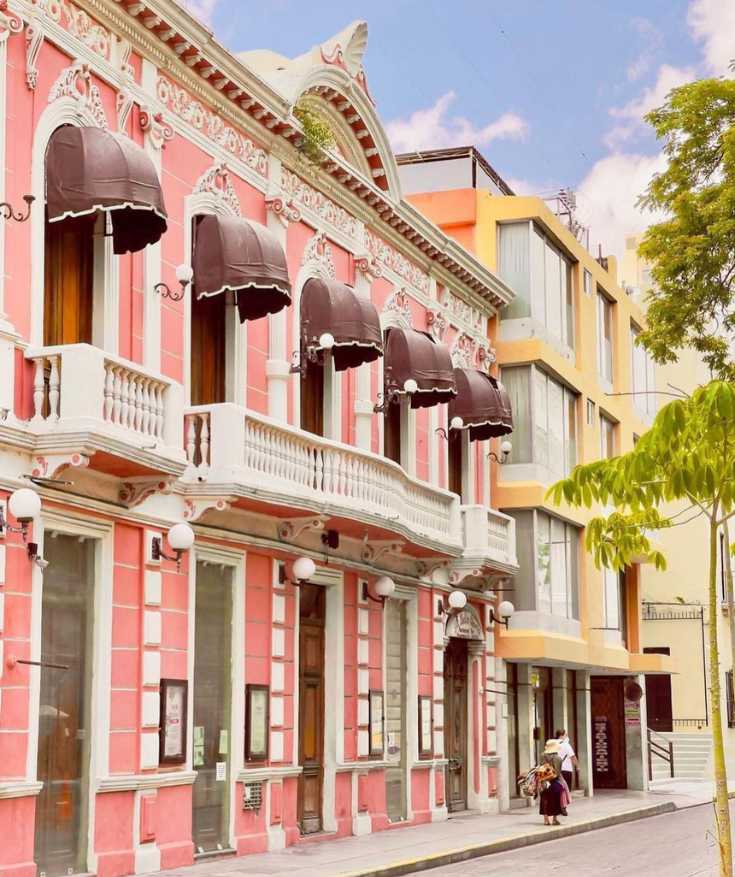 Merida is also known as the safest city in Mexico, so you don't have to worry about your safety here! The locals are incredibly friendly and welcoming; they'll ensure you feel right at home during your stay!
Merida is often called "the white city" because of its abundance of beautifully painted white-washed buildings.
#10: Morelia
Morelia has preserved its colonial architecture and offers over 300 historical monuments, including the impressive 16th-century aqueduct, which spans 2.3 miles across the city.
Additionally, the city boasts a delicious regional cuisine, vibrant nightlife, and natural wonders like Cuitzeo Lake and Monarch Butterfly Biosphere Reserve nearby.
Morelia is nicknamed "The City of Pink Stones" because of its pink stone buildings. This is due to the many baroque churches and palaces made out of pink quarry stone around the city.
You'll love walking through these old streets and taking in the beautiful views! In addition, Morelia has been declared a UNESCO World Heritage Site because of its rich cultural heritage.
#11: Guadalajara
Guadalajara is known as the "Pearl of the West" and offers various activities and attractions. You can explore areas such as Tlaquepaque, home to art galleries and colorful markets; Chapultepec Castle, the former residence of Mexican president Porfirio Díaz; or La Minerva, a neoclassical monument erected in honor of Mexican Independence.
Guadalajara also has a lively nightlife with plenty of restaurants and bars. Guadalajara is not only one of the best cities to visit in Mexico but also the cheapest.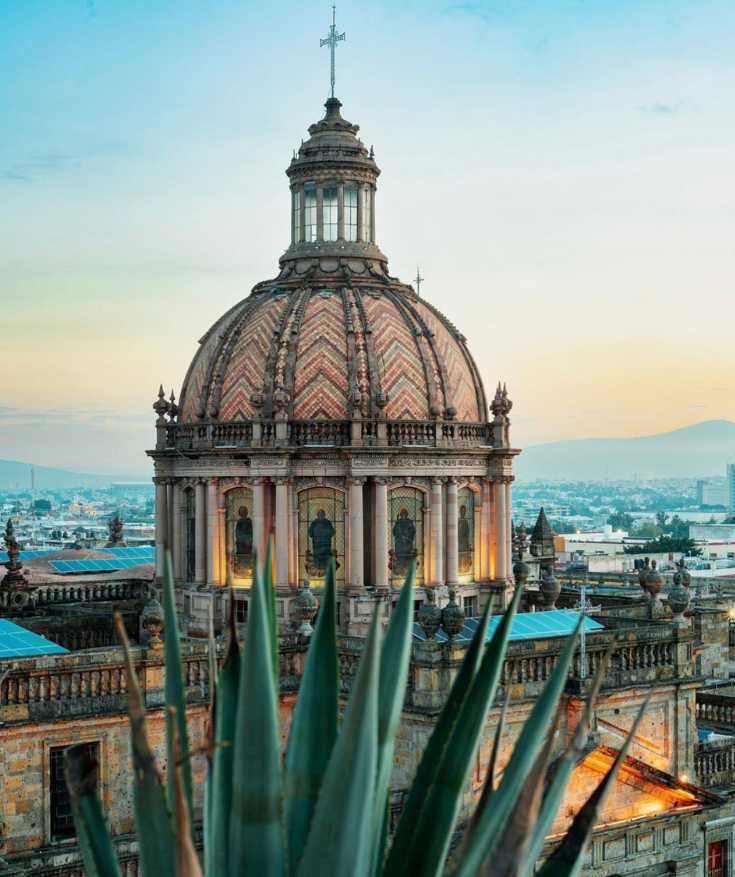 Guadalajara is known for its traditional mariachi music, where musicians wear elaborately decorated outfits while they play their instruments. It is also a popular destination for tequila lovers.
As Mexico's second-largest city, many distilleries are located nearby so that visitors can sample the local wares. In addition to tequila, there are plenty of restaurants with delicious regional cuisine like tacos al pastor and pozole. You'll never go hungry in this Mexican paradise!
#12: Campeche
Campeche City is a UNESCO World Heritage Site due to its ancient fortifications, colorful colonial buildings, unique local cuisine, and beautiful beaches.
It's also a great spot for outdoor lovers, with many traditional markets, fascinating archaeological sites, and fantastic natural parks nearby.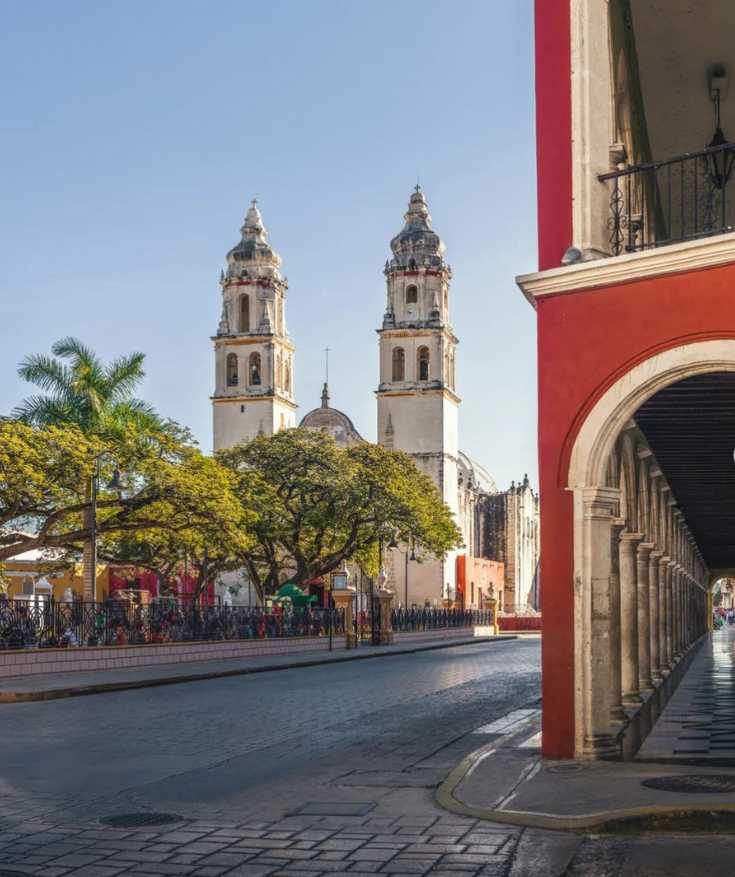 Campeche was once an important port city, as ships would bring goods from Europe and Central America to Mexico back in the day. This led it to become one of the most prosperous cities in New Spain.
Today, it's well known for its beautifully maintained colonial buildings, which were built during this period. Its old town center is a UNESCO World Heritage Site with bright-colored houses, cobblestone streets, and impressive fortifications.
#13: Aguascalientes City
Aguascalientes City has beautiful colonial architecture and a rich cultural heritage that dates back centuries. There are also many attractions, such as Plaza Patria and Los Tarascos Art Museum for visitors to explore.
The best time of year to visit is from November through May, when the temperatures are milder. You will also find plenty of fantastic restaurants, bars, cafes, shops, and markets in Aguascalientes City making it one of the best cities in Mexico to visit!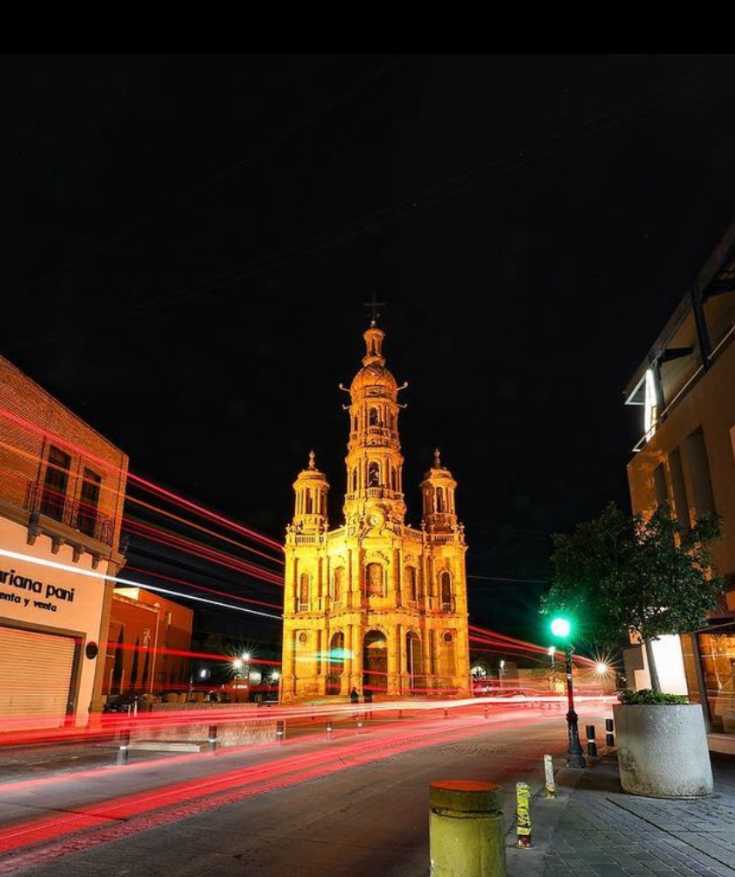 Aguascalientes City was founded in 1575 by Francisco de Sandoval and the city has been growing ever since. It's known as one of the oldest cities in Mexico due to its longstanding roots in Mexican culture and history.
Not only that, but it also serves as a popular tourist destination with plenty of attractions like the incredible Museum of Contemporary Art or The Cazuelas Park. The local cuisine of Aguascalientes City adds to its appeal as well!
#14: Mexicali
Mexicali is one of the best cities to visit in Mexico because it offers a variety of attractions and activities. It has a vibrant culture, beautiful landscapes, delicious food, and stunning architecture.
Additionally, Mexicali boasts various events throughout the year, such as festivals, while also providing tourists with many outdoor recreational opportunities like hiking and biking trails.
Mexicali is known for having some of the best weather in all of Mexico. It is also close to the Mexico-US border (Calexico, USA), making it easy to access from the US.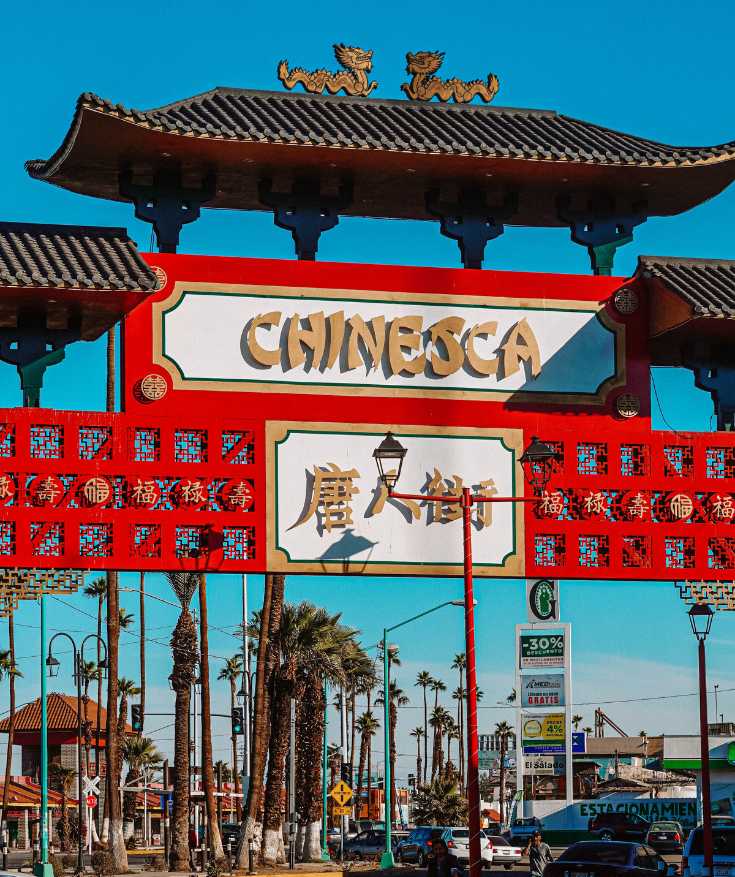 What many don't know about Mexicali is that it has strong Chinese influences! This exciting blend of Mexican and Chinese traditions adds to the city's charm and makes it an even more exciting place to visit.
Chinese roots can be traced back in Mexicali's history to the late 19th century when immigrants from China immigrated to work at cotton plantations. Many of their descendants still live there, giving Mexicali a unique cultural mix you won't find anywhere else.
#15: San Cristobal de Las Casas
San Cristobal de Las Casas, Chiapas is the best-loved Mexican city for travelers. Its cobblestone streets, year-round temperate climate, and cultural variety make it an ideal destination for exploring Mexico's colonial past.
Chiapas surrounding countryside provides ample opportunity to explore awe-inspiring natural beauty with lush jungles and stunning hidden waterfalls waiting to be explored.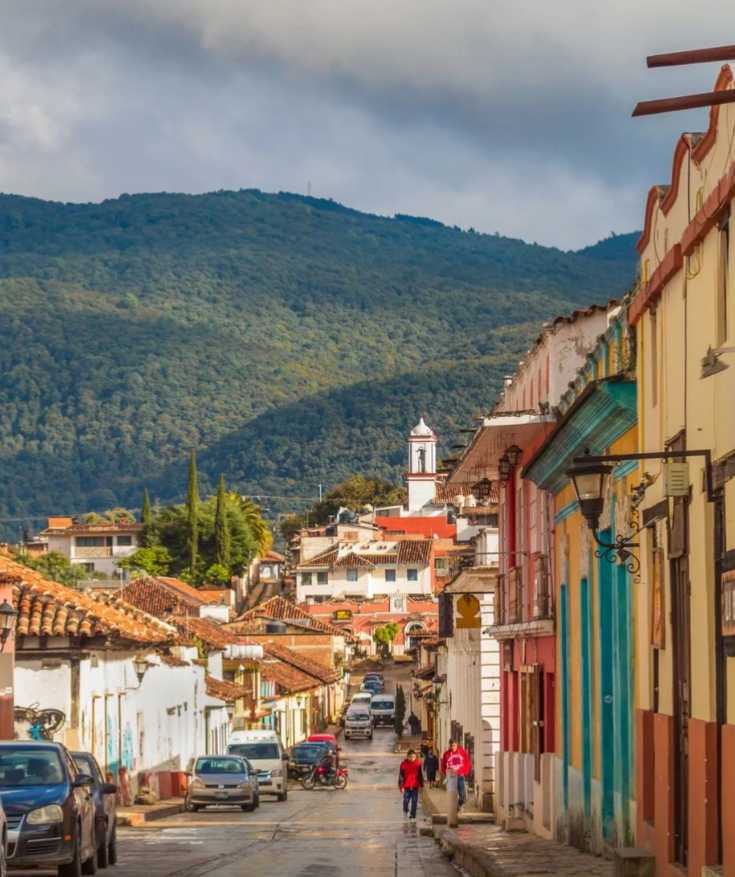 It was then named Ciudad Real de Chiapa and served as an important regional commercial center. Today it remains one of the oldest cities in Mexico!
Another interesting fact about San Cristobal is its unique language known as Tzotzil. This language is still used today by many local indigenous people living in the area who maintain their traditional customs.
⁉️ Mexican Cities FAQ
Still have questions about the best cities to visit in Mexico?
If you cannot find an answer to your question in our FAQ, leave your question in the comment box below, and we'd be happy to update this post. Follow our social media channels, where we answer questions without a cost!
Trisha traveled to Mexico in 2018 and after a year, she found herself obtaining a 4-year residency visa in Mexico. She is the Editor-in-chief for our Living in Mexico Series which has helped over 3,000 Americans move to Mexico with ease. Trisha currently resides in Cabo San Lucas, Baja California Sur.