Ethnobotanical Garden Oaxaca has become Instagram-famous and many people became curious about what's inside this garden. In this post, we will tell you everything about this unusual site in Oaxaca City.
Oaxaca Ethnobotanical Garden re-opened its doors in October 2021 after closing for almost 2 years. The garden is only popular with those who know it.
It's hardly mentioned in popular Oaxaca travel guides on the web and most of the visitors here are Europeans who are not necessarily plant enthusiasts but are into ethnobotany.
Designed and built by 'El Maestro,' Francisco Toledo, Mexico's most iconic artist. He is a sculptor, painter, and graphic artist but he said he's not a gardener so this project was new to him.
Toledo is not only known for his Ethnobotanical Garden Oaxaca work but he's also one of the movers and shakers in the city in terms of important cultural themes and institutions.
The purpose of the Oaxaca Ethnobotanical Garden is not only for the study of plant classification or cultivation but to study the interrelations between humans and plants.
Many people visit this Oaxaca attraction for peace and quiet in the bustling city of Oaxaca. Back in its normal operations, you will often see locals hanging out there with a book in one hand and coffee in another.
You might also like: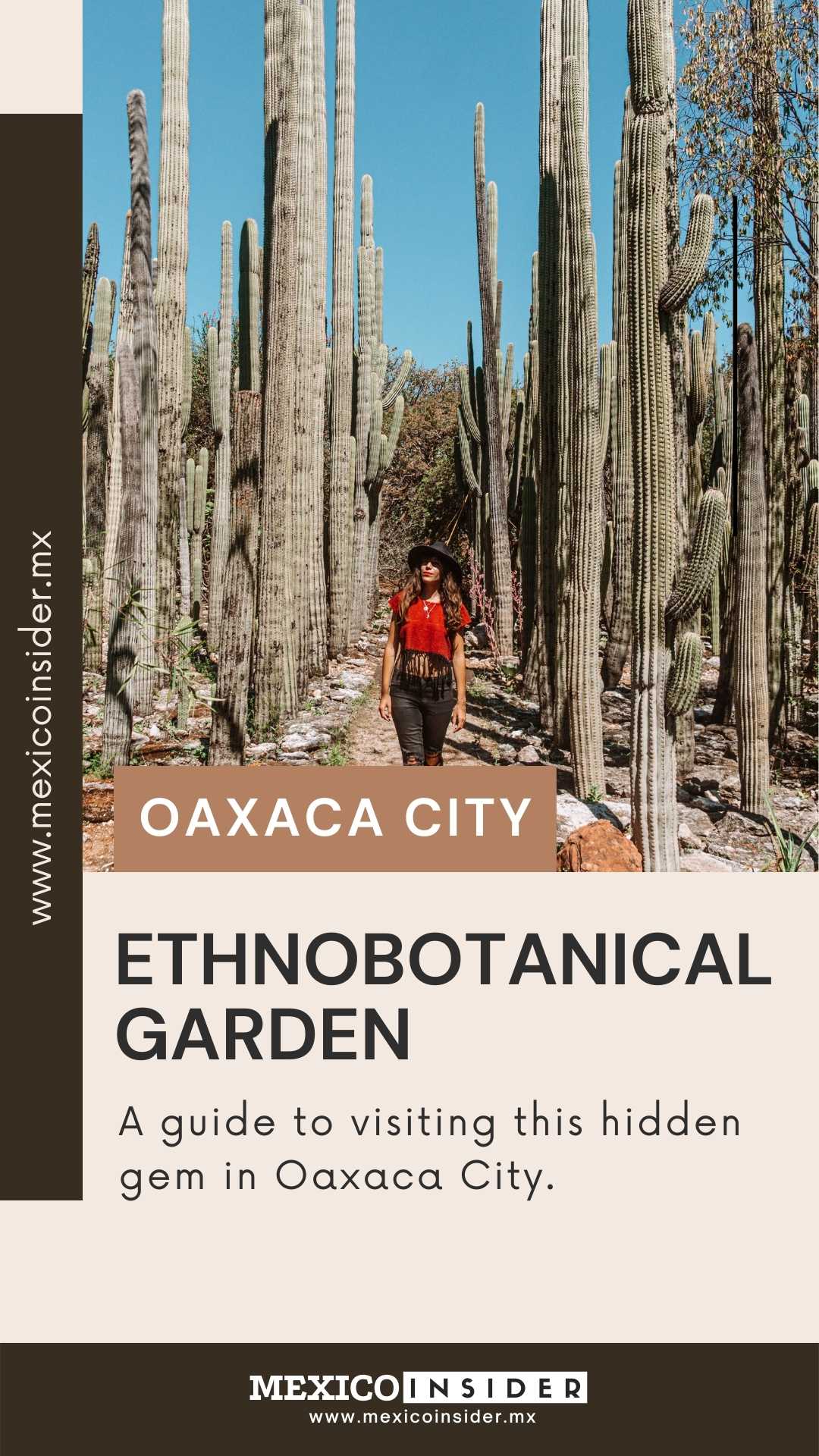 🧑‍🌾 History of the Oaxaca Ethnobotanical Garden
The Ethnobotanical Garden Oaxaca is located behind the Santo Domingo Cultural Centre, which is the famous Oaxacan church on the Internet. The Mexican Army took over this space for over 120 years.
When they relocated in 1994, the state of Oaxaca proposed that the monastery grounds be converted to a luxury hotel but Francisco Toledo's group lobbied for a green space for the people of Oaxaca and they won.
The Ethnobotanical Garden Oaxaca was built and officially opened its doors to the public in 1998. Many visitors don't really notice it because of the lack of signage outside the garden which makes it a unique activity in Oaxaca. Not everyone has seen the garden!
🌵 Inside the Ethnobotanical Garden Oaxaca
Also known as Jardin Etnobotanico Oaxaca in Spanish, the garden aims to tell the rich history of Oaxaca including the artistic and cultural traditions of Mexico.
The large cacti plants will make you feel that you are in the Baja California state but all the plants and trees here are native to the state of Oaxaca, all of which tell a story.
Most of them were rescued from development projects around the state and brought to Oaxaca City for preservation. Others are medicinal plants from the mountains of Oaxaca including a variety of ingredients used for the Oaxacan cuisine that we all enjoy today.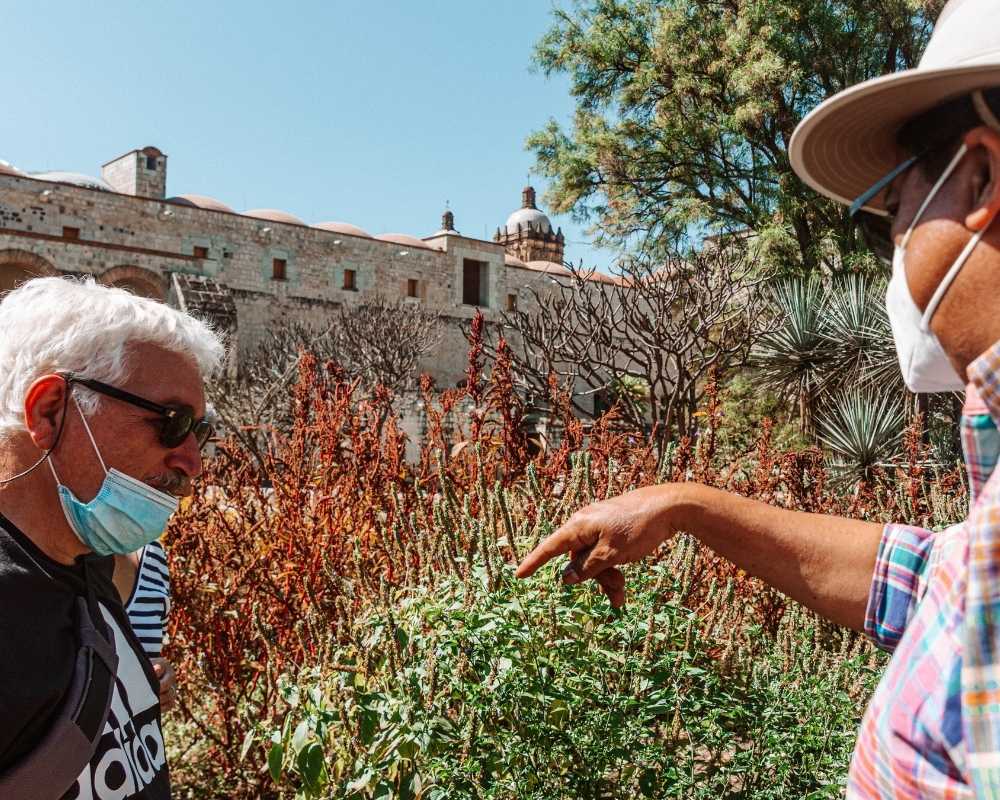 More plants inside the Oaxaca Ethnobotanical Garden
Mesquite: primary food source for settlers during the desert deprivations and drought in North America. It thrives in dry conditions and can be found in Southern USA and Mexico.
Copal: copal is used for incense and for carving alebrijes, the surreal Oaxacan folk art.
Agave Plants: Oaxaca is known for the mezcal so you will also see many native agave plants here from the outskirts of Oaxaca
Traditional Food Area: there is one area inside the Oaxaca Ethnobotanical Garden that showcases the food culture of Oaxaca. Here, you will find plants like corn, jicama, tomatoes, amarant, chia, together with Mexican hierba de conejo and tamal de chepil.
Plants like orchids, bromeliads, and cacao
Endangered plants that are aligned with the sustainability and ethics of Oaxaca Ethnobotanical Garden
A greenhouse that does not use airconditioning but geothermal cooling
🗺️ Ethnobotanical Garden Oaxaca Map
The garden
Entrance
Orchid's Salon
Ticket Booth
Library
Women's Toilet
Men's Toilet
Administrative Offices
Plaza
More Toilets
The Atrium
Exceptional Attractions
A. Jorge Dubon Sculpture
B. Luis Zarate Sculpture
C. Jorge Yaspic Sculpture
D. The Greenhouse
E. Old Street
F. 16th-century archaeological pond
G. Ceramic Oven
H. 16th-century lime kilns
I. Laundry
J. Francisco Toledo Sculpture
Thematic Sections
I. Vegetation of the Valley of Oaxaca
II. Rock Garden
III. Medicinal Plants
IV. Indigenous Agriculture
V. Orchards and Plots
VI. Tropical Rainforest
VII. Mountain Forest
VIII. Plants related to Oaxacan culture
IX. Tropical Dry Forest
X. Plants from the driest areas of Oaxaca
XI. Patio del Huaje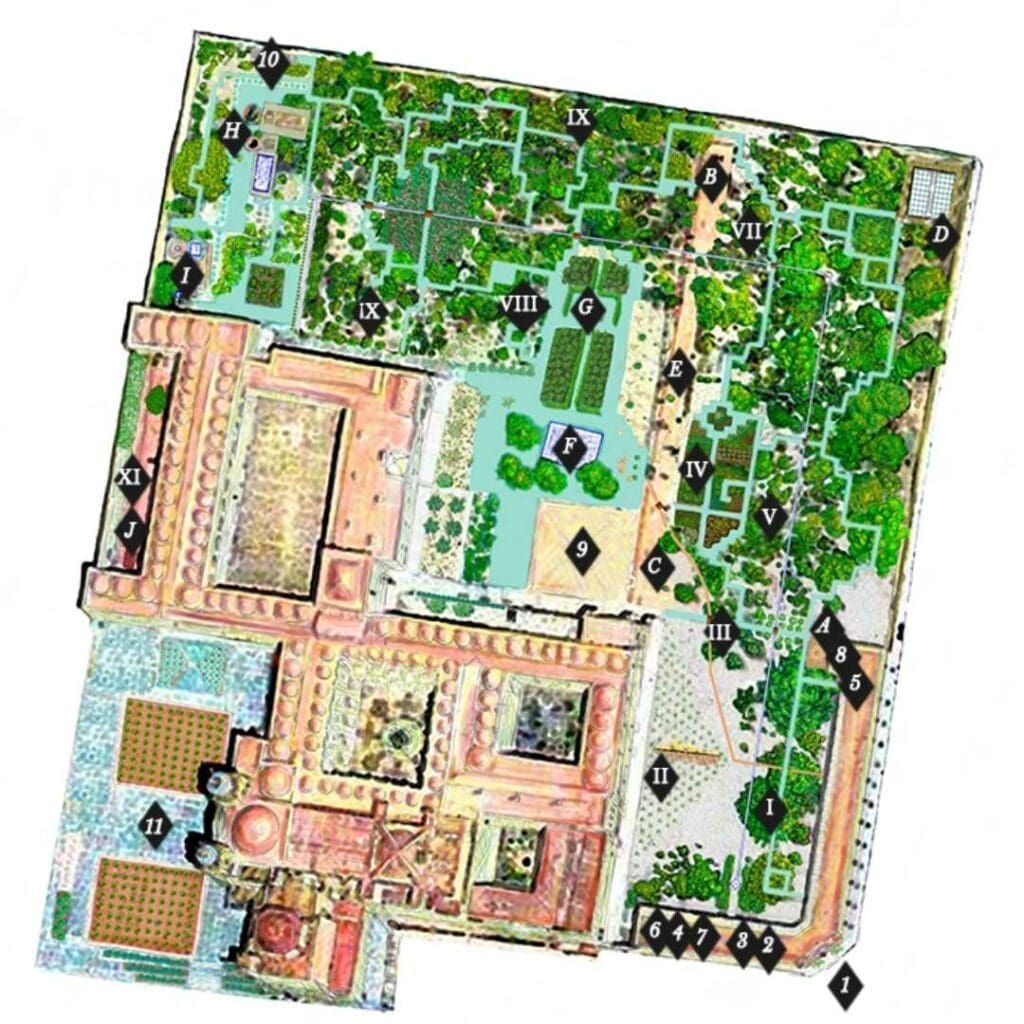 🌿 Oaxaca Ethnobotanical Garden Visitor's Guide
This garden is pretty exclusive and can only be accessed by a guide. We visited during its re-opening in November 2021 and we had to fall in line from 6:00 AM to get access.
The tours are offered in different languages by the hour. Since we were falling in line for a while now, we opted for a French tour because there were fewer people in that line and we speak French!
Below are the tour hours for each language:
English: Monday to Saturday at 11:00 AM (US$7)
Spanish: Monday to Saturday at 10:00 AM, 11:00 AM, and 12:00 PM (US$2.50)
French: N/A at the moment; open until further notice
German: N/A at the moment; open until further notice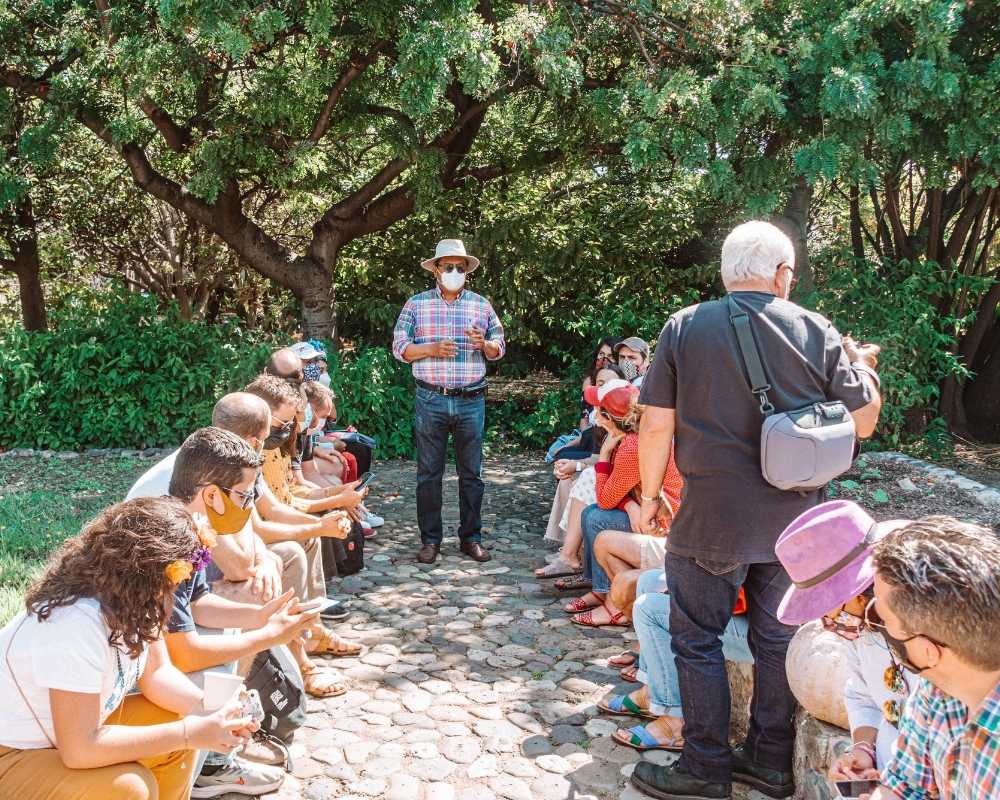 More information:
✈️ Ready for your trip to Oaxaca? If you need more information about the Ethnobotanical Garden of Oaxaca, we'd be happy to update this post – just leave your questions in the comment box below or join our communities where we answer questions for FREE.
🇲🇽 Oaxaca Travel Resources
Trisha traveled to Mexico in 2018 and after a year, she found herself obtaining a 4-year residency visa in Mexico. She is the Editor-in-chief for our Living in Mexico Series which has helped over 3,000 Americans move to Mexico with ease. Trisha currently resides in Cabo San Lucas, Baja California Sur.