Destinations > Puebla
MEXICO TRAVEL GUIDE
Puebla Travel Guide
Everything you need to know about traveling to the state of Puebla, Mexico.
The state of Puebla, located in the southeastern region of Mexico, offers an enchanting blend of rich history, vibrant culture, and breathtaking natural beauty. Travelers to Puebla can experience the charm of the region's capital city, Puebla City, known for its well-preserved colonial architecture and the famous Talavera pottery.
History buffs will be delighted to explore the numerous archaeological sites, such as the Great Pyramid of Cholula. At the same time, food enthusiasts can savor the region's delicious cuisine, which includes the iconic mole poblano. Nature lovers can also embark on an adventure through the picturesque landscapes, hike up the Popocatépetl and Iztaccíhuatl volcanoes, or explore the beautiful Cuetzalan region with cascading waterfalls lush vegetation.
Puebla is a hidden gem that offers visitors diverse experiences that cater to various interests. Its rich cultural heritage, stunning natural wonders, and delectable cuisine make it a worthwhile destination for travelers seeking to immerse themselves in Mexican history, art, and traditions.
Whether you're wandering through the colorful streets of Puebla City, taking in the awe-inspiring views of the volcanoes, or indulging in local dishes, Puebla is sure to captivate and inspire. In addition, the warm and welcoming nature of its people further enhances the overall experience, making a trip to Puebla an unforgettable journey.
✈️ Planning a trip to Puebla? Talk to an expert trip designer.
✈️ Puebla Travel Guide: quick info
Capital: Puebla de Zaragoza
Major Airports: Puebla International Airport (PBC)
Major Cities (population): Puebla (1,485,941) Tehuacán (260,923) San Martín Texmelucan (130,316) Atlixco (122,149) San Pedro Cholula (113,436)
Size/Area: 13,090 square miles
Year of Statehood: 1824
Most visited destinations: Puebla City, Cholula, Atlixco
Visit the lesser-known towns: While Puebla City is a must-see, don't forget to explore the smaller, picturesque towns like Atlixco, Zacatlán, and Cuetzalan. These towns offer an authentic glimpse into local life and boast beautiful landscapes, traditional markets, and unique cultural experiences.
Learn some basic Spanish: While many people in the larger cities and tourist areas will speak English, having some basic Spanish phrases handy will help you communicate with locals in smaller towns and enhance your overall experience.
Attend a Lucha Libre match: Experience the excitement of a traditional Mexican wrestling event in Puebla City. It's a unique cultural experience that showcases the athleticism and showmanship of the wrestlers, and is sure to be a memorable evening.
Try local street food: Don't be afraid to venture out and taste the delicious street food Puebla has to offer. Sample the famous cemitas, a local sandwich, or chalupas, small corn tortillas topped with various ingredients. Just remember to choose busy food stalls, as they are more likely to have fresh ingredients.
Visit the Biblioteca Palafoxiana: This historical library, founded in 1646, houses over 45,000 books and manuscripts from various time periods. It's a treasure trove for book lovers and history enthusiasts alike.
Explore the Mercado de Sabores Poblanos: This market in Puebla City offers a wide variety of regional cuisine, allowing you to sample different dishes all in one place. It's a great way to acquaint yourself with the flavors of Puebla.
Appreciate Talavera pottery: Talavera pottery is a local art form that dates back to the 16th century. Visit the workshops in Puebla City to learn about the intricate process of creating these beautiful ceramics, and consider taking home a piece as a souvenir.
Dress appropriately for the climate: Puebla's climate can be quite varied, with cooler temperatures in the higher altitude areas like the volcanoes. Bring layers to accommodate the fluctuations in temperature, as well as comfortable footwear for exploring the city and hiking.
Experience local festivals: Time your visit to coincide with one of Puebla's many vibrant festivals, such as the Cinco de Mayo celebrations or the Day of the Dead. These events offer a unique insight into the region's customs and traditions.
Use local transportation: When traveling between cities and towns in Puebla, consider using local transportation options like buses and colectivos (shared taxis). Not only will this save you money, but it will also give you a chance to interact with locals and experience the region in a more authentic way.
🚦 Puebla transportation guide
Buses: Intercity buses are a popular and affordable way to travel between cities and towns in Puebla. There are several bus companies that offer comfortable and safe rides, with options ranging from basic to luxury services. These buses often provide amenities such as air conditioning, reclining seats, and onboard restrooms.
Colectivos: Shared taxis, known as colectivos, are another budget-friendly option for short to medium distances. These vehicles typically follow specific routes and pick up passengers along the way. While they may be less comfortable than buses, colectivos offer a more authentic travel experience and allow you to interact with locals.
Taxis: Regular taxis are available in cities and towns throughout Puebla. They are a convenient option for getting around, especially if you prefer a private ride or have a lot of luggage. Make sure to agree on a fare before starting the trip or use a taxi service that offers metered rides to avoid overcharging.
Ridesharing services: Companies like Uber and Didi operate in Puebla, offering a convenient and reliable way to get around. These services can be booked through smartphone apps and provide an alternative to traditional taxis.
Rental cars: Renting a car can be a great option if you prefer the freedom and flexibility to explore Puebla at your own pace. Numerous rental agencies are available, including international companies and local providers. Be aware that you'll need a valid driver's license and, in some cases, an international driving permit. Keep in mind that driving in Mexico can be a challenge due to traffic and road conditions, so ensure you're comfortable with the idea before renting a vehicle.
Bicycles: In Puebla City, the public bike-sharing system, CycloShare, allows you to rent a bike for short periods. This is an eco-friendly and healthy way to explore the city. In smaller towns, you may find local bike rental shops that cater to tourists.
Walking: Many of Puebla's attractions, especially in Puebla City and smaller towns, are best explored on foot. Walking allows you to truly appreciate the architecture, street art, and local atmosphere at a leisurely pace.
Public transportation within cities: In Puebla City, the RUTA (Red Urbana de Transporte Articulado) is a Bus Rapid Transit system that offers a fast and affordable way to navigate the city. Local buses and minibuses also operate in the city and can be a cost-effective option for getting around.
☀️ The best time to visit Puebla
The ideal time to visit the state of Puebla for pleasant weather is from October through April. During this period, you can expect mild to warm temperatures, making exploring the various cities, towns, and natural attractions comfortable.
These months also typically have less rainfall, providing more opportunities for outdoor activities like hiking the volcanoes, visiting archaeological sites, and strolling through charming towns. However, it is essential to note that temperatures can vary significantly, especially in higher altitude areas, so it's always wise to pack layers and be prepared for cooler evenings.
If you're looking for the most affordable time to visit the state of Puebla, consider traveling during the low season, which generally falls between May and September. During these months, you'll find fewer tourists, which often translates to lower prices for accommodations and flights.
Additionally, you may take advantage of special promotions and discounts on various tourist attractions and activities. However, remember that this period coincides with the rainy season, so you may encounter more frequent showers and overcast days. Despite the rain, you can still enjoy Puebla's rich cultural experiences and indoor attractions like museums, galleries, and historic sites. Remember to pack a raincoat or umbrella and be flexible with your plans.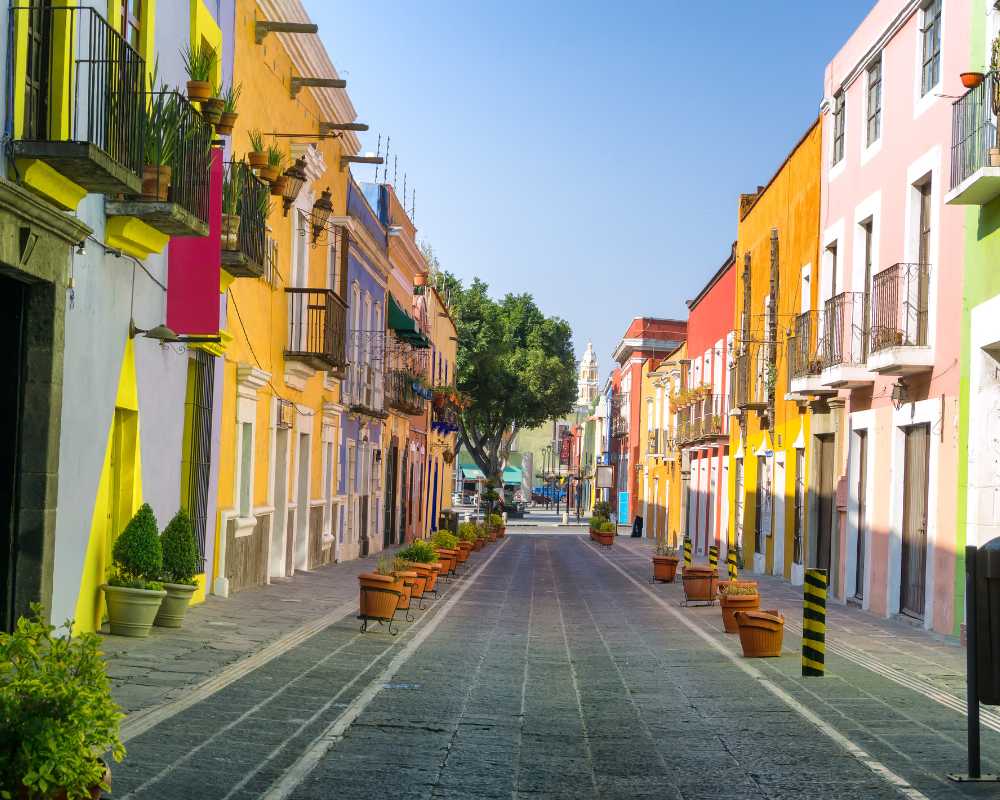 ☀️ Weather in Puebla by month
January in Puebla
January in Puebla state is characterized by cool, mild weather, with average temperatures ranging from 5°C (41°F) to 23°C (73°F). Humidity levels are generally low, and the region experiences minimal rainfall. January is a good time to visit Puebla for those who prefer cooler weather. Puebla hosts its annual Three Kings Day celebration, featuring parades, food, and music.
February in Puebla
February in Puebla state brings slightly warmer temperatures, with averages ranging from 7°C( 44°F) to 24°C (75°F). The humidity remains low, and there is little rainfall during this month. February is a great time to visit Puebla state, as the weather is pleasant and outdoor activities are comfortable. In late February or early March, Puebla celebrates Carnival, which features colorful parades, traditional costumes, and festive events.
March in Puebla
March in Puebla state sees temperatures continue to rise, with averages ranging from 9°C (48°F) to 25°C( 77°F). Humidity levels remain relatively low, and the rainfall is minimal. March is an ideal month to explore Puebla's outdoor attractions, such as the Popocatépetl and Iztaccíhuatl volcanoes and the Tehuacán-Cuicatlán Biosphere Reserve. Additionally, Puebla City celebrates its annual International Film Festival (FICUNAM), showcasing a diverse range of films from Mexico and worldwide.
April in Puebla
April in Puebla state is marked by warm, pleasant weather, with average temperatures ranging from 11°C( 52°F) to 27°C (81°F). The humidity levels increase slightly, and the chances of rainfall increase as the month progresses. April is an excellent time to visit Puebla, as the warm weather is perfect for outdoor exploration and cultural events. One notable event in Puebla this month is the Festival Internacional de Teatro Héctor Azar, a theater festival showcasing local and international performances.
May in Puebla
May in Puebla state is characterized by warmer temperatures, with averages ranging from 12°C( 54°F) to 29°C (84°F). The humidity levels continue rising, and the region experiences more frequent rainfall, particularly afternoons. Despite the rain, May is still a good time to visit Puebla state, as the warm weather provides outdoor activities and exploration opportunities. Puebla City celebrates Cinco de Mayo, commemorating the historic Battle of Puebla with parades, reenactments, and cultural events.
June in Puebla
June in Puebla state brings warmer temperatures and increased humidity, with averages ranging from 12°C (54°F) to 28°C (82°F). The rainfall becomes more frequent during June, making it the beginning of the rainy season in the region. Despite the rain, June can still be a good time to visit Puebla state, as the lush landscapes and blooming flowers create a beautiful backdrop for outdoor activities. This month, Puebla City hosts the Feria de San Pedro, a local fair with food, music, and cultural events.
July in Puebla
July in Puebla state is characterized by warm temperatures and frequent rainfall, with averages ranging from 12°C (54°F) to 27°C (80°F). The humidity is high during this month, and the rainy season continues. Despite the rain, July is still a suitable time to visit Puebla, as the lush landscapes and vibrant greenery create a picturesque backdrop for outdoor activities. In July, Puebla City hosts the Festival Internacional 5 de Mayo, a cultural event featuring music, dance, theater, and visual arts performances.
August in Puebla
August in Puebla state sees similar weather conditions to July, with warm temperatures, high humidity, and frequent rainfall. Average temperatures range from 11°C (52°F) to 26°C (79°F). August is an excellent time to visit Puebla state, particularly for those who enjoy lush landscapes and cooler temperatures. There are no major events or festivals during this month, but visitors can take advantage of the state's natural beauty and outdoor activities.
September in Puebla
September in Puebla state brings slightly cooler temperatures and a gradual decrease in rainfall, with averages ranging from 10°C (50°F) to 26°C (78°F). The humidity remains high, and the region continues to experience some rain. September is an excellent time to visit Puebla as the weather improves and outdoor activities become more enjoyable. The city of Puebla celebrates Mexico's Independence Day on September 16th, with traditional festivities such as parades, fireworks, and cultural events.
October in Puebla
October in Puebla state sees a significant decrease in rainfall and more stable weather, with average temperatures ranging from (9°C) 48°F to 24°C (76°F). The humidity levels also start to decrease during this month. October is an excellent time to visit Puebla, as the weather is more predictable and the region's natural beauty is still vibrant. The city of Puebla hosts the Feria de Cholula, a local fair featuring food, music, and cultural events, which takes place at the end of October and into early November.
November in Puebla
November in Puebla state is characterized by cooler temperatures, low humidity, and minimal rainfall, with averages ranging from 7°C (44°F) to 23°C (74°F). November is an ideal time to visit Puebla state, as the weather is comfortable for outdoor activities and exploration. There are no major events or festivals this month, but visitors can enjoy the pleasant weather and take advantage of the state's many outdoor attractions.
December in Puebla
December in Puebla state brings cooler temperatures and dry weather, with averages ranging from 5°C (41°F) to 23°C (73°F). The humidity remains low, and the region experiences minimal rainfall. December is a great time to visit Puebla state, particularly for those who prefer cooler weather and the festive atmosphere surrounding the holiday season. In Puebla City, visitors can enjoy the Christmas and New Year's celebrations, which include traditional events, seasonal markets, and festive decorations throughout the city.
PUEBLA TOURS
We customize tours in Puebla!
We live here and have traveled the Puebla state. Get in touch with us by sending a Whatsapp message to +52 473 171 5259 to get a quote. No hidden costs, just simple prices.
📍 Places to visit in Puebla Mexico
Puebla City: The capital of the state, Puebla City boasts stunning colonial architecture, colorful streets, and a vibrant cultural scene. The city is famous for its Talavera pottery, exquisite cuisine, and historical landmarks like the Puebla Cathedral and Biblioteca Palafoxiana.
Cholula: A charming town located just outside Puebla City, Cholula is home to the Great Pyramid of Cholula, the largest pyramid by volume in the world. The town is also known for its lively nightlife, vibrant markets, and numerous churches.
Atlixco: Known as the "City of Flowers," Atlixco is a picturesque town nestled at the foot of the Popocatépetl volcano. It's famous for its flower markets, beautifully maintained gardens, and the vibrant Atlixco Zócalo, the town's central square.
Cuetzalan: This magical town, located in the Sierra Norte region, is renowned for its lush landscapes, cobblestone streets, and traditional buildings. Visitors can explore the nearby waterfalls, caves, and coffee plantations or partake in the town's vibrant cultural events and markets.
Zacatlán: Surrounded by dense forests and apple orchards, Zacatlán is a charming town famous for its production of apple-based products and artisanal clocks. The town's historical center features colorful buildings, a beautiful clock museum, and the impressive Church of San Pedro.
Tehuacán: As the second-largest city in the state of Puebla, Tehuacán is known for its rich history, mineral springs, and stunning natural surroundings. The Tehuacán-Cuicatlán Biosphere Reserve, a UNESCO World Heritage site, is located nearby, offering unique landscapes and biodiversity.
Huauchinango: Located in the Sierra Norte region, Huauchinango is surrounded by verdant mountains, rivers, and waterfalls. The town is a popular destination for nature lovers and adventure seekers, offering opportunities for hiking, rafting, and bird watching.
Xicotepec: Another picturesque town in the Sierra Norte, Xicotepec is characterized by its colorful houses, cobblestone streets, and stunning views of the surrounding mountains. It's an ideal destination for those looking to escape the hustle and bustle of city life and enjoy a slower pace.
San Pedro Cholula: This municipality, neighboring the town of Cholula, offers a mix of ancient history and modern charm. It is home to the Universidad de las Américas Puebla (UDLAP) and several impressive churches, including the Church of San Francisco Acatepec, known for its stunning Talavera-tiled facade.
San Andrés Cholula: Another neighboring municipality to Cholula, San Andrés Cholula is a blend of historical sites and modern developments. The town is home to important archaeological sites, such as the San Gabriel Convent, and has become a hub for trendy restaurants, bars, and shopping centers.
🏖️ Top things to do Puebla
Great Pyramid of Cholula: This ancient archaeological site, also known as Tlachihualtepetl, is the world's largest pyramid by volume. Visitors can explore the tunnels beneath the structure, visit the Shrine of Our Lady of Remedies atop the pyramid, and learn about the site's history at the on-site museum.
Popocatépetl and Iztaccíhuatl Volcanoes: These majestic volcanoes, located in the Izta-Popo Zoquiapan National Park, are popular destinations for hiking and mountaineering. The park offers stunning views, diverse flora and fauna, and a range of trails catering to different skill levels.
African Safari: This unique wildlife park, located just outside of Puebla City, allows visitors to observe animals from around the world in open habitats. The park offers guided tours, educational programs, and exciting experiences like zip-lining and boat rides.
Puebla Cathedral: This magnificent cathedral, located in Puebla City's main square, is an architectural masterpiece featuring a blend of Baroque and Renaissance styles. Its soaring towers, intricate interiors, and stunning stained-glass windows make it a must-visit attraction.
Estrella de Puebla Observation Wheel: This 80-meter (262-foot) tall observation wheel offers panoramic views of Puebla City and its surroundings. Visitors can enjoy a 15-minute ride in one of the wheel's comfortable, air-conditioned cabins.
Amparo Museum: Located in Puebla City, this renowned museum showcases a vast collection of Mexican art, ranging from pre-Hispanic artifacts to contemporary works. The museum also features rotating exhibits, a rooftop terrace, and a cafe.
Cacaxtla Archaeological Site: This ancient site, located near the town of San Miguel Xochitecatl, features well-preserved murals and architectural remains from the Olmeca-Xicalanca culture. Visitors can explore the site's pyramids, plazas, and mural-covered temples.
Cuexcomate: Situated in Puebla City, Cuexcomate is often referred to as the world's smallest volcano. Although it's technically a geyser, this unique geological formation reaches a height of 13 meters (43 feet) and features a spiral staircase that allows visitors to descend into its interior.
Los Fuertes de Loreto y Guadalupe: These historical forts, located atop a hill in Puebla City, played a crucial role in the Battle of Puebla on May 5, 1862. The forts now house a museum that recounts the battle's events and offers sweeping views of the city.
Tehuacán-Cuicatlán Biosphere Reserve: A UNESCO World Heritage site, this expansive reserve showcases the unique flora and fauna of the Tehuacán Valley. Visitors can explore the reserve's diverse ecosystems, admire the striking columnar cacti, and learn about the area's cultural and natural significance at the on-site botanical garden and interpretive center.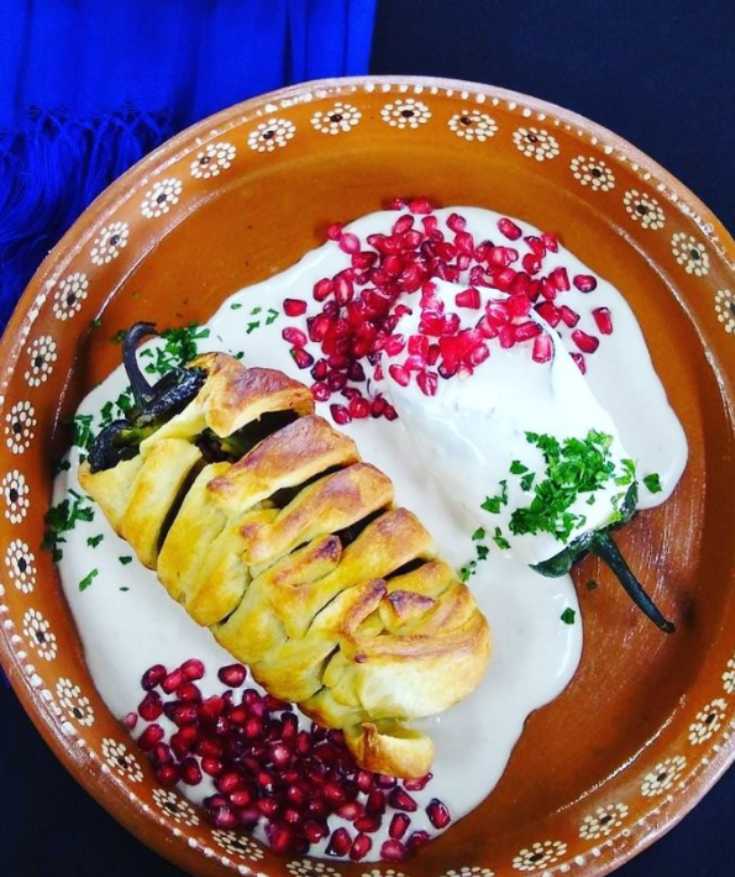 🌮 Food from Puebla Mexico
Mole Poblano: Perhaps the most iconic dish from Puebla, mole poblano is a rich, complex sauce made with various chilies, spices, chocolate, and sometimes fruits. It is traditionally served over chicken or turkey and accompanied by rice.
Chiles en Nogada: This festive dish consists of poblano chilies stuffed with a mixture of ground meat, fruits, and spices, then topped with a creamy walnut sauce and sprinkled with pomegranate seeds. The dish's colors represent the Mexican flag, making it a popular choice during patriotic celebrations.
Cemitas: A popular street food, cemitas are sandwiches made with a round sesame seed roll, filled with ingredients such as breaded meat, avocado, Oaxaca cheese, onions, and the regional herb pápalo. The combination of flavors and textures makes for a delicious and satisfying meal.
Chalupas: These small corn tortillas are fried until crispy and then topped with a choice of sauces (red or green), shredded meat, onions, and fresh cheese. Chalupas are a popular snack or appetizer in Puebla and are often served at street food stalls.
Pipián Verde: This dish features a flavorful green sauce made from pumpkin seeds, tomatillos, and green chilies. It is typically served over chicken, pork, or vegetables, and accompanied by rice and tortillas.
Tacos Árabes: Inspired by Middle Eastern cuisine, tacos árabes are made with marinated, spit-roasted pork wrapped in a thick, pita-like tortilla called pan árabe. The tacos are usually served with a side of creamy garlic sauce or chipotle salsa.
Chanclas: Named after the popular Mexican sandals due to their shape, chanclas are sandwiches made with a small baguette, filled with shredded meat, and then submerged in a spicy guajillo chili sauce. They're typically topped with onions, avocado, and fresh cheese.
Camotes de Santa Clara: A popular sweet treat, camotes de Santa Clara are candied sweet potatoes flavored with fruit essences, such as strawberry or pineapple. They are usually sold in a tube-like shape and wrapped in wax paper.
Molotes: These deep-fried, oval-shaped snacks are made with a corn masa dough and filled with various ingredients, such as seasoned potatoes, cheese, or chorizo. Molotes are typically served with salsa, lettuce, and a sprinkle of fresh cheese.
Tortas de Santa Clara: This traditional pastry features a sweet, crumbly shortbread cookie filled with a pumpkin seed paste. The cookie is then topped with a sugar glaze, making it a delicious and indulgent treat.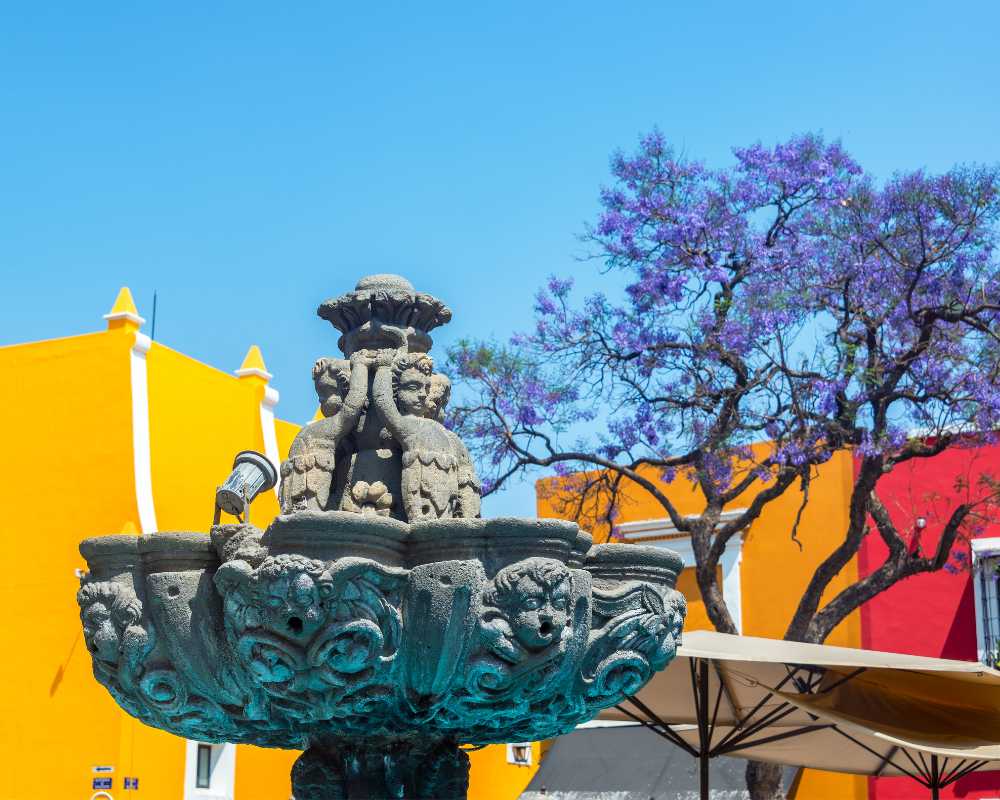 🛏️ Puebla Hotels & Accommodations
Luxury Hotels: These upscale establishments offer top-notch services and amenities, such as fine dining, spas, fitness centers, and concierge services. Luxury hotels in Puebla state can be found in major cities like Puebla City and in popular tourist areas. Prices typically start at around $150 per night and can go up to several hundred dollars, depending on the hotel and the season.
Mid-range Hotels: Offering a balance between comfort and affordability, mid-range hotels provide travelers with essential amenities like clean rooms, private bathrooms, Wi-Fi, and sometimes complimentary breakfast. Prices for mid-range hotels in Puebla state usually range from $50 to $150 per night.
Budget Hotels: Budget hotels cater to travelers looking for basic accommodations at an affordable price. These hotels generally offer clean rooms, shared or private bathrooms, and limited amenities. Prices for budget hotels in Puebla state can range from $20 to $50 per night.
Hostels: Hostels are a popular choice among backpackers and budget-conscious travelers. They typically offer dormitory-style rooms with shared facilities, as well as private rooms for those seeking more privacy. Hostels in Puebla state usually provide communal areas for socializing and sometimes offer additional services like tours or activities. Prices can range from $10 to $30 per night, depending on the type of room and location.
Bed and Breakfasts: Bed and breakfasts provide a cozy, home-like atmosphere, often set in charming, historic buildings or family homes. Guests can expect comfortable rooms, personalized service, and a homemade breakfast. Prices for B&Bs in Puebla state typically range from $40 to $120 per night.
Vacation Rentals: Vacation rentals, such as apartments, houses, or villas, offer travelers the opportunity to enjoy a home-away-from-home experience. These accommodations come with fully equipped kitchens, living spaces, and multiple bedrooms, making them an ideal choice for families or groups. Prices can vary widely, from $50 to several hundred dollars per night, depending on the size, location, and quality of the rental.
Boutique Hotels and Haciendas: These unique accommodations often feature distinctive architecture, stylish interiors, and personalized service. Boutique hotels and converted haciendas in Puebla state can provide a memorable and luxurious stay. Prices typically range from $80 to $250 per night.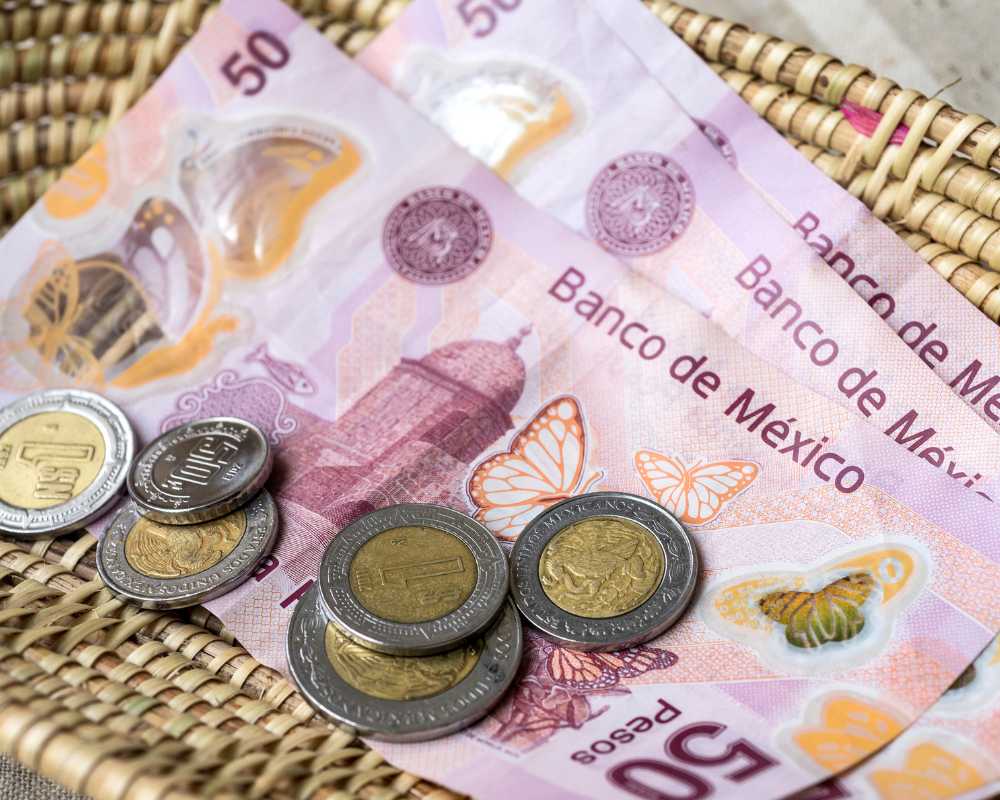 💵 Cost of travel to Puebla
Accommodation Costs
The cost of accommodations in the state of Puebla varies depending on the type of lodging, location, and time of year. Budget hotels and hostels can be found for as low as $10 to $30 per night, while mid-range hotels typically range from $50 to $150 per night. Luxury hotels and boutique properties can start at around $150 per night and go up to several hundred dollars. Bed and breakfasts usually cost between $40 and $120 per night. Remember that these prices can fluctuate based on factors such as demand and seasonality.
Food Costs
Food prices in Puebla state can vary depending on where and what you choose to eat. Street food stalls and local markets offer affordable and delicious options, with meals typically costing between $2 and $5. Mid-range restaurants serving regional cuisine or international dishes may charge anywhere from $10 to $20 per person for a meal, excluding drinks. High-end restaurants and fine dining establishments can cost $30 or more per person, not including drinks. It is also common to find more affordable options in smaller towns and rural areas compared to larger cities like Puebla City.
Tours and Excursions Costs
Tour prices in Puebla state depend on the type of activity, duration, and included services. Guided day tours to popular attractions like the Great Pyramid of Cholula, Popocatépetl and Iztaccíhuatl volcanoes, or the Tehuacán-Cuicatlán Biosphere Reserve can range from $30 to $100 per person. More specialized or private tours, such as culinary experiences, artisan workshops, or adventure activities, can cost between $50 and $200 per person. Keep in mind that prices may vary based on group size, transportation, and included amenities like meals or entrance fees.
Transportation Costs
Transportation costs within Puebla state can be relatively affordable, especially if you choose to use public transportation. Local bus fares within cities like Puebla City typically cost less than $1 per ride. Long-distance buses connecting major cities and towns within the state can range from $5 to $25, depending on the distance and the level of service (first-class or economy). Taxis and rideshare services like Uber are also available, with fares varying based on distance and demand. Car rentals can be a convenient option for those who prefer more flexibility, with daily rates starting at around $20 for a compact car, not including insurance and fuel costs.
☕ Support this blog's honest and transparent journalism. Help us add value to what we are sharing. Keep Mexico Insider FREE for all by donating to our coffee fund. Muchas gracias!
🏧 ATMs, credit cards, and more!
ATM withdrawals
ATMs are widely available in Puebla state, particularly in urban areas, shopping centers, and major tourist destinations. The best Mexican banks for withdrawing cash from ATMs include Banamex, Banorte, BBVA Bancomer, Santander, and HSBC. These banks usually have lower fees and better exchange rates compared to smaller banks or independent ATMs. It's advisable to use ATMs located inside banks or well-lit, secure areas to minimize the risk of theft or fraud. Keep in mind that your home bank may also charge additional fees for international transactions, so it's a good idea to check with them before traveling.
Using credit cards
Credit cards are widely accepted in the state of Puebla, especially in larger cities, hotels, restaurants, and tourist attractions. Visa and Mastercard are the most commonly accepted credit cards, followed by American Express. Discover card may have limited acceptance in some locations. It's important to carry some cash, as smaller businesses, markets, or street food vendors may not accept credit cards. It's also a good idea to inform your credit card company of your travel plans to avoid any potential fraud alerts or blocked transactions.
Currency exchange
The best way to exchange money in Puebla state is to use ATMs to withdraw Mexican pesos directly. They typically offer better exchange rates than currency exchange offices or hotels. If you need to exchange cash, try to do so at a bank or a reputable currency exchange office (called "casa de cambio" in Spanish) in larger cities or tourist areas. Avoid exchanging money at airports or hotels, which often have unfavorable rates and additional fees. Researching the current exchange rate and comparing it with the rates offered at different locations is always a good idea to ensure you're getting a fair deal.
Tipping culture
Tipping is customary in Puebla and throughout Mexico, although the amounts and expectations may vary depending on the situation. In restaurants, a tip of 10-15% of the bill is standard for good service, while at bars, you can tip around 10% or one or two dollars per drink. For hotel staff, such as bellhops and housekeeping, a tip of $1-$2 per bag or per day of service is appropriate. Taxi drivers generally do not expect a tip, but you can round up the fare or give a small tip if they assist with luggage or exceptional service. Tour guides and drivers usually expect a tip, with $5-$10 per person being a good guideline for a full day tour. Keep in mind that tipping in Mexico is typically done in cash, so it's important to have some small bills on hand.
🤑 Puebla Money-Saving Tips
Travel during the off-peak season: Puebla's tourist high season runs from December to April. By traveling outside of these months, you can save on accommodations, tours, and transportation, as prices tend to be lower during off-peak times.
Eat at local markets and street food stalls: Puebla has a rich culinary scene, and you can save money by eating at local markets, street food stalls, or smaller, family-run establishments. Not only will you enjoy authentic regional cuisine, but you'll also pay less than at more upscale restaurants.
Use public transportation: To save on transportation costs, opt for public buses and colectivos (shared vans) instead of taxis or rideshare services. These modes of transportation are more affordable and offer an authentic local experience.
Stay in budget accommodations: Choose budget-friendly lodging options, such as hostels or budget hotels, to save on accommodation costs. You can also consider staying in smaller towns or rural areas, where prices are generally lower than in major cities like Puebla City.
Visit free attractions: Puebla state has many free attractions, such as historic churches, public squares, and parks. Research free attractions in the area you're visiting and plan your itinerary accordingly.
Travel with a group: Many tours and activities in Puebla offer group discounts. By traveling with friends or family, you can take advantage of these discounts and save on guided tours, entrance fees, and transportation costs.
Buy a local SIM card: International roaming charges can be expensive. Save money by purchasing a local SIM card for your mobile phone, which will give you access to cheaper calling rates and mobile data plans.
Shop at local markets: For souvenirs, clothing, and other items, shop at local markets and street vendors rather than tourist-oriented shops. Prices are generally lower, and you'll be supporting local businesses.
Take advantage of student or senior discounts: If you're a student or a senior traveler, you may be eligible for discounts on transportation, entrance fees, and other travel-related expenses. Always carry your student or senior ID and ask about available discounts.
Plan your activities strategically: To save money on entrance fees and tours, research which attractions offer discounts on specific days or times. Some museums or cultural sites may have free admission days or reduced prices during certain hours. By planning your activities around these deals, you can save money while still enjoying the best of Puebla's attractions.