Oaxaca street food is what draws many travelers to visit Oaxaca. In this post, we put together the 21 best street food spots in Oaxaca City for first-time visitors.
Oaxacan cuisine has gained popularity worldwide, especially in Southern California, where Oaxacan restaurants and food carts keep popping out.
It's a unique cuisine, and it's not the typical Mexican food you are used to. Oaxacan food is Oaxacan food.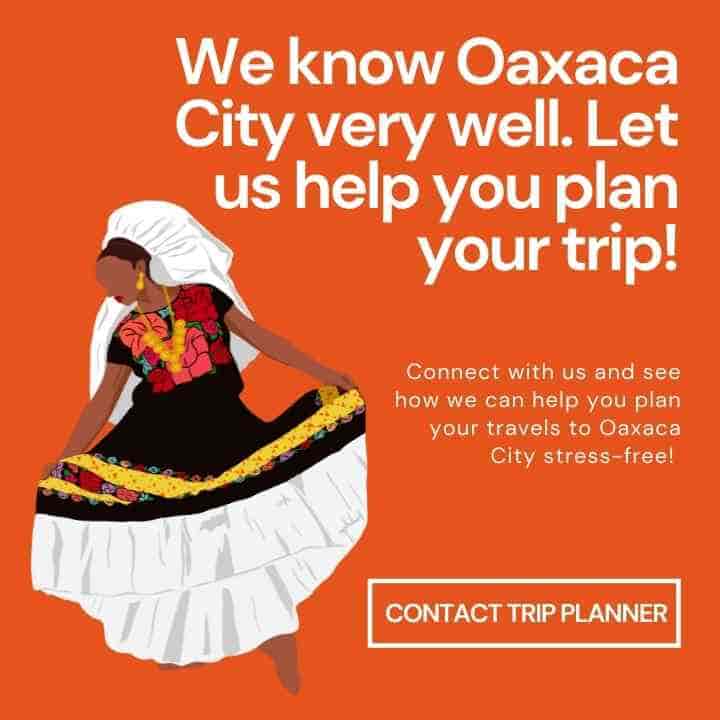 Bustling with rooftop restaurants facing the Santo Domingo Church and mezcal bars ruling the nightcap, you will see food everywhere in Oaxaca, probably some of it you've never heard of before.
In this article, will focus on the bustling Oaxaca street food scene, giving you insights into what to have and where to find them.
🧐 Questions about Oaxaca Mexico? Ask us on Tiktok.
Oaxaca street food: quick links
🚫 Is it safe to eat Oaxaca street food?
Generally, Oaxacan street food is considered safe to eat if you take precautions such as eating at well-established stalls or vendors and choosing fresh and hot food.
However, as with any street food, it's essential to be mindful of potential health risks – you know yourself and your body well, so only you can decide what Oaxaca street food to eat and what not to eat.
Overall, you must avoid raw or undercooked meat and vegetables and drink bottled water instead of tap water.
🤩 What is the most popular Oaxaca street food?
The most popular street food is Tlayuda, a large, thin, and crispy corn tortilla generally topped with refried black beans, Oaxacan cheese, avocado, lettuce, salsa, and meat.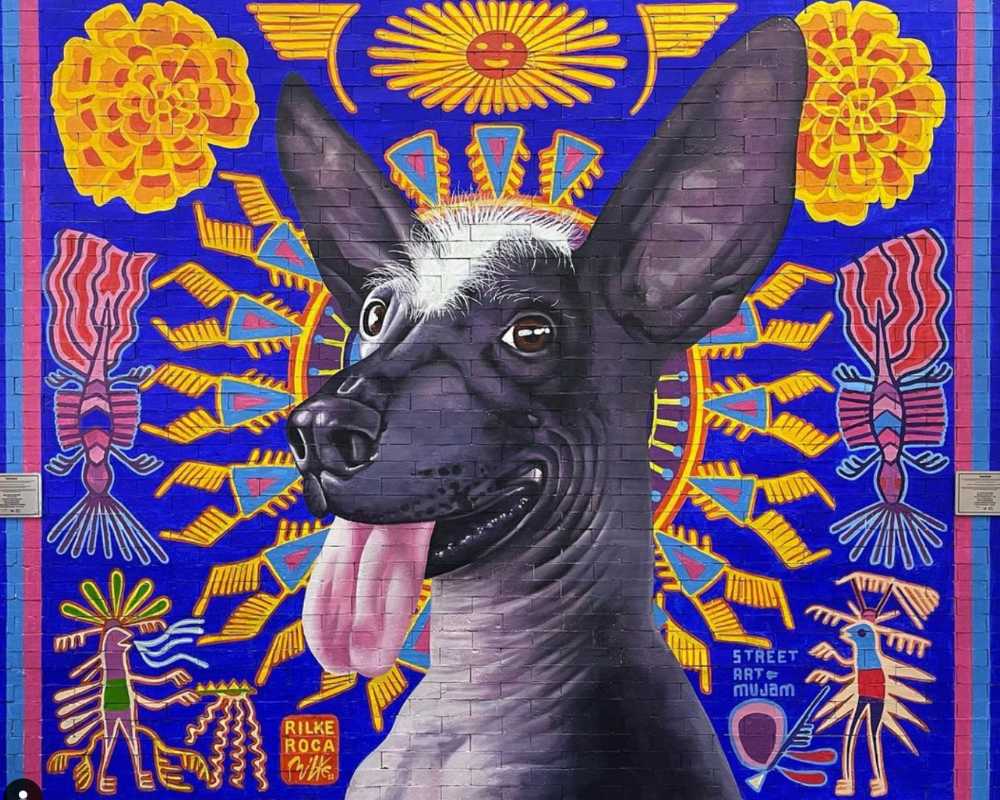 Tlayuda is a staple food in Oaxaca and is commonly available from street sellers and marketplaces.
🌮 Oaxaca street food: what to eat
#1: Tlayuda
Tlayuda is a traditional Oaxacan street food that has been enjoyed for centuries. It is made using a large, crispy corn tortilla topped with refried beans, cheese, meat, and other ingredients and then baked until the cheese is melted.
The dish is made with fresh, locally grown ingredients, like the famous Oaxacan cheese, which has a unique texture and taste.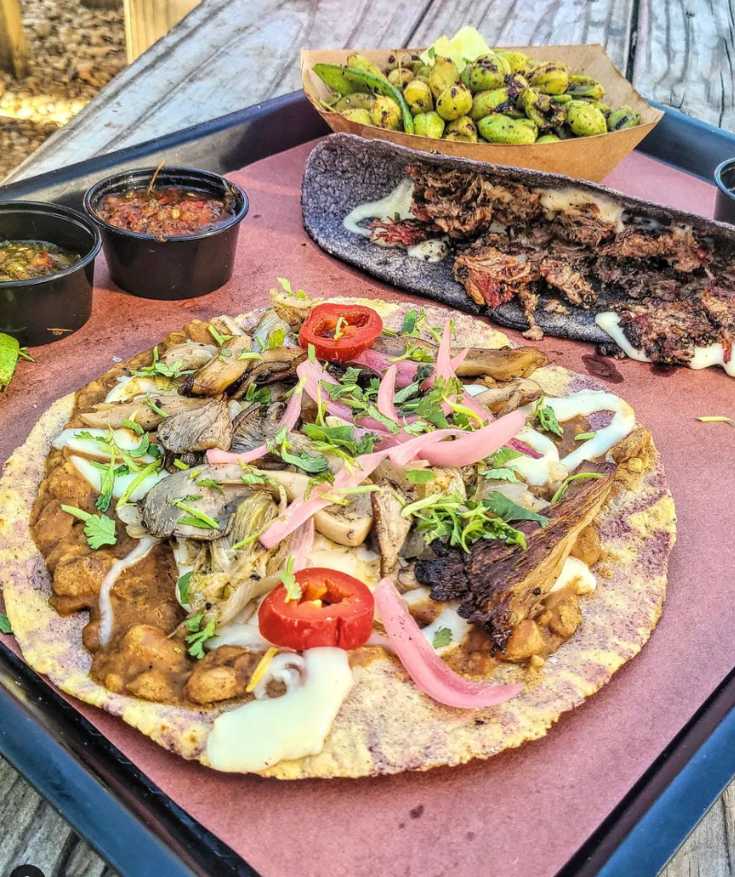 The crispy tortilla and melted cheese make the perfect base for the toppings, which can be anything from tender meats to juicy vegetables, creating a filling and tasty dish.
Tlayuda is also cheap and easy to get on the street, making it an excellent choice for people who want to try the best of Oaxacan food.
The best places to eat tlayudas in Oaxaca City are Las Tlayudas de Mina y Bustamante, Tlayudas Mexico 68, and La Chinita Tlayudas.
#2: Memela
Memela is made using a thick, round corn tortilla from freshly ground masa or corn dough.
The tortilla is typically topped with refried beans, cheese, and salsa and then folded in half and grilled until crispy.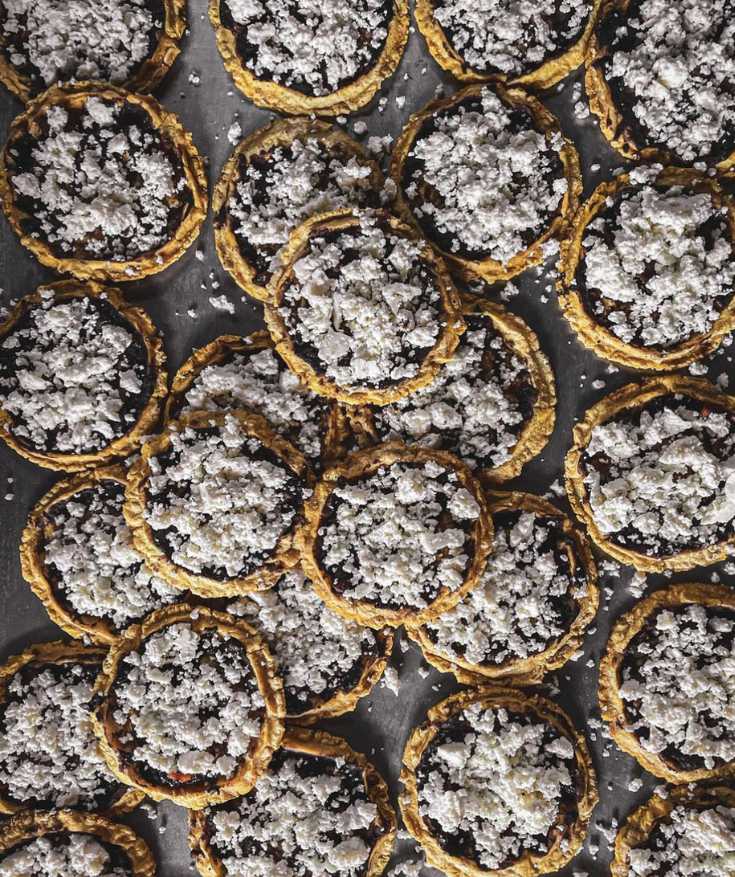 Memela is made using traditional cooking techniques and locally sourced ingredients, making it a true reflection of Oaxacan cuisine.
The combination of creamy refried beans, salty cheese, and spicy salsa creates a harmonious balance of flavors that will delight the taste buds.
First time in Oaxaca City? The best memelas are from Memelas Doña Vale!
#3: Tacos de Carnitas
Tacos de carnitas is made using slow-cooked, tender chunks of pork traditionally prepared in copper pots using a unique cooking technique that results in juicy and flavorful meat.
Carnitas are then served in a warm corn tortilla with fresh cilantro, onions, and a squeeze of lime. Slow-cooked pork is tender and flavorful, making it an excellent filling for tacos.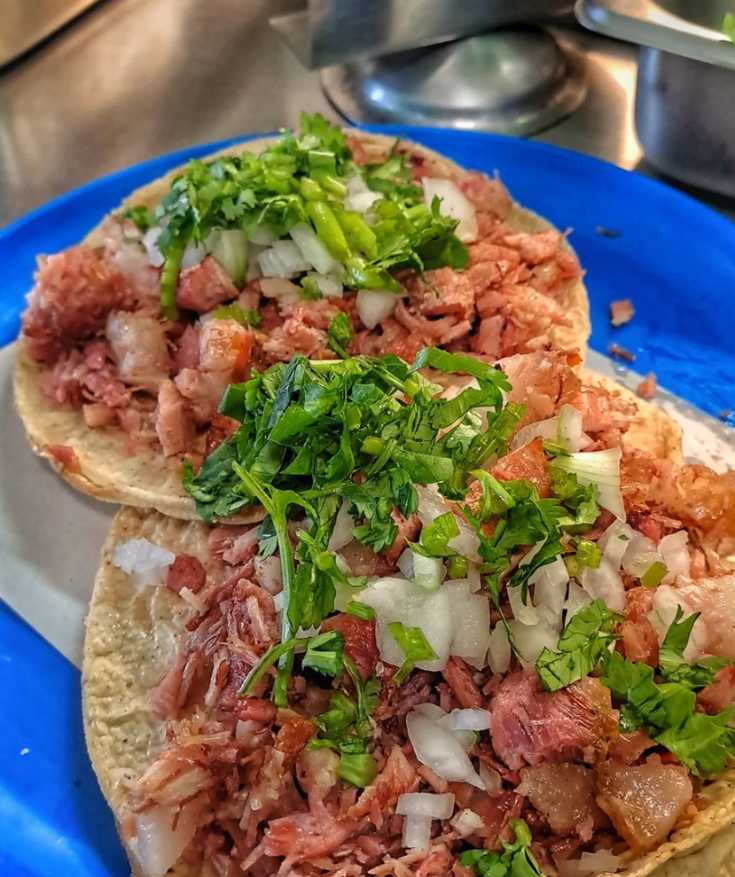 First time to try tacos de carnitas? The best spot in Oaxaca City is Carnitas La Luz and Tacos Los Auténticos Martínez.
#4: Tacos de flor de calabaza
Tacos de flor de calabaza (squash flower) is a unique and flavorful Mexican street food that is made using a type of edible squash flower.
The squash flowers are typically battered and fried until crispy and then served in a warm corn tortilla with various toppings such as cheese, salsa, and herbs.
The crispy squash flowers add a satisfying crunch, and the toppings add more flavor and texture. This dish is a great way to try something new and learn more about the different flavors of Mexican food.
In Oaxaca City, the best tacos de flor de calabaza can be found in Tacos del Carmen. Make sure to arrive before 10:00 PM as they run out of this taco fast!
#5: Carne asada
Carne asada is a grilled or broiled beef sliced into thin strips and served in a warm corn tortilla.
It is made by marinating the meat in a mixture of spices and seasonings, which imparts flavor to the flesh and causes it to become softer.
The end result is meat that is flavorful, juicy, and delectable. The dish is often served with toppings such as cheese, salsa, and herbs, adding additional flavor and texture to the tacos.
The juicy and flavorful beef is the perfect filling for tacos, and the toppings add depth and texture to the dish.
There are four recommended places to try carne asada in Oaxaca City: Don Juanito, JJ tacos, Carne Asada Bolaños, and El Bichon.
#6: Enmoladas
Enmoladas is a traditional Mexican dish made using warm corn tortillas filled with savory chicken or beef and topped with a rich and flavorful mole.
Mole is a traditional Mexican sauce made using various ingredients, such as chilies, spices, and chocolate, and is known for its complex and layered flavor profile.
The tender meat filling and the rich mole sauce create a hearty and flavorful dish that is perfect for satisfying hunger on the go.
The preparation of enmoladas is laborious, so it is usually served during special occasions and holidays in Mexico.
In Oaxaca City, the best places to try enmoladas are in Fonda Florecita, Tizne, Tierra Del Sol, and Los Pacos.
#7: Tetelas
Tetelas are made with warm, soft corn tortillas filled with cheese, beans, salsa, and meat. They are folded and cooked until they are crispy, making a snack you can hold in your hand and eat on the go.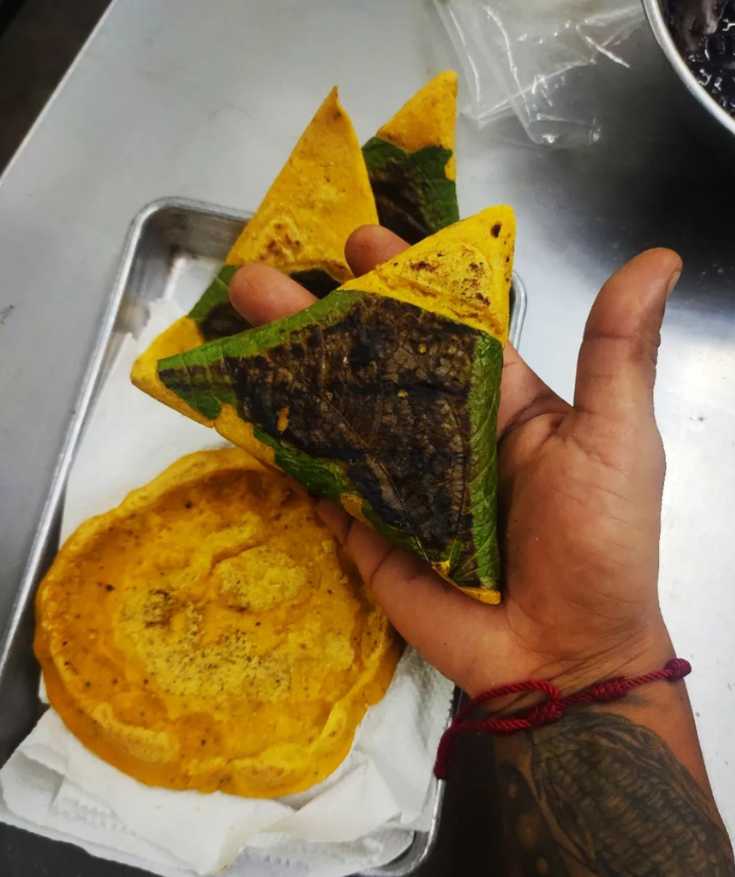 In Oaxaca City, there is only one place to go for Tetela: Itanoni. Itanoni is one of the best restaurants in Oaxaca City because they focus on the ancient cooking traditions of Oaxaca.
#8: Empanadas
Empanadas are a pastry from Spain and are popular in many Latin American countries, including Mexico.
They are made of pastry dough filled with meat, cheese, vegetables, and fruit, among other things. The dough is then folded in half to make a half-circle shape, baked or fried.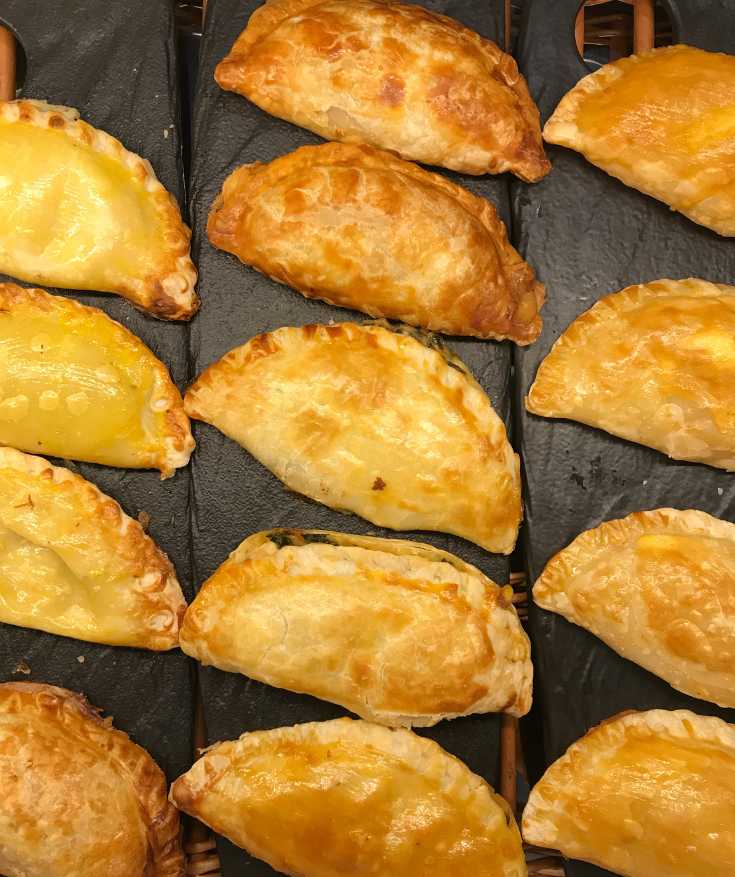 Empanadas are delicious, portable snacks and are great for eating on the go.
Empanadas come in many different flavors, so travelers can try other fillings, so it is for everyone, including vegetarian/vegan options.
La Guerita in Oaxaca City is a great place to try empanadas, especially if you've never had it before.
#9: Tamales
Tamales are made by stuffing masa-corn dough with various fillings like meat, cheese, or vegetables. After that, the mixture is encased in a corn husk and cooked in a steam oven until it is ready.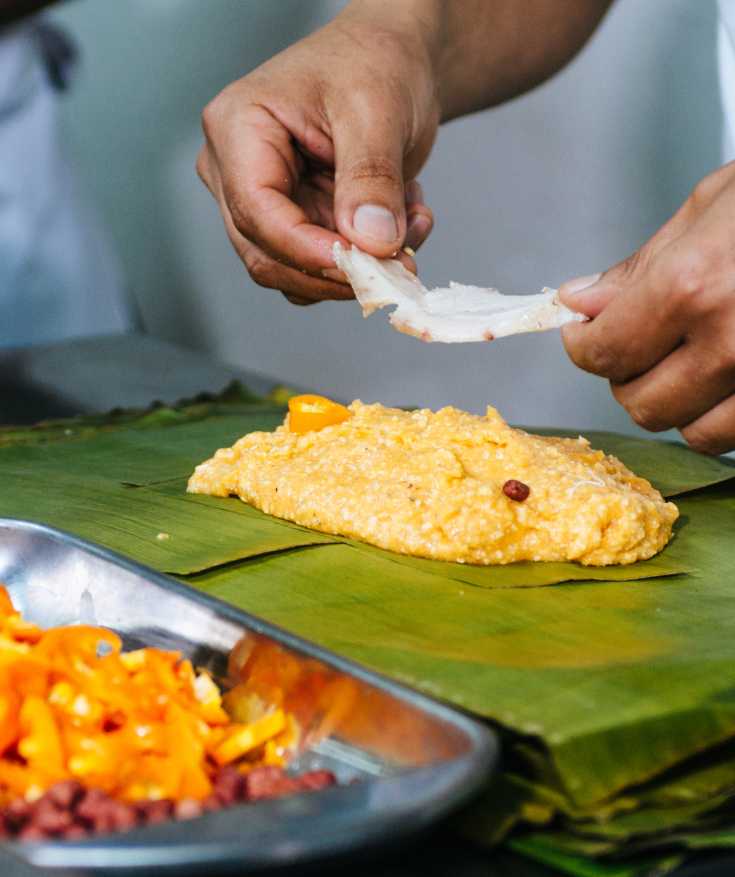 The result is a warm, soft, and flavorful snack. Just in Oaxaca, there are already 8 types of different tamales. Oaxacans eat tamales for all occasions.
It is mainly served at weddings, day of the dead, and during the Christmas season. You will see many street food carts selling tamales around Oaxaca City for less than US$2.50.
The best place to try tamales in Oaxaca City is Tamales Doña Mari. If you want to try a gourmet tamal in Oaxaca, Expendio Tradicion is a great restaurant to check out.
#10: Tejate
Tejate is a traditional Mexican drink made from maize, cacao, and flowers. It is often drunk to cool off when it is hot outside.
It is made by grinding together several ingredients to make a thick, frothy drink that is both sweet and a little bit bitter.
There is a correct, ritualistic way of drinking tejate. Oaxacans say you should cup both hands around the jicara when drinking tejate.
La Flor de Huayapam , 20 de Noviembre Market, or any market in Oaxaca will have tejate.
#11: Tortas
Tortas are made with a large round bread called a bolillo and different ingredients like meat, cheese, vegetables, and sauces.
In Mexican Spanish, a torta is a sandwich, so if you go around Oaxaca City, you will see many Oaxaca street food carts saying "torta."
In most Spanish-speaking countries, a torta is a cake, so don't be mistaken!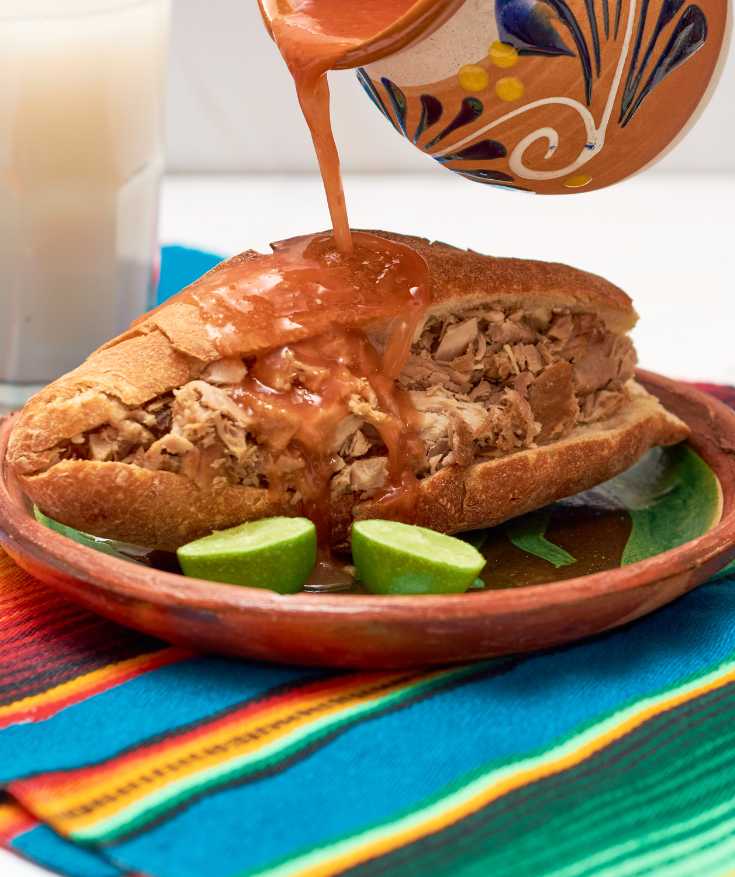 There are so many great place to try tortas in Oaxaca City but if it's your first time, the recommended places to go to for tortas are La Gran Torta, Tortas Oaxaqueñas, and Tortas Lalita.
For an extra show and instagrammable food, Tortas Gigantes Bofin serves big sandwiches for sharing. Gigantes means "giants" in English.
#12: Hot Chocolate
Chocolate Caliente (hot chocolate) is made with cocoa, milk, sugar, and spices.
This drink is comforting and warm, with a sweet and slightly bitter taste. It is often enjoyed as a sweet treat when it is cold outside.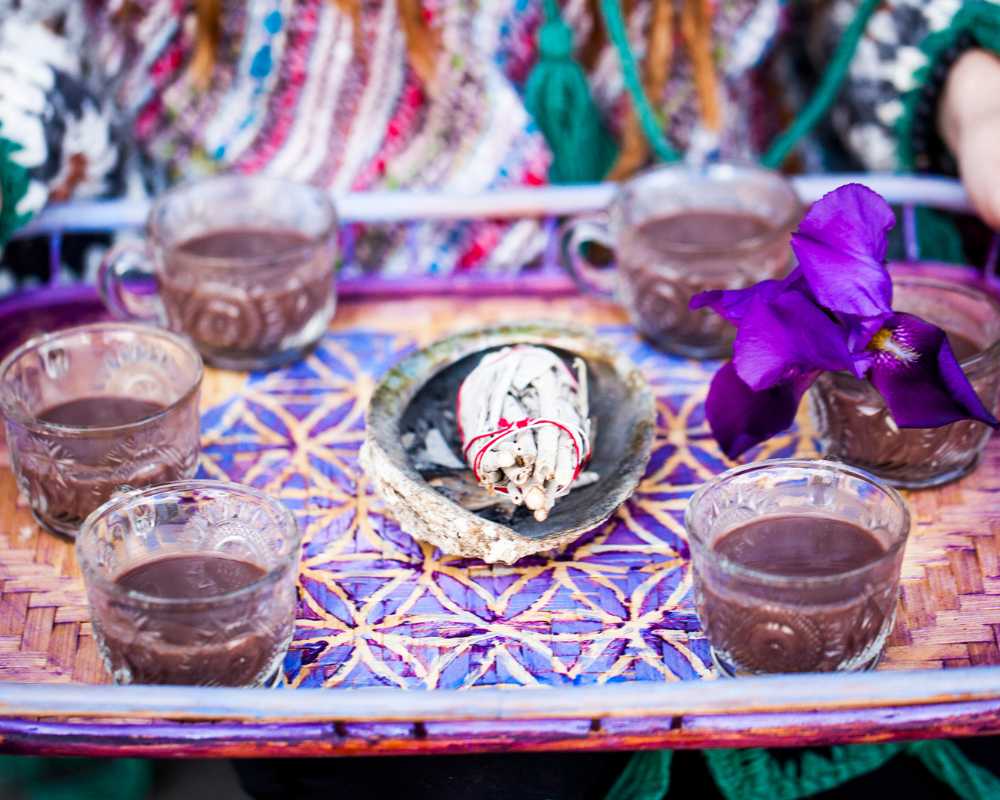 The state of Oaxaca is the land of cacao and you can even go on traditional cacao tours in the small towns near Oaxaca City.
Chocolate Mayordomo and La Soledad are two of the best places for hot chocolate in Oaxaca City.
#13: Pozole
Pozole is made with dried maize kernels called hominy and different kinds of meat like pork, chicken, or beef.
Spices, chiles, and herbs are often used to flavor the soup, and it is usually served with toppings like diced onion, cilantro, and lime.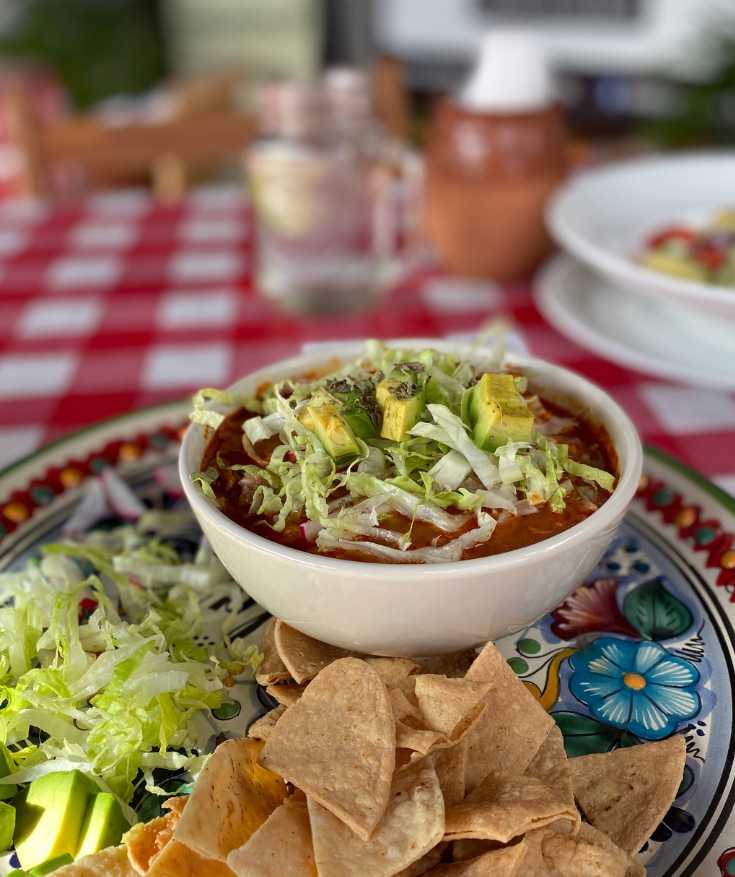 Pozole is usually served as a celebratory dish on New Year's Eve/Day. Don't worry; you'll still find pozole in Oaxaca City, even if it's not New Year's!
First-time trying pozole? The best Oaxaca street food pozole is Chefinita near 20 de Noviembre Market.
#14: Nieves and Paletas
Nieves are soft, creamy ice creams often flavored with fruit, and paletas are frozen fruit bars with various flavors.
You will typically see nieves and paletas sold in the plazas or churches in Oaxaca City, where children and families hang out. Mexican children love their nieves and paletas – the adults, even more!
In Oaxaca's Benito Juarez Market, you will find Nieves Oaxaqueñas Chagüita for a traditional nieve. Nieves Oaxaqueñas is also a great option if you're looking for ice cream flavors unique to Oaxaca.
For paletas, go to Mezcalite Pop!
#15: Raspa
Raspa (snow cone) is made of shaved ice topped with flavored syrup. The result is a sweet and excellent snack that is great for hot days in Oaxaca.
In Spanish, "raspar" means "to shave," so you often see raspa carts with massive blocks of ice. Raspas are sold in Oaxaca's Zocalo or by the Santo Domingo church.
#16: Burgers and Hot Dogs
Burgers and hot dogs are worldwide street food, but in Oaxaca, they are famous for after-midnight snacks.
Top it with cheese, bacon, avocado, sauces, or anything you see on the burger cart – the Mexicans love their burgers and hot dogs overflowing with extra ingredients!
Master Burger Los Primeros is a small burger joint frequented by locals in Oaxaca.
If you are at the center, Cangreburger is your best pick, but they constantly change their spot depending on which streets are the busiest.
Oaxaca street food carts that sell burgers and hotdogs usually open from 10:00 PM until 11:00 AM the next day!
#17: Esquites
Esquites are made from corn kernels cooked with spices and seasonings and then served in a cup with toppings like mayonnaise, lime, cheese, and chili powder.
The mayonnaise in the esquites is pretty thick, so if you don't like mayo, this may not be the best Oaxaca street food for you. Mexicans put mayonnaise in almost everything!
The good thing about esquites is that the corn is fresh. You will even see the food carts with a big pot to boil the corn for esquites!
Elotes y Esquites Del Chuy is a good place in Oaxaca City to learn (and try) esquites.
#18: Marquesitas
Marquesitas are made from thin sheets of batter that are rolled and grilled after being filled with things like Nutella, cheese, or fruit.
A unique ingredient of a marquesita is the cajeta, a thick caramel sauce from goat's milk, and the queso de bola (edam cheese).
Originally from the state of Yucatan, marquesitas are sold all over Oaxaca and the best one is by 5 de Mayo Street. Don't be shocked because this marquesitas vendor on this street is a 9-year-old boy!
#19: Roasted Bananas
Roasted bananas are made by roasting bananas over an open flame until they are soft and caramelized. There are many versions of roasted bananas in Mexico.
One is platano con lechera where the fried bananas are drizzled with condensed milk. Restaurante El Fortincito and Casa Taviche both have good fried bananas in Oaxaca City.
#20: Chapulines
Chapulines are roasted grasshoppers, a popular street food in Mexico, especially in the Oaxaca region. In Mexico, the bugs are considered a delicacy and are often seasoned with chili powder, lime juice, and salt.
Chapulines are also often paired with mezcal, especially fruity ones. Chapulines are salty and spicy, so it helps draw out the flavors of mezcal.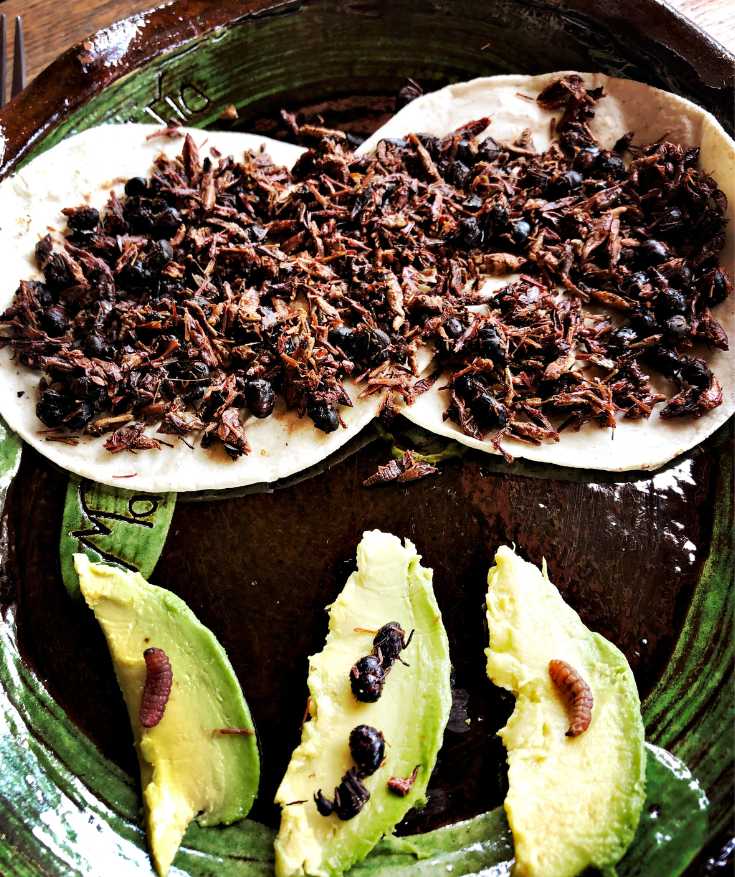 Tourists do not commonly eat it, but Oaxaca has a long history of why they regularly eat chapulines. You can try it once and see how it tastes – better than not trying at all!
Chapulines are sold in all markets in Oaxaca, particularly at the 20 de Noviembre and Benito Juarez Markets.
#21: Garnachas
Garnachas are made of small, crispy corn tortillas topped with refried beans, cheese, lettuce, and meats like chicken or beef. It is accompanied by salsa, sour cream, and avocado as well.
There are many different versions of garnachas in other states, like Puebla and Veracruz. Garnachas are supposed to be eaten by hand (without utensils), so prepare for a beautiful hot mess!
Garnachas La Guera is the best place in Oaxaca City to sample this unique Oaxacan street food.
🇲🇽 Oaxaca Travel Planning
🛫 Where can I book cheap flights to Oaxaca City?
Use the code MXINSIDER to get cheap flights to Oaxaca City upon checkout on WayAway.
🚑 Do I need insurance to travel to Oaxaca City?
Yes, you do! This is the number one requirement when traveling to Mexico. I use SafetyWing and I only pay $40 USD per month for my digital nomad travel insurance!
🛏️ Where can I find hotels in Oaxaca City?
Budget travelers, use Hostelworld when looking for accommodations in Oaxaca City. A bed in a hostel dorm starts at $25 USD per night. Booking.com is best for boutique hotels, while luxury hotels can be booked with Expedia.
🚘 Where can I rent a car in Oaxaca?
Rental cars in Oaxaca can be booked online prior to arrival. The cheapest recommendation is Discover Cars Oaxaca.
Trisha traveled to Mexico in 2018 and after a year, she found herself obtaining a 4-year residency visa in Mexico. She is the Editor-in-chief for our Living in Mexico Series which has helped over 3,000 Americans move to Mexico with ease. Trisha currently resides in Cabo San Lucas, Baja California Sur.