With the rapid growth of European expat communities, Italian restaurants in Sayulita have been emerging left and right. Here are our best recommendations in town!
All of us love Italian food, and when one gets sick of Mexican food, pizza and pasta are always comforting.
It is challenging to decide where to eat in Sayulita when traveling with kids so parents usually indulge in food that the whole family will enjoy. And pizza, for kids, is always a good idea!
Luckily, these Italian restaurants in Sayulita are run by real Italians – you can never go wrong with these places! Check out our favorites and let us know in the comment box which you loved the most!
Plan your trip to Mexico with us! Get expert travel advice and customized trip-planning itinerary from our local experts on the ground.
🍕 Do Italian restaurants in Sayulita deliver?
There are no food delivery apps in Sayulita but it is relatively easy to order food from Italian restaurants in town. Most of them have their own delivery service!
All you have to do is access their menu online, call and they will deliver to every part of town. They speak English so don't worry about ordering over the phone.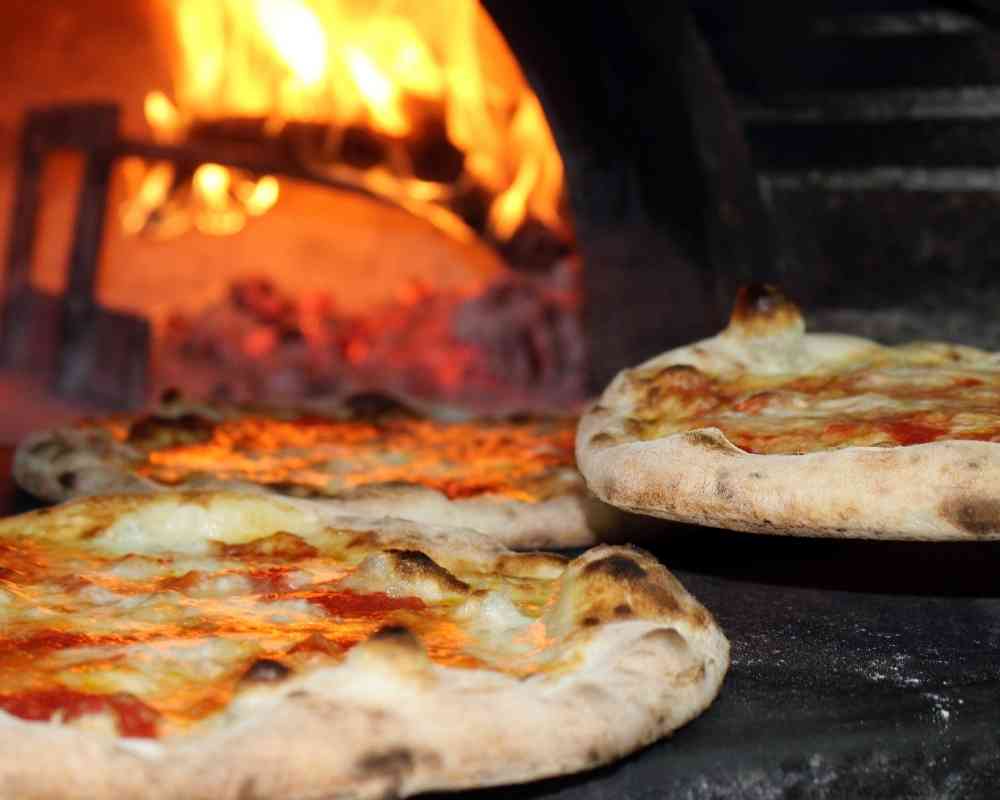 I will leave all the phone numbers on the list below and also give you ordering tips. Some of them honestly respond faster on social media (like Facebook and Instagram) so you can go that road if they don't answer their phones.
✨ Tip: '329' numbers are landlines while '322' are mobile numbers that usually work on Whatsapp.
🗺️ Map of Italian restaurants in Sayulita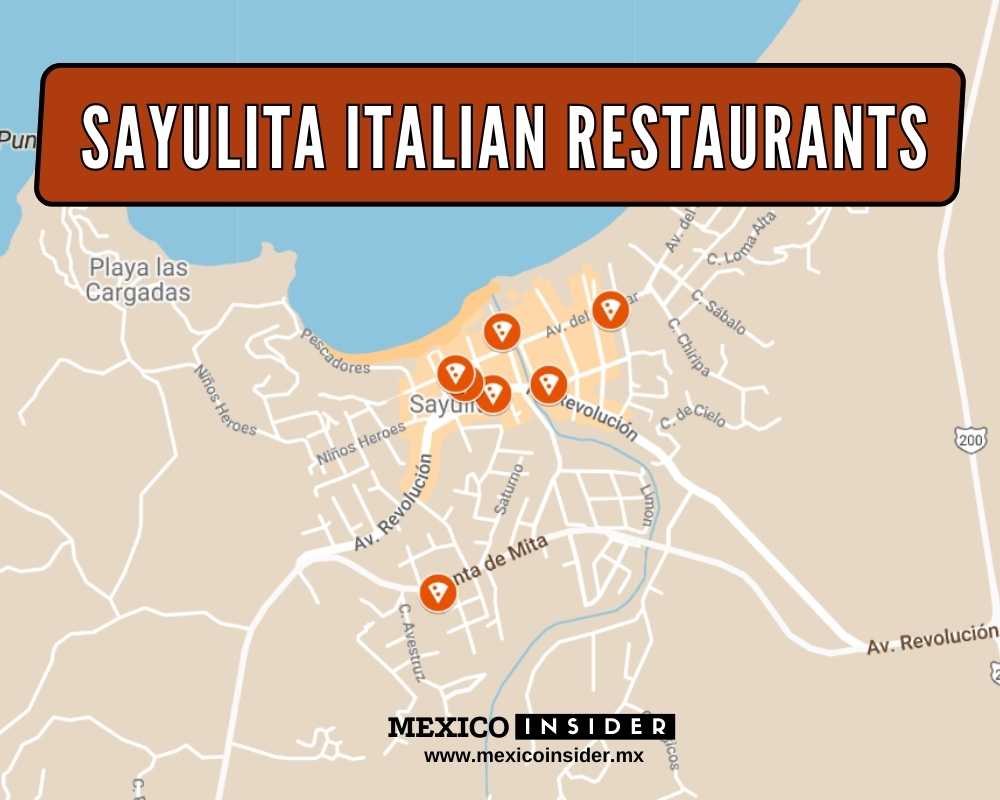 👉🏽 Open map of Italian restaurants in Sayulita in full view
🍝 7 best Italian restaurants in Sayulita
El Italiano: best pizza takeaway
📍 S/n km 1.5 carretera
💲 from $12 USD
Angelo D'Agostino, the owner of El Italiano Pizza in Sayulita. There are many great pizza restaurants here, but you, the locals of Sayulita, chose his pizza as the best in our inaugural Best of the Best Series!
Angelo is from the small town of Pescara on the Adriatic Sea. Nearly 20 years ago, he opened Bibo Ristorante with his brother.
The pair would win high acclaim and numerous culinary awards. In 2013, Angelo left his brother to take a vacation. As happens to many of us, Angelo stumbled upon Sayulita and decided to stay.
This is honestly the best pizza in Sayulita but it is lesser-known since it's not in the center of town. Angelo delivers depending on his mood but I would encourage you to sit down at El Italiano which is located in a more local neighborhood.
Marcolino: best handmade pasta
📍 Calle Jose Mariscal 44
💲 from $17 USD
Formerly Mamma Mia, Marcolino is another Italian-owned restaurant in Sayulita that specializes in hand-made pasta. The chef makes the pasta from scratch and my favorite here is the Bolognese pasta!
I don't really come here for pizza although I heard good things about it. This place is recommended for dinner dates and romantic night-outs.
I often order via Whatsapp (number above) and they respond very fast. They will also send images of the menu via Whatsapp.
Pizza Venezia: best vegan dough
📍 Avenida del Palmar 50
💲 from $10 USD
I have tried everything on the menu and all of them are excellent. Venezia is a well-known vegan restaurant in Sayulita because of their vegab dough (add US$10) and jumbo pizzas for US$5 where you can select any ingredient that you want.
My favorite pasta is the Arabica (spicy pasta) and the salads are always a good option for starters. Pizza Venezia does not sell alcohol but they allow you to bring your own booze!
The closest wine place to Venezia is Chewbacca Mini Supermarket where you can buy great bottles of red and other types of alcohol.
La Rustica: best for families with kids
📍 Avenida Revolucion 40C
💲 from $13 USD
You won't miss La Rustica as it is in the center of town. It's one of the best places to go people watch as their outdoor tables and chairs are on the streets. You will often see families with children here because they have a special kids' menu!
La Rustica has been in Sayulita for years and it has the most pleasing interior. Aside from their good Italian menu, they also have a cafe on the side of the restaurant where you can good Italian coffee.
They always answer their phones and have their own motorbike for delivery. They also don't charge a delivery fee for orders more than US$20.
Trattoria Toscana: best salads
📍 Delfines 6
💲 from $15 USD
Located in one of the most lively parts of town (slap street), it's always a good idea to sit down and eat at Trattoria Toscana.
The line is always long with 20-minute wait times but they renovated their space and can now accommodate more clients.
Both pizza and pasta are great here but I particularly come here for their prosciutto pizza and the Italian pizza with burrata (US$12).
For pastas, I really love their Fettuccine Bolognese and Spaghetti Frutti de Mar! Trattoria is well-known for its handmade pasta and authentic Italian dough.
Little Italy: best local-owned
📍 Manuel R, Manuel Rodriguez Sanchez S. 3
💲 from $10 USD
A smaller-scale Italian restaurant in Sayulita, Little Italy is another Italian-owned establishment that recently opened in Sayulita.
Locals rave about their 2 for 1 Tuesdays (2 pizzas for the price of one). It has become a social gathering for people who live here!
This has actually become my favorite because of the informal vibe and outdoor seating. Come here if you want to try one of the best pasta in town!
L'Ulivo: best pasta selection
📍 Calle Pelícanos 155-F
💲 from $10 USD
Vegan pasta? L'Ulivo has a few! The Arancini and Brocolli Lasagna are two of their healthy pasta best-sellers. There aren't many vegan restaurants in Sayulita and this is definitely one of the Italian restaurants with vegan food.
The owners are Italians who have been living in Sayulita for over 5 years. This restaurant is new but it is already attracting many customers because of the creativity and quality of food they serve.
Artworks that are on display at the restaurant were painted by one of the owners, Alessia. You can buy some of her work – I have a few in my home!
🇲🇽 Sayulita Travel Guide
Trisha traveled to Mexico in 2018 and after a year, she found herself obtaining a 4-year residency visa in Mexico. She is the Editor-in-chief for our Living in Mexico Series which has helped over 3,000 Americans move to Mexico with ease. Trisha currently resides in Cabo San Lucas, Baja California Sur.