Tulum's food scene offers a delectable mix of traditional and innovative dishes. In this Tulum Restaurants guide, we will give you all the essential restaurants in Tulum by category.
Tulum boasts a diverse and thriving food scene with a delightful blend of tradition and innovation. This tropical paradise has become a gastronomic destination, attracting food enthusiasts worldwide.
Traditional Mexican flavors are the backbone of Tulum's culinary landscape, with local eateries serving classics like tacos al pastor, cochinita pibil, and panuchos. Street food is abundant, with vendors offering snacks such as elotes, tamales, and marquesitas.
In recent years, Tulum restaurants scene has evolved to embrace global cuisine, with a growing number of international chefs setting up shop in this enchanting destination. Upscale Tulum restaurants offer diverse options, ranging from Mediterranean and Asian fusion to plant-based and vegan delights.
Sustainability is a key aspect of Tulum's gastronomy, with many restaurants sourcing ingredients from local farmers and adopting eco-friendly practices. Farm-to-table dining experiences have gained popularity, allowing visitors to indulge in seasonal, organic fare.
The food scene in Tulum is not complete without a mention of its beachside restaurants and chic bohemian hangouts. Here, you can sip on refreshing cocktails made with fresh tropical fruits and local spirits, such as mezcal and tequila, while enjoying breathtaking views of the turquoise sea.
🧐 Questions about Tulum restaurants? Ask us on Tiktok.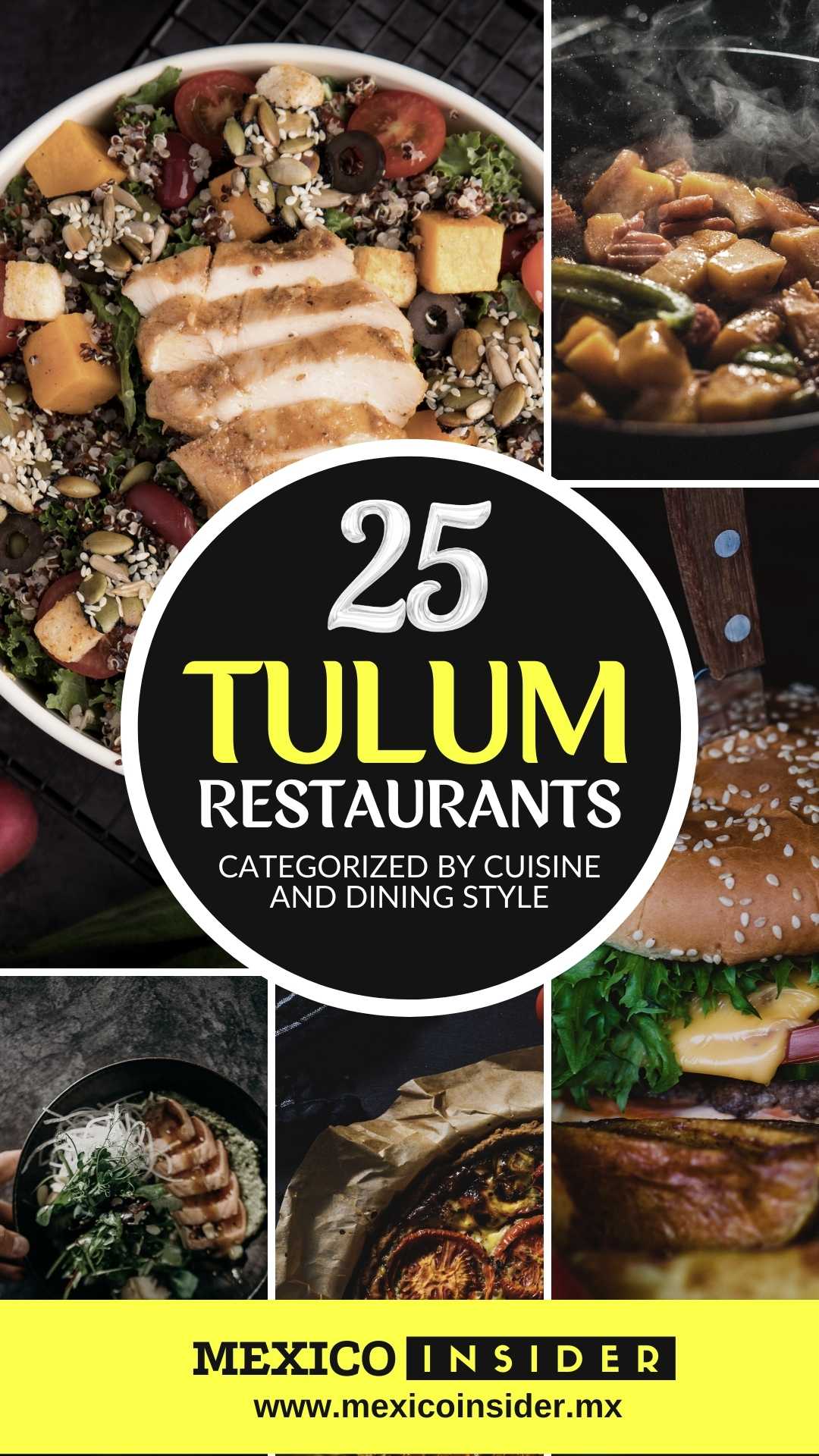 🔗 Tulum Restaurants: quick links
🗺️ Tulum Restaurants Map
👉🏽 Open this Tulum Restaurants Map in full view
🏆 Best Tulum Restaurants
Parole Tulum
📍 Km 7.8, Carr. Tulum-Boca Paila, Tulum Beach
💲 from $8 USD
Parole Tulum is a modern restaurant offering Italian and Mediterranean cuisine steeped in history and traditions. The restaurant's atmosphere is lively and inviting, maintaining a rustic and sophisticated design with vibrant and classic decors.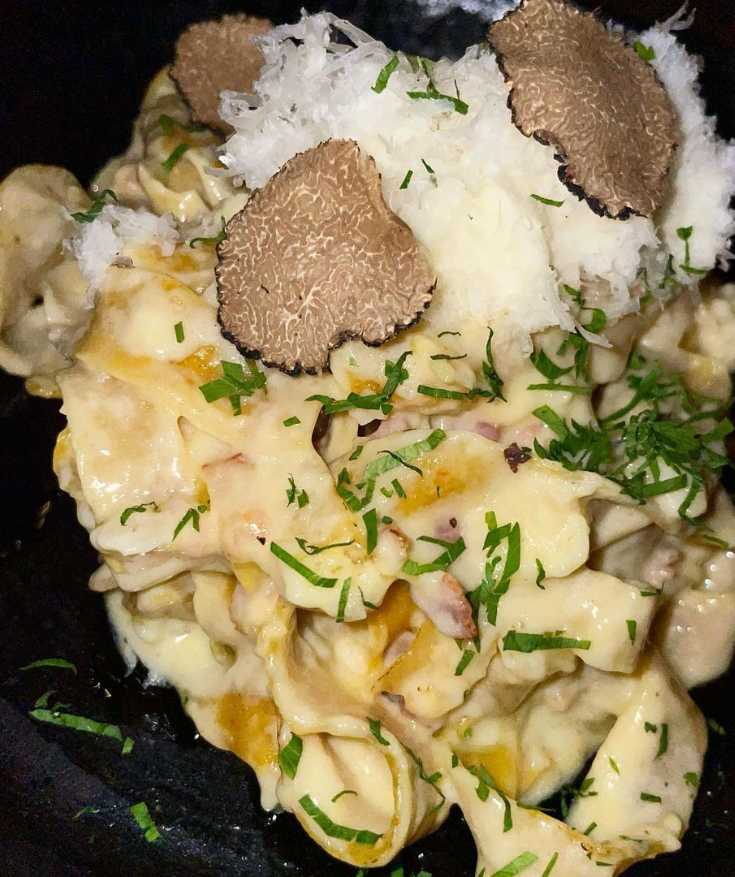 Their menu features Italian and Mexican favorites, like homemade tacos and freshly made focaccia bread. Their carbonara fettuccine with truffle is a must-try if you want something heavier.
Food and drinks here start at the price of $8 USD. This can increase depending on the dish and amount of your order.
Cerveceria Artesanal Tulum
📍 Frente a Parque Tankah, Cervecería Tulum
💲 from $10 USD
Cerveceria Artesanal Tulum has become a popular destination for travelers looking to try some of the best craft beer. Moreover, it is also a unique Tulum restaurant serving artisanal Mexican culinary cuisine in a warm and sophisticated area.
At Tulum Cerveceria Artesanal, they specialize in creating small-batch beer made from only the freshest ingredients. Their unique brewing process ensures all their beers are full of flavor, making each sip more enjoyable than the last. But aside from that, you can also get artisanal food like steak tacos and ceviche, which are perfect for your beer pairing.
With the quality of food and service from Cerveceria Artesanal Tulum, the price you pay with the base at $10 USD is worth it.
Mia Restaurant and Beach Club
📍 Hotel Selina los Lirios, Carr. Tulum-Boca Paila
💲 from $7 USD
The ambiance at Mia Restaurant & Beach Club Tulum is one-of-a-kind. Guests of the restaurant can indulge in an array of creative dishes while their toes dig into the soft white sand of Tulum Beach and gaze out at the horizon of the Caribbean Sea. They also have live music events daily, perfect for that intimate bohemian vibe.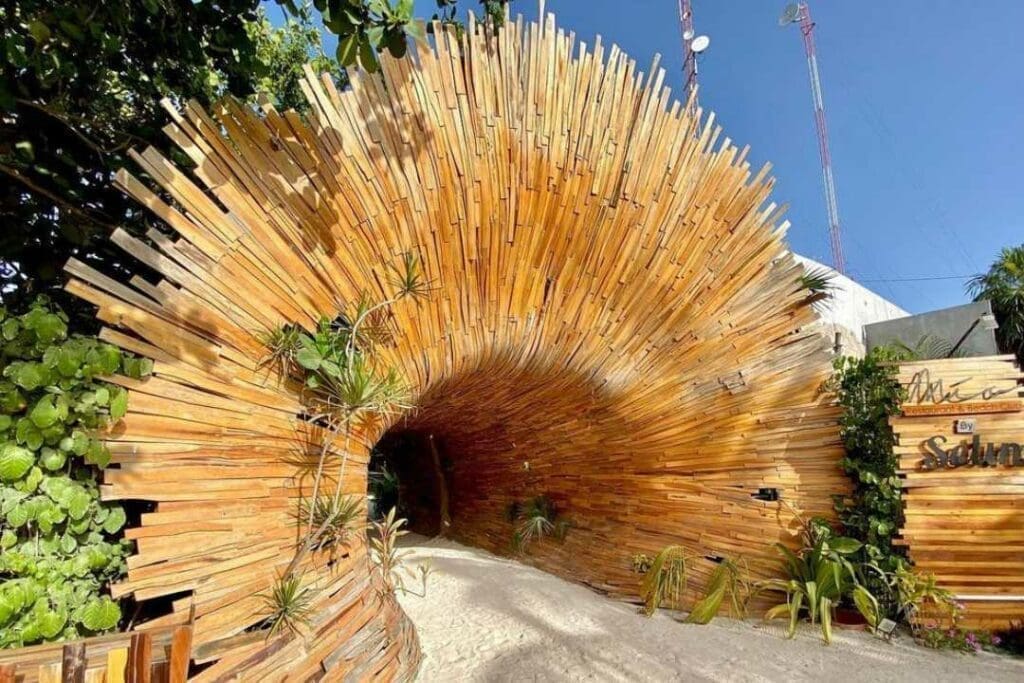 Their menu consists of freshly caught seafood, international flavors, and exciting cocktails crafted with skillful precision by award-winning mixologists. When dining, you can't go wrong with their marinated pork tacos or fish Baja style. Don't forget to pair it with a house margarita or craft beer.
Get to enjoy Mia Restaurant & Beach Club's food and drinks starting at the price of $7 USD.
Ziggy's
📍 Carr. Tulum-Boca Paila km 7.5, Tulum Beach
💲 from $9 USD
Ziggy's is a famous beach club venue with an al fresco and sea view restaurant offering delicious meals and globally inspired cocktails from early breakfast to late dining. The restaurant is open daily from morning to midnight, serving different menus throughout the day.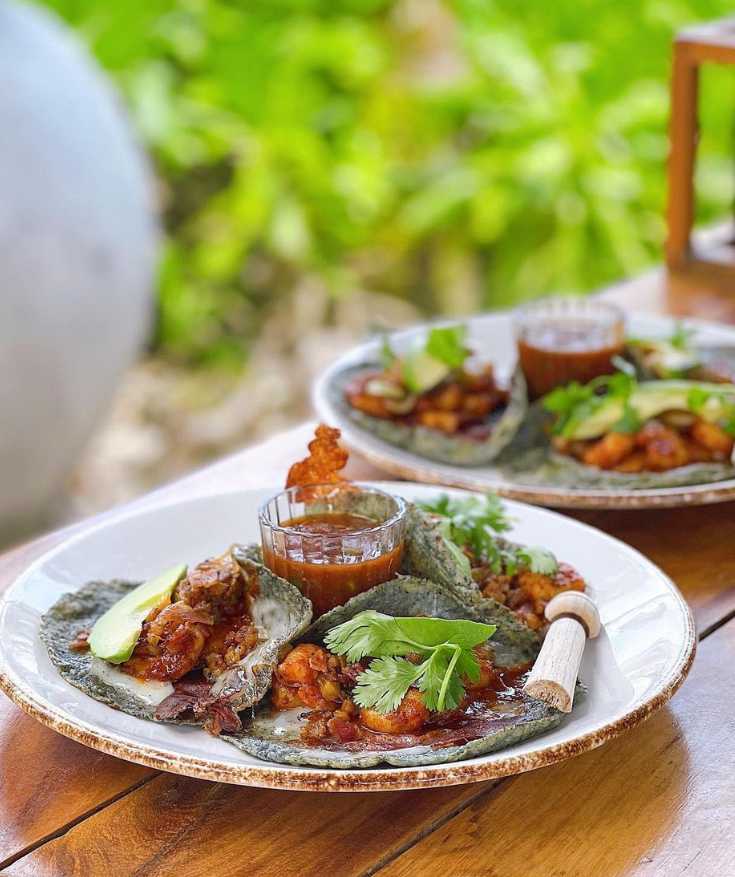 For starters, their famous grilled octopus tacos are recommended – they come with pickled onions and spicy crema. If you're feeling adventurous, go for their specialty dish: Chilaquiles con Pollo – fried tortilla chips topped with chicken in red salsa and melted cheese! All these are best paired with their mezcal-based cocktails.
Expect to pay at least $9 USD for a meal at Ziggy's Beach Club Restaurant.
Rosa Negra
📍 Carr. Tulum-Boca Paila 5-Km 7, Tulum Beach
💲 from $6 USD
Rosa Negra Tulum is among many famous Restaurants in Tulum, Mexico, where guests can experience fine dining with a contemporary twist. Its menu is inspired by Latin American culture, and the atmosphere at Rosa Negra Tulum is unique and inviting, boasting an "upscale-bohemian" vibe.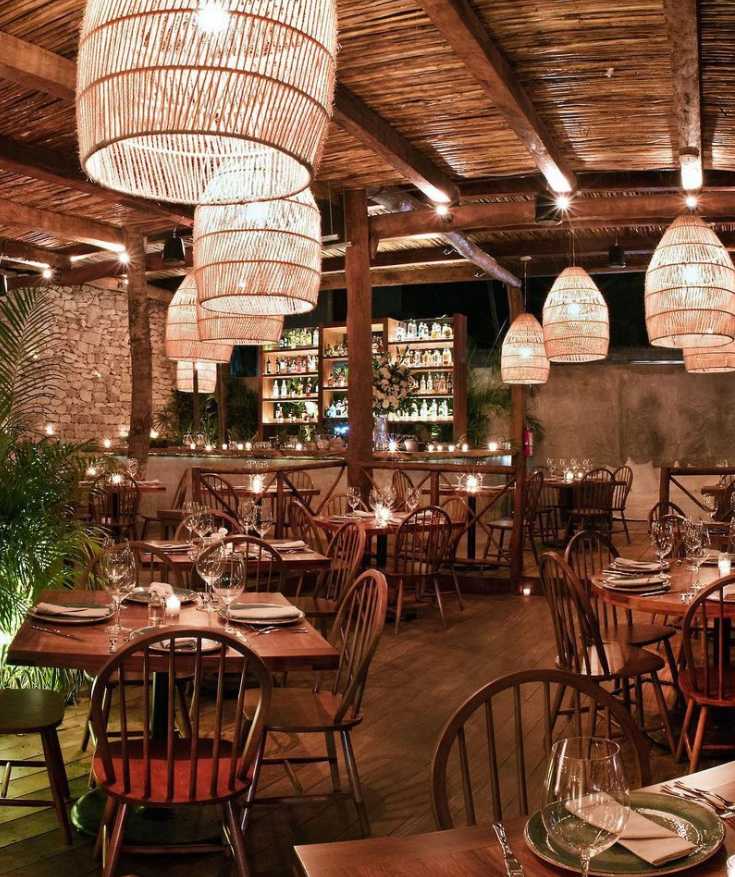 They offer modern fusion dishes made from locally sourced ingredients that will please even the pickiest of eaters, while their full bar serves up creative cocktails and craft beers. With an extensive menu list, their best-sellers are the Peruvian ceviche and tenderloin steak with seafood rice. You can pair these easily with their cocktails and spirits.
Drinks at Rosa Negra start at $6 USD, while food ranges from $7 USD to $20 USD.
Mezzanine
📍 Carretera Tulum-Boca Paila Km 4.4, Zona Hotelera Tulum
💲 from $11 USD
Mezzanine is a Thai restaurant located in the Hotel Zone of Tulum. You can experience authentic Thai and Mexican food while getting a sweeping panoramic view of the Caribbean Sea.
The restaurant's decor is stylish and inviting, with bright colors, relaxed house music, and an open concept that creates an unmistakable Mezzanine vibe.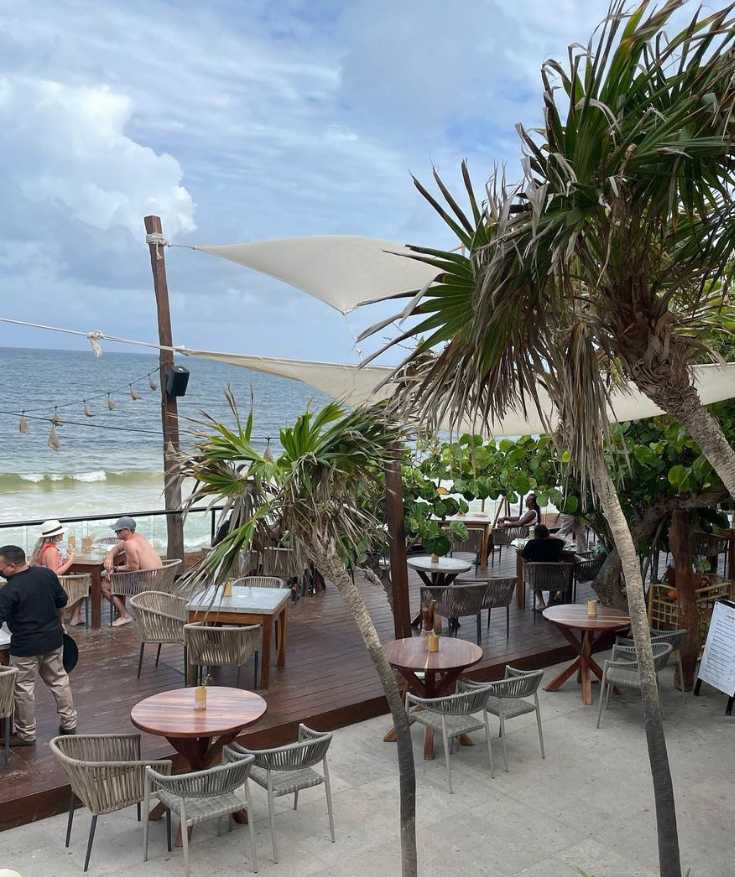 The restaurant is famous for serving up some of the most delicious Thai dishes in town. Don't miss their famous fresh spring rolls and drunken chicken noodles. You can also get a fruit freeze cocktail perfect for the mezzanine beach set-up.
You can get a drink at the Mezzanine starting at $5 USD. Meanwhile, the food here has a base price of $11 USD to $30 USD.
Agave Tulum
📍 4GJP+MF, Tulum Beach
💲 from $11 USD
Agave Tulum is a restaurant in Tulum beach run by Hotelito Azul. It offers oceanfront dining and a beautiful beach club that guests can enjoy throughout the day. They are known for creating gourmet menus inspired by unique flavors.
Their dishes are made from locally sourced ingredients, and from their extensive menu, the best-selling dishes are the Octopus Tiradito and Grilled Bone Marrow. You can also try their Fondue Cheese with Shrimp and pair it with a wine of your choice.
Compared to other restaurants in Tulum, Mexico, the food at Agave is quite expensive. The base price of their food starts at $11 USD and can go as high as $30 USD for a single dish.
🌮 Mexican restaurants in Tulum
Mamazul Tulum
📍 Aldea Zama, And. Kambul entre Andador Kaan y Calle Ixchel
💲 from $4 USD
Mamazul Tulum is a well-known restaurant in Tulum that serves fresh and flavourful Mexican cuisine. With the owners having an Italian root, their menu is designed to bring to life a sensory journey that features the aromas and flavors of our two cultures.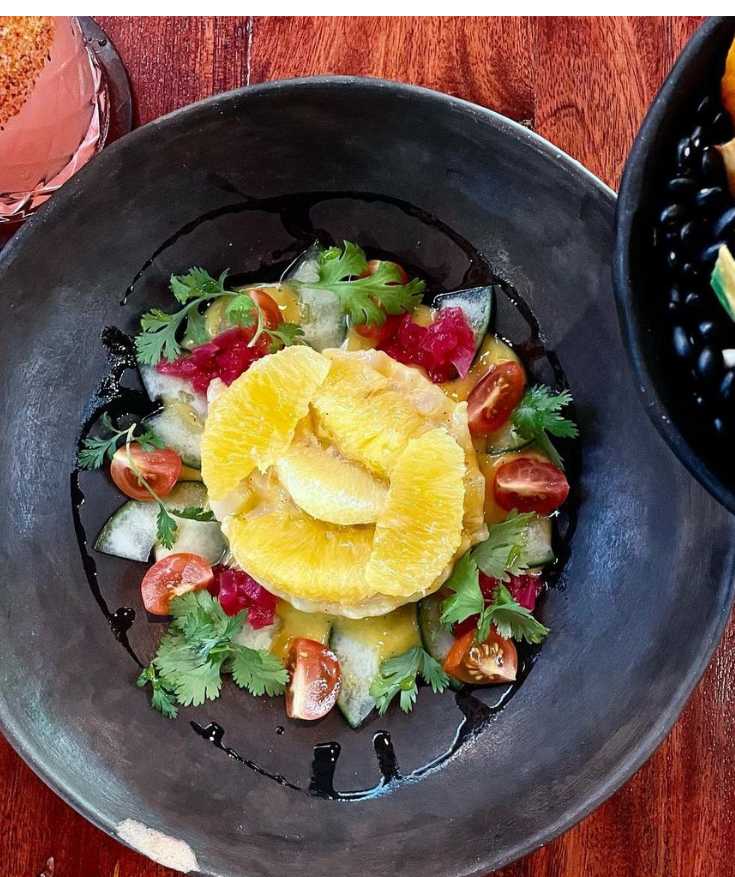 Not only does it offer great Mexican and Italian food, but it also offers a wide selection of agave spirits. Start your meal with their famous mushroom taco.
For your main course, you can try their Fettuccine with Birria Ragu or Clay Pot Esquire. You can pair all these with a cocktail or spirit of your choice.
Food and drinks at Mamazul Tulum range from $4 USD to $30 USD. However, you will need at least a budget of $30 USD to enjoy a great meal at the restaurant.
La Coqueta
📍 Av. Coba Mz 36-Lt 4, Tulum Centro
💲 from $5 USD
La Coqueta is a small, vibrant restaurant in Tulum, Mexico, inspired by Mexican tradition, passion, and ancient techniques and serves Mayan and contemporary Mexican cuisine. From the inside, guests can enjoy their food, surrounded by hand-painted murals on the walls and intricate woven tablecloths. This makes the place cozy yet playful, the perfect vibe for a casual lunch or dinner date with friends and family.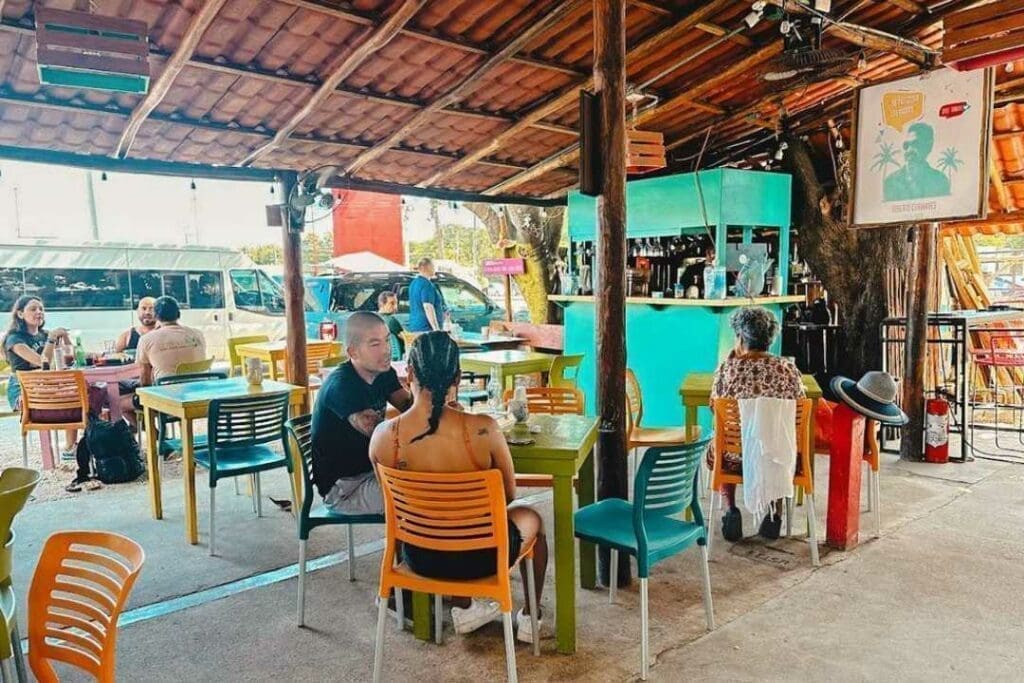 Mexican food fans will enjoy a gastronomic experience with a wide selection of menus at La Coqueta. Their classic chicken and fish tacos are a must-try. You can also get their famous Camarones tempura with a margarita.
La Coqueta serves affordable and cheap food starting at $5 USD to $20 USD per dish. You can also get a drink here for the same price range.
TU Mexican Cuisine Restaurant
📍 Andromeda Ote manzana 04-lote 08, Tulum Centro
💲 from $2 USD
The ambiance at TU Mexican Cuisine Art Tulum is warm and inviting. With a red and yellow color scheme throughout the restaurant and cheerful Latin music playing in the background, customers can surely enjoy a gastronomic feast of Mexican cuisine at the restaurant.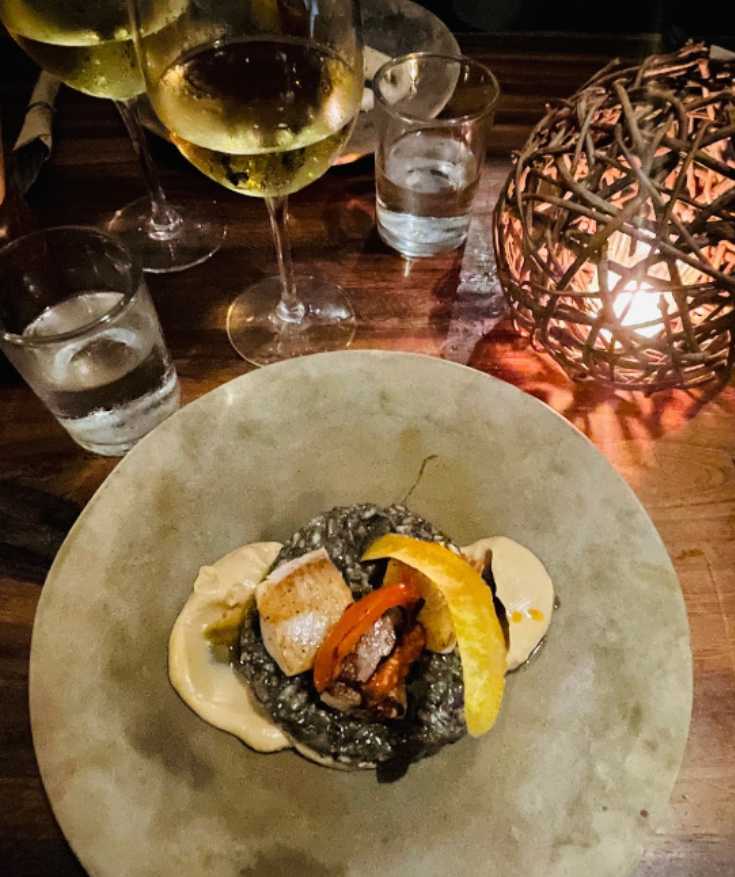 Coming from their extensive menu list, the crowd's favorites are their Guacamole and Pulpo Paridallo. You can get their famous flan for dessert and pair it with a local beer or cocktail.
The price of food and drinks at TU Mexican Cuisine Restaurant starts at $2 USD to $20 USD, which is already cheap compared to other Tulum Restaurants.
El Hidalguense
📍 Calle Sol Pte., Tulum Centro
💲 from $5 USD
El Hidalguense is a cozy corner restaurant in Tulum, Mexico, surrounded by rustic brick walls adorned with colorful art pieces. They offer an array of delicious Mexican cuisine perfect for the traditional and welcoming atmosphere of the place.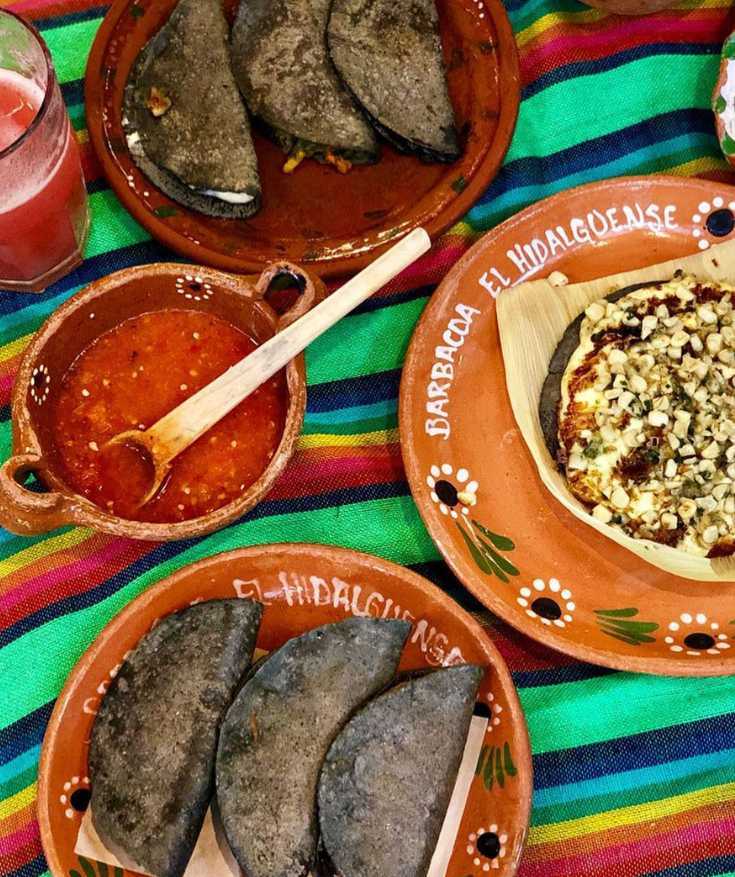 For starters, each of their dishes is made with fresh and local ingredients. It's a must that you try their barbacoa together with some cold beer. Their handmade tortillas served with guacamole is also something to look forward to.
Food and drink prices at El Hidalguense start at $5 USD. It can go as high as $20 USD, especially for main courses and signature drinks.
La Taqueria
📍 Calle 12 Sur 22, La Veleta
💲 from $7 USD
La Taqueria Tulum lets you experience classic Mexican cuisine inside a vibrant restaurant full of murals of lush jungles and rich wildlife. You'll see lots of bright colors and get lively energy as you enjoy the excellent food that La Taqueria serves.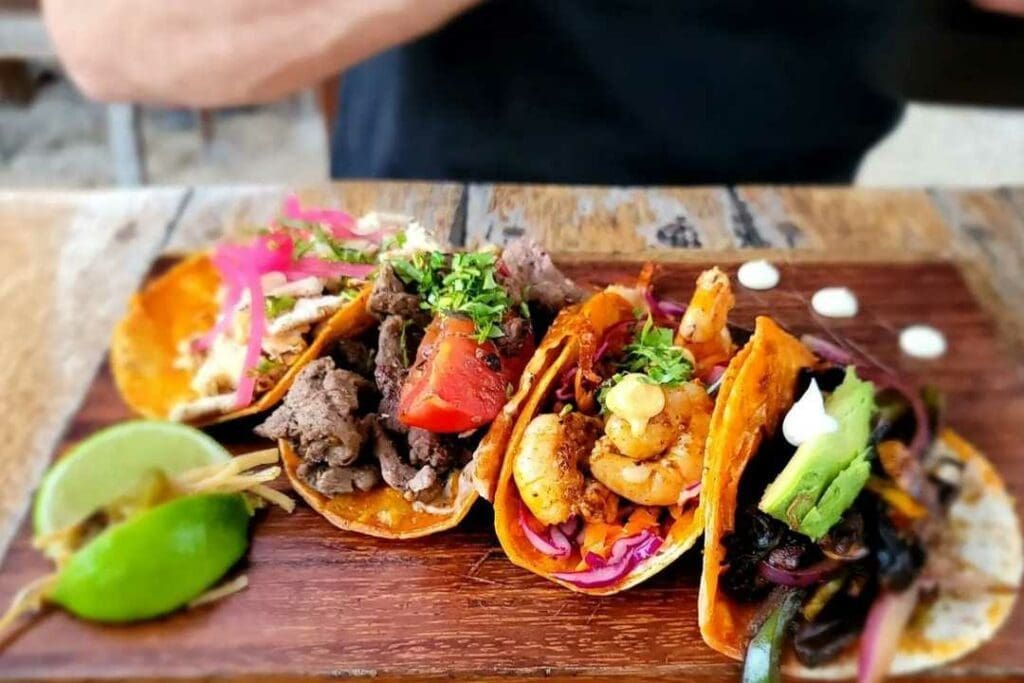 The restaurant's best-selling menu is its octopus tacos and tempura fish tacos. They serve their food in large quantities, so order what you can finish. Pair your tacos with great cocktails or beer for a whole Mexican experience.
You can get a set of tacos at La Taqueria for as low as $7 USD. A budget of $20 USD to $30 USD is enough to get three different kinds of dishes.
Burrito Amor
📍 Av. Tulum Mz 05-Lote 03, Tulum Centro
💲 from $5 USD
Burrito Amor is a restaurant tucked in Tulum, famous for its walls adorned with bright and colorful murals, setting a fun and inviting tone right away. But of course, they also serve great Mexican dishes that draw diners in.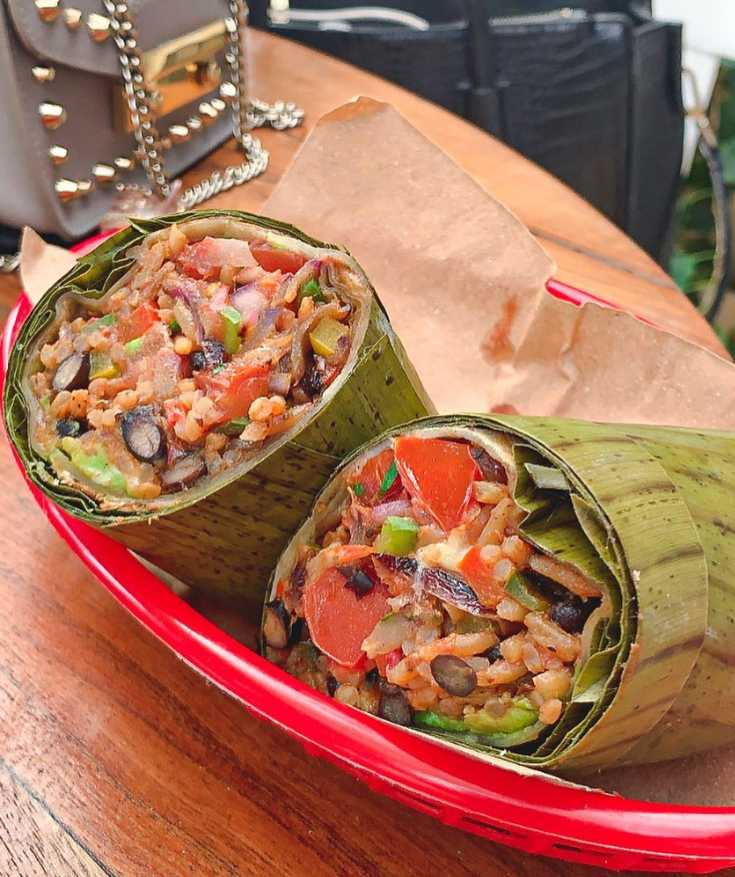 In addition to the restaurant's upbeat atmosphere, Burrito Amor has an extensive menu that customers can choose from. Dishes like tacos and burritos are just among their best-sellers.
For as low as $5 USD, you can already enjoy some of their entries. The price range of food is from $5 USD to $20 USD, which is affordable compared to other Tulum restaurants.
Taqueria Honorio
📍 Satélite Sur 19, Tulum Centro
💲 from $4 USD
Taqueria Honorio Tulum is considered one of the best taco restaurants in Tulum, Mexico. It is a go-to casual and hang-out place for both locals and travelers. And with its vibrant atmosphere, it is sure to delight anyone who visits.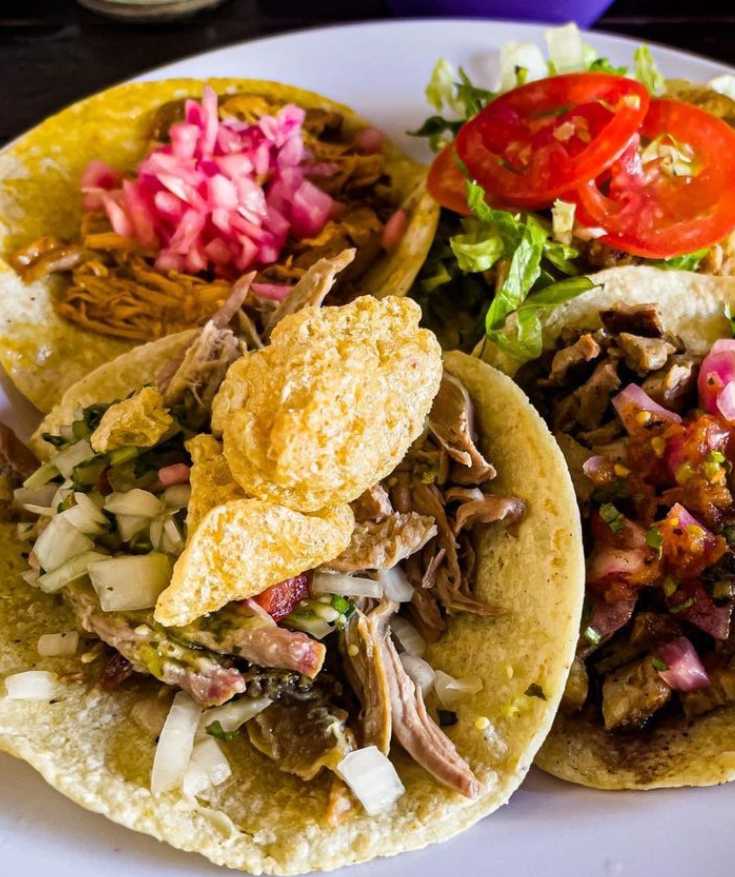 As mentioned, this place has some of the best Mexican food, most especially their tacos, in Tulum. So, try their signature Cochinita Pibil and Relleno Negro de Pavo tacos. These are perfect with some margaritas or mojitos on the side.
Surprisingly, the food in Taqueria Honorio is reasonably priced. You can get a drink for as low as $4 USD and a meal for $5 USD.
Yaax Ik
📍 C. Centauro Sur 249, Tulum Centro
💲 from $10 USD
Restaurant Yaax Ik started as a small restaurant to serve authentic and unique Mexican gastronomic experiences to locals and travelers in Tulum.
After years in the industry, they have maintained a fun, modern and casual place to dine in, serving an incredible selection of traditional Mexican dishes.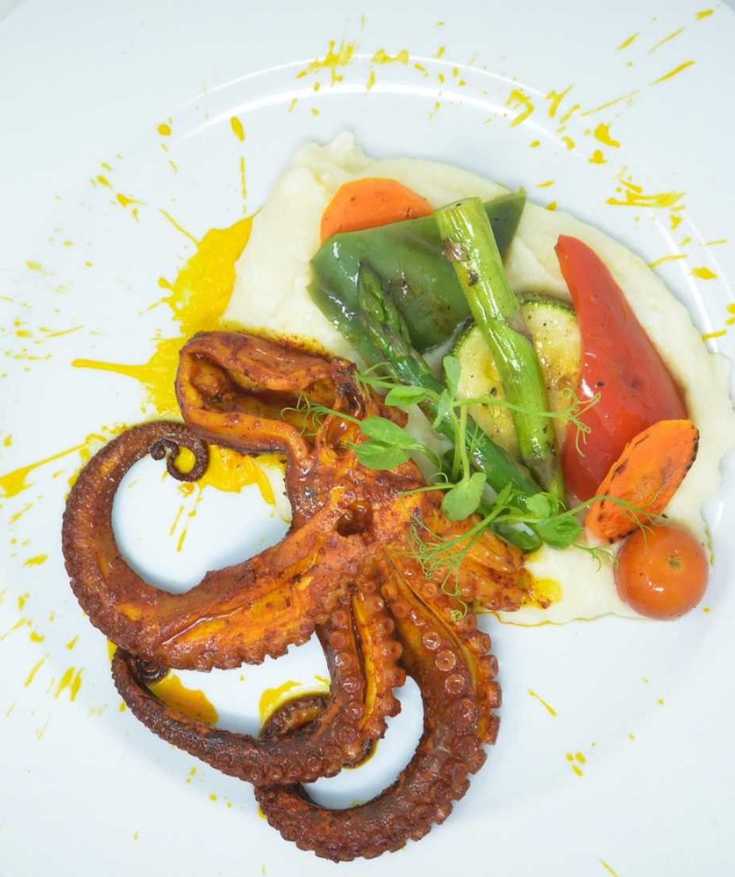 Every item on their menu is created intricately using fresh and local ingredients. Meanwhile, the drinks on their menu are extensive, with classic favorites and unique cocktails.
Among the suggested dishes you try is their Yucatan Style Cochinita Pibil with hand-made tortillas and Grilled Axiote Octopus Octopus marinated in red recado and mashed potatoes.
Prices of food at Yaax Ik are reasonable and fair. You will need at least a budget of $30 USD to enjoy, as the base price of a single dish here starts at $10 USD.
WE CUSTOMIZE TOURS IN TULUM! 🎉🥳
We live here and have traveled the whole state of Quintana Roo. Contact us for a quote: no hidden costs, just simple prices. E-mail us at [email protected] or call our office at +52 473 171 5259.
🦞 Seafood restaurants in Tulum
Los Aguachiles
📍 Chetumal-Cancun MZA 40 LTE 1
💲 from $5 USD
Los Aguachiles Tulum is one of the most famous seafood restaurants in Tulum, Mexico. It is described as a perfect place for a casual dinner out with friends and family, with an atmosphere that's both lively and inviting.
The restaurant's interior boasts bright colors, vibrant decorations, and plenty of seating options that make it easy to find the perfect spot for your group.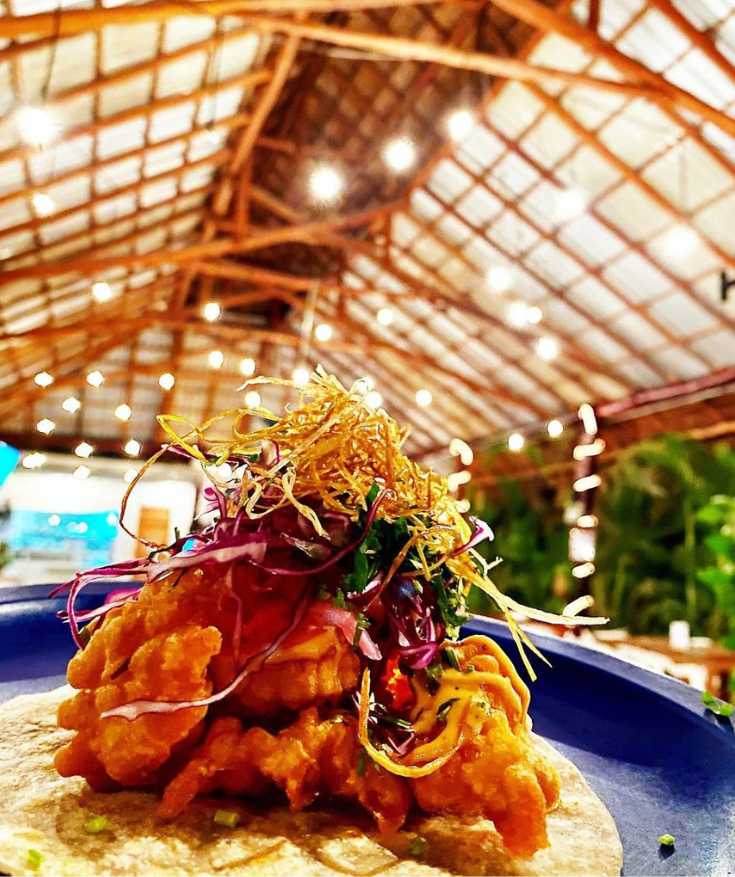 The restaurant's menu features Mexican-inspired dishes and an extensive selection of margaritas and craft cocktails. They serve their food in large quantities, enough to be shared by two.
Their seafood ingredients are always fresh and delicious, making their dishes like shrimp tacos, lobster tails, and ceviche tostadas taste even better.
The food prices at Los Aguachiles Tulum range from $11 USD to $30 USD. Meanwhile, you can get a drink here for as low as $5 USD.
El Camello Jr
📍 Carretera Chetumal-Cancun Locales 1 y 2 Lte 3 Mza 40
💲 from $7 USD
In this small and classic Tulum restaurant, you'll taste traditional Mexican seafood dishes cooked in an open-air kitchen. El Camello Jr Tulum is famous in town as a place to dine with friends and family.
You get fresh seafood dishes, and their menu includes classic Mexican snacks, local beers, and mezcal-based drinks.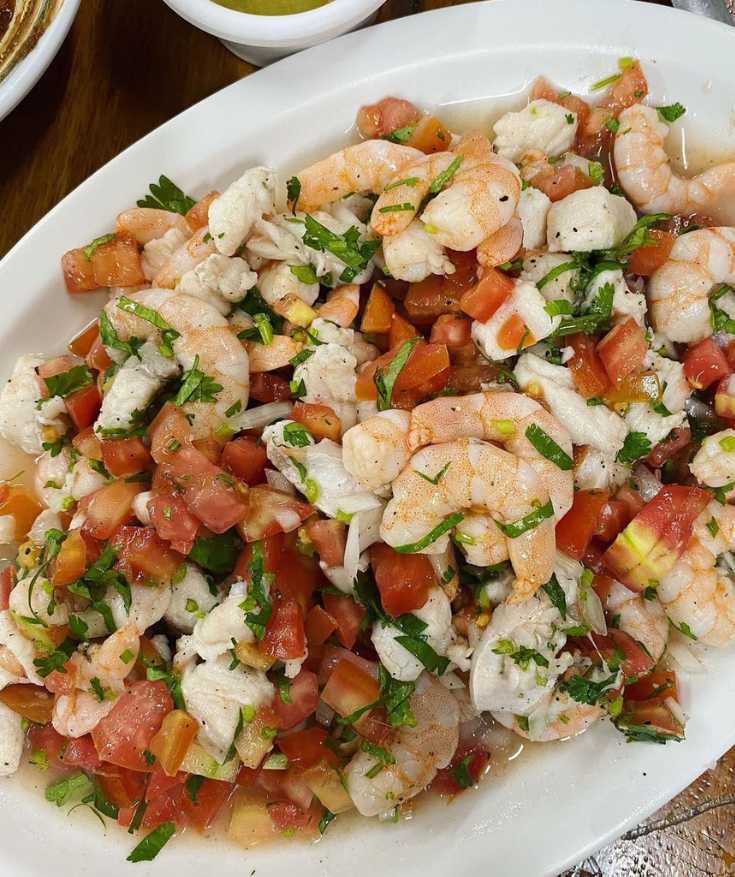 Many diners return to El Camello Jr for their sopa de mariscos. Their ceviche and shrimp la guajillo is also a favorite. All these can be paired with an iced cold beer or some freshly made lemonade.
The price range of food and drinks is from $7 USD to $20 USD. At least $30 USD of budget per person is needed when dining at El Camello Jr.
La Negra Tomasa
📍 Andromeda Ote 14, Tulum Centro
💲 from $7 USD
La Negra Tomasa is a Tulum restaurant in an airy and inviting open space. From the inside, diners can view the lush greens while eating in a loft-style area or a sprawling, leafy patio.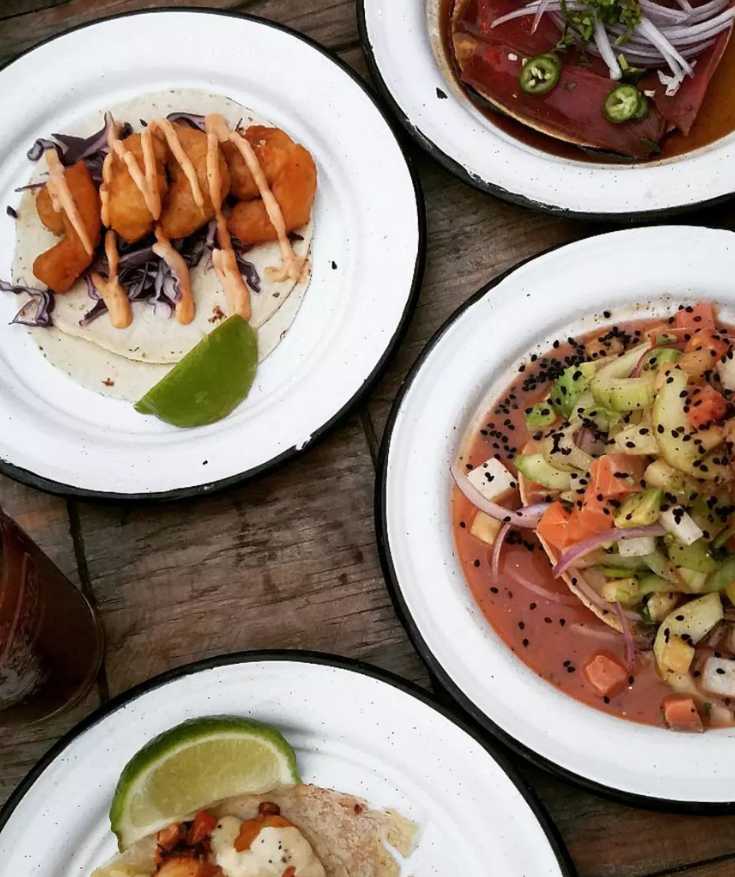 The restaurant's best-selling dishes are fish tacos, guacamole & seafood towers. They have good quality food and serve them in great plating, perfect for your photo portfolio.
Prices at La Negra Tomasa start at $7 USD. This will now vary depending on what you order.
El Dorado
📍 Carretera Federal Tulum- Coba km 0 +500 mo
💲 from $3 USD
El Dorado is a small and cozy seafood restaurant in Tulum. Tucked in the streets of Tulum, they provide diners with a lively ambiance where everyone can enjoy the authentic Mexican vibe while munching on delicious seafood meals.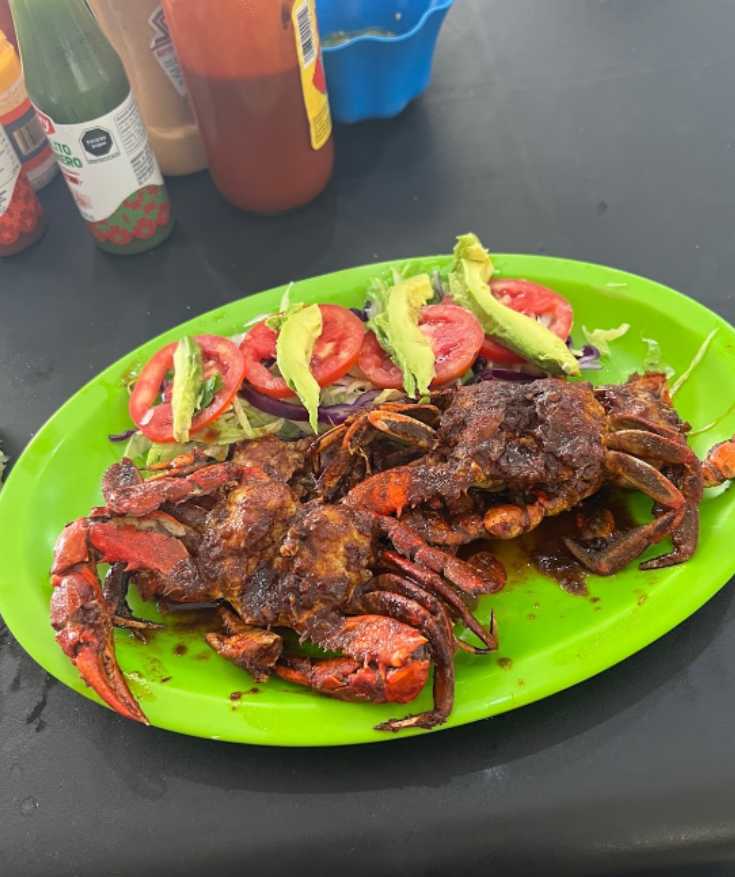 It is possible to take advantage of their best-selling octopus empanada. Other favorite dishes diners return to eat are mixto ceviche and crab a la diabla.
The food here is pretty cheap compared to other Tulum restaurants. A budget of $30 USD is already enough to feed three people as the food price here starts at $3 USD.
Sabor de Mar
📍 Calle Centauro Sur & Venus Ote, Tulum Centro
💲 from $5 USD
With its modern tropical vibe, Sabor de Mar Tulum makes its diners feel the authentic vibe of Tulum while eating delicious seafood dishes. Customers are also treated to a unique ambiance that evokes joy and relaxation, with tropical palm plants, open air, and dim lighting around the area.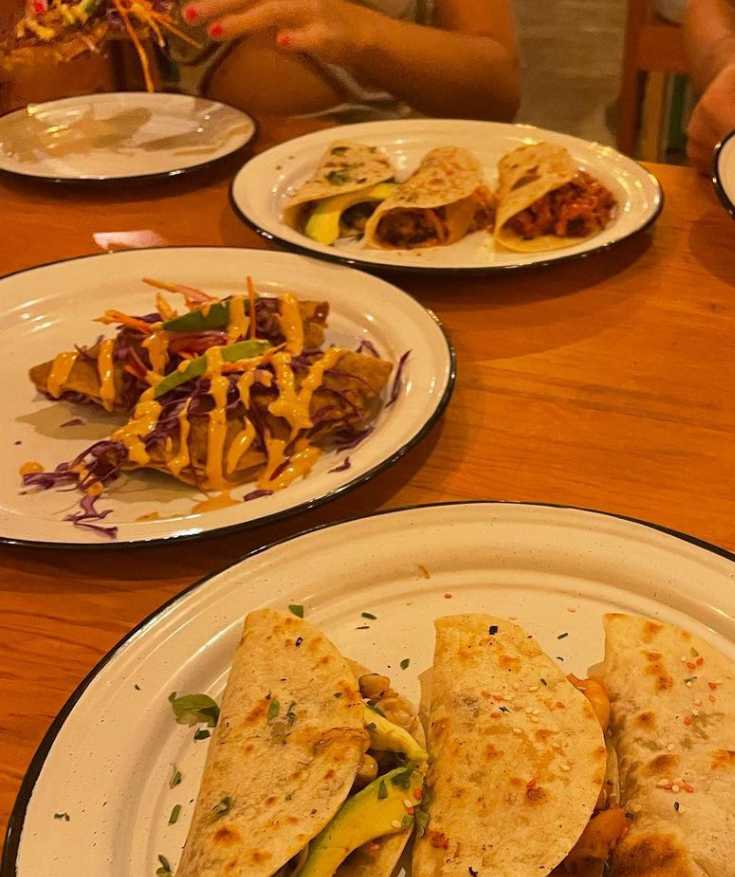 One of Sabor de Mar Tulum's best-selling is its tacos, gobernador, and seafood tower. You can expect the menu to be filled with fish, shrimp, clam, and octopus dishes prepared with local and fresh ingredients.
For a local restaurant, the price of food and drinks in Sabor de Mar is reasonable. Price starts at $5 USD, and at least a budget of $30 USD is needed for two persons.
☕ Support this blog's honest and transparent journalism. Help us add value to what we are sharing. Keep Mexico Insider FREE for all by donating to our coffee fund. Muchas gracias!
🍔 American restaurants in Tulum
Mayami Burger Tulum
📍 Av. Coba 107
💲 from $7 USD
Mayami Burger is one of Tulum's most famous burger restaurants. They offer enjoyable, one-of-a-kind burgers that are pretty different from Mexican cuisine.
But to make the place home, the restaurant is kept as a cozy Tulum eatery in the open air with decorations made of bamboo, wood, and other natural materials.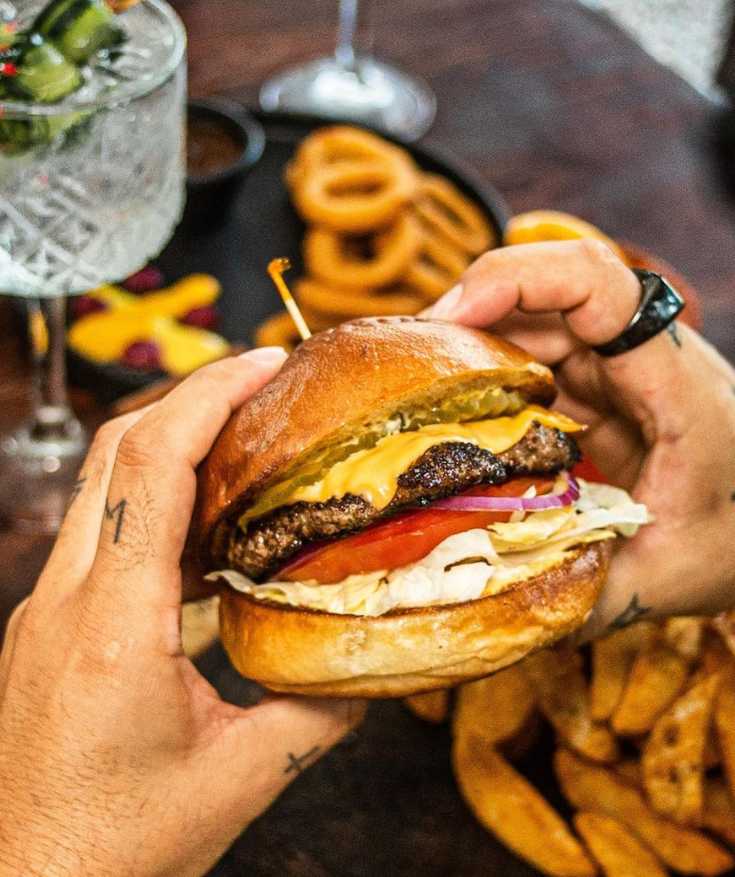 The menu at Mayami Burger Tulum includes classic American beef burgers but also offers vegan-friendly options to traditional burgers and tacos.
They also have sides like sweet potato fries or onion rings to complete any meal. The best bet is to try their veg chickpea burger with lemonade or margaritas.
Whether looking for a quick bite between beach trips or planning a busy night out in the town, Mayami Burger Tulum hits the spot. Plus, you only need to pay from $7 to $20 USD and are all set.
Good Burger
📍 Tulum Centro
💲 from $4 USD
Good Burger Tulum Mexico is a casual but fun place to grab American-Mexican burgers. Located in the heart of Tulum's historic downtown area, the restaurant's decor features vibrant colors and eclectic furniture pieces that make it stand out from other eateries in the area. Plus, their menu is something to look forward to.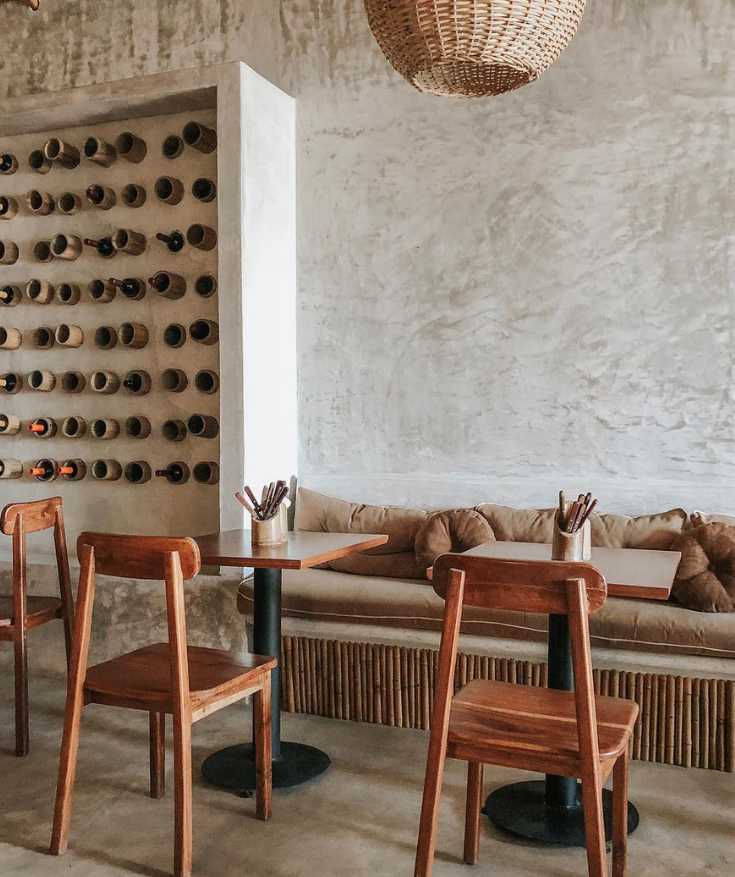 The restaurant's menu includes traditional Mexican dishes and unique American meals like burgers and fries. Among their best-selling dishes are their classic cheeseburger and vegan burger, all made with freshly baked brioche buns and locally sourced ingredients.
You can get a meal at Good Burger for as low as $7 USD. But you can grab a drink here for as low as $4 USD.
Bonita Tulum's Burger Bar
📍 C. Beta Sur, Tulum Centro
💲 from $4 USD
Bonita Tulum's Burger Bar is a famous bar and burger joint specializing in creating unique burgers. It is designed with simple tropical decors of bamboo and wood furnishings, making the atmosphere feel cozy and relaxing.
Their classic bacon cheeseburger is a must-try with many different menu items. Another great option is their portabella mushroom burger, perfect for those who want a vegan burger.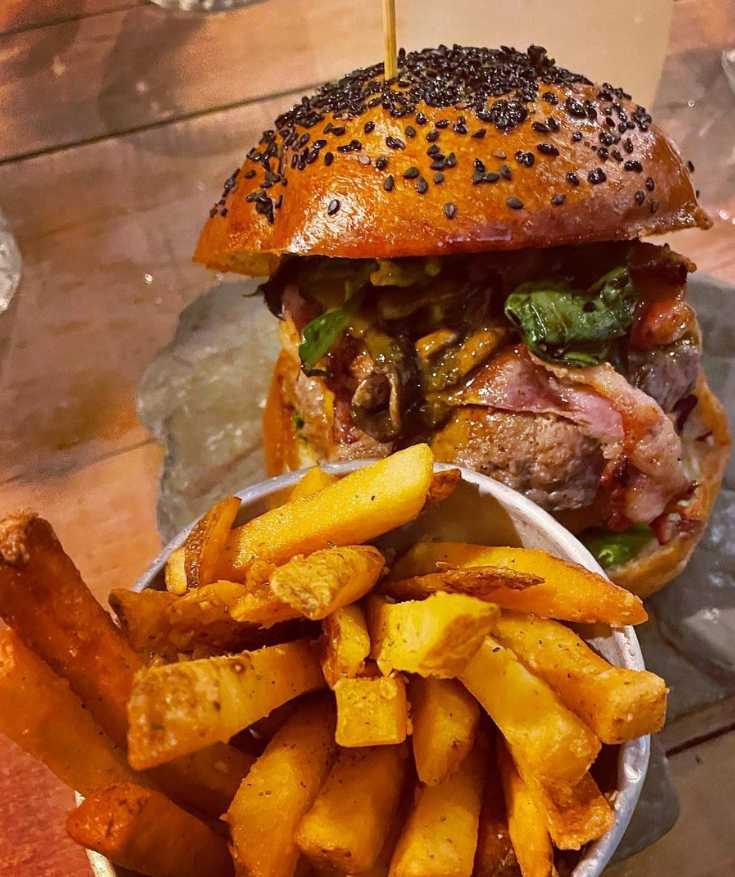 The food price at Bonita Tulum's Burger Bar starts at $5 USD. They also serve drinks as low as $4 USD.
Palma Central
📍 Av. Kukulkan 6, Palma Central
💲 from $2 USD
Palma Central Tulum is a food truck park in Tulum that offers different dining options – from Mexican, American, and other International cuisines. Here you get to try classic pizzas, noodle bowls, burritos, sandwiches, and other American dishes.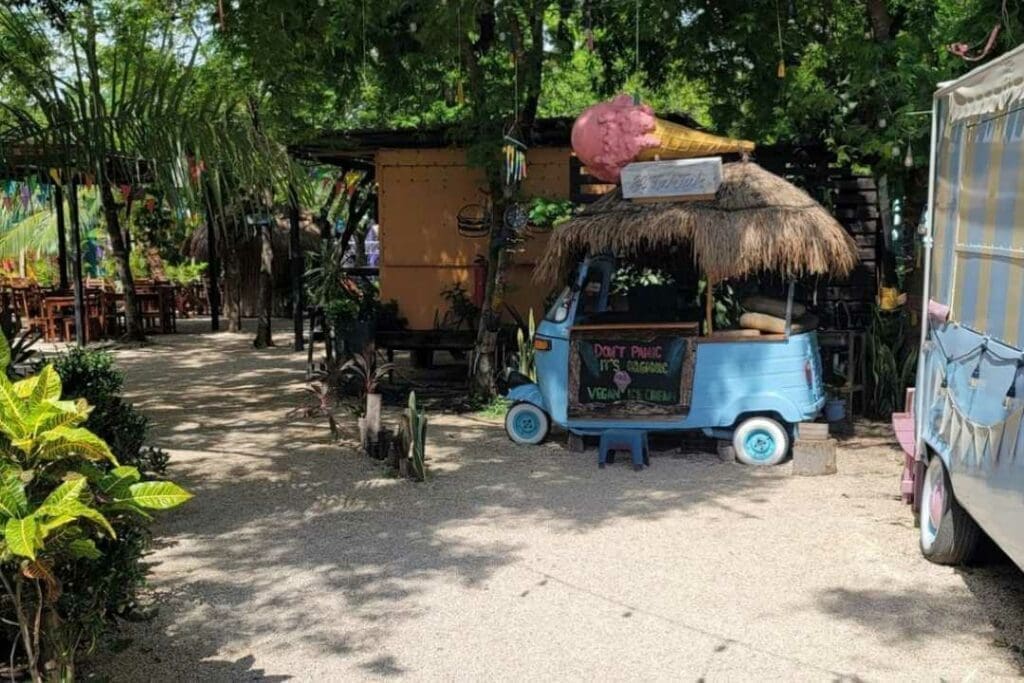 The park's vibrant and chill ambiance has become a famous destination for locals and travelers. The outdoor patio seating allows guests to take in the warm Caribbean evening air while they bask in the lively atmosphere that Palma Central offers.
You'll only need at least $20 USD each, already enough to buy food from three to four food trucks. Food and drinks around the food park start at $2 USD to $20 USD.
Las BBQ Tulum
📍 C. Orión Sur 340, Tulum Centro
💲 from $6 USD
Las BBQ Tulum is a BBQ Restaurant famous for its classic take on Mexican-American Barbecue. The restaurant features a conic outdoor area with sandy floors and plenty of seating for all guests. A live DJ adds to the festive atmosphere on weekends, creating a perfect place to dance or relax under the night sky.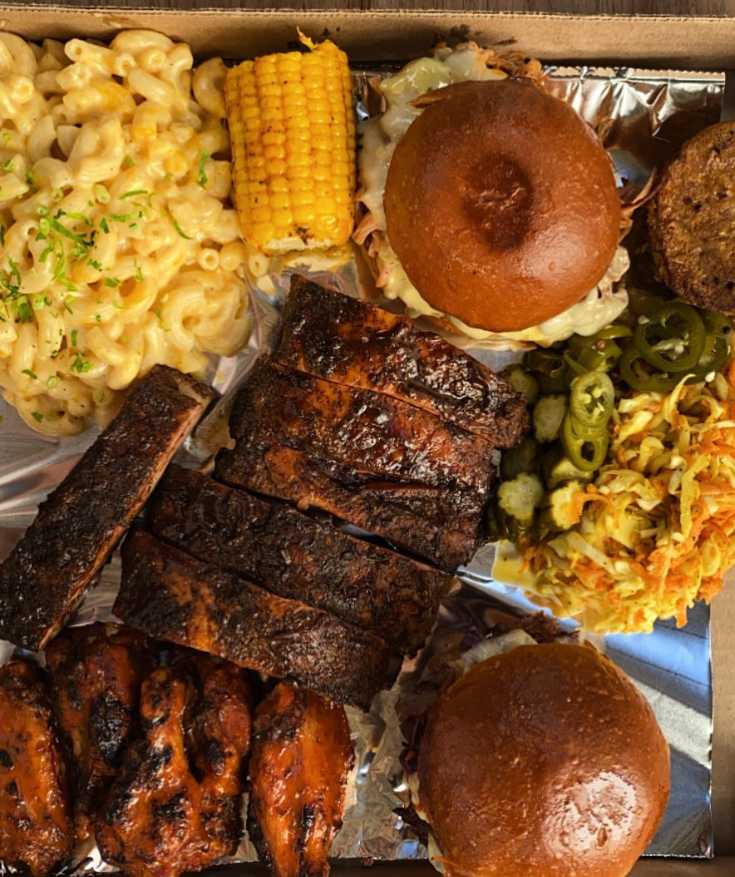 Here you can enjoy delicious dishes such as wood-fired pizzas, freshly caught seafood, and an array of Mexican specialties served in combos and sets. Be sure to order their famous beef brisket, ribs & pulled pork and pair it with some beer or cocktails.
The price budget per person here starts at $25 USD. The base price of food and drinks is from $6 USD to $20 USD.
⁉️ Tulum restaurants FAQ
What food is popular in Tulum?
Whether you're looking for street tacos or gourmet dishes, Tulum has some delicious offerings worth checking out. Traditional Mexican and Mayan flavors influence the cuisine in Tulum, and you can expect lots of flavors from their food.
Among the most famous foods in Tulum are ceviche, Pibil, and Sopa de lima. Ceviche is a Mexican cuisine staple dish consisting of pieces of raw fish marinated in citrus juice and mixed with diced veggies, herbs, and other seasonings.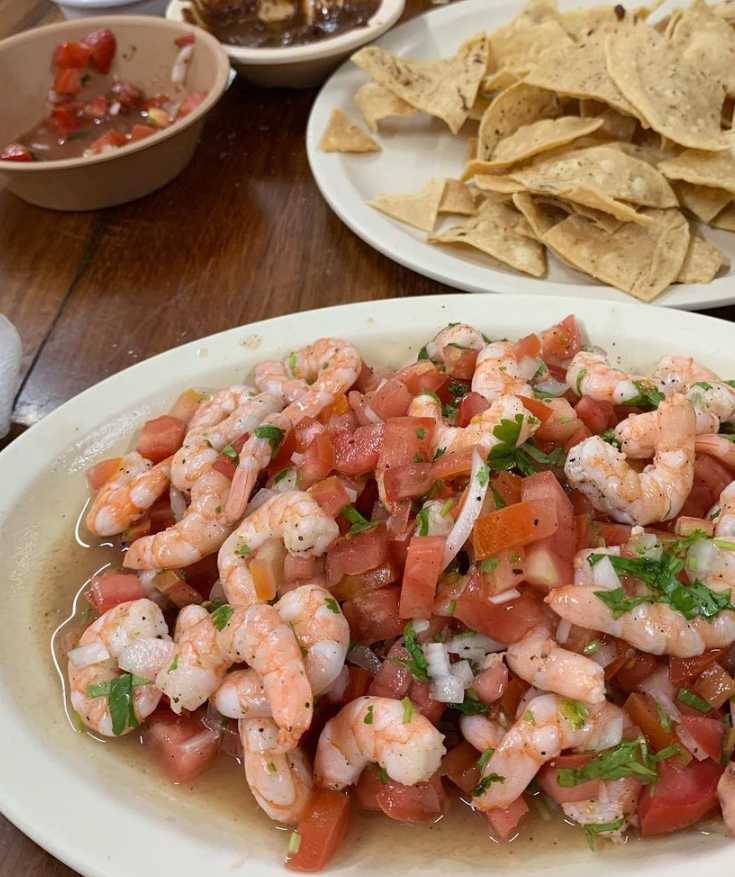 Meanwhile, Pibil is a traditional Mayan dish made with pork marinated in achiote paste and sour orange juice, then wrapped in banana leaves and slow-cooked in an underground oven.
Additionally, Sopa de Lima is also famous among locals and travelers. It is a Mexican soup made with chicken, lime, tortilla strips, and vegetables.
Does Tulum Mexico have good food?
YES! Tulum is known for its delicious and diverse cuisine, influenced by traditional Mexican and Mayan flavors.
Suppose you're looking for some delicious eats while visiting Tulum. In that case, a wide variety of food options are available – from street food and local markets to high-end restaurants, and from fresh seafood to tacos and gourmet eateries, you can find food to please your palate.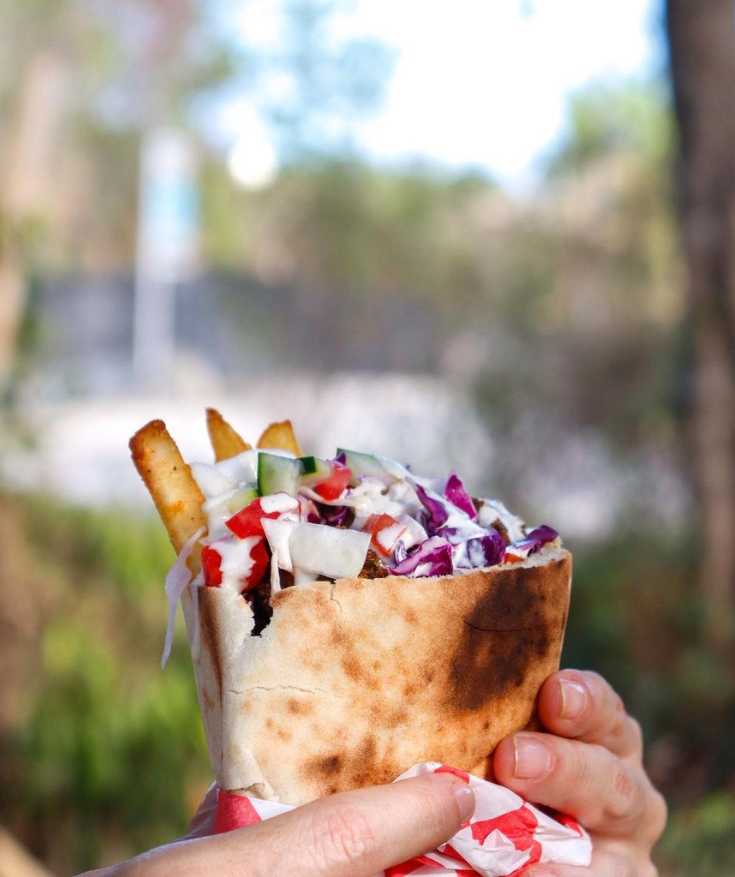 Moreover, the town also has a thriving vegan and vegetarian food scene, with many restaurants and cafes specializing in plant-based cuisine. This makes it a heaven for a gastronomic experience.
Do you need to book restaurants in Tulum?
The answer to this question is YES; making restaurant reservations in Tulum is highly recommended, especially during peak tourist seasons.
While some street food and casual dining options may not require reservations, many more popular and highly rated restaurants, including fine dining establishments, often book quickly. Therefore, it is always a good idea to check OpenTable or call ahead to make a reservation with the restaurant, regardless of the type of restaurant you plan to visit.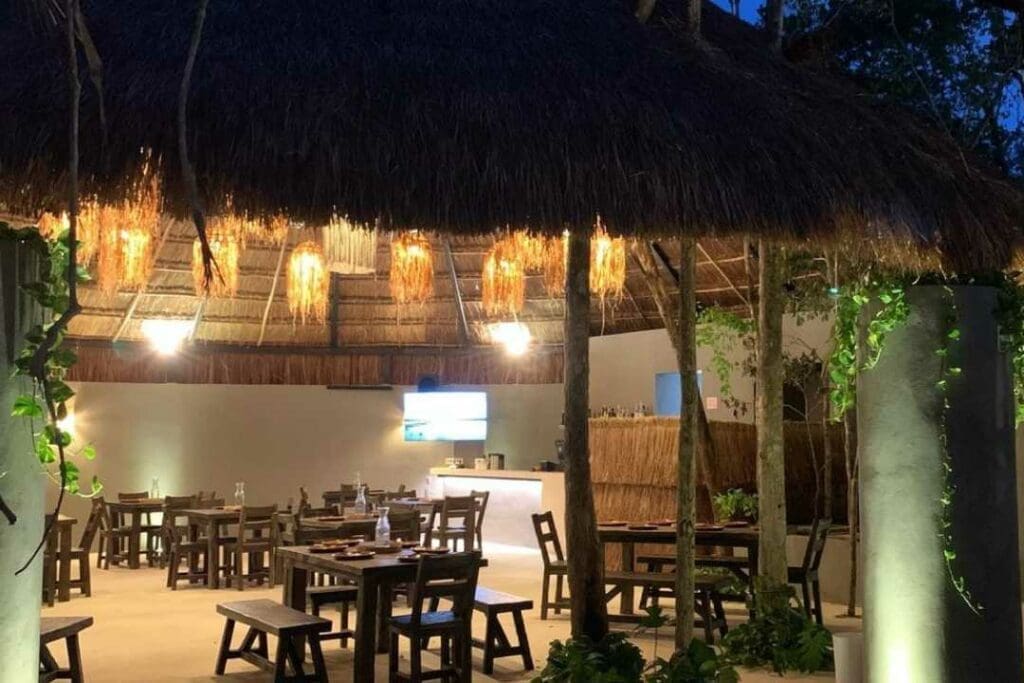 Tulum is a popular destination year-round, and many of the restaurants in the area are ALWAYS busy, so it is always better to be safe and make a reservation to avoid any disappointment.
🇲🇽 Tulum Travel Resources
✈️ Flights to Tulum
The airport that serves Tulum is Cancun International Airport. Use Kiwi.com to find the cheapest flights to Cancun. This is our favorite booking engine because they compare prices across all airlines for your route.
🛏️ Hotels and resorts in Tulum
Budget travelers can use HostelWorld to find cheap accommodations for as low as $25 USD per night. Resort vacationers, the best deals for all-inclusive stays in Tulum are on Booking.com!
🚑 Mexico Travel Insurance
Be prepared for the possibility that something can happen to you while traveling abroad. Do not travel to Tulum without travel insurance! We recommend SafetyWing (for digital nomad and entrepreneur trips) and Ekta Travel for comprehensive medical insurance starting at $0.99 USD!
Trisha traveled to Mexico in 2018 and after a year, she found herself obtaining a 4-year residency visa in Mexico. She is the Editor-in-chief for our Living in Mexico Series which has helped over 3,000 Americans move to Mexico with ease. Trisha currently resides in Cabo San Lucas, Baja California Sur.