Here are the must-visit Cabo restaurants with a view, where the view is just as exquisite as the food on your plate.
Cabo San Lucas, a jewel of the Baja Peninsula, seduces its visitors with its azure waters, stunning beaches, vibrant nightlife, and breathtaking culinary scene.
This tropical paradise offers an array of dining venues that blend delectable cuisine with mesmerizing vistas, offering more than just a meal but a feast for all senses.
Whether perched on a cliff, by the beach, or in the heart of bustling downtown, these eateries provide the perfect backdrop for an unforgettable dining experience.
Plan your trip to Mexico with us! Get expert travel advice and customized trip-planning itinerary from our local experts on the ground.
🗺️ Map of Cabo restaurants with a view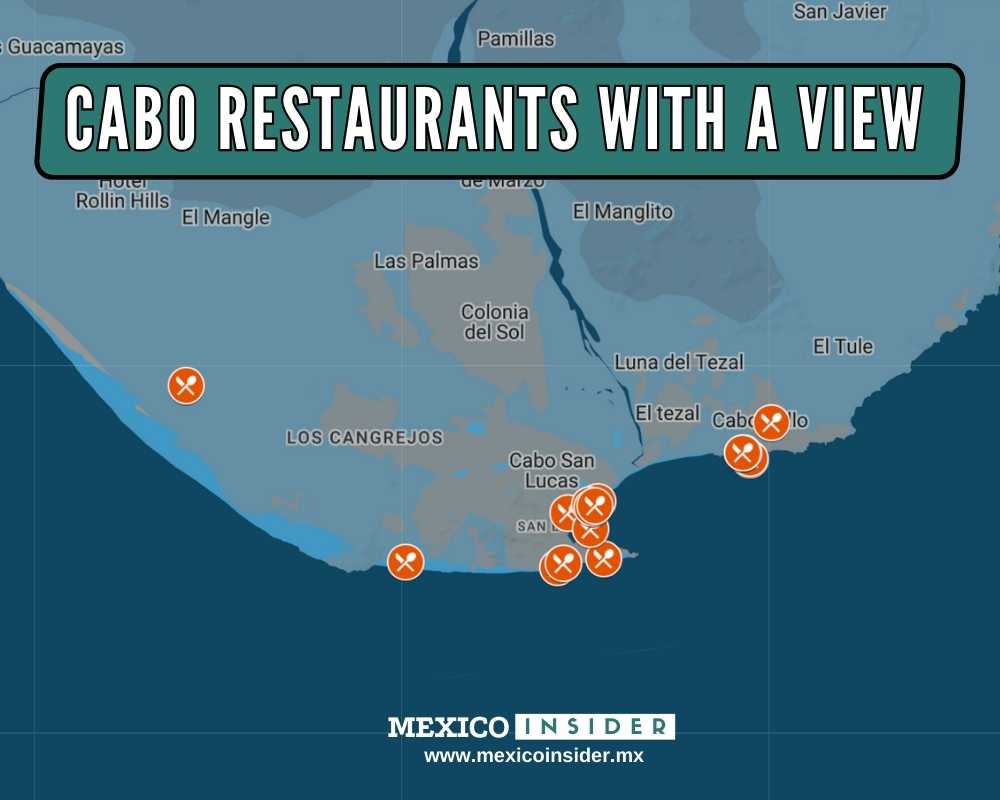 🌅 The best Cabo restaurants with a view
Sunset Monalisa
📍km 6, México 1 1, Misiones del
💲from $41 USD
At Sunset Monalisa, you'll first be greeted with a great view from the cliff-top overlooking Cabo San Lucas Bay.
The restaurant mainly boasts about this, hence the name Sunset Monalisa. And once seated, you'll enjoy gourmet food and the sounds of waves crashing.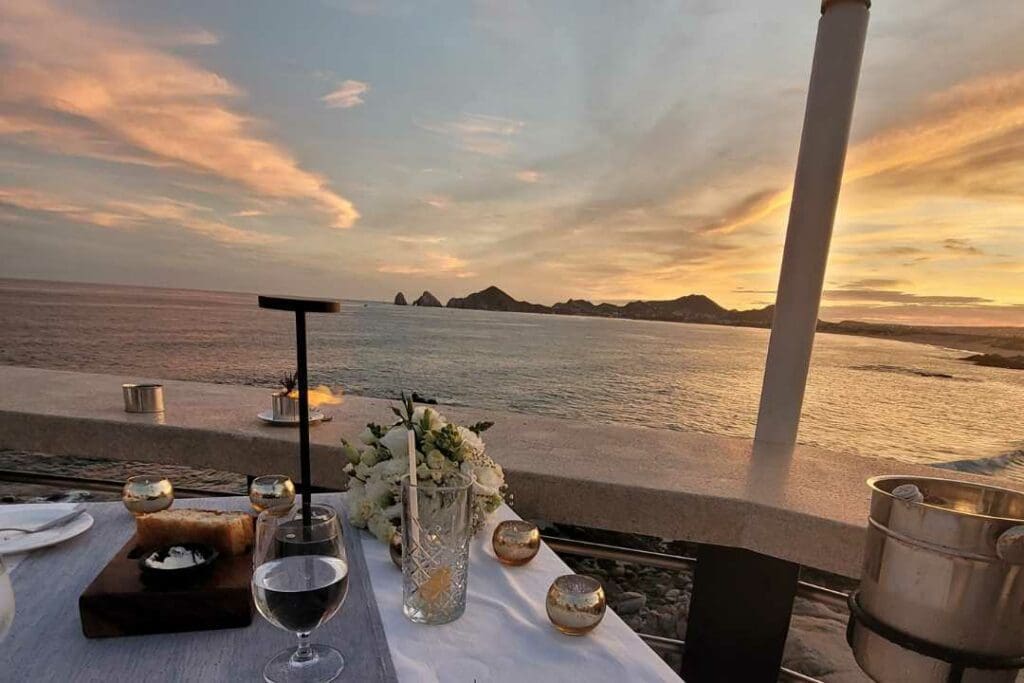 You should not miss out on Sunset Mona Lisa's signature 5-course menu: seared sea scallops or a 90-day aged Australian wagyu beef tenderloin, depending on the season.
If you wish to get an exclusive tasting menu, that would include almost all of the chef's specialties.
You get the 5-course menu at Sunset Monalisa starting at $128 USD, while the chef's exclusive tasting menu and reserved seating at the patio with an ocean view cost $258 USD.
Their drinks also cost $41 USD or more.
Jazz On The Rocks
📍Carr. Transpeninsular 6.5, Misiones del
💲from $11 USD
Jazz on the Rocks is the first jazz bar in Cabo, and it offers a great view of the bay from its upper deck patio and glass indoor area.
The combination of good music and theory, many travelers and locals who want to enjoy a fine dining experience come here both for the food and the experience.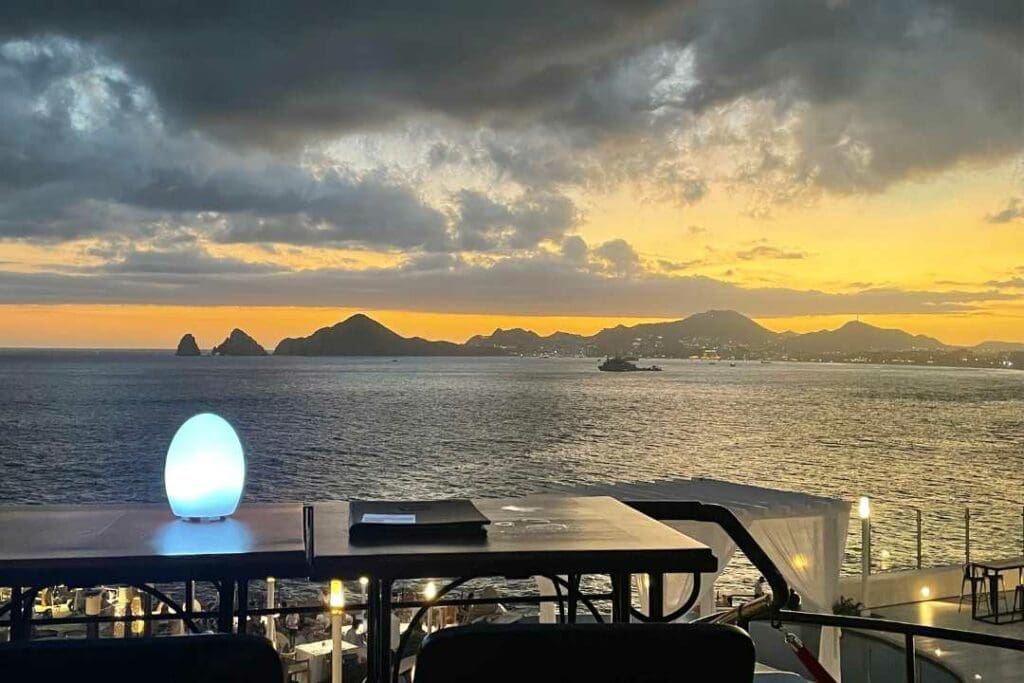 The all-time favorite is their menu includes the Sunset Point Pizza and the Carne Pizza. Since Jazz on the Rocks specializes in creating Italian food, it is also a must that you order their truffle garlic pasta.
The restaurant also has an extensive selection of drinks, including wines and cocktails.
The prices of food and drinks at Jazz on the Rocks start at $11 USD. However, note that it'll be better to have a budget of at least $50 USD per person to enjoy your dining experience and have great food here.
Lorenzillo's
📍Blvd, Blvd. Lázaro Cárdenas S/N, Centro
💲from $18 USD
If you're looking for a romantic spot you'd want to enjoy with a loved one, Cabos's Lorenzillo's could be one of them.
It is located near the bay port, and from the inside, you can see the bay from the restaurant's glass windows. You also have the option to be seated on the patio for a more relaxing time.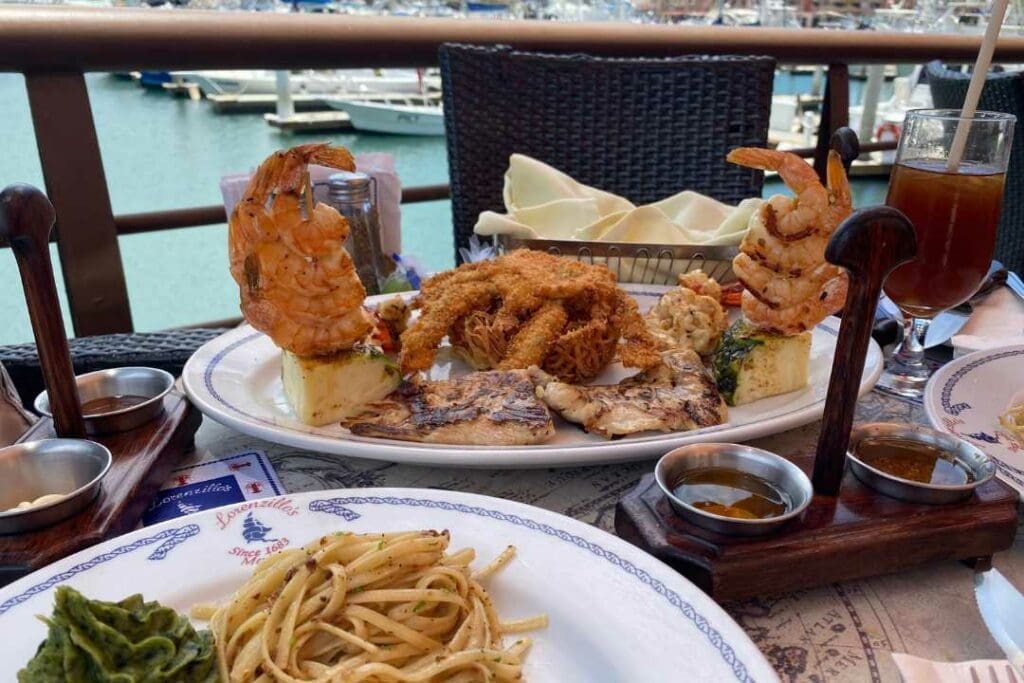 Lorenzillo serves Mexican and International seafood dishes, and one of their best-selling menu items is the Lobster bisque.
This will go well with some shrimp pasta on the side. You can choose between a glass of local beer or wine for your drinks.
You can use cash or a card when paying your bill at Lorenzillo's. Their food can range from $18 USD or more.
El Farallon
📍Cam. del Mar 1, Pedregal
💲from $7 USD
El Farallon is a high-end seafood restaurant mostly known for its prime location, beneath a cliff, and beside the beach.
They offer various indoor and outdoor seating options, including a patio set-up and a beach seating area. All these are recommended to be reserved and booked in advance to avoid waiting in line.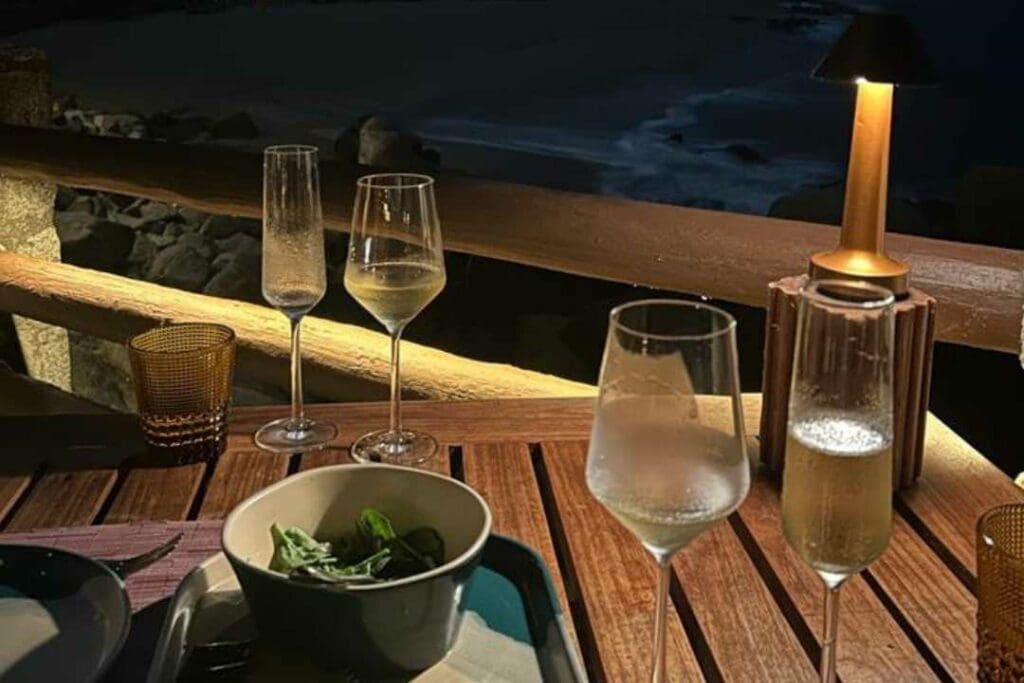 When dining here, it is highly suggested that you already have their four-course dinner meal best enjoyed on the terrace.
You should try their best-selling bluefin tuna and grilled steak for single meals. They also have a champagne bar where you can get a drink.
Their menu can range from $7 USD to $60 USD. The meal course starts at $150 USD, depending on what will be served during your dining time.
Aleta
📍Av. del Pescador, El Medano Ejidal
💲from $7 USD
Aleta is a beachside seafood restaurant that offers a great view of Medano Beach. They offer breakfast, lunch, and dinner services with different menu items.
The restaurant's excellent location makes it more scenic, while the atmosphere has relaxed and laid-back, both from the patio and indoor seating.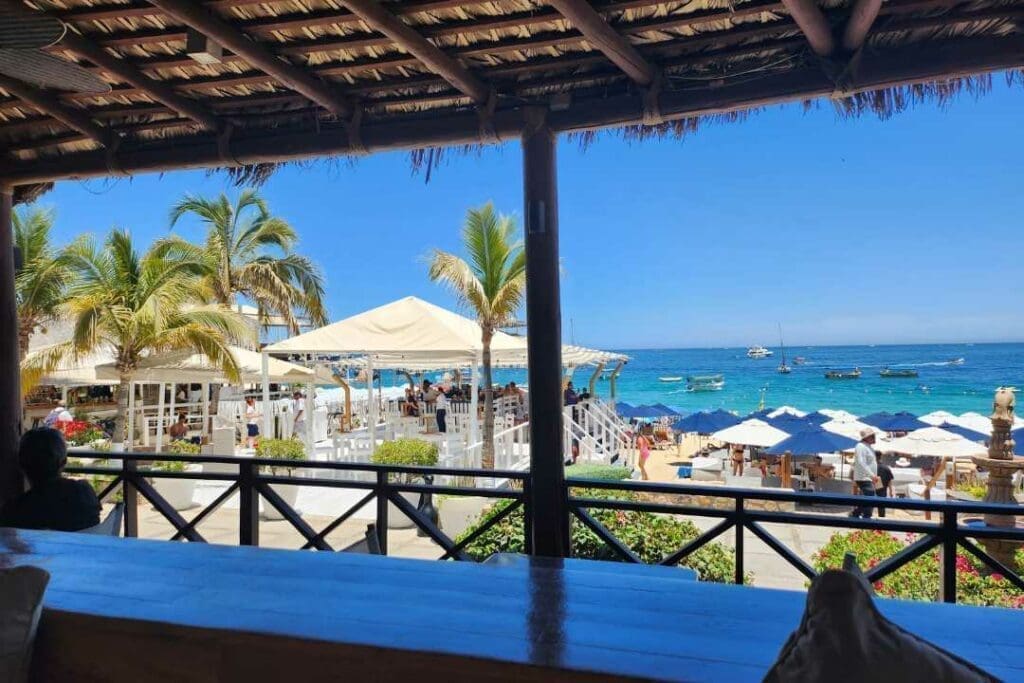 One of Aleta's best-seller is the smoked oysters that can be paired with their famous grilled octopus or lobster tails. They also serve seafood dishes from around the world, including sushi. All these should come excellent with a glass of wine.
The food prices here at Aleta can range starting at $9 USD, while drinks start at $7 USD. You can also pay with a card and cash when dining here.
La Roca
📍Av Solmar 1B, Centro, 23450 Cabo San Lucas
💲from $6 USD
Combining the traditional flavors of Mexico and international cuisine, the experience at La Roca makes it more special with its elegant and sophisticated ambiance.
When seated inside, you'll be getting a great view of the ocean from the walled glass, but you also have the option to sit on their open-air patio.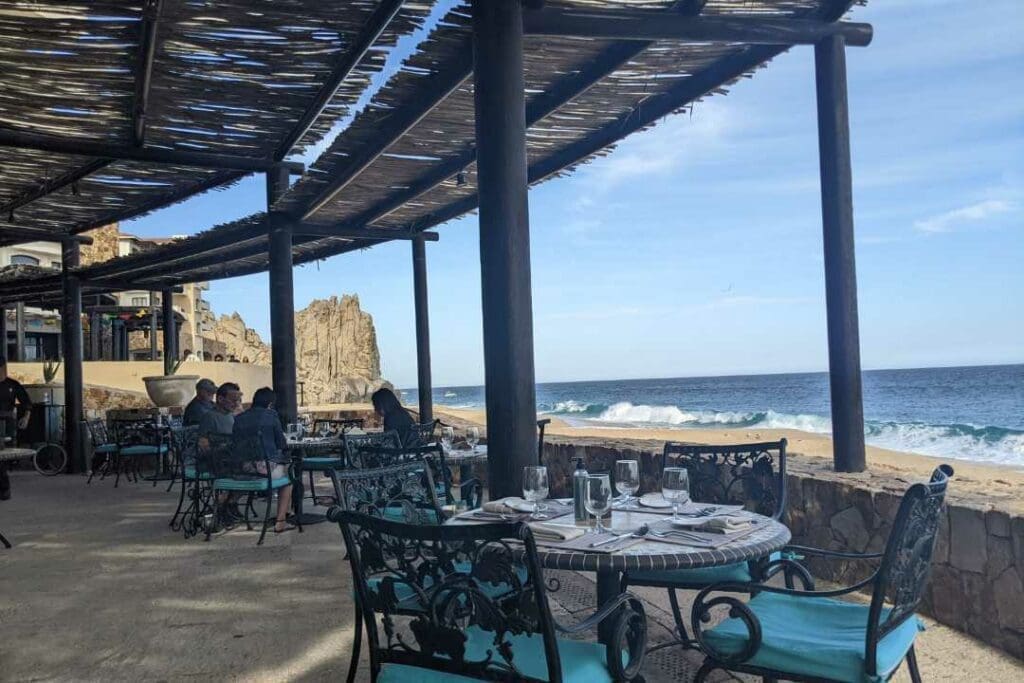 For your appetizer, getting La Roca's Mushroom Casserole is highly recommended. Meanwhile, their best-selling chile relleno should be great for your main dish. You can choose from a flavored mimosa or their house wine for your drinks.
Drinks at La Roca start at $6 USD, while food costs $10 USD or more. They also accept credit cards for payment, aside from cash.
Picaro
📍Carretera a, Todos Santos km 120
💲from $15 USD
Pícaro Garden Cuisine stands out among other Cabo restaurants with a view. Aside from ocean views, you can also see green and serene gardens and hill views.
As you dine in a Picaro, you'll surely enjoy a calm and relaxed atmosphere inside or outside the restaurant.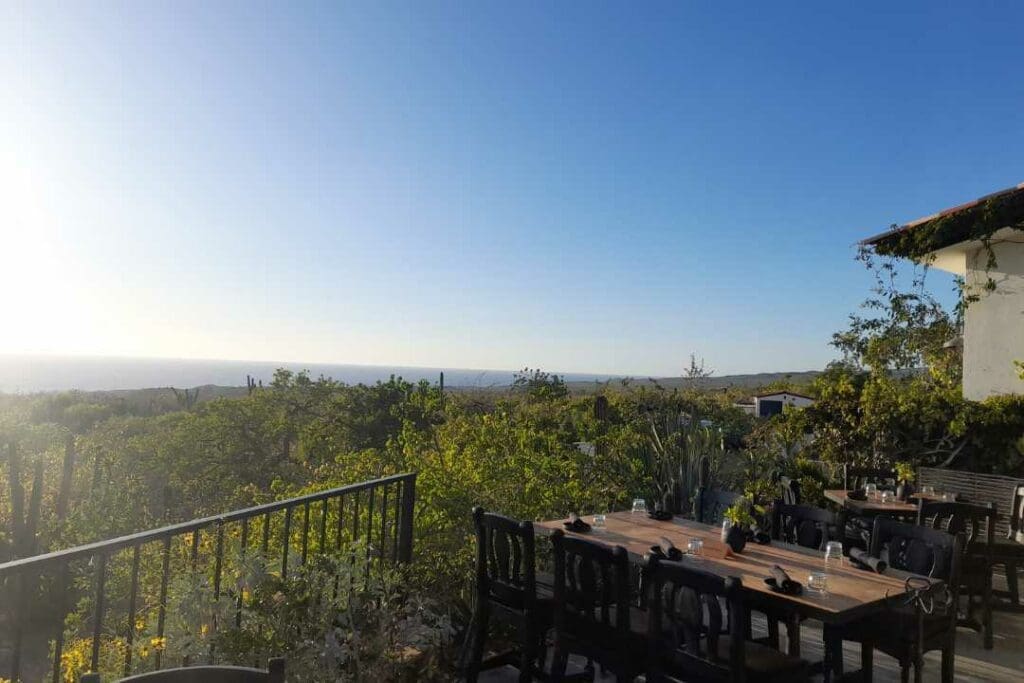 Picaro's best-selling dish is the Flor De Temporada among the lost list of menu items.
Risotto is also a favorite among the crowd. They also have several drinks that you can choose from, either some wine or cocktails.
Food prices at Picaro can range from $15 USD to $26 USD. You'll also need a budget of at least $40 USD to enjoy a great meal here.
El Rincon Culinario
📍Av. del Pescador S/N, Playa El Médano
💲from $17 USD
El Rincon Culinario is a hotel restaurant offering a dining experience beside the beach.
They offer indoor seating inside an airconditioned room but also have patio seats and on-the-sand tables and chairs. Here, you'll need to make a reservation to dine in.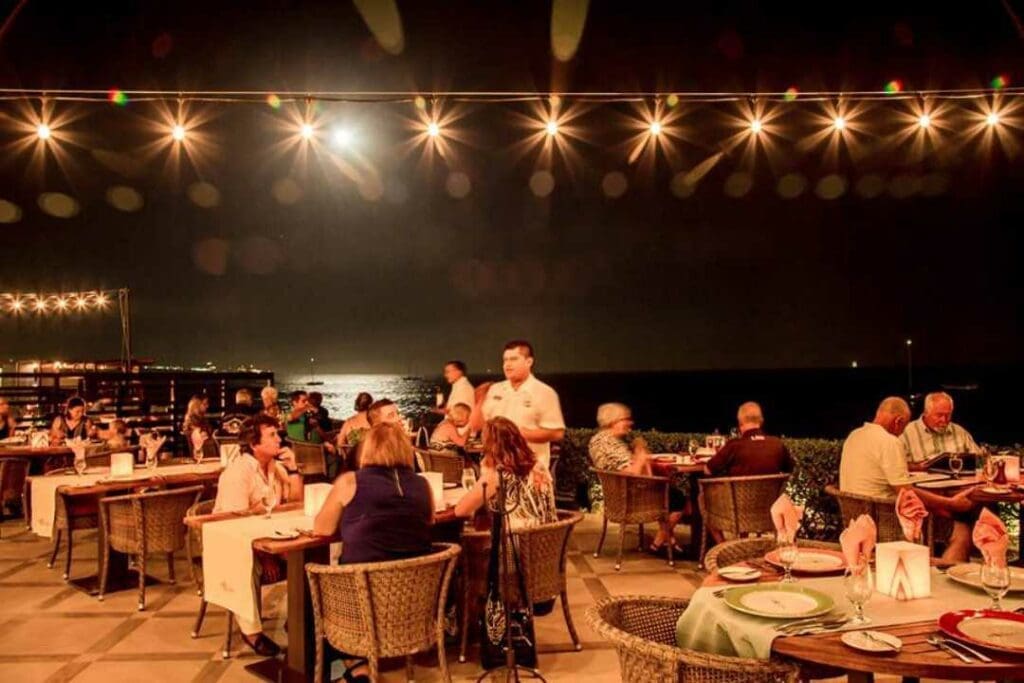 The restaurant serves buffet breakfast, lunch, and dinner, which could be included in your check-in perks in the hotel.
If you are coming to visit as a guest, you also have the option to order a la carte dishes such as the best-selling Seafood Paella and Rib Eye Steak.
Their food costs $17 USD, while drinks cost $8 USD or more. You can also pay using a card or cash for payment.
Quivira Steakhouse
📍Predio Paraíso Escondido S/N Quivira
💲from $20 USD
Quivira Steakhouse is an in-house clubhouse golf course restaurant open to members and non-members.
You'll be greeted by a vast green golf course and a view of the hill, which can be seen inside the restaurant. At night, you'll also enjoy a nice city-light view.
The best-selling dish of Quivira Steakhouse is their rib-eye steak. For your appetizers, you can enjoy some crab cakes or calamari appetizers.
Aside from these dishes, you have several food items to choose from their extensive menu list. You can avail of their all-inclusive at $40 USD and get single menu items starting at $20 USD.
Bagatelle
📍El Medano Ejidal, 23479 Cabo San Lucas
💲 from $15 USD
Bagatelle is a huge beachside restaurant that offers several seating arrangements from the inside, a terrace, and on the sand tables and chairs.
When dining here, you will enjoy a relaxing experience with a great view of the beach and the hotel's pool. Meanwhile, the restaurant's modern and chic interior makes the ambiance more vibrant.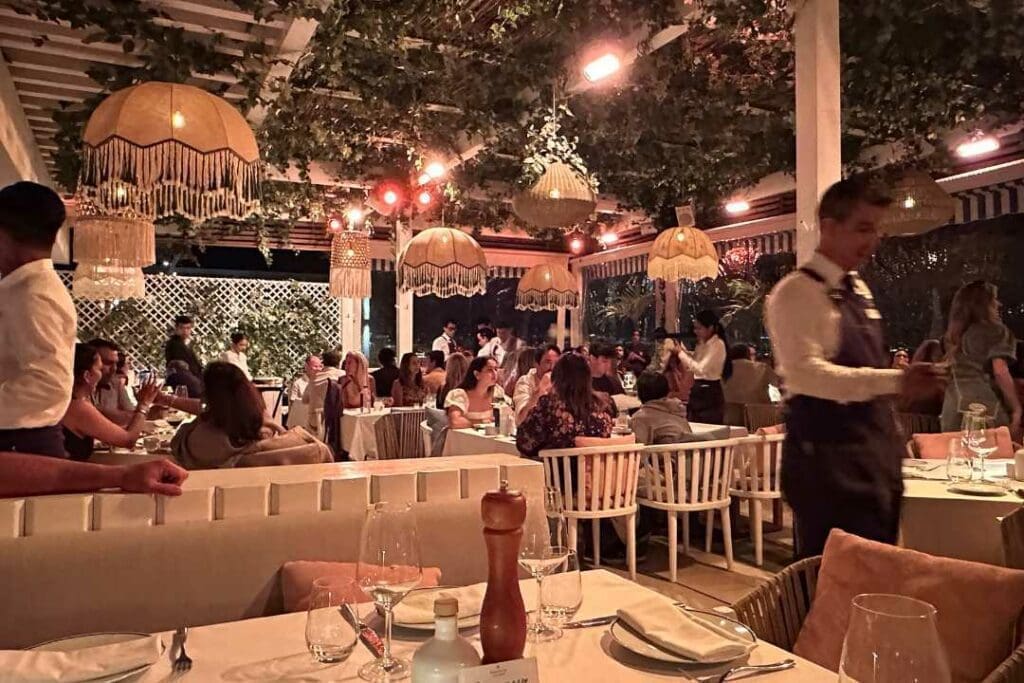 The restaurant's best-seller is the Carpaccio de Bar. Another must-try that can go well with this is the Ravioles Au Castelmagno.
Foods and drinks at Bagatelle can range from $15 USD to over $100 USD. This will depend on the dish you order, but you can pay them in cash and card.
Manta at The Cape
📍Carretera Federal 1 Km. 5 Misiones Del
💲from $15 USD
Manta at the Cape offers an excellent view of the ocean and islands in Cabo. It has indoor seating with large glass windows and a patio that lets you experience the sea breeze and its incredible view while dining.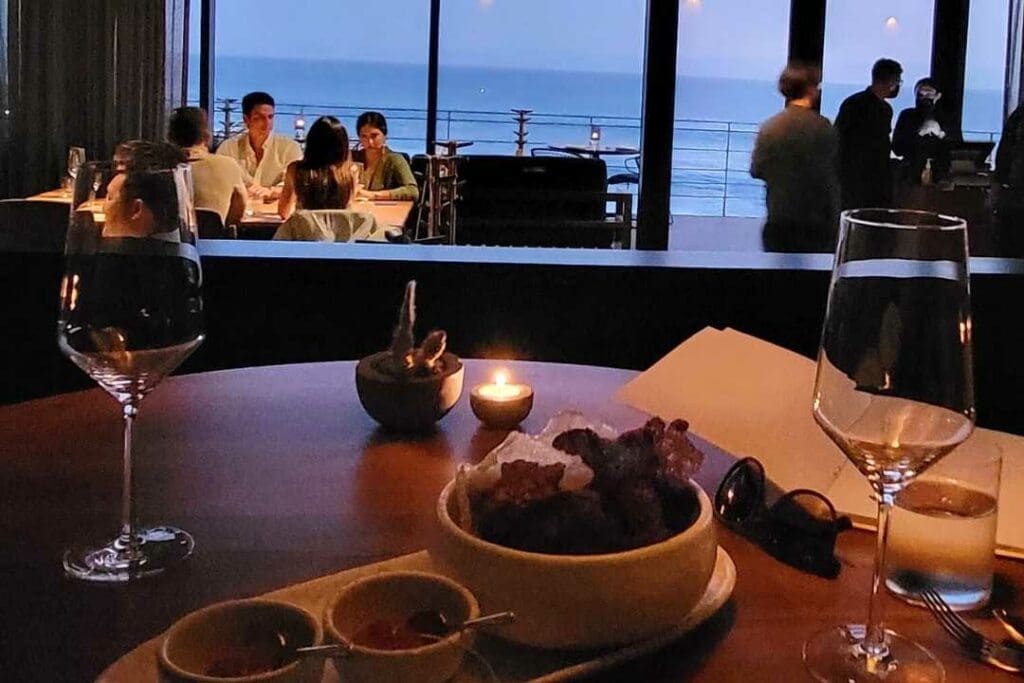 This restaurant specializes in seafood dishes, so one of its best-sellers is the bluefin sashimi.
Manta at the Cape also offers wine pairing, which you should try if you visit the restaurant. You can also avail of the tasting menu or 5-course meal to maximize your dining experience (best for special occasions).
The drinks here start at $10 USD, while food starts at $15 USD. The five-course meal, wine pairing, and tasting menu will also vary in price depending on what will be served.
Corazon Beach Club
📍Medano Beach, Cjon. Pescadores S/N, El Medano Ejidal
💲from $12 USD
Corazon Beach Club is an exclusive and luxurious beach club at the Medano Beach of Cabo.
Aside from being the largest beach club, it has a restaurant open for the public under reservation. Here you can enjoy Mexican and International cuisine, both food and drinks.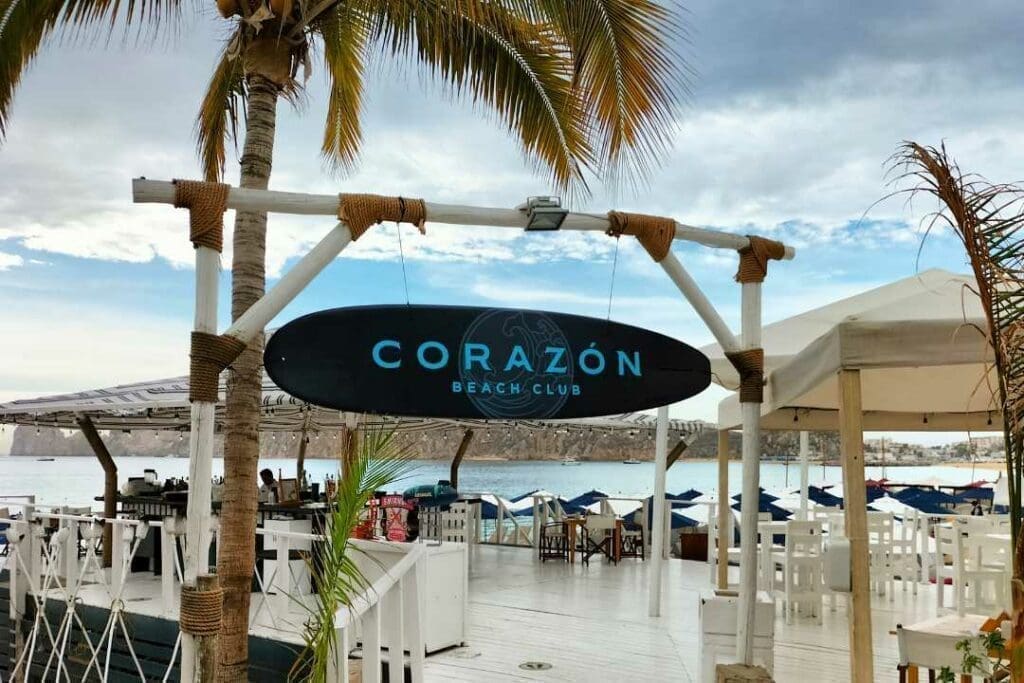 The restaurant's highly suggested menu item is the Corazon Boat Sushi which is suitable for sharing. This includes almost all of their sushi and sashimi items.
You also order their nigiri sampler for a lighter meal or maybe Baja Fish Taco for a Mexican food experience.
Food and drinks at Corazon Beach Club start at $12 USD, and can get expensive at $182 USD. You can also pay both cash and card, whichever your preference is.
Rooftop 360
📍Pelicanos 225, El Medano Ejidal
💲from $7 USD
Just from the name itself, Rooftop 360 is a laid-back and trendy restaurant atop a nine-floor building. It is officially the highest terrace in town, offering a spectacular 360 view of Cabo while you wine and dine.
They serve lunch and dinner, and you must make a reservation beforehand.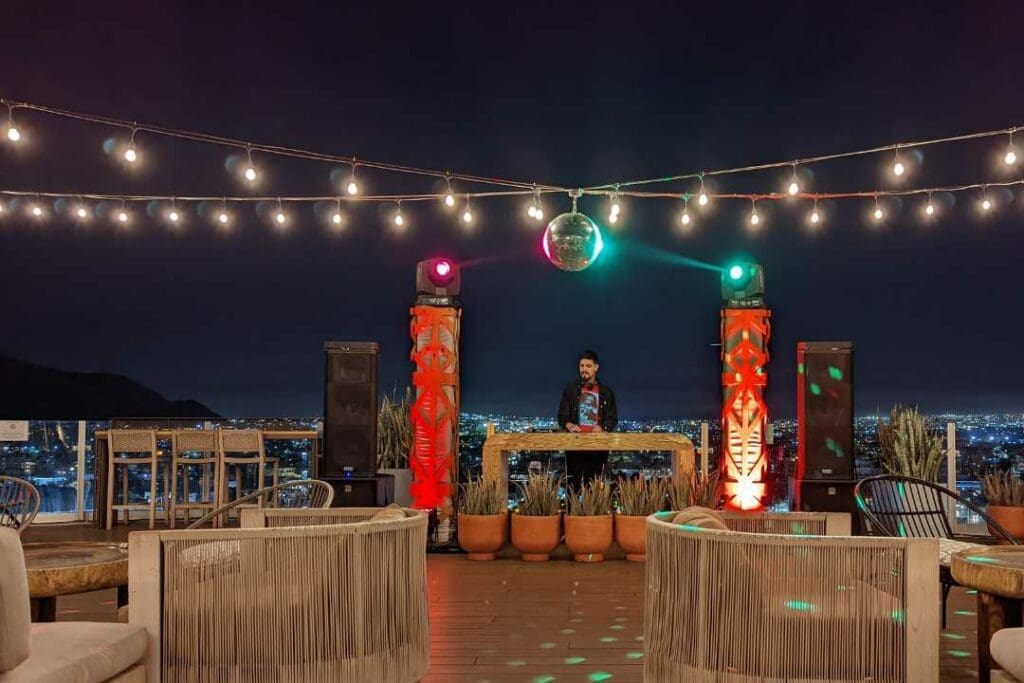 Rooftop 360's best-seller is the veggie sushi roll. More crowd favorites in the restaurant that you should try are the Nachos 360 and Flank Steak.
They also have an extensive selection of drinks, but it is highly recommended you order a signature drink such as black bourbon.
Like any other restaurant, the price here can be pricier. Signature drinks start at $19 USD. Meanwhile, food prices here at Rooftop 360 start at $16 USD.
Baja Brewing Co
📍Cabo Villas Resort, Callejon del Pescador Callejón Pescadores S/N
💲from $6 USD
Baja Brewing Co is a cliffside rooftop terrace restaurant offering a Land's End view. This is Cabo's first and only microbrewery rooftop terrace, offering diners a friendly, open garden-like atmosphere.
Aside from crafted beers, they also serve main entrees and appetizers of all kinds of cuisine.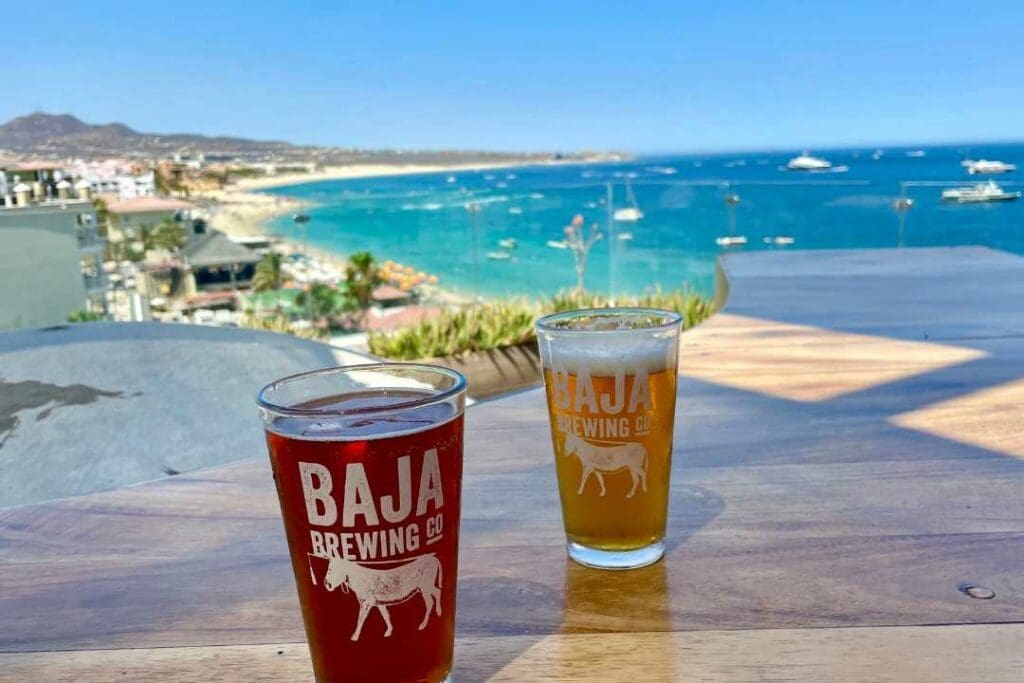 When dining here, you should order their best-selling cheese pizza and the sizzling shrimp Skewers. Among the eight craft beer recipes they have, the Baja Razz is a best-seller.
The food prices at Baja Brewing Co can range from $8 USD to $65 USD, while a glass of beer costs $6 USD. You also have the option to pay both with cash or a credit card here.
Villa Sirena
📍Carretera Transpeninsular Kilómetro 7.5 Cabo Bello
💲from $3 USD
Villa Sirena is a Mexican restaurant offering diners a great Cabo view. With the restaurant at the top of a hill, you will be surrounded by a serene jungle environment and get an idea of the Sea of Cortez.
They serve breakfast, lunch, and dinner, each with various menu items.
The restaurant serves an average portion size, enough to make one complete. One must-try here is the Chilaquiles Verdes, especially if you want to taste local food.
If you are here for breakfast, you should get their famous Mexican omelet. All these you can pair with a cold glass of fruit juice.
For the experience at Villa Serena, the price range of $3 USD to $50 USD is already reasonable and fair. Although, at least a budget of $30 USD each will be needed to enjoy the food here.
The Ledge
📍México 1 Km 5, Misiones del Cabo
💲from $9 USD
The Ledge at the Cape is a casual beach house restaurant that offers a great view of the Cabo islands and sea.
They offer breakfast and lunch dishes from contemporary Mexican cuisine and American food. The atmosphere here makes diners feel relaxed, especially outside the patio.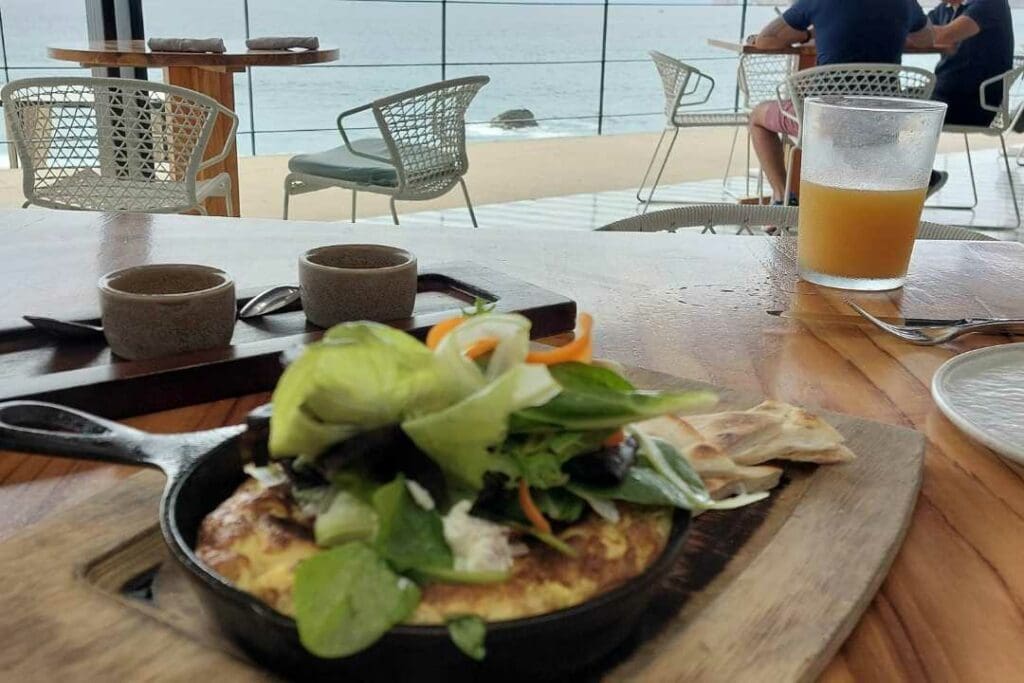 The restaurant has an extensive menu, which gives you a lot of options to choose from. But one of their best-sellers that you should try is the chicken enchiladas with half a mole, half green salsa.
Another crowd favorite is the Motuleños. Meanwhile, there are also days they have a buffet serving, which you should avail of through reservation.
Buffet promos can range from $95 USD, but can be less or more depending on the season and time of service. Meanwhile, their menu items can start at $9 USD.
The Rooftop
📍México 1 Km 5, Misiones del Cabo
💲from $12 USD
The Rooftop at the Cape is another in-house restaurant of the Thompson Hotel in Cabo. Compared to the Ledge, the Rooftop is a bar and lounge that offers a space to catch a great view of the sunset or sunrise in Cabo.
Situated in an alfresco sky garden, you will be surrounded by a calming environment, open-air, and live DJ music.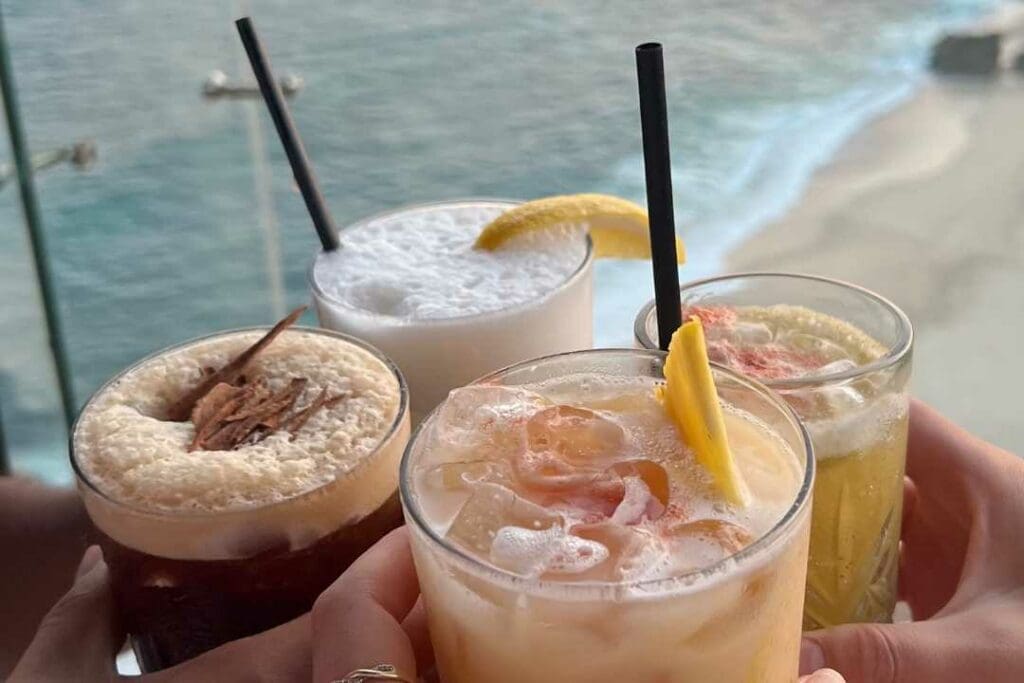 Since Rooftop at the Cape is a bar and lounge, their highlights are drinks and beverages.
One of their best-selling drink is The Cape, a unique mix of cocktails. But aside from the glasses, you can also order food here; the duck braised tacos with guacamole are most recommended.
Prices at the Rooftop start at $12 USD. A glass of drink will cost you around $15 USD to $20 USD, depending on the mix of drinks you will be getting, while food starts at $12 USD.
They also have package offers you can check out when reserving a table.
Don Manuel's
📍Cam. del Mar 1, Pedregal
💲from $8 USD
Don Manuel's is an in-house restaurant at a beach resort in Cabo. The atmosphere here is lively and chill, with several Mexican and tropical elements surrounding the beachside restaurant, which is excellent for romantic dinner dates.
You'll need to book a table here, especially during the dinner service if you want to be assured of a great spot and get a good view.
Some of Don Manuel's best-selling dishes are the rib eye steak and Mac and Cheese with Black Truffle.
If you're visiting during lunch, you can always get a lighter meal like the mushroom burger or fish tacos. You can easily pair this with a glass of wine or tequila.
The price range of food and drinks here is on the expensive side. A meal here costs $10 USD, while drinks start at $8 USD.
The Office
📍Playa El Medano S/N, El Medano Ejidal, El Medano
💲from $12 USD
The Office is a vibrant beachfront restaurant that serves local and international food and drinks. The ambiance here is lively, using colorful decors that blend with the natural scenery of the beach.
If you wish to dine here, you must make a reservation in advance, especially if you want a good table.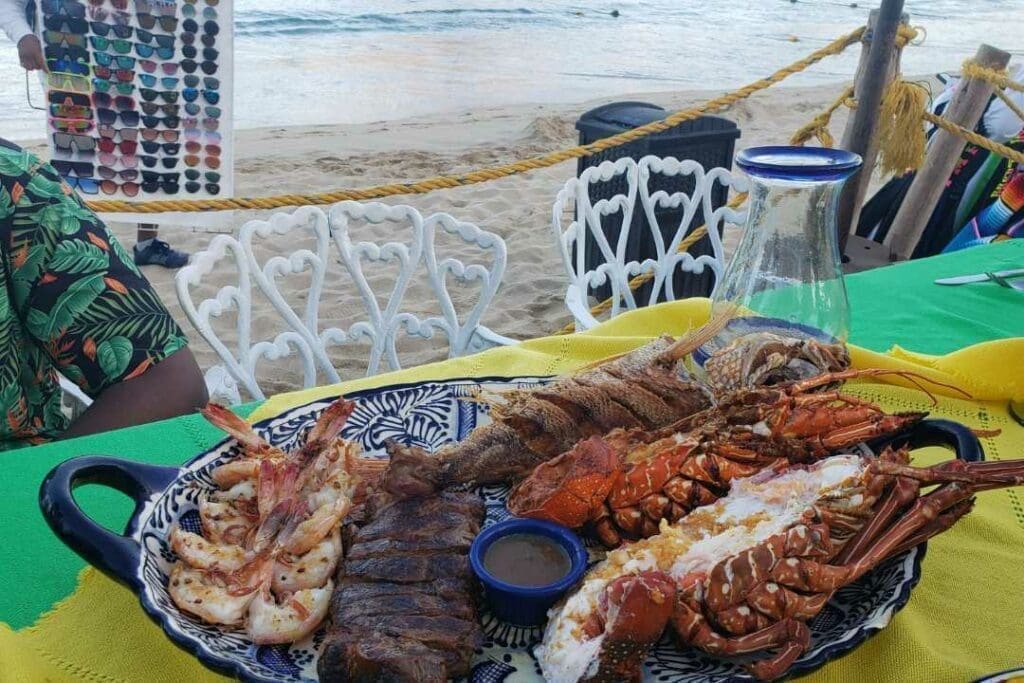 It is a must that you try their famous grilled red snapper together with some gringos on the side. They also have an extensive selection of drinks and cocktails, but a classic margarita is highly recommended.
Prices at The Office are on the pricier side. A drink here costs $12 USD as the cheapest, while food starts at $18 USD.
🇲🇽 Cabo Travel Guide
Trisha traveled to Mexico in 2018 and after a year, she found herself obtaining a 4-year residency visa in Mexico. She is the Editor-in-chief for our Living in Mexico Series which has helped over 3,000 Americans move to Mexico with ease. Trisha currently resides in Cabo San Lucas, Baja California Sur.