Discover the vibrant Jalatlaco neighborhood in Oaxaca City! Immerse yourself in the local culture, explore the charming streets, and indulge in delicious food. Find out why Jalatlaco is a must-visit destination and start planning your trip today.
Yes, visiting Jalatlaco in Oaxaca City is definitely worth it! This charming neighborhood is full of vibrant colors, beautiful architecture, and delicious food. There are plenty of things to do in Jalatlaco, from exploring the picturesque streets and alleys to immersing yourself in the local culture by visiting markets, shops, and restaurants.
The friendly locals are always eager to share their traditions and customs with visitors, making Jalatlaco a must-visit destination for anyone interested in experiencing the authentic charm of Oaxaca City.
Many of you wonder if it's better to stay in Jalatlaco or Oaxaca centro. Both Jalatlaco and Oaxaca Centro have their own unique charm and offer different experiences.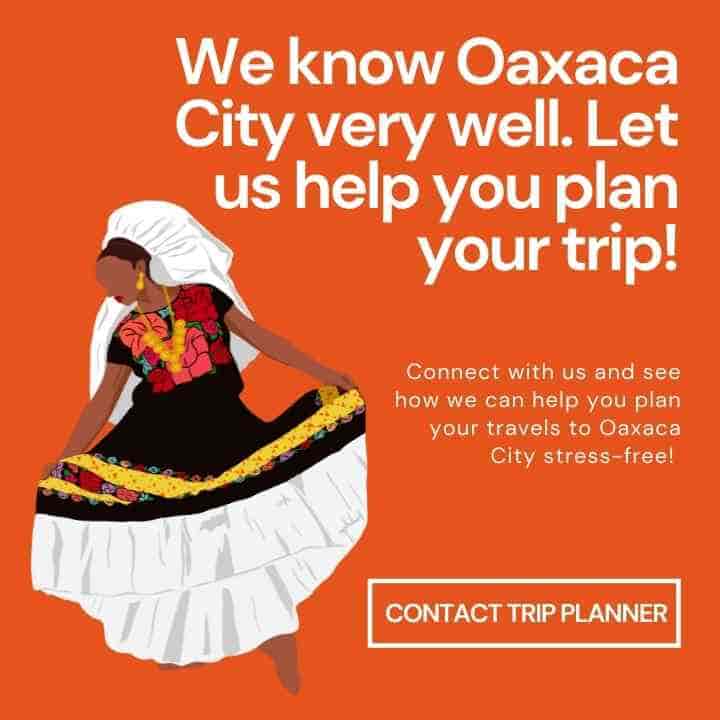 Jalatlaco is a quieter and more residential neighborhood, perfect for those looking for a more laid-back and peaceful atmosphere, while Oaxaca Centro is the bustling downtown area with more tourist attractions, restaurants, and nightlife.
If you prefer a quieter and more relaxed atmosphere, staying in Jalatlaco might be a better option for you. The neighborhood offers a more local and authentic experience, and you'll have easy access to many traditional markets and small shops.
However, if you prefer to be in the middle of the action, and want to be close to popular tourist attractions and restaurants, then staying in Oaxaca Centro might be a better option for you. Ultimately, it depends on your personal preferences and what kind of experience you're looking for.
🧐 Questions about Jalatlaco Oaxaca? Ask us on Tiktok.
🔗 Jalatlaco Neighborhood: quick links
🗺️ Jalatlaco Oaxaca Map
🧭 Things to do in Jalatlaco Oaxaca City
Take photos in the colorful streets
Jalatlaco is a colorful and vibrant neighborhood with many houses, colonial buildings, and street walls covered with bright colors and art paintings. This makes an excellent opportunity for you to take many photos in the street and capture the brightly painted buildings and walls in the background.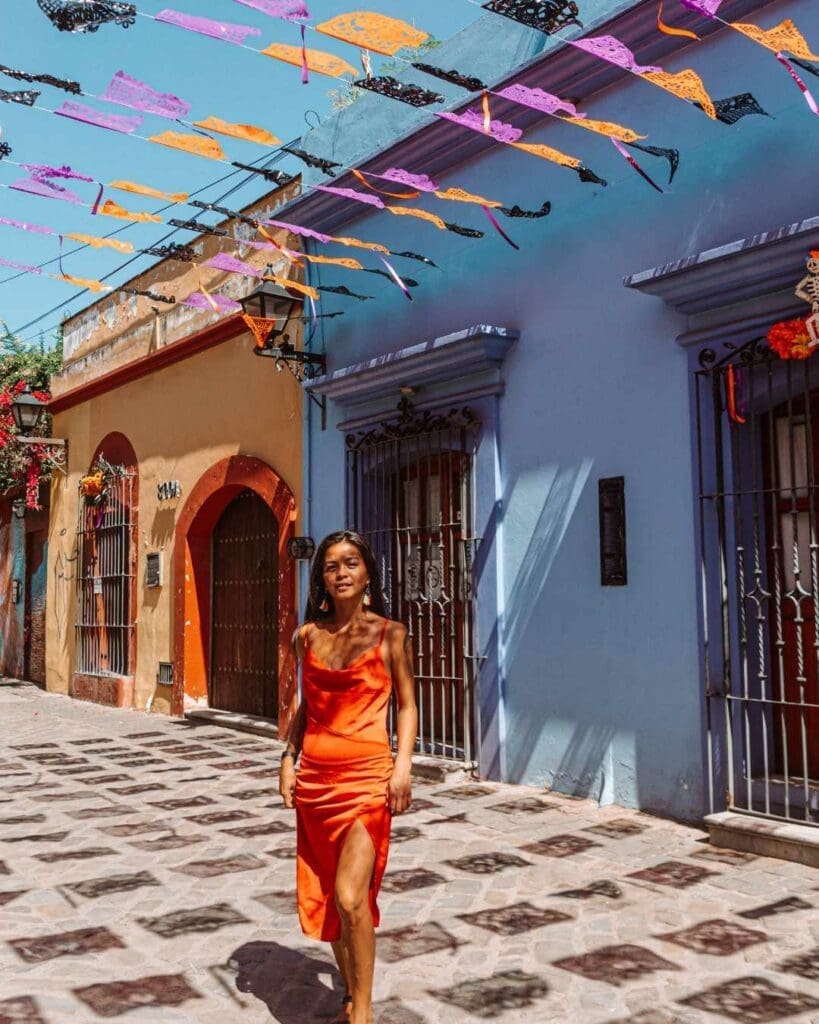 One of the most picturesque streets in the area is the La Casa de las Calaveras on the corner of Calle de Hidalgo and Calle de Ignacio Aldama. You can find many murals and colored buildings here, which is excellent for taking photos.
Explore art galleries in Jalatlaco Oaxaca
Home to several galleries showcasing contemporary and traditional works from local artists and beyond, visiting art galleries in Jalatlaco is a must.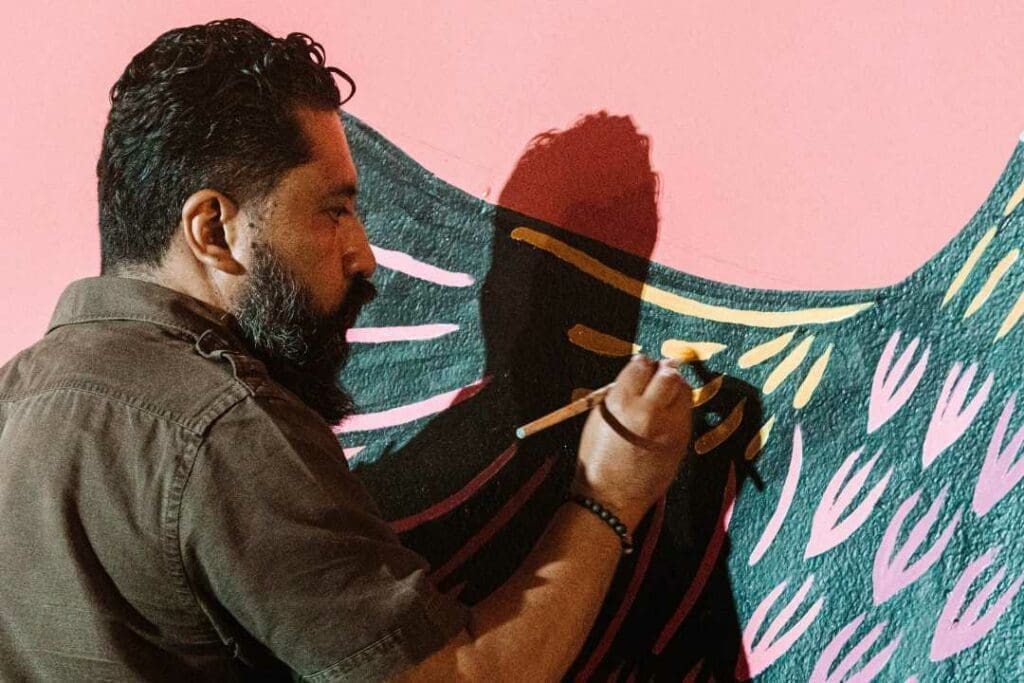 One art gallery you can check out is La Garrapeta de la Oveja, an art gallery studio with paintings, ceramics, and many more. Meanwhile, if you enjoy seeing Mexican Folk Art, you can visit Galería La Mano Mágica.
Hang out in Jalatlaco cafes
Aside from the neighborhood's colorful streets and art galleries, Jalatlaco has several laid-back cafes perfect for relaxing and people-watching.
Here you can soak in the neighborhood's atmosphere, work, or just chill for the rest of the day while enjoying local cuisines and coffee.
Go to occasional parties and events in Jalatlaco
Jalatlaco is also famous for hosting many festivals throughout the year, including the celebration of the Day of the Dead, one of the biggest and most celebrated festivals in Oaxaca City.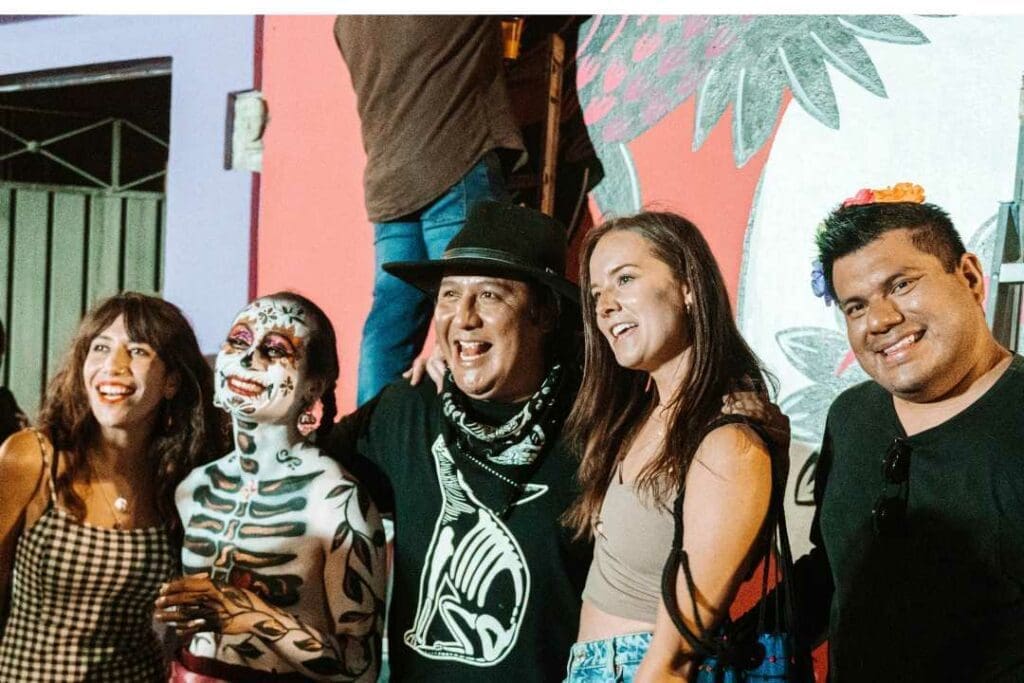 And with the vibrant community of Jalatlaco, visitors can experience traditional music, dance, food, and other cultural activities during such festivals.
🛏️ Best hotels in Jalatlaco Oaxaca
Casa Biche Jalatlaco
📍 C. Del Refugio 208, Barrio de Jalatlaco
💲from $249 USD
Casa Biche is a beautiful eight-bedroom house in the heart of the Jalatlaco neighborhood in Oaxaca City, Mexico. The holiday home is designed in a modern yet homey vibe set-up, with lots of colors all over the place.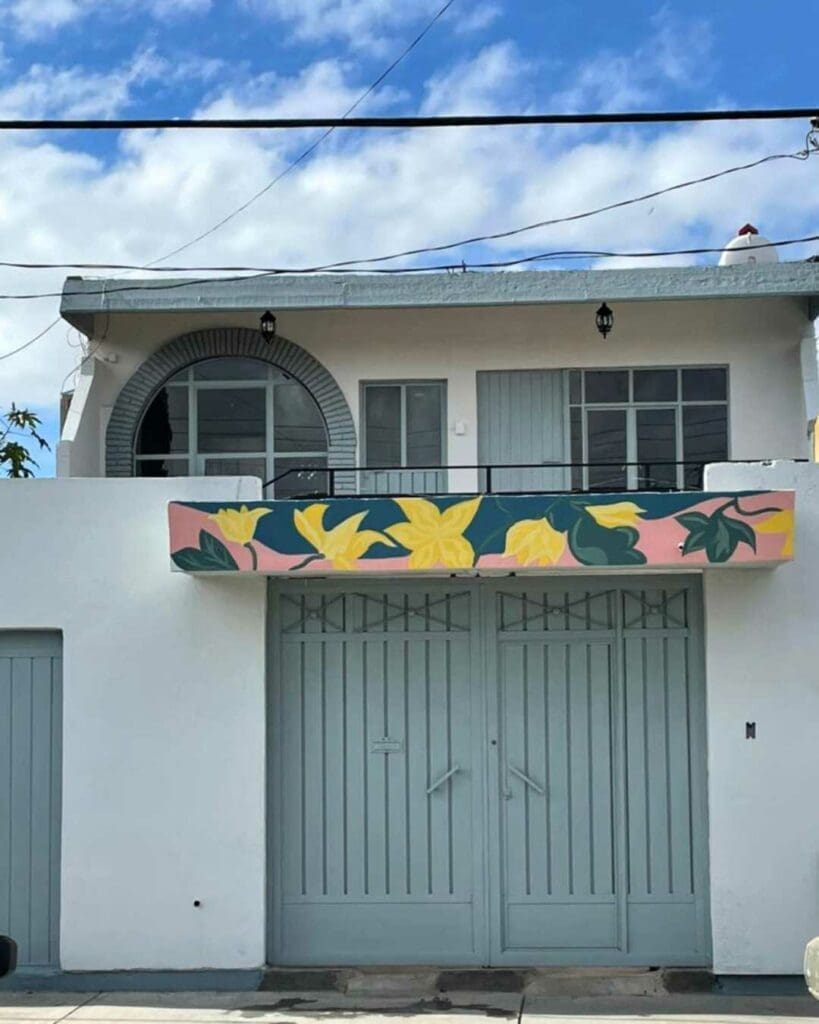 This is perfect for large groups, which can house almost 16 people in 8 bedrooms. Plus, the location of the house is convenient, near Santo Domingo and lots of restaurants and bars.
The vicinity is equipped with a balcony and an open space where guests can interact with each other. Meanwhile, each room has a fan, iron, and a bed with linen. They also have an available shared kitchen and a separate bath and toilet.
City Centro Oaxaca
📍Aldama 410, Barrio de Jalatlaco
💲from $129 USD
City Centro Oaxaca is a rather pink hotel in a restored 16th-century building. The hotel has retained much of the building's colonial charm and architecture, whereas the decors and furniture are modern and chic.
Among the facilities of this property are a restaurant, an outdoor pool, and fully air-conditioned rooms that all guests can enjoy. City Centro Oaxaca provides its visitors comfortable accommodations in a prime location, where each room has free Wi-Fi, a wardrobe, and an en suite bathroom.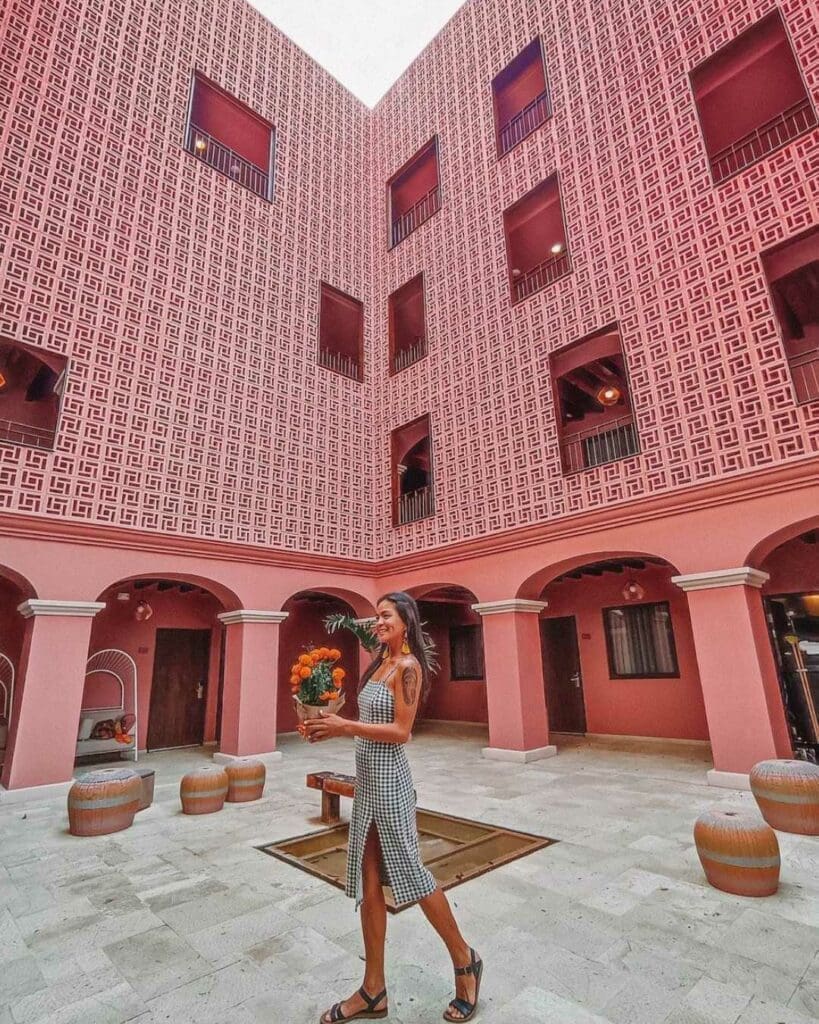 When in the vicinity, you may relax on the terrace, swim facing the San Matas Jalatlaco Temple, or try one of the many mezcal-based cocktails the pool bar offers. Additionally, the hotel's location is nearby attractions like the Tule Tree and Oaxaca Cathedral.
Casa Arnel
📍Aldama 404, Barrio de Jalatlaco
💲from $28 USD
Casa Arnel is a small boutique hotel offering homey accommodation in Oaxaca City.
Despite being a small hotel, they have complete amenities and services throughout the property. There is a front desk staffed around the clock, a rooftop terrace, and luggage storage at Hotel Casa Arnel. They even have an on-site restaurant where you can order breakfast and other meals.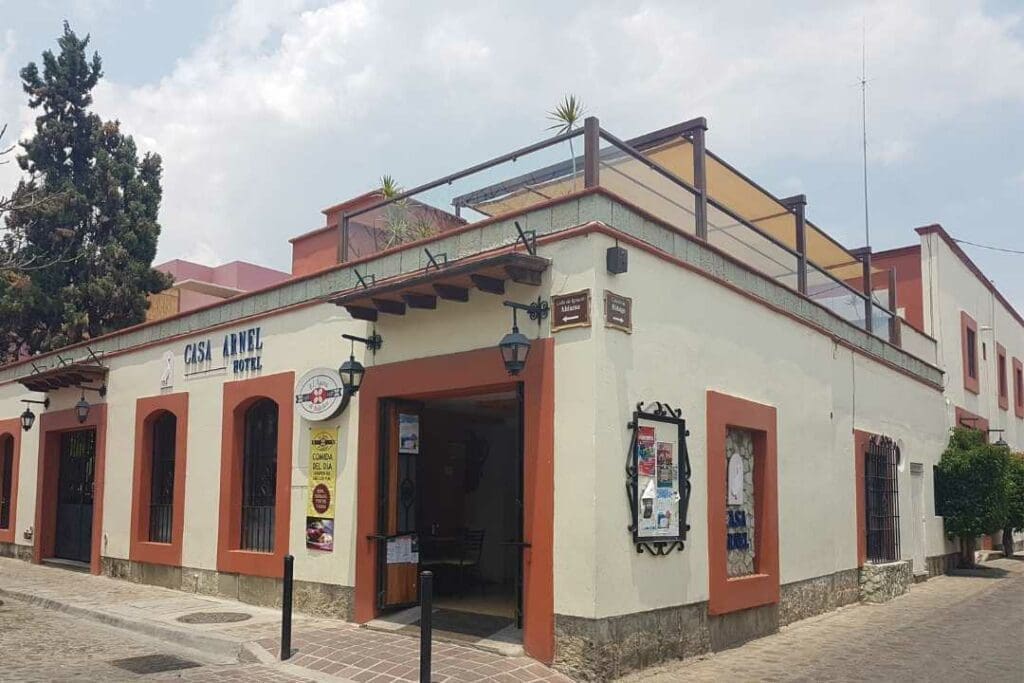 Expect to see Mexican-style architecture and lots of rustic decor within the property. In addition, their rooms are equipped with a fan and a bed and may come with a private bathroom.
According to Casa Arnel's past guests, they love how the hotel is near tourist destinations like El Llano Park and the Rufino Tamayo Museum.
Hotel Tabaa
📍C. Del Refugio 201, Barrio de Jalatlaco
💲from $174 USD
In the heart of Oaxaca City, Hotel Tabaa is a modern 4-star hotel with premium amenities and rooms. Inside the hotel, you will find a rustic, chic, and minimal style of architecture.
Hotel Tabaa also offers guests stylish and rustic rooms and suites, each with access to complimentary premium Wi-Fi, a 24-hour front desk, a private bathroom, and some even a patio. In addition to their intimate rooms, Hotel Tabaa has a garden or courtyard that is perfect for a place to unwind.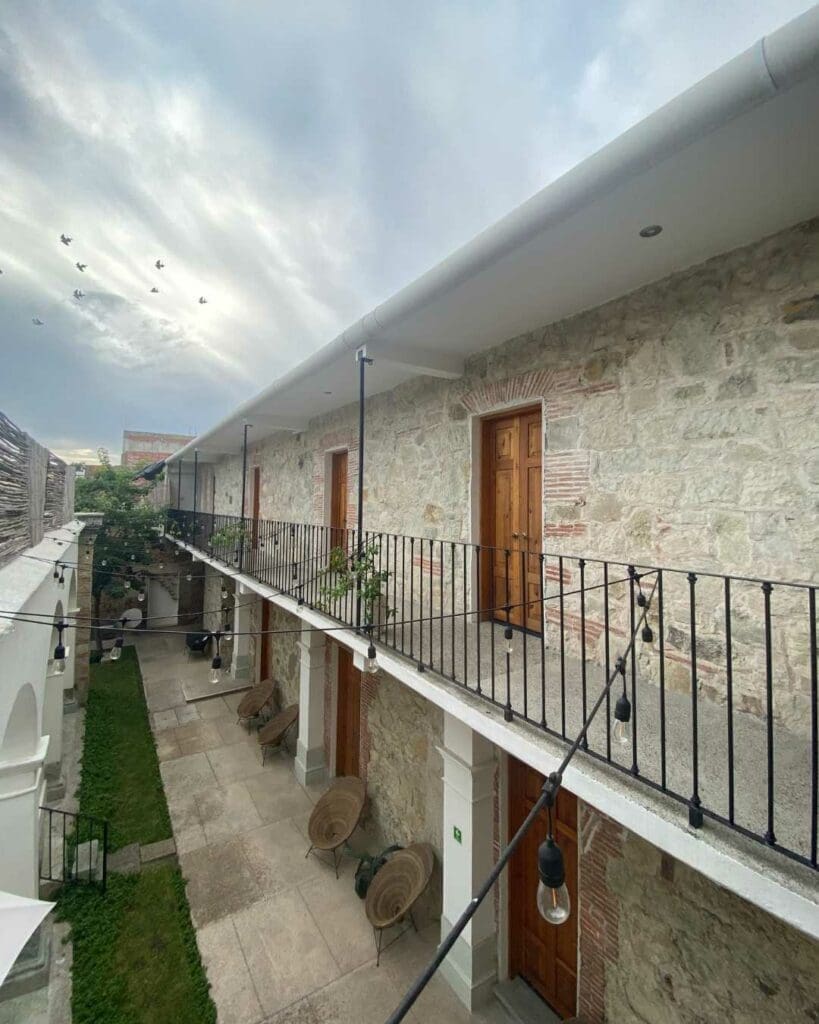 The hotel's central location is near Plaza Tabasco and famous restaurants like Mi Ceviche and Mexita. The neighborhood is also safe and peaceful, with a gated entrance providing security.
Studio Jalatlaco
📍Miguel Hidalgo 100, Barrio de Jalatlaco
💲from $99 USD
Get to experience staying right within the colorful streets of Jalatlaco as you stay in this private and solo apartment in the neighborhood of Oaxaca City.
Just by arriving at the studio entrance of Studio Jalatlaco, you can already feel the vibrant vibe of the neighborhood, surrounded by colorful murals and nearby restaurants and cafes.
Studio Jalatlaco is a cozy and stylish apartment with one bedroom, a fully equipped kitchen, and a spacious living area. This makes it an ideal choice for couples or solo travelers seeking a home away from home in Oaxaca.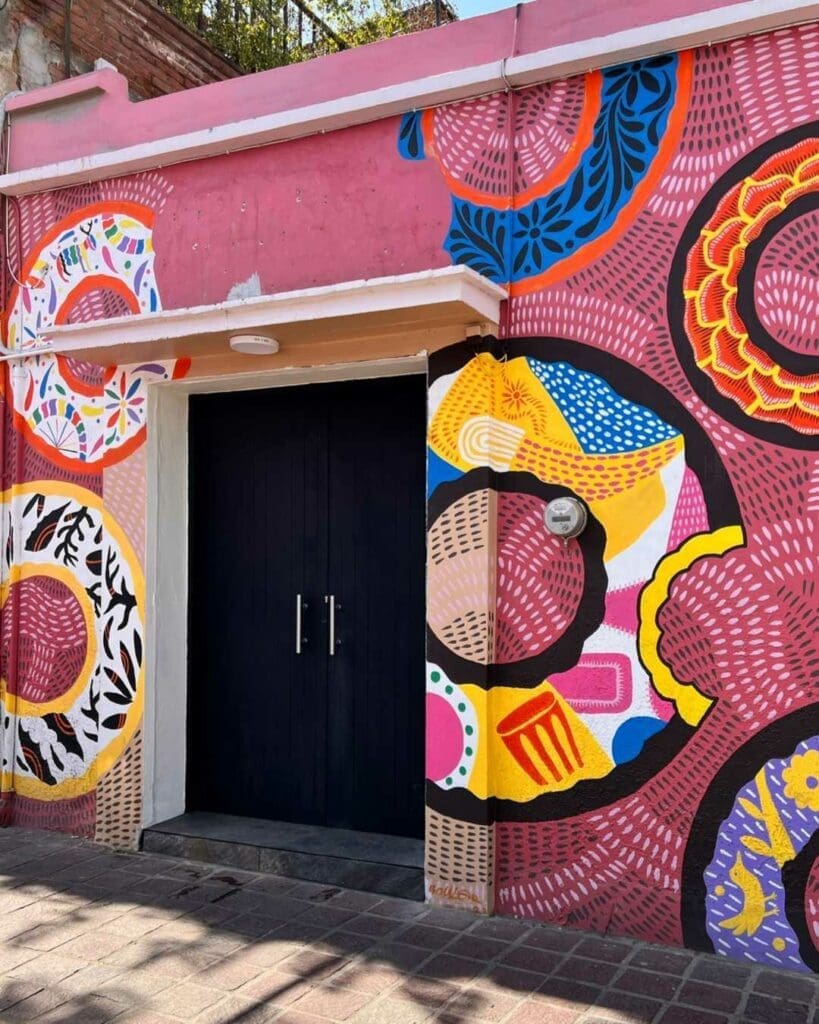 The apartment is tastefully decorated with a mix of modern and traditional Mexican design elements, including colorful textiles and local artwork. It is air-conditioned and includes linens and towels, a cable flat-screen TV, and a kitchen.
Studio Jalatlaco's location makes it easier for guests to roam around the neighborhood and even visit other areas besides Jalatlaco.
🏠 Apartments for rent in Jalatlaco Oaxaca City
Bokatrip Jalatlaco
📍Primera Privada de Blvd. Eduardo Vasconcelos 125, Barrio de Jalatlaco
💲 from $27 USD
Bokatrip Jalatlaco is an apartment located in the neighborhood of Jalatlaco. The place is homey and peaceful yet vibrant simultaneously, making it a perfect place for digital nomads to stay in.
The rooms at the guest house are all equipped with amenities that digital nomads need, including a wardrobe, patio, flat-screen tv, and a bed complete with linen. The property also has a shared kitchen for the whole house and a shared bathroom for guests.
Most importantly, the place has complimentary wifi, essential for digital nomads. And if you decide to work away from home, you can also visit nearby restaurants and cafes, as the location of Bokatrip Jalatlaco is near the center of the city.
Private room for rent in Jalatlaco
📍 Niños Heroes 202A, Barrio de Jalatlaco, 68080 Oaxaca de Juárez, Oax., Mexico
💲rom $14 USD
This private room in an apartment building in the streets of Jalatlaco is a perfect accommodation for digital nomads living in the neighborhood.
Although the room may not be that spacious, digital nomads will still have a pleasant stay here as it has everything you will need – a fully fitted shared kitchen with a fridge and microwave, free Wi-Fi, and a small garden.
Aside from cheap accommodation, the neighborhood is peaceful, safe, and quiet.
Meanwhile, when it comes to an internet connection, they have enough for you to utilize. But if you feel like working outside the apartment, you don't have to go far and walk a few meters from restaurants and cafes.
Jalatlaco Boutique (with car)
📍 Calz. de la República 800, RUTA INDEPENDENCIA, Centro
This rustic apartment in Jalatlaco is conveniently situated in the Oaxaca Historic Centre district, making it easier for guests to access essential locations.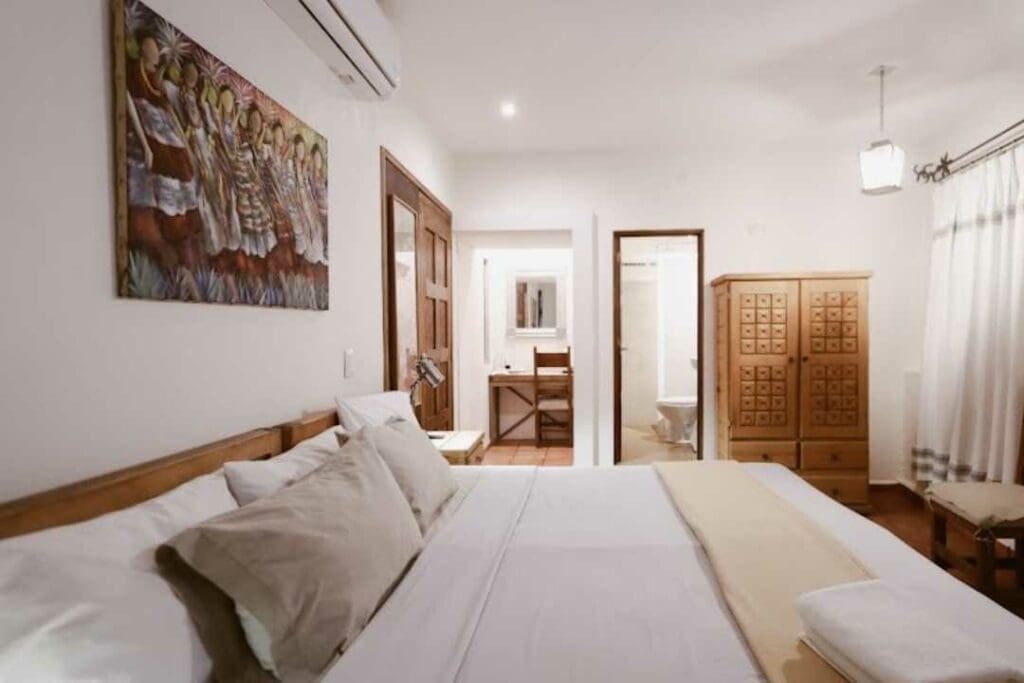 Their rooms are complete with desks, a terrace with a city view, and even a private bathroom. Some rooms also have a coffee maker and a kitchenette with a fridge and microwave, making the apartment a perfect place for Digital Nomads.
And, of course, they offer fast and reliable internet, so you can work while on the property without worrying about an internet connection. You can work either inside your room or anywhere within the apartment's shared space, as Wi-Fi is available in all areas.
🍲 Best restaurants in Jalatlaco Oaxaca City
La Calenda de Jalatlaco
📍De La Noche Triste, Barrio de Jalatlaco
💲 from $2 USD
Suppose you want an outdoor-type multi-level Mexican restaurant with a pleasant rooftop view near the Templo de Santa Matias. In that case, it's definitely at La Calenda de Jalatlaco. The restaurant has a vast space where tables for large groups of family or friends are available all day.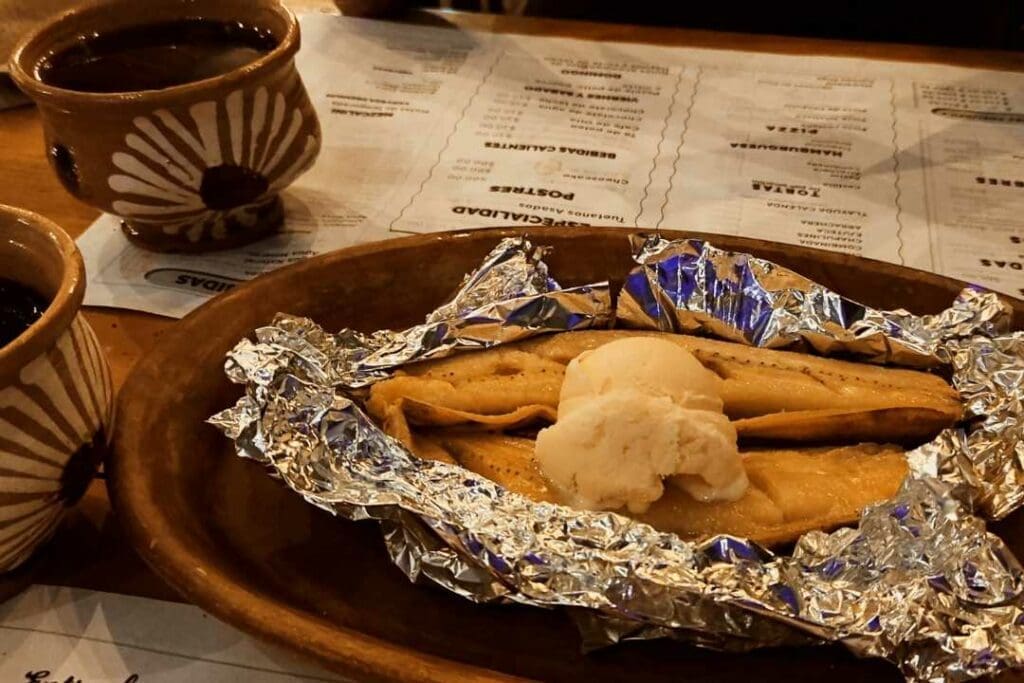 When dining at La Calenda, you can try their most recommended Vegetarian Mexican Pizza (Tlayuda Vegetariana), which has a thin crust and lots of cheese, for about $7 USD. Another dish on their menu is the traditional Tacos de Camaron, which you can customize based on preference.
The food prices at La Calenda de Jaltlaco are from $4 USD to $15 USD. Meanwhile, they also serve drinks like local beer, agua, juice, and much more, starting at $2 USD.
Pisa Pizza
📍Miguel Hidalgo 111B, Barrio de Jalatlaco
💲from $5 USD
Pisa Pizza is a popular Italian restaurant located on the colorful street of Miguel Hidalgo in Jalatlaco. The outside walls of the restaurant are painted with a wonderful mural, keeping the vibrant vibe of Jalatlaco. But once you enter the property, you will see more modern and chic decor in an indoor seating area and a balcony on the second floor.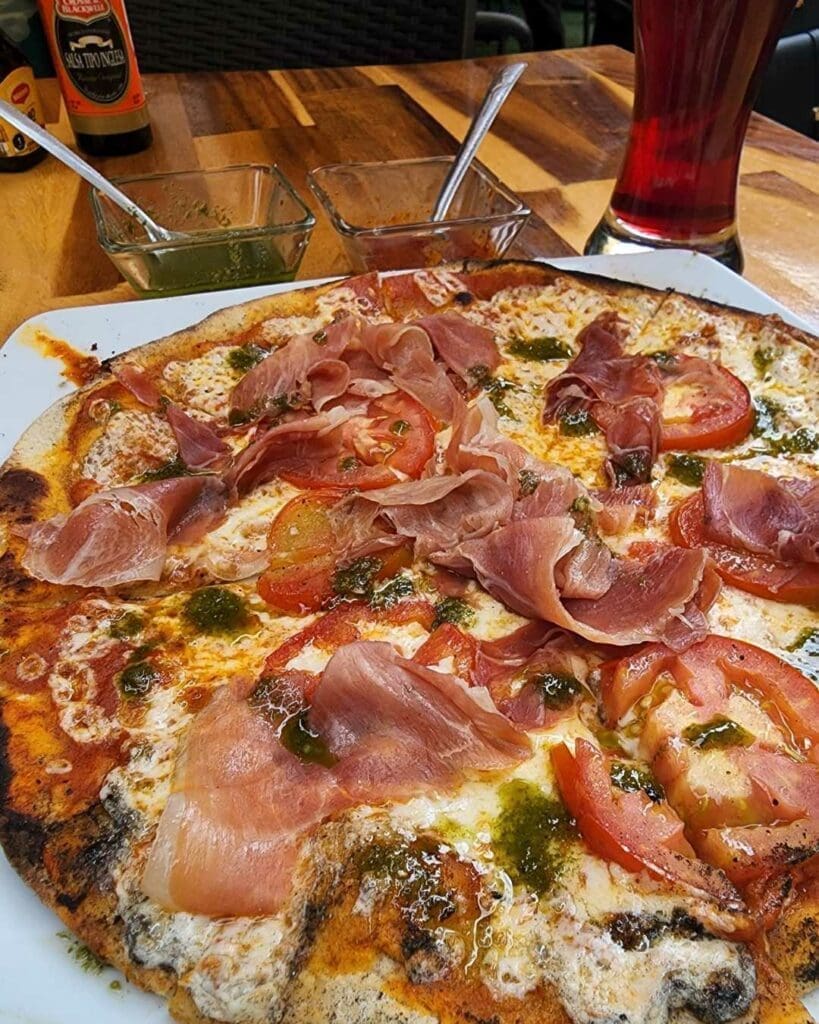 The pizzeria offers a variety of classic and creative pizza options cooked in a traditional oven. But, among their best-seller is the Caprese pizza paired with their house salad and homemade sauces. It is also highly recommended to get pasta for a complete meal.
The restaurant's food prices range from $5 USD to $30 USD, depending on which dish you will be ordering. You'll need at least a budget of $25 USD for each person to enjoy Pisa Pizza's food.
El Biche Pobre
📍Calz. de la República 600, Barrio de Jalatlaco
💲from $2 USD
El Biche Pobre is a traditional restaurant serving authentic Mexican food beside the Bario Jalatlaco Welcome Arch. The restaurant takes pride in keeping the vibe and atmosphere local and homey, which explains minimal decors. Yet, they serve authentic Mexican cuisine, which attracts locals and tourists alike.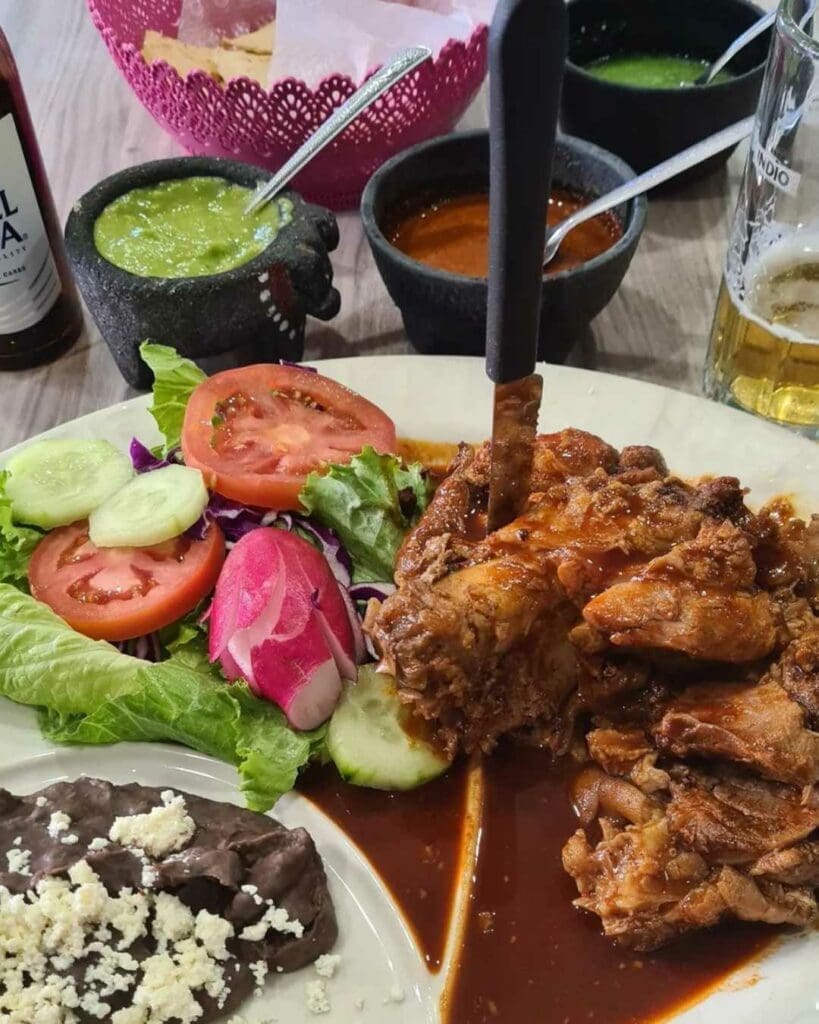 The restaurant's food portion is large and usually served on classic plates. And although they have almost everything on their menu, you should not miss out on El Biche Pobre's take on the traditional black mole. Another crowd favorite is the shrimp fajitas and chiles rellenos.
The food here is relatively cheap, and you can already enjoy their dish for only $10 USD. Take cash with you, as they do not accept credit cards.
La Terraza del Copal
📍 Callejon, Niños Heroes #312, Centro
💲 from $5 USD
When visiting La Terraza del Copa, you will be welcomed by a small door leading you to a colorful rooftop, where the restaurant is located. The atmosphere here is perfect for those who want to dine and chill while getting a view of the neighborhood.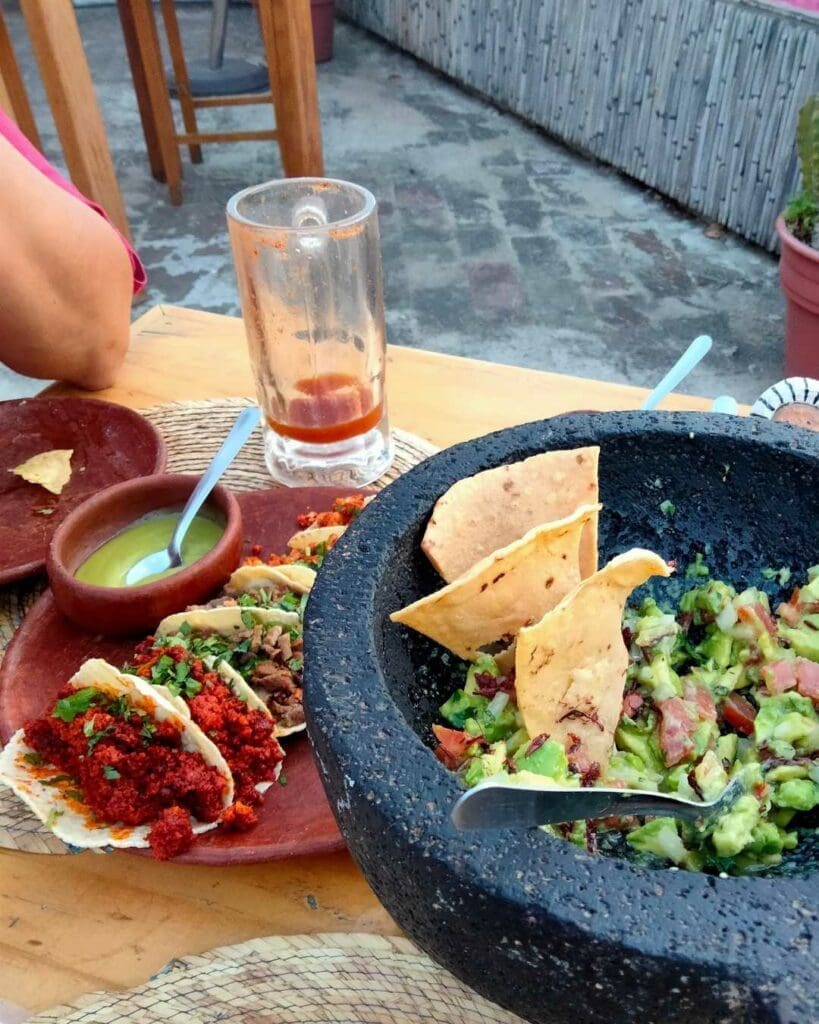 La Terraza del Copal serves traditional Oaxacan cuisine, and their chilaquiles verdes and chilaquiles guajillo are a must-try. They have many breakfast selections, perfect for a morning meal and throughout the day.
You'll need at least $15 USD for a whole meal when dining at La Terraza del Copal. This already gets you a drink, appetizer, and a main.
Black Armadillo House
📍 5 de Mayo 307, Barrio de Jalatlaco
💲 from $3 USD
Black Armadillo House is another famous restaurant in Jalatlaco, with outdoor seating. It is a chill spot with fantastic food, ample portions, and excellent service. You'll also notice that it stands out among other restaurants in the neighborhood since they are going with a rustic and industrial vibe.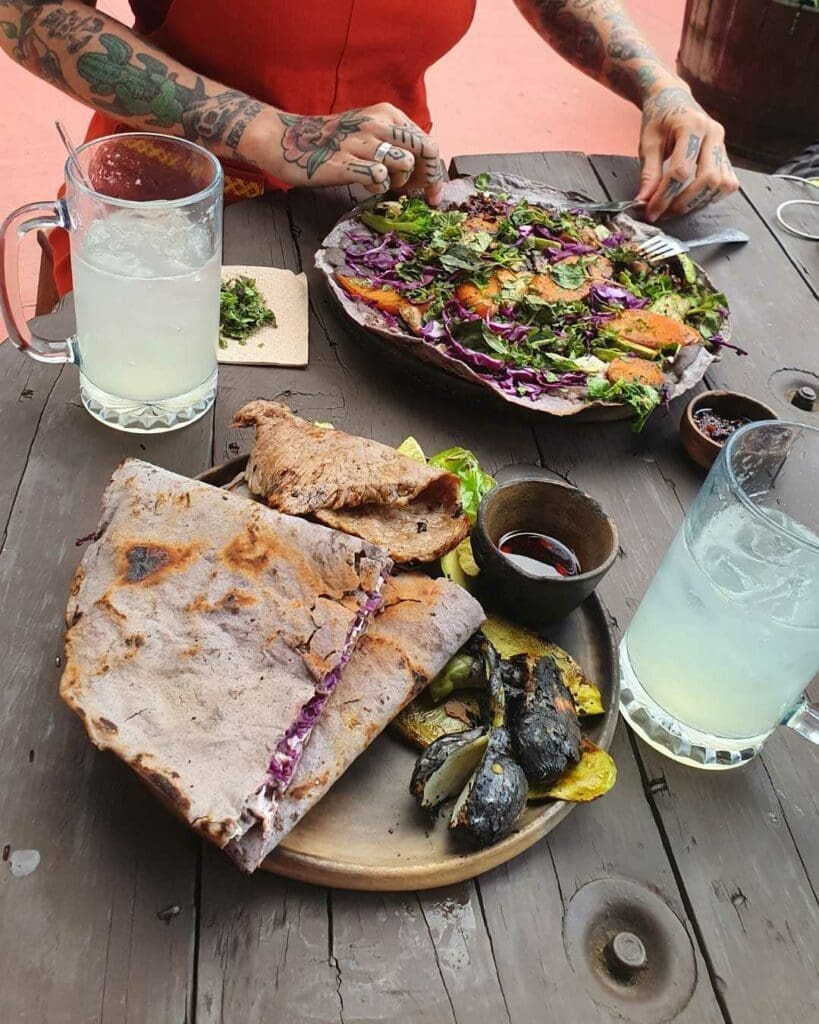 The restaurant has various options, but the crowd's favorite is the Tlayuda con Hongos (Mexican Pizza), which is about $6 USD. They also have mezcal cocktails you should not miss out on, especially since you are in Oaxaca.
The average price per person when eating at Black Armadillo House is around $10 USD to $15 USD. They have drinks as low as $3 USD, and food starts at $4 USD.
Santa Hierba Jalatlaco
📍 5 de Mayo 505, Barrio de Jalatlaco
💲from $3 USD
Santa Hierba Jaltlaco is a multi-level restaurant located at the corner of 5 de Mayo and De la Noche Triste. They serve breakfast, lunch, and dinner, as many vegan options. And aside from good food, they also have that tropical atmosphere, where you'll be surrounded by colorful paintings, murals, and lush greens while dining in.
Chilaquiles are one of their most sought dishes. They also serve fresh vegetable pasta, which is recommended especially to those with special dietary requirements. For dessert, you can try their fruit waffles too!
Prices at Santa Hierba are pretty reasonable and affordable. You can get a drink for as cheap as $3 USD, while food starts at $5 USD.
Las Chilmoneras
📍 Alianza 104-D, Barrio de Jalatlaco
💲from $3 USD
Right on the edge of Jalatlaco, you'll find a vibrant blue breakfast cafe – Las Chilmoneras. They have a few tables outside their garden and indoor seating, perfect for those who want a more relaxed vibe. Las Chilmoneras is well known for serving aesthetically looking authentic Mexican meals.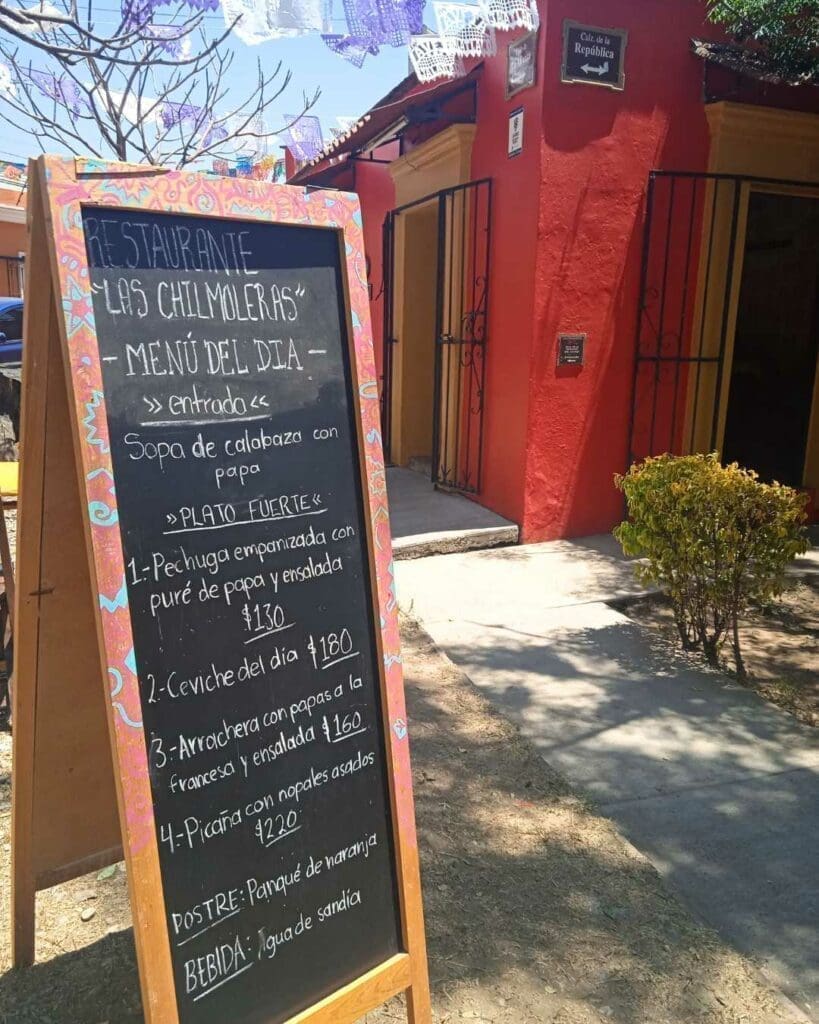 With wide dish varieties to choose from, the establishments take on breakfast set menus on a whole new level. It includes a drink, veggie soup, main, and a dessert that changes daily, depending on available local ingredients.
Their breakfast menu starts at $5 USD, but varies depending on what they will be serving. Meanwhile, you can get a la carte dishes and drinks starting at $3 USD.
La Casa de La Chef
📍 Calz. de la República 302, Centro
💲from $2 USD
La Casa de La Chef is a daytime Mexican restaurant open from 8:00 AM until 5:30 PM, serving only breakfast and lunch. They have a relaxing atmosphere with indoor and outdoor seating, perfect for those who want to chill with friends or spend some time alone trying Mexican meals.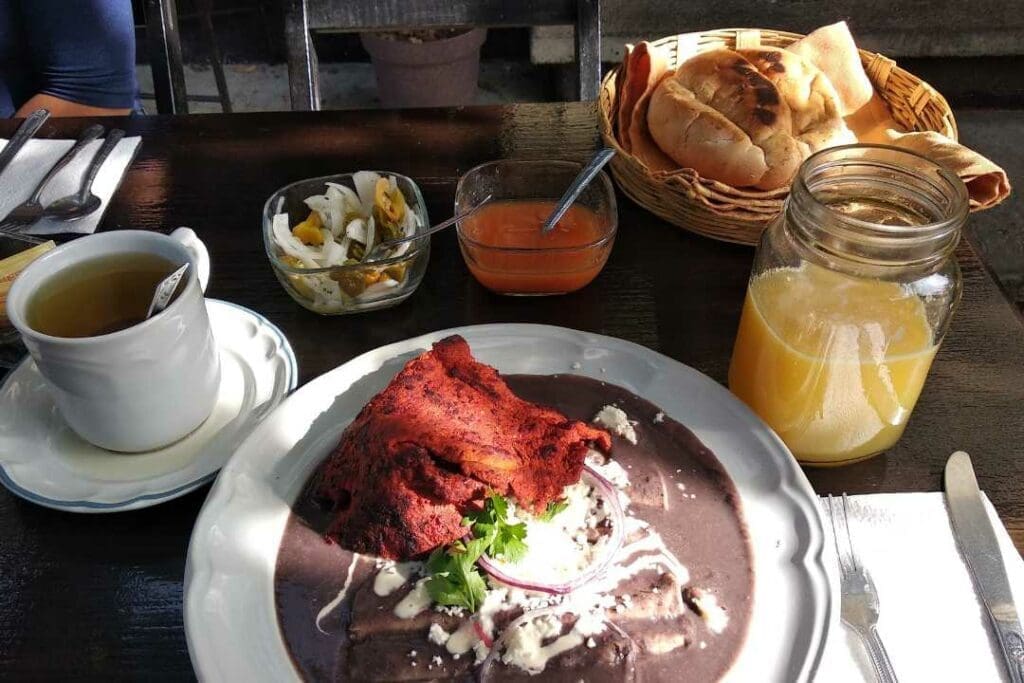 Among their best-sellers is the comida corrida (small meal course) that gets you a salad, a soup, a dish of the day (including a vegetarian option), and a dessert. You can also get a la carte dishes like pasta and burgers.
Their comida corrida starts at $5 USD, depending on what main meal you will be getting. They also have available drinks, which begin at $2 USD.
☕ Best cafes in Jalatlaco Oaxaca City
El Agora de Jalatlaco
📍 Aldama 404 A, Barrio de Jalatlaco
💲 from $2 USD
El Ágora is a quiet little cafe with various food offerings. It is located at Casa Arnel, serving full meals, coffee, pastries, and desserts. Their menu prices are reasonably low, starting at $1 USD for a cup of coffee and a dinner at $4 USD or more.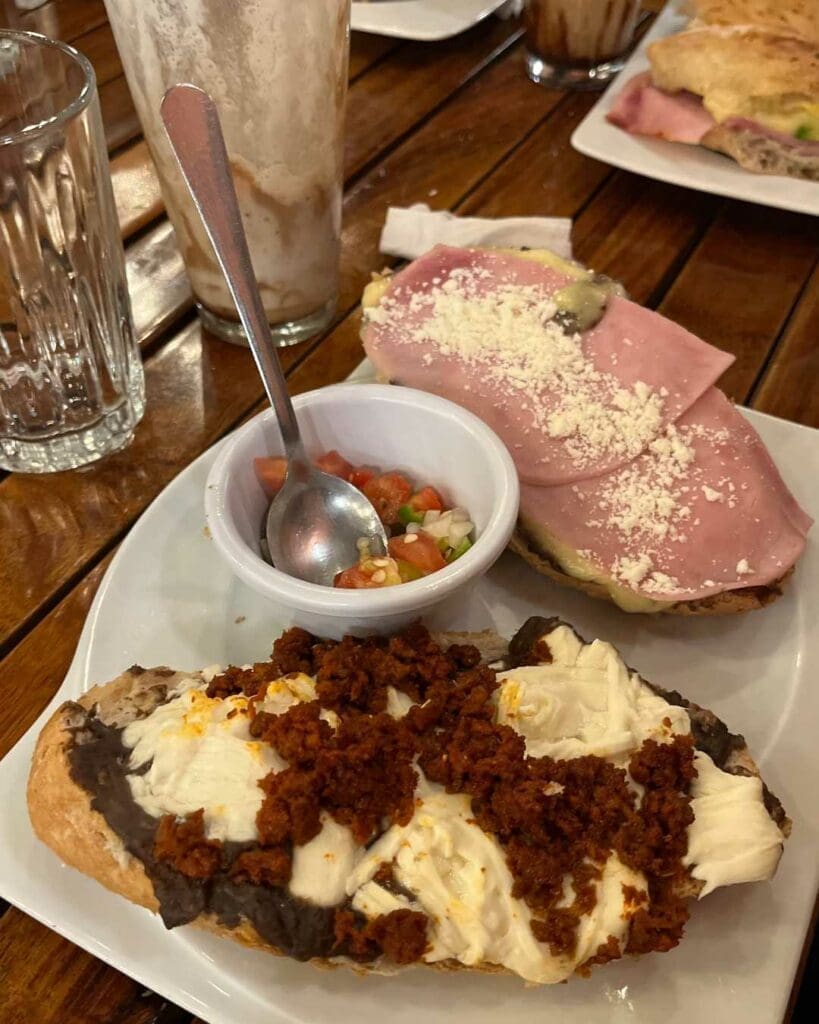 The cafe has available power outlets, which can be helpful for digital nomads. El Agora also has various seating options, including couches inside the restaurant so that you can find a comfortable workplace. In addition, the cafe's terrace has a great view of the temple of San Matias Jalatlaco, making it a great place to chill and work all day.
Tribuna Libre Cafeteria
📍 Curtidurías 220, Barrio de Jalatlaco
💲 from $2 USD
Tribuna Libre Cafeteria is a local rustic cafe located at the corner of Calle de Curtiduruas and Calle de Ignacio Aldama. You can already get a drink here for as low as $2 USD, and they also serve a few pastries and desserts.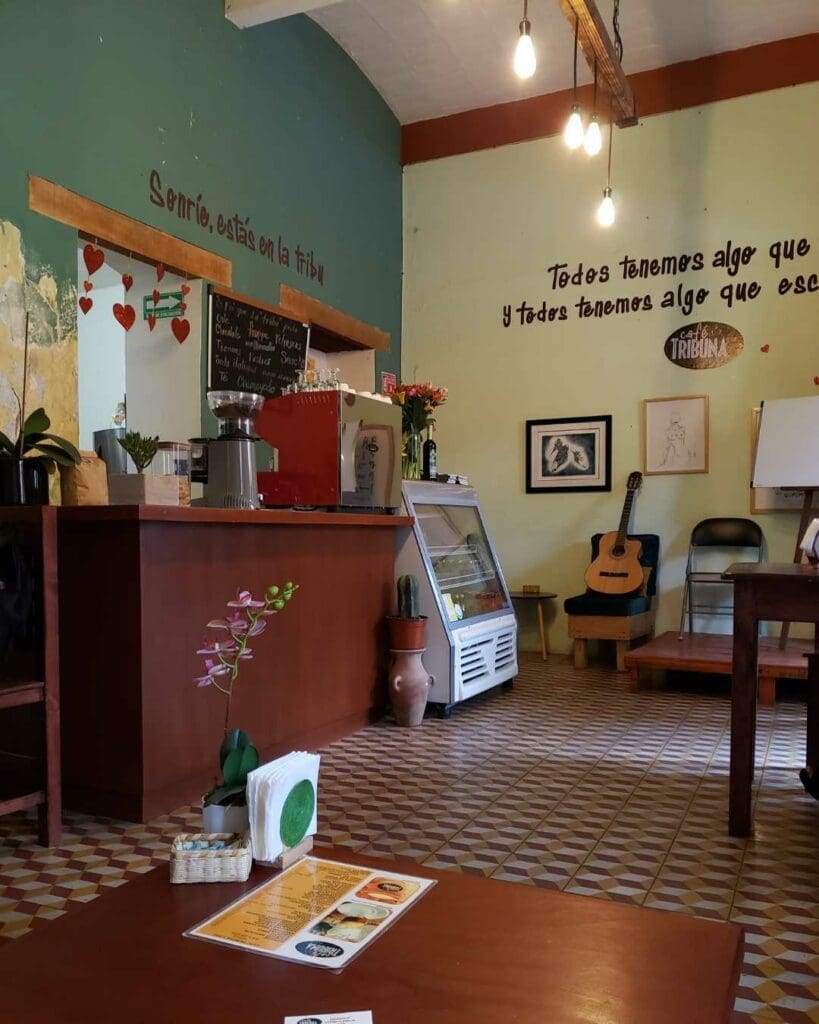 The cafe is small and intimate, making it an excellent place to spend the afternoon with friends and family over coffee. And despite being quaint, the restaurant has numerous seating options, including couches, long tables, and chairs. In particular, digital nomads can lounge and work on their couches, as they offer free Wi-Fi to their customers too.
The Pleasure
📍 Aldama 322, Barrio de Jalatlaco
💲 from $1 USD
The Pleasure is a colorful and quaint cafe serving a wide selection of hot and cold coffees, teas, and pastries. Prices range from $1 USD to $5 USD, which is pretty cheap for a famous coffee shop. It is strategically located just a few steps from Jalatlaco's church, making it accessible to everyone.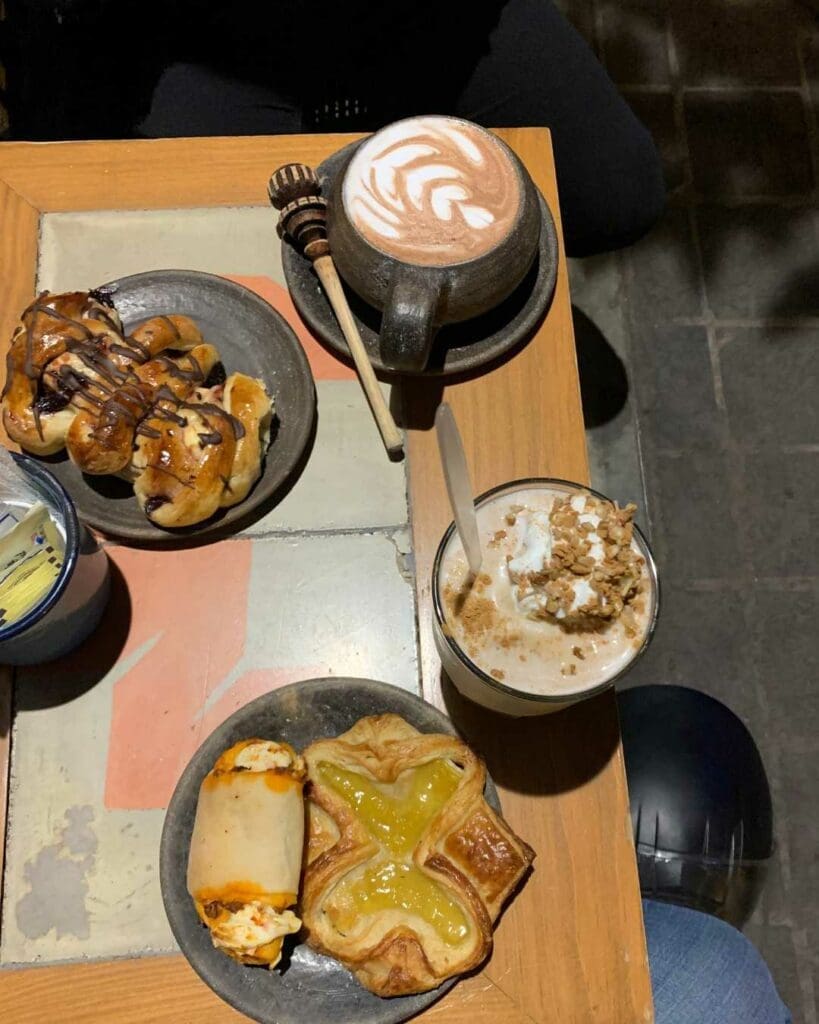 The cafe's ambiance is perfect for solo travelers and digital nomads. Since it's small and only has enough tables for groups of 2 or 4's, few large groups come to meet and work here. They also have free Wi-Fi available for customers to use.
Aareo Specialty Coffee
📍 Aldama 115, centro, Barrio de Jalatlaco
💲 from $2 USD
Aero Specialty Coffee is a locally owned cafe managed by knowledgeable and passionate coffee lovers. They get all their supplies from local farmers and are eager to work with quality ingredients to serve good coffee to customers. They do only a few kinds of coffee, priced from $2 USD to $7 USD each.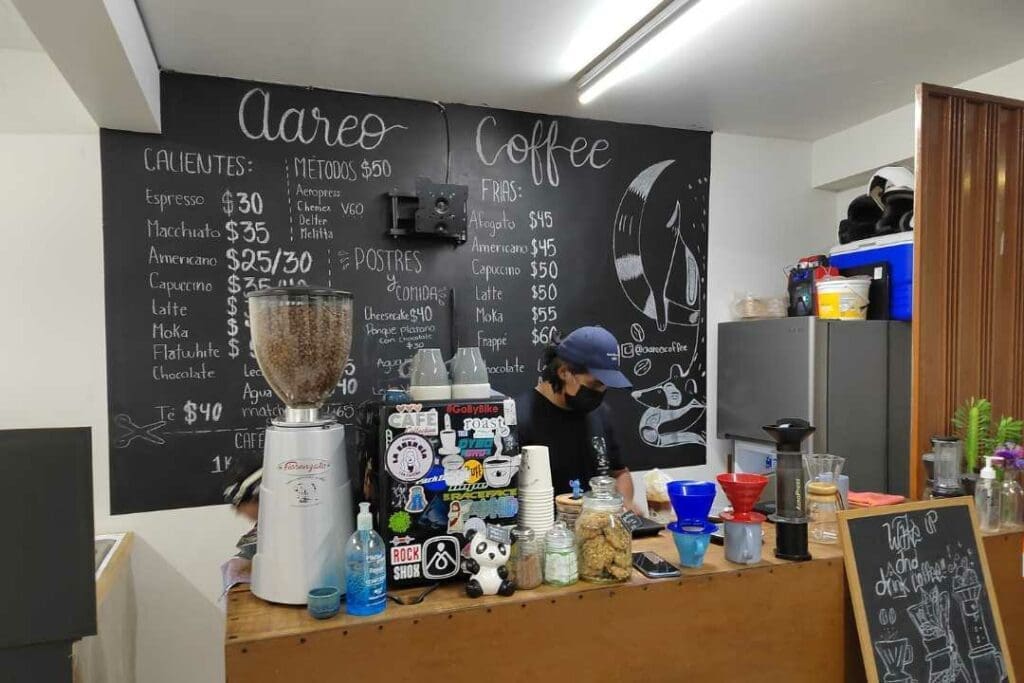 The place can easily be accessible to locals and travelers alike. Since it is just located in the colorful streets of Jalatlaco, digital nomads can quickly come here to work. They even have multiple outlets and plugs, which you can use while working.
Jalatlaco Comparsa
📍 Hidalgo 302, Centro
💲 from $2 USD
Jalatlaco Comprasa is a coffee shop well-known for serving great coffee and breakfast meals. They use local and organic ingredients to make their drinks, which adds to the authentic Jalatlaco hipster vibe. It is located just in the main church of Jalatlaco and is perfect for chilling during the day.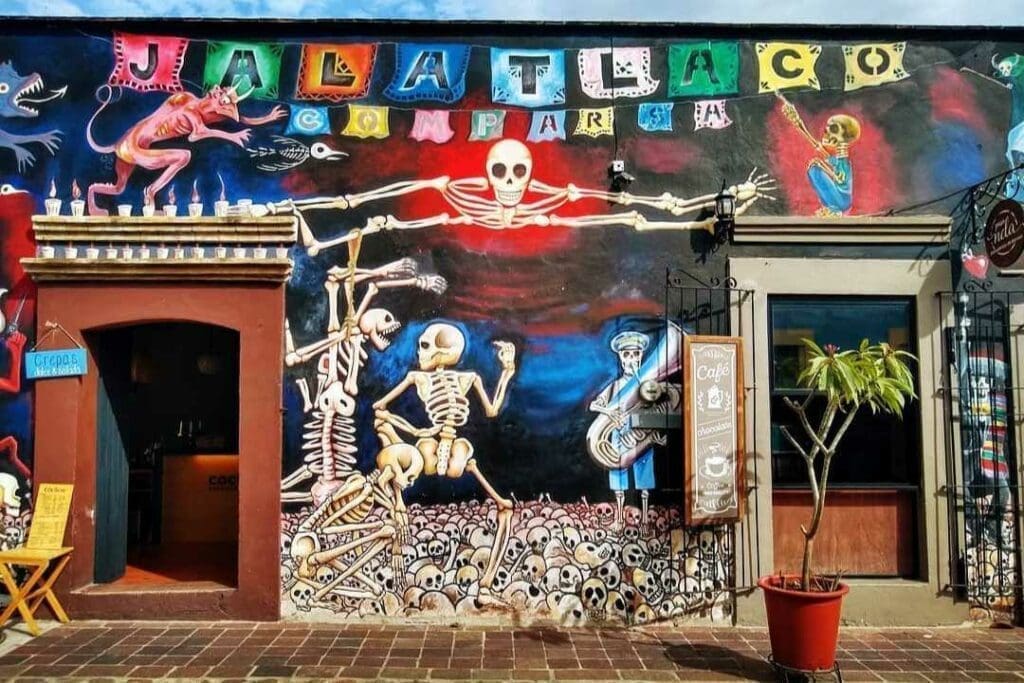 Digital Nomads can get coffee while working in this quaint cafe. They have available sockets and Wi-Fi, two of the essential things digital nomads need!
⁉️ FAQ : Jalatlaco Oaxaca neighborhood
What is the hipster part of Oaxaca?
While different people may have different opinions on what constitutes the "hipster" part of Oaxaca, Jalatlaco has been considered by many locals and travelers as the hipster part of the city.
Jalatlaco is a historic neighborhood located just east of the city center, known for its well-preserved colonial architecture, charming streets, and trendy cafes and shops. It has a laid-back, bohemian vibe that attracts artists, musicians, and creative artists.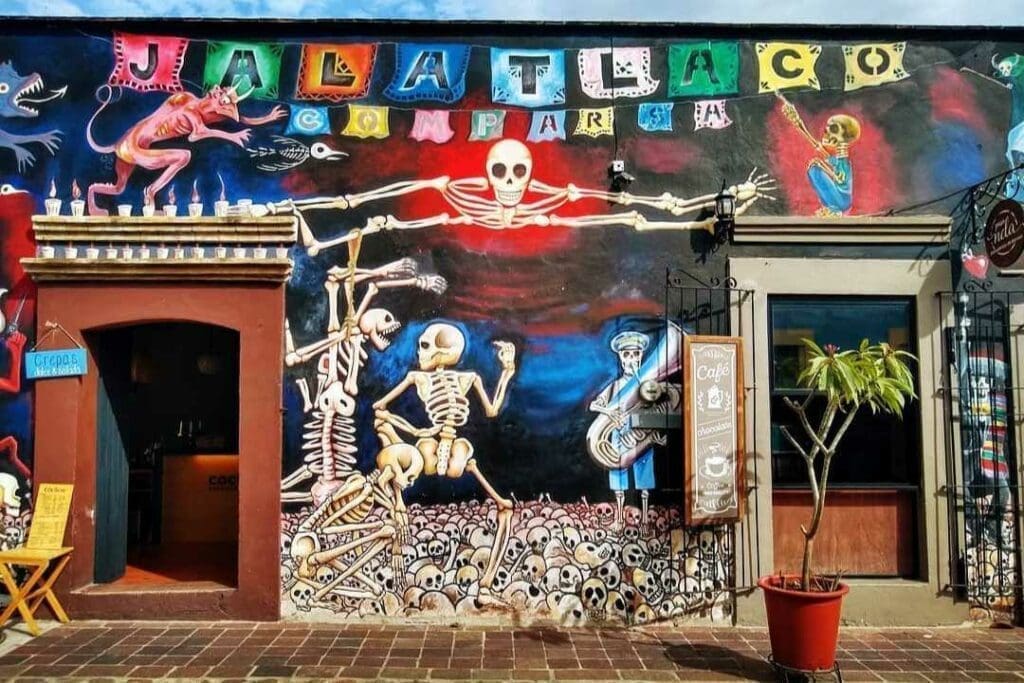 Moreover, the neighborhood is also home to several art galleries, artisanal markets, and cultural centers, which are popular with locals and visitors. You can even see many houses and buildings with bright colors and intricate designs in the neighborhood.
In recent years, Jalatlaco has become increasingly popular with tourists seeking a more off-the-beaten-path experience in Oaxaca. Many hip and trendy businesses have opened up in the area. They feature alternative decors, such as upcycled furniture, vintage wallpaper, and eclectic artwork, which adds to the neighborhood's hipster appeal.
What is the colorful neighborhood in Oaxaca?
Jalatlaco is a colorful Oaxacan neighborhood known for its bright, bold streets and brilliantly painted residences.
The historic colonial buildings in the neighborhood are also frequently painted in pink, orange, blue, and green, creating a vivid and aesthetically appealing sight.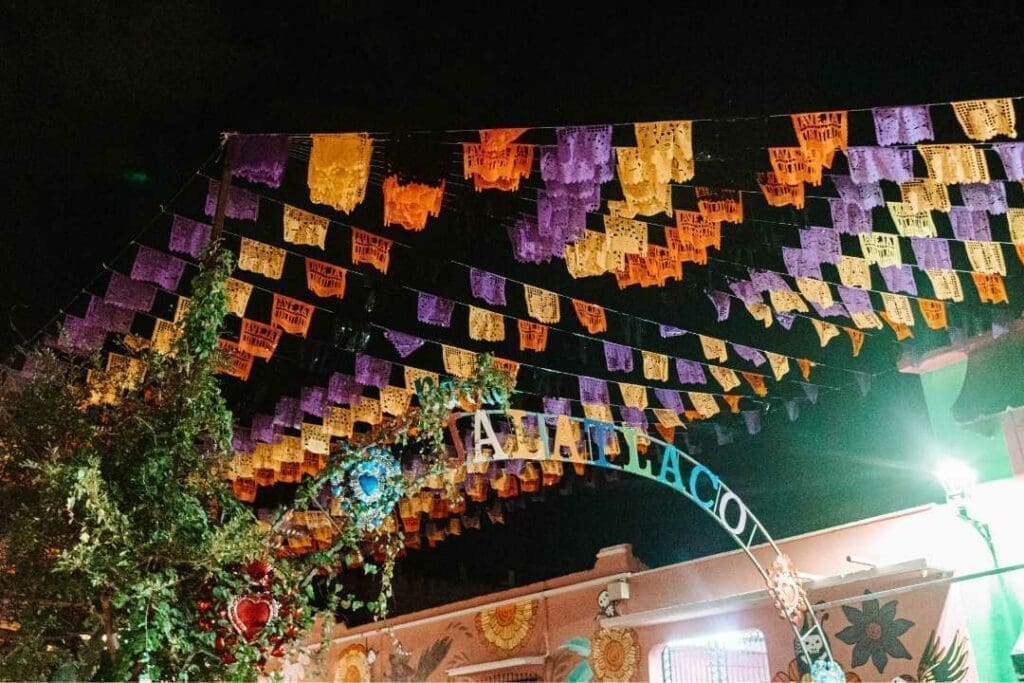 Accordingly, the colors used on the historic buildings are often inspired by the natural surroundings of Oaxaca, such as the vibrant flowers and plants that grow in the region.
In addition to its colorful houses and colonial buildings, Jalatlaco is also known for its bohemian and vibrant artistic air. Many tourists come to see the neighborhood's murals and other forms of public art, which add to its colorful and creative atmosphere.
What is the oldest neighborhood in Oaxaca?
The oldest neighborhood in Oaxaca is Barrio de Jalatlaco. It was founded in the 16th century and is located southeast of the historic center of Oaxaca City. The charming streets and alleys of Jalatlaco are lined with traditional colonial-style houses, many of which are painted in vibrant colors.
The neighborhood is also home to the beautiful Templo de Nuestra Señora de la Merced, one of the oldest churches in Oaxaca. Today, Jalatlaco is a popular destination for visitors looking to immerse themselves in the local culture and experience the authentic charm of Oaxaca City.
What is the neighborhood in Oaxaca with murals?
The neighborhood in Oaxaca with murals is called Barrio de Xochimilco. This neighborhood is known for its beautiful and colorful murals that cover the walls of many buildings. The murals are the works of local artists who have used the walls as a canvas to express their creativity and showcase their unique styles.
The murals depict a range of subjects, from the history and culture of Oaxaca to contemporary social issues. Xochimilco is located just east of the historic center of Oaxaca City and is a great place to explore for art lovers and anyone interested in the vibrant street art scene of Oaxaca.
Is Oaxaca safe to walk around at night?
Oaxaca is generally a safe city, but it's always important to take precautions when walking around at night. It's recommended to stick to well-lit and busy areas, and avoid isolated or unfamiliar parts of the city.
It's also a good idea to travel in groups, if possible, and avoid carrying valuables or large amounts of cash. As with any city, it's important to stay aware of your surroundings and trust your instincts.
If you're unsure about the safety of a particular area or have any concerns, it's best to ask locals or hotel staff for advice.
Trisha traveled to Mexico in 2018 and after a year, she found herself obtaining a 4-year residency visa in Mexico. She is the Editor-in-chief for our Living in Mexico Series which has helped over 3,000 Americans move to Mexico with ease. Trisha currently resides in Cabo San Lucas, Baja California Sur.