Discover the vibrant heart of the capital's culinary culture on tasty Mexico City food tours through the bustling city, all hosted by locals!
Mexico City, a gastronomic capital, boasts a food culture as diverse and vibrant as the city itself.
Traditional and contemporary Mexican cuisine collide in a mouthwatering mix of regional flavors and unique culinary styles.
Here, food is an art form, woven into the fabric of everyday life and special occasions alike, serving as a rich tapestry of the city's history, heritage, and identity.
From the first-time traveler to the seasoned foodie, our Mexico City food tours offer an immersive experience that will tantalize your taste buds and deepen your appreciation of Mexican cuisine.
Join us to explore, learn, and, most importantly, eat your way through Mexico's dynamic capital city.
Plan your trip to Mexico with us! Get expert travel advice and customized trip-planning itinerary from our local experts on the ground.
🌮 Top 3 picks for food tours in Mexico City
🍲 Best Mexico City food tours
1. Culinary Corners: Street Food Secrets Unveiled
⏰ 5.5 hours
💲from $99 USD
➡️ Book it here
Begin your authentic journey in the heart of Mexico City by meeting your knowledgeable local guide at the designated meeting point in the Historic Center.
To kick off the experience, you'll first immerse yourself in the local way of life by taking a ride on the Mexico City subway.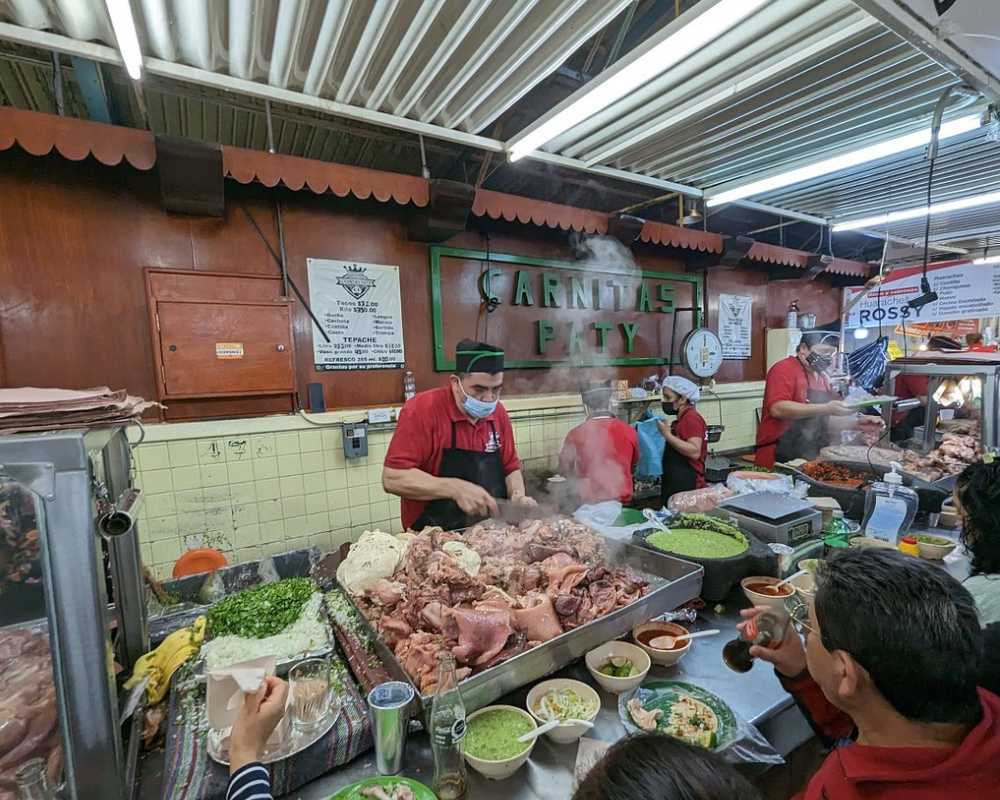 Those tamales? Simply out of this world!!! The unexpected highlight is riding the subway because I always thought it was unsafe. I felt connected, enriched, and deliciously satisfied. A must-do for anyone seeking both flavor and culture. Thanks to everyone, especially to all the travelers I met on this tour.

Freja Vestergaard
This food tour in Mexico City will lead you to two of the capital's essential markets, bustling hubs of activity, and culinary delights. You'll be introduced to an array of mouth-watering street food in these markets.
But the tasting doesn't end there! We'll continue our gastronomic adventure with a street food crawl throughout the Historic Center.
Prepare yourself for a delightful culinary marathon, as this tour boasts more than 14 different tastings. It's highly recommended to come with an appetite!
2. Heart of Mexico City: Monuments & Munchies Tour
⏰ 4.5 hours
💲from $99 USD
➡️ Book it here
Begin your day with a local guide at the chosen meeting point, diving into the heart of the lively Guerrero neighborhood.
Savor a traditional Mexican breakfast before immersing yourself in the bustling ambiance of a nearby market.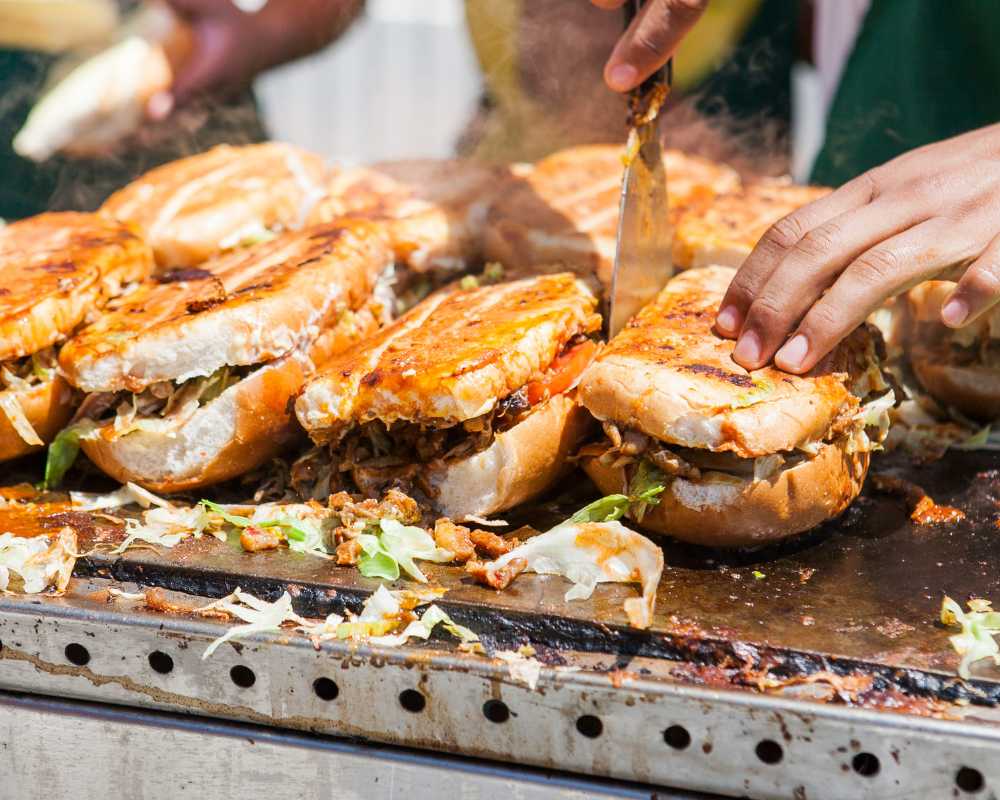 Olin surprised us with a visit to the Guerrero neighborhood – a gem we hadn't heard of before and it was worth it! The blend of iconic sights and hidden treasures made our experience unique and unforgettable.

Fallon van de Meent
Navigate the Mexico City metro, experiencing the pulse of the city firsthand. Marvel at the iconic Revolution Monument and head to a local bar to sample the ancient pulque drink.
Continue your walk through the tranquil Alameda Central Park, pausing briefly at the magnificent Palace of Fine Arts.
Glimpse up at the towering Torre Latinoamericana, one of the many landmark stops on this enriching journey.
Cap off the tour atop a rooftop bar, reminiscing over the day's adventures with a panoramic city view.
3. Savor the City: A Taco & Beer Walkabout in Historic Mexico
⏰ 2 hours
💲from $99 USD
➡️ Book it here
At the marked meeting spot in the Historic Center, you'll meet your friendly local guide. From there, get ready for a mouth-watering trip as you visit over 9 local taco spots all over the city.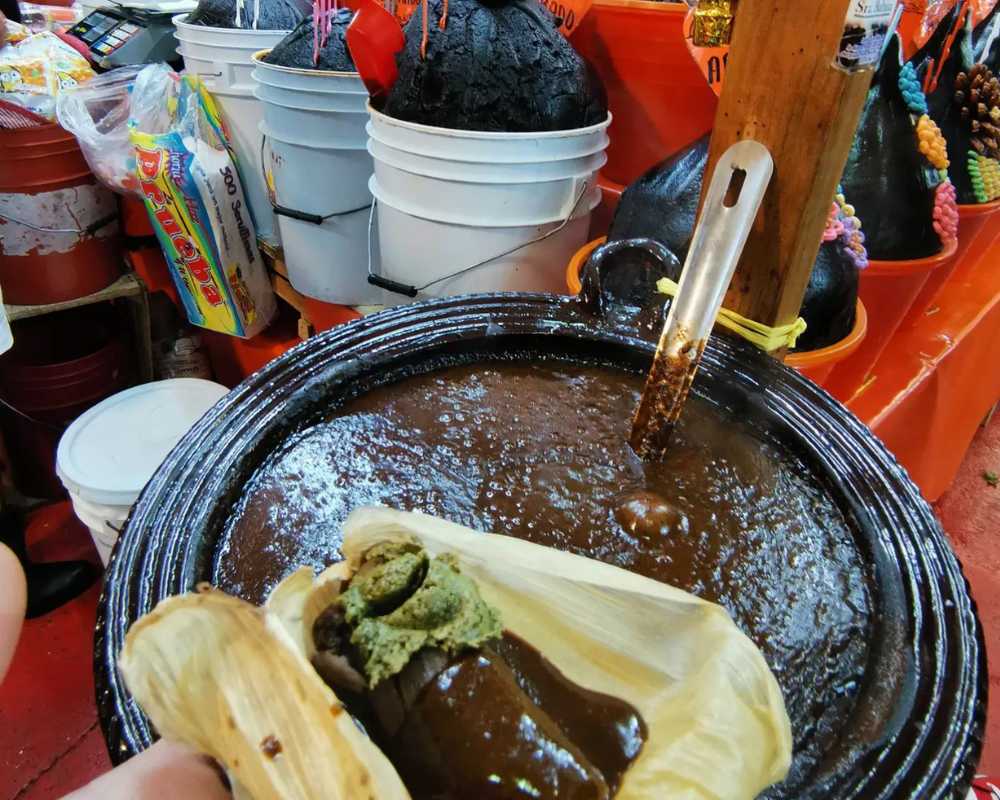 Each taqueria has its special flavor, and you'll get to try a wide range of the city has tacos. You'll pair these tasty bites with traditional Mexican beers, making for a great mix of flavors.
You'll also have the chance to walk around the historic center as you eat and drink.
This is a great way to see the city's landmarks, hear stories about its past, and soak up the lively atmosphere while having some of the best tacos and beers around.
4. Tastes of Time: Santa Maria & San Rafael Culinary Quest
⏰ 5 hours
💲from $99 USD
➡️ Book it here
You'll meet up with our local buddy at this spot in Condesa. First, you'll grab some coffee and tasty Mexican bread for breakfast called pan dulce.
After that, you'll hop on bikes and ride to San Rafael. You'll learn some cool stuff about the place and stop at a taco stand because what's a visit without tacos!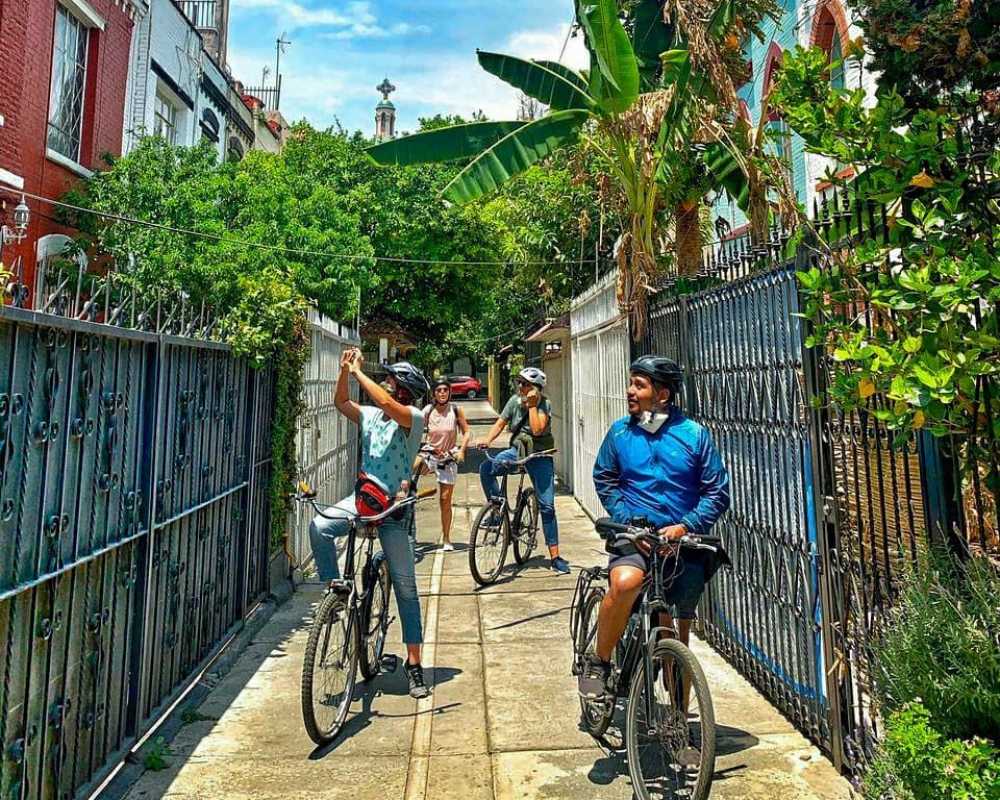 After cruising around San Rafael a bit, you'll pedal our way to Santa Maria la Ribera and check that neighborhood out too. You will stop at a restaurant where we can try dishes from Oaxaca.
While there, you will try pulque, an ancient Mexican drink you must know about. To wrap up the tour, you'll chill and drink some micheladas.
5. Mexico City Munch & Cycle: Sights, Bites, and Delights
⏰ 5 hours
💲from $99 USD
➡️ Book it here
First, you will meet your local guide at a meeting spot in Condesa. You'll kick things off with breakfast: thot coffee and some delicious Mexican bread.
After breakfast, you'll ride the bikes and head over to Roma. You will first visit this place in Roma which has the best tamales in the neighborhood.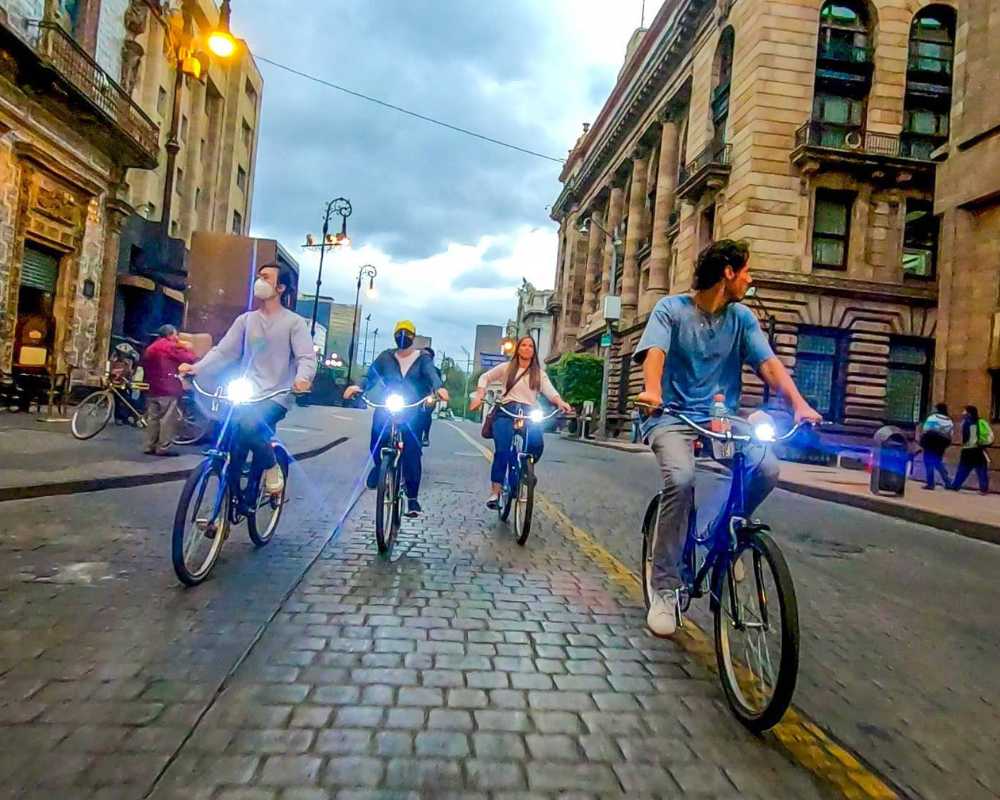 After that, you'll ride to a local market, check it out, and grab some snacks. Then, you'll bike over to Parque Mexico to sit down for a bit and continue eating snaccaks.
Then you will proceed to Chapultepec Park, one of the most-visited attractions in Mexico City.
You are going to end our day with churros! By the time you're done, you'll have explored up to 6 different neighborhoods in Mexico City.
6. Bikes, Bites & Barrios: A Culinary Cycle through Mexico City
⏰ 3 hours
💲from $99 USD
➡️ Book it here
First, you'll meet up with a local guide in the Juarez neighborhood. This neighborhood may not be as popular as Roma and Condesa but it is up-and-coming!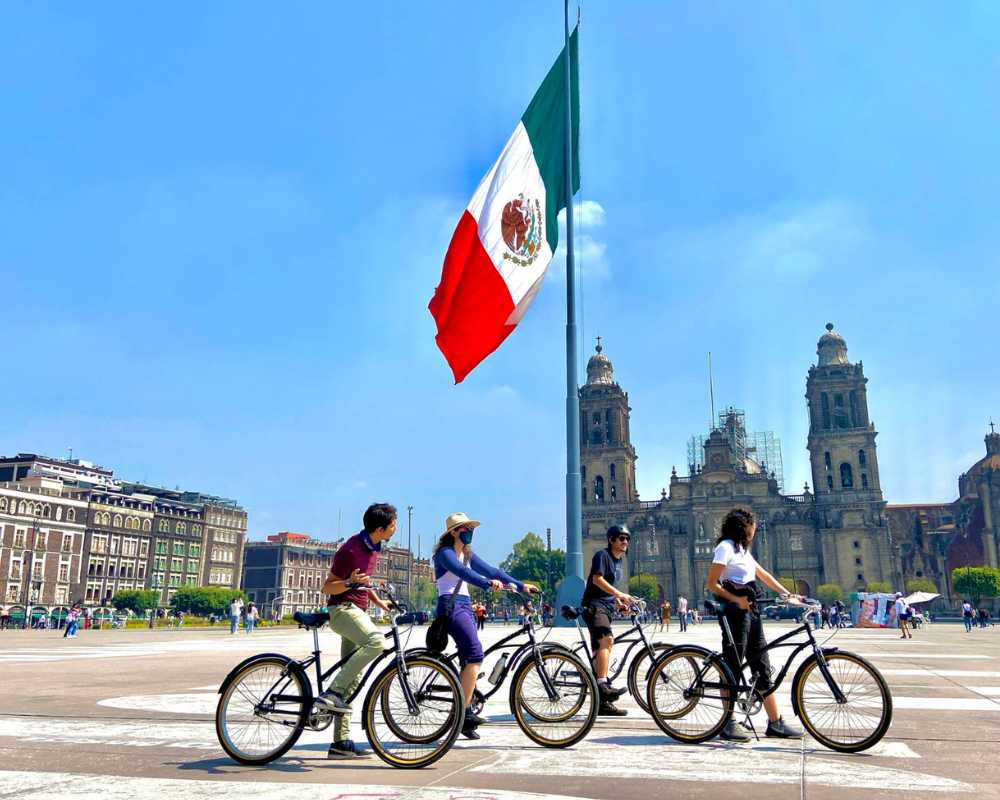 As your ride around, you're not just cruising through the streets; you'll make stops at markets, food stands, and those street food stalls that very few tourists know about.
And the best part is, as you pedal our way through these four neighborhoods, you'll really get to know the heart of each place. Definitely out of the mandatory tourist circuit.
7. Bike, Bite, & Brew: Tacos of Condesa and Roma Norte
⏰ 3 hours
💲from $99 USD
➡️ Book it here
Start by meeting up with our local guide in the Roma neighborhood, the most popular neighborhood in Mexico City.
You're not just going on a taco tour, but you'll be on bicycles! While cycling, you'll hit up markets, food stands, and those awesome street food stalls in Roma, Condesa, and Polanco.
As you pedal through Roma and Condesa, you'll get a real feel for these neighborhoods, all while eating delicious tacos. You'll wrap up our tour at a local pub with some cold beers and mezcals.
8. Fiesta of Flavors: Mexico City's Market Meander
⏰ 5 hours
💲from $99 USD
➡️ Book it here
First, you'll meet a local guide right in the Historic Center. From there, you're going to jump on the subway. Yup, the actual subway! It's a neat way to see how the locals live day-to-day.
Your first stop will be at Mercado La Merced for breakfast where you are going to try some tlacoyos, gorditas, and different types of tacos.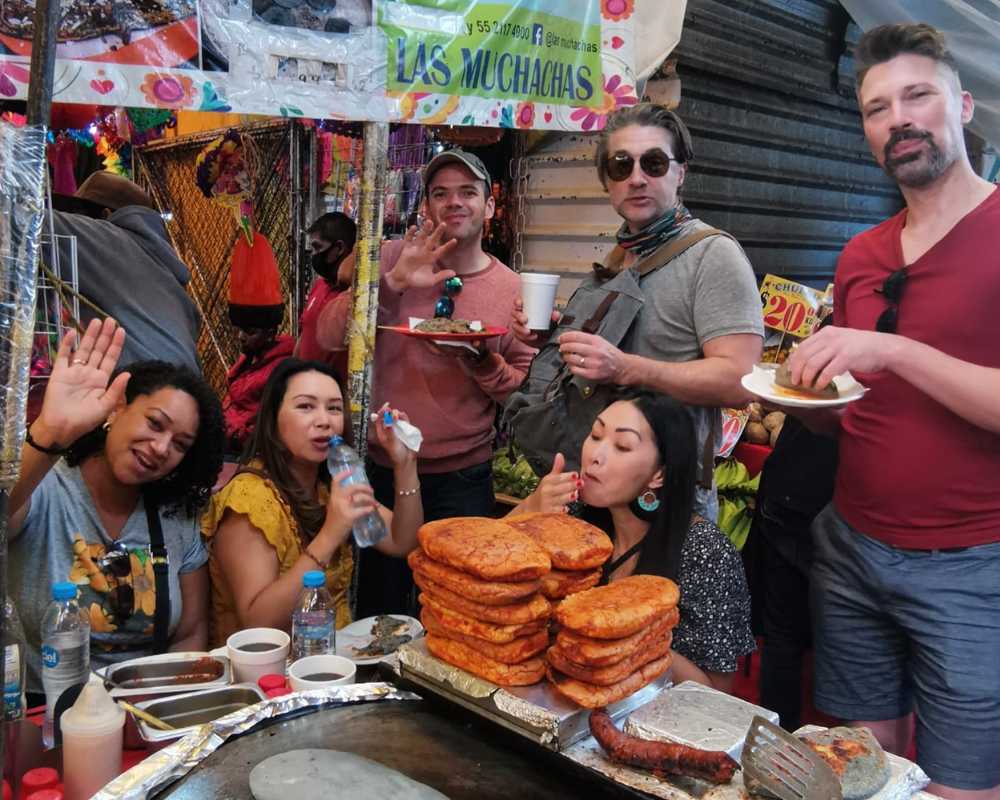 The guide will also show you around the market, introducing you to all these unique Mexican vegetables, fruits, medicinal plants, some magical items, and those traditional herbs that Mexico's famous for.
After that, you will head to Mercado San Juan, a market known for its gourmet and more exotic foods. Here, you will end the market tour with a mezcal tasting.
Make sure you're super hungry because you're doing more than 15 tastings on this Mexico City food tour!
9. Lucha Libre & Taco Trek
⏰ 4 hours
💲from $99 USD
➡️ Book it here
You'll meet up with our host at a spot in Roma. From there, you're going to stroll around three cool areas: Roma, downtown, and Juarez.
In each neighborhood, you are stopping to try some delicious tacos. Yup, it's a taco feast!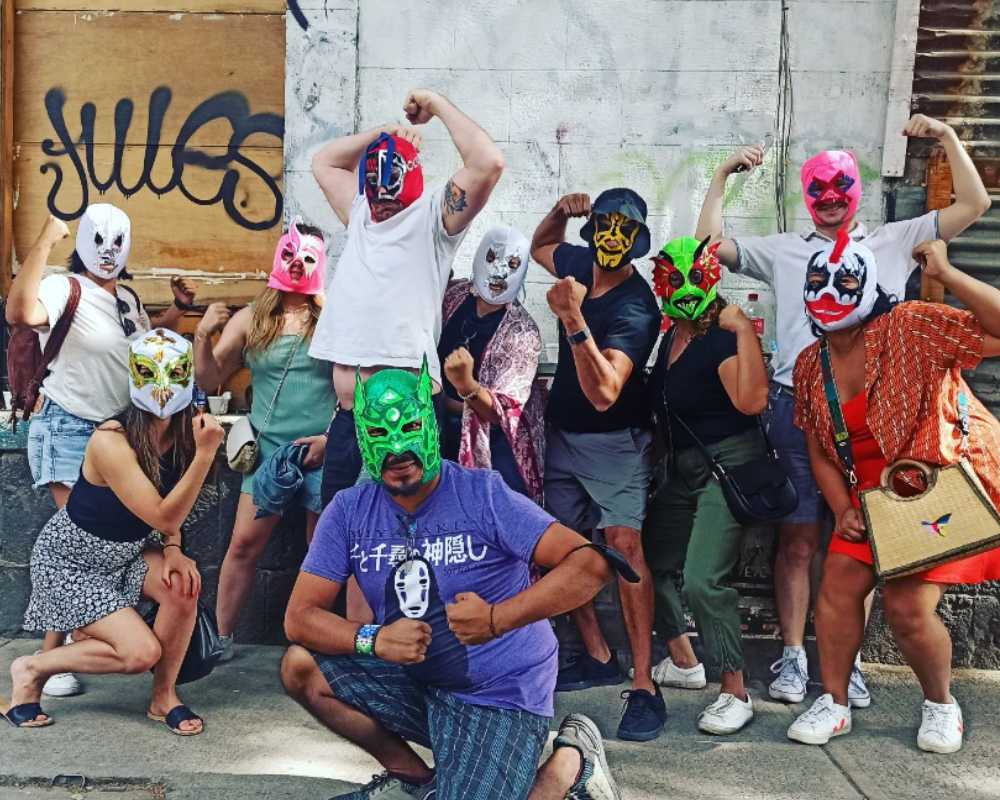 But that's not even the best part. After you've had your fill, you'll head to the Lucha Libre Arena, the place where they have those Mexican wrestling shows.
You're going to watch the game live and learn about the traditions of Lucha Libre.
10. Moonlit Mezcal & Mexico City's Tastiest Tacos
⏰ 3 hours
💲from $125 USD
➡️ Book it here
Meet up with our local guide in the Roma neighborhood, a great neighborhood to explore for first-time visitors to Mexico City.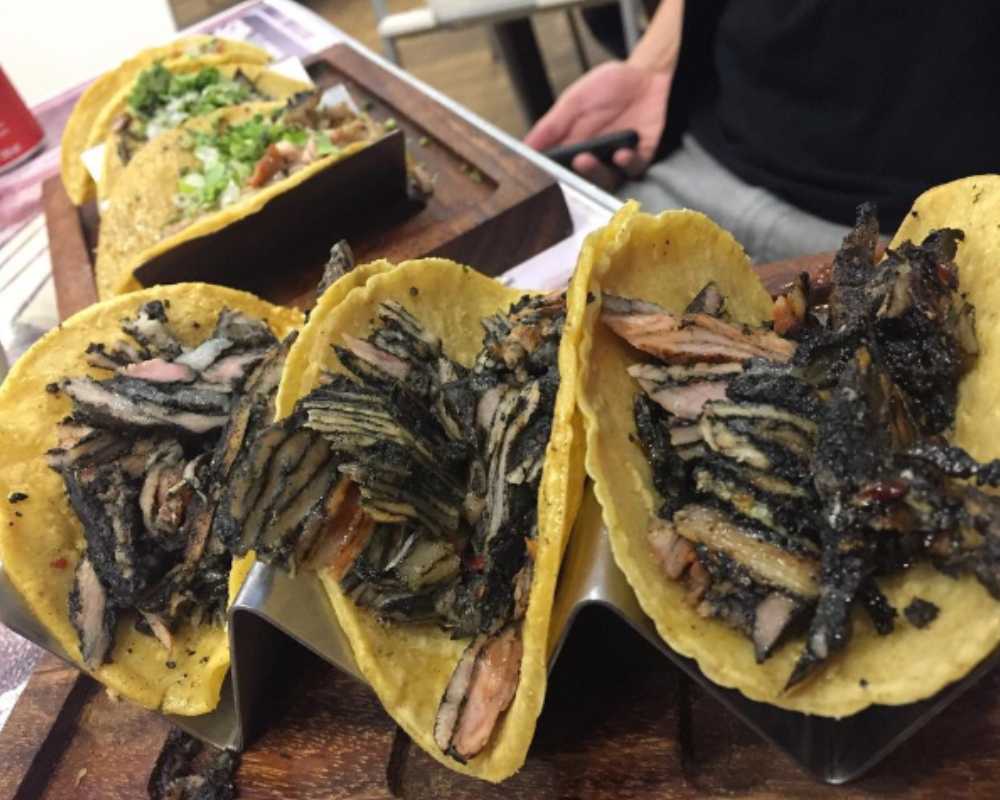 The guide is going to show you around and tell you all the cool stuff about this popular neighborhood. You're going to try different mezcals – yup, the real Mexican drink – and pair them with some amazing tacos.
You'll learn all about mezcal: where it comes from and how it's made. And here's the secret sauce: the guide knows the best-hidden taco spots in the city, especially the ones that come alive at night (and are open 24/7).
⁉️ FAQ: Food tours in Mexico City
Trisha traveled to Mexico in 2018 and after a year, she found herself obtaining a 4-year residency visa in Mexico. She is the Editor-in-chief for our Living in Mexico Series which has helped over 3,000 Americans move to Mexico with ease. Trisha currently resides in Cabo San Lucas, Baja California Sur.