Looking for the best Cabo Airport transportation? Our local drivers can take you to and from downtown to your resort but before you book, here is some important arrival information.
Welcome to Cabo, traveler! We've been living in Cabo San Lucas for a while and we always get this question: "how do I get to my hotel from Los Cabos Airport?!"
If it's your first time visiting our area, here are the best Cabo Airport transportation options with our local drivers.
Should you need help with booking, you can always get in touch with our office, hola[at]mexicoinsider[dot]mx, and look for Maria or Loys. Now let's get started in planning your airport transfer!
Plan your trip to Mexico with us! Get expert travel advice and customized trip-planning itinerary from our local experts on the ground.
✈️ Los Cabos Airport transportation: quick info
Before booking your Los Cabos Airport transportation, please take note of the following:
The airport that serves Los Cabos is San Jose del Cabo International Airport (SJD). There are many direct flights from major cities in the US and Canada – you don't need to stop in Mexico City.
Where are you staying? San Jose del Cabo and Cabo San Lucas areas have different airport transfer prices.
Los Cabos Airport is about a 45-minute drive to Cabo San Lucas downtown.
Los Cabos Airport is about a 25-minute drive to San Jose del Cabo downtown.
📍 Cabo Airport transportation zones and areas
First tip: Cabo Airport transportation does not have a fixed rate. The prices depend on the zones. In this section, you'll see the list of the hotels for each zone: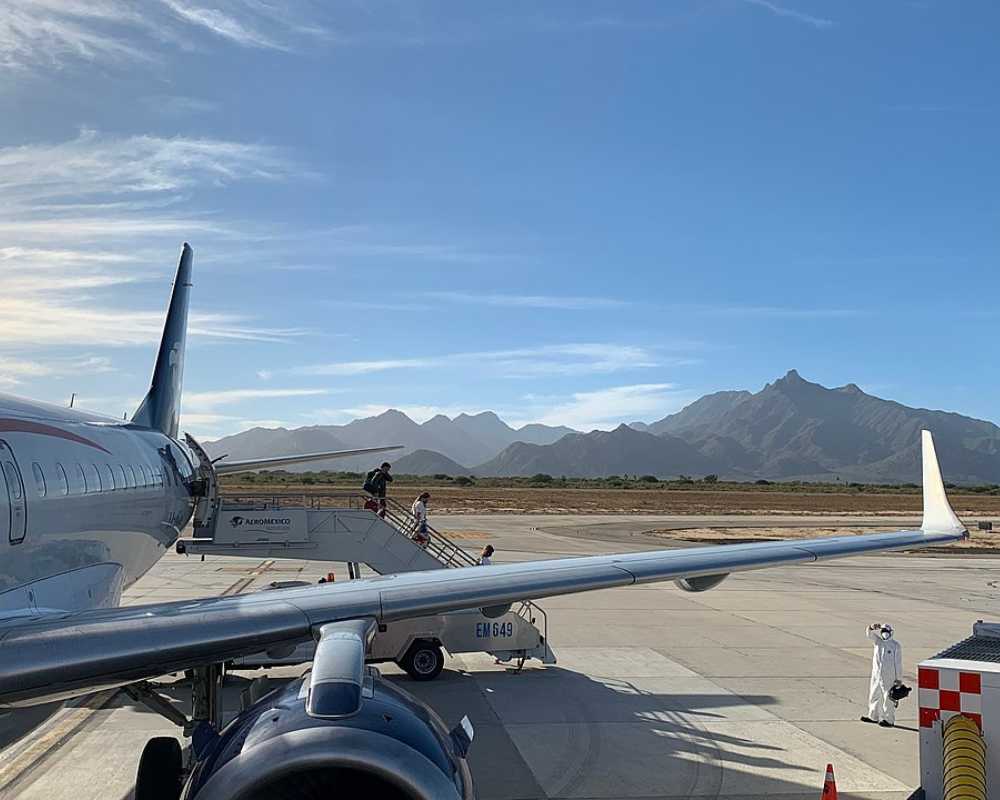 Zone 1: San Jose del Cabo Airport Transfer
Zone 1 is considered San Jose del Cabo, which is about 20 minutes away from the airport. The hotels covered in zone 1 are:
| | |
| --- | --- |
| Barcelo Grand Faro | Hyatt Palace |
| Cabo Azul | Hyatt Ziva |
| Casa Natalia | Krystal Grand |
| Coral Baja | Posada Real |
| Encanto Inn | Royal de Cameron |
| Grand Mayan | Tropicana Inn |
| Las Mañanitas | Viceroy Los Cabos |
Zone 2: Tourist Corridor Cabo San Lucas Airport transportation
The Tourist Corridor is in between San Jose del Cabo and Cabo San Lucas where you will find most of the biggest resorts in Cabo.
Here are the hotels that Cabo Airport transportation for Tourist Corridor serves:
| | |
| --- | --- |
| Casa del Mar | La Marina Inn |
| Chileno Bay Resort | Las Ventanas al Paraiso |
| Dreams | Le Blanc |
| El Ganzo | Montage |
| Esperanza | One & Only Palmilla |
| Garza Blanca | Paradisus |
| Grand Fiesta Americana | Secrets Puerto Los Cabos |
| Grand Velas | Sheraton |
| Hacienda Encantada | Sirena del Mar |
| Hampton Suites (Hilton) | Solaz |
| Hilton Hotel | The Westin |
| JW Marriott | Villa La Valencia |
Zone 3: Cabo San Lucas airport transfer to downtown (or centro)
Zone 3 serves Cabo San Lucas downtown. Think about all the hotels that are within the Cabo Marina. Your resort is most probably in this area as this is the most touristy.
Below are the hotels served by Cabo San Lucas Airport transfer zone 3:
| | |
| --- | --- |
| Bahia | Riu Santa Fe |
| Breathless | Riu Palace |
| Cabo Villas | Riu Baja California |
| Casa Dorada | Sandos Finisterra |
| Club Cascadas de Baja | Solmar |
| Grand Solmar | Tesoro Hotel |
| Hacienda | The Cape |
| Holiday Inn Express | The Resort at Pedregal |
| Los Cabos Golf Resort | Villa del Arco |
| Mar de Cortez | Villa del Palmar |
| Marina Fiesta | Villa La Estancia |
| Me Cabo | Sunrock |
| Montecristo | Pueblo Bonito Rose |
| Playa Grande | Quintas Del Sol |
| Pueblo Bonito Los Cabos | |
Zone 4: Northside Cabo Airport taxi
Zone 4 is towards Todos Santos in the northern side of Cabo San Lucas. This area covers very few resorts and accommodations (but big ones) such as:
| | |
| --- | --- |
| Diamante | Pueblo Bonito Pacifica |
| Nobu | Pueblo Bonito Sunset |
| Hard Rock | Quivira Los Cabos |
| Montecristo | |
🚌 Car types for Cabo Airport Transportation
The car types for Cabo Airport transportation are all the same for most companies. You have the freedom to choose what type of vehicle you like but each vehicle comes at a different price (depending on the route).
| Car Type | Capacity |
| --- | --- |
| Chevy Suburban | 5 passengers |
| Toyota Hiace | 9 passengers |
| Chevy Escalade | 5 passengers |
| Sprinter | 18 passengers |
| Bus | 42 passengers |
🚘 Book Cabo Airport Transportation
🚍 Cabo Airport transportation upon arrival
If you don't have anything pre-booked, there are many taxis at the arrivals gate of Los Cabos Airport but expect them to be more expensive than a pre-booked one.
Drivers take advantage of this because once you arrive, you really don't have a choice but to pay for it.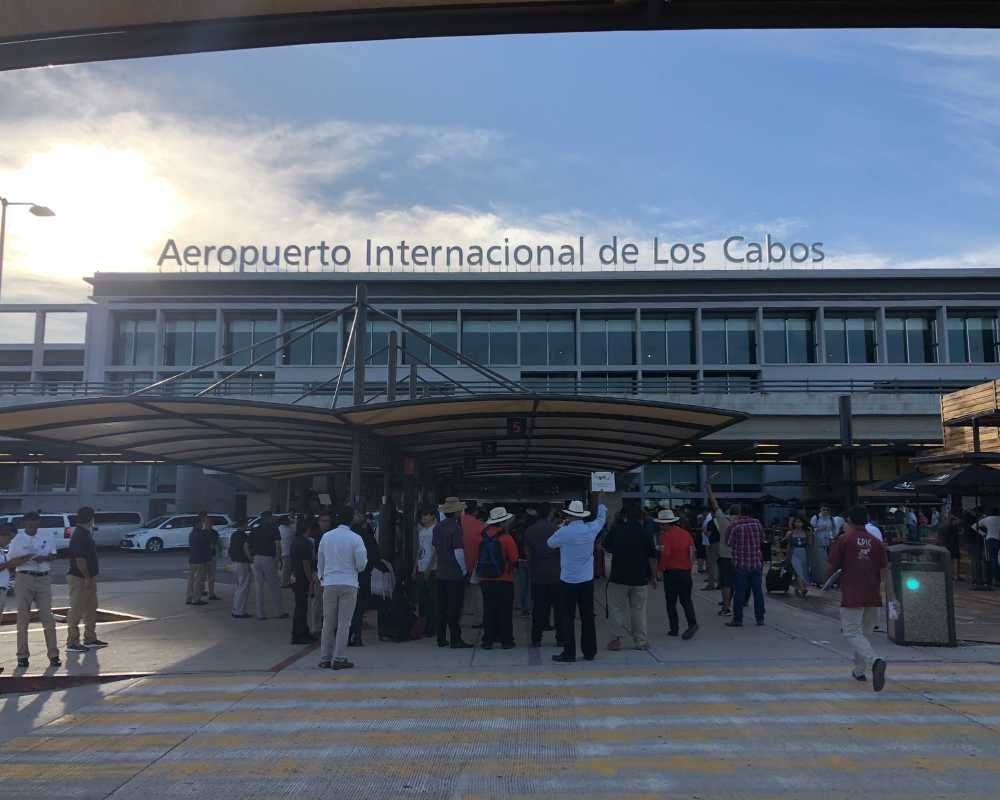 Alternatively, they may also offer you to go on a shared shuttle service. For example, there are 4 other travelers like you whom you can share the full cost of each ride (let's say $35 USD per person).
Unfortunately, they have to fill up the van/car to complete the total cost for the ride and the waiting time is not exact. It could be 30 minutes, it could be an hour, it could be more.
💲 How much does Cabo Airport transportation cost?
Cabo Airport transportation costs don't have a fixed rate. It all depends on the area and resort that you will be staying in.
The normal rate to Cabo San Lucas is from $89 – $150 USD while the same applies for San Jose del Cabo even if they have a difference in distance.
The car types are Escalade (Chevy), Suburban (Chevy), Sprinter (Benz), Hiace (Toyota) and bus. All Cabo Airport transportation prices are per car/ride/trip, not per person.
You can even book a bus for up to 40 people as most transportation companies can cater to big groups/traveler types.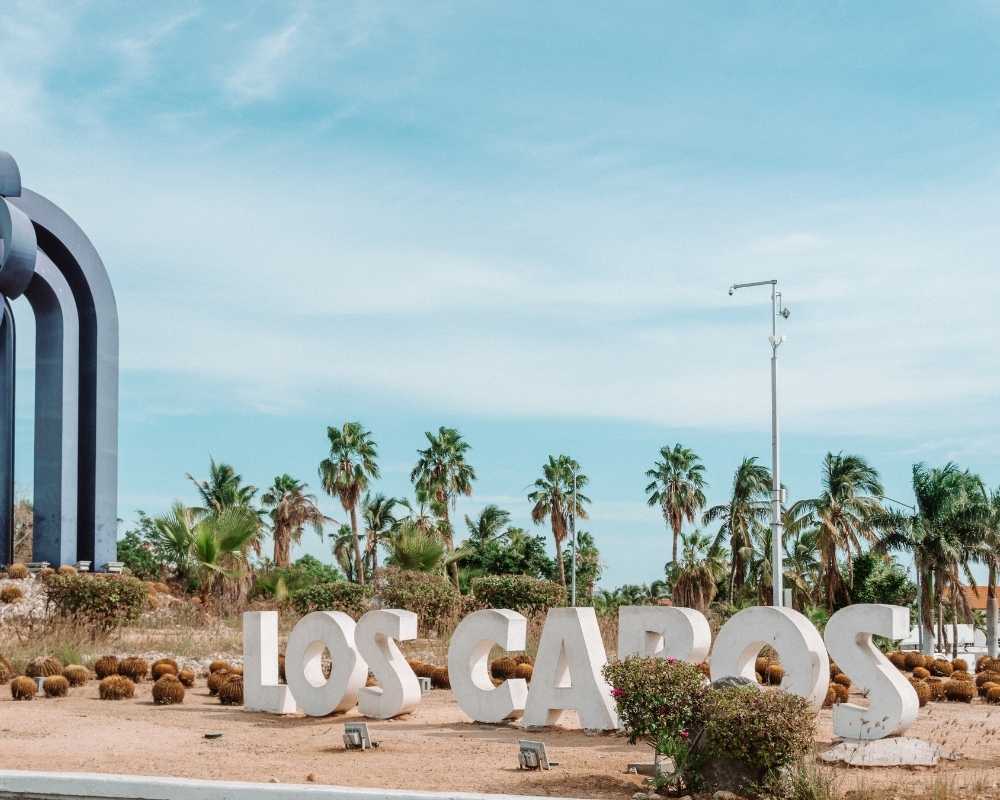 🚕 Los Cabos Airport transportation alternatives
By rental car
Los Cabos and Baja California Sur are car areas and public transportation can be a little challenging. Most people who live in this area own a car as it is the easiest way to get around.
If you are staying in Los Cabos for more than 3 days, it is best to rent a car at San Jose del Cabo Airport so you can go visit neighboring towns like Todos Santos, El Pescadero, and La Paz.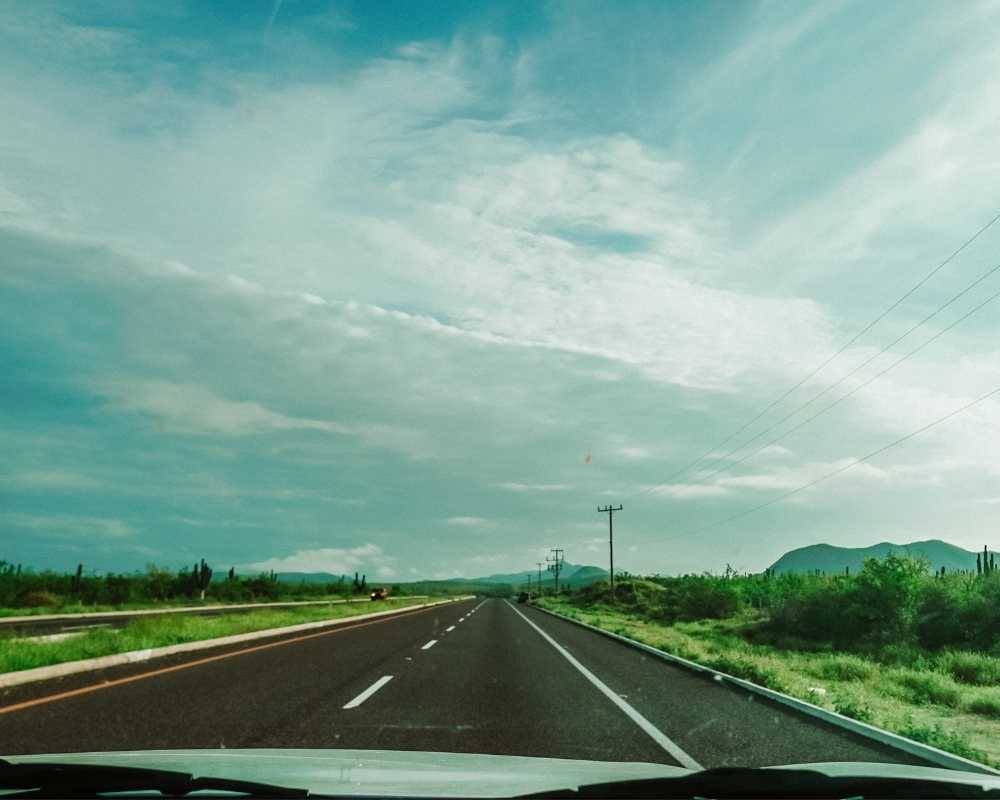 If you are staying in downtown San Lucas, you don't need a car as everything is within walking distance. For those who have a reservation in San Jose del Cabo, you can easily take an Uber around.
Car rental prices at San Jose del Cabo International Airport start at $75 USD per day. In order to rent a car in Los Cabos, you need to have a passport and a valid driver's license.
You will be also required to pay a deposit (from $500 USD) using a credit card. The deposit will be returned to your credit card when the car is returned (without damage).
By Uber
Please note that Uber is not allowed inside Los Cabos Airport although this is the cheapest way to get to your resort or hotel. Ubers charge around $40-$120 USD for a one-way ride.
Unfortunately, it is difficult to get an Uber at Los Cabos Airport. You have to walk out of the airport (with all your suitcase) and the walk is quite long (about 15 minutes).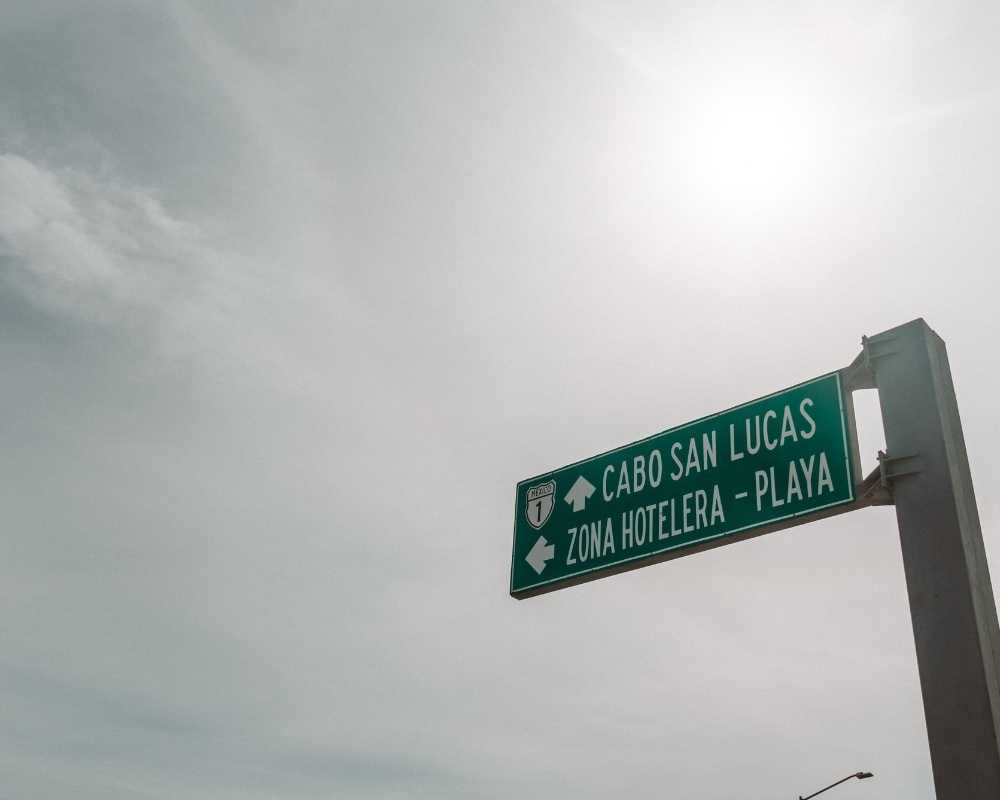 As long as you are already outside Los Cabos Airport, the Uber app will work. You can only order the Uber once you are at the designated pick-up spot.
For starters, try to order it by the Oxxo or Europcar. Sometimes it works, more often, it doesn't.
Shuttle from Cabo Airport
A shuttle is not really a shuttle but a shared ride. In this transportation mode, drivers will have to fill up the van to complete the cost of the ride.
If the ride costs $89 USD, you will have to wait for more passengers to divide this fare. The waiting time can be long in this Cabo airport transportation method but it will be way cheaper.
You can pay to the driver up front and no advanced booking is required.
By private driver (certified)
The reason why Uber is not allowed inside Los Cabos Airport is that airports in Mexico only allow those who have a permit.
These permits are usually issued to big transportation companies which gives them the exclusivity of providing service in Mexican airports.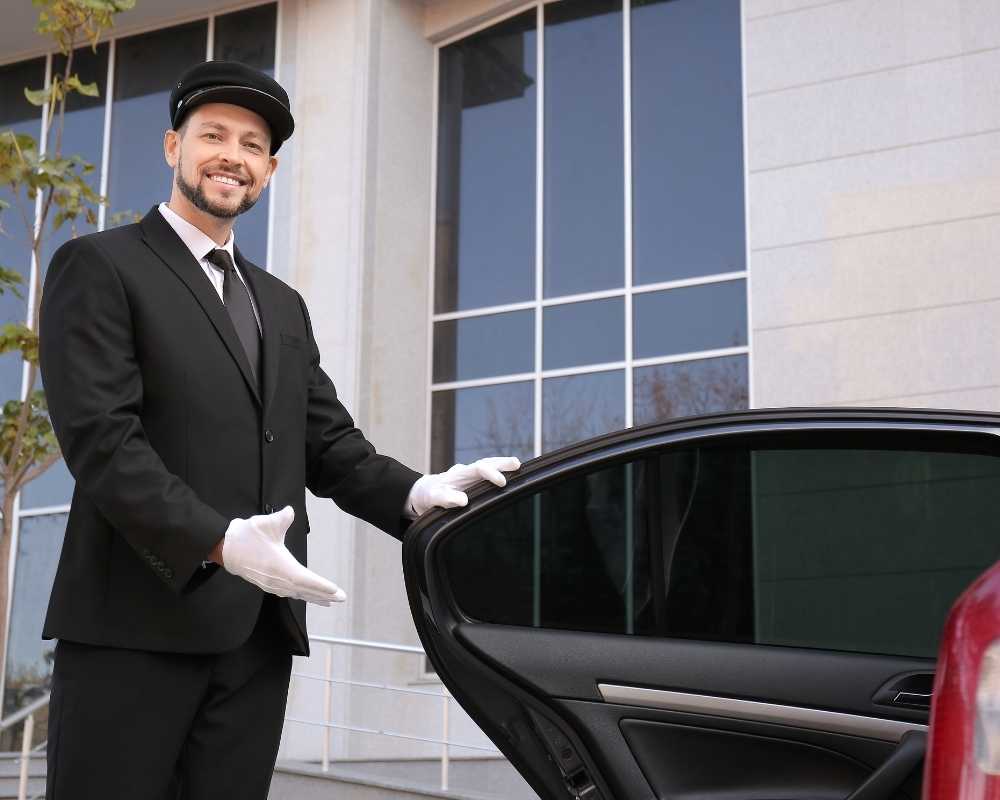 We have many local drivers in Los Cabos and we also have different price ranges that will be discussed in the latter part of this article.
Certified airport drivers are allowed to wait for you at the arrivals gate, holding a sign with your name on it. You won't have a hard time searching for them!
By bus
As soon as you exit Los Cabos Airport arrivals, you will see a purple and yellow bus at the bus stop. This goes straight to Cabo San Lucas and briefly passes San Jose del Cabo.
The price of the bus is about $4 USD (one-way) and the ride takes 1.5 hours. This bus stops a lot so expect some delays but the bus is comfortable and has an area where you can store your luggage.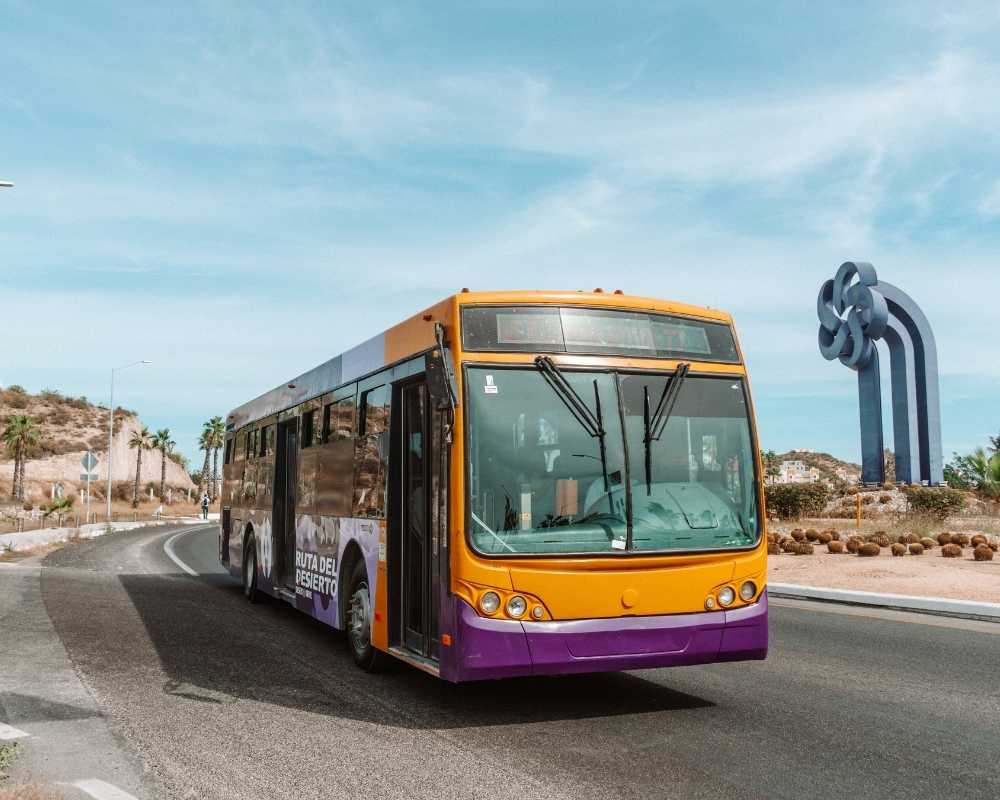 Always ask the driver to inform you that you are already near Cabo San Lucas, especially if you don't know the correct bus stop to get to your hotel.
The best and most centric stop is the Puerto Paraiso Shopping Mall in downtown Cabo San Lucas. Once you are at the mall, you can walk to your hotel or simply order an Uber at the bus stop.
⁉️ FAQ: Cabo Airport Transportation Guide
Trisha traveled to Mexico in 2018 and after a year, she found herself obtaining a 4-year residency visa in Mexico. She is the Editor-in-chief for our Living in Mexico Series which has helped over 3,000 Americans move to Mexico with ease. Trisha currently resides in Cabo San Lucas, Baja California Sur.