The curation of this content is at the discretion of the author and is not necessarily reflective of the views of Mexico Insider or its editorial staff.
If you walked over Copenhague street, you would never expect there to be one of the best bars in Mexico City hidden under the ground.
Xaman Bar Mexico City is located right around the street from Reforma Avenue, but you'd really only be able to get there if you knew exactly where to look.
There is no signage or even a name written on the door, but if you look a little closer at the bell button, though, you'll see it: the name "Xaman" written in tiny letters.
Ring it if you're in for the night of your life.
We got the chance to hang out with Luis Enrique (bar manager) and Eduardo Ramos (manager), who let us in on all the nits and grits of one of the trendiest (and somehow most eccentric) bars in CDMX. For those who know the real Mexico City nightlife scene, that is.
Despite it being considered a pretty classy spot, the ambiance at Xaman Bar feels very relaxed and informal.
"We aim to treat our clients like they're our friends. We want them to come here and let themselves loose", says Luis Enrique.
"I see them up there on the tables, dancing their lives away even if it looks silly to the un-drunk and all I think is: "Wow! They're having the time of their lives!", added Eduardo. "It makes me so happy to see the smiles on their faces".
The magic of Xaman lies in that it's not just a bar you come to drink at and hang out with your friends, it's an overall experience in itself. You'll realize as soon as you start seeing the decoration of the place as you walk down the stairs.
There'd be no light here if it weren't for the lights that pop up from behind craft masks, skulls, and all sorts of decoration meant to highlight the mysticism behind prehispanic culture and shamanism.
It doesn't end with the decoration, though. Every effort made to craft their signature cocktails is meant to create a well-rounded experience.
"Our current menu is focused on botanicals. We use a lot of herbs and plants in our recipes," Luis Enrique tells us.
"Peppermint, wormwood, cinnamon, and cedar are some of our favorite ingredients and we also enjoy mixing in fruits."
The music tends to be house and rather underground Mexican music. You may hear tunes here you've never heard before, which only adds to the bar's intrepid vibe.
Much akin to its cave retreat theme, Xaman also makes sure to add to the experience through aromas. Expect a night of absolute sensorial delight, be it through your ears, your tastebuds, and even your nose.
Cinnamon and copal are their go-to for aromatizing and making guests feel as though they're in a mystifying locale.
Xaman attracts clientele both local and foreign usually between the ages of 28-35 keen to explore the lesser-known nightlife of Mexico City and prefer to frequent spots with an eclectic offering.
"We let our clients be themselves without pretension", Luis Enrique shares with us.
"We never really have problems with clients getting too drunk or out of control, they always keep things tasteful while also having lots of fun."
When asked for cocktails to try, Luis Enrique highly recommends the Viaje Astral. Its name translates into "astral trip" and that's pretty much what you can expect from this drink!
It's the most emblematic cocktail at Xaman and both our favorite as well as Luis Enrique's. Viaje Astral is made of whisky, apple Jack Daniels, Apperole, Absinthe, orange juice, maracuya syrup, and lime.
Another classic for mezcal-enthusiasts is Calabacito, made of watermelon juice, Strega, mezcal, Himalayan salt, lime juice, and rosemary.
If you want something completely out of the ordinary, order yourself a Chilchili. It's a sweet but spicy gin-based infusion of cinnamon and chili.
If you're visiting in a group, order your cocktail of choice in a "cayuco". You can share it with your friends (using metal straws, of course) for a really funny experience. I won't tell you more so I don't spoil it for you, just trust me on this one.
Xaman is open from Wednesday through Saturday. If you want a quieter atmosphere where you can have a chat or a date night, Wednesdays and Thursdays tend to be more low-key.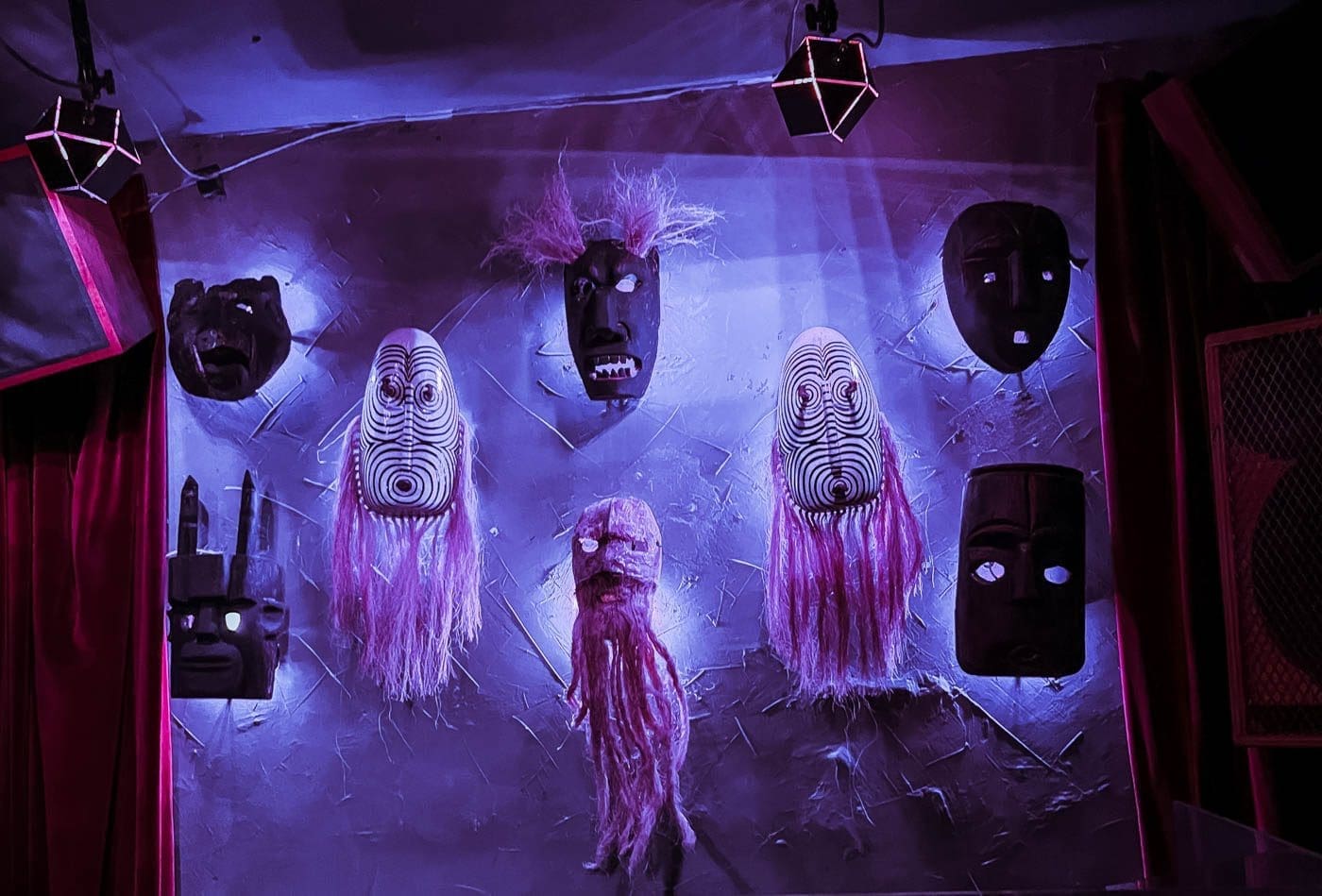 Come Friday, guest DJs are invited to Xaman and music tends to get a lot louder and the atmosphere is meant for dancing. Bar manager Luis Enrique recommends visiting on Fridays.
Reservations are highly recommended as space is very limited. DMing them on Instagram is usually the most surefire way to get a spot.
I also recommend grabbing seats at the bar if it's possible. The managers and mixologists here are incredibly friendly and fun to hang out with.
Plus, it's a whole vibe to see them creating such unique drinks.
✈️ Ready for your trip to Mexico City? If you need more information about Xaman Bar Mexico City, we'd be happy to update this post – just leave your questions below!
Daniela is a Mexican travel blogger who has been traveling the world for the last 7 years. She contributes content on Mexico Insider to showcase her beloved hometown, Mexico City.