Get to know the best Mazunte hotels through this guide including distance from the center, prices, and honest reviews. Mazunte is one of the best on the Oaxacan coast so make sure to add it to your itinerary!
When looking for the best Mazunte hotels, most booking platforms won't really explain the distance from the city center. Although Mazunte is a small town, you need to understand the layout — some of the places to stay in Mazunte are located in hills that are far away from the center.
If that's the kind of vacation you want (meaning, low-key and 100% no socialization) then feel free to book any hotels in Mazunte without knowing the distance from the restaurants, coffee shops, and beaches.
In this post, we will explain to you the distance between these Mazunte hotels to everything you need access to. This is very important if you want to socialize and see the local life in this small town. Mazunte is one of Mexico's pueblo Magico so we highly recommend you to explore the area and not just stay in your hotel.
???? Are Mazunte hotels expensive?
There are different accommodation types in Mazunte but most visitors stay in hotels. Hotels in Mazunte start at US$45 (with breakfast) while the upper-tier Mazunte hotels are at a whopping US$250 per night.
Beachfront vacation rental homes start at US$350 and are ideal for families and groups. There are many villas in Mazunte for special occasions like weddings, birthdays, and bachelorette parties, all at an affordable price for what it is.
You might also like:
The Insider Guide to the state of Oaxaca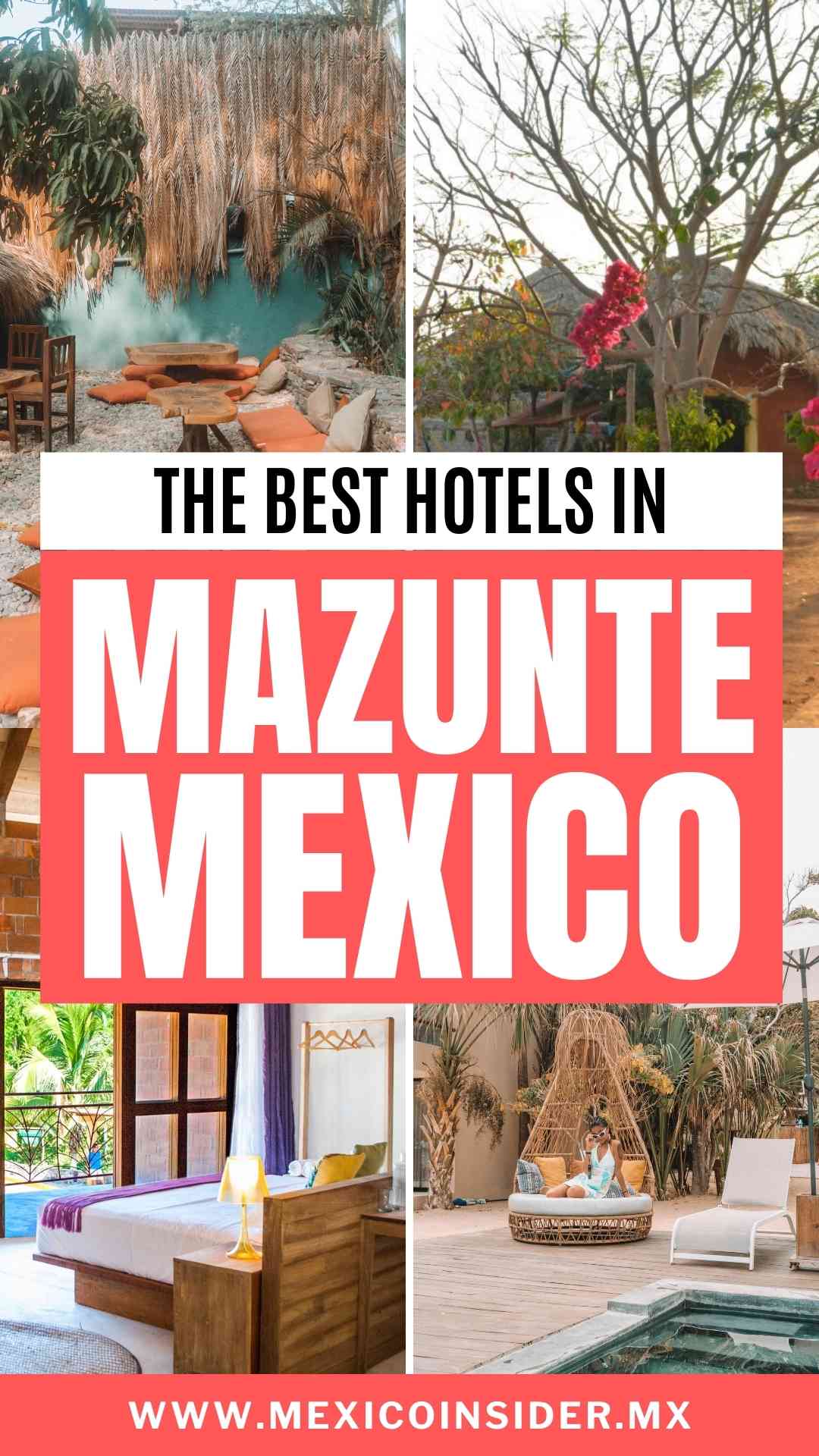 ????️ The best hotels in Mazunte, Oaxaca
#1: Cabañas Balamjuyuc
???? Cerro del Panteon s/n
???? Best in value
???????? Check prices
Every time our team visits Mazunte, we make exclusively just stay here because we love this place! It's located on top of a hill with great views and it's not so far from the center. A family room starts at $45 USD per night only. These are small cabañas so don't expect a 5-star treatment.
There's no AC but you can always ask for an extra fan. Most of the cabañas have a terrace so you can enjoy the natural breeze coming from the ocean. There are also mosquito nets but please know that Balamjuyuc is a very basic accommodation.
#2: Casa Lu
???? Andador Golfina #1
???? Best boutique
???????? Check prices
Starting at $200 USD per night, Casa Lu is located on the beachfront and is about 10-minute walk to the city center where all the bars and restaurants are. Within its vicinity, there are bars nearby but of course, since this is beachfront, expect higher prices. Oh, they also have their own bar!
The staff is super friendly and they're always cleaning! They also have their own pool overlooking the beach so expect privacy. This hotel in Mazunte is ideal for couples and families traveling with kids.
#3: Cocolia Hotel
???? Pochutla Oaxaca MX
???? Best beachfront
???????? Check prices
Cocolia Hotel Mazunte is about 22-minute walk to the center. If you think about it, that's not really a long walk because the roads in Mazunte are safe and not that busy. We awarded Cocolia as best in value because you can get a nice accommodation for two people for only $75 USD per night!
This hotel has a pool and has ocean views. This hotel is really spacious and is great for couples and big groups. Since it's a long walk to town, we don't recommend this to families traveling with kids unless you are traveling with a car.
#4: Zoa Hotel
???? Cerrada Del Museo De La Tortuga S/N
???? Best luxury accommodation
???????? Check prices
Zoa Hotel is an easy 10-minute walk from great digital nomad cafes like Chido Wan, located in the heart of town. It is located on a private beach so this is best for those who are looking for a great staycation in Mazunte. Starting at US$200 per night, Zoa is one of my top picks in Mazunte hotels.
I'm sure you have those days when you don't really want to explore a certain destination and just find a home away from home. Zoa fits that profile. They also have a restaurant with locally sourced ingredients. They have their own orchard where they grow their food!
#5: Hotel Pochote
???? Avenida Principal del Mazunte
???? Best in location
???????? Check prices
When on vacation, most travelers opt for a breakfast inclusion in all the bookings. Actually, this is an extra when you book. I just highly recommend their breakfast because it's really good! For only $7 USD per person, you can add your breakfast to your accommodation booking, but only when you book on Booking.com.
This is also very close to the center as it is on the main avenue of Mazunte. A double room starts at $43 USD for two people. This is a highly recommended Mazunte hotel for couples! All rooms have AC so this is the perfect accommodation when you visit Mazunte in the summer.
#6: Villa La Luna de Miel
???? Callejon del Armadillo S/N
???? Best for couples
???????? Check prices
Villa Luna de Miel is a private villa that is in high demand because you will get to have the home to yourself! Luna de miel means "honeymoon" translated from English to Spanish. I booked this with a few friends for a small party and it still worked.
It has a beautiful ocean view and the palapa roof protects the villa from the intense heat. You just need to be mindful of mosquitos as some of us got attacked during the night. Just bring a mosquito repellent or ask for an extra net for your bed and you should be fine.
#7: Carpe Diem Casitas and Villas Mazunte
????Camino Al Tanque de Agua
???? Best vacation home
???????? Check prices
We love Carpe Diem Casitas! For its private location, it's not that expensive and I really really love the design of this villa. You can get a double room here for only $85 USD per night (for 2 pax). This room has air conditioning, a patio overlooking the ocean, a bathtub, and an outdoor dining table. It really is one of the best Mazunte hotels I've stayed in!
It's also super close to Mermejita Beach (about 300m), one of the most visited beaches in Mazunte. This is a pet-friendly accommodation so bring all the gang!
✈️ Ready for your trip to Mazunte? If you need more information about Mazunte hotels, we'd be happy to update this post – just leave your questions below!
Trisha traveled to Mexico in 2018 and after a year, she found herself obtaining a 4-year residency visa in Mexico. She is the Editor-in-chief for our Living in Mexico Series which has helped over 3,000 Americans move to Mexico with ease. Trisha currently resides in Cabo San Lucas, Baja California Sur.