I personally did this Oaxaca mezcal tour and in this post, I will introduce you to the local family that I visit in Oaxaca every year for the day of the dead!
📧 Hola Trisha! Thank you for all your blogs about Oaxaca! I found you through a friend whom you met in Oaxaca City in 2019. She recommended your blog and I am happy to have stumbled upon it. I already have 10 tabs open just from your website since I am planning my trip to Oaxaca. I wanted to ask where you did your Oaxaca mezcal tour? I saw it on Instagram and was not sure where it was. Do you mind sharing some tips and trusted local operators? Thank you for all you do!

Jayson Boyd, Los Angeles (CA)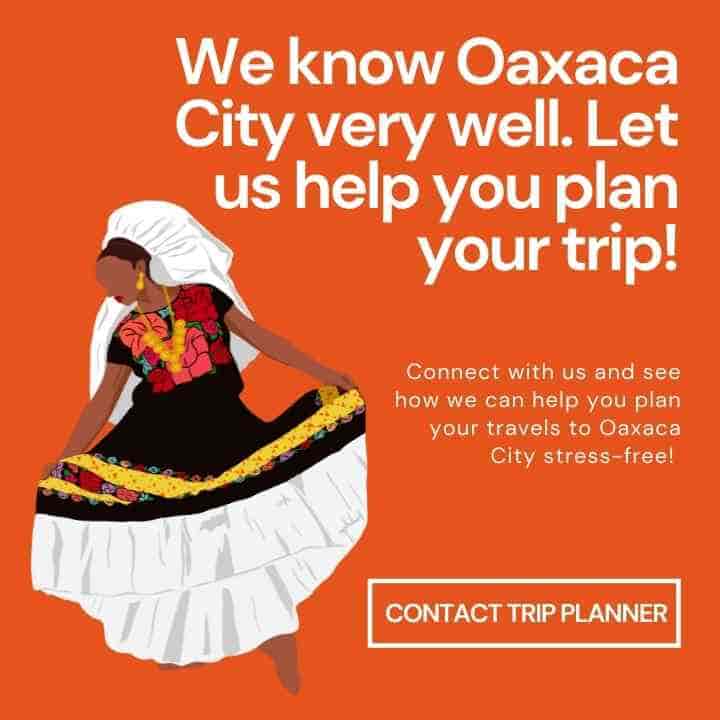 Your trip will feel incomplete if you don't go on a Oaxaca mezcal tour. I am sure some of you have not heard of mezcal since tequila is more prevalent in Mexico but I prefer mezcal over tequila. It doesn't give you a hangover and I love the smoky spike at the end of every sip.
It's always best accompanied by oranges, pineapple, or chapulines, a favorite insect (delicacy) in Mexico. Mezcal is already so good on its own so you can say no to the plate of insects. But believe me, they do pair well!
🌟 Best Oaxaca mezcal tour
No time to read? 👉🏽 Book this local Oaxaca mezcal tour with us! We visited and filmed this mezcal distillery in Oaxaca City, and they are a small-family producer! Use the code MXINSIDER10 to get a 10% discount on purchasing this Oaxaca mezcal tour on our website.
🥃 Commercial vs family-run Oaxaca mezcal tour
I always make sure to explain this to trip-designing clients in Mexico as this is the frequently asked question: "why are local tours more expensive?"
Simple answer: because it takes money to produce something sustainably.
Wherever you go in the world, sustainable products are more expensive. Your favorite organic soap? Double the price of Dove. Granola? Way pricier than Cheerios.
Healthy food in the US is 10x more expensive than a double cheeseburger with large fries and coke in McDonald's. Processing food takes more time, energy, and money than farm-cropped vegetables.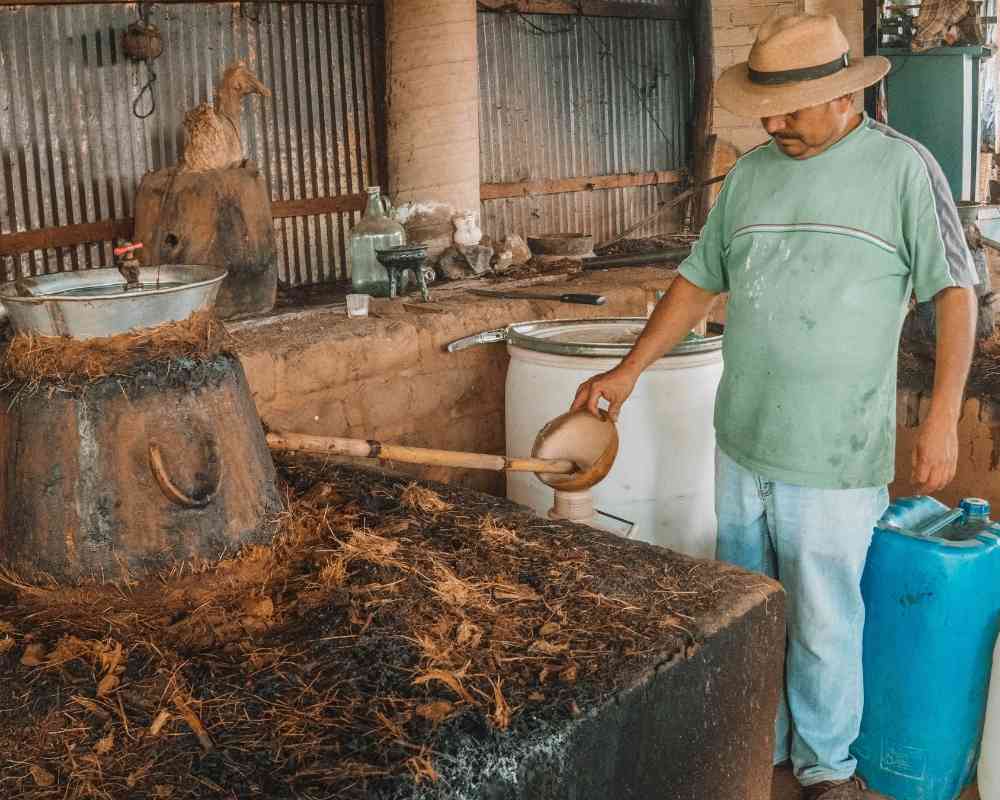 I wanted to explain this in the most understandable way because sustainable tours in Mexico like this one are competing with commercial companies who give tours for a really cheap price. But in reality, you don't really know if these tours are serving you the right product and experience you signed up for. Come to think of it – how will you know if it's real mezcal if it's your first time trying it?
Who is your source? What if it's just mezcal or tequila from the local supermarket?! How in the world would you know that? You won't. And you probably never will. Of course, you can still book Oaxaca Mezcal tours with any tour company in Mexico. No problem with that as most of them are really honest.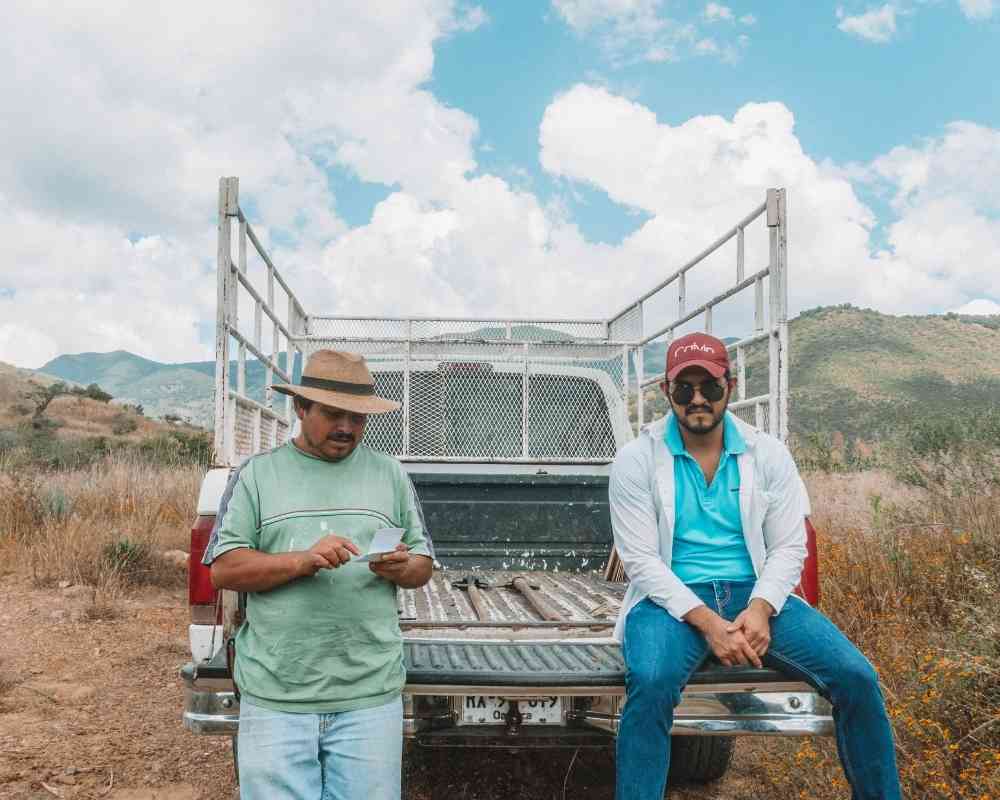 Another thing I love about family-run mezcal tours is that they only produce small batches of mezcal to make sure the high quality and standard they set for their products are met.
And this, I assure you, will not give you any stomach pains, diarrhea, or any sickness after your trip to Mexico.
👪 Oaxaca mezcal tour experience with a family
After an uncontrollable first night in Oaxaca for the day of the dead week, I had to wake up early the next day as I promised to cover the story of Conejo's family, a small family-owned mezcal distillery in Oaxaca in Santa Catarina de Minas.
It's an hour's drive from Oaxaca and thankfully, I was very comfortable because I was accompanied by my local friend, Victor. Before heading out of the city, I thought to take cash out from the ATM. I knew that I will go crazy from buying mezcal bottles to take home to Cabo because I love it and 100% prefer it over tequila. I know that places like this don't take Amex and Victor confirmed that as well.
I also obligate myself to give tips to local Oaxaca mezcal tours like this since I am very sure that it's a sustainable business. I had zero concepts of what this day would be like since I always vet the tours I go to before I go. I don't ask for the itinerary. If you're a good person and you are a local, I'm all for it.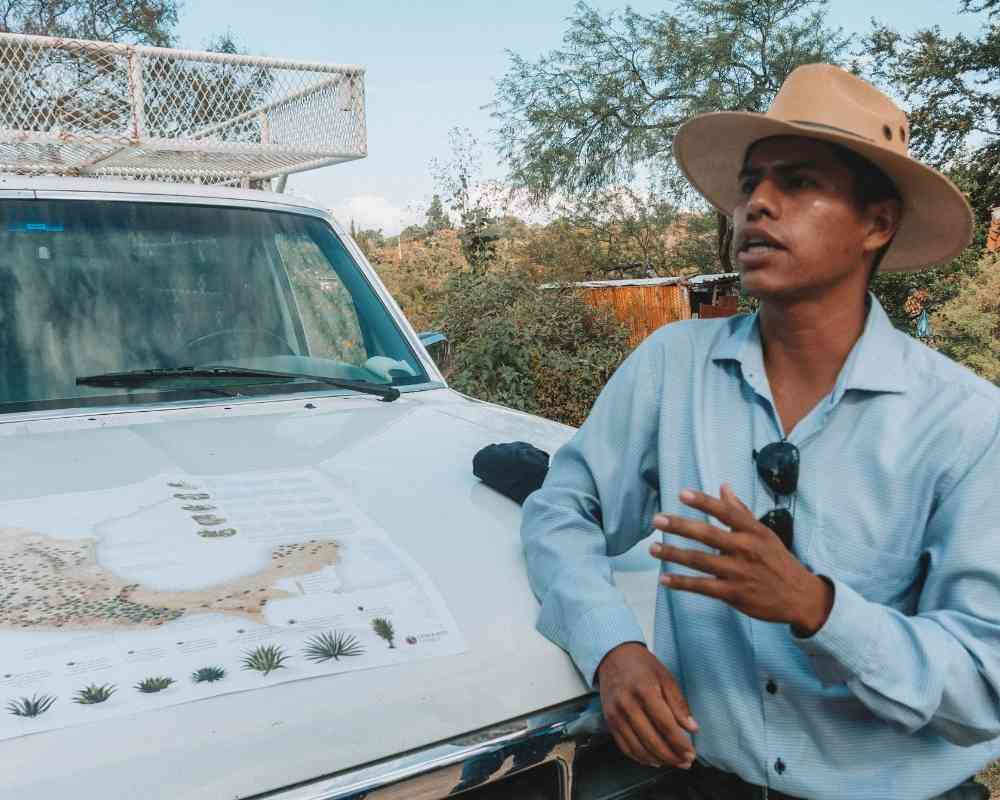 But man, I was so shocked when I was offered a mezcal shot upon arrival. Having lived in Mexico for years, I knew that was going to happen. I just did not know when. As soon as the introduction started, Conejo, the leader of the band was already passing around shots of mezcal. Mind you, they're not the traditional type but the very good kind.
Throwing around free shots like that cost a lot of money and I was humbled by the generosity of these people. So, what can I do but say YES to all the shots? Well, I did not say yes to all of them because I did not eat breakfast. If you are to do this Oaxaca mezcal tour, it's probably best if you grab breakfast because they will not relent on the shots.
It will keep overflowing and Mexicans tend to NOT take no for an answer. Victor explained to the group what this Oaxaca mezcal tour will be like. I was already pretty buzzed and honestly was not paying attention.
But here's how this day went.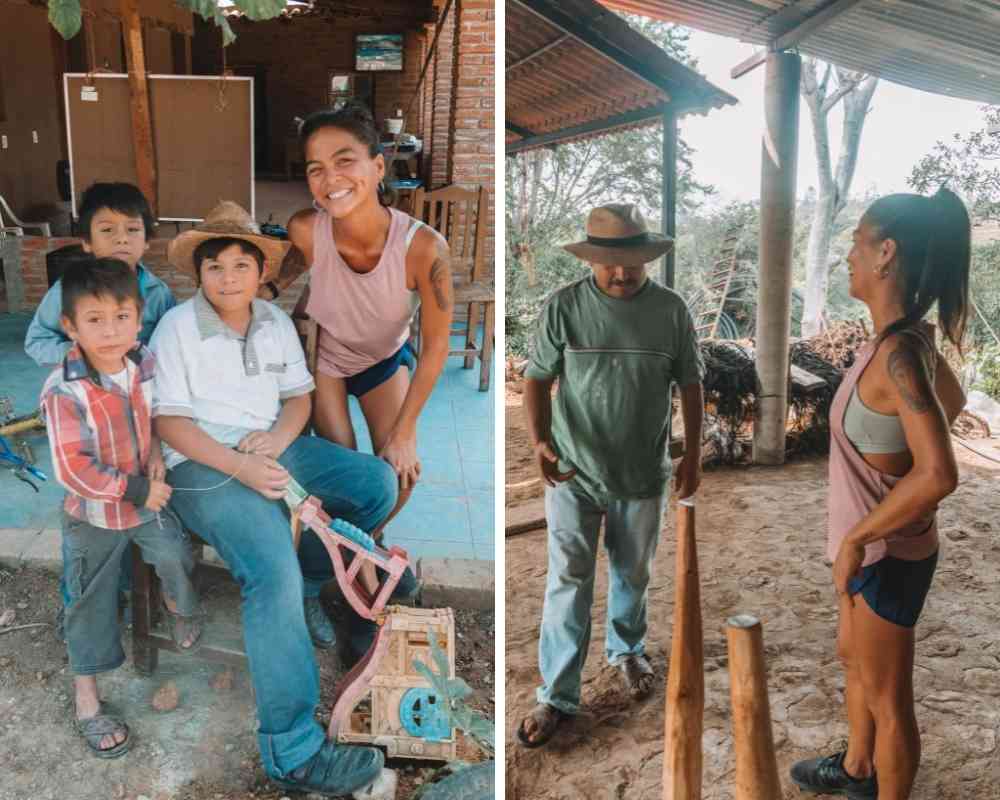 The journey to the wild agave fields
From Conejo's house, we hopped on a truck to get to the agave fields. Conejo has an "estate" that grows wild agaves and growing wild agaves is not very common in Mexico. Only a few do it. What I really loved about this is that it felt exclusive. No one was there but our group. I felt like I paid for a US$1,500 tour because of the privacy.
As more shots rounded the truck, we arrived at the wild agave fields to get to know the different types. Conejo also challenged us to a quiz which means I needed to pay attention.
And I certainly did.
Getting to know the different types of agave plants
I've been to many mezcal tasting tours that don't involve visiting the field. In the majority of those tastings, they mention the names of the agave plant but they never really explain it deeper. Not that you are interested. You're probably too drunk to listen anyway. Since I am a mezcal fan, my curious brain paid full attention to this portion of the tour.
What's extra special about visiting the agave fields is that you can actually see what the plant looks like. And mind you, they are different in shapes, colors, and sizes. Below are the agave plants that I got to learn about:
Barril: large in size and are used as a fence (dividers) in wild agave land. This takes 15-20 years to mature
Largo: largo means "long" in Spanish which is where the name of this maguey came from. In Oaxaca, it is also referred to as Tobaziche
Cuish: green in color with black spines. This is the usual favorite in cocktail bars in Oaxaca City
Coyote: related to Cuish, Coyote has an earthy aroma and a spicy finish. This is one of the rare magueys and is not easily found in the wild
Tripon Verde: one of the well-regarded agaves but not used commonly used commercially.
Espadin: this agave takes shorter years to mature. You will find Espadin anywhere you go in Mexico as they are easy to mass-produce.
Tobala: also popular around the country, the tobala is usually smaller than other magueys and grows in high altitudes
All these types of agave plants are only found in Santa Catarina de Minas, where Conejo's distillery is located. There are about 270 species of agave in the world and you will find 160 of those in Mexico.
✨ Fun fact: The term maguey refers to an agave plant, especially those that are used in alcohol production.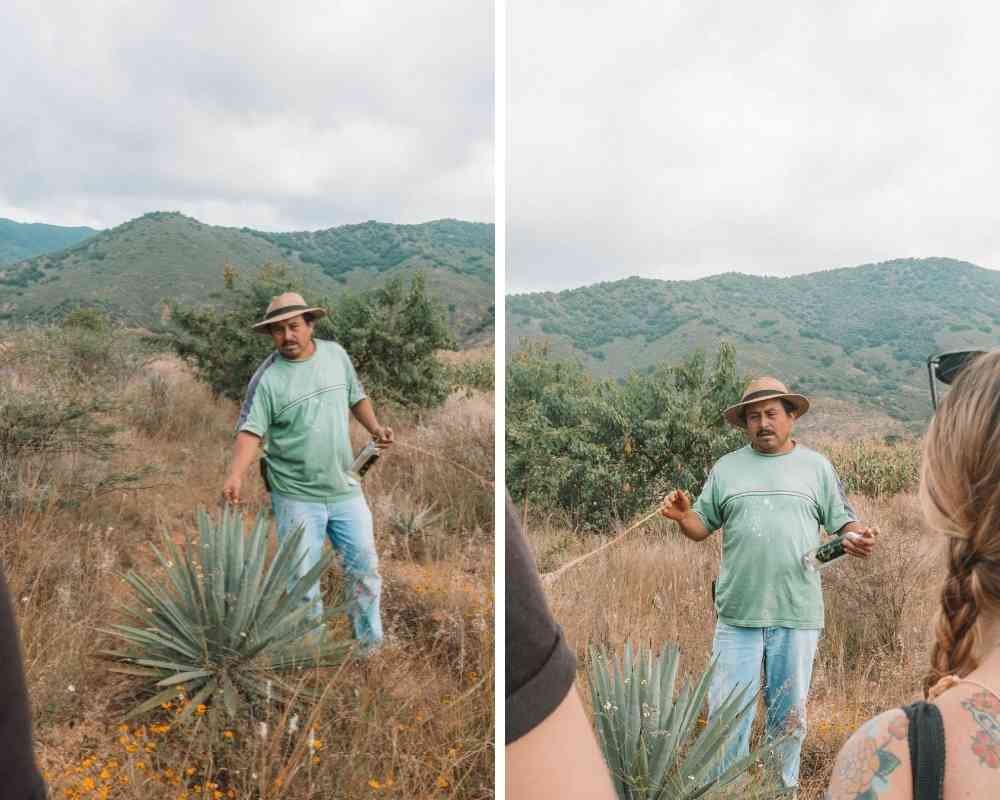 Planting my own agave plant
The reason why it's better for you to know the agave plant is that Conejo will make you plant your own after the tour! We were asked to choose the type of maguey that we want to plant. These grounds are pretty hard to dig and the equipment is heavy but Conejo helped us with the majority of it.
Then, we were asked to name our plants. I named mine Gabriel, after Conejo's son who was with us all the way. His daughter Alma was also with us helping throughout the Oaxaca tour. Of course, these guys always need one woman to handle their team. Alma is not even 15 years old but knows everything about the tour!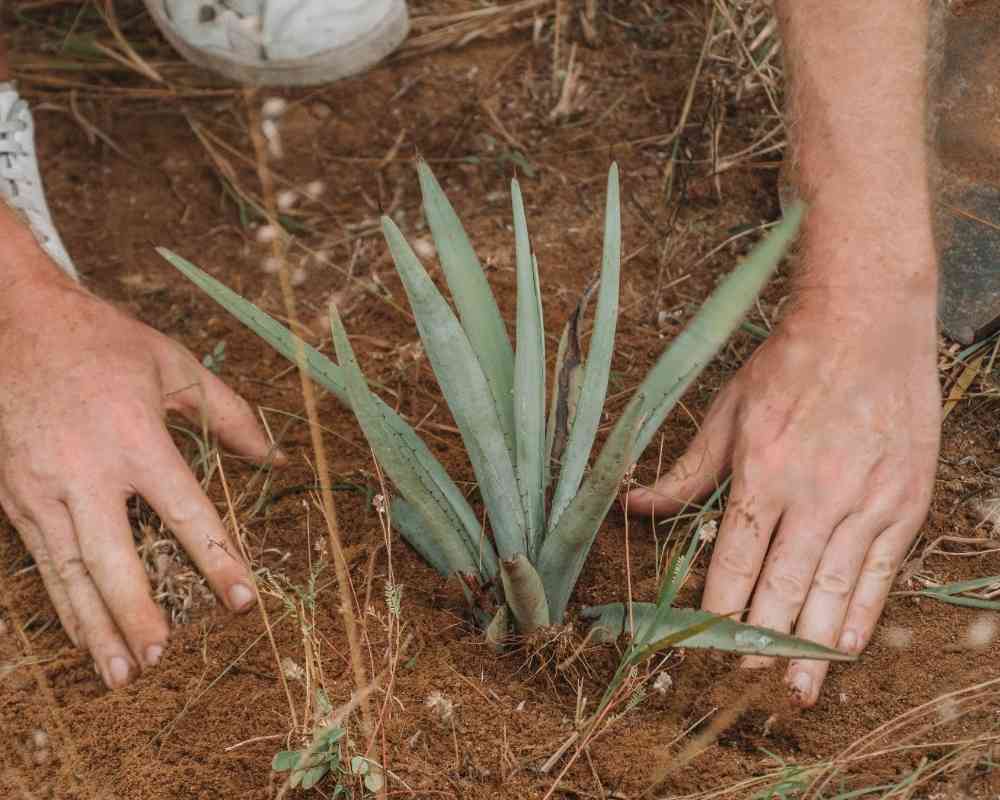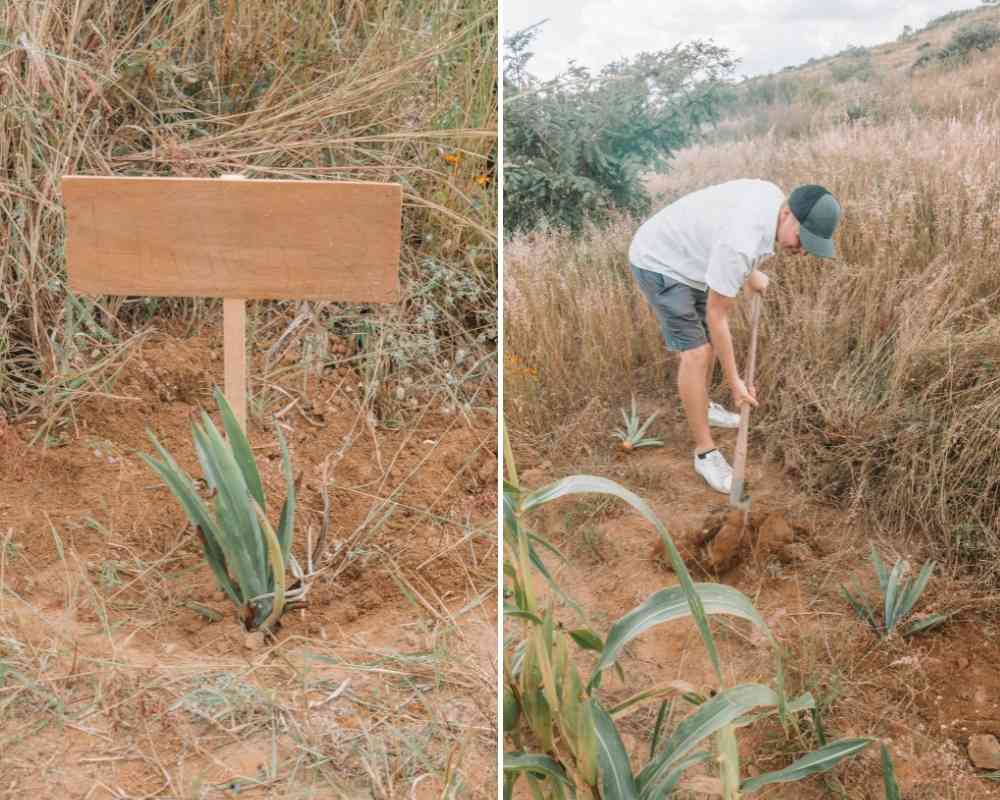 Lunch in the agave fields
After a hot morning in the field, the guys set up a table for us under the tree. I was really surprised to see it was all ready when arrived. More so, where did these tables and chairs came from?! I realized those were the chairs we were sitting on at the back of the truck. What an efficient way to do it!
Raquel, Conejo's wife and the jefa of the family prepared a simple but filling lunch for us – chicken with tomatoes accompanied by the mighty Mexican tortilla. All are homemade! Shots kept flowing as we had a refreshing lunch under the tree. It was also so quiet around us and all I heard were our loud voices and jovial laughter.
The last time I remember having an experience like this was in Golan Heights (Israel) so this is definitely my favorite moment in Oaxaca!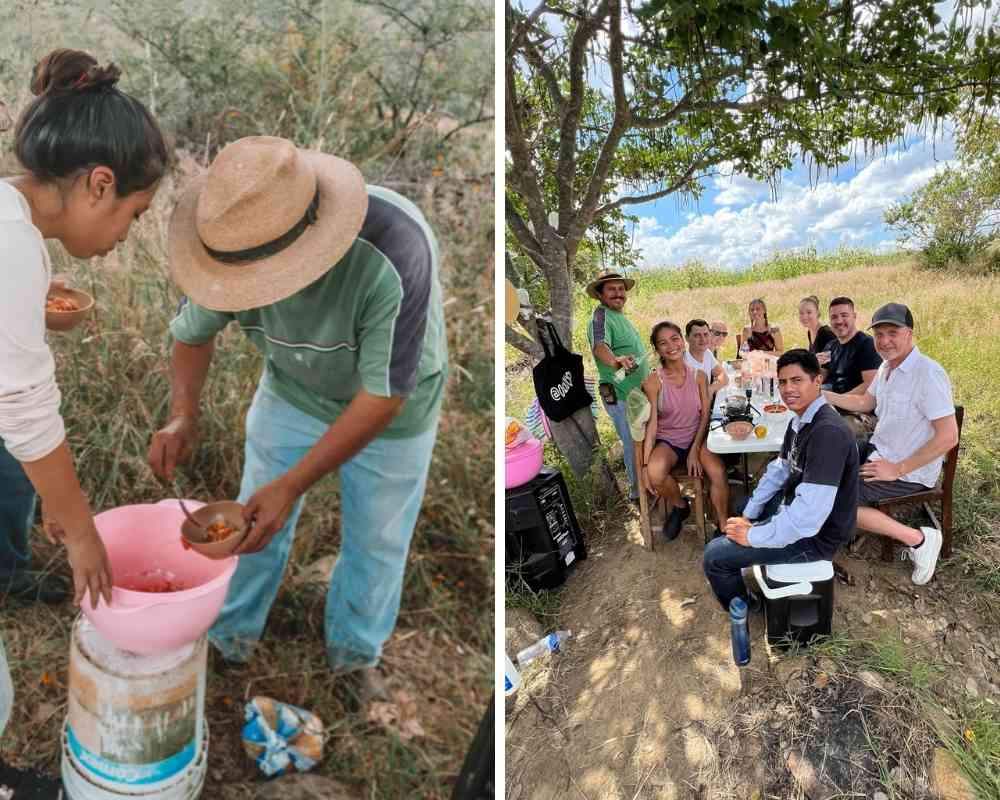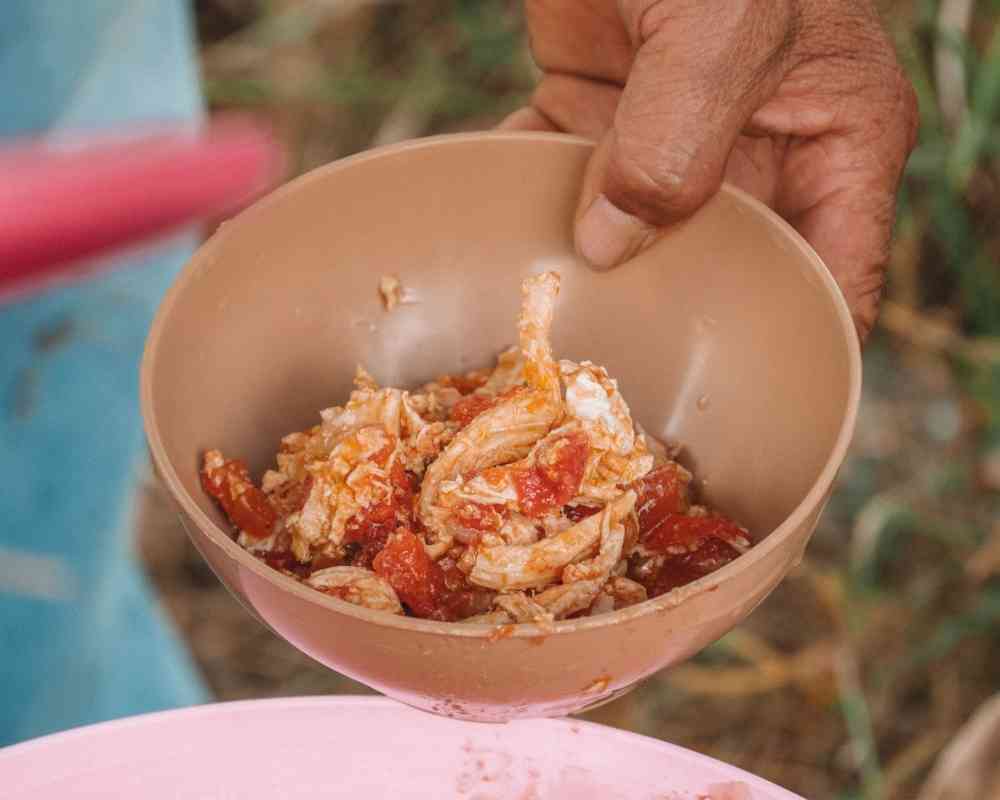 🔥 The mezcal production process
After lunch, that was it for us in the field. It was not as hot as it was at the beginning of winter (end of October) so this is a great month to do your Oaxaca mezcal tour, especially if the tour includes a field visit. Actually, I was wearing a jacket in some parts of this tour because the wind was really cold even if the sun is hot.
We drove back to Conejo's palenque to learn about the mezcal production process in his old-school machinery.
🇲🇽 Spanish 101: In Mexico, a palenque is a mezcal distillery. This is where all the roasting, crushing, fermentation, distillation, and bottling process happen.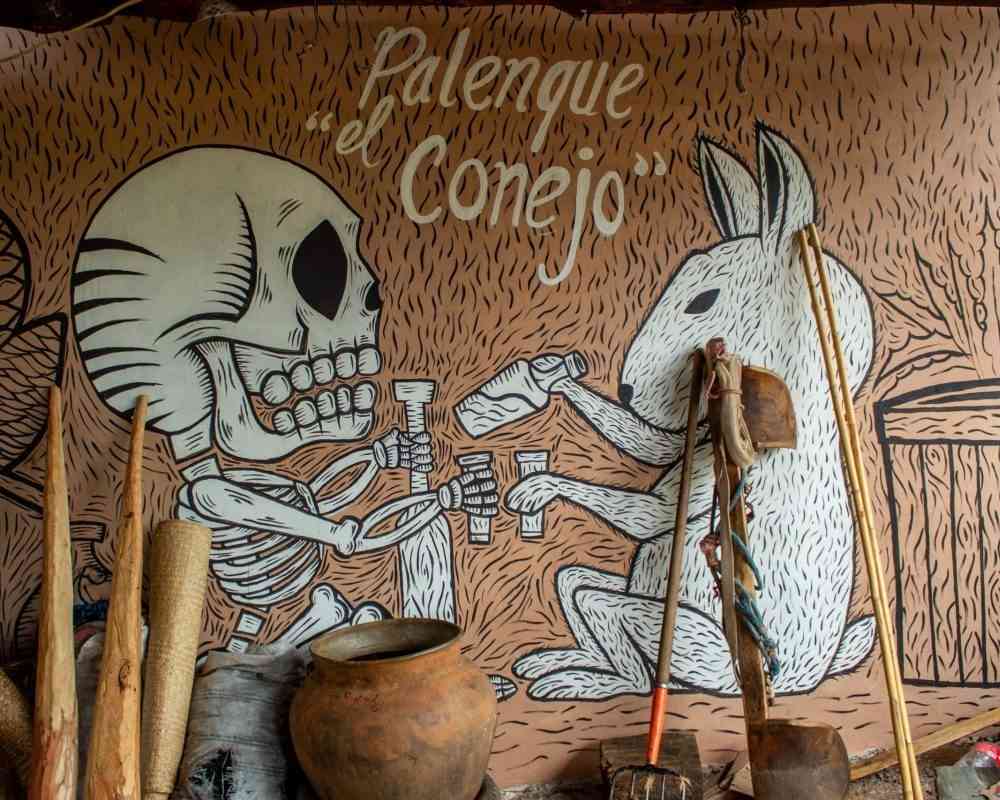 Step 1: Roasting
The first step in the mezcal distillation process is roasting the agave plant but not the whole plant. They put the agave hearts in a pit of hot stones burnt with wood. In Spanish, these agave hearts are also called piñas (pineapple) because it does look like a pineapple.
This first process is very crucial because it's what gives the mezcal a smoky flavor, a trademark of this world-famous Mexican drink. The roasting can take up to a week but it all depends on the mezcalero.
🇲🇽 Spanish 101: A mezcalero is what you call the person who distills mezcal. There are also mezcaleras in Mexico but women who are in this industry is not common (which is no surprise to anyone).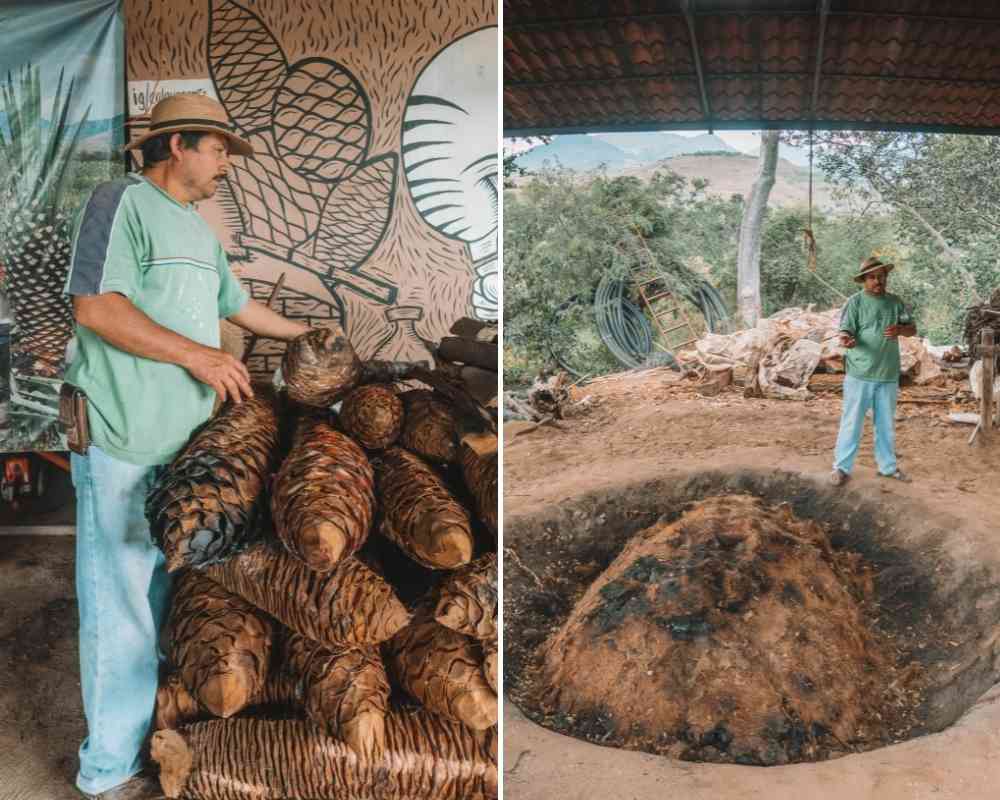 Step 2: Crushing
After roasting, the juice from the piñas are extracted for fermentation. This is a laborious process and there are no exact methods on how to do it. It all depends on the machinery of the producer but the most common is a wooden mallet. Extracting juice for a 60L mezcal can take up to three days!
I tried to do this and the wooden mallet was twice my weight! After just 5 strong smashes, I got really tired. Conejo also involves his children as this is a family business. Pictured above is 5-year old Antonio who already knows how to lift this mallet!
Conejo is the third generation mezcalero of his family and all his children (male and female) are involved in the business.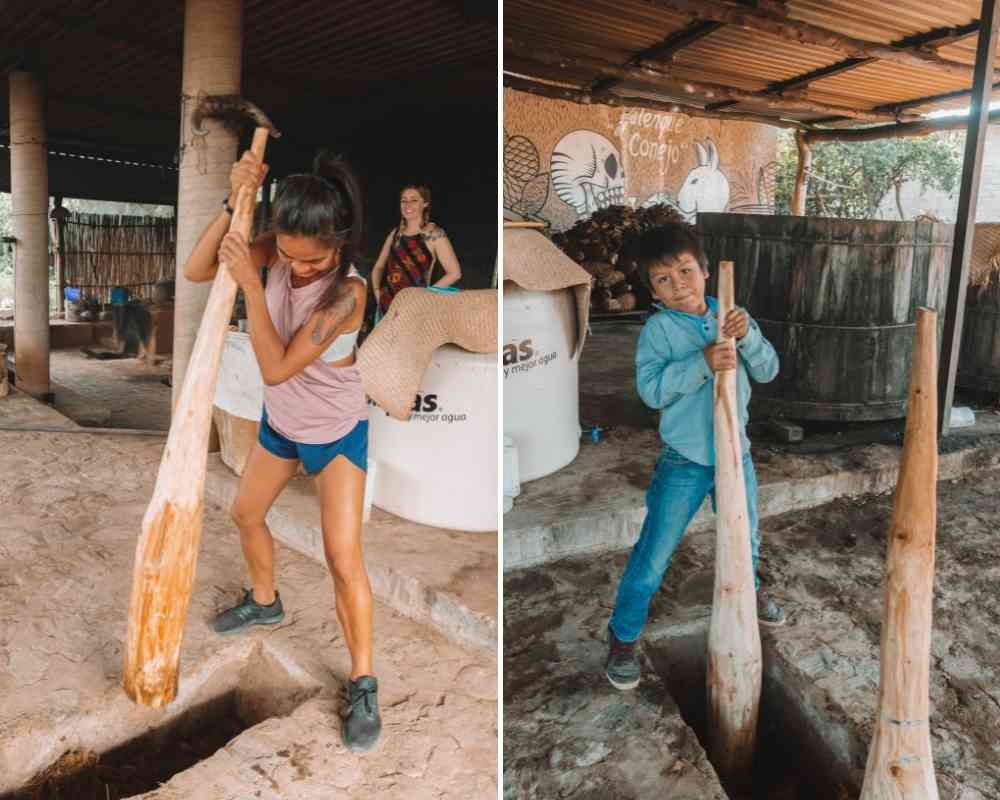 Step 3: Fermentation
The wooden vats used for the fermentation process are called tinas in Spanish. Everything (as in everything) are placed in the tinas for fermentation – from the juice, hearts, and fibers. Then they are left uncovered for up to a month which is the process of natural fermentation. Tinas are made from strong woods (like pine or oak) which contributes to the final flavors of the mezcal.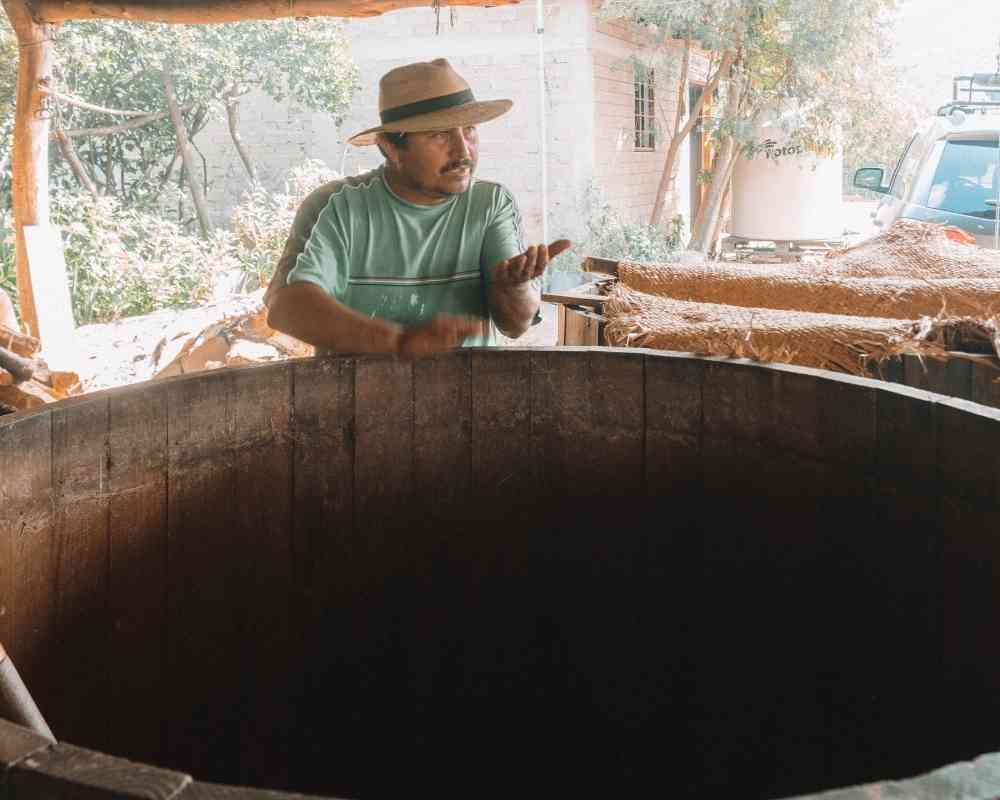 Step 3: Distillation
Mass commercial distillation uses stainless steel but Conejo is still doing it the old-school way (or let's say ancestral): wood, clay, and copper. The modernization process is fast but Palenque Conejo wants to keep this tradition alive hoping that one day, his children will not convert to easy.
The stills are really hot so be careful of coming too close – I made the mistake of doing it as I wanted a close-up shot. What's really impressive about this is that I did not see Conejo use a thermometer to check if the distillate's temperature is enough.
He told me that in palenques, mezcaleros only measure it by looking. I was so confused when he said this to me so he explained further. What he meant by "by eye" (de ojo in Spanish) is that they look at how strong the distillate streams coming out of the still. This way, they know how to know if the temperature is right or wrong.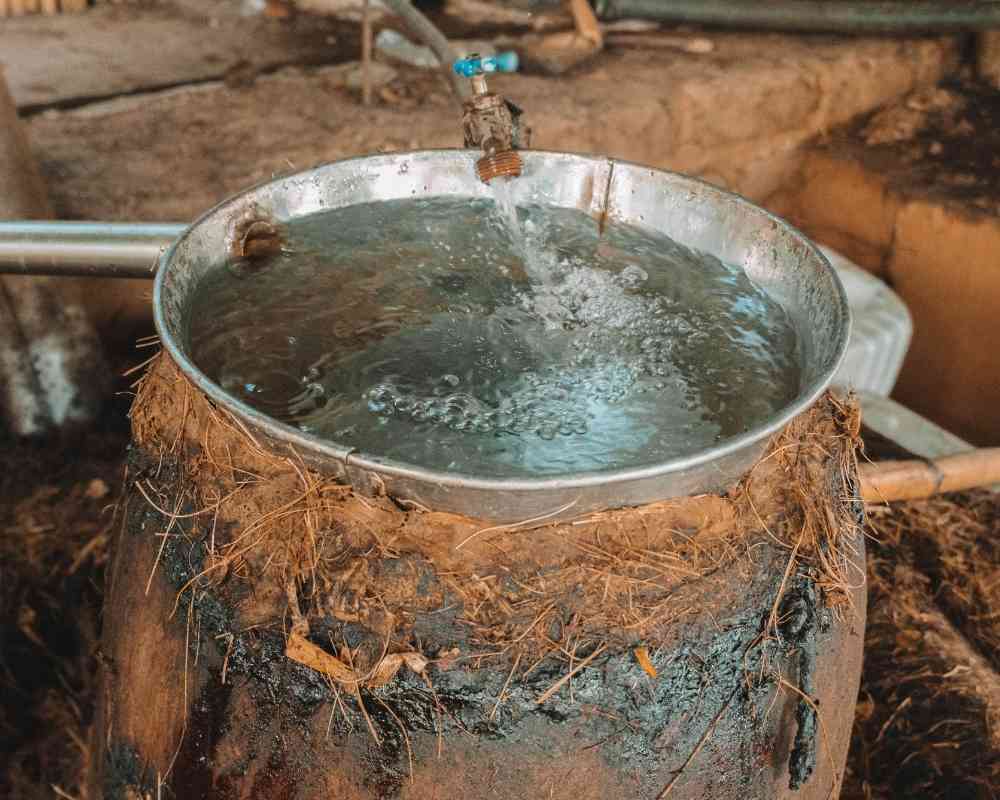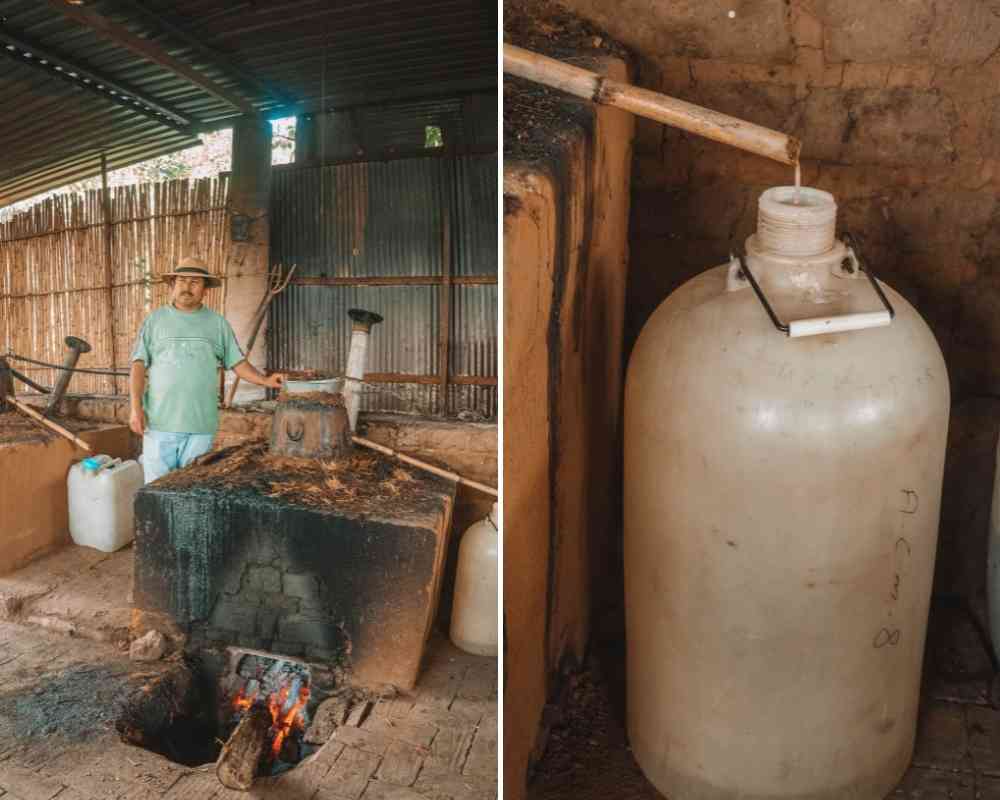 Step 4: Bottling
The final product is placed in big glass jars to cool down and after that, they put them in different sizes of bottles. They also have their own labels for Palenque Conejo which are super branded. I really loved seeing this process!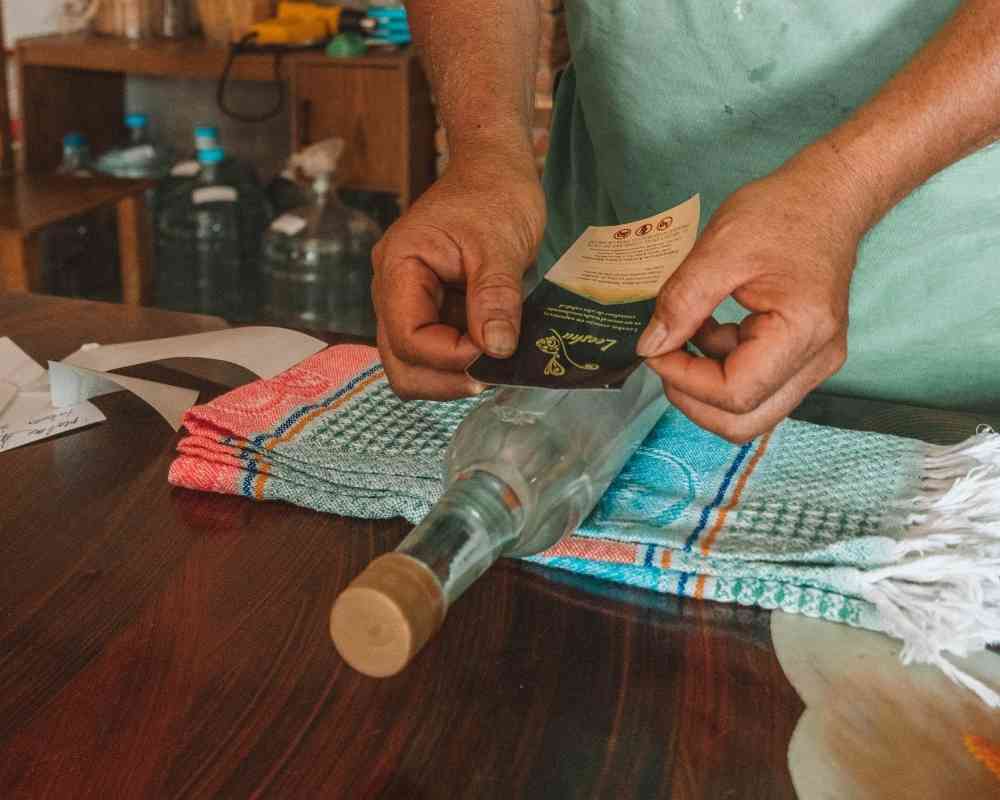 🛒 Mezcal tasting and buying guide
I discussed the difference between family-run vs commercial Oaxaca mezcal tours in the first part of this article. Now that you know how tedious and laborious the [manual] process is, I am sure you'd be willing to pay the price of this premium mezcal.
After the distillation process, we proceed to the tasting process of the final products that took place in the tasting room. I bought a few bottles to take home to friends since I already bought a bunch from our textile tour in Oaxaca. I needed to check in either way.
The bottles I bought were tobala, arroqueño, and pechuga in the smallest bottles since I was giving them as gifts.
| Mezcal | 250 ml | 500 ml | 750 ml | 1 lt |
| --- | --- | --- | --- | --- |
| Espadin Cogollo | US$10 | US$15 | US$20 | US$25 |
| Espadin Capon | US$10 | US$15 | US$22.50 | US$25 |
| Tobala | US$15 | US$30 | US$40 | US$55 |
| Arroqueño | US$30 | US$40 | US$50 | US$60 |
| Tobasiche | US$15 | US$30 | US$40 | US$55 |
| Marleño | US$15 | US$30 | US$45 | US$60 |
| Pechuga | US$20 | US$40 | US$60 | US$75 |
To be honest, I find palenque prices cheaper because if you buy this in the city markets, it could cost double. You will have a free mezcal tasting session before you decide to buy so you can check what you want. You don't have to buy the same mezcal that I bought – let your pallette decide!
Overall, I had a lot of fun as it's one of the most unique Oaxaca mezcal tours that I've been on. We headed back to Oaxaca City and everyone was knocked out in the car except Victor who had to drive us back. I don't remember how many mezcal shots I had that day but it sure was a lot! If you ever go on this mezcal tour in Oaxaca, I'd love to hear about your experience!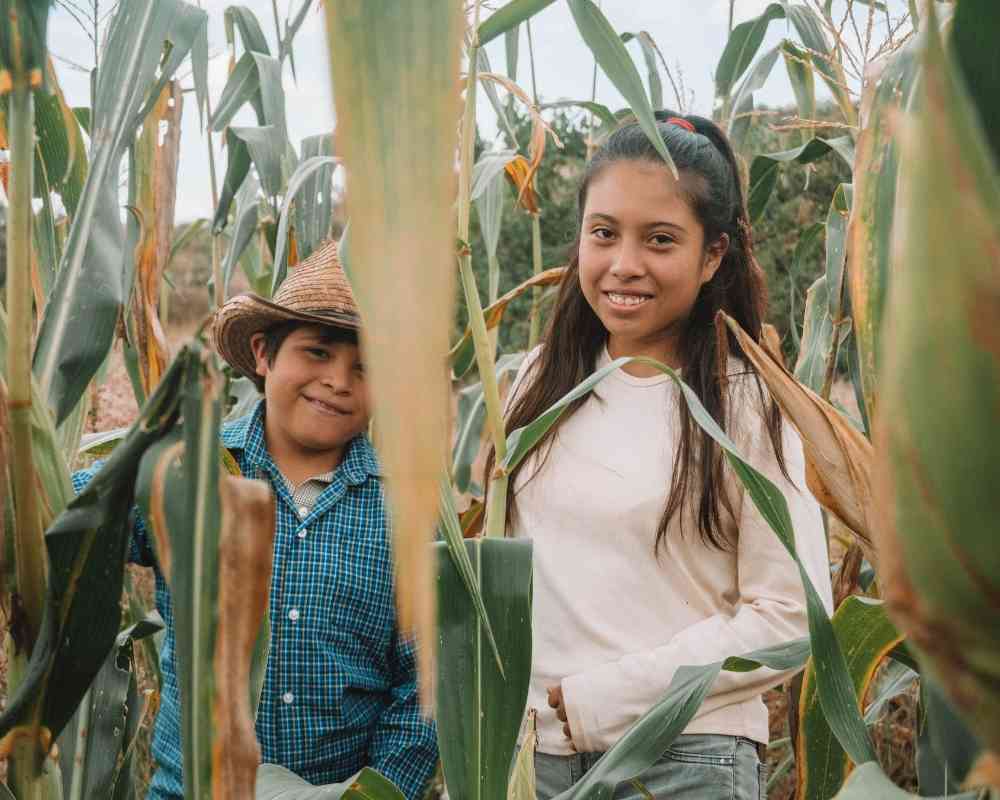 🌿 Oaxaca mezcal tour sustainability and ethics
At Mexico Insider, we just don't support and promote local tours just because we had the free experience. Before agreeing to do this mezcal distillery tour, we investigated the humanity of Palenque Conejo's business.
Palenque Conejo does not mass harvest agaves to take care of the land (as magueys tend to depend on each other when it comes to maturing). All of their mezcal tours involve planting agaves to make up for the number of plants they harvest. Many wild agave fields in Mexico are on the brink of extinction because of the increasing popularity of mezcal and commercial tours.
As you already read in this article, they also don't mass-produce mezcal since their machinery takes a lot of work to produce just one bottle! They also incur zero trash as all of the parts of the agave go in the making of the mezcal. Their bottling process is also sustainable and trash-free.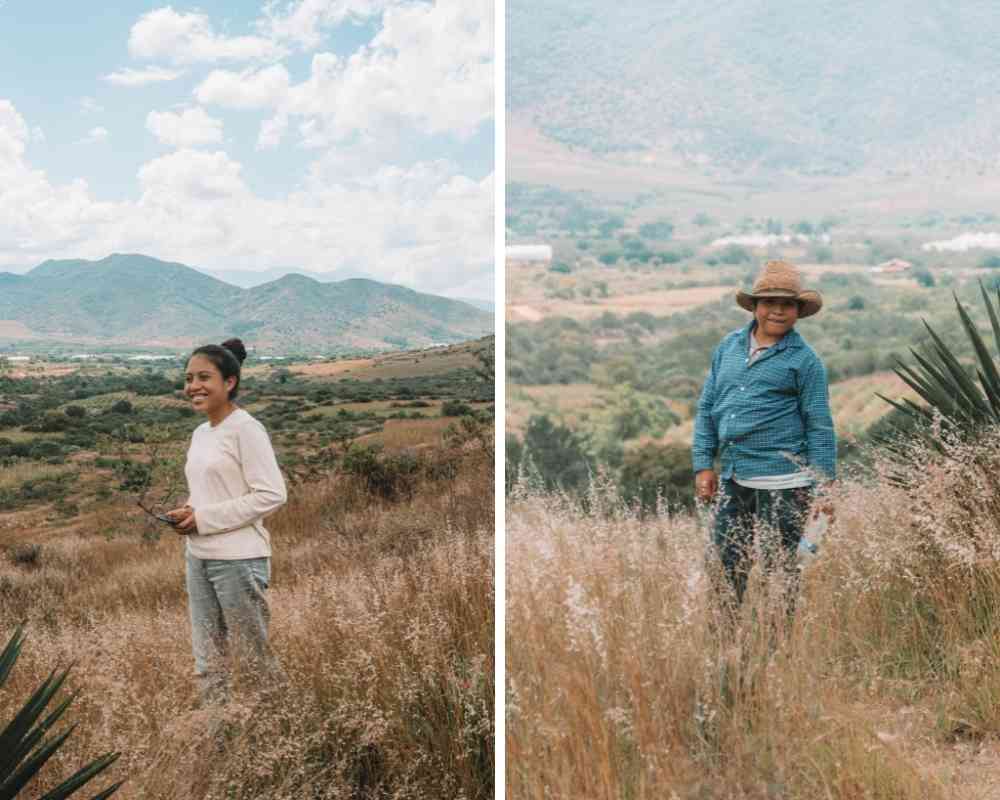 🇲🇽 Oaxaca Travel Resources
Trisha traveled to Mexico in 2018 and after a year, she found herself obtaining a 4-year residency visa in Mexico. She is the Editor-in-chief for our Living in Mexico Series which has helped over 3,000 Americans move to Mexico with ease. Trisha currently resides in Cabo San Lucas, Baja California Sur.