Beginning with privacy, exclusivity, and luxury, our radar caught Casa Las Nubes Guanajuato as a different accommodation experience in the state of Guanajuato. There's a plus factor if you've never heard of Sierra Santa Rosa — a chain of mountain ranges and one of the most impressive in the Americas.
You wouldn't really call it a hotel. We'd like to say it's a vacation home but it's also not an Airbnb. Casa Las Nubes Guanajuato has modern furnishings, a fully equipped kitchen, a heated pool facing the mountains, and a bathtub in the corner room with massive glass windows for a front-row seat view of the sierras.
ℹ️ About Casa Las Nubes Guanajuato
Casa Las Nubes Guanajuato is a two-floor vacation home that can accommodate 8 people. It's in the middle of Guanajuato City (about 26 minutes) and Dolores Hidalgo (40 minutes)
Owned by a Mexican family, this property is tucked in the thick forests of the state of Guanajuato in a private estate together with other vacation rental homes.
Ideally, you'd stay in Casa Las Nubes for certain events like weddings, bachelorette parties, or any small-scale occasions that involve less than 10 people.
This accommodation is fit for families traveling with kids, couples on a honeymoon, or groups of friends celebrating special events. It is also for those who are looking for something quiet but luxurious — nature lovers particularly love Casa Las Nubes.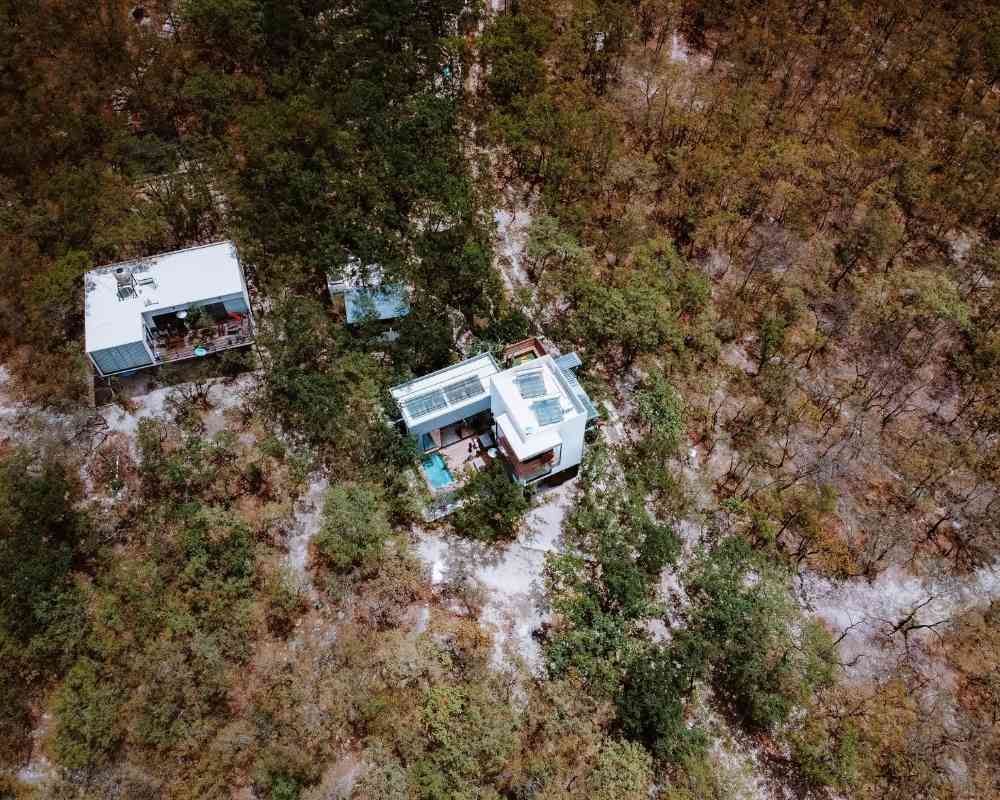 ???? How to get to Casa Las Nubes Guanajuato
To get to Casa Las Nubes, our private taxi drivers can pick you up at the Guanajuato Airport (also known as Silao Airport in Bajio). The price for this ride is around US$50 on a Sedan and can fit 4 people.
You can book this taxi service or e-mail our office support staff should you need more assistance. But anyway, first thing's first – Casa Las Nubes Guanajuato is in the middle of nowhere. It is highly recommended to rent a car when you arrive because you need it 100% when going around the area.
To have an idea about the distance and surrounding areas, see quick info below:
from Guanajuato/Leon/Bajio Airport: 1.5 hours
from Guanajuato City: 26 minutes
from Dolores Hidalgo: 40 minutes
Unfortunately, there is no public transport within the area where Casa Las Nubes Guanajuato is located – no busses, trains, or other modes of transport are available in this area which makes it a more enticing destination for quiet vacations.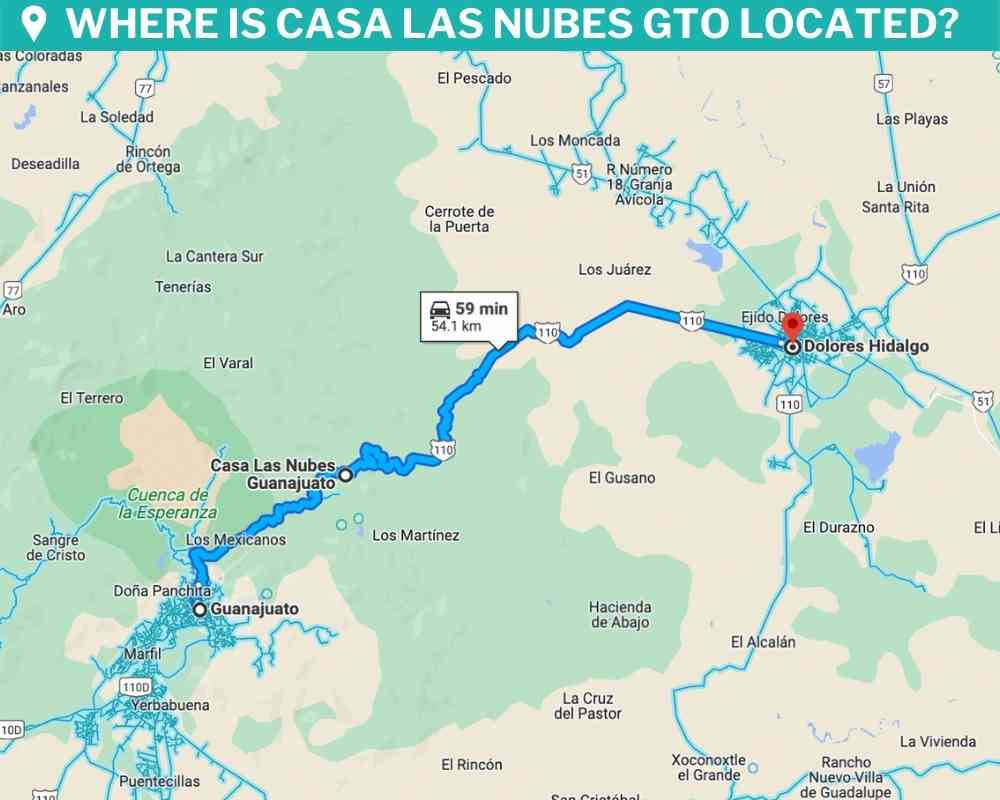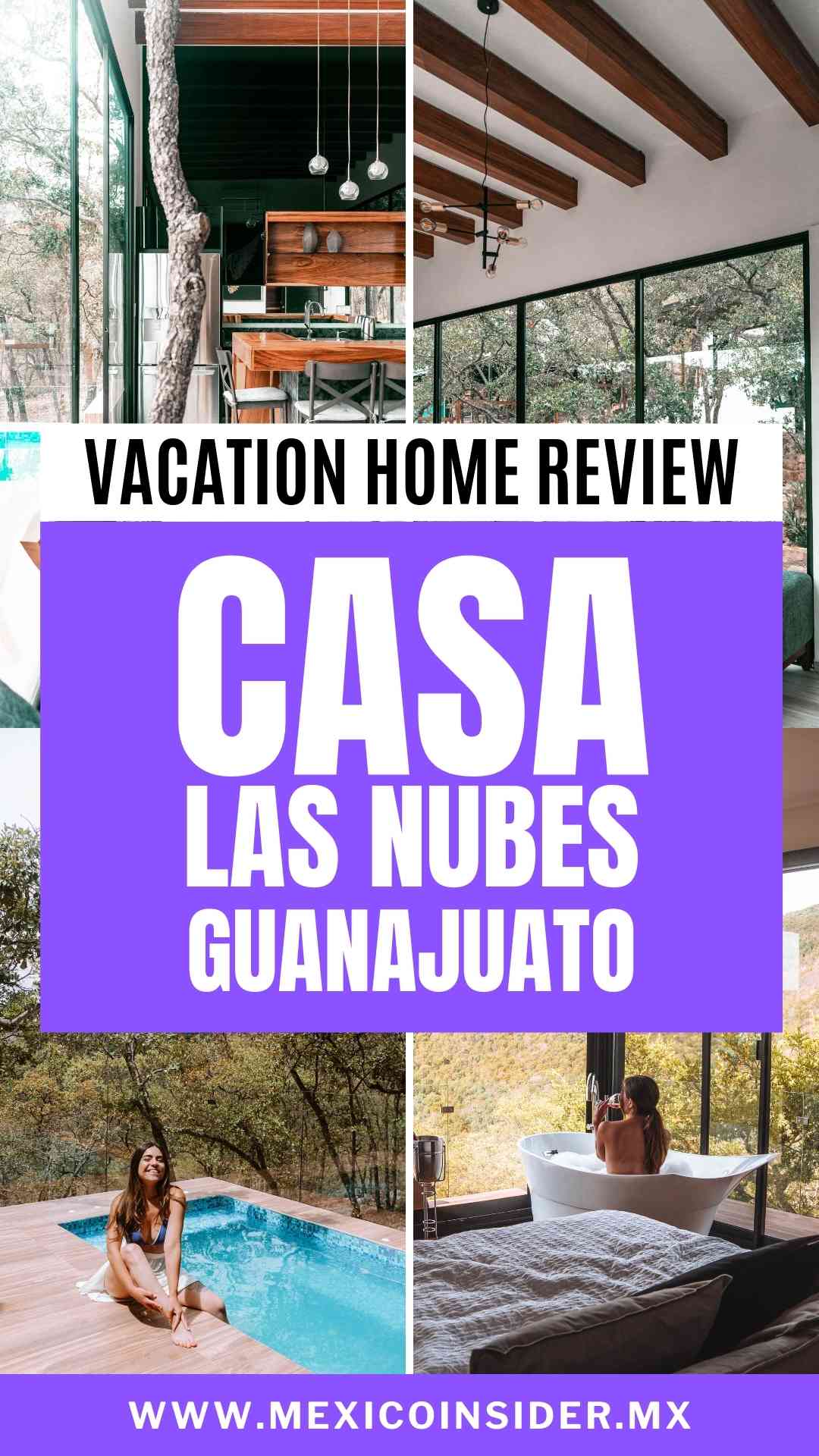 ???? Casa Las Nubes Guanajuato Review
The rooms
Let's start with room 1: a second-floor suite that is best for couples. The beddings are with custom-made linens handpicked by the owner for deep restorative sleep. Thanks to its massive glass windows, you can wake up and the first thing you'll see is a spectacular view of the sunrise over the Sierra Santa Rosa mountain range.
Get a bottle of wine in the nearby Cuna de Tierra Winery and dip in the tub which is mischievously placed in the corner of the room. Fill it with hot water, sprinkle some bath essentials with Epsom salt, get a book, and sip on a glass of wine (or two).
This area has a cold climate but for those who are used to the harsh winters in Europe, Canada, Australia, and the USA, let's say this weather is definitely Spring for you.
For those who are not used to cold weather, an Egyptian cotton bathrobe available in all rooms will warm you up. We highly depended on this robe during our stay – it does really make you feel warm!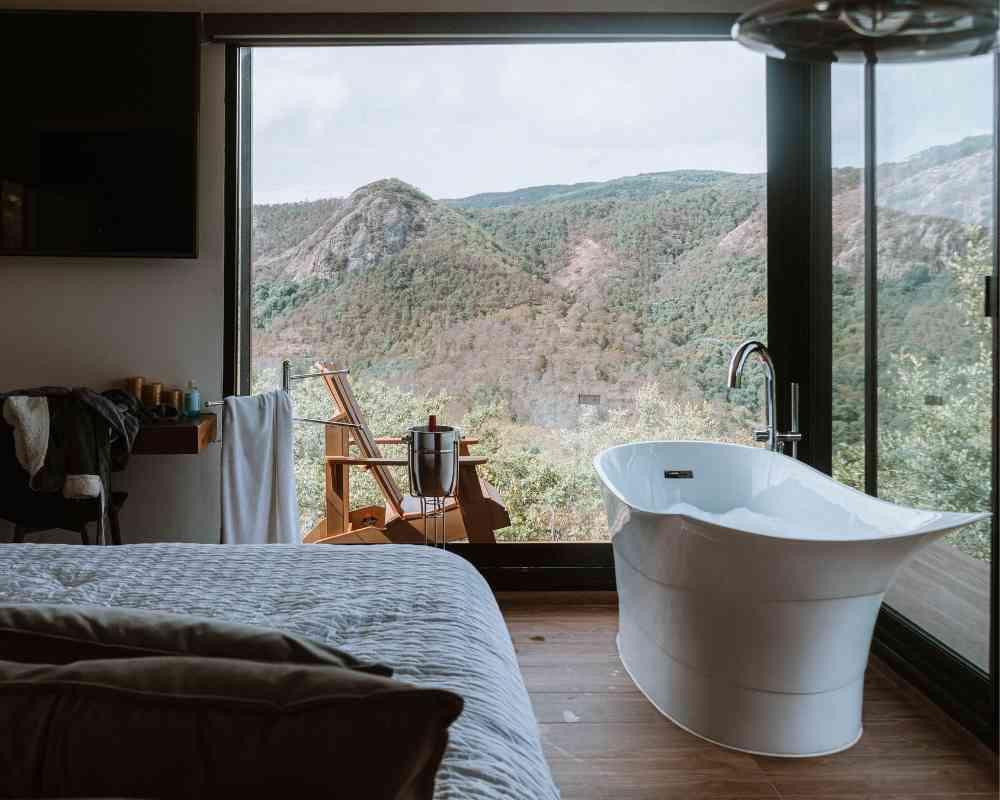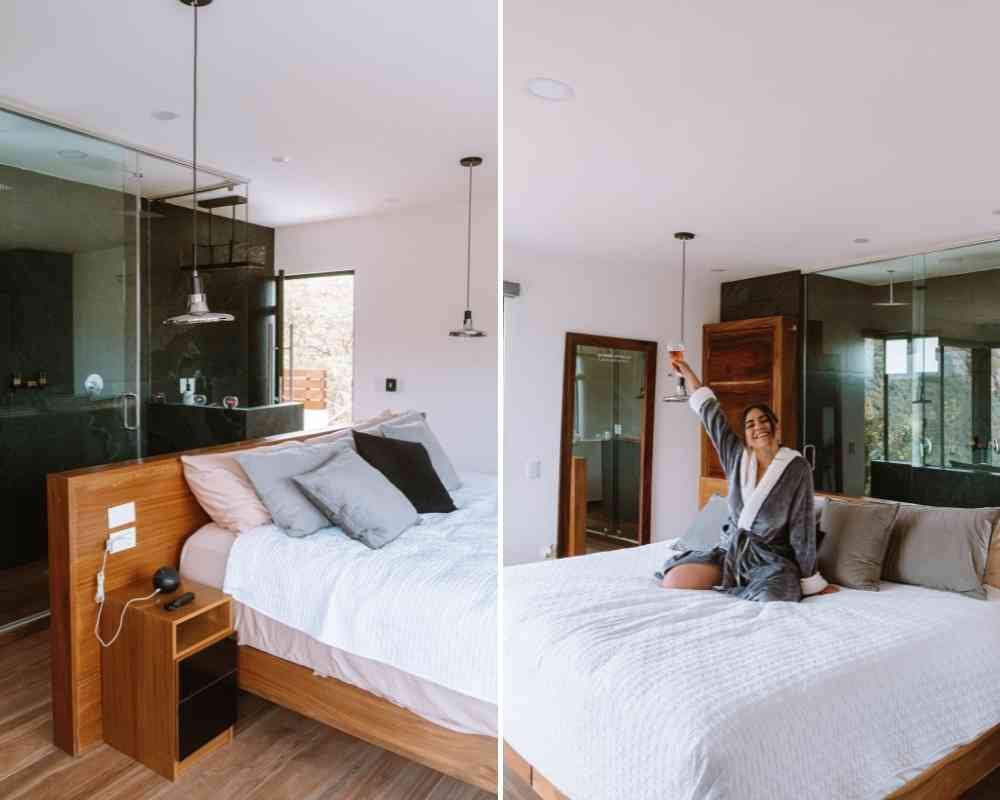 The bottom unit can fit the majority of the party as there are two bedrooms. The Master Suite does not have a tub but has the same view as the upper unit. There is easy access to the heated pool from this room, as well as thick forest views.
Right next to it is a bedroom with a bunk bed that can fit 3 people. Casa Las Nubes Guanajuato is child-proof and is favorable to families traveling with kids. Scratch those worries off your vacation planning checklist as your kids are very much welcome on this property!
You probably won't go on a vacation with pets but if you do, yep, they can take whatever pet you have. Just be mindful when they wander off the jungles (for example dogs) as there are many animals (we don't trust) they may come across. Casa Las Nubes' adorable in-house dog will also receive your furry friends with open paws.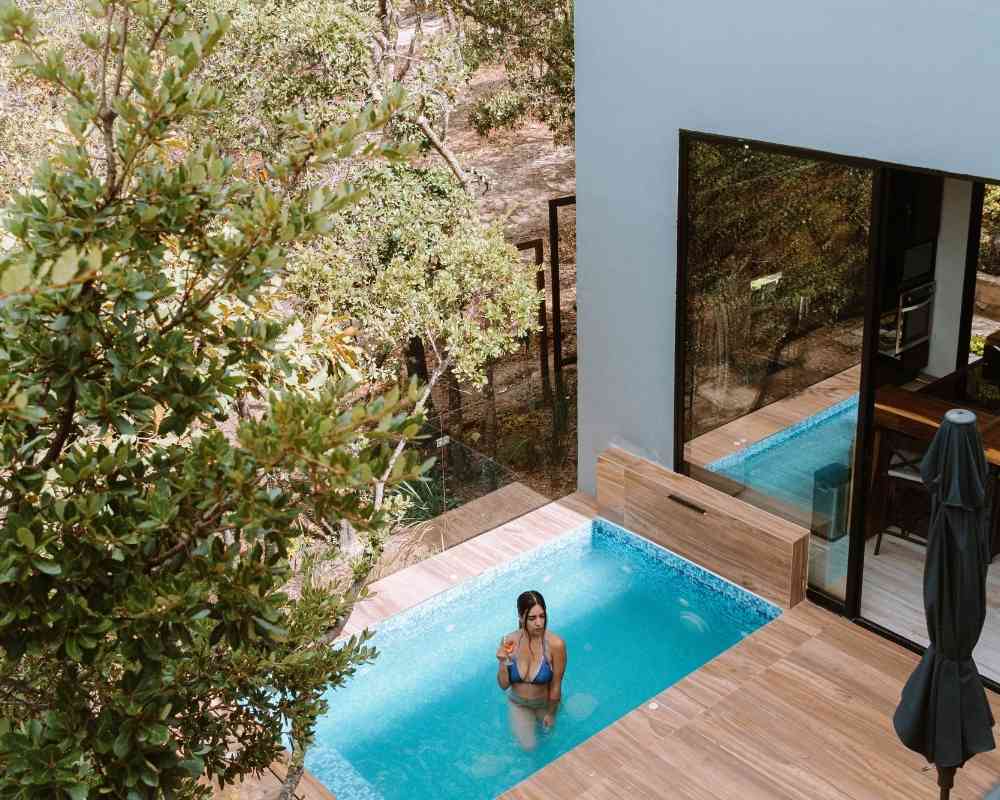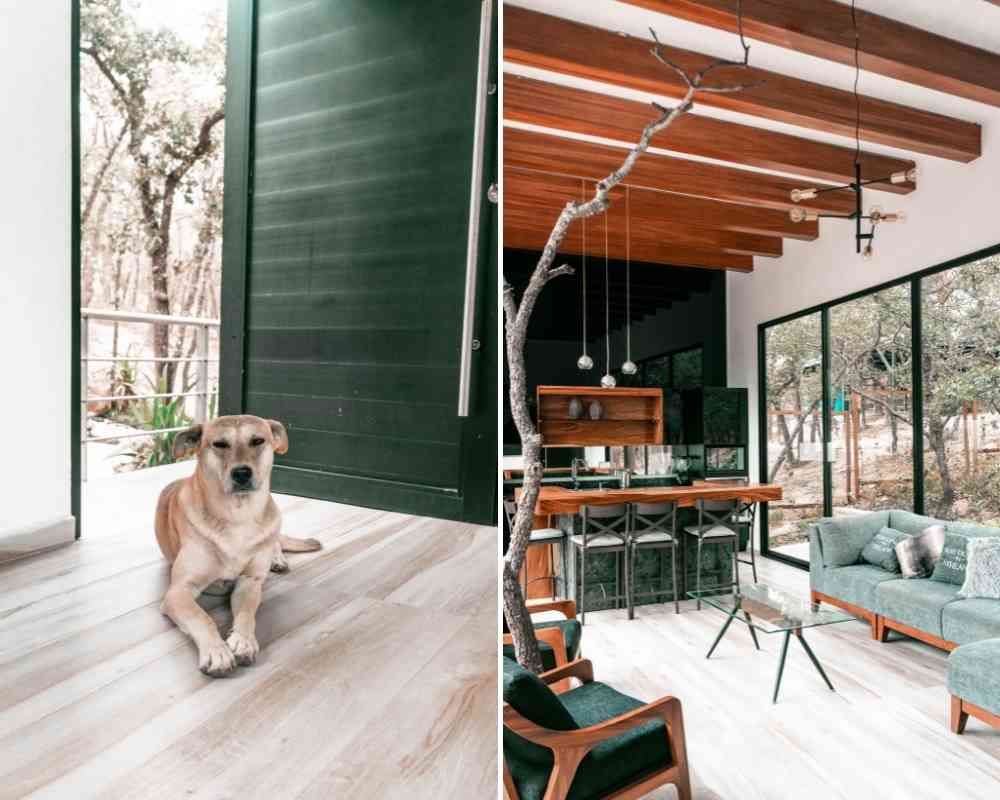 The Amenities
First thing's first: since this is in the middle of nowhere, you need to bring your own food and you'll spend a lot of time cooking while in Casa Las Nubes. Plates, utensils, glasses, cooking materials, pots, and pans are available on-site.
The modern kitchen has a marble counter in the middle that has one working fire stove. In the common compound, there is a small nook for barbecue parties equipped with a dining table for 6, a sink, and state of the art grill.
Alternatively, you can go to the famed Rancho de Enmedio, a restaurant that strongly depicts the vacation style in the area. Enmedio, when translated into English, means 'in the middle (of nowhere).' It is a 5-minute drive from Casa Las Nubes and is a great eating-out option for some nights during your stay.
You will spend a lot of time on the patio where the heated pool is located, as we did during our prolonged stay. There is one dining table on the terrace, day beds to lay on (should there be sun), and a strong heater for comfortable cold nights.
Lastly and probably the most important topic of all: Wifi. It is complimentary and included in the nightly rate. It is not for your remote work use since the Internet here is with a basic 15 Mbps download speed but it is decent to load Google maps, Google browser, or open your mail.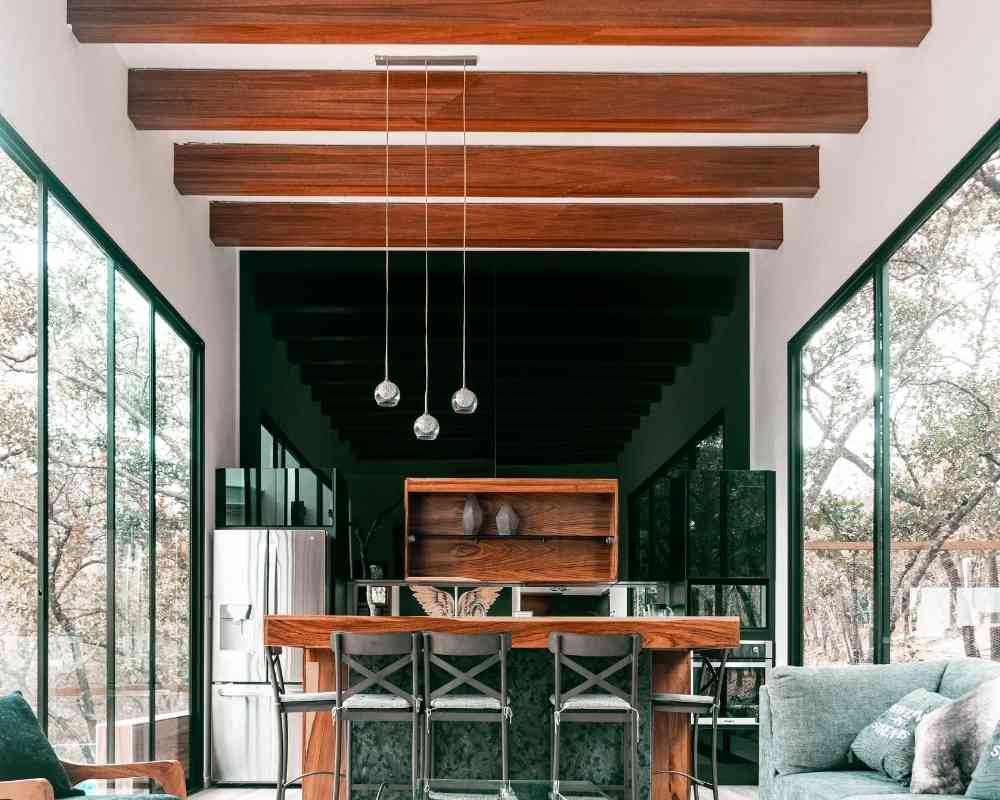 The Staff
Casa Las Nubes Guanajuato has local staff and will be heavily present for the duration of your stay. The caretaker, Ricardo, has been very pleasant and has offered to go shopping for us on his motorbike. He is an extremely polite person who has contributed a lot to making our stay in Casa Las Nubes hassle-free.
He was also on top of suggesting itineraries and solving transportation issues. If we could award one trophy for the best staff service in Mexico, the trophy goes to Ricardo without a doubt.
We also had the privilege to meet Luis, who willingly brought his wife and two kids to be with us during our stay. With this, we were able to see a clearer picture of how this accommodation is suitable for families with kids.
???? Our #SupportLocal project makes our brand a strong believer in supporting local communities. Do not forget to tip for service staff when visiting Mexico.
????️ Book your stay at Casa Las Nubes
Casa Las Nubes Guanajuato was independently selected by our editors and producers. However, when you book something through our links, we may earn an affiliate commission at no extra cost to you. A night at Casa Las Nubes starts at US$150 and you can book it via Booking.com.
Loyal readers of Mexico Insider get a special discount code. For those who want to stay here, send us an e-mail and we will help you with a better booking rate!
✈️ Ready for your trip to Guanajuato? If you need more information about Casa Las Nubes Guanajuato, we'd be happy to update this post – just leave your questions below!
Trisha traveled to Mexico in 2018 and after a year, she found herself obtaining a 4-year residency visa in Mexico. She is the Editor-in-chief for our Living in Mexico Series which has helped over 3,000 Americans move to Mexico with ease. Trisha currently resides in Cabo San Lucas, Baja California Sur.