The curation of this content is at the discretion of the author and is not necessarily reflective of the views of Mexico Insider or its editorial staff.
Tucked away in the heart of downtown Queretaro, Hotel Casa Once is a boutique hotel that brims with glorious architecture and pink walls everywhere you look.
Ideal for digital nomads looking to explore a more local side of the country, couples traveling on a romantic getaway, or those looking for a gateway to adventure in the Mexican wine country, Hotel Casa Once is a great option for accommodation in Queretaro.
We stayed here for 2 nights and in this post, we will share our personal experience at this cozy boutique hotel in the heart of Queretaro that comes in all shades of pink.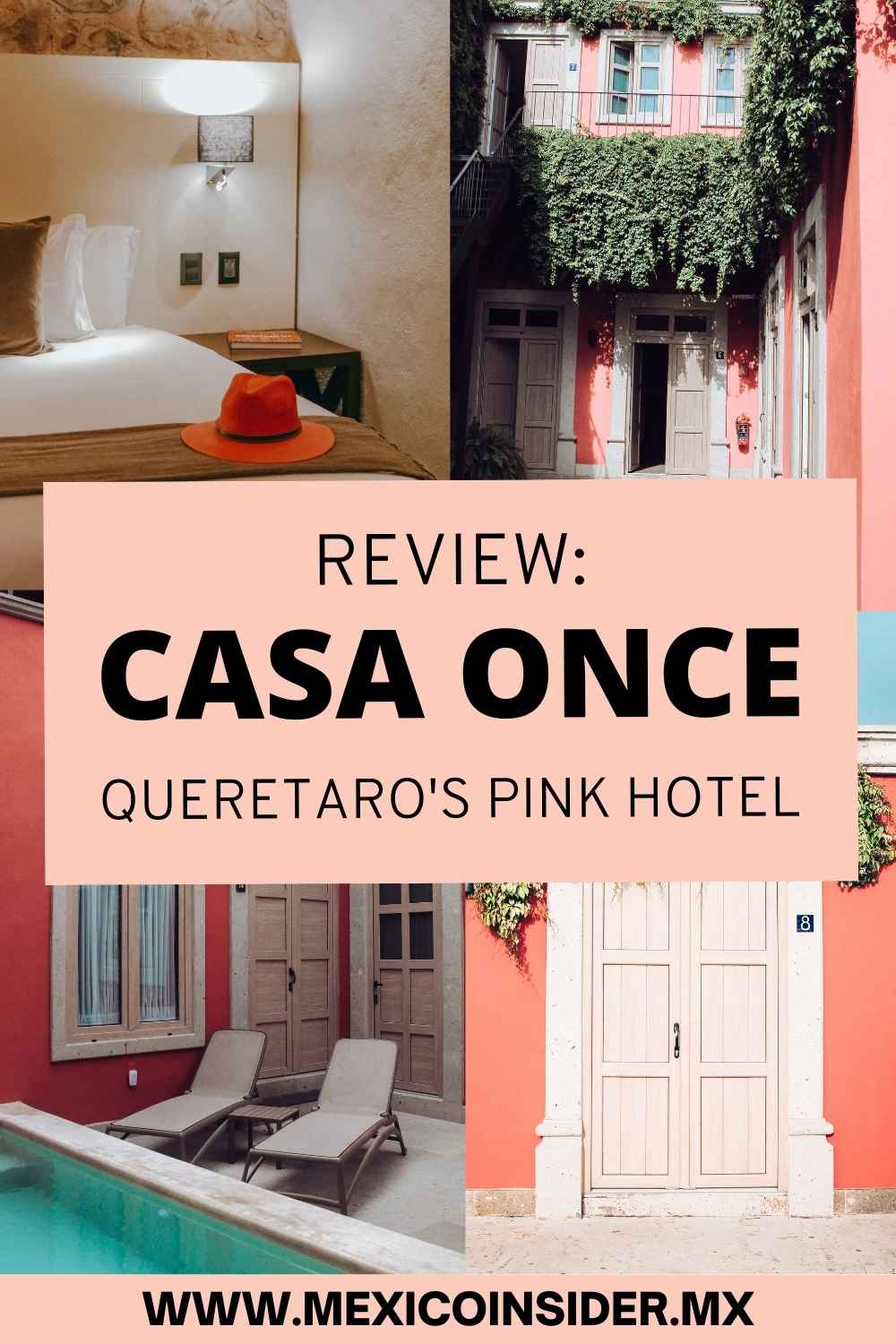 🪅 Editor's Note: Our stay at Hotel Casa Once was complimentary but all opinions and images are our own. Our sponsored partners do not tell our editors what to publish. All our content is based on our experiences.
🌟 Hotel Casa Once Queretaro Review
The Location
Hotel Casa Once has two properties located only about two blocks from each other right in the heart of Queretaro's downtown.
Both properties are located in two colorful and quiet streets only a block and a half away from the Plaza de Armas, which is the main square of the city.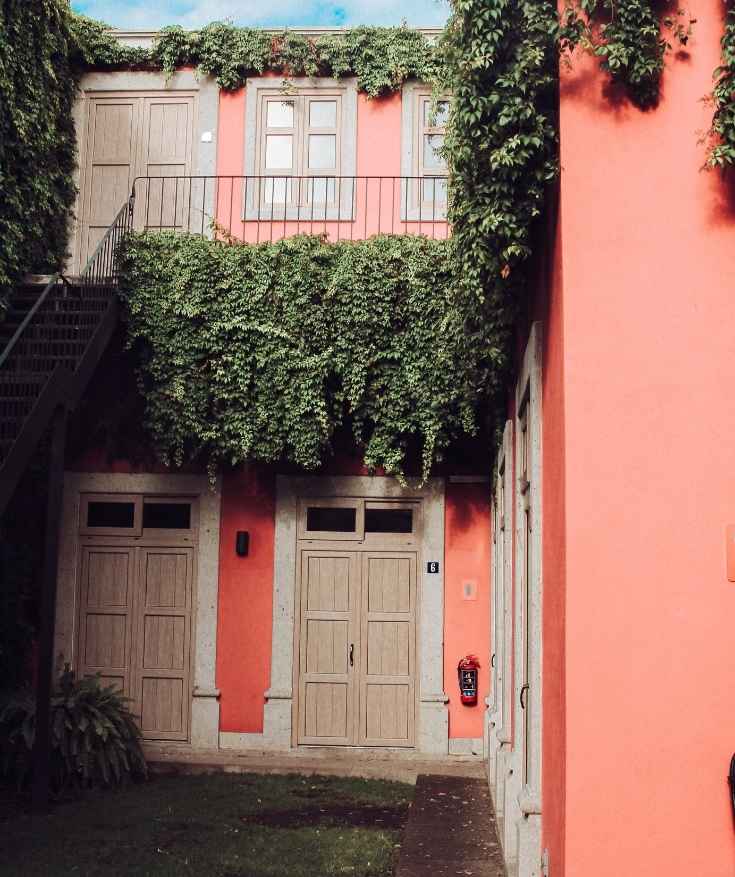 This means you'll get to be an extremely short walk away from where everything is happening in Queretaro and the main things to see, but without being in the middle of the noise and having a peaceful respite to come home to.
To have an idea about the distance and surrounding areas, see quick info below:
from Queretaro Airport: 35 minutes
from Mexico City International Airport: 2 hours and 30 minutes
from San Miguel de Allende: 1 hour
The Rooms
There are a total of 13 rooms spread between the two properties of Hotel Casa Once. Each of them is spacious and extremely comfortable.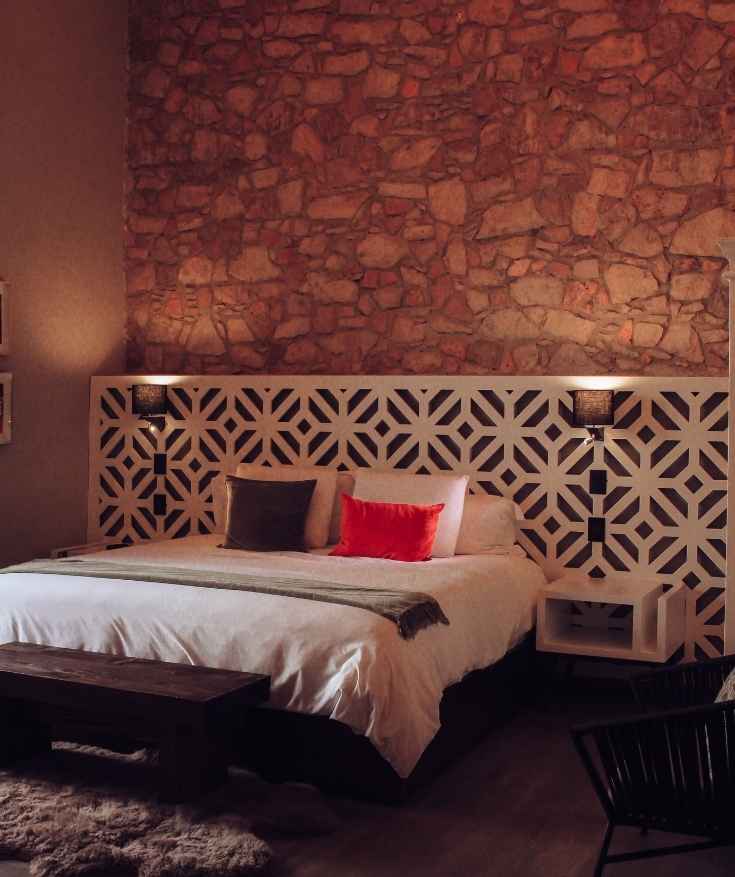 In each room, you'll find an extremely comfortable bed made with bamboo liners and eiderdowns for the ultimate rest, air conditioning, a safe box, a Nespresso® coffeemaker, and a smart TV where you can access Netflix and other streaming apps.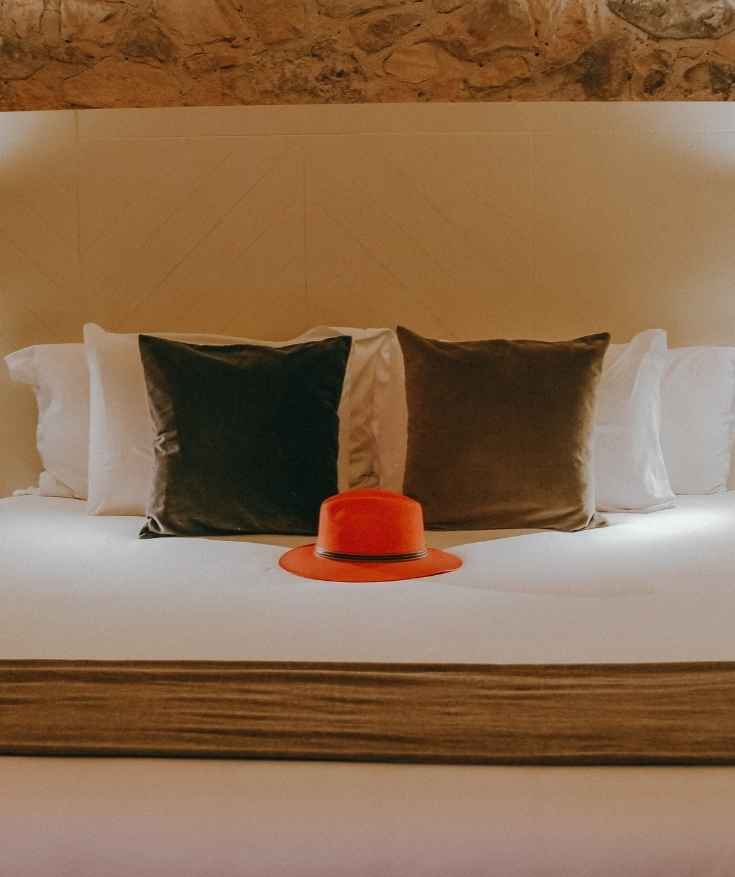 The rooms are equipped with thermo-acoustic windows and doors and the entire property is solar energy powered!
Moreover, the internet at Hotel Casa Once is extremely fast and they provide desks in every room, making it an ideal place to stay in Queretaro if you are traveling as a digital nomad or for work purposes.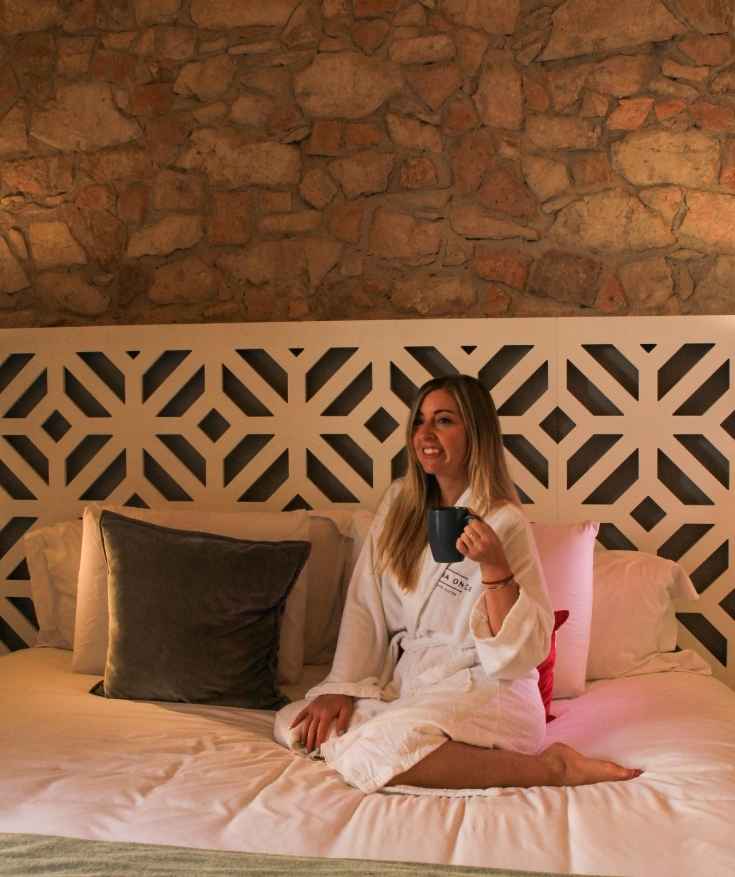 As a bonus, the tap water at Hotel Casa Once is 100% purified by a high-end technology system.
The Amenities and Spaces
Hotel Casa Once is made up of two different houses from the colonial era that are over 150 years old.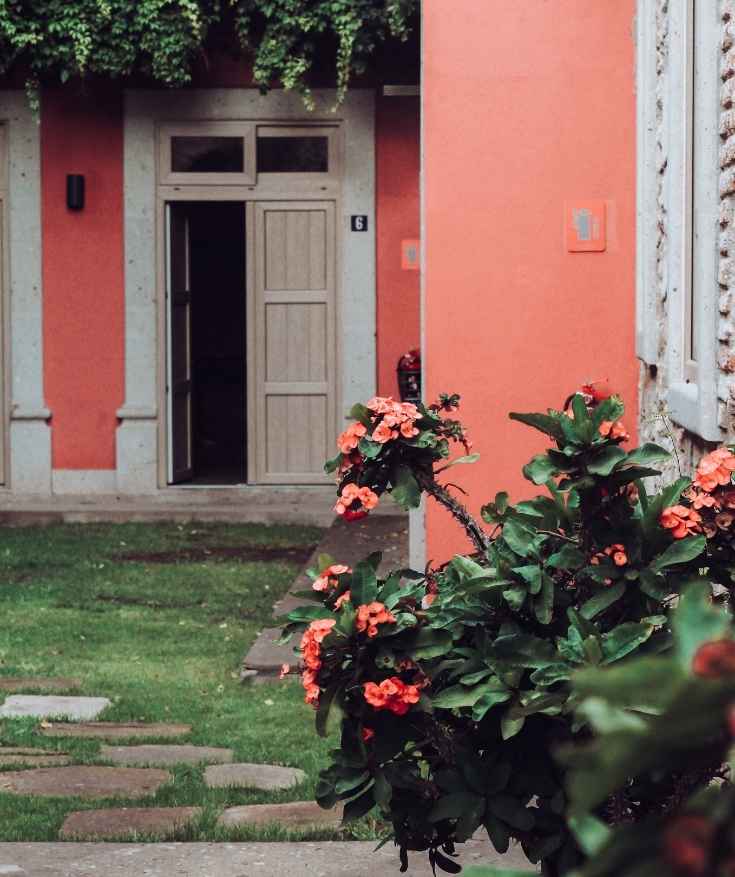 Even though they've been renovated, they still retain their original construction and old-world charm that fits perfectly with Queretaro's vibes, with a pink aesthetic added into the mix!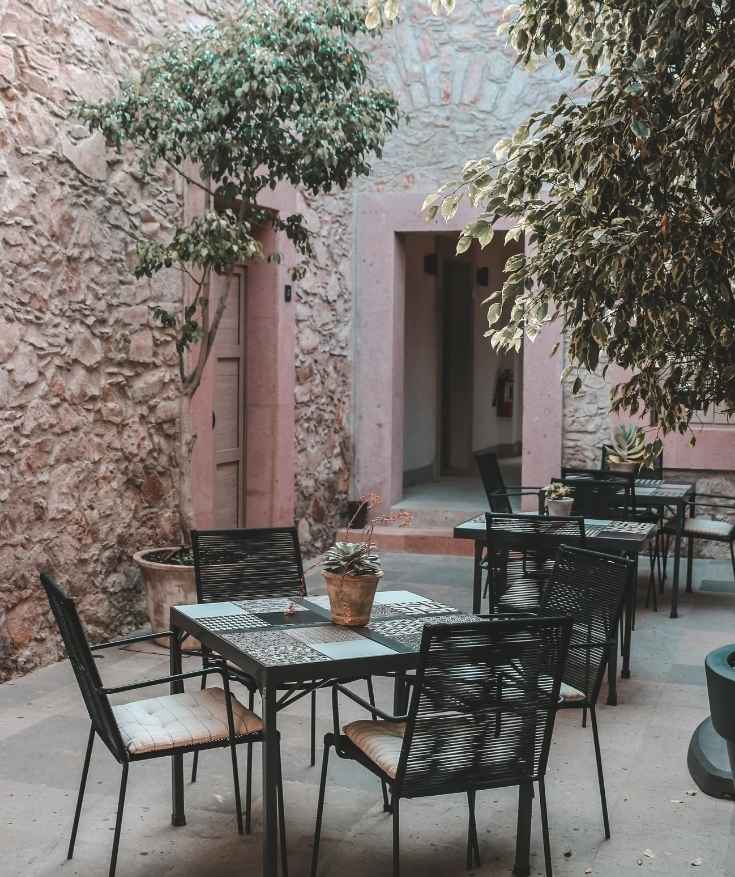 The houses are located on two different streets, but they're just a 3-minute walk away from each other. In one property (Próspero C. Vega street), you'll find a cozy patio with a small heated pool with tables and chairs to work at, have a chat, or simply relax with a book and cup of tea in hand. They also have a small bookshelf with titles you can borrow!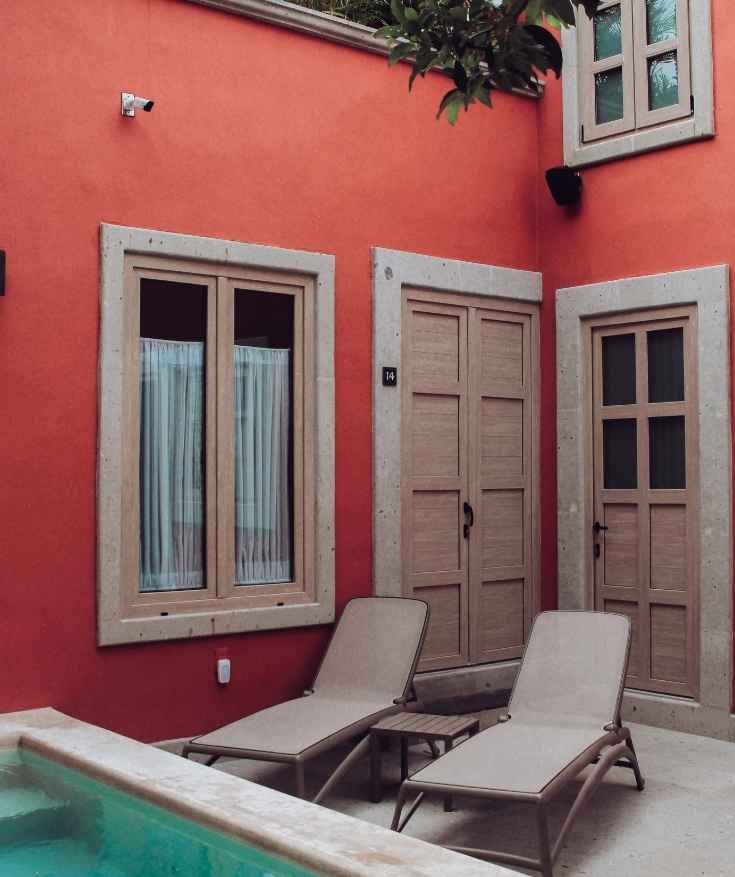 At the second house (located on Río de la Loza street), you'll find a gorgeous garden with tables as well as a terrace with comfortable sofas that overlooks the cupolas of downtown Queretaro.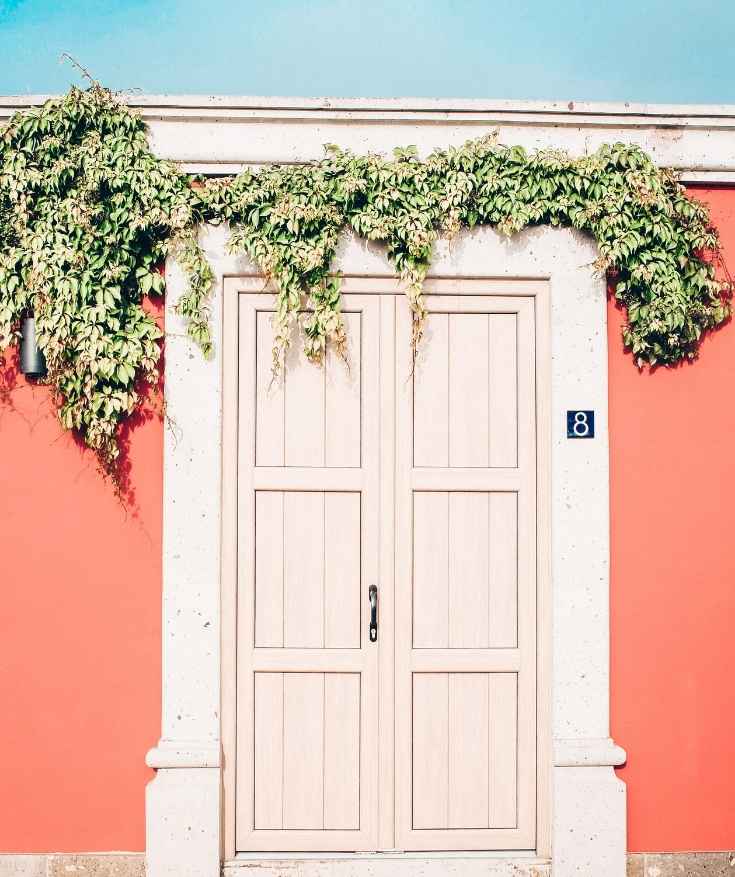 No matter which house you stay at, you will get access to all the common areas in both properties.
A hearty Mexican/American breakfast is included for all guests, which you can enjoy on the patio by the pool, in the garden, or on the terrace with views of Queretaro's cupolas.
The Team
Even though they don't have a large team and it has more of a family feeling, the team that runs Hotel Casa Once will make sure you feel at home and comfortable during your stay.
The housekeepers are extremely honest and friendly. Aside from making sure the property and rooms are clean, they go above and beyond and always make sure guests are happy and comfortable.
🏨 Book your stay at Hotel Casa Once
Hotel Casa Once was independently selected by our editors and producers as the best boutique hotel to stay in Queretaro.
However, when you book something through our links, we may earn an affiliate commission at no extra cost to you and helps us keep this website running and free, so thank you!
✈️ Ready for your trip to Queretaro? If you need more information about Hotel Casa Once or travel in Queretaro, we'd be happy to update this post – just leave your questions below or join our Facebook community where we answer questions without a cost.
🇲🇽 Queretaro Travel Resources
Daniela is a Mexican travel blogger who has been traveling the world for the last 7 years. She contributes content on Mexico Insider to showcase her beloved hometown, Mexico City.