In this comprehensive transportation guide, we'll take you through the various options available to make your journey from Mexico City to Oaxaca as smooth, enjoyable, and affordable as possible.
Getting to Oaxaca from Mexico City is not difficult, thanks to the variety of transportation options available. Whether you prefer a swift flight, a leisurely bus ride, or a self-driven road trip, there is something to suit every traveler's needs and preferences.
The most critical factor in determining the ease of your journey is to carefully consider your priorities, such as time constraints, budget, and personal comfort.
Driving from Mexico City to Oaxaca can be a safe and enjoyable experience as you take the necessary precautions and carefully plan your route.
The most popular route is along Highway 135D, which is a well-maintained toll road offering a comfortable and secure drive. However, it is essential to stay vigilant while driving, especially when passing through unfamiliar areas, and to adhere to local traffic laws.
In this guide, you will find all the possible ways to get from Mexico City to Oaxaca so read on and see what options fit you!
🧐 Questions about Mexico City to Oaxaca transportation? Ask us on Tiktok.
🔗 Mexico City to Oaxaca: quick links
✈️ Mexico City to Oaxaca by flight
The distance from Mexico City to Oaxaca is around 462 kilometers (287 miles). And if you want to get to Oaxaca the fastest time possible, flying from Mexico City to Oaxaca is your best choice.
And although there are available buses that journey to and from Mexico City, if you consider the speed of flying, it only takes one hour compared to a 6-hour drive.
Nonetheless, it should be noted that Mexico City's airport can be rather crowded (as in, very busy).
Because of this, you should give yourself enough time to get to your flight, especially if you are on a connecting flight from Mexico City, coming from another country, and then to Oaxaca City.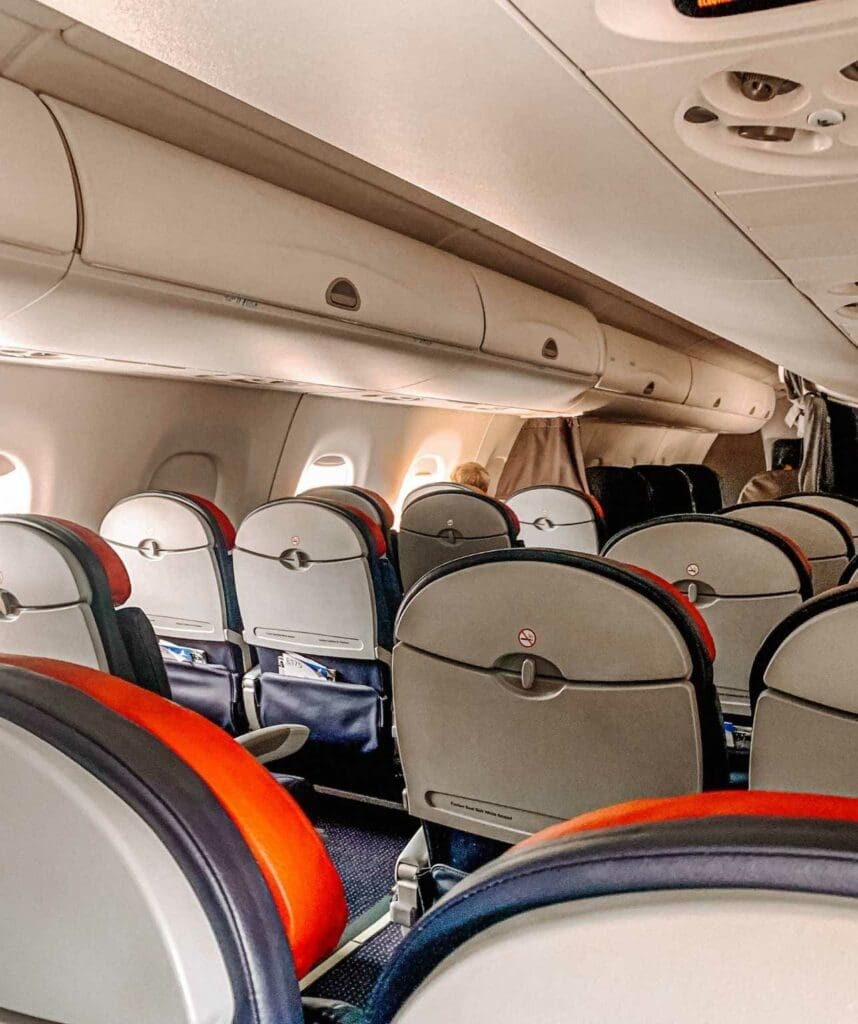 Flights from Mexico City depart from Benito Juarez International Airport (MEX), and several daily flights operate between the two cities daily. AeroMexico, VivaAerobus, and Volaris are the airlines that service flights between the two cities.
Regarding service, AeroMexico is the largest airline, with flights that depart from Mexico City around 3 to 4 times a day. You can get a one-way ticket from them starting from $104 USD, which is slightly pricier compared to the two airlines.
Meanwhile, VivaAerobus is a more affordable option. A one-way ticket costs $89 USD, but only has limited flights daily.
The same goes with Volaris, which has the cheapest fares at $52 USD, with only one direct flight departing from Mexico City daily.
Overall, if you wish to save money, plan and book your direct flight in advance because prices tend to climb as the departure date approaches.
🚍 Mexico City to Oaxaca by bus
The cheapest way to get to Oaxaca from Mexico City is by bus, which takes the longest time. A one-way ride to Oaxaca takes more or less 7 hours, which is quite long (but scenic).
When traveling via bus, several bus companies serve this route. Mexico's biggest bus company, ADO, is the leading operator of buses from Mexico City to Oaxaca. They provide the most convenient and economical way to travel.
ADO offers both first-class and deluxe bus services from Mexico City to Oaxaca. Sub-bus companies, including AU, ADO, and ADO Platino, also service the route. AU is the cheapest and most basic bus you usually ride in cities. It does not have a toilet on board and costs $34 USD.
Meanwhile, the ADO first class is an upgraded bus of the AU. Around 13 trips are going to Mexico on this bus, and a ticket costs $50 USD.
Lastly, the ADO Platino bus is a luxury bus that offers more comfortable seats with individual screens, snacks, and Wi-fi. They even have separate toilets for men and women on board.
The ADO Platino and ADO GL travel only five times a day, and a ticket costs $74 USD for a one-way trip. On occasion, there are special offers where you can grab a seat for up to half the usual price.
The travel time between the two cities will depend on the bus you ride. Most buses to Oaxaca leave from the TAPO (Terminal de Autobuses de Pasajeros de Oriente) in Mexico City. Central de Autobuses de Oaxaca is the last stop for the ADO, ADO GL, and ADO Platino buses.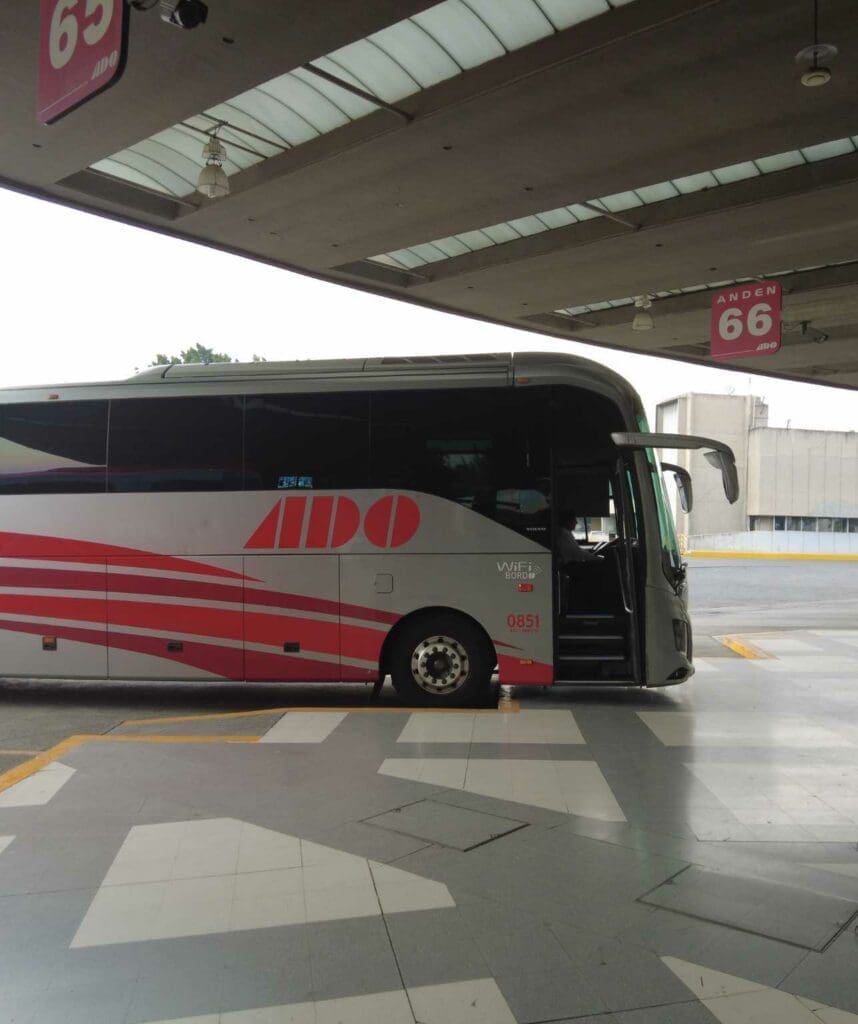 But if you are taking the AU bus, it makes two stops. The first is at Terminal Santa Rosa, 5 km northwest of the city center. After 30 minutes, the second stop is at Terminal Periferico, 2 km south of the city center.
Ultimately, the estimated time travel between the two cities is 6 to 7 hours.
🚘 Mexico City to Oaxaca by rental car
Driving from Oaxaca to Mexico City is relatively simple. If you desire to travel at your own pace and enjoy a road trip, renting a vehicle is the best option.
The drive from Mexico City to Oaxaca should take approximately five hours and thirty minutes (5 hours 30 min) if there is no traffic, but it could take longer if you make multiple stops along the way.
There are dozens of car rental companies in Mexico City, especially at the airport. You should book a rental car online before you get there for two reasons: first, you might get a better deal, and second, you will be satisfied with the selection of cars.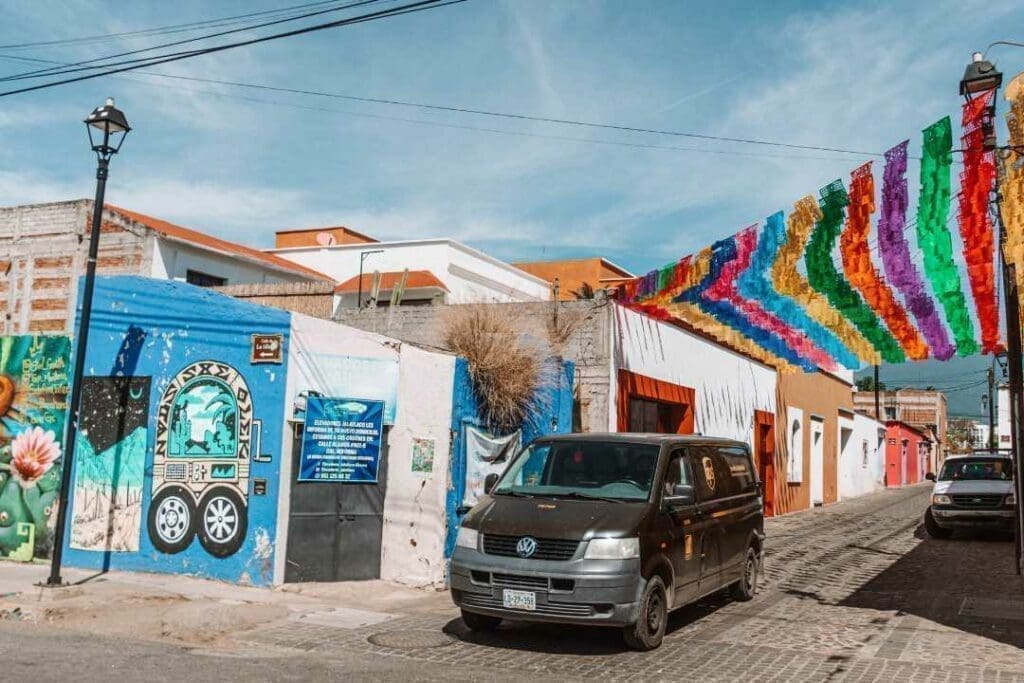 But, if you decide at the last minute, there are also available rental companies within the airport that you can transact with. Just look for their booths inside the airport terminal.
Rental cars in Mexico City start at $26 USD per day, including a collision damage waiver and theft protection for a worry-free drive. The price increases are associated with increased demand, such as during peak season and spring break. To be able to rent a car in Mexico City, you should have a credit card.
🧳 What is the best way to get to Mexico City from Oaxaca?
Getting from Mexico City to Oaxaca is very easy. There are several modes of transportation, but finding the best one for you depends on your travel style.
If you want something accessible, convenient, and affordable, riding the bus is your best pick.
Multiple buses run the route per day, operated by various companies, which makes your trip planning more accessible and more convenient. In addition, traveling by bus is not just convenient but also a great budget option.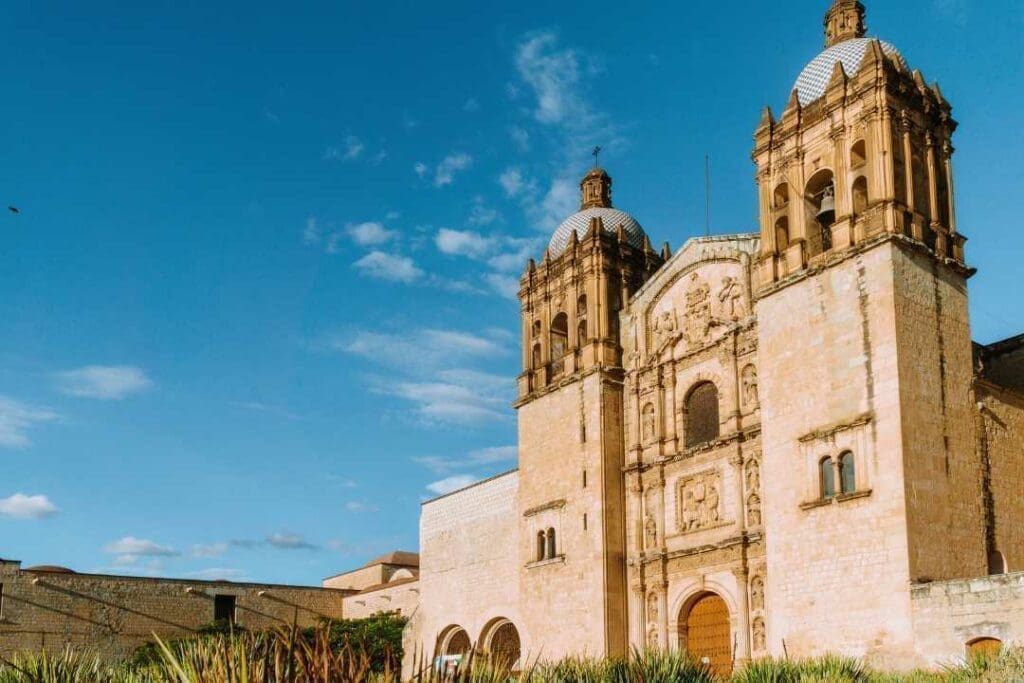 Meanwhile, another alternative to a bus ride is traveling by plane. This can be the best option for you if you want to save time and get to Oaxaca in less time and be able to spend more time around the city.
🚆 Is there a train between Mexico City and Oaxaca?
No train service runs between Mexico City and Oaxaca. Although there used to be a Mexico passenger train between these two regions, they stopped operating the route back in the 2000s.
The most common mode of transportation available between Mexico City and Oaxaca are by plane, bus, or car.
✅ Is it safe to travel from Mexico City to Oaxaca?
Generally, traveling from Mexico City to Oaxaca is considered safe, even for solo travelers. And if you are concerned about driving from Mexico to Oaxaca, the road network connecting the two regions is secure, well-kept, and well-marked.
However, like in any other place, taking precautions and being aware of the potential risks is essential.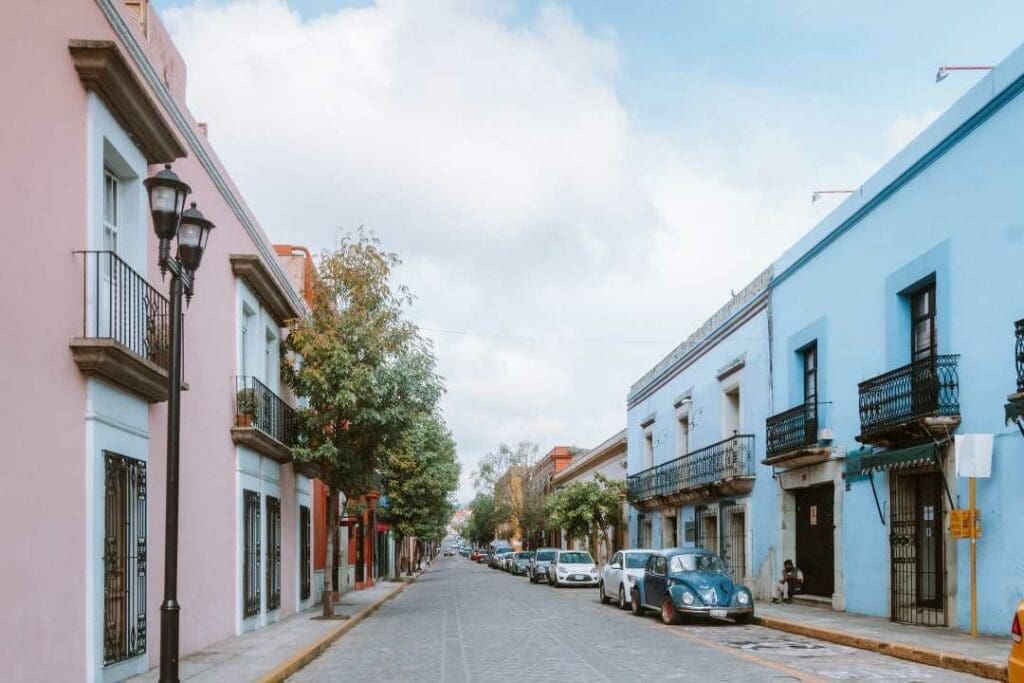 Meanwhile, if you are traveling via public transportation, the worst-case scenario you can experience is a crime of theft or robbery.
Although Oaxaca is considered one of the safest cities in Mexico, it's best to keep an eye on your belongings, especially during a trip.
🚗 How is the drive from Mexico City to Oaxaca?
If you are driving from Mexico City to Oaxaca, you can enjoy a scenic and enjoyable journey. The distance between Mexico City and Oaxaca is approximately 530 kilometers, and the drive takes around 6-7 hours, depending on traffic and road conditions.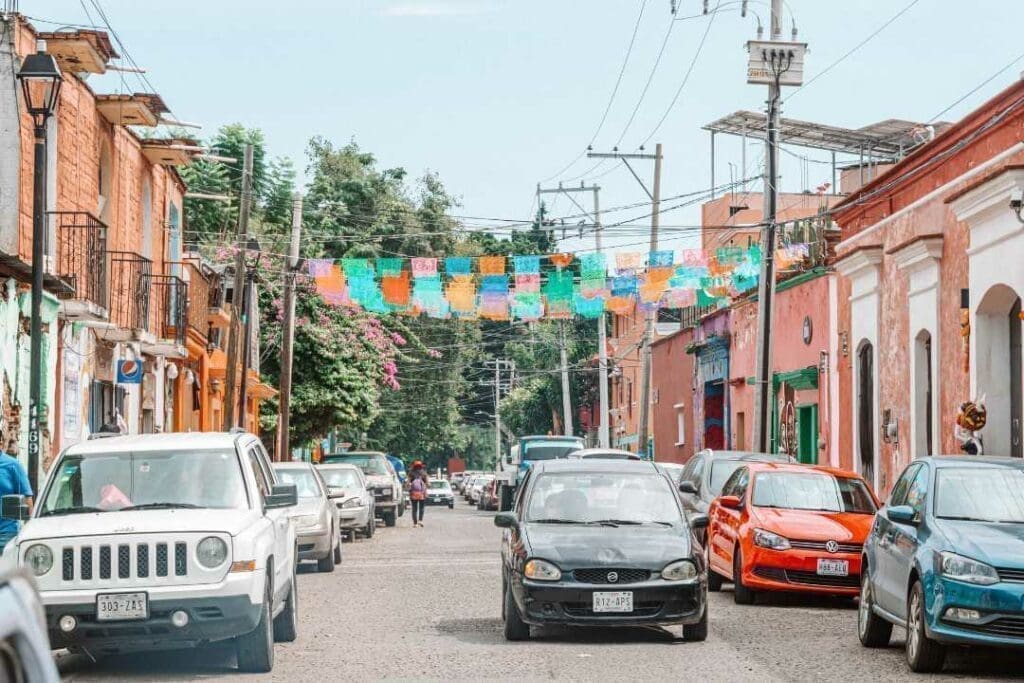 But worry not because the highway is generally well-maintained with multiple lanes. However, there are times that it gets usually crowded as it is a frequented and busy highway, making it prone to accidents. So, it is recommended that you still take the necessary precautions and drive cautiously.
Trisha traveled to Mexico in 2018 and after a year, she found herself obtaining a 4-year residency visa in Mexico. She is the Editor-in-chief for our Living in Mexico Series which has helped over 3,000 Americans move to Mexico with ease. Trisha currently resides in Cabo San Lucas, Baja California Sur.