Everything you need to know about visiting Gran Cenote Tulum, including prices, entrance fees, what to bring, and more!
Tulum is a popular destination for its stunning beaches, ancient Mayan ruins, and unique cenotes. Cenotes are natural swimming holes formed by the collapse of limestone bedrock, exposing the crystal-clear groundwater underneath.
The Gran Cenote, located just a short drive from Tulum, is one of the most popular cenotes in the area, and for good reason. With its clear blue water, fascinating underwater caves, and abundant marine life, the Gran Cenote is a must-visit destination for anyone traveling to Tulum.
In this article, we'll take a closer look at what makes the Gran Cenote so special and provide tips on making the most of your visit.
🧐 Questions about Gran Cenote Tulum? Ask us on Tiktok.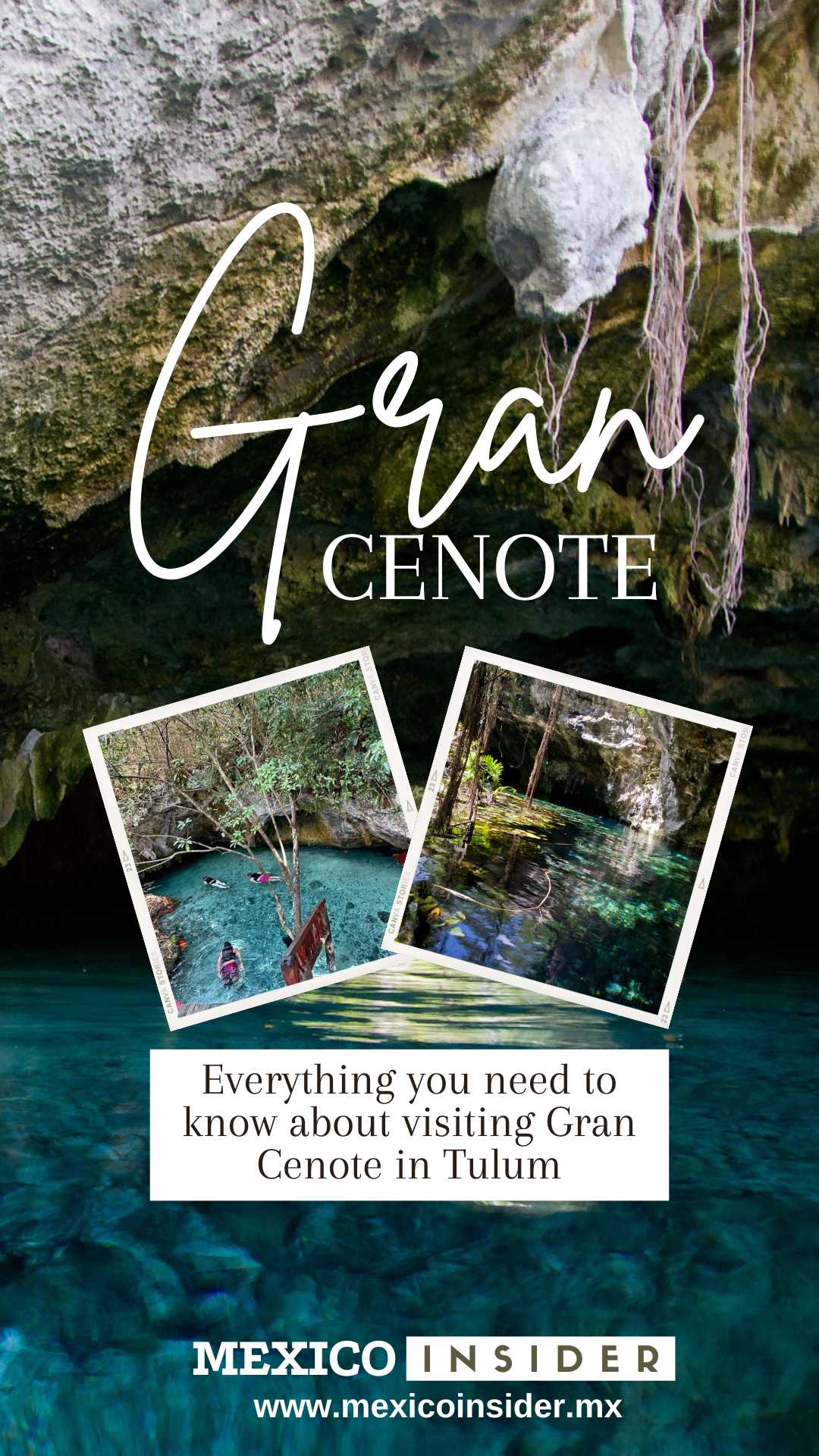 🔗 Gran Cenote Tulum: quick links
🧐 Is Gran Cenote worth it?
Yes, Gran Cenote is worth visiting if you are in Tulum! Gran Cenote is one of the most famous cenotes in the area, known for its crystal clear water, diverse marine life, and stunning rock formations.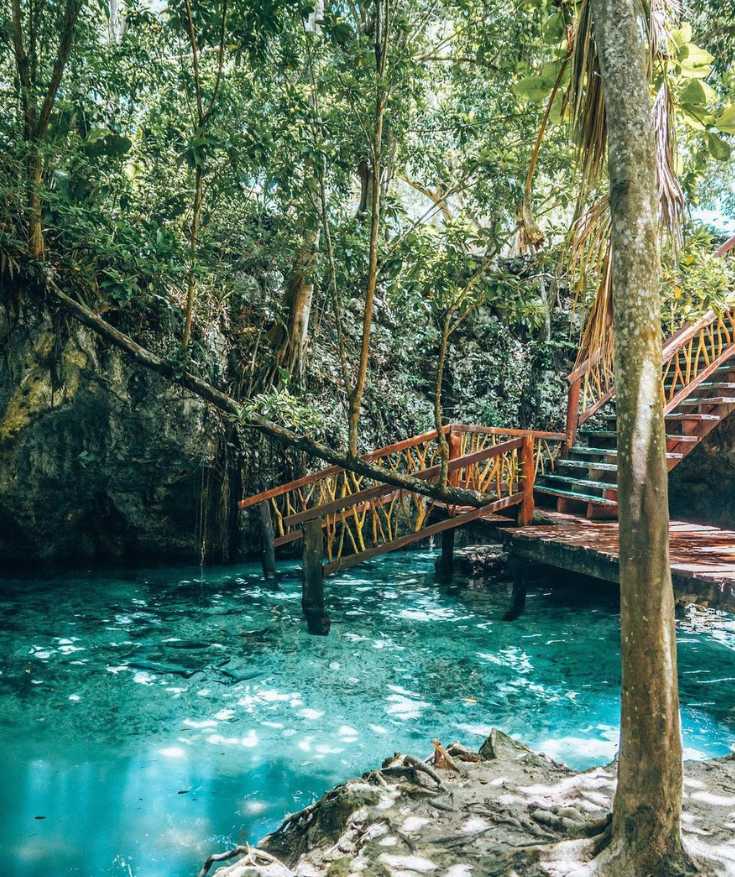 Whether you want to snorkel or scuba dive deep into its caverns, explore the surface with a kayak tour or take in the beauty of this natural wonder, Gran Cenote is worth the visit.
And with so many activities offered by local tour operators close to the area, going to Gran Cenote is a great way to cool off from the heat and humidity of Mexico.
🤩 Why is Gran Cenote famous?
Gran Cenote is dubbed as a natural wonder among locals and travelers alike. It is also renowned for being one of Mexico's most beautiful and famous cenotes.
The Gran cenote is particularly popular among tourists for its crystal clear waters, providing excellent swimming, snorkeling, and diving opportunities. The experience of swimming through caves under natural sunlight provides a surreal experience that cannot be found anywhere else.
Gran Cenote also has striking limestone rock formations, offering stunning views in every direction. It is also famous for its diverse ecosystem and lush green vegetation.
🗺️ Gran Cenote Tulum Map
🚘 How to get to Gran Cenote Tulum
Gran Cenote from Tulum centro
Gran Cenote is located just outside Tulum Centro, so you only need 10 to 20 minutes of travel time from there.
You can either drive by yourself going to Tulum or take public transportation. If you have a car, it's best to use the GPS when leaving Tulum Centro. This will help guide you along the roads until you reach your destination.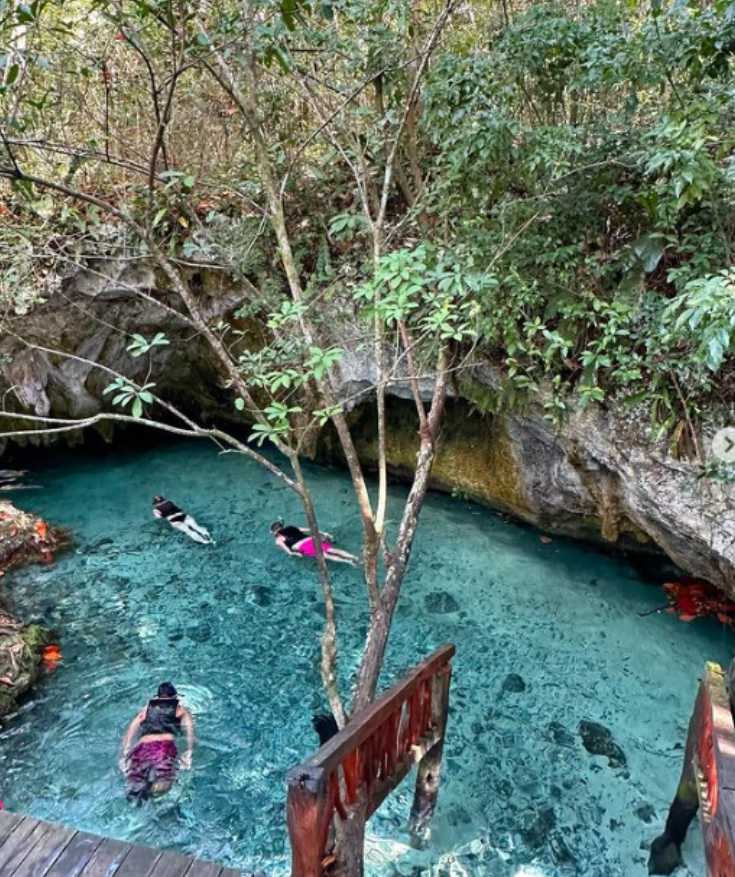 But, if you decide to take the bus, head to the central ADO bus station in Tulum—plenty of buses run to Gran Cenote from this location throughout the day.
Another option is riding a colectivo, a shared van along the main road between Tulum town and Playa del Carmen. You can easily catch one from Tulum town to the Gran Cenote intersection and then walk the rest. This will only take 15 to 20 minutes of your time.
Gran Cenote from Cancun
Gran Cenote has located about 128 km (80 miles) south of Cancun and is about 2 hours and 15 minutes by car. Traveling from Cancun, you will take the Federal Highway 307 southbound towards Tulum.
Typically, renting a car is the best way to get to Gran Cenote from Cancun. This will give you the freedom to come and go as you please and take advantage of any other spots on your way that interest you.
Numerous rental car companies are located in Cancun, so finding one should be simple.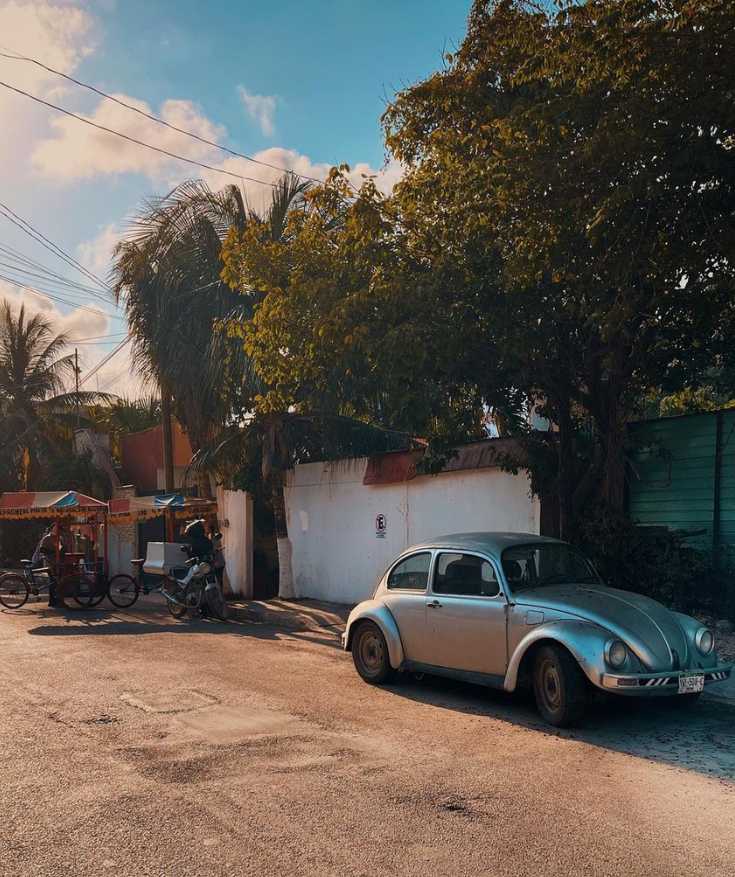 But of course, there are still other options you can take when going to Gran Cenote from Cancun – by bus, taxi, or colectivo.
For a cheaper option, take the bus from Cancun to Tulum and then hop on a taxi or colectivo from Tulum to Gran Cenote. The bus ride takes approximately 2.5 hours, and the fare starts at $12 USD, varying depending on the time of day and season.
Gran Cenote from Playa del Carmen
Gran Cenote can be easily accessed by rental car if you are coming from Playa del Carmen. The cenote is about 65 km (40 miles) south of Playa del Carmen, making your travel time last about an hour or less as you take Federal Highway 307.
Once you reach Tulum, you must take the Coba road and continue for about 4 kilometers until you see the entrance to Gran Cenote. And no worries because several parking options are available in Gran Cenote, even if you bring your car.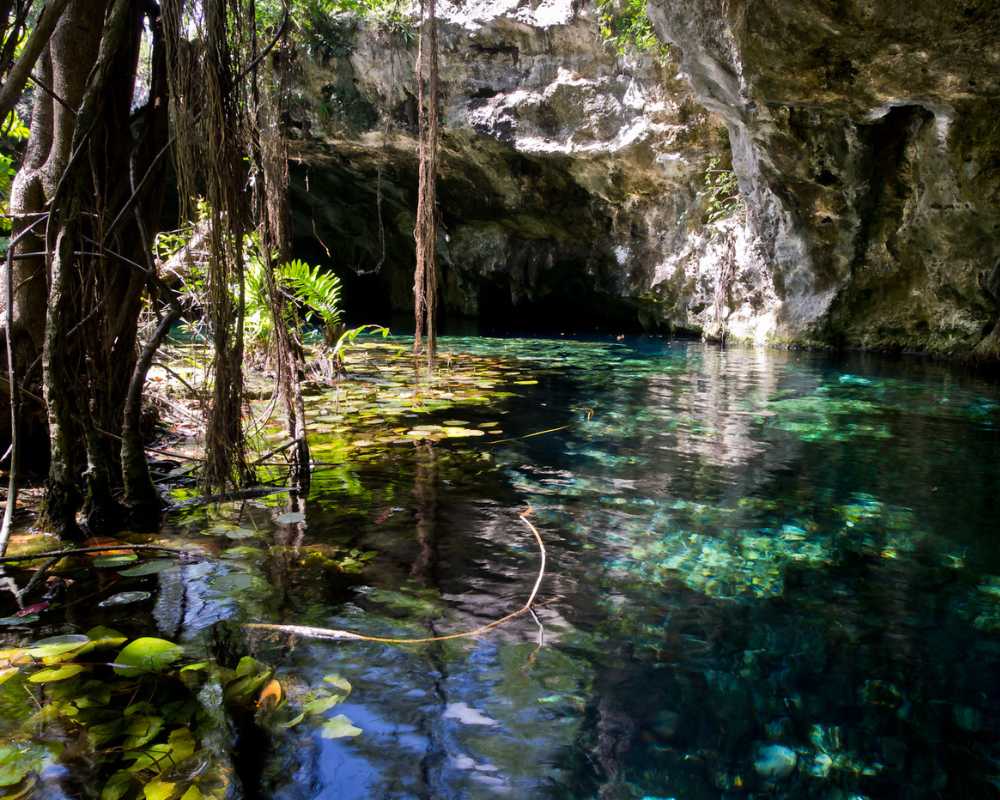 Now if you don't have access to a car, don't worry – public transportation and taxis are readily available in Playa del Carmen. Buses run regularly throughout the day and can take you directly to Gran Cenote.
First things first: head to the ADO bus station in Playa del Carmen. You can purchase tickets, which start at $4 USD, at the ticket counter or online ahead of time.
Once you have your ticket in hand, board any bus heading towards Tulum and make sure Gran Cenote is on your list of stops. The journey should take around 1 hour and 30 minutes, depending on traffic conditions.
Gran Cenote from Merida
For most travelers, the best option is to rent a car or get a private transfer from Merida to Gran Cenote. The drive takes about 3 hours and is relatively easy.
From Merida, you must take Federal Highway 180 eastbound towards Tulum and stop at the town of Tulum, where you will head onto Coba road.
Alternatively, if you want to avoid driving yourself or splurge on a private transfer, some buses run straight from Merida's bus station to Tulum, where the cenote is located.
A bus ticket from Merida to Tulum costs around $26 USD, and will vary depending on the time of travel and special offers. The journey takes less than 4 hours, but it will be your best bet if you want something affordable and convenient.
Once you arrive at Tulum, hop onto another bus that will take you straight to Gran Cenote. There are also colectivos or taxis as alternative transportation from Tulum to Gran Cenote.
🛥️ Best Gran Cenote Tours
Cenote triple adventure tour in Tulum
🕒 4 hours
💲 from 130 USD
In this Triple Cenote Adventure Tour, you will visit three unique cenotes in Tulum. This is an exciting yet convenient way to explore the jungle and cenotes of Mexico.
The tour starts early in the morning, and your head on to your first stop, the Cenote Zemway. There you will have the chance to experience jumping off 18 and 15 ft platforms, which are perfect for adventure and adrenaline-rush seekers.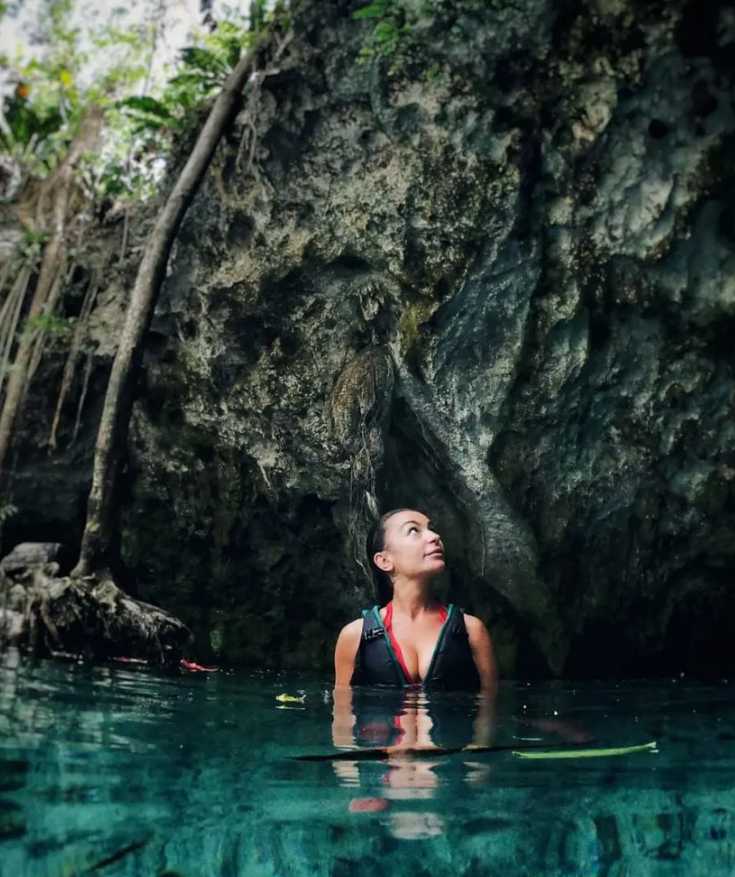 The next stop will be at the Gran Cenote, where you will admire caverns and rock formations and have a chance to snorkel in the area.
The last Cenote you will visit is Casa Cenote, which most people describe as an ultimate jungle swim, known for its soft sand bottom and lush mangroves.
Overall, this tour gives you time to take some amazing underwater photos, relax in the lush green jungles and play around the crystal-clear waters of the three cenotes.
The best cenotes in Tulum Riviera Maya (private)
🕒 6 hours
💲 from $185 USD
A trip to the Riviera Maya usually means you have to go on an excursion to tourist spots with crowds of the bus tour buses. But, in this exclusive private tour, you will be ensured to maximize your day and have intimate experiences just for you and your friends.
Explore three cenotes in a day, where you can enjoy swimming in or around water.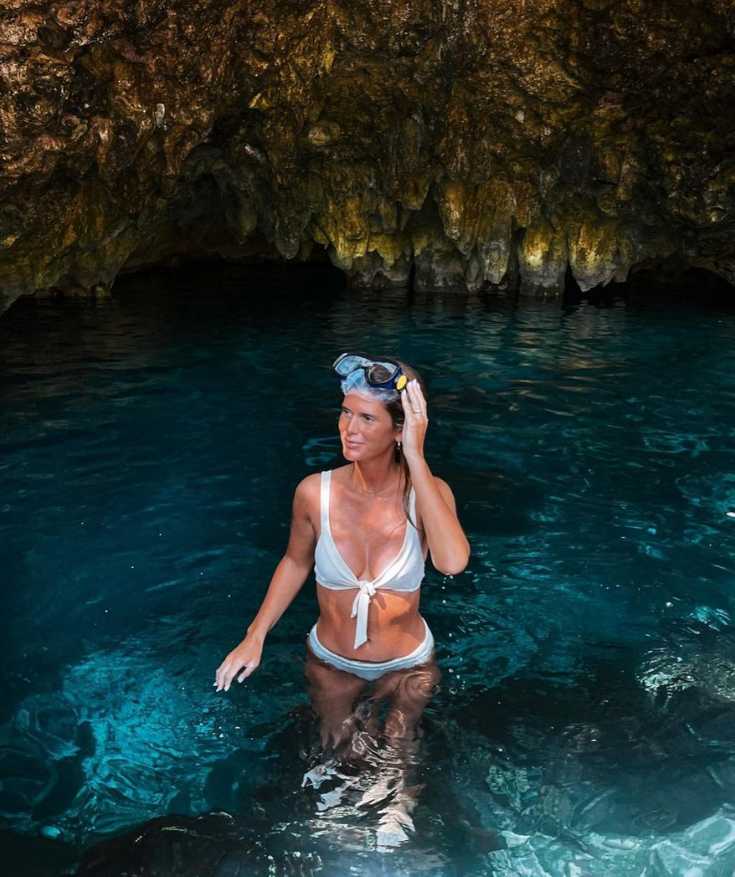 This already includes a hassle-free pick up from your accommodation and time to enjoy a local Mexican dish in a restaurant.
Just among the cenotes you can visit are Cenote Taak Bi Ha and Gran Cenote. Plus, a guide will be with you throughout the trip.
Jungle bike tour & 3 cenotes
🕒 5 hours
💲 from $124 USD
On this bike tour in Tulum, you will be going on an adventure into the jungles, cycling along lush jungle trails, and stopping to tour three different cenotes.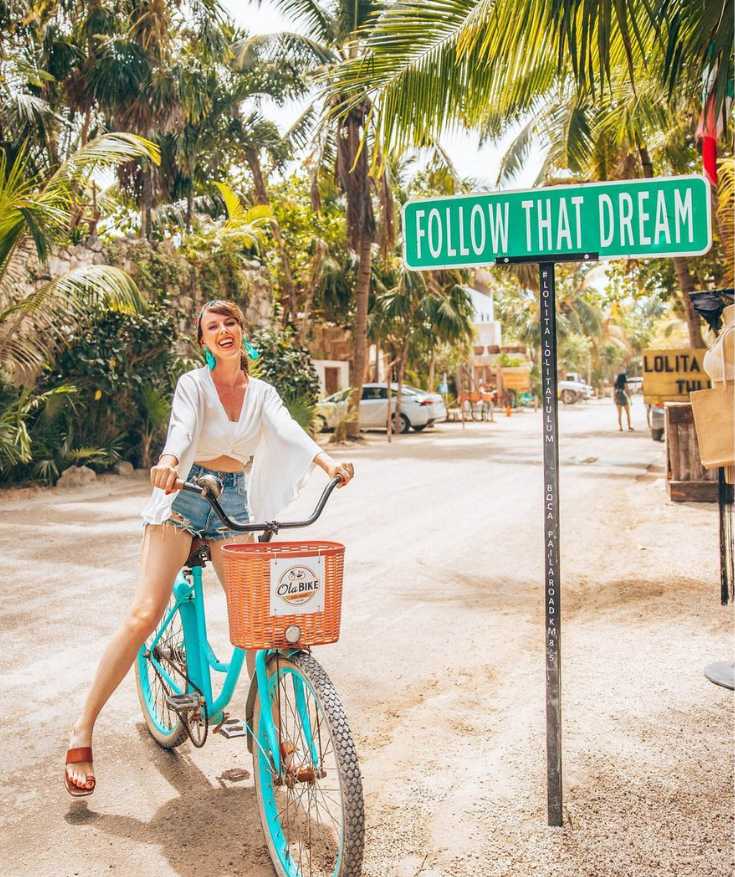 Along with a professional guide, you will also learn about the Mayan people and how each cenote has become an essential part of the Mayan Culture.
In this jungle bike tour, you will visit the Gran Cenote, Cenote Crystal, and Cenote Escondido. These cenotes are ideal for snorkeling, exploring underground rivers and tunnels, jumping, and diving.
Moreover, these renowned locations can be explored on bikes and in the water, and they are incredible places to spot local wildlife.
📅 Best time to visit Gran Cenote
The best time to visit Gran Cenote is early morning, preferably as soon as it opens. Gran Cenote is a popular destination, so it tends to get busy later during the day.
So if you want an uninterrupted experience surrounded by nature and no crowds, come as early as possible.
Not only will you enjoy all of its wonders without any distractions, but you will also benefit from some unique features, such as refreshingly calm waters located 15 feet below ground level. The temperature is also cooler in the morning, making swimming and exploring the cenote more comfortable without the heat of the midday sun.
👙 What to bring to Gran Cenote
Towel
Gran Cenote Tulum is an incredible natural swimming pool located in Quintana Roo. With its crystal clear waters, it would be difficult to say no to some water activities or even just a quick dip!
So it's wise to bring a towel for drying off after your swim. A towel is essential when visiting Gran Cenote, and you can opt for a regular beach towel or a lightweight travel towel that you can easily carry.
Not only can you use it for drying off your hair and body, but you can also sit on and relax by the water's edge.
Swimming shoes
When visiting natural swimming pools, it is a must to bring with you a pair of swimming shoes. The bottom of the cenote can be rocky and uneven, and there may also be algae or other slippery substances on the surface.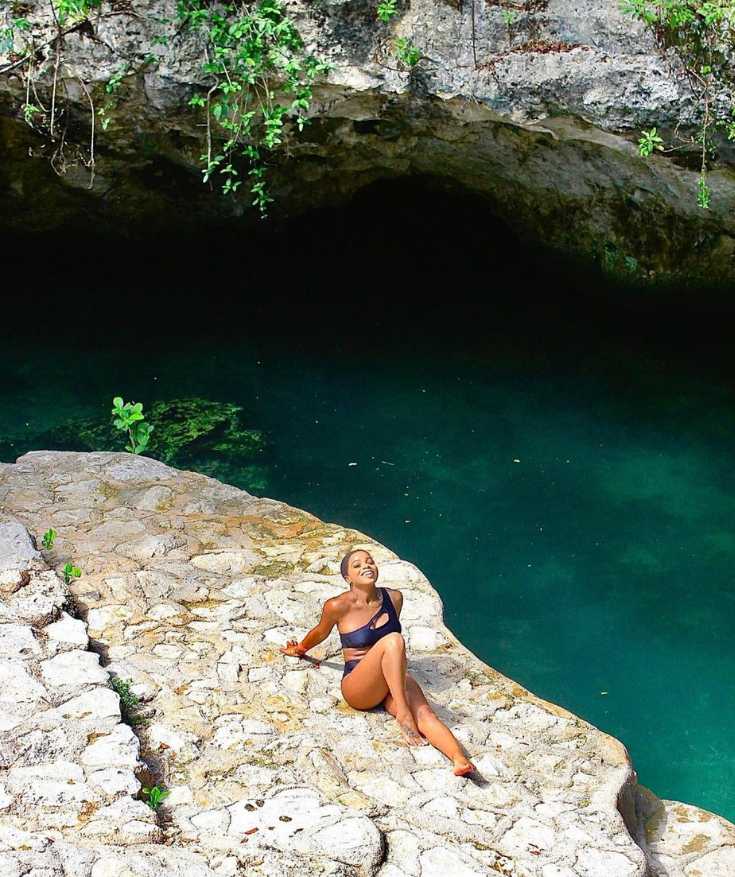 This is why swimming or water shoes can help protect your feet.
Not only will they protect your feet from sharp rocks and other underwater obstacles, but they will also provide extra traction when walking into the cenote.
GoPro camera
Visiting the Gran Cenote, you will want to capture its beauty and the memories you make there, at least for you to look back at.
So, if you have a GoPro or other waterproof camera, bring it with you to capture the cenote's stunning views and underwater scenery. You can also take photos and videos of your swimming and snorkeling adventures.
Plus, the waterproof housing means all your shots will come out crisp and clear even when submerged up to 33 feet deep.
Waterproof bag
Another must-have when visiting the Gran Cenote is a waterproof bag. No matter what type of activities you plan – swimming, snorkeling, or simply lounging on the beach – having a waterproof bag ensures that all your items are protected from water damage.
This bag keeps everything safe and dry, from electronics and phones to snacks and sunscreen. It also gives you peace of mind while exploring the fascinating Gran Cenote.
Plus, many bags come with multiple pockets for easy organization – from mesh pockets for wet items to outside compartments for quick access when needed.
After all, you do not want your valuables to be soaked in water and ruin your trip!
Restaurants near Gran Cenote
Cetli
📍 Carretera 109 Tulum Coba Km 2.5, Villas Tulum
Cetli is one of the most recommended restaurants near Gran Cenote. This charming restaurant is located in Tulum Village, just a short drive from the cenote, and is known for its delicious and authentic Mexican cuisine.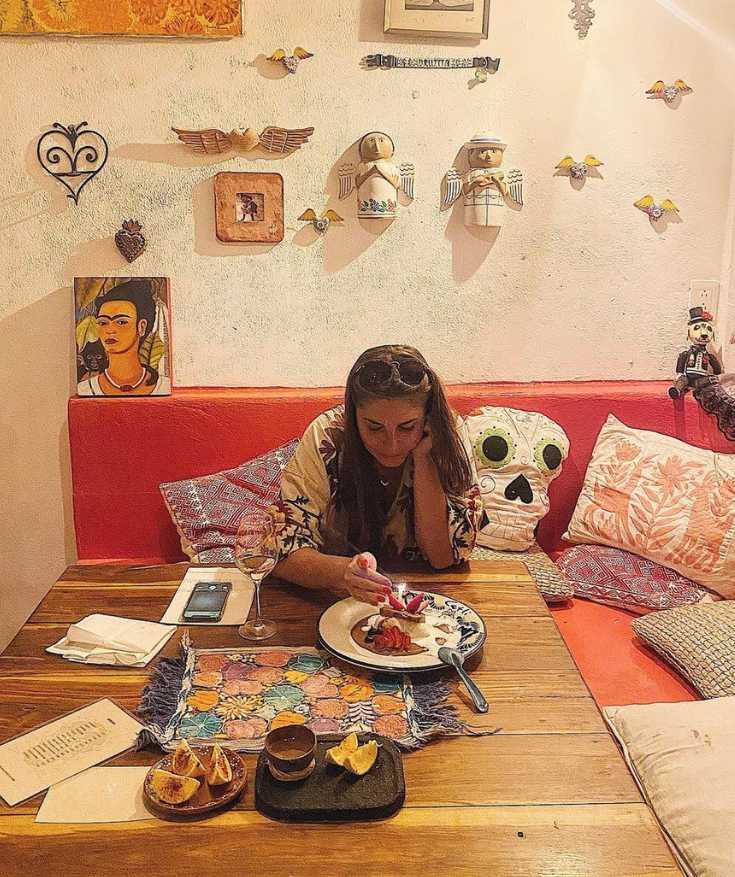 You'll find delicious, authentic gourmet Mexican cuisine in a beautiful house setting here. With its unique blend of traditional recipes and modern flavors, this restaurant's menu features a variety of mouthwatering dishes, such as chiles en nogada. A crowd's favorite is the Chef's best-selling grilled shrimp atop a bed of huitlacoche.
The food here ranges from $14 USD, depending on which course you order.
La Fonda
📍 Tun – Kul y, Avenida satélite norte, entre, Okot
La Fonda Tulum is a restaurant near Gran Cenote known for its atmosphere that takes you into an old-world hacienda filled with rustic charm, traditional cuisine, and live music.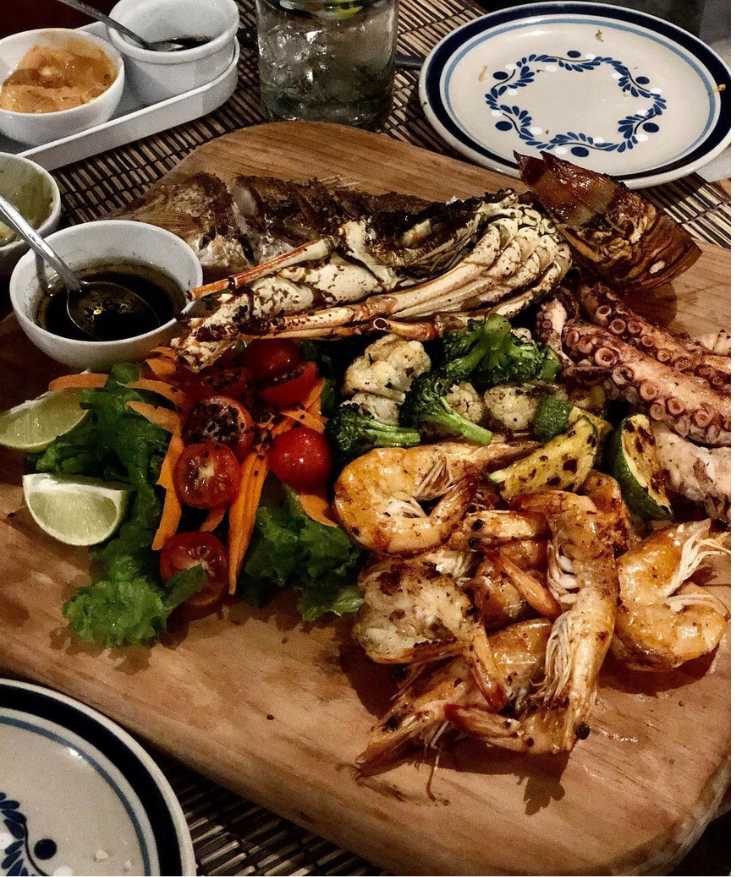 The restaurant is not just a local favorite but is also known among Tulum travelers. It serves Italian and Mexican cuisine, boasting spinach ravioli, lobsters, and tuna dishes. In the evenings, the restaurant participates in a festive atmosphere where mariachi bands fill the air with lively tunes.
You can dine at La Fonda with a budget of at least $20 USD per person.
✨ Gran Cenote Tulum Travel Tips
Maximize your stay at Gran Cenote: There are two 140-square-foot swimming pools and a stunning grotto with 100 wooden decks. You can relax and recharge here, taking in the luscious surroundings.
Arrive Early: Gran Cenote can get quite busy, especially during peak season, so it's best to arrive early in the morning when it first opens to avoid the crowd.
Bring Cash: Gran Cenote has no ATMs or credit card machines, so bring enough cash to pay your admission fee and other expenses.
Bring the Must-Haves: Ensure you have your towel, GoPro, waterproof bag, and swimming shoes.
⁉️ Gran Cenote Tulum FAQ
How much does it cost for Gran Cenote?
The entrance fee to Gran Cenote is $25 USD, which is more expensive than other cenotes in Mexico. This already entitles you to a life jacket and also snorkeling gear.
You must bring a photo ID to obtain a snorkel, or else they will not lend it to you. You will also have to pay an extra fee for locker rentals and parking fees, if necessary.
Can you swim in Gran Cenote?
Yes! You can swim in Gran Cenote. The crystal-clear cenote is perfect for swimming, snorkeling, and even scuba diving. The water is cool and refreshing, and the visibility is excellent, allowing you to see the underwater rock formations, stalactites, and stalagmites.
Plus, with no waves or currents, even young swimmers can feel safe exploring the depths of Gran Cenote.
Just make sure that while swimming in Gran Cenote is allowed, visitors are asked to respect the environment and follow specific rules to help protect the delicate ecosystem of the cenote.
Can you snorkel in Gran Cenote?
Snorkeling at Gran Cenote is allowed. Once you pay the entrance fee in Gran Cenote, you are already entitled to a life jacket and free use of snorkeling gear.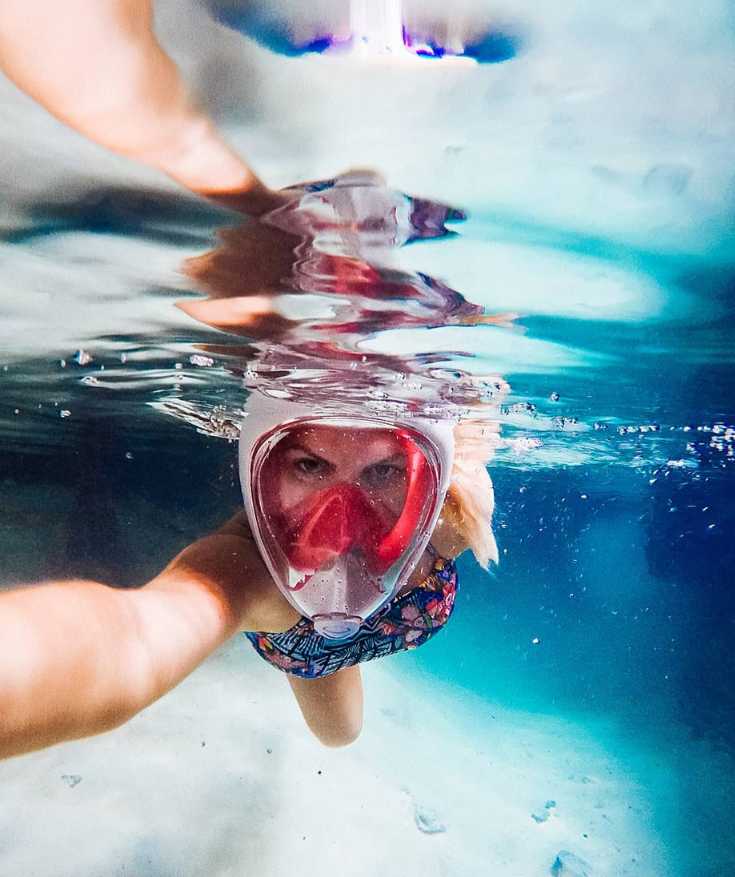 So, with the center's crystal-clear waters, you can easily spot bright, colorful fish swimming around you while snorkeling. Even beginners can snorkel easily in Gran Cenote!
This cenote has two entrances: one for those who want to snorkel from above and another for those who wish to explore its depths by swimming below.
Are there turtles in Gran Cenote?
Gran Cenote is home to a wide variety of wildlife, from schools of fish to majestic birds and all kinds of other critters – and Turtles are no exception.
The clear waters provide them plenty of food and shelter, making it the perfect place for turtles to live and swim.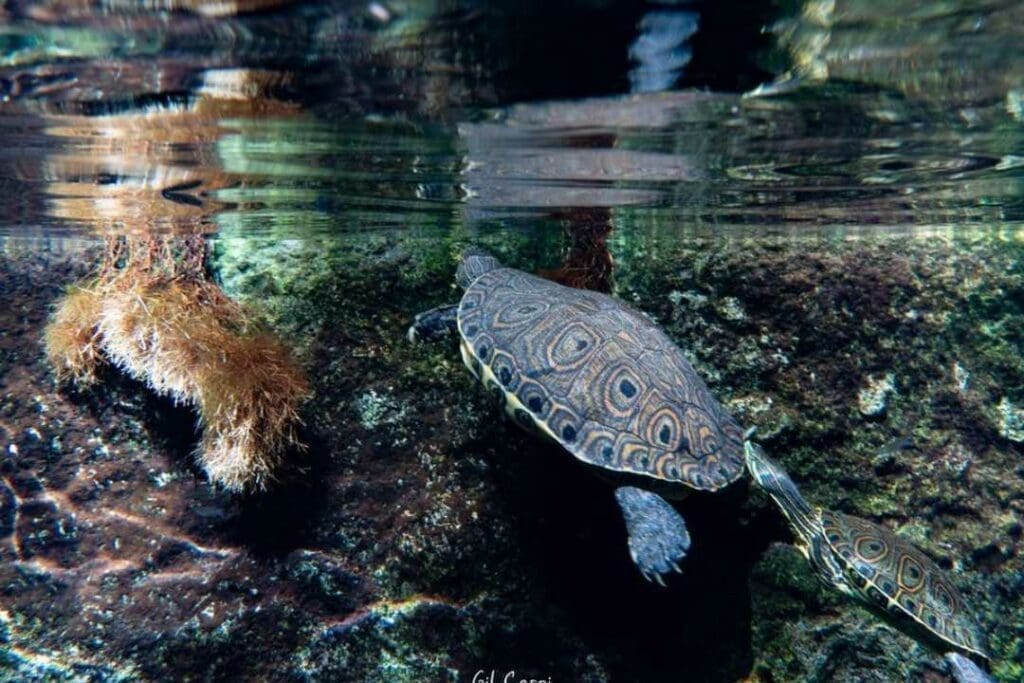 You can even spot several species, including painted turtles, red-eared sliders, and softshells basking on nearby rocks or gliding through the crystal blue water.
So if you go on a swim or a dive in Gran Cenote and are lucky enough to see a turtle during your visit to Gran Cenote, enjoy the moment and remember to keep a respectful distance to avoid causing any harm to the animal or its habitat.
Can you drink cenote water?
Although cenote waters are clear and look clean to the naked eye, it is not safe to drink cenote water. So, the answer is no, you cannot drink cenote water.
Cenote water is unsafe for drinking as it may contain bacteria or other contaminants. It is also a delicate ecosystem that supports a variety of marine life, so it's essential to avoid introducing foreign substances that could harm the environment.
Is cenote water cold?
Yes, the water in Gran Cenote is typically cool or even cold, depending on the time of year and weather conditions.
The water temperature in the cenote is generally around 24ºC to 26º C (75ºF to 78ºF), which can feel refreshing on a hot day but may be chilly for some visitors. The temperature will now vary depending on the time of the day and year.
Are there skeletons in cenotes?
Yes, it is possible to find ancient skeletons in Cenotes. Cenotes are natural underground pools formed millions of years ago. These incredible geological features have been used for swimming, scuba diving, and even sacrificial rituals since ancient times.
Over time, these offerings and other remains may have fallen into the cenote and become preserved in the cool, clear water.
But while some of these bones of sacrificial victims may be found at the bottom of some cenotes, there aren't any recent human skeletons lurking around their depths.
Are cenotes full of bacteria?
Cenotes can contain bacteria, but not all cenotes are full of bacteria. The level of bacteria in a cenote can depend on various factors, including water flow, location, and human activity.
And this doesn't mean it's unsafe to swim in them. The unique environment of these underground bodies of water help to keep bacteria levels low by naturally filtering out dirt and debris from entering the ecosystem.
What's at the bottom of a cenote?
The bottom of a cenote is typically a mix of rock formations, sand, and silt. Some cenotes may also have underwater caves, tunnels, or passages that experienced divers can explore.
Diving into cenotes is one of the most thrilling activities when visiting Mexico. This is because there may also be remnants of human activity or history in addition to the natural features of the cenote.
For example, some cenotes may contain ancient artifacts or offerings from the Mayan civilization, such as pottery, gold, jade, or human remains.
Did Mayans sacrifice humans in cenotes?
The ancient Mayans are believed to perform human sacrifices in some cenotes as part of their religious rituals. Cenotes were considered sacred by the Mayans and were often used for offerings to the gods, including human sacrifices.
Archaeological evidence has also revealed that the Mayans would often sacrifice children, believed to be the most valuable offerings to the gods. These sacrifices were thought to appease the gods and ensure prosperity and fertility for the community.
Although these are just stories and rumors among locals, archaeological evidence suggests that human remains found inside them were placed there after death as part of burial ceremonies.
🇲🇽 Tulum Travel Resources
✈️ Flights to Tulum
The airport that serves Tulum is Cancun International Airport. Use Kiwi.com to find the cheapest flights to Cancun. This is our favorite booking engine because they compare prices across all airlines for your route.
🛏️ Hotels and resorts in Tulum
Budget travelers can use HostelWorld to find cheap accommodations for as low as $25 USD per night. Resort vacationers, the best deals for all-inclusive stays in Tulum are on Booking.com!
🚑 Mexico Travel Insurance
Be prepared for the possibility that something can happen to you while traveling abroad. Do not travel to Tulum without travel insurance! We recommend SafetyWing (for digital nomad and entrepreneur trips) and Ekta Travel for comprehensive medical insurance starting at $0.99 USD!
Marianela Clement is a Swiss-Argentine marketing expert who moved to Mexico in 2017. She has lived in Queretaro for 4 years, traveling and working around Central Mexico. In 2021, Marianela decided to move to Tulum, and up until today, she is enjoying the joys of living in Tulum, Mexico.