© Copyright: All images in this post are property of Insider Media Group for Villa La Valencia Los Cabos.
Villa La Valencia Los Cabos, the new addition to the Villa Group Resorts opened its doors to the public on January 2022. In this resort review, we will take you on a full virtual tour, including photos of the mighty Villa La Valencia Lazy River!
Villa La Valencia (VLV) is the 9th resort branch in Mexico by the Villa Group Resorts. This brand-new resort in Los Cabos with 11 room types, 4 restaurants, beachfront access, and of course, the first and only lazy river in Baja California Sur (more on that later).
If you are already familiar with this chain of resorts in Mexico, you'd know about their other resorts in Cabo San Lucas namely Villa del Palmar, Villa del Arco, and Villa La Estancia.
Plan your trip to Mexico with us! Get expert travel advice and customized trip-planning itinerary from our local experts on the ground.
🌴 Villa La Valencia: quick info
🦩 Villa La Valencia Lazy River
The big draw, of course, is the Villa La Valencia Lazy River which is the top reason why travelers book this resort. This is the first of its kind in Los Cabos and no other resort in the area has a lazy river.
The lazy river is 300 meters long and runs around the resort. There are also floating devices available for guests to use plus, you can order your drinks while cruising the river.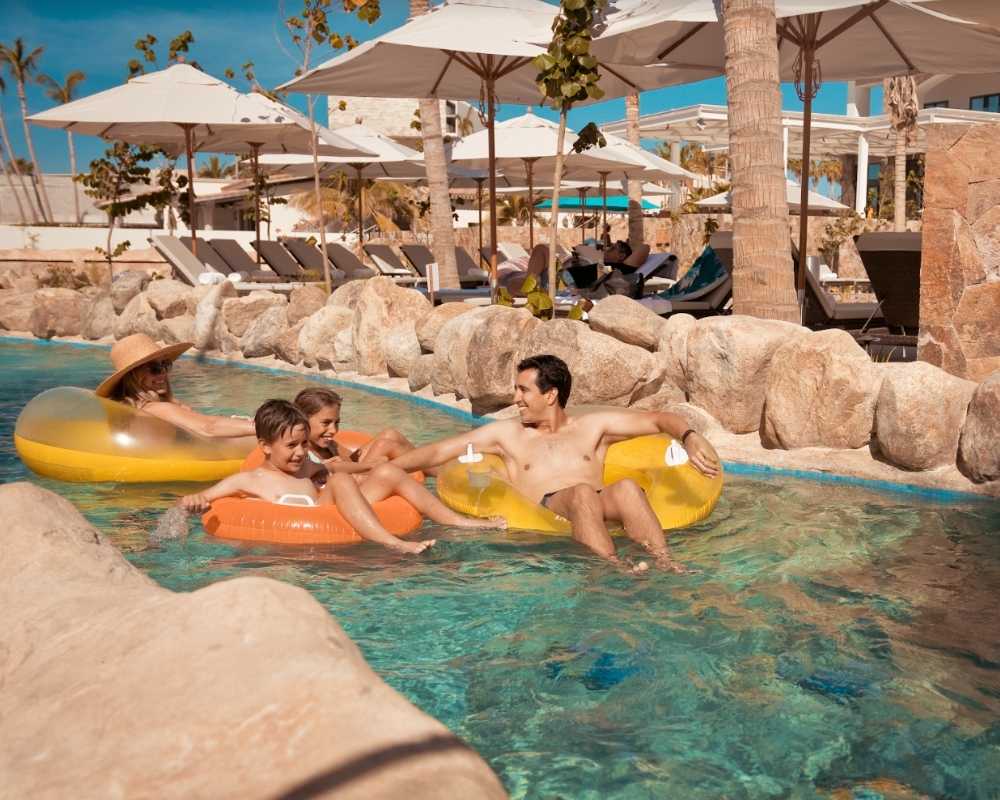 The best thing about Villa La Valencia's lazy river is that it is fit for all ages. ALL types of travelers and guests enjoy this unique amenity at the VLV – you can easily spend a full afternoon here!
The Lazy River at Villa La Valencia is open from 10:00 AM – 6:00 PM although you will see guests lining up to get their floaties as early as 9:00 AM (after breakfast).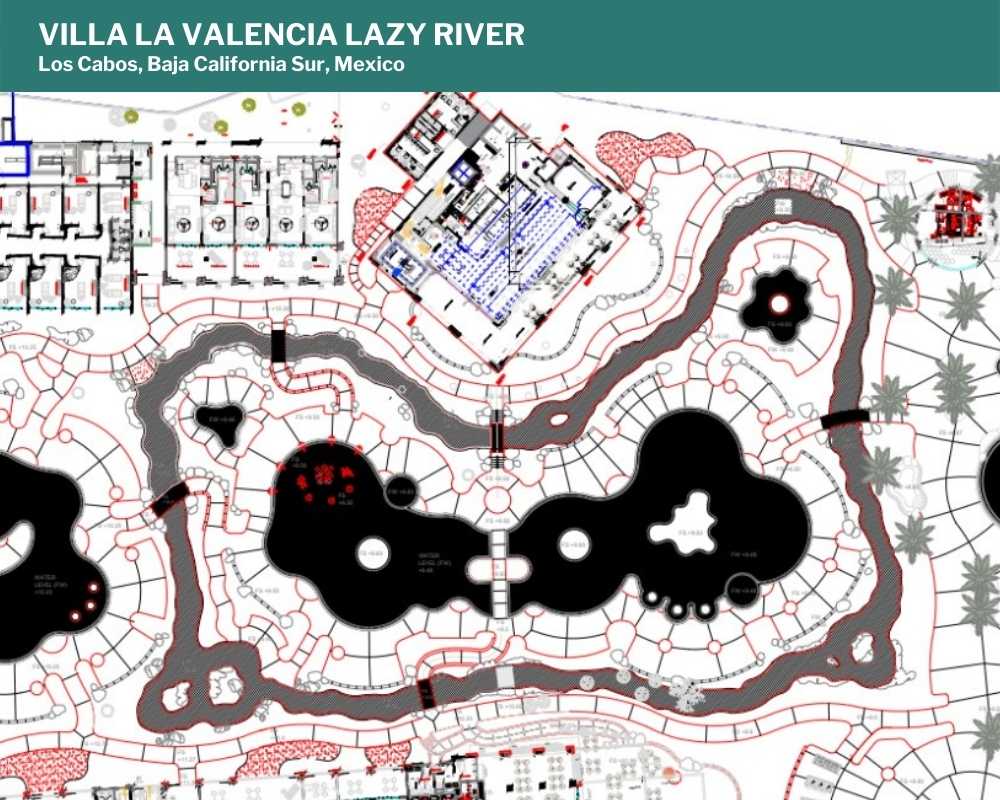 🪅 Editor's Note: Our stay at Villa La Valencia Los Cabos was complimentary but all opinions and images are our own. Our sponsored partners do not tell our Editors what to publish as all are based on our experiences. Check rates for this hotel here.
🌟 Villa La Valencia Los Cabos Review
The location
Located in between San Jose del Cabo and Cabo San Lucas, it is about 30 minutes from San Jose del Cabo International Airport. Ideally, you'd stay in Villa La Valencia for a tranquil stay and access to both San Jose and San Lucas areas.
If you are just going on a Villa La Valencia all inclusive stay, you definitely don't need a car. Should you need to go out of the resort, the concierge at VLV can arrange a taxi service for you (from US$40).
Ordering an Uber is a cheaper option (from US$20) but you have to go out of the guard house/entrance of the Villa La Valencia (which is a really short walk compared to other resorts).
Overall, this location may not be close to the Cabo San Lucas Arch but it is preferred by those who don't want to participate in the Cabo San Lucas nightlife.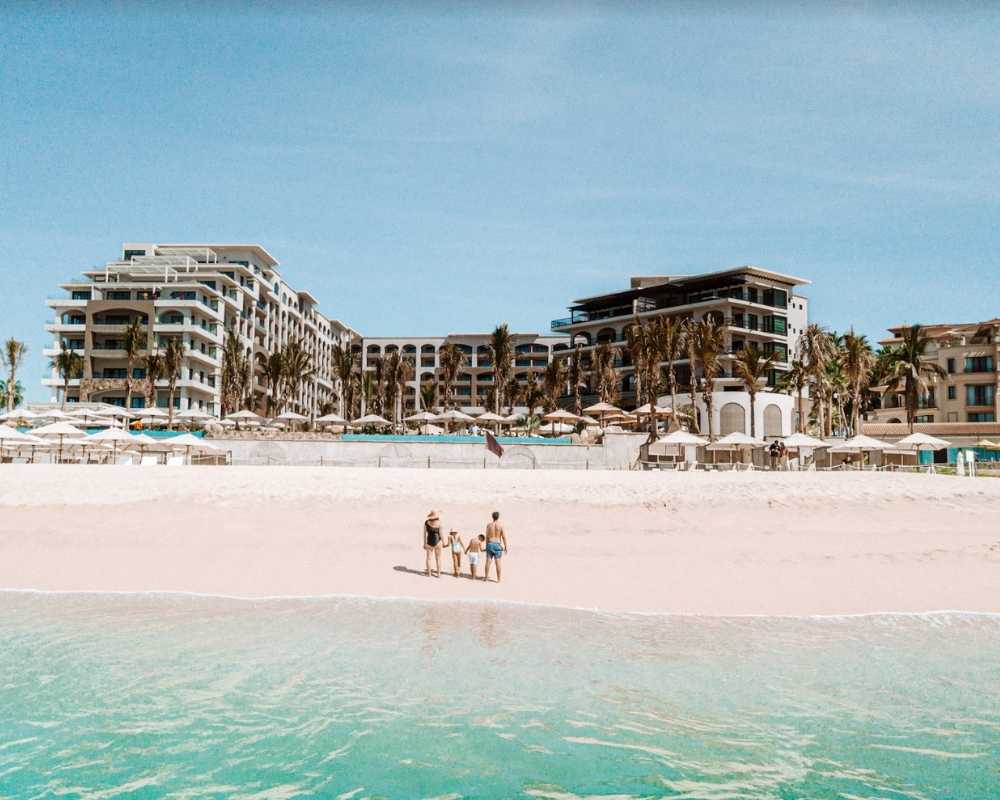 Villa La Valencia is a family resort and the majority of the guests are families traveling with kids. There is also a big percentage of couples and honeymooners who prefer to stay at the VLV.
To have an idea about the distance and surrounding areas, see quick info below:
🗺️ Be a smart traveler: Why are there too many Cabos?! How do I know which part of "Cabo" I am in? Check out our article, The Term "Cabo" Explained on the new explainer series by Insider Media.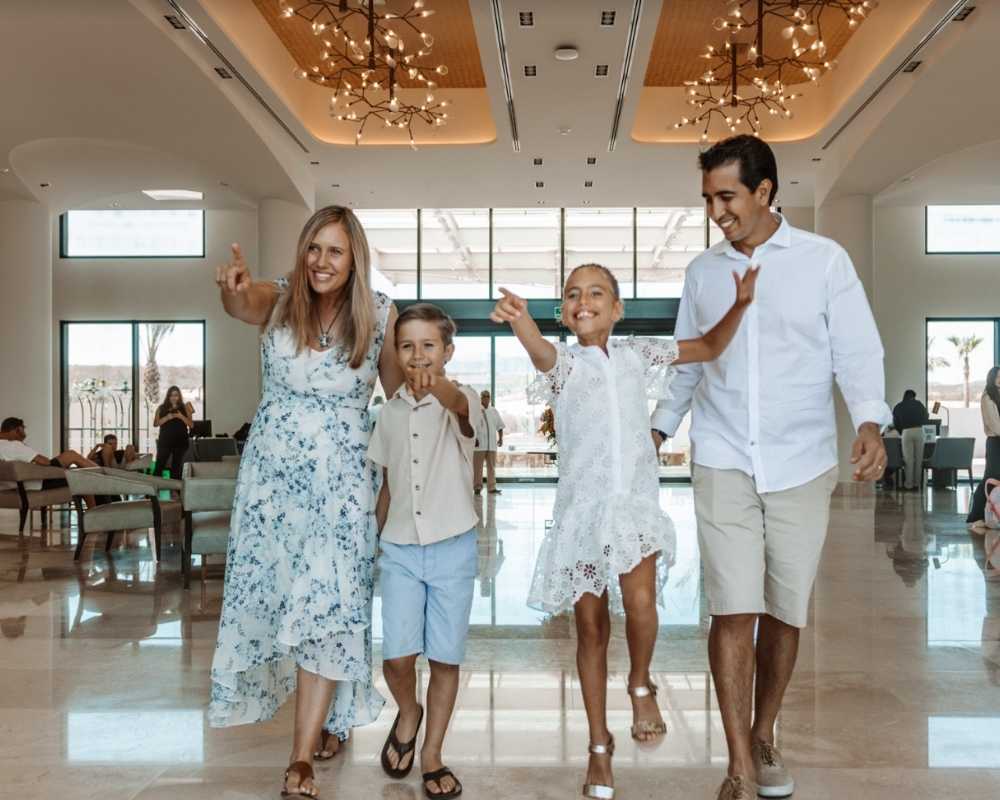 The rooms
There are 11 different room types in Villa La Valencia Los Cabos but the main categories are divided into three: the 4-bedroom luxury oceanfront, the luxury residences, and the suites.
The 4-bedroom luxury oceanfront
Villa La Valencia's luxury oceanfront suite can house 12 people with 4 king-size beds, 2 pull-out sofa beds, and 6 full bathrooms. The average size of this suite is 3,984 square feet equipped with dining and living rooms.
This room type at the VLV is ideal for families or people traveling in groups for special occasions like birthdays, retirement parties, bachelorette parties, or any occasion you can think of celebrating in Los Cabos.
Luxury Residences
The new addition to the room types at Villa La Valencia is the luxury residences where you can choose 2, 3, and 4-bedroom suites. Most travelers who book this package are again, families with kids but there are also long-term vacationers in this room type (aka retirees).
Below are the four different room types under the Villa La Valencia Luxury Residences category:
3-bedroom penthouse luxury suite
2-bedroom suite luxury residences
3-bedroom suite oceanview
4-bedroom suite oceanfront
Villa La Valencia Suites
Couples and honeymooners on a budget can avail the Villa La Valencia suites with pool or ocean views. People who travel in pairs find this room type as the best value in VLV if you are traveling in groups below 5 pax.
Here are the options to choose from in the Villa La Valencia suites category:
Deluxe studio pool view: from US$337
Deluxe studio ocean view: from US$381
1-bedroom suite pool view: from US$420
1-bedroom suite ocean view: from US$492
2-bedroom suite pool view: from US$760
2-bedroom suite ocean view: from US$855
Rates above are for rooms only and not all-inclusive. As we know you are looking for a Villa La Valencia all inclusive stay, we'll also discuss the price difference between a la carte and all-inclusive in this article.
The kids club
For parents who are traveling with kids ages 12 and below, you're in for a treat. You can enjoy day drinking at the resort while your kids hang out at the VLV Kids' Club doing activities.
Every day, the VLV Kids' Club has a calendar of activities that your children can choose from. Art, painting, computer games, castle-making on the beach, etc are some of the activities to keep your kids busy during your vacation.
The VLV Kids' club staff are professionals in early childhood education who will take care of your kids while you're on a break.
Although they are not nannies per se, you can leave your children in their care for certain hours of the day without worrying about their safety.
The spa at Villa La Valencia: Azul
While your kids are peacefully at the Kids' Club, you can book a massage at Azul, Villa La Valencia's luxury spa with myriad massage treatments to choose from.
To date, the CBD deep tissue massage is the best-seller (valued at US$360 est). You will be asked to come 30 minutes before your treatment to take a plunge in the spa whirlpool or simply relax at their saunas.
The massage rooms at VLV are overlooking the pool but it is designed for privacy. You won't be really visible from the outside and they can completely shut the curtains if you want more privacy.
Villa La Valencia's Azul spa is pretty in demand so you may want to book this way in advance. You can't just walk in for a treatment and you have to pay for the massage separately as they are not included in the package.
The gym
Villa La Valencia promotes wellness and self-care so if you are one of those people who need to work out while on vacation, the VLV gym has brand-new gym equipment which, in our opinion, is the most modern gym in all of Villa Group Resorts.
As gyms inside resorts are not that popular with guests, you can have this space to yourself. Apart from the gym, there is also a studio area where you can do yoga or private exercise routines.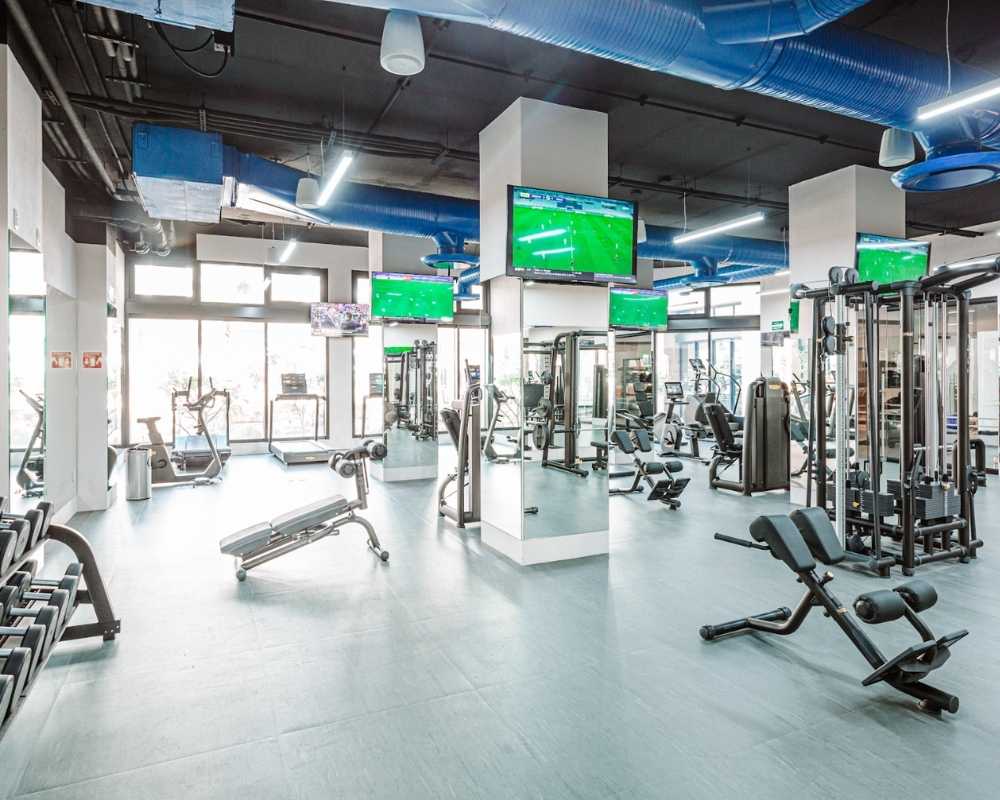 The pool
As a new resort in Los Cabos, expect something extra from Villa La Valencia when it comes to pools. This is, by far, the biggest pool area of all the Villa resorts in the region.
There is an adult-only pool, an infinity pool, and 4 jacuzzies overlooking the ocean. All the VLV pools offer full-service from the restaurants and bars around the property.
The beach
While many travelers don't really prefer staying on the beach, Villa La Valencia's beachfront property is worth checking out. Elite residence members can avail a private cabaña together will full-service dining.
If you are on another room tier, there are also day beds and beach chairs available for use. The only issue we found while staying on the beach is the mega slow service.
Staff doesn't really hang out at the beach so it would take time to order. As for the Elite Residences members, there will be a butler assigned to take care of you while in the beach area.
Right before sunset, VLV sets a bonfire with smores accompanied by live music on weekends. VLV's location is not a sunset spot but early-risers can witness a spectacular sunrise view.
Villa La Valencia's beach property is located on the Pacific so swimming in the ocean is not really encouraged. There are also no lifeguards at the VLV beach so swim at your own risk.
Value for money
The most common resort plan in Mexico is all-inclusive and mind you, all resorts in Mexico have all-inclusive stays as the a la carte (or European plan) is slowly phasing out.
At Villa La Valencia, you can avail of both a la carte and all-inclusive plan. Price-wise, the only thing you need to remember when planning your vacation in Villa La Valencia is the high and low seasons in Los Cabos.
The high season opens from the end of October (halloween or day of the dead) until April (Spring Break). Through the years, Los Cabos has become an all-year destination and we can safely say that the only low seasons right now are August and September.
Below are some of the price estimates for you to better choose your resort plan:
| Room | A la carte | All-inclusive |
| --- | --- | --- |
| Deluxe Studio Pool View | US$450 | US$670 |
| Deluxe Studio Ocean View | US$489 | US$718 |
| 1-BR Suite Pool View | US$540 | US$760 |
| 1-BR Suite Ocean View | US$618 | US$838 |
| 2-BR Suite Pool View | US$991 | US$1,211 |
| 2-BR Suite Ocean View | US$1,114 | US$1,334 |
| 2-BR Suite Oceanfront | US$1,299 | US$1,519 |
| 3-BR Penthouse Oceanfront | US$1,914 | US$2,134 |
Please note that the prices above are just estimates and are shown for the purposes of comparison. These are also for a 2-person rate who want to stay at the VLV at the beginning of the high season (first week of November).
If you change the dates, of course, these prices will change according to room type and the number of guests. Note that Villa La Valencia has rooms and suites that can accommodate up to 12 people so the prices above don't apply to big groups.
🥩 Villa La Valencia Restaurants
Alright, TripAdvisor fans – we don't really agree with the negative reviews that the restaurants inside the Villa La Valencia.
Our Food and Beverage Editors have rated these restaurants 10/10 and we continue bringing experts inside this resort. It is high-class, really well done, and houses the best restaurants inside a resort in Los Cabos.
The only thing you need to understand when reading reviews about food in this resort: they are not for the American palette but are well-liked by Europeans or other travelers who are foodies.
If you want American food, you can find that in over 100 items on the room service menu. Burgers, chicken fingers, fries, milkshakes, nuggets, and many other famous American plates can be ordered in the comforts of your room.
For those who are explorers of great food and cuisines, continue reading to learn about the finest restaurants inside Villa La Valencia.
El Patron (Mexican)
El Patron is probably the best Mexican restaurant in Baja California Sur with a harem of well-thought-of dishes from different states of Mexico.
Los Cabos cuisine is all about seafood but head chef Rafael had other ideas in mind: he wanted foreign travelers to get to know the different states of Mexico while dining at El Patron.
Our favorite star from the El Patron menu is the chamorro, a pork dish from Monterrey. Puebla's cochinita pibil is also in our top three. Apart from Puebla and Monterrey, El Patron's menu will bring you to the states of Mexico City, Oaxaca, and Baja California.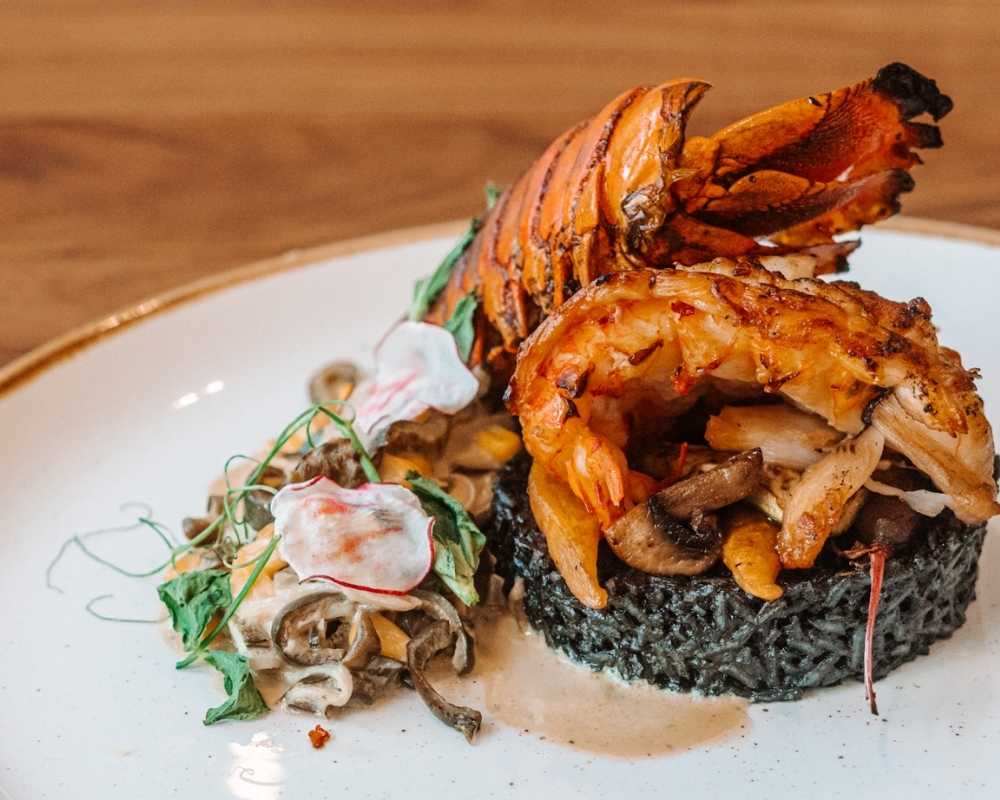 Coralle (Pool Bar)
Big fans of American food can enjoy dining at the Coralle while soaking in the infinity pools. The Coralle Pool Bar features pizzas, burgers, and many other finger foods that you can easily consume while day drinking by the pool.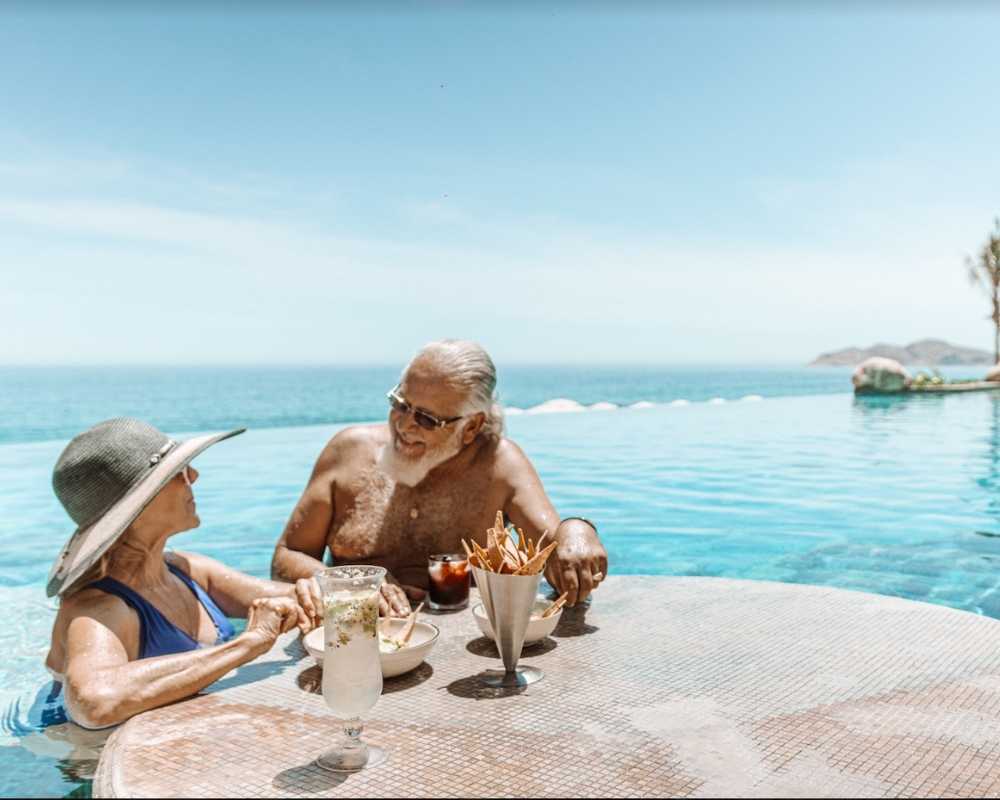 La Taberna (Spanish)
Formerly a sushi bar, Villa La Valencia changed to Spanish cuisine as it fits the setting. Try the seafood paella and order a glass of Chardonnay, Roussanne, or Viognier – all available at VLV's premium wine list.
Spanish food is fresh and clean so if you want to travel to Spain or learn about Spanish cuisine while in Villa La Valencia, definitely check out La Taberna for brunch.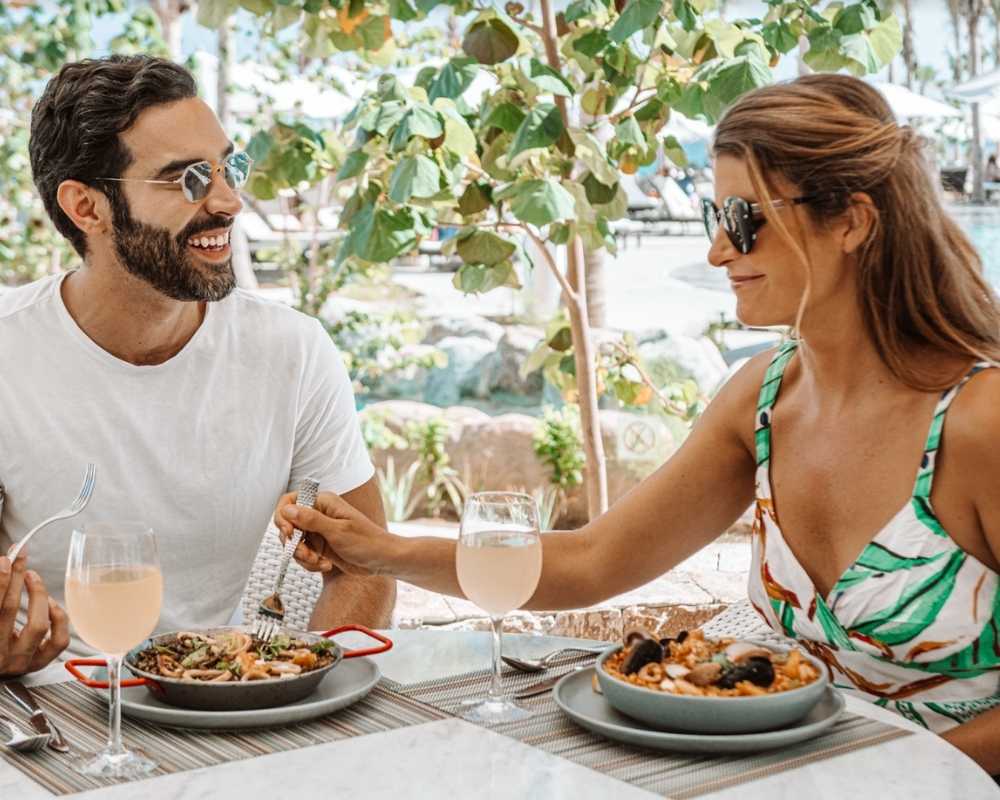 Latitud 23.5 (Steakhouse)
Steakhouses are common in Cabo and most resorts will have at least one. Latitud 23.5 features fine cut meats such as tomahawk and ribeye – all USDA approved.
Latitud 23.5 is categorized as upper-scale dining in Los Cabos so make sure to bring a dinner outfit that will suit the occasion.
Furthermore, non-guests of Villa La Valencia are also welcome to experience the great cuisine adventure at Villa La Valencia by booking through OpenTable.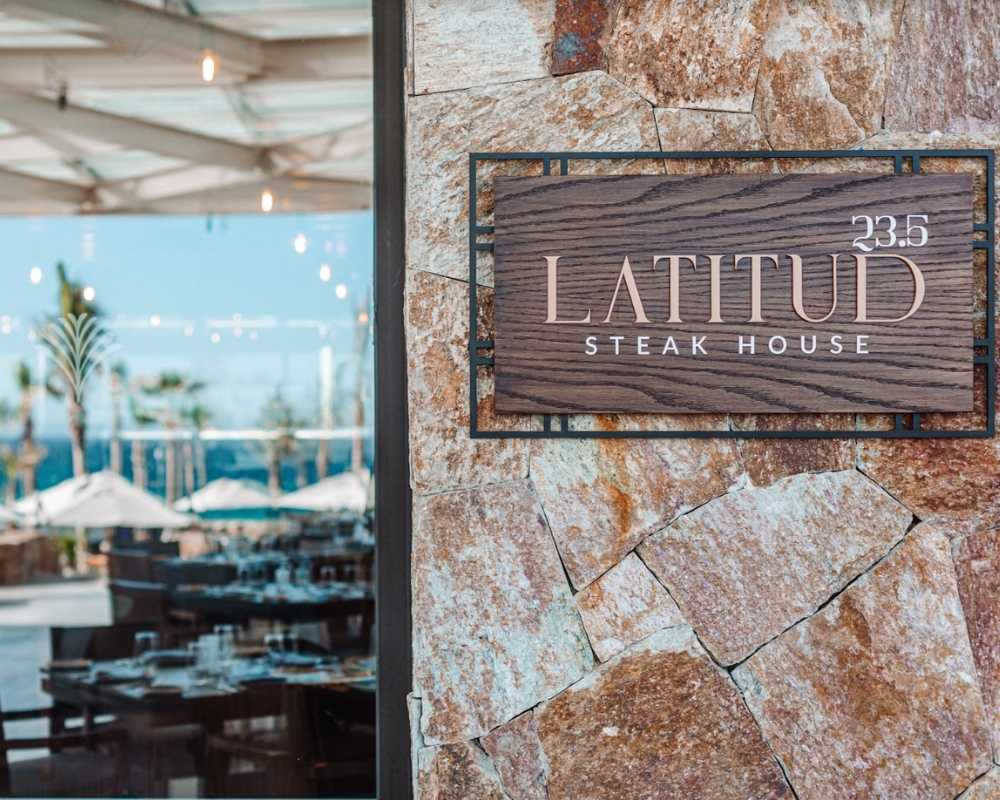 Palmita Deli
Woke up late? The palmita deli has many breakfast items on its menu that are available all-day. This is also a coffee shop so get a shot of Italian espresso and cappucino any time of the day.
Please note that any purchases at the Palmita Deli are not included in the stay. You can charge it in your room or pay in cash. The Palmita Deli is open daily from 10:00 Am – 3:00 PM.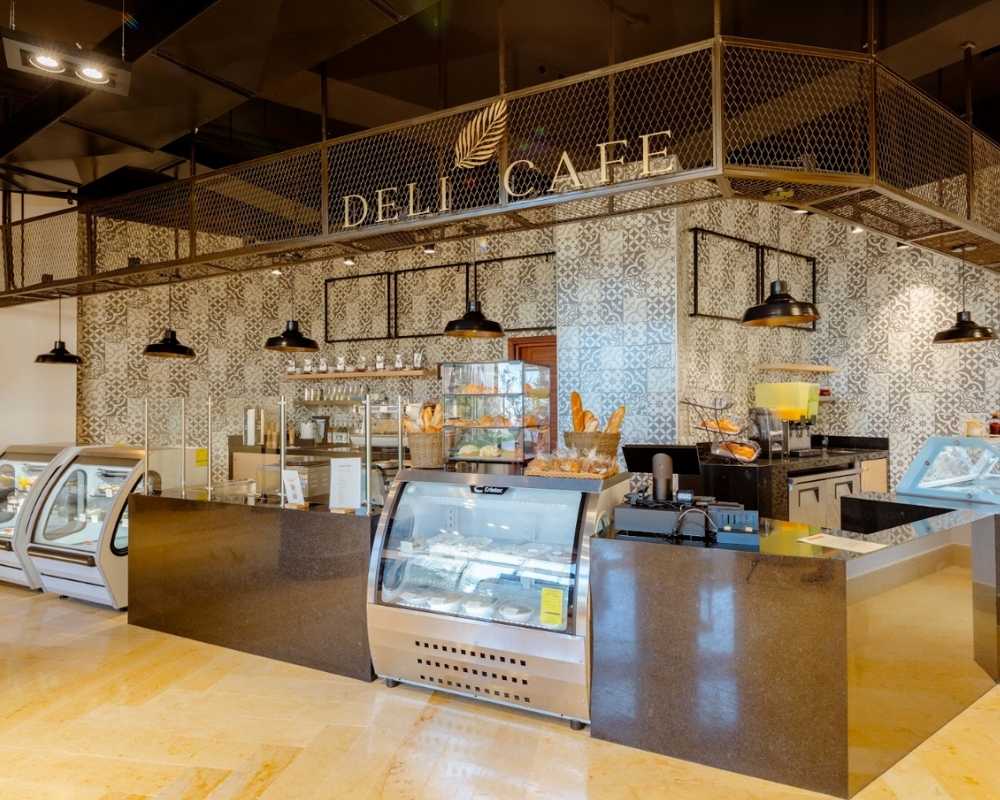 La Jolla Lobby Bar
Check-in at Villa La Valencia is at 3:00 PM. Should you arrive earlier than expected, you can store your luggage at the reception and start the day drinking at the La Jolla Lobby Bar.
Like Palmita Deli, you also have to pay separately for any consumption at La Jolla.
🏨 Book your stay at Villa La Valencia
Villa La Valencia Los Cabos was independently selected by our editors and producers. However, when you book something through our links, we may earn an affiliate commission at no extra cost to you.
⁉️ FAQ: Villa La Valencia Resort
🇲🇽 Cabo Travel Guide
Trisha traveled to Mexico in 2018 and after a year, she found herself obtaining a 4-year residency visa in Mexico. She is the Editor-in-chief for our Living in Mexico Series which has helped over 3,000 Americans move to Mexico with ease. Trisha currently resides in Cabo San Lucas, Baja California Sur.