I currently live in Los Cabos so I've brought many of my friends to do a day trip to Todos Santos. Here's where I always bring them including tips about visiting Todos Santos, Baja California Sur.
Todos Santos is very appropriate for a day trip. I stayed here for one month because the apartment I was in was already paid for but I realized that there's not much to explore for 30 days!
I suggest you combine Todos Santos with your La Paz or Cabo San Lucas itinerary even if it's just for a day trip.
I've seen the best beaches of Baja California in Todos Santos so I feel like outdoor people and beach lovers will love this small town!
Get access to our local travel experts who can help you with your hassle-free vacation in Mexico! Click here for more info.
🚫 Is Todos Santos Mexico safe?
ABSOLUTELY! Todos Santos is a small town and the close-knit community makes this pueblo magico really safe. Everybody knows everyone!
Since I stayed here for a month, I was able to get to know the expat community of Todos Santos which is not only from the US or Canada but many are from different parts of Mexico as well!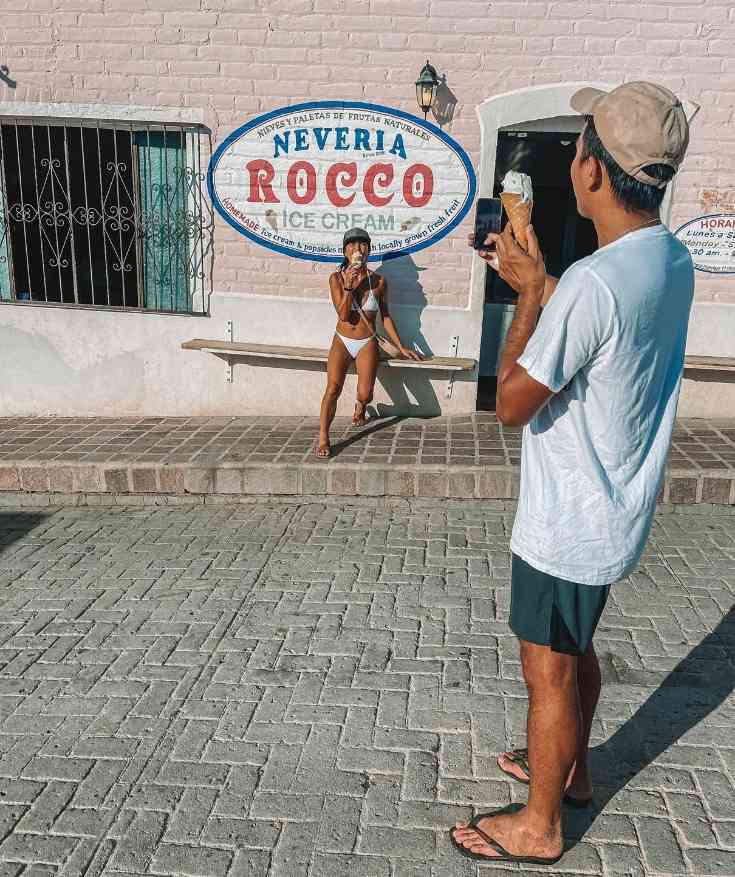 I walked in Todos Santos at night without a problem. I was even taking busses from Todos Santos to El Pescadero (where I hang out in the evenings) and I feel really safe in this town.
Todos Santos is very much used to tourists so you don't have to worry about safety here. I lost my GoPro here though but it was NOT stolen. My brother accidentally left it in the plaza chair and nobody returned it. 🙁
🛣️ How to get to Todos Santos
I know there are some backpackers who are following this blog but I have to be honest – it is very hard to get around Todos Santos (or Baja California in general) without a car!
Busses are efficient in Baja California Sur and if you're only going for a day trip to Todos Santos (from Cabo or La Paz), the busses run until 11:00 PM.
Day trip to Todos Santos tours
For those who don't want to drive, there are a few day trips to Todos Santos tours but the only one I know is a full-day jeep expedition.
This tour will take you around Todos Santos on a jeep (either from Cabo or La Paz) with an English-speaking guide/driver.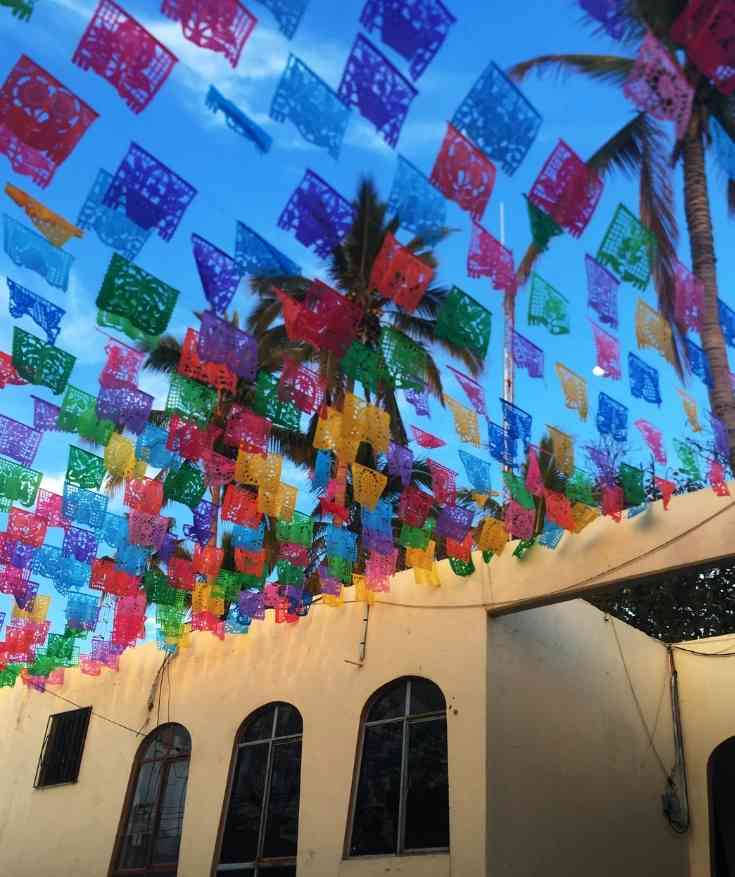 As this is an organized trip, you won't really get the chance to discover some of the stuff I recommend in this itinerary (mostly food trips).
But it's still good for those who want to just sit down and not think about anything for the day trip.
How to get to Todos Santos via rental car
A rental car is still good if you're doing a day trip to Todos Santos. La Paz, Cabo San Lucas, and San Jose del Cabo Airport have many rental companies that start at US$20 per day.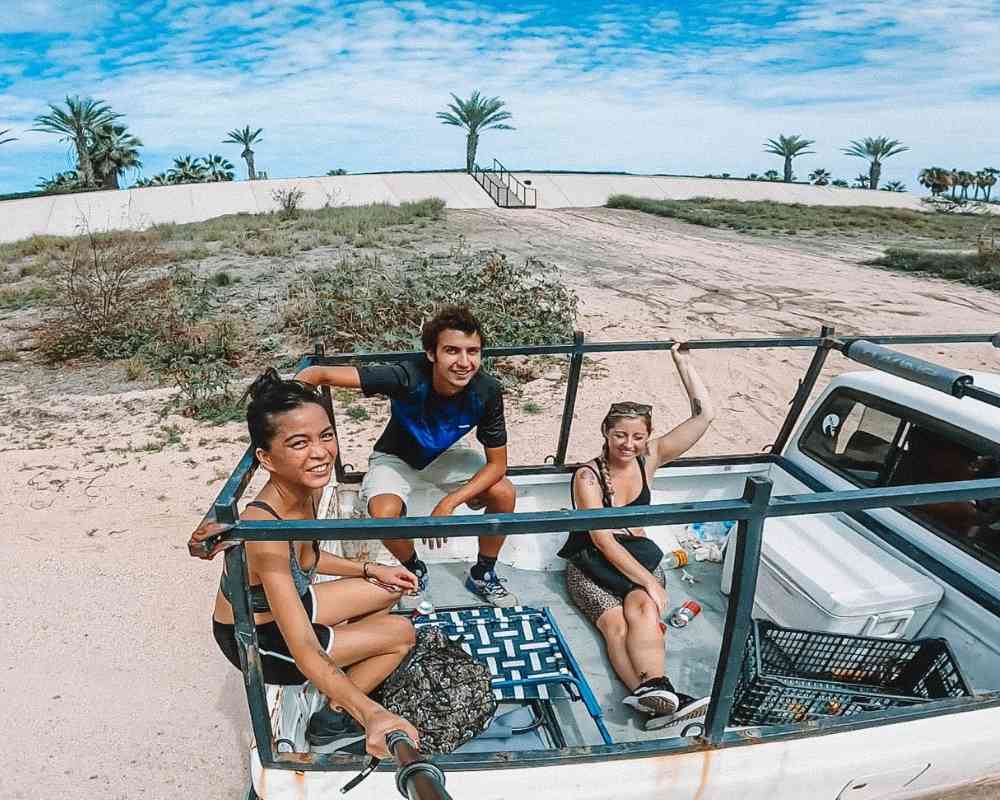 The daily costs are cheap but renting a car in Mexico requires a security deposit and payment for car insurance.
This deposit will be returned to you upon returning the car in good condition.
I don't have a favorite rental company in particular but you can check rental car prices prices here.
How to get to Todos Santos by bus
In Cabo San Lucas downtown, you can go to the Aguila Bus Station and buy your tickets to Todos Santos. Aguila is the bus company that is commonly operating in Baja California Sur.
The bus leaves every hour so you can just buy your ticket when you are already there. The bus from Cabo San Lucas runs from 5:45 AM – 9:45 PM. This costs US$8.29.
For those who are coming from La Paz, you can go to Autobuses Águila – Serdan to get on a bus to Todos Santos. Busses in this route run from 6:10 AM – 9:40 PM and cost US$7.
✨ Day trip to Todos Santos itinerary: what to do from morning til night
7:00 AM – leave for Todos Santos
Make sure to have breakfast before leaving for your Todos Santos day trip. There aren't any restaurants or convenience stores once you are already on the highway.
But you will enjoy this drive so much because of the scenic views. What I love about living in Baja California Sur is the combination of the desert and the sea.
I drive around Baja a lot and I am still amazed at how pretty it is. There is nothing like it all over Mexico! These roads are wide and super safe. I don't even see much police on this highway but still, observe speed limits.
9:00 AM – Sugar Port Trail Hike
The first activity is a small and easy hike to the Sugar Port Trail hike. You must do this before 10:00 am (in the summer months of June – October) because it can be really hot after 10.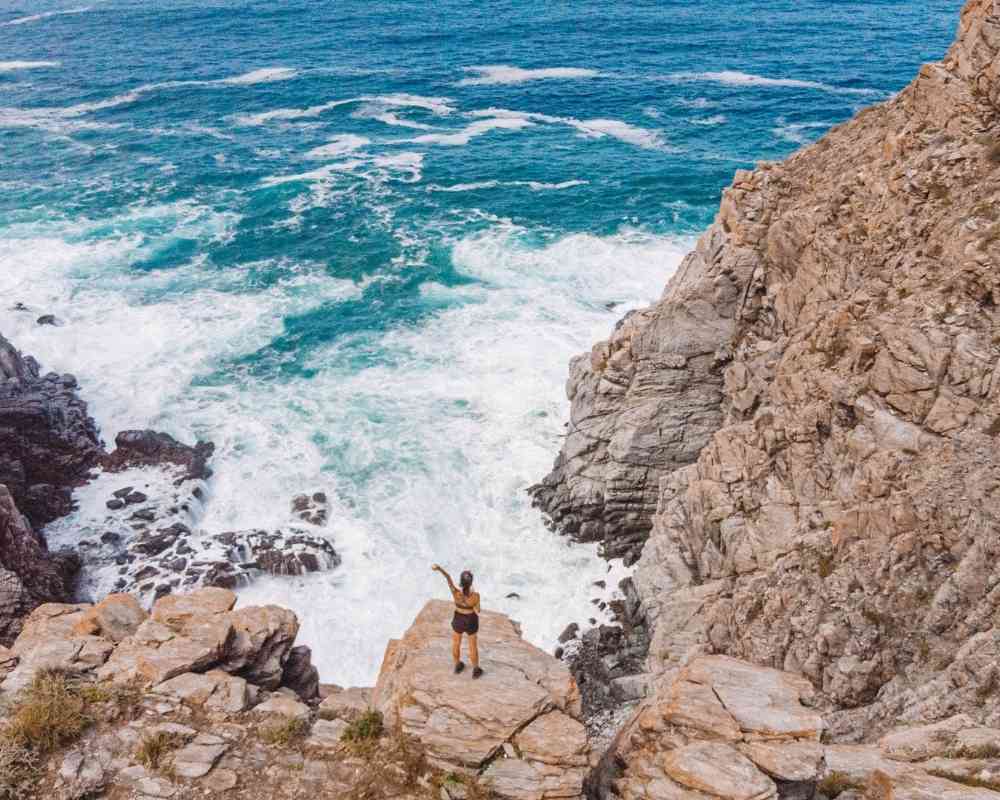 Hiking this trail at any time of the day is better in the winter. The trail starts at Punta Lobos beach. You don't need to wear proper hiking shoes but be mindful as the trail is steep rocks.
You can watch my video on Youtube to see the situation of the trail. My friends who come here don't really want to go to the top so they just stay at the Punta Lobos beach instead.
10:30 AM – hang out at Punta Lobos beach
Punta Lobos is one of the best beaches in Baja California Sur. It's best to stay here for at least 2 hours but bring an umbrella if you don't want to stay under the soon too long.
There are no stores for food here but there is one local who is selling drinks. You will also get to see the fishermen's life here – this is where they all park their boats.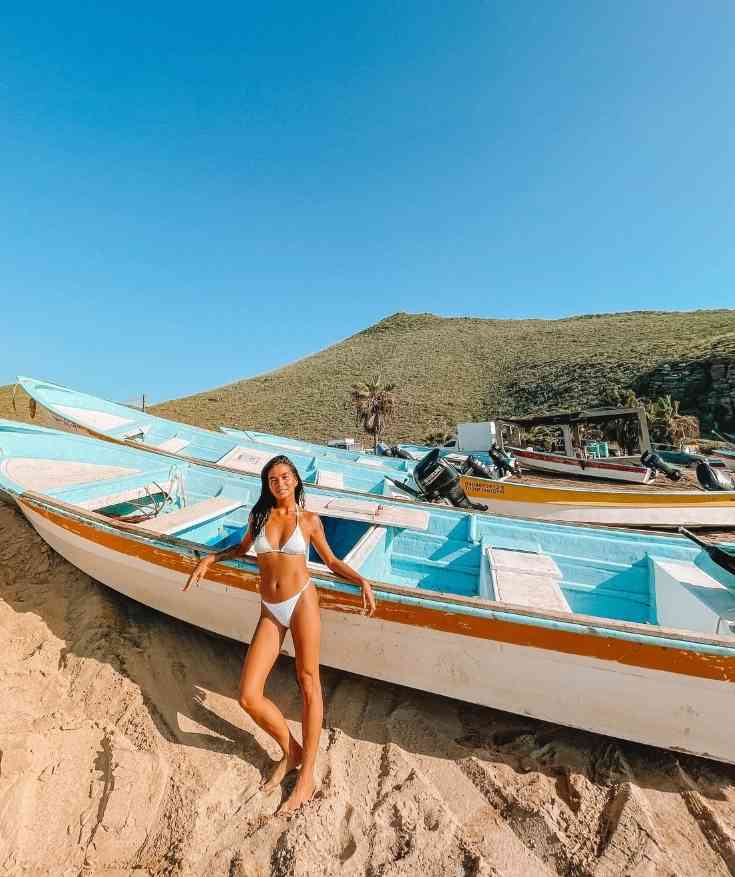 The fishermen also sell fresh oysters here but the restaurants usually get the first dibs. You will also see many surfers here as Todos Santos is a famous destination for surfers.
This beach is swimmable even if there are surfing waves but still be careful if you're not a good swimmer. The fancy Hotel San Cristobal is here too but you won't see many tourists.
12:30 PM – brunch at Oystera
📍 Calle Benito Juárez, Ignacio Zaragoza y Santos E, Degollado
Oystera is an oyster bar that opened when I was living in Todos Santos in 2021. Since then, it has been my brunch place. The servers here are very well-educated and will give you the best suggestions on seafood and wine pairing.
Of course, the oysters at Oystera is a must. They have different types of oysters from Sonora, Baja California, and Todos Santos.
Get a bottle of Alba de Vetus from Spain as a starter. For the best experience, share with your group and order whatever you feel is good.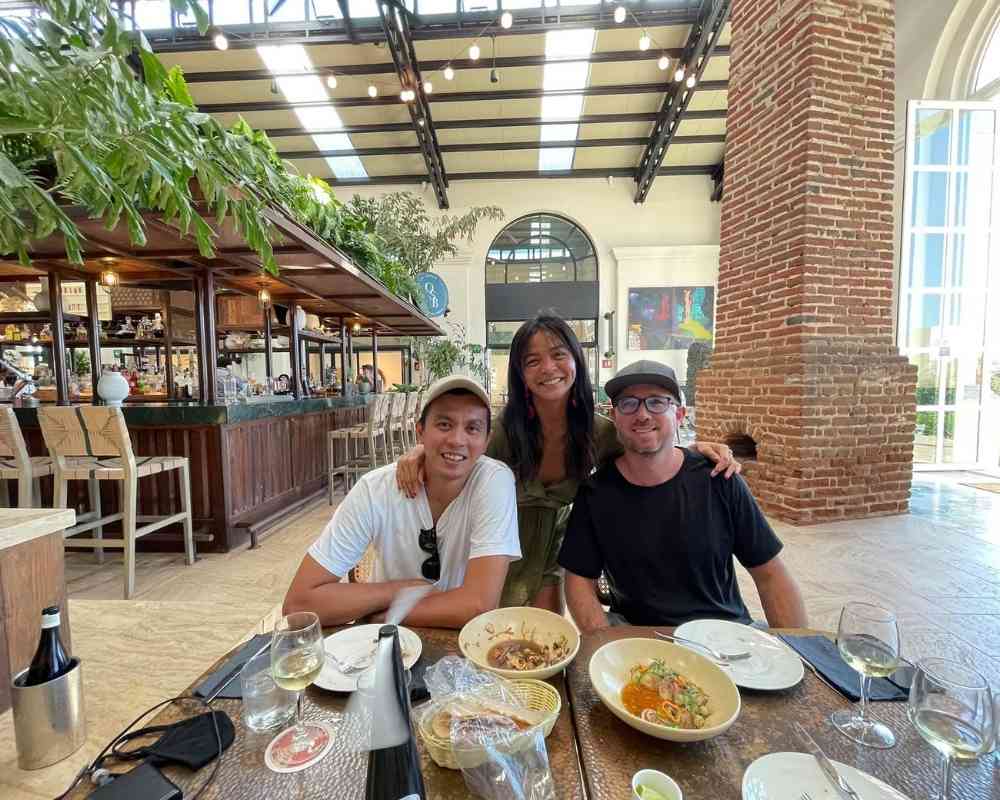 I swear everything at Oystera is really good plus the ambiance of the place is perfect for brunch. This is my usual round of orders at Oystera:
Baja California oysters: 12 pieces for US$25
Octopus carpaccio: nut vinegar, cilantro cream, fresh arugula, and piquing chili for US$17
Raw fish of the day (depends) but when I come there, it's usually mahi-mahi. Marinated fresh fish with fermented lemon, aioli and pickled veggies (US$14)
Charred ceviche: this is the best ceviche in Oystera! A combination of shrimp, octopus, fish with roasted veggies and fish skin cracklings (US$14)
Red aguachile: shrimp marinated in habanero and carrot juice, black lemon, carrot escabeche and chili oil (US$14)
They have a lot more things on their menu but their menu is not available online. You can also watch my Todos Santos Instagram highlights to see what Oystera is like in videos.
2:30 PM – walk around Todos Santos
After your long brunch at Oystera, you can proceed to walk around the town of Todos Santos. It is pretty small so you can go around town within 30 minutes.
To be honest, I thought Todos Santos would be as colorful as Sayulita (they are both pueblo magicos) but not all areas of Todos Santos is crazy colorful.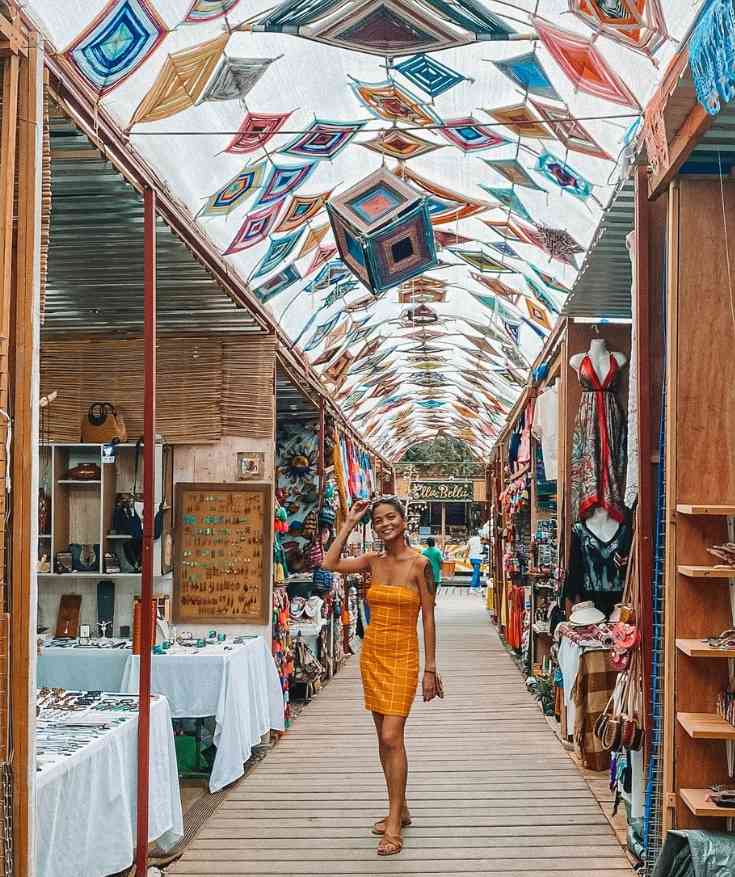 Start in Calle Benito Juarez and you will see the markets, more restaurants, and the famous Hotel California. This is the main avenue to explore in Todos Santos.
If you want to have dessert, the best ice cream place is Neveria Rocco. Right outside this ice cream shop is a bunch of stores where you can go shopping.
Lastly, don't forget to visit the big Todos Santos letters for the mandatory photo op and at the same time, see some local life at the Todos Santos plaza.
5:00 PM – sunset drinks and dinner at El Mirador
📍 Camino a El Mirador Restaurant, Rafael Pedrajo 1
Finally, go off-road and go all the way up to El Mirador, my favorite restaurant for sunset drinks at Todos Santos! It's quite an adventure to get there as you will go up the hill and drive off-road.
But when you are already at the top, you won't miss it. Here, you will see the view of Punta Lobos (where you were in the morning). It can get very confusing but keep following the Google map direction and you should be fine.
Its open layout is very cozy and allows greater views for sunset. Their food and wine selection are also amazing! My favorite white wine here is the one from South Africa.
Their plates are medium-sized but as usual, since I am always bringing a group for a day trip to Todos Santos, we always order a bunch of plates to share. You will love their oyster dishes!
Extra evening activity: drinks at Pura Playa Cerritos
If you're driving back to Cabo or La Paz, just 10 minutes from Todos Santos is Pura Playa, a little beach bar that I love in Cerritos.
It's a little difficult to get here. I've been here many times and still get confused but once you make the turn from the highway, just follow the road to the beach and you will find it!
Just be careful if you are driving on your own as your car can get stuck in the sand. Pura Playa is a place you shouldn't miss especially in the evening.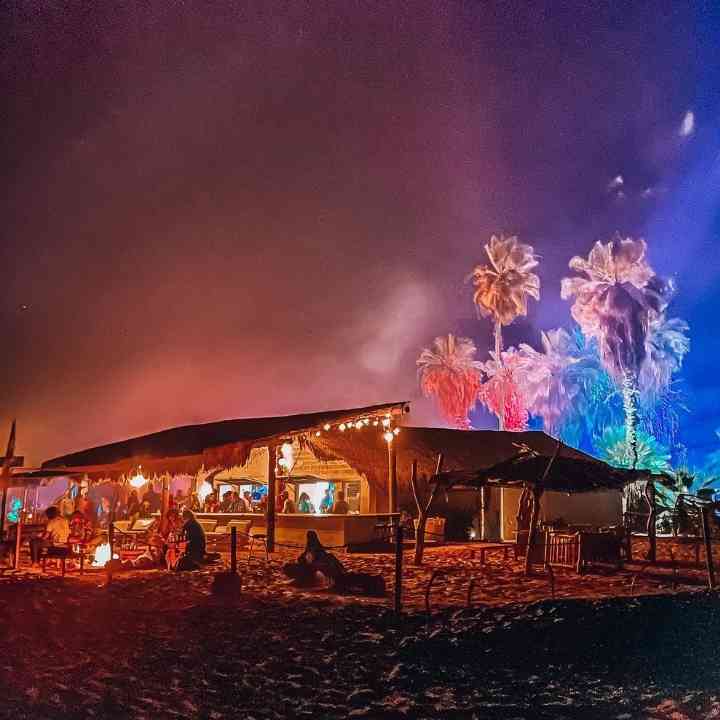 They have live music every weekend and have big events on Fridays and Saturdays. By the way, when I say a weekend in Mexico, we are also already counting Thursday as a weekend!
I went here on Thursday and there was a flamenco band playing! There's also food in Pura Playa so if you are still hungry from your early dinner in El Mirador, feel free to order here! Their food is not my favorite so I always order the cheese plate.
Attention, designated driver: please don't drink too much and make sure you are able to bring your group back to Cabo or La Paz after this day trip to Todos Santos!
✈️ Ready for your day your trip to Todos Santos? If you need more information, I'd be happy to update this post – just leave your questions below!
Trisha traveled to Mexico in 2018 and after a year, she found herself obtaining a 4-year residency visa in Mexico. She is the Editor-in-chief for our Living in Mexico Series which has helped over 3,000 Americans move to Mexico with ease. Trisha currently resides in Cabo San Lucas, Baja California Sur.