El Cielo Winery is one of the biggest wineries in Valle de Guadalupe. Last weekend, I was able to pay a visit and do one of their premium chocolate and wine tasting combo.
I've been to many wine countries in the world but this is the first time that I am doing it with chocolate. Wine experts at El Cielo Winery bought chocolates from a local provider in Tijuana.
They were given many options and after a meticulous process of trying these chocolates with their wines, they ended up picking 4.
I spent a day in El Cielo Winery and in this post, I will tell you all about my experience. Note that I did not stay in the resort since I was also exploring other vineyards in the area. A hotel experience is not included in this post.
???? El Cielo Winery chocolate wine and chocolate pairing
Mexican wine expert Natalia Romero showed me how to correctly pair chocolates with wine. The correct way to do a chocolate and wine pairing is to try the wine first.
If you try the chocolate first, it's not going to work. If you try the wine first, you will see what it actually has in terms of aroma, flavors, mouthfeel, etc.
After trying the wine, try the chocolate separately to see its individual flavors. After you've had both individually, have a small bite of the chocolate and don't swallow right away.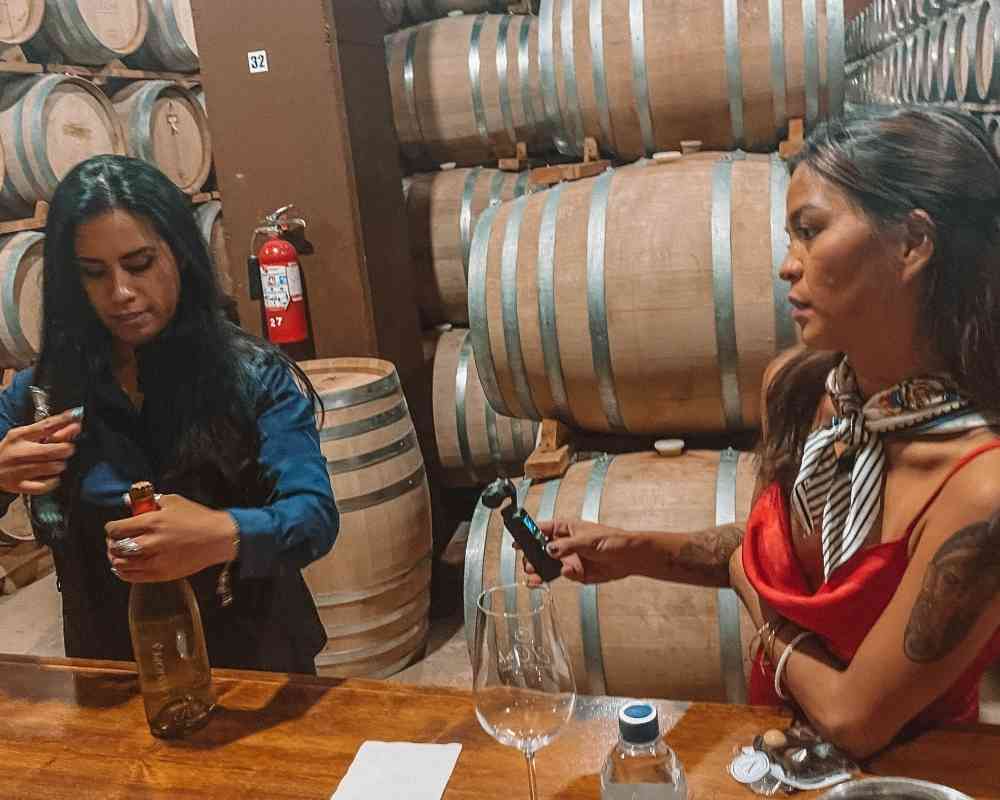 Feel the chocolate in your mouth and take a small gulp of the wine, play with it a little bit and mix these flavors together. If you swallow the chocolate right away, it can taste very bitter.
But if you try to play with it, it will intensify aromas and flavors and at the same time, the chocolate softens the harsh characteristics of the wine (i.e. sweetness, bitterness, higher acidity, etc).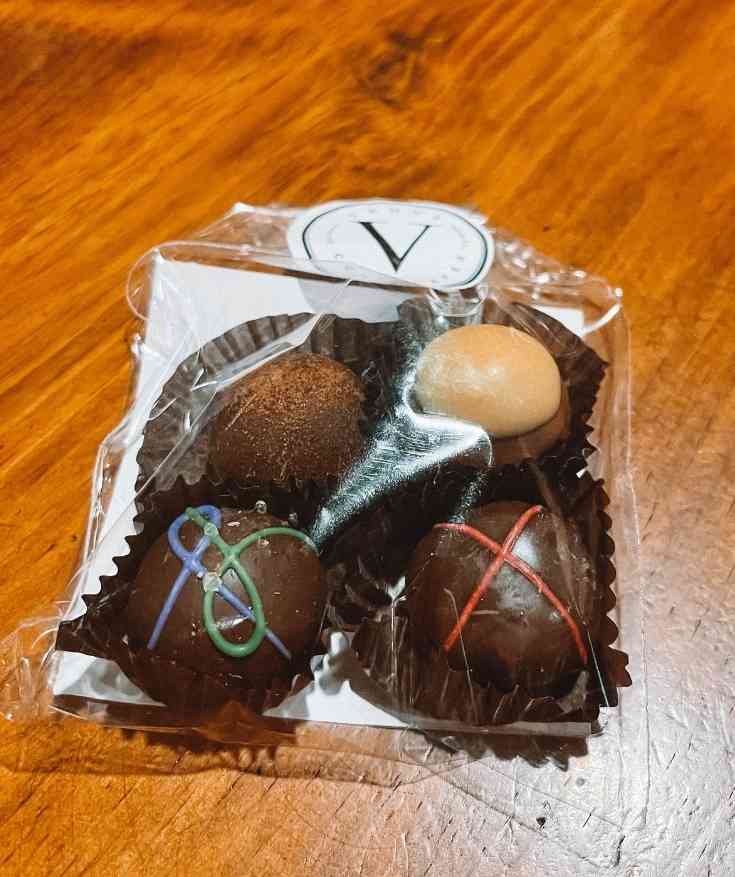 True enough, if you do it this way, the flavors of both the wine and chocolate will be vivid and have more enhanced flavors to the palette that reveals the flavors in both.
Note that these chocolates are not made by El Cielo Winery but they did the rigid process of pairing them with their wines after which, they adapted and branded these chocolates to their wines.
Finally, the chocolate provider made these chocolates especially for El Cielo Winery's wine selection depending on their characteristics.
Save the image below on Pinterest for your trip!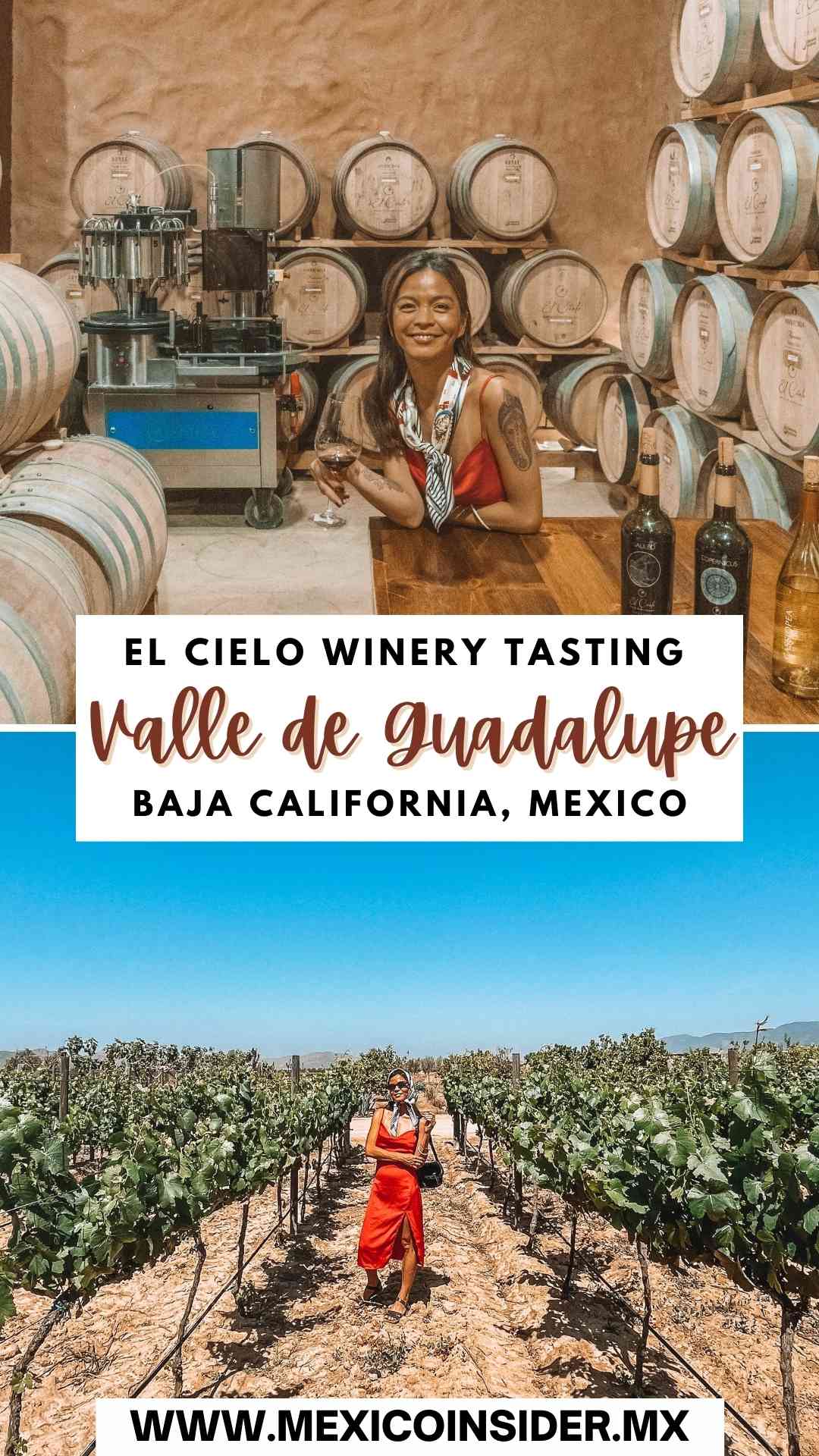 ???? El Cielo Winery: wines and chocolates to pair
#1: Cassiopea (Sauvignon Blanc)
Cassiopea has a tropical taste with bursting flavors of guava, pineapple, grapefruit, lime, and green apple. It goes best with seafood dishes like ceviche but you can also have it individually because of its very amicable taste.
The chocolate paired with it is based on guava flavor, a fruit that is found in many of El Cielo Winery's wines. You can also find flavors of rosemary, ginger, and lime in this chocolate. It is also slightly minty.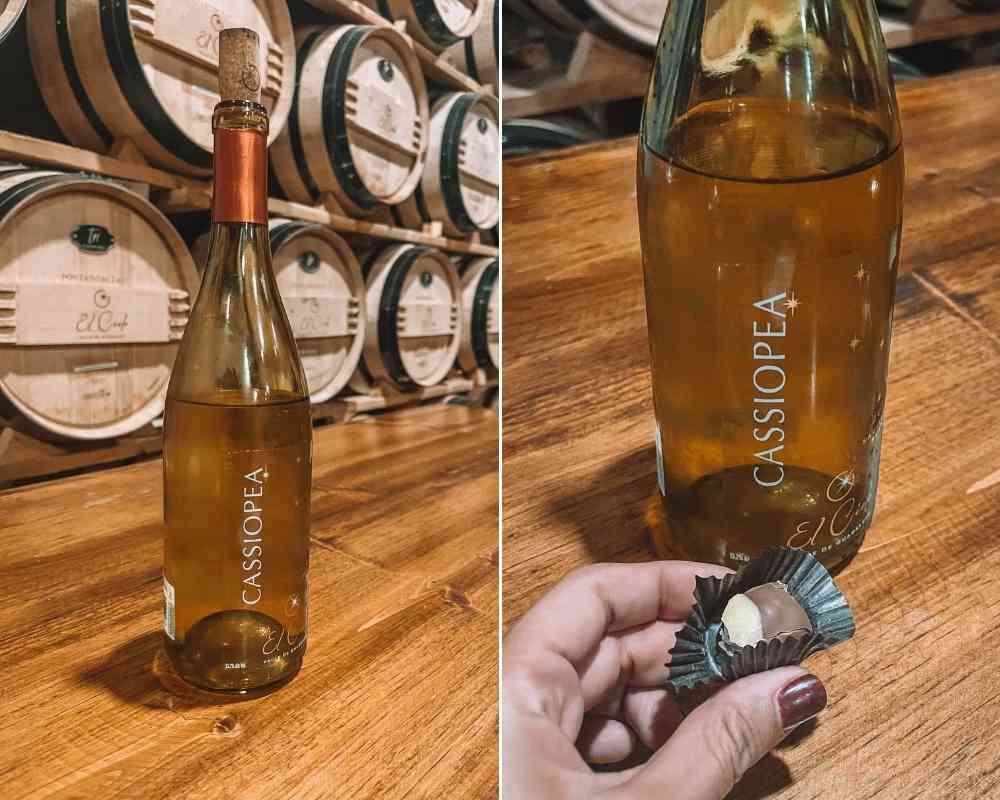 Chocolates with minty expressions feel fresh in the mouth which goes well with Cassiopea. A bottle of Cassiopea costs US$20.
#2: Copernicus (70% Cabernet Sauvignon, 30% Merlot)
Aged 12 months in French oak, Copernicus is recommended to those who are new to drinking wine. This wine is a member of El Cielo's mid-wine and is one of the smoothest reds that they have.
French oak is very present in this wine as well as flavors of vanilla, nutmeg, cinnamon, and clove. It also has earthy notes of leather and cocoa. The tannins are not super-rich and it is really light.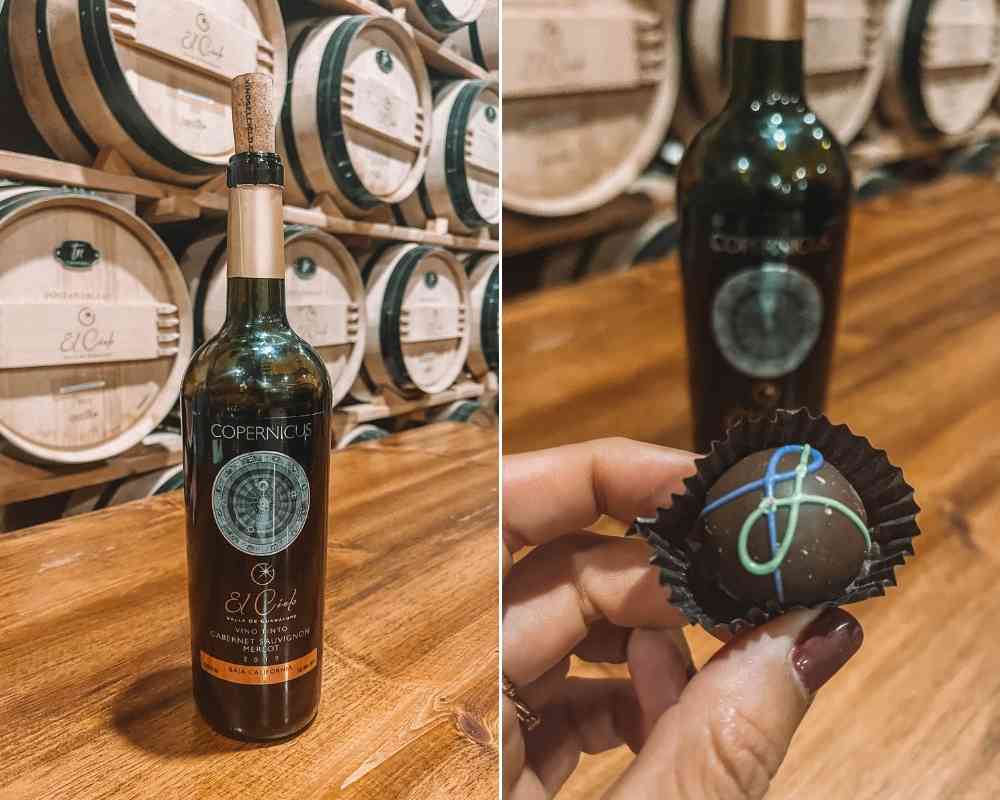 Copernicus tends to be food forward and less dry. The chocolate that goes with is called 'lavanda amarga' (bitter lavender). Cabernet Sauvignon has stronger aromas and the lavender chocolate smoothens out its characteristics.
This is my favorite in this tasting. A bottle of Copernicus costs US$26.
#3: Galileo (Tempranillo)
Galileo is aged 12 months in French oak and 12 months in American oak. It has more complex aromas and flavors because of the oak like coffee, tobacco, and chocolate.
Tempranillo is known to have flavors of hibiscus and red fruits like cranberry, strawberry, and cherry. Hints of leather, stone, smoke, vanilla, and caramel are also present.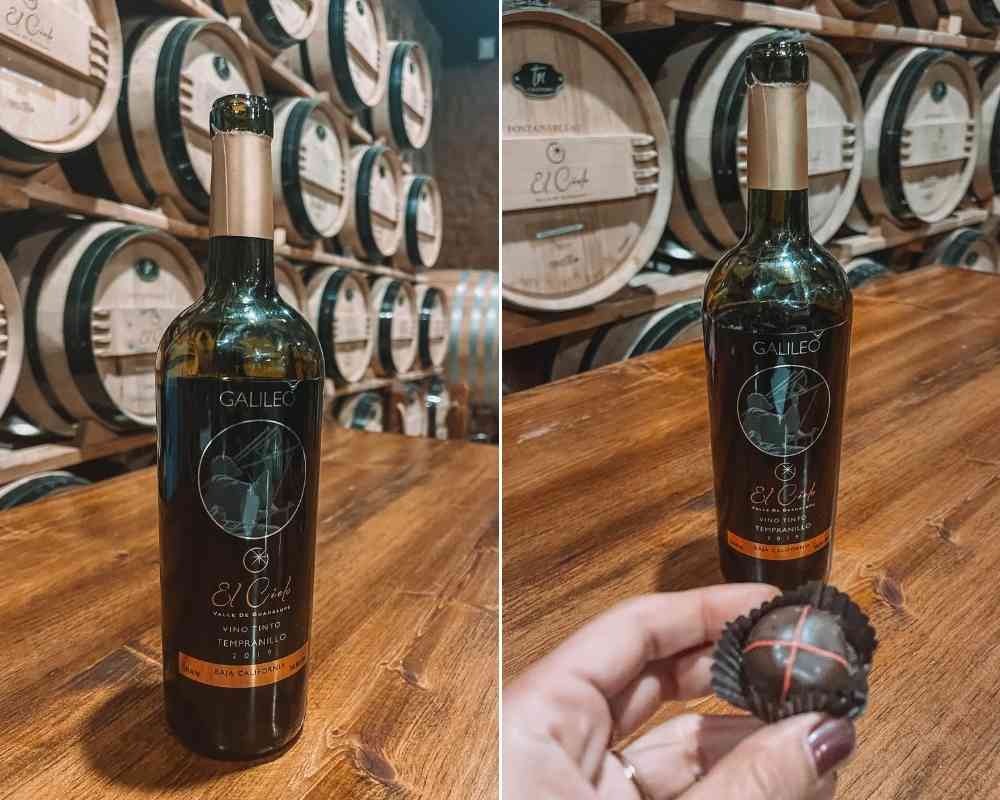 Galileo also goes with many Mexican dishes like carnitas, mole and dishes that are not too rich in fat and spices. Like Copernicus, Galileo is from El Cielo's mid-line and is recommended to those who are new to wine tasting.
The third chocolate that goes with Galileo is cranberry chocolate. A bottle of Galileo costs US$26.
#4: Orion (75% Tempranillo, 25% Grenache and Merlot)
Orion's taste characteristics include chocolate, vanilla, oak, pepper, mint, and thyme. Black fruit notes of plum and blackberry with a little bit of salty taste.
Orion is richer in tannin and but the alcohol level is not too strong. I tried the 2016 bottle so most of the characteristics of this wine were already smoothed out.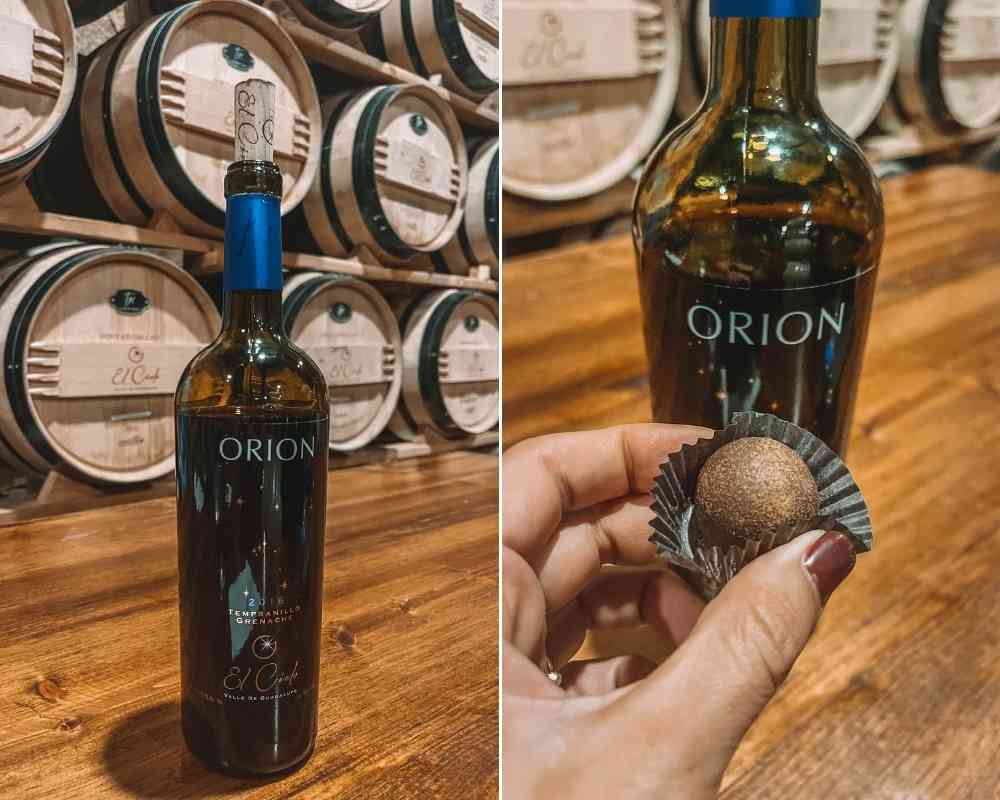 It is a very aromatic one and the coffee aroma is really noticeable. The last chocolate paired with Orion is Mexico's coffee flavor called 'cafe de olla' (cinnamon coffee) which produces a huge explosion with the wine.
A bottle of Orion costs US$52. The wine and chocolate pairing package is available for purchase at El Cielo Winery's shop located in the resort.
???? El Cielo Winery wine tasting packages
The chocolate and wine tasting package costs US$134 per person. You may call El Cielo to see availability as this is not commonly offered.
If you are not a fan of chocolates and wine pairing, below are some of the El Cielo Winery tours you can choose from: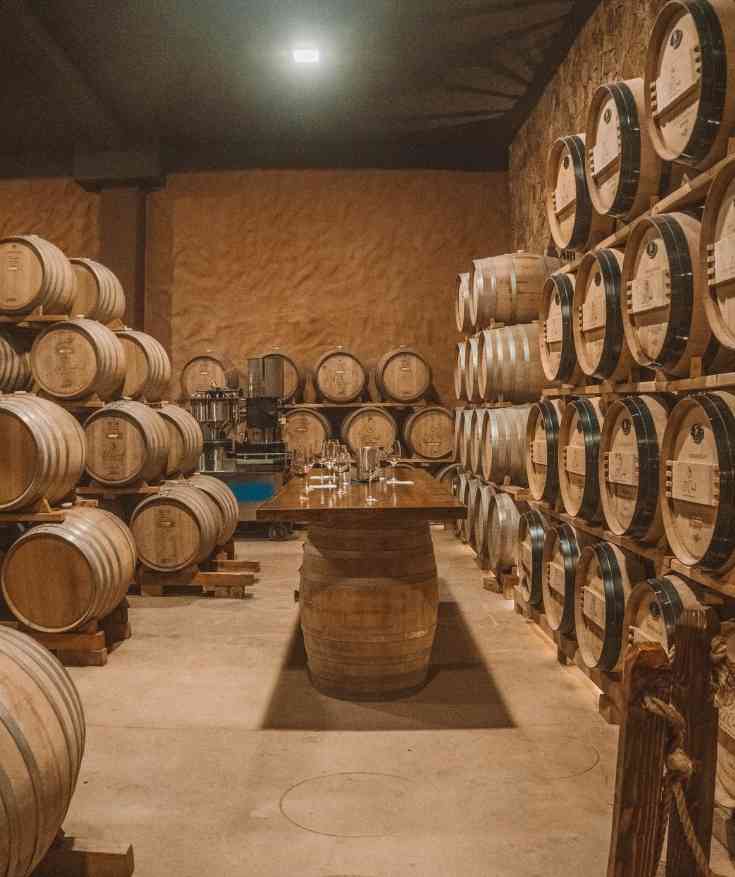 Vineyard tour and tasting on a cart
???? from US$12
???? 45 minutes
???? from 11:00 AM – 6:00 PM (weekends only)
Hop on a cart and drive around El Cielo Winery's vineyards with expert guides that will explain the wine tasting process. This goes with three of their labels: Calypso, Palomino, Cassiopea (Sauvignon Blanc), and Eclipse (Red Wine).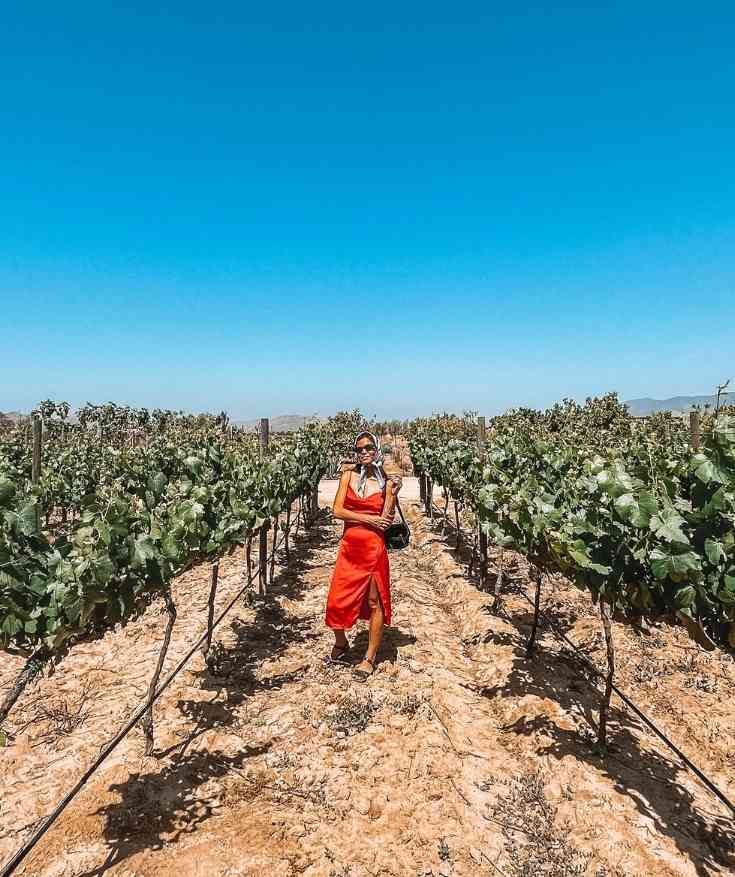 Wine tasting at the terrace
???? from US$16
???? 30 minutes
???? from 11:00 AM – 7:00 PM (7 days a week)
This is a great option for those who want to try all of El Cielo's wine. Sit down at the terrace with the view of the vineyard. You can choose from their different lines below:
Astro Tasting: Calypso (white wine), Selene (rose), and Eclipse (red)
White Wine Tasting: Andromeda (Chenin Blanc), Cassiopea (Sauvignon Blanc), and Capricornus (Chardonnay)
Astronomy Tasting: Halley (Chardonnay), Aristoteles (Pinot Noir), Galileo (Tempranillo), and Copernicus (Cab Sauv/Merlot)
Personalized tasting: Terra (mix of Nebbiolo, Sangiovese, and Brunello), Ignis (Cabernet Sauvignon, Merlot and Syrah), and Caipirinha (Cab Sauv, Nebbiolo, and Petite Syrah).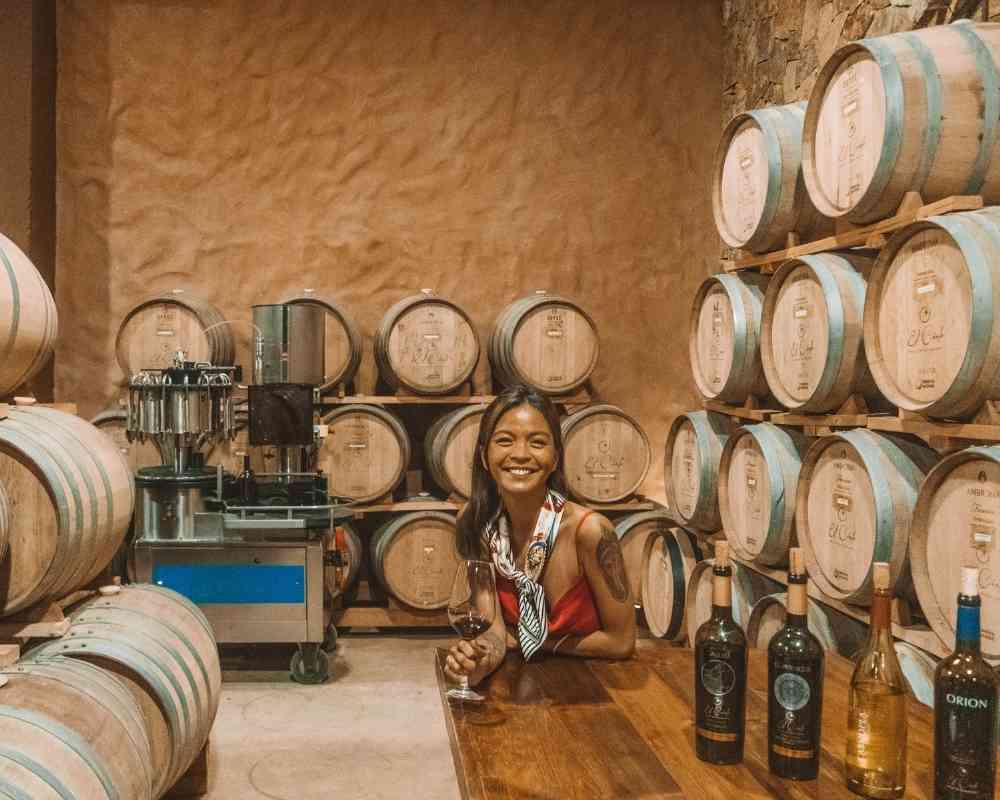 Spend a day at El Cielo Winery
???? from US$178
???? 9:00 AM – 5:00 PM
???? Monday to Friday
If you are not staying in the resort, you can have a full experience for US$178 which includes breakfast at Polaris Restaurant, in-depth tasting with sommeliers, a winery tour on a golf cart, and lunch at Latitude Restaurant.
To reserve, you may call +52 646 978 0011. Remember to arrive 15 minutes before your reservation.
???? Restaurants at El Cielo Winery
I also got to have breakfast at Latitude Restaurant where they served me the famous Baja California dish called borrego, a lamb cooked by spinning slowly around a fire for 6 hours.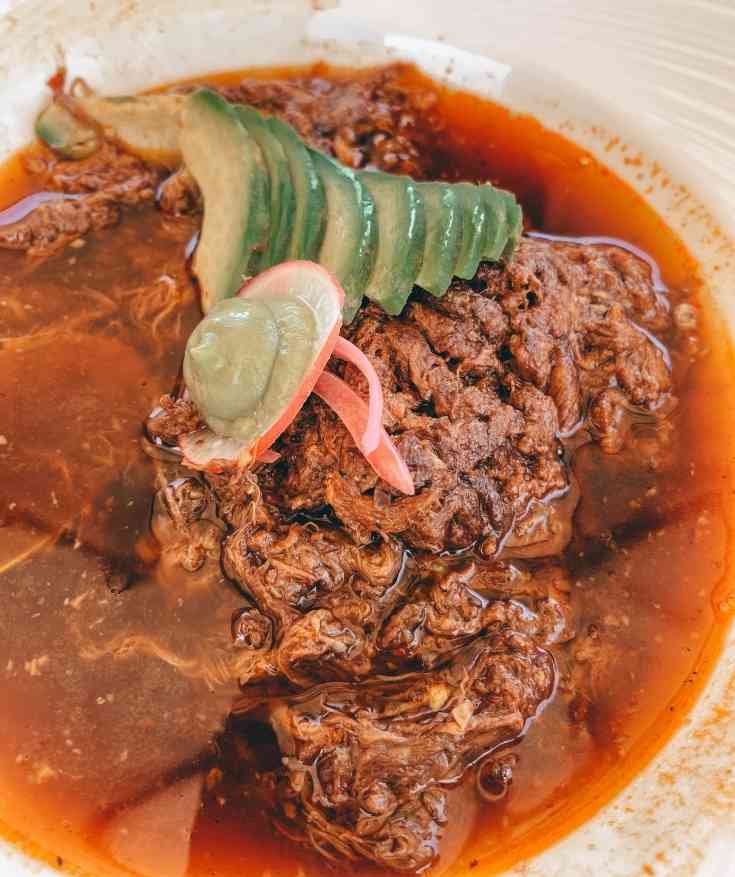 We often confuse the Spanish terms "borrego," "cordero," and "oveja," as they are all the same family in the English language. To easily understand:
???? Oveja (Ewe): adult female sheep
???? Borrego (Ram): adult male sheep
???? Cordero (Lamb): young sheep
The chef at Latitude also recommended their signature chilaquiles with cochinita on top, a dish from the state of Yucatan. El Cielo tries to have as many Mexican dishes from different states, not only limited to Baja California.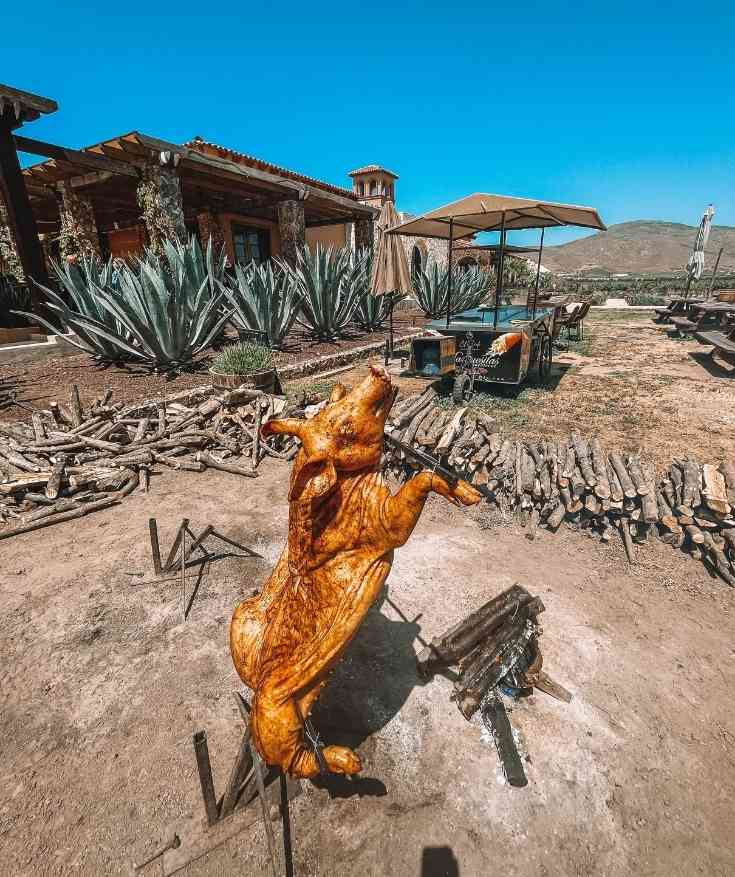 El Cielo Winery also hosts a barbecue party every weekend in their very own outdoor dining where you can actually see the borrego and lechon-making process.
You can go to the barbecue party even if you are not a guest at the resort. I think this is really one of the best dining experiences in Valle de Guadalupe!
Lastly, and another important part of El Cielo's sustainability and ethics is falconry. Falconry is legal in Mexico and El Cielo told us that it was quite complicated to get a permit because the process is tedious.
The objective of falconry is to search for prey in the vineyard and return them back to its trainer. This way, the vineyards of El Cielo Winery will remain clean of pests and animals that can harm the grapes.
✈️ Ready for your trip to Valle de Guadalupe? If you have any questions about wine tastings and experiences at El Cielo Winery, I'd be happy to update this post – just leave a comment below!
Trisha traveled to Mexico in 2018 and after a year, she found herself obtaining a 4-year residency visa in Mexico. She is the Editor-in-chief for our Living in Mexico Series which has helped over 3,000 Americans move to Mexico with ease. Trisha currently resides in Cabo San Lucas, Baja California Sur.