From living here, I have learned that there aren't any specific best time to visit Cabo San Lucas as it has become an all-year-round destination! However, if you have a specific weather preference, here's a month-by-month guide.
I have been living in Cabo San Lucas for the last 2 years and I have seen a lot of weather differences every year.
Compared to previous years, rain came early this year and it did not even last for more than 2 days! These hurricanes may not have affected Cabo San Lucas but areas in Baja California Sur like Santa Rosalia experienced extreme floods and rain.
If you frequently travel to Cabo, you may not be threatened about the hurricanes or the rain but if this is your first-time, here's an overview of the best time to visit Cabo San Lucas, including what to expect by month.
Plan your trip to Mexico with us! Get expert travel advice and customized trip-planning itinerary from our local experts on the ground.
See also:
📅 When is the best time to visit Cabo San Lucas?
The best time to visit Cabo San Lucas for good weather, honestly, is all year round. And even if it rains, the rain will only last a few minutes. I wish we had more rain in Cabo but that isn't really the case!
What's good about Cabo being an all-year-round destination is that you can actually pick the best months to visit for cheaper months.
If you don't know yet, Cabo is the most expensive destination in Mexico so if you are traveling on a budget, it's best to focus on your budget rather than the weather.
Whale season in Cabo
The whale season in Cabo is from December to April. During this period, majestic humpback and gray whales migrate from the frigid waters of the Arctic to the warmer bays and lagoons of Baja California.
The pleasant temperatures, averaging 24°C (75°F), are an excellent opportunity to witness these gentle giants, especially between January and March, when sightings are at their peak.
The best time to visit for diving and snorkelling
For divers and underwater enthusiasts, September to November is the best time to visit Cabo.
The water temperature hovers around 26°C (79°F) to 29°C (84°F), and the underwater visibility can exceed 30 meters (100 feet).
Marine life is abundant, with sea lions, tropical fish, and rays offering a vibrant spectacle for divers and snorkelers.
Cheapest months to visit Cabo
Budget travelers should consider visiting Cabo between May and June or during late September to early November.
During these shoulder months, resort prices in Cabo San Lucas are generally lower, and you can enjoy temperatures around 26°C (79°F) to 29°C (84°F). While not peak season, the weather remains pleasant for various activities.
The best time to visit Cabo San Lucas for fewer crowds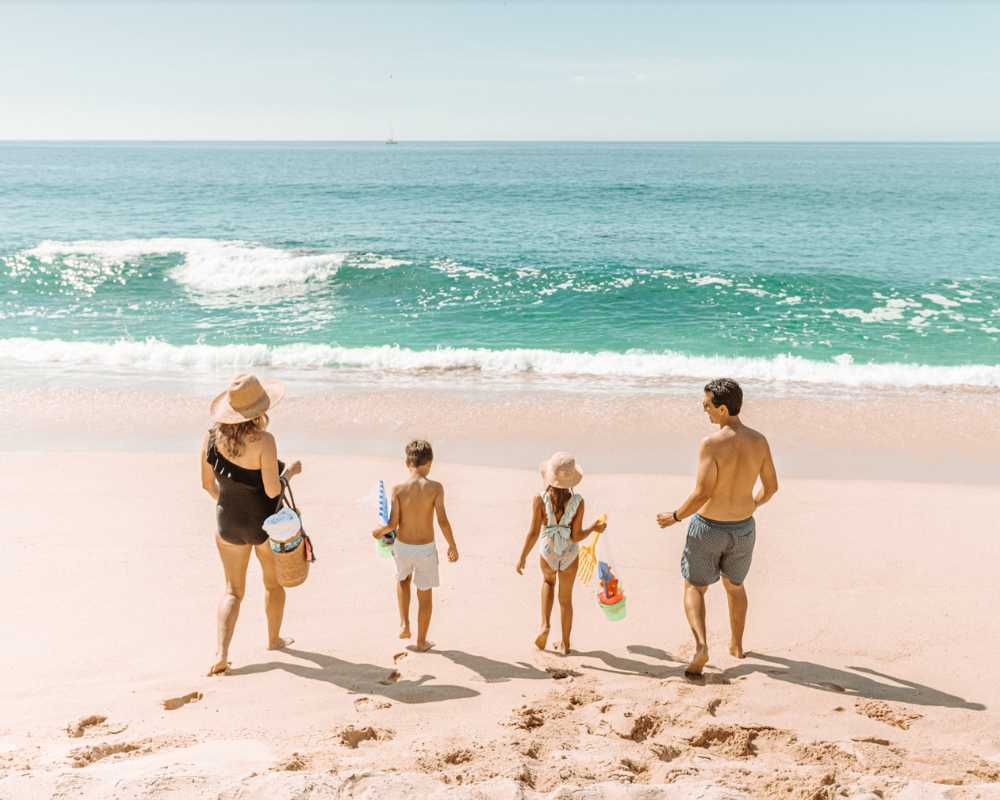 Consider visiting Cabo during May and June if you want fewer crowds or a less Americanized vacation.
With the Spring Break rush over and the upcoming summer crowds, you can enjoy the city's attractions with fewer interruptions.
Temperatures average a comfortable 26°C (79°F) to 28°C (82°F), making it a delightful time for beach lounging and sightseeing.
🌡️ Weather in Cabo San Lucas by month
If you are traveling on a specific month, here's a breakdown of the best time to travel to Cabo by month:
January in Cabo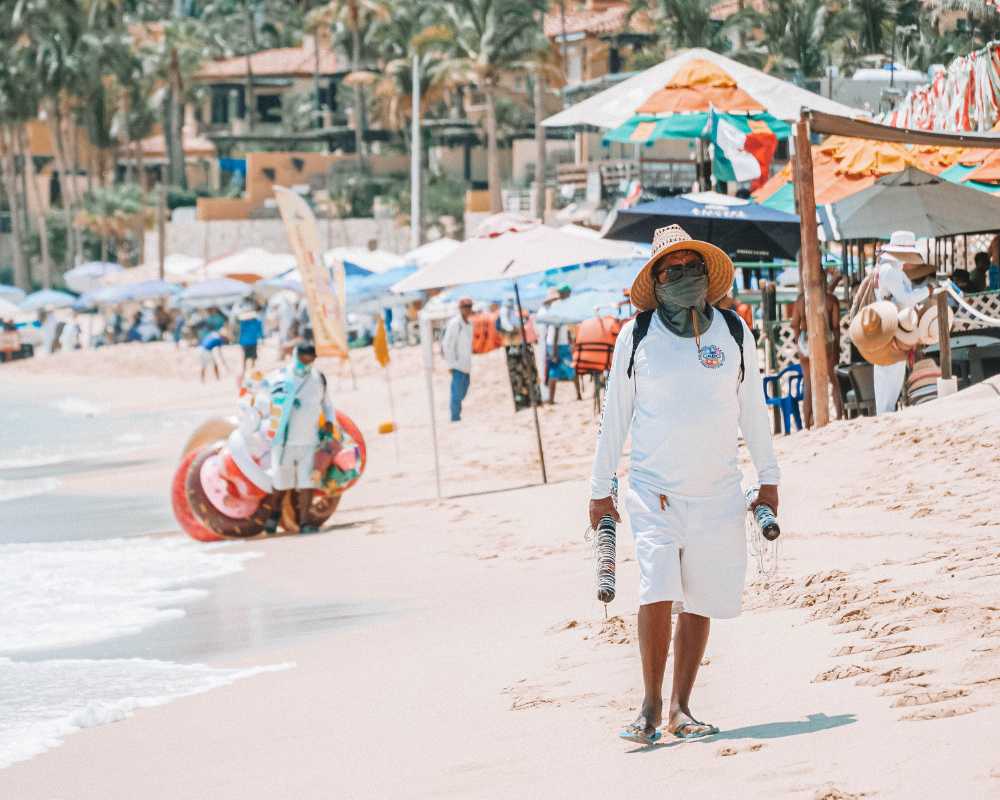 January in Cabo San Lucas offers mild temperatures, averaging around 23°C (73°F). This is peak whale-watching season, as humpback and gray whales migrate to the region's warm waters.
The month tends to be busier with tourists, but the clear skies and pleasant weather make it worth the visit.
EVENTS AND FESTIVALS IN CABO IN JANUARY
In January, Cabo San Lucas starts the year with a delightful natural spectacle. The whale-watching season, which begins in December, peaks from January to March, offering visitors the chance to observe the graceful humpback and gray whales in their migration.
February in Cabo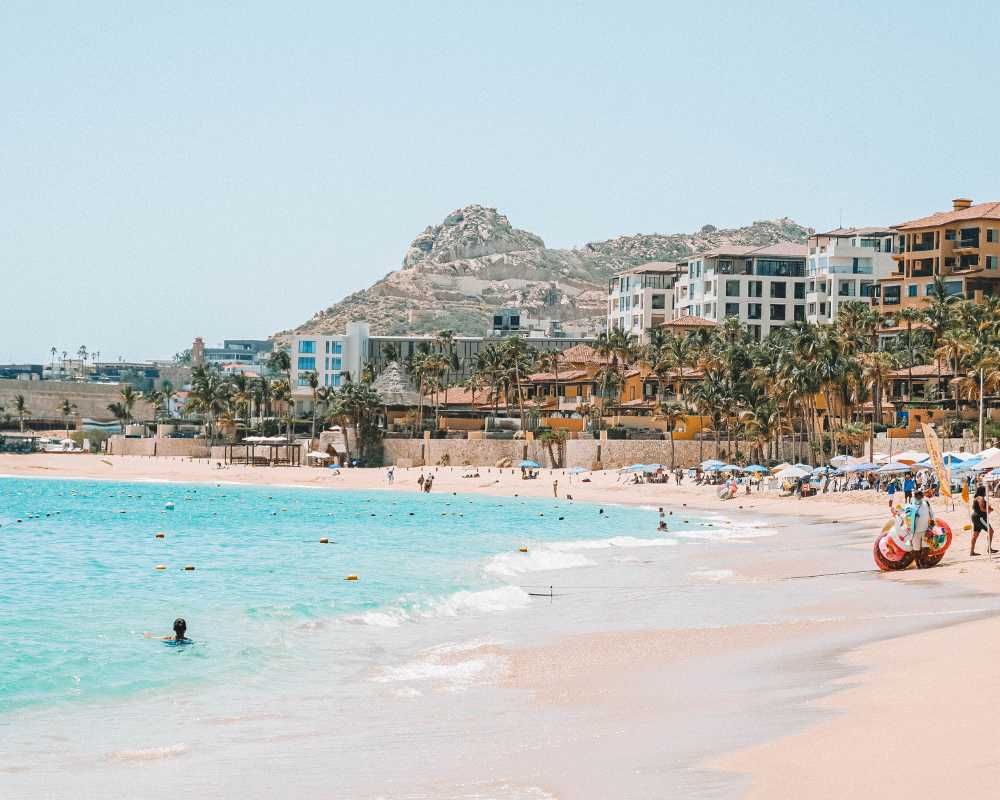 Similar to January, February in Cabo sees temperatures of approximately 23°C (73°F). The whale-watching continues, and with the added charm of the Valentine's Day celebrations, couples often find Cabo to be a romantic getaway.
EVENTS AND FESTIVALS IN CABO IN FEBRUARY
Come February, the arts take center stage in San José del Cabo with the Art Walk event that runs from November through June every Thursday evening, as art galleries open their doors for visitors.
Additionally, Cabo San Lucas becomes vibrant with the Carnival, a traditional pre-Lenten celebration that fills the streets with parades, music, and festivities.
March in Cabo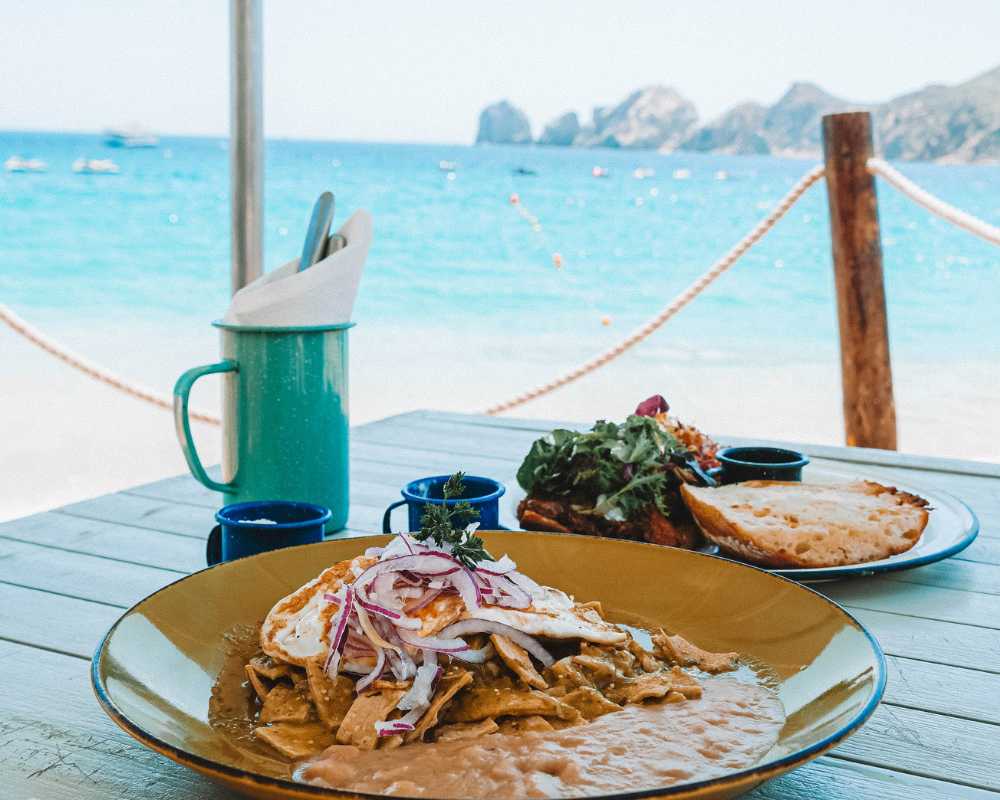 March in Cabo brings slightly warmer temperatures, averaging 24°C (75°F). As the tail-end of the whale-watching season, travelers can still catch glimpses of these majestic creatures.
The month is also popular for Spring Break, attracting younger crowds to its beaches and nightclubs. If you don't want to join the Spring Breakers, don't visit during March.
EVENTS AND FESTIVALS IN CABO IN MARCH
March is characterized by two significant events. It becomes a hotspot for college students from the U.S. and other regions during Spring Break.
Furthermore, the Festival of San José, in honor of San José del Cabo's patron saint, St. Joseph, features parades, music, and traditional dances.
April in Cabo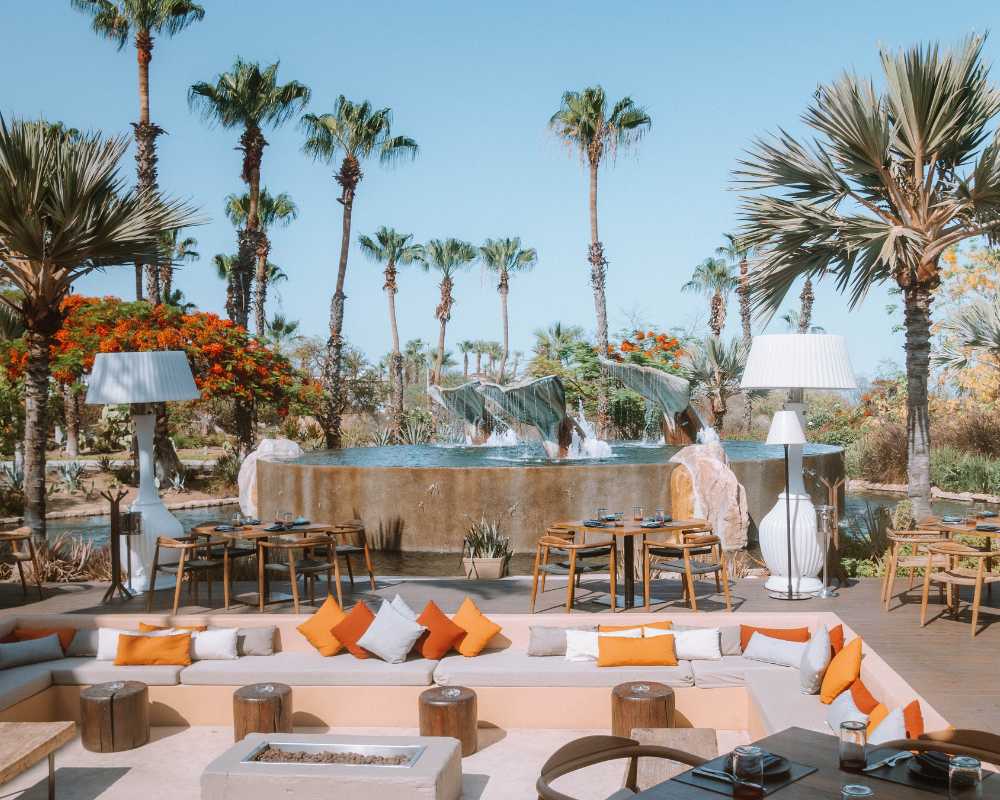 April sees temperatures rising to an average of 25°C (77°F). As whale season concludes, water-based activities like snorkeling and scuba diving are still on-going.
The Easter celebrations bring unique cultural events, making it a vibrant time to explore the region's traditions.
EVENTS AND FESTIVALS IN CABO IN APRIL
In April, the atmosphere turns religious with the Semana Santa, or Holy Week. This significant religious holiday in Mexico sees processions and traditional celebrations taking over the streets.
May in Cabo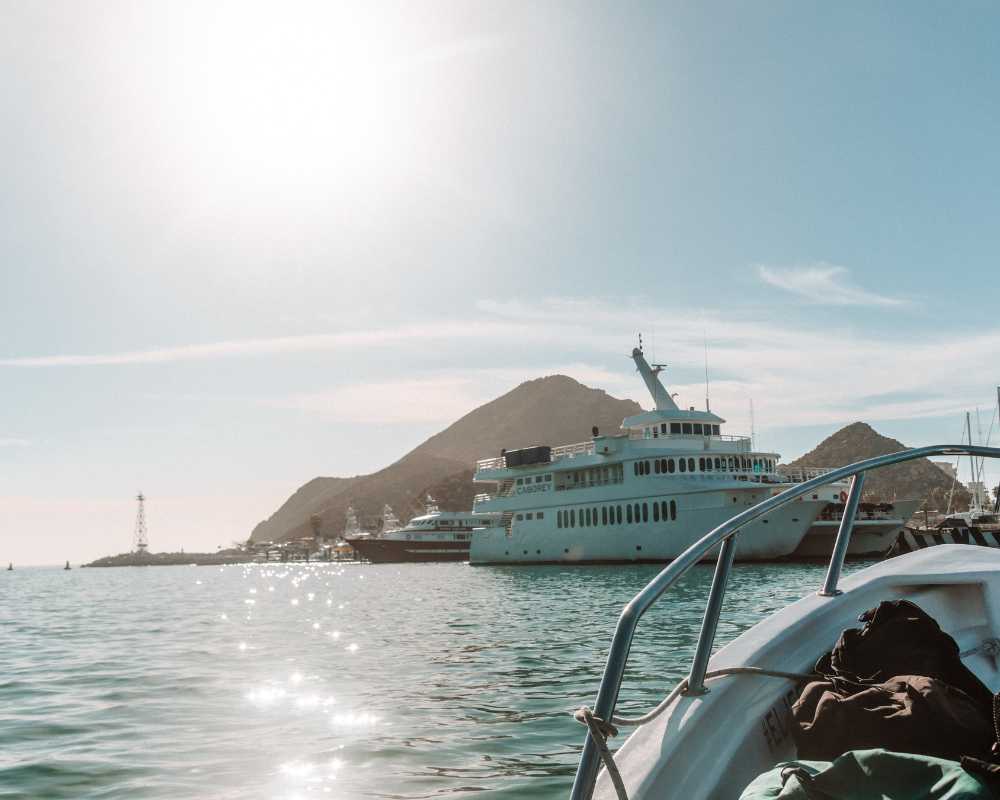 In May, temperatures continue to climb, reaching around 27°C (81°F). This month marks the beginning of the off-peak season, resulting in fewer crowds.
It's an excellent time for travelers seeking a more tranquil experience, with beaches less populated and accommodations often cheaper.
EVENTS AND FESTIVALS IN CABO IN MAY
May brings a touch of national pride. While Cinco de Mayo is not as extensively celebrated in Cabo as in other parts of Mexico, the city still dons a festive air with events and celebrations.
June in Cabo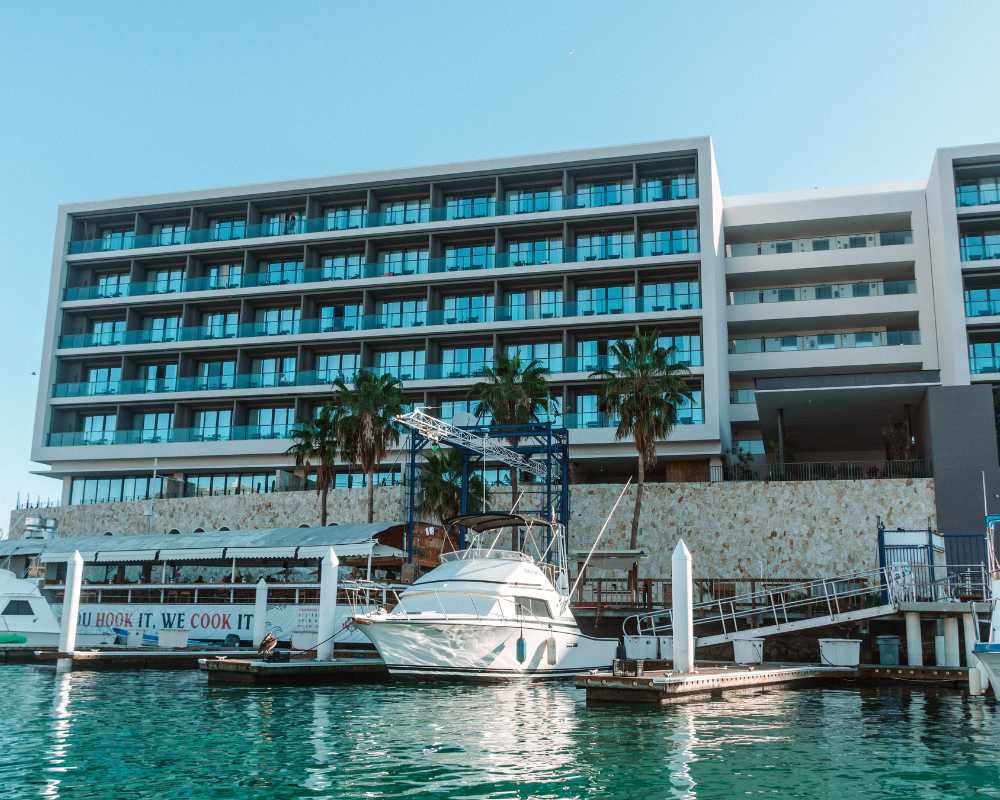 June offers warm temperatures averaging 29°C (84°F). As the transition month between spring and summer, early June can be relatively quiet.
However, as the month progresses, summer vacationers start to arrive. The sea temperatures rise, making it a popular time for swimming and beach activities.
EVENTS AND FESTIVALS IN CABO IN JUNE
June is for the sporty and the spiritual. The Los Cabos Open Surf, a major surfing competition, takes place on the pristine beaches of Los Cabos.
Later in the month, the San Juan Bautista Day on June 24th is celebrated with traditional festivities.
July in Cabo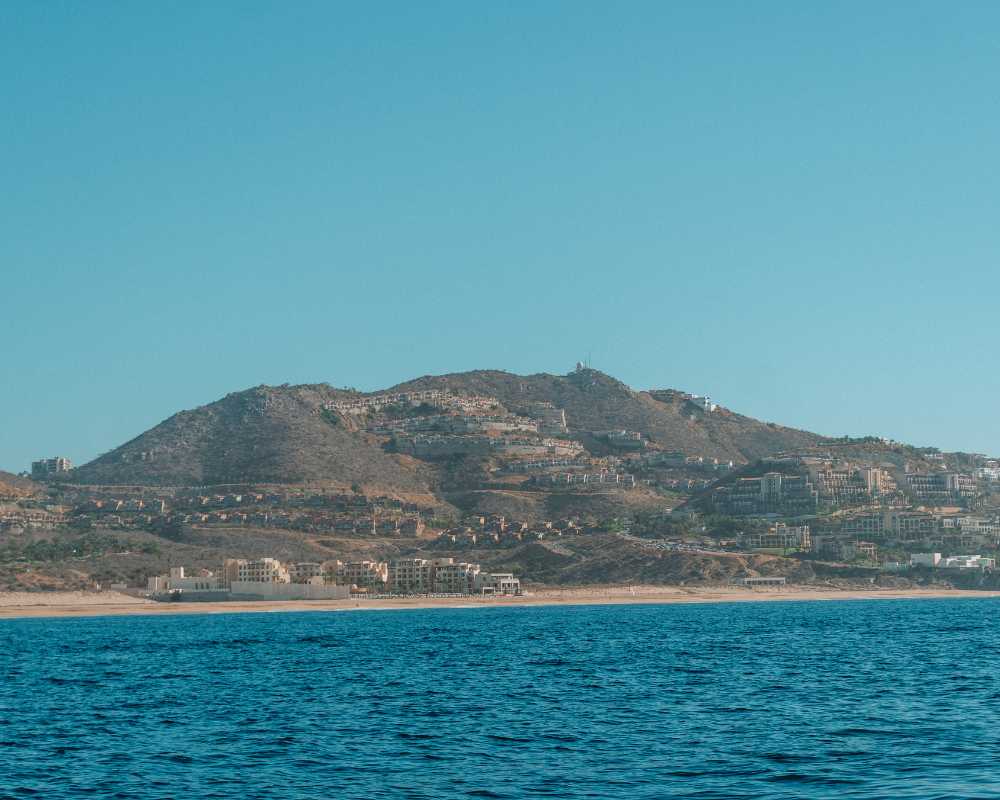 July in Cabo sees temperatures hovering around 31°C (88°F). This month heralds the beginning of the tropical storm season, but mornings often remain clear with rain typically in the afternoons or evenings.
Water temperatures are warm, making it ideal for snorkeling, diving, and other water-based activities.
EVENTS AND FESTIVALS IN CABO IN JULY
The Los Cabos Open is commonly associated with a professional tennis tournament on the ATP Tour known as the "Abierto de Tenis Mifel presentado por Cinemex" or "ATP Los Cabos."
This ATP 250 series event usually takes place in July. However, schedules for sporting events can vary from year to year. This year, July was so hot in Cabo so they moved it to October!
To get the exact dates for the Los Cabos Open Tennis for a particular year, I recommend checking the official ATP Tour calendar or the event's official website.
August in Cabo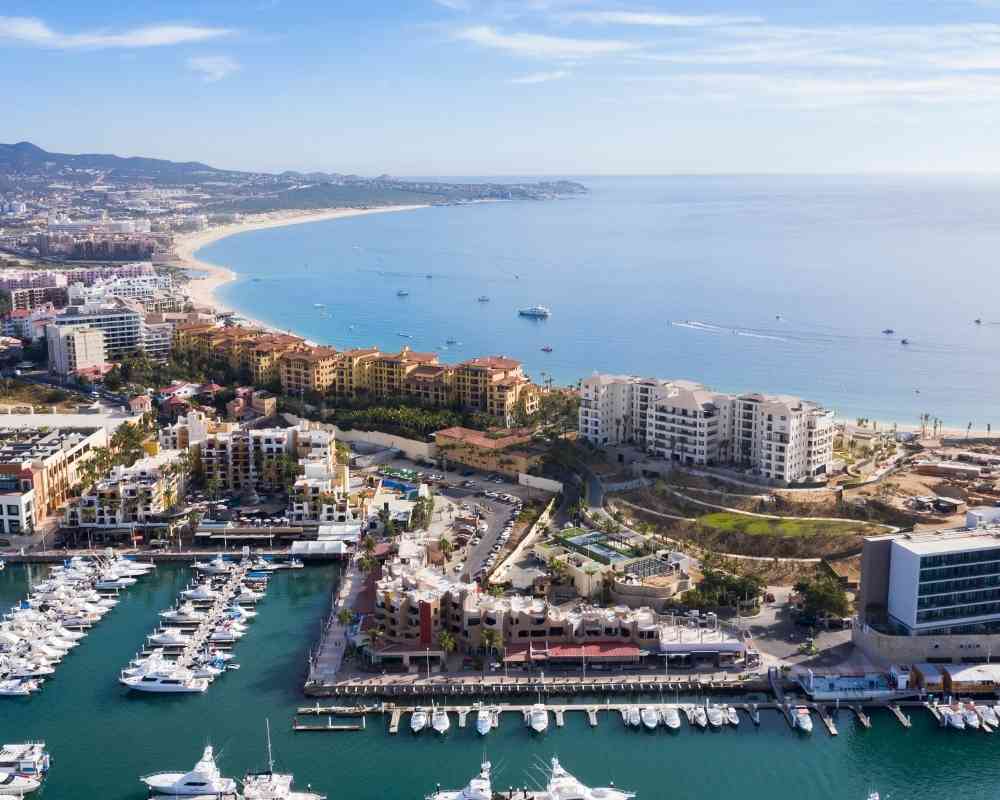 August is one of the warmest months, with averages of 32°C (90°F). This month continues the trend of tropical storms and occasional hurricanes.
However, the underwater visibility is excellent, attracting divers and marine life enthusiasts. Cabo in August may have occasional rains and hurricanes but they won't last for more than 2 days.
EVENTS AND FESTIVALS IN CABO IN AUGUST
In August, the waters of Cabo come alive with Bisbee's East Cape Offshore, one of the series of fishing tournaments that attract sports fishing enthusiasts from near and far.
September in Cabo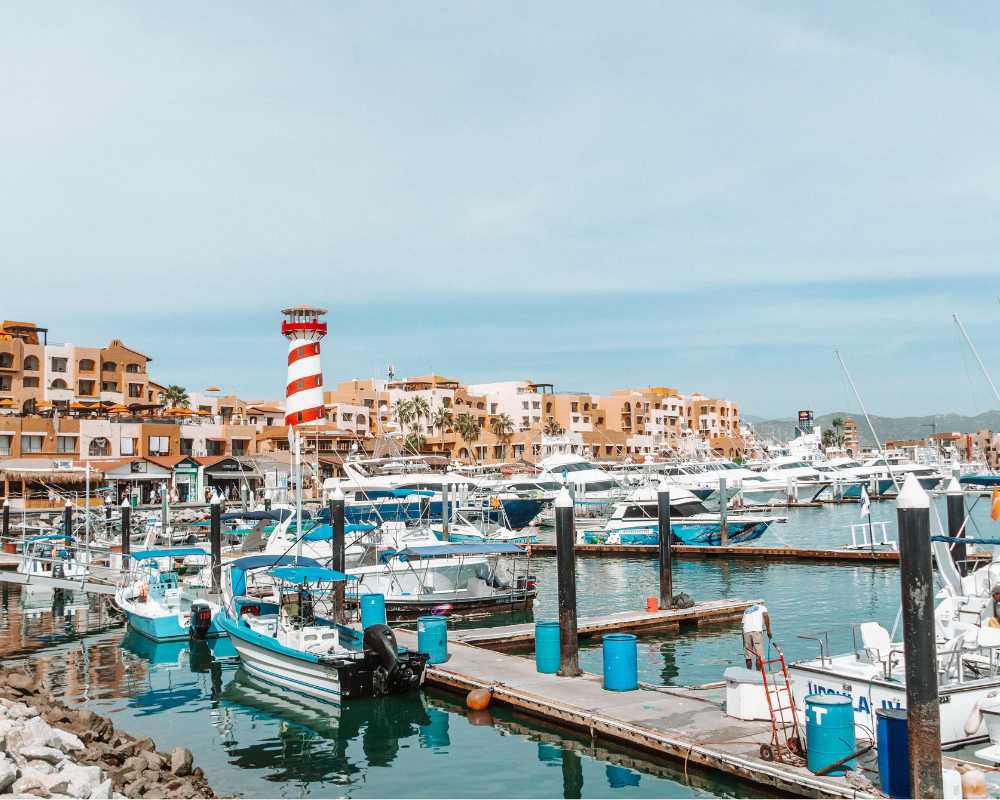 September's temperatures are similar to August's, around 32°C (90°F). Being the peak of hurricane season, it witnesses the highest rainfall of the year.
Despite this, many resorts offer discounted rates, attracting budget-conscious travelers. The celebration of Mexico's Independence Day on September 16th brings vibrant local festivities.
EVENTS AND FESTIVALS IN CABO IN SEPTEMBER
September is a month of cinema and nationalism. The Mexican Independence Day on September 16th is celebrated with gusto, featuring parades, fireworks, and traditional festivities.
The month is also marked by the Los Cabos International Film Festival, a magnet for celebrities and film enthusiasts alike.
October in Cabo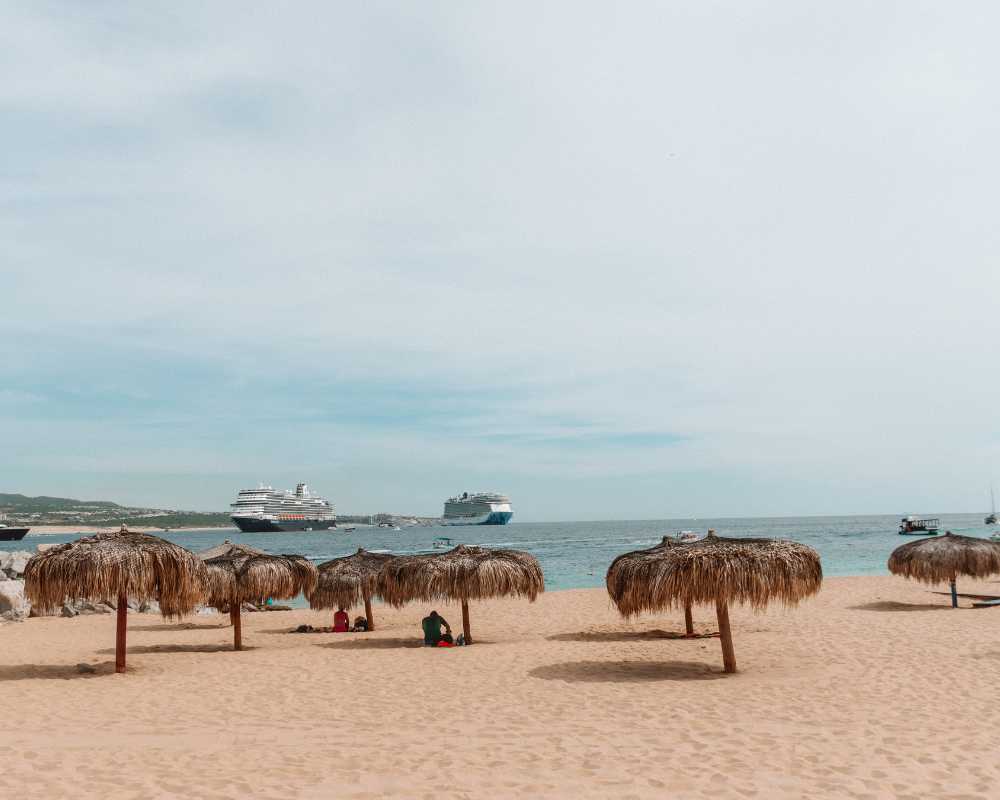 In October, temperatures start to mellow a bit to around 30°C (86°F). While the beginning of the month might still see some rain, the weather gradually clears up, making way for more stable conditions.
The famous Bisbee's Black & Blue Marlin Tournament attracts sport fishing enthusiasts from around the world.
EVENTS AND FESTIVALS IN CABO IN OCTOBER
October keeps the festive spirit going. The Bisbee's Los Cabos Offshore & Black & Blue Marlin Tournaments are renowned fishing competitions that lure participants and spectators from all over the world.
November in Cabo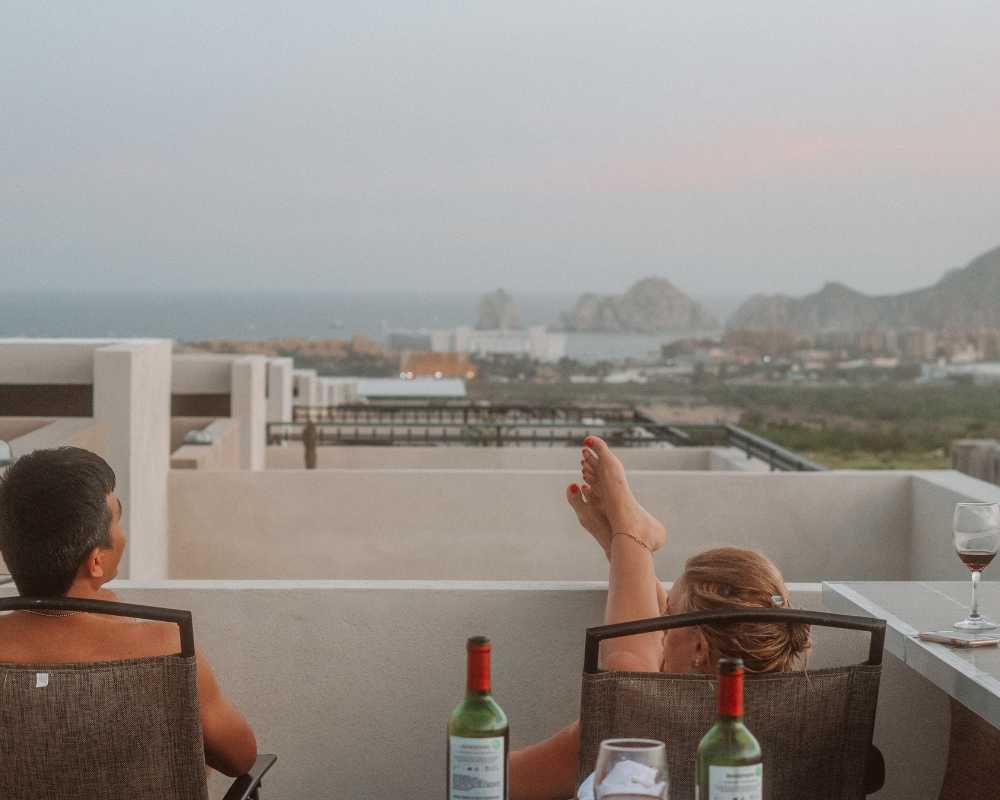 November sees pleasant temperatures, averaging 28°C (82°F). The rain recedes, and the weather is generally dry and sunny. This month marks the beginning of the peak tourist season.
The Cabo Film Festival and the Ironman 70.3 Los Cabos are among the notable events, making it a culturally rich time to visit.
EVENTS AND FESTIVALS IN CABO IN NOVEMBER
In November, the atmosphere turns both sporty and somber.
The Day of the Dead, celebrated from October 31st to November 2nd, is a heartfelt time to remember and honor deceased loved ones with altars, offerings, and festivities.
On a different note, the Ironman 70.3 Los Cabos triathlon event brings athletes from all corners of the globe.
December in Cabo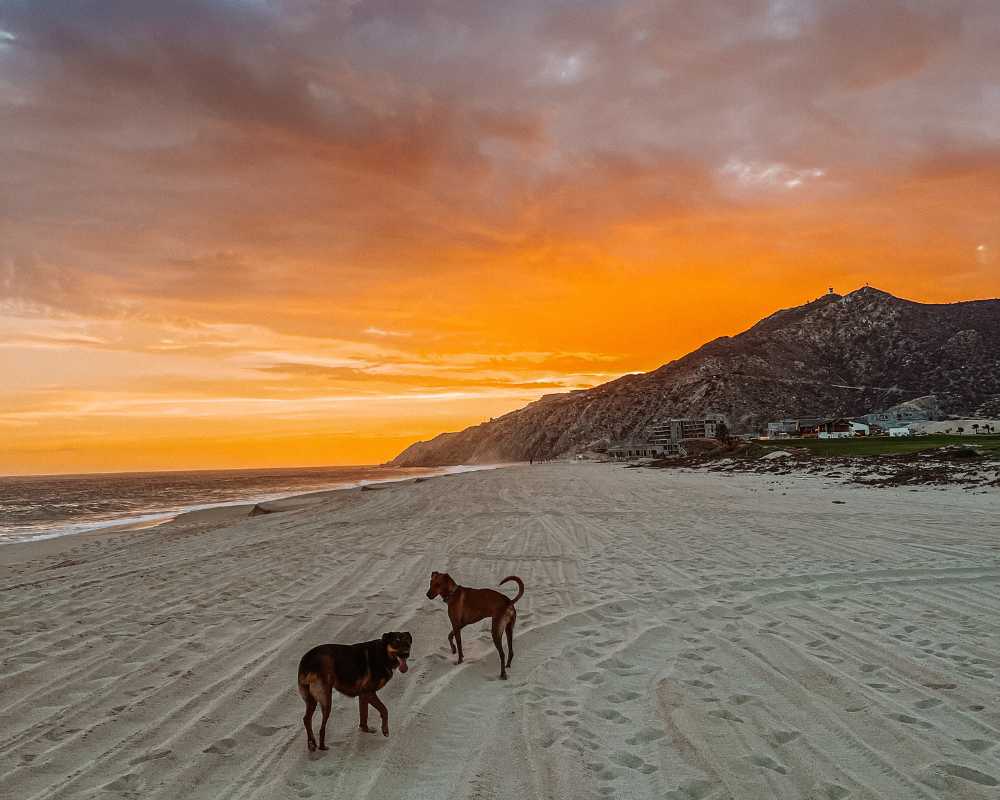 December offers mild temperatures around 25°C (77°F), providing a warm escape for those fleeing colder climates.
Christmas and New Year's celebrations are lively, with fireworks, parties, and special events throughout the city.
Whale-watching season also begins, attracting nature enthusiasts keen on witnessing the majestic migrations.
EVENTS AND FESTIVALS IN CABO IN DECEMBER
Closing the year in December, the festive mood is palpable. The entire month sees Christmas celebrations, parties, and events, leading up to grand festivities on Christmas and New Year's Eve.
Cabo San Lucas is one of the most popular Christmas destinations in Mexico so expect it to be pricey and crowded. Also, remember to book the trip at least 6 months ahead to get great deals.
☔ Rain and hurricane season in Cabo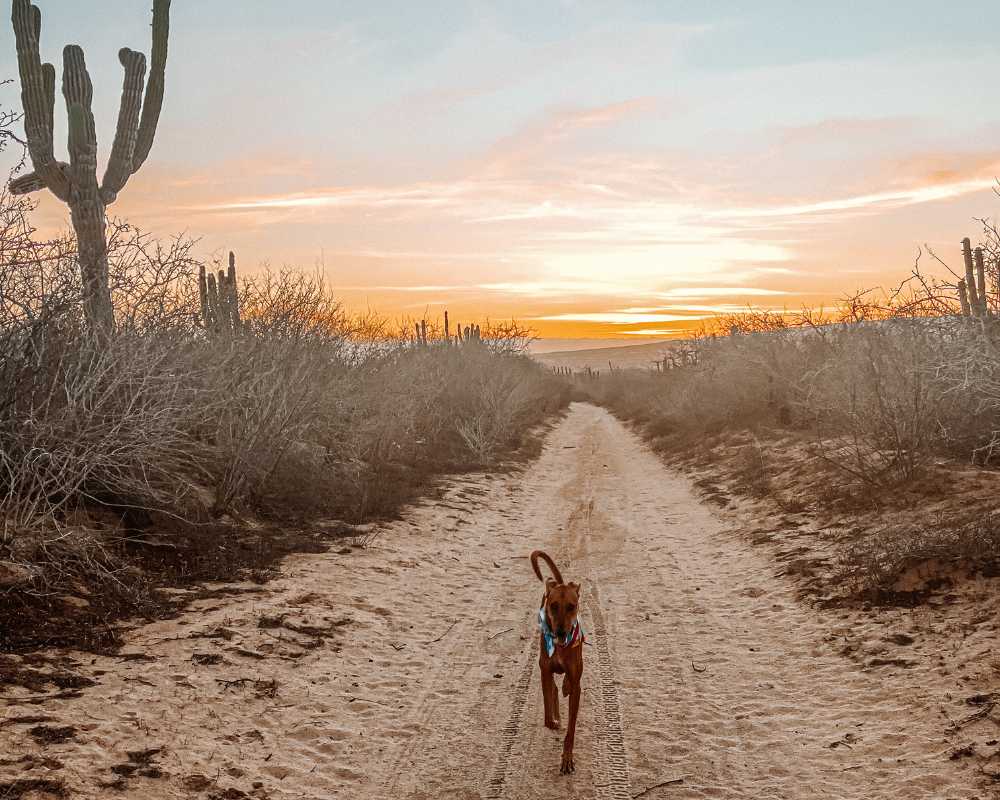 In Cabo San Lucas, the rainy season typically spans from July to October, with September usually being the wettest month. The majority of the annual rainfall in Cabo occurs during this period.
Concurrently, the hurricane season in the Eastern Pacific, which includes the Baja Peninsula where Cabo San Lucas is located, generally starts from May 15 and extends through November 30.
The highest likelihood of hurricanes in Cabo is from August to October.
Not every year sees hurricanes making landfall in Cabo. Many years might pass without a significant hurricane event.
However, when they do occur, they can bring heavy rain, strong winds, and rough seas, potentially causing disruptions to travel plans, temporary closures of attractions, and, in rare cases, significant damage.
The local government and businesses in tourist destinations like Cabo San Lucas are generally well-prepared for tropical storms and hurricanes. There are protocols in place to ensure the safety of residents and tourists.
If you plan to visit Cabo during the hurricane season, especially from August to October, it's a good idea to monitor weather updates and be flexible with travel plans.
Additionally, purchasing travel insurance that covers weather-related disruptions can be a wise decision.
Despite the risks associated with the rainy and hurricane season, this period can also offer benefits like fewer crowds, discounted accommodation rates, and the natural beauty of the landscape after the rain.
⛈️ Worst time to visit Cabo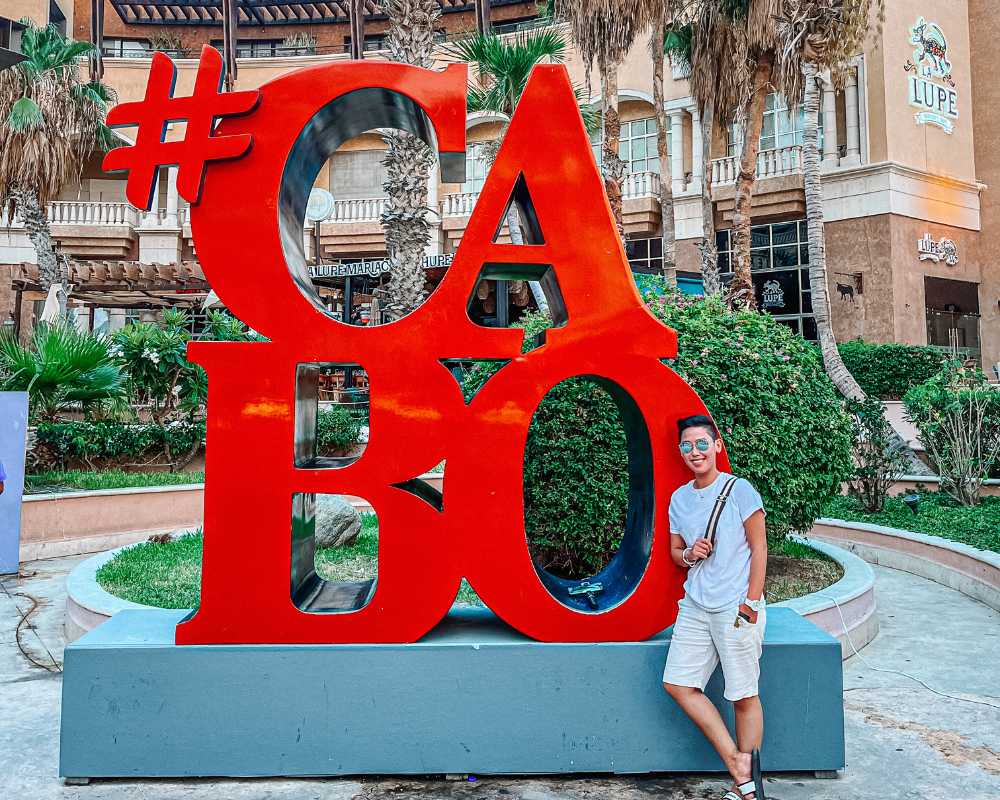 The "worst" time to visit Cabo San Lucas largely depends on individual preferences and priorities. However, there are some considerations that might make certain times less optimal for a visit:
Hurricane Season (August to October): As mentioned earlier, the peak of the hurricane season in Cabo is from August to October. During this period, there's a higher chance of storms, which can lead to disrupted travel plans, rough seas, and occasionally, significant weather events.
Rainy Season (July to October): The rainy season overlaps with the hurricane season. While rain can be refreshing and can bring out the beauty of the desert landscape, it can sometimes lead to short-lived floods, especially in September.
Spring Break (March): If you're looking for a quiet and relaxed atmosphere, it might be a good idea to avoid visiting Cabo during Spring Break. This is when many college students from the U.S. and other regions come to Cabo for their vacation, leading to crowded beaches and bustling nightlife.
Peak Tourist Season (December to April): While this period boasts the best weather, it's also when Cabo is most crowded and expensive. Accommodations might be pricier, and popular attractions can be quite busy.
Hot Summer Months (July & August): The summer months can be quite hot, with temperatures often exceeding 30°C (86°F). If you're not a fan of the heat, this might not be the best time for you.
However, each of these "worst" times can also have its advantages.
For instance, the peak tourist season offers fantastic weather, the hurricane season might provide discounted rates, and Spring Break can be fun for those looking for an energetic vibe.
Ultimately, the best or worst time to visit Cabo is subjective and depends on what you're looking to get out of your trip.
⁉️ FAQ: Best time to visit Cabo
Trisha traveled to Mexico in 2018 and after a year, she found herself obtaining a 4-year residency visa in Mexico. She is the Editor-in-chief for our Living in Mexico Series which has helped over 3,000 Americans move to Mexico with ease. Trisha currently resides in Cabo San Lucas, Baja California Sur.