August in Cabo San Lucas is considered a low season. But as Los Cabos is becoming a year-round destination for Americans and Canadians, there are many ways to spend your weekend getaway in Cabo San Lucas in August.
From living here for years, we've learned that Cabo has been very consistent with its weather but still, there are yearly seasonal delays. For example, this year, Cabo welcomed the summer heat at the beginning of July but it usually starts in June.
In this article, you will find out what's it like to travel to Cabo San Lucas in August including weather forecast, rain or typhoon updates, events, and many more! Our office is based in Cabo so if you ever need help in planning your August trip, send us a message and we will answer all your questions.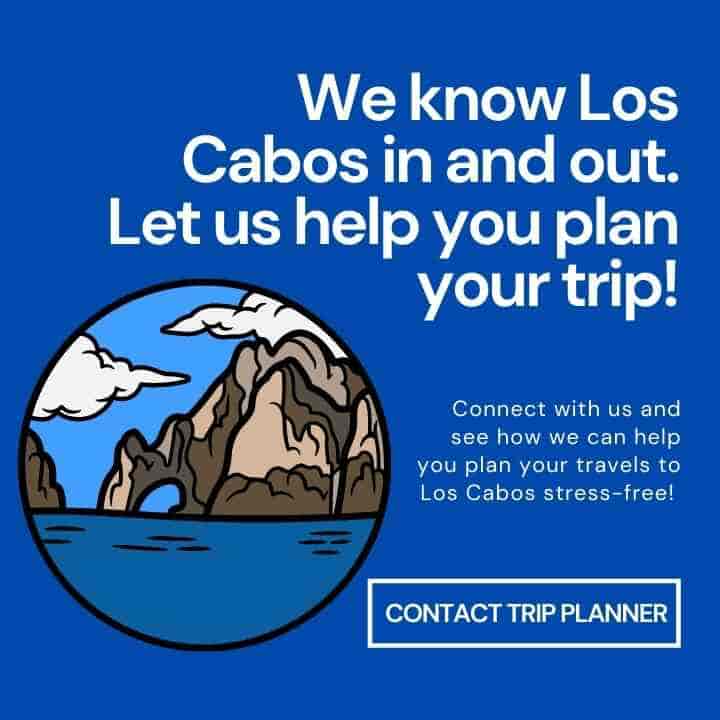 ☀️ Best time to visit Cabo San Lucas
Cabo San Lucas is an all-year-round destination. It does not have the same humidity as mainland Mexico does (i.e. Puerto Vallarta, Sayulita, or the Oaxacan coast of Puerto Escondido).
It is still on top of the list of places to visit in Mexico in August. However, many expats go back to their home countries in August as it is less hot than in Mexico.
October – May are still popular high seasons because of the combination of the cool weather and sunshine.
Many expats celebrate major events like Thanksgiving, Christmas, and New Year in Cabo San Lucas. But expect your travel costs to be higher and huge crowds at this time.
You may also like:
🌡️ Average temperatures in Cabo San Lucas in August
Cabo San Lucas in August can go up to 39°C (102°F) with a low temperature of 27°C (80.6°F). It will be extremely hot during the day with a cold wind coming from the sea in the evening. The average temperature is 30°C (86°F).
August is one of the most uncomfortable months in Cabo but the good thing is that it has dry heat. It is never humid in Cabo San Lucas.
The ocean water is not that warm so you will still enjoy swimming with water temperature up to 28°C (82.4°F) at its peak.
Note that some tour operators, establishments, and restaurants choose to close for the whole month until September but all Cabo San Lucas resorts remain open.
🌧️ Does it rain in Cabo San Lucas in August?
August in Cabo San Lucas is the beginning of the rainy season. Expect heavy rain showers at least once a week. Note that August may be the rainy season but the typhoons don't arrive until September. Los Cabos is also a desert area so it does not experience that much rain (48mm rain).
🛏️ Cabo San Lucas low-cost hotels in August
The good news is August is low season in Cabo San Lucas so you will get the best hotel deals! Resorts do up to 50% discount for all-inclusive stays.
Below are some of the best resorts to stay in Cabo San Lucas in August with prices pegged on a weekend for 2 nights:
Should your option be a vacation home, hosts also put a low price tag for their properties in Cabo San Lucas. You can go to Vrbo Cabo San Lucas to find the best deals.
This is usually ideal for people traveling with a group and/or celebrating a special occasion in August.
🪅 Cabo San Lucas in August: events and festivals
Now for the fun part. Despite the heat and some rain, there are many events in Cabo San Lucas in August! Cabo San Lucas is party central, so there will be many great things to do, and most of these events are headed by locals.
Some of these are recurring events (**) but every year, we update this post with the exact dates and add new juicy events for your trip.
☁️ Weather in Cabo San Lucas in August: quick summary
Highest temperature: 39°C (102°F)
Lowest temperature: 27°C (80.6°F)
Average temperature: 30°C (86°F)
Sunshine hours: almost all-day
# of rainy days: 4
Rainfall: 48 mm
Sea temperature: 27°C (80.6°F)
Sunset: 8:05 PM (August 1) and 7:37 PM towards the end of August
Sunrise: 6:48 AM (August 1) and 7:01 AM towards the end of August
✈️ Ready for your trip to Cabo San Lucas in August? If you have any questions, we'd be happy to update this post – leave a comment below!
🇲🇽 Los Cabos Travel Planning
✈️ How do I fly to Cabo?
The airport that serves Cabo San Lucas is San Jose del Cabo (SJD). Our recommended booking platform for cheap flights is WayAway.
🚑 Do I need travel insurance to travel to Cabo?
YES, YOU DO! do not travel to Mexico without insurance. Check insurance plans on SafetyWing for as low as US$40 for full travel coverage.
🏨 Where can I book the best Cabo resorts and hotels?
The best platforms for booking your hotel in Los Cabos is Booking.com . You will find great deals on Cabo resorts on Expedia.
☕ Readers who support Mexico Insider help us continue bringing you the most honest content about Mexico. Consider donating to our coffee fund if you like the content that we do.
Trisha traveled to Mexico in 2018 and after a year, she found herself obtaining a 4-year residency visa in Mexico. She is the Editor-in-chief for our Living in Mexico Series which has helped over 3,000 Americans move to Mexico with ease. Trisha currently resides in Cabo San Lucas, Baja California Sur.