Looking for things to do in Cabo San Lucas to add to your itinerary? You're in the right place! When I moved to Cabo San Lucas, I was able to explore this city slowly by doing day trips and visiting nearby towns. This page is continuously updated so make sure to save it for your trip to Cabo!
Expect water activities like sunset yacht cruises, paddle boarding, and snorkeling when you visit Cano San Lucas. It is also located in the deserts of Baja California so there will be outdoor sports like sand dune boarding and ATV rides.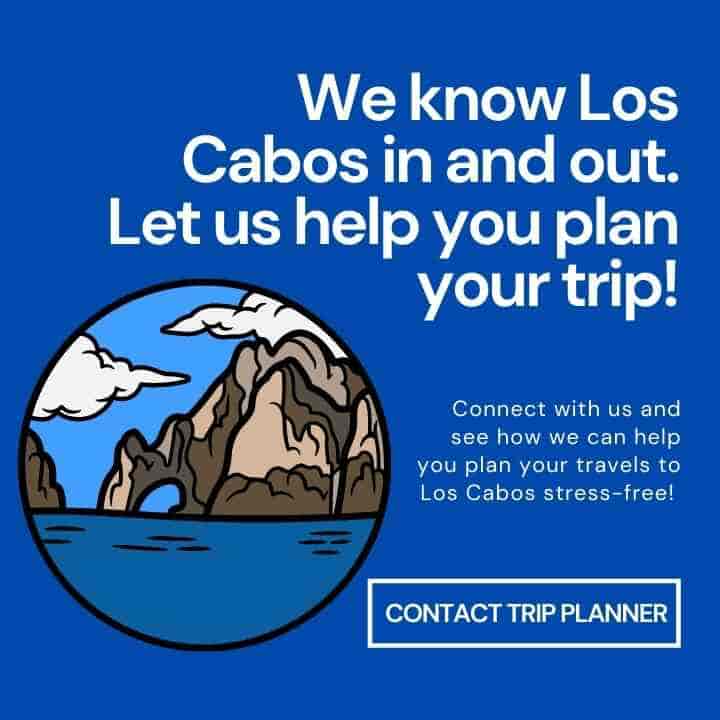 ???? What is Cabo best known for?
Cabo San Lucas is known as party central in Los Cabos. This is a popular destination for bachelorette parties, weddings, and birthdays. All the bars and nightclubs are in one row in Cabo San Lucas downtown, blaring reggaeton and club music.
Aside from the wild nightlife, Cabo San Lucas is a resort town and is a sub-city of Los Cabos. It is very different from its neighbor, San Jose del Cabo (about 40 minutes away), which is a quiet neighborhood and is favored by resort vacationers who are traveling with families.
You might also like:
????️ Things to do in Cabo San Lucas, Mexico
#1: Visit the Cabo San Lucas Arch
???????? Details
The arch of Cabo San Lucas is the biggest tourist attraction in Los Cabos. I used to have a condo at the marina with a view of the arch and I never get sick of this view! There are many boat cruises that go around the arch.
#2: Go to Cabo San Lucas Marina
???????? Details
Cabo San Lucas Marina is the main attraction in Los Cabos. This is where you will find many bars, restaurants, and shopping malls. Whatever you need while you are traveling in Cabo will be here! If you are doing whale expeditions and boat rides, the Cabo San Lucas Marina is also the meeting point as this is where all the boats are parked.
#3: Go on a booze cruise
???????? See all cruises
Boats, boats, boats – the Cabo San Lucas arch is visited by hundreds of boats everyday and most of them are all-inclusive boat cruises! There are many types of boats to choose from (catamaran, yacht, or glass-bottom boats) so it all depends on your preference.
#4: Rent a jetski at Medano beach
???????? Check prices
Jetski rentals in Los Cabos start at US$80 for 30 minutes. You can visit the Los Cabos Arch with a jetski and wander along El Medano Beach. The drivers will tell you the distance limit of the jetski ride but some of them are very lenient and will let you drive far. Children under 11 years of age must be accompanied by an adult.
#5: Ziplining and UTV Adventures
???????? Check prices
An activity for everyone, ziplining and UTV adventures in Los Cabos will take you to a Canyon Canopy adventures. This costs US$129 per person (both adults and kids). There will be a series of ziplines and tree jumps including off-road desert rides at the Boca de Sierra National Park, a UNESCO-protected area.
#6: Beach and desert ATV
???????? Check prices
Drive an ATV on the beaches and deserts of Los Cabos for 3 hours. This tour takes place on Migriño beach, one of my favorite beaches in Cabo. The park charges US$20 for the environmental fee and some ATV tours in Cabo San Lucas don't include it in the tour price. Make sure to ask to know what's included.
#7: Taco crawl
???????? Check prices
Well, what else did you come to Mexico for? To eat tacos! Los Cabos has many good taco places and you can hire a local guide to take you to them!
This culinary tour lasts for 3 hours where you will get to try Mexican delicacies, tequila, and the best seafood tacos in town. I swear you'll never know these places if you don't know a local guide!
#8: Go horse riding
???????? Check prices
There is a horse ranch in Cabo San Lucas where you can learn how to ride but if you're only going for the tour, they will also teach you the basics – you don't have to be a pro!
The horse riding tour goes to the beaches of Cabo San Lucas but make sure they take you to the nice and remote ones as the main beach is crowded.
#9: Learn how to cook
???????? Check prices
Go to the market in the morning with a local chef who will teach you how to cook Mexican dishes. The menu changes every week so you are free to choose which dish you want to learn!
You will also get to learn how the Mexicans prepare their tortilla (from scratch). Lunch and drinks are included in this cooking class.
#10: Parasailing at Medano Beach
???????? Check prices
See Medano Beach and the Cabo San Lucas Arch from above by parasailing! The height limit is 182 meters (600 feet) as the speed boat pulls you. Parasailing in Cabo San Lucas depends on the weather condition so just to keep safe, make sure to ask your guide about the daily wind direction. Kids can also do this if accompanied by a guide.
#11: Learn salsa
We live in Cabo San Lucas and every Friday, we have a group of locals who go to a salsa class and then go out to dance at the club together! The salsa class is taught by a local and only costs US$10.
If you're looking for something more local things to do in Cabo San Lucas, you need to meet our salsa instructor because he's the best! Feel free to send us a message if you want to join us on Fridays!
#12: Camel and outback adventure
???????? Check prices
Yes, there are camels in Los Cabos and this activity is sustainable! The camel outback adventure can be a good alternative if you're not an ATV fan. This activity is also at the Migriño beach where the ATV activities are so you'll pretty much visit the same place but in a different "vehicle." This also includes tequila tasting after the tour.
#13: Learn how to surf
???????? Check availability
Los Cabos and Baja California Sur are the best spots to surf in Mexico so this is one of the best things to do here! The minimum age for this activity is 6 years. These surfing lessons in Cabo San Lucas take place at the Costa Azul beach. You will be accompanied, trained, and taught by the pro surfers of Baja California Sur according to your skill level. Of course, beginners are most welcome!
#14: Spend a full day in Rooftop 360
For as low as US$50, you can spend a full day at the pool club Rooftop 360, with views of the Cabo Arch. This pool club has a lounge, a restaurant, and a bar: an ideal place to chill out and soak in the scorching Cabo sun.
Rooftop 360 has limited slots for the pool club so you have to secure a reservation by calling +52 624 163 78 60 or sending an email at rooftop360[at]cabovillasbeachresort[dot]com. Should you succeed in securing a reservation, you have to come before 11:00 AM to guarantee your pool cabanas.
✈️ Ready for your trip to Cabo San Lucas? If you need more information about the best things to do in Cabo San Lucas, we'd be happy to update this post – just leave your questions below!