Looking for things to do in Cabo San Lucas to add to your itinerary? You're in the right place! This page is continuously updated, so save it for your trip to Cabo!
Expect water activities like sunset yacht cruises, paddle boarding, and snorkeling when you visit Cabo San Lucas. It is also located in the deserts of Baja California, so there will be outdoor sports like sand dune boarding and ATV rides.
Cabo San Lucas is known as party central in Los Cabos. This is a popular destination for bachelorette parties, weddings, and birthdays.
All the bars and nightclubs are in one row in Cabo San Lucas downtown, blaring reggaeton and club music.
Aside from the wild nightlife, Cabo San Lucas is a resort town and is a sub-city of Los Cabos. It is very different from its neighbor, San Jose del Cabo (about 40 minutes away), which is a quiet neighborhood and is favored by resort vacationers who are traveling with families.
Plan your trip to Mexico with us! Get expert travel advice and customized trip-planning itinerary from our local experts on the ground.
🤿 Things to do in Cabo San Lucas, Mexico
Visit the Cabo San Lucas Arch
The arch of Cabo San Lucas is the biggest tourist attraction in Los Cabos. I used to have a condo at the marina with a view of the arch, and I never get sick of this view! Many boat cruises go around the arch.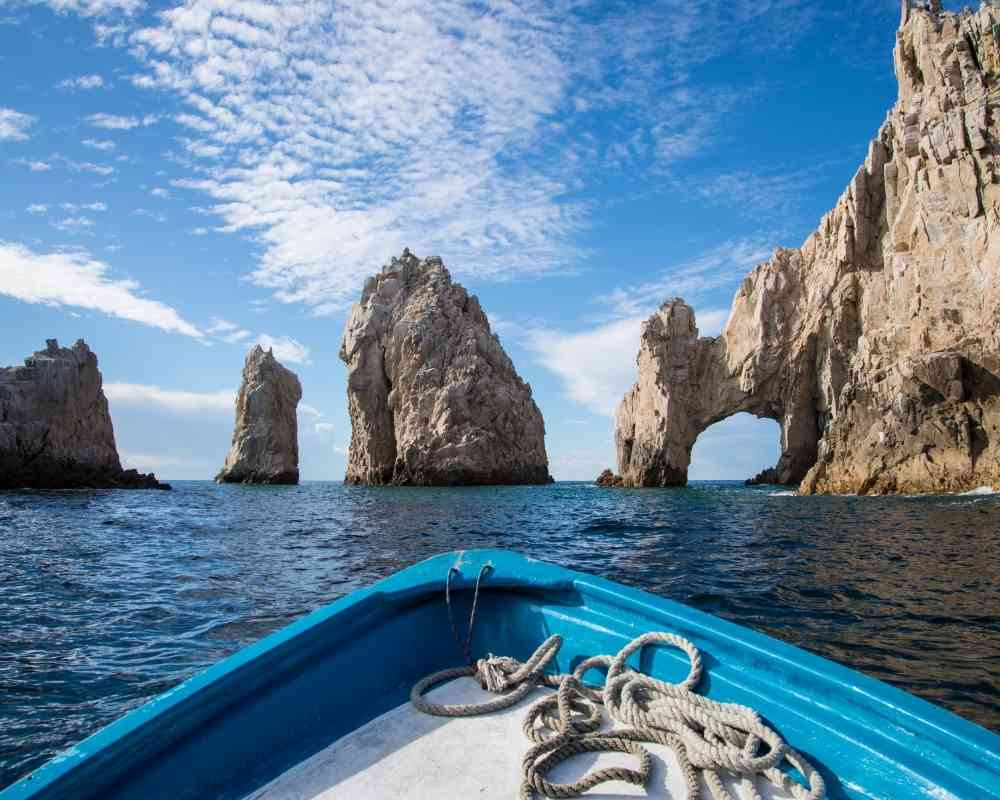 Cabo Pulmo National Park
As a UNESCO World Heritage Site and a National Marine Park, Cabo Pulmo houses one of the only living coral reefs in the Sea of Cortez, boasting abundant marine life.
Approximately a two-hour drive from Cabo San Lucas, Cabo Pulmo offers exceptional diving and snorkeling opportunities, with its clear waters providing visibility up to 100 feet.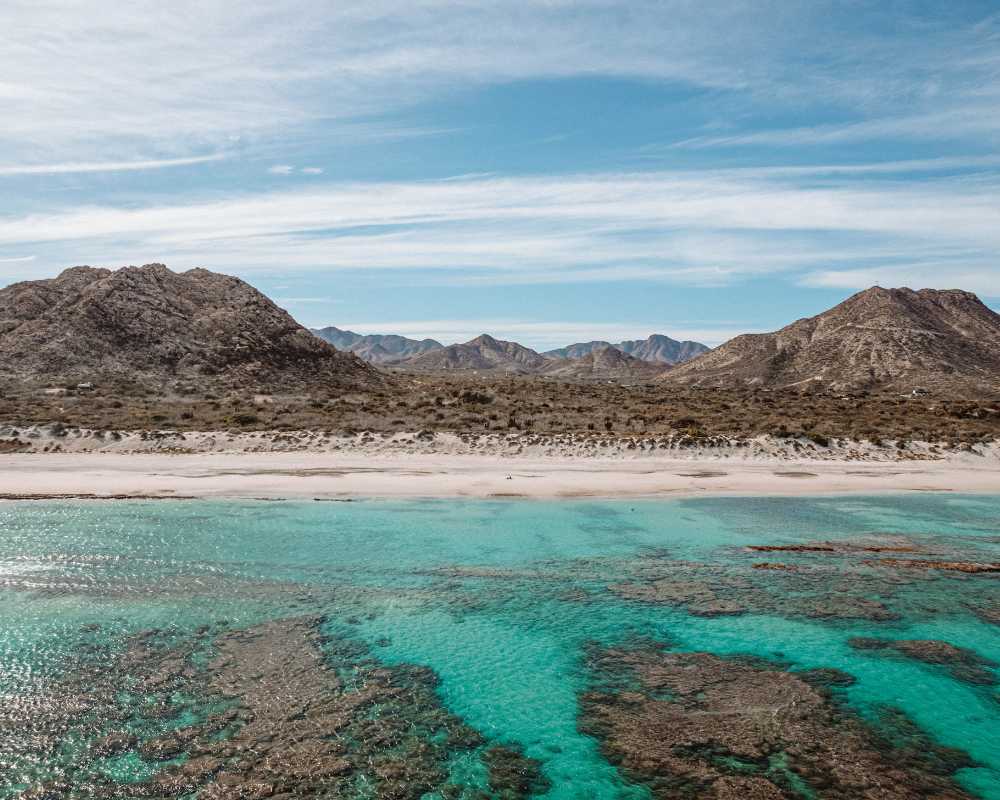 Here, you can encounter large schools of jackfish, groupers, sea turtles, and even bull sharks during winter months.
Above water, kayaking, hiking, and bird watching are popular activities. Visitors can explore local life in the small, eco-friendly village, a testament to sustainable tourism.
The quiet beaches and unspoiled nature make Cabo Pulmo a perfect retreat for those seeking tranquility away from tourist hotspots. For lovers of marine life and natural beauty, a visit to Cabo Pulmo is an unforgettable experience.
The East Cape
The East Cape of Baja California Sur, stretching northeast from San José del Cabo, offers a tranquil contrast to the bustling atmosphere of Cabo San Lucas.
It's an unspoiled region with white sandy beaches, crystal-clear waters, and abundant marine life.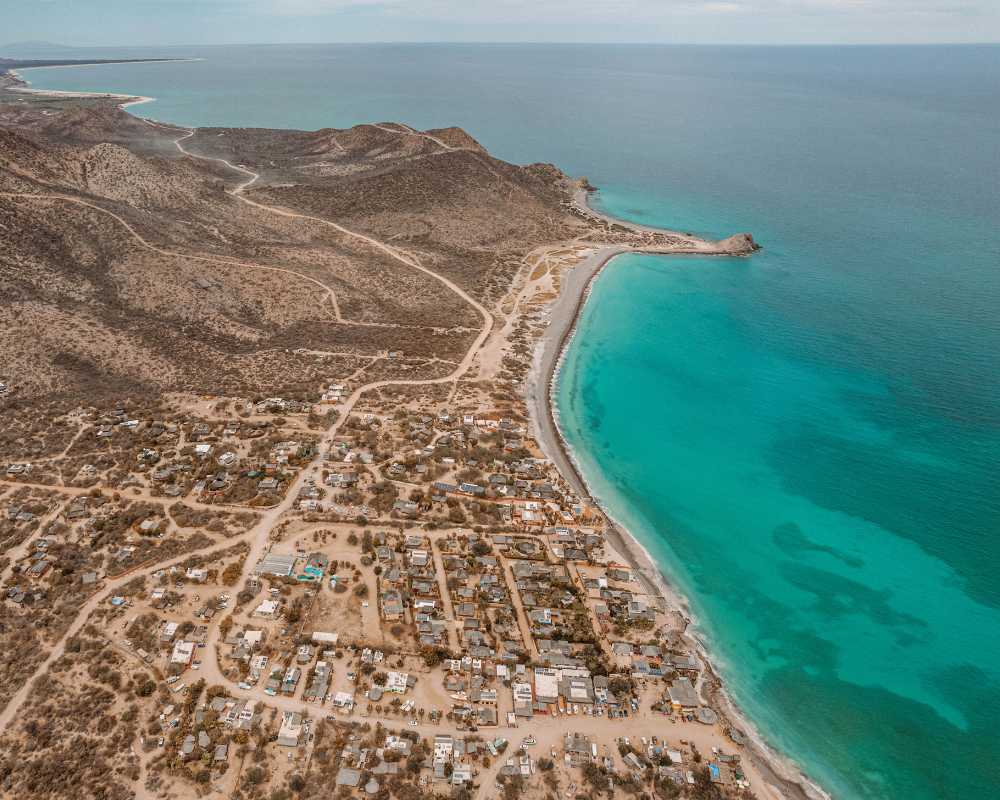 An approximate 1.5-hour drive from Cabo, the East Cape is perfect for a day trip or longer stay. It's a paradise for nature lovers, with excellent opportunities for snorkeling, kayaking, windsurfing, and world-class fishing.
Hike to Mount Solmar
One of the most unique things to do in Cabo San Lucas is to hike Mount Solmar.
Mount Solmar is a picturesque hike in Cabo San Lucas, offering panoramic views of the city, marina, sea, and even the famous Lover's Beach. This challenging but rewarding hike starts from a local's residence near Solmar Beach Resort and requires permission to enter.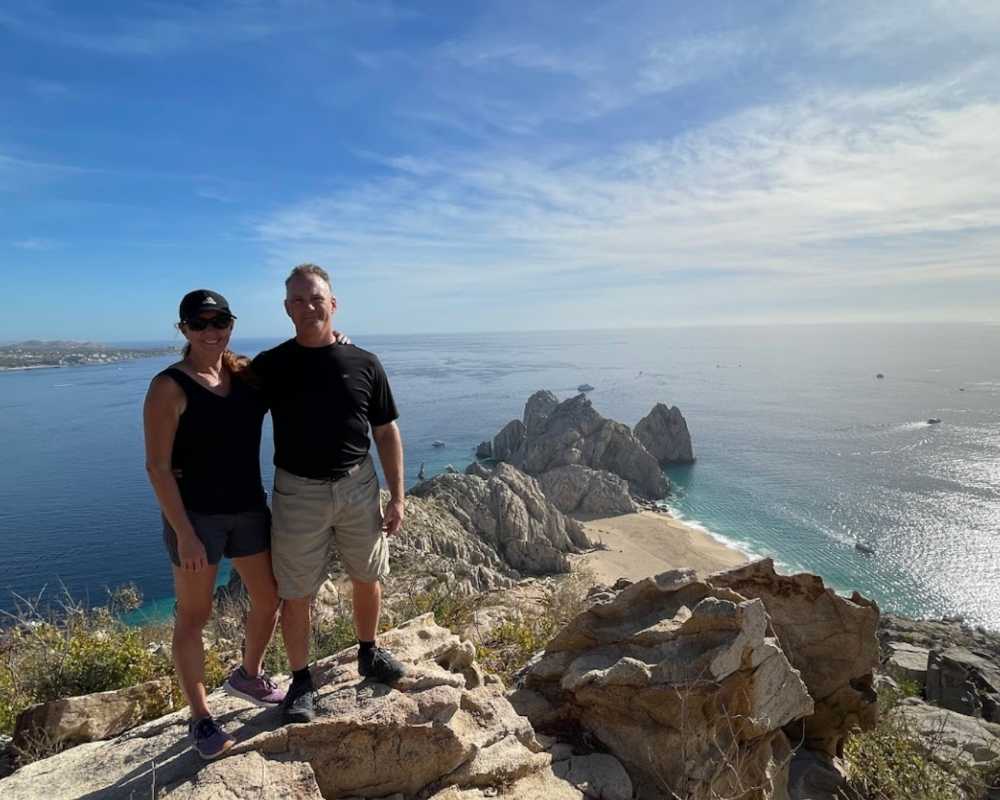 It's a relatively short trek of around 1.2 miles but has a steep incline. The path is rocky and uneven, hence appropriate hiking shoes are recommended. Additionally, it's best to start early in the morning to beat the heat and carry plenty of water.
✨ Tip: The hike is FREE. You just have to tip the guide. To book, you can send a Whatsapp message to Enrique at +52 624 122 1316.
Experience the annual Bisbee's
Every year, Cabo San Lucas hosts the prestigious Bisbee's Black & Blue Tournaments, some of the richest billfish tournaments in the world. For over three decades, these events have attracted anglers from around the globe, all vying for millions in prize money.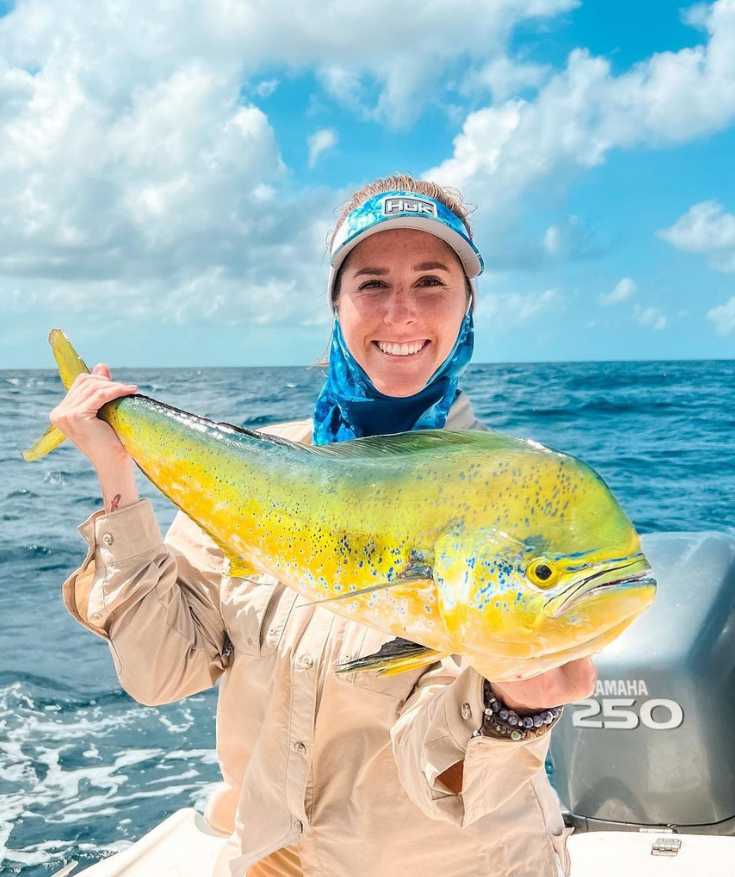 The main event focuses on catching black or blue marlin with specific weight requirements. More than just a fishing competition, Bisbee's tournaments are celebrations complete with nightly parties and charitable activities.
They contribute significantly to local charities and the promotion of sustainable fishing practices. The combination of high-stakes competition and festive atmosphere makes Bisbee's events a highlight of the Cabo calendar.
Fishing in Cabo San Lucas
Cabo San Lucas, often referred to as the "Marlin Capital of the World," is a top fishing destination. Its waters, where the Pacific Ocean meets the Sea of Cortez, teem with marlin, sailfish, dorado, and tuna, providing exciting opportunities for anglers of all skill levels.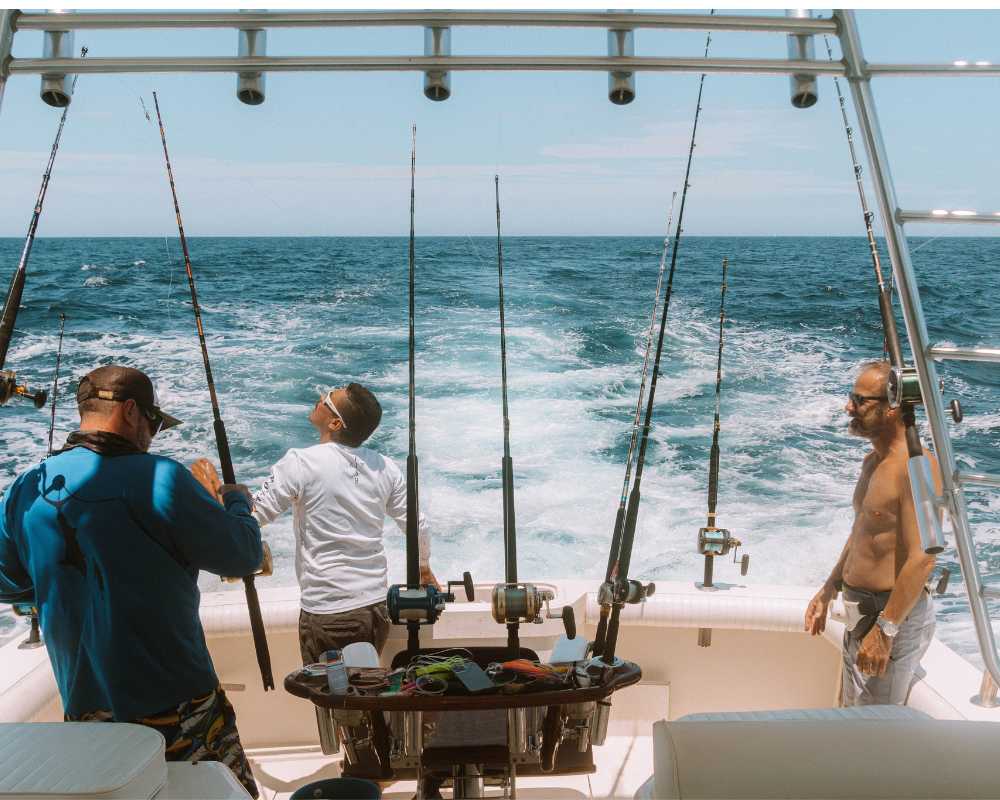 Various fishing charters offer experiences from deep-sea fishing to fly fishing. The annual Bisbee's fishing tournaments held here draw participants from around the globe.
Golfing in Cabo
Cabo San Lucas has emerged as one of the world's premier golf destinations, offering a unique blend of picturesque landscapes and championship-level golf courses.
Architects like Jack Nicklaus, Greg Norman, and Tom Fazio designed many of these courses.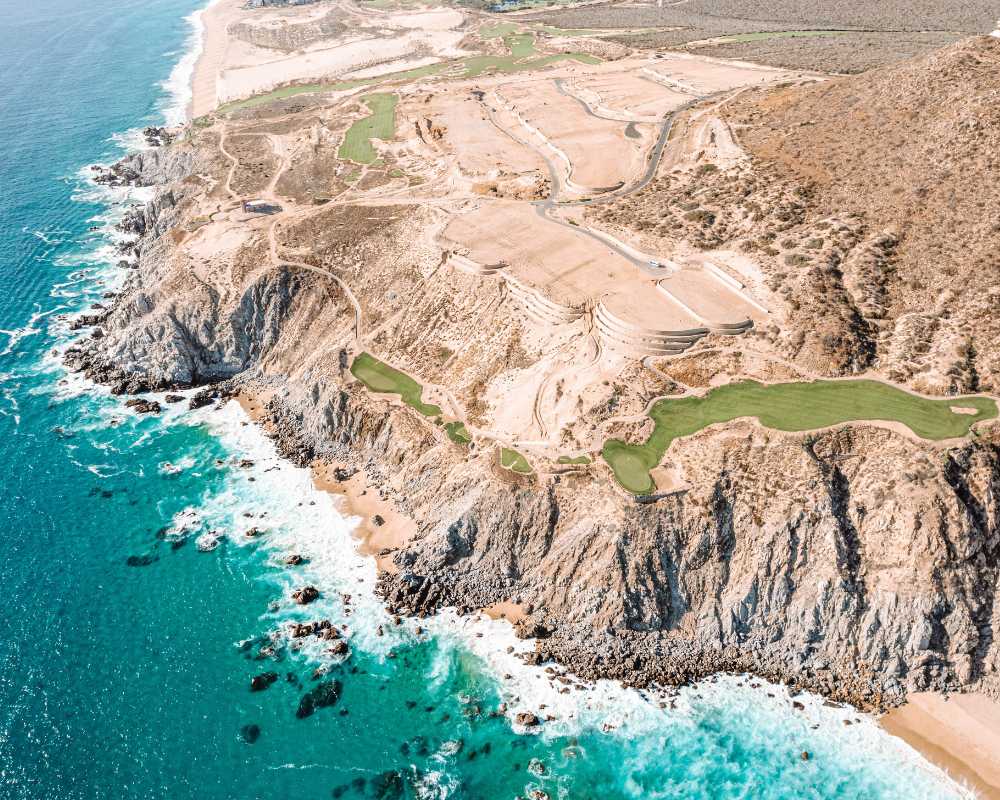 The Cabo Del Sol, Quivira, and Diamante courses offer challenging play amidst stunning ocean views. With pleasant weather year-round, golfing in Cabo is always a delightful experience.
The region also hosts prestigious golf tournaments, attracting players from across the globe. The exceptional courses, luxury resorts, and unparalleled natural beauty make Cabo a golfer's paradise.
Local seafood stop: Pezcabo
Pezcabo is a must-visit dining spot in Cabo San Lucas, renowned for its fresh, ocean-to-table approach to seafood. Situated overlooking the marina, it offers stunning water views, adding to the overall dining experience.
Their menu celebrates the sea, featuring dishes prepared with locally-sourced fish and shellfish, caught daily by local fishermen.
From ceviche and seafood tacos to grilled octopus and whole grilled fish, every dish is an invitation to savor the richness of the Sea of Cortez.
✨ Tip: On Sundays, the local Cabo Sunday market takes place on this street!
Local beach: El Suspiro Beach
El Suspiro Beach, located in Cabo San Lucas, is a hidden gem. Often overlooked due to its more famous neighbors like Medano or Lover's Beach, El Suspiro offers an unspoiled haven for beach lovers seeking tranquility and beauty.
The beach is nestled between dramatic cliffs, creating an isolated and serene ambiance. The sandy shore, sparkling azure waters, and the rugged mountain backdrop create a picture-perfect panorama. It's an ideal spot for sunbathing, picnicking, or simply relaxing with a good book.
While the currents can be strong, making swimming potentially risky, the beach offers excellent opportunities for exploring tidal pools and observing diverse marine life.
It's also a favored spot for sunset viewing, with the sun descending over the Pacific creating a spectacular display of colors.
✨ Tip: There is no food or umbrellas here. You need to bring your own food. You can get a pizza takeaway from Pizza Nostra, which is near the beach.
San Jose Art Walk
San José del Cabo's Art Walk is a vibrant cultural event in the city's historic Art District. Held every Thursday evening from November through June, it transforms the district into a lively celebration of art, culture, and community.
Galleries throw open their doors, inviting visitors to explore diverse artwork from local, national, and international artists.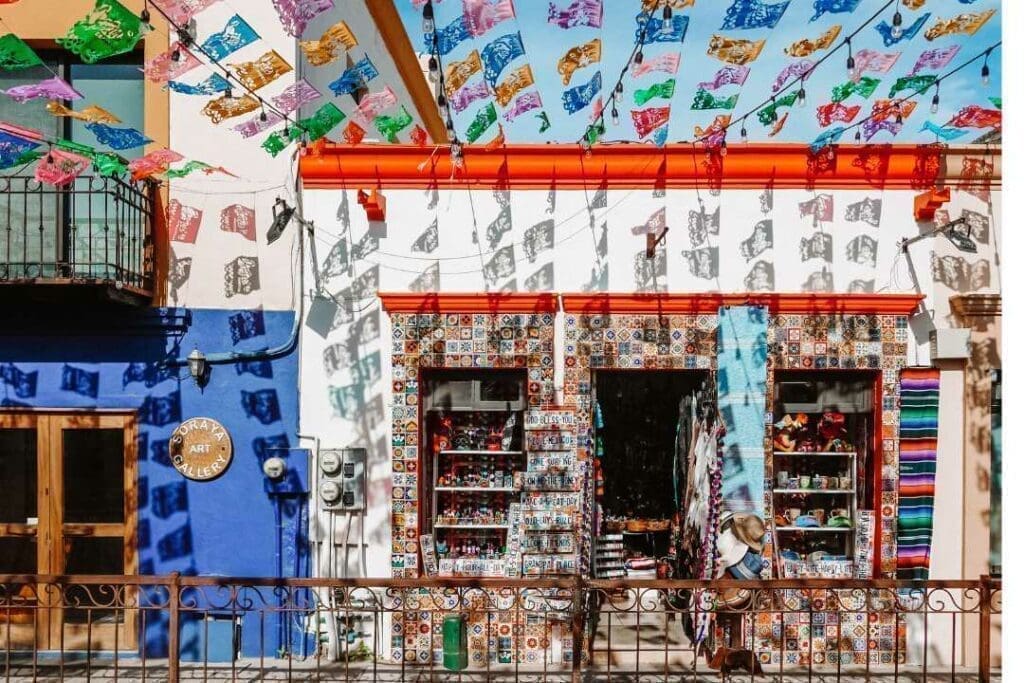 It's common to meet the artists, discussing their works ranging from traditional Mexican art, contemporary pieces, to sculptures and jewelry.
While the Art Walk is centered around visual arts, the experience encompasses much more.
The cobblestone streets fill with musicians, dancers, and street performers, enhancing the festive atmosphere. Nearby restaurants and boutiques also join in, creating a night full of exploration.
Cabo timeshare tour
This is not your typical things to do in Cabo San Lucas, but I wanted to include it in this list. Timeshares in Cabo provide a compelling option for those who frequently vacation once a year.
They allow you to purchase a share of a property, typically a resort condo, which you can use for a set period each year.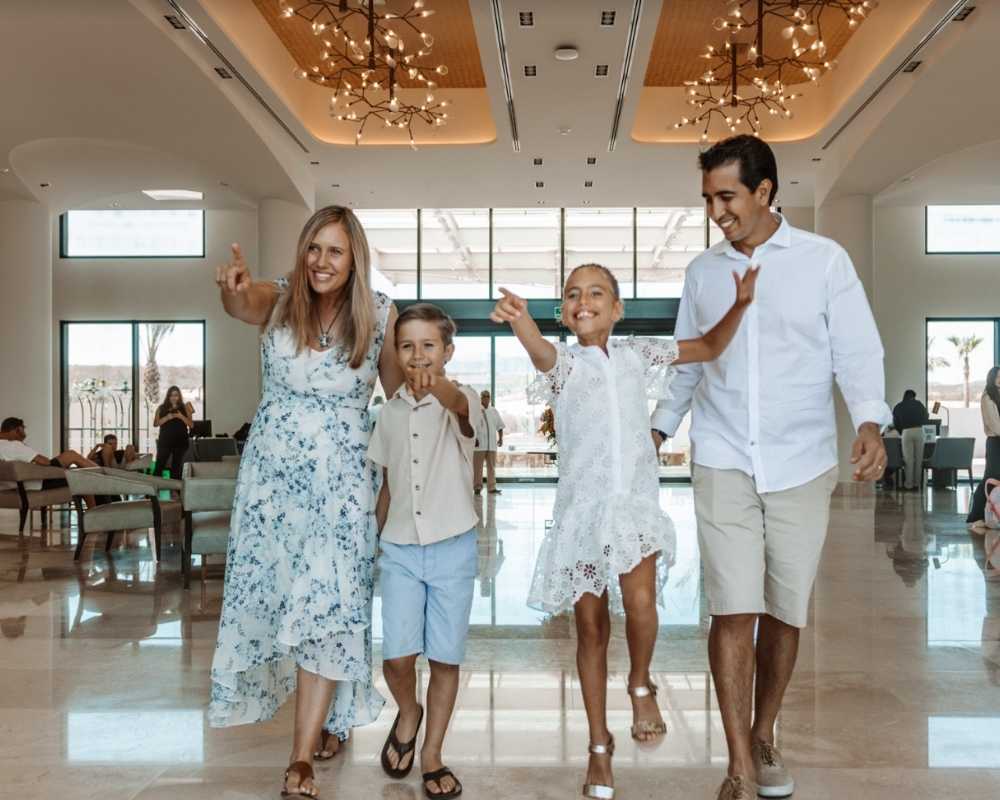 Cabo has many luxury resorts that offer timeshares, including Villa del Palmar, Pueblo Bonito, and Playa Grande. These properties often provide first-class amenities such as swimming pools, restaurants, fitness centers, and direct beach access.
While timeshares can offer the comfort of a vacation home without the full cost and maintenance hassle, it's crucial to understand the commitment fully. You're not just purchasing vacation time, but also accepting a long-term financial obligation, often including annual maintenance fees.
✨ Tip: Want to know about the best timeshare programs in Cabo? Get in touch with us and we will schedule the tours for you! No bs, no hidden prices, just transparent and helpful info.
Go to Cabo San Lucas Marina
Cabo San Lucas Marina is the main attraction in Los Cabos. You will find many bars, restaurants, and shopping malls here. Whatever you need while you are traveling in Cabo will be here!
If you are doing whale expeditions and boat rides, the Cabo San Lucas Marina is also the meeting point as this is where all the boats are parked.
$50 USD pool club: Rooftop 360
For as low as US$50, you can spend a full day at the pool club Rooftop 360, with views of the Cabo Arch. This pool club has a lounge, a restaurant, and a bar: an ideal place to chill out and soak in the scorching Cabo sun.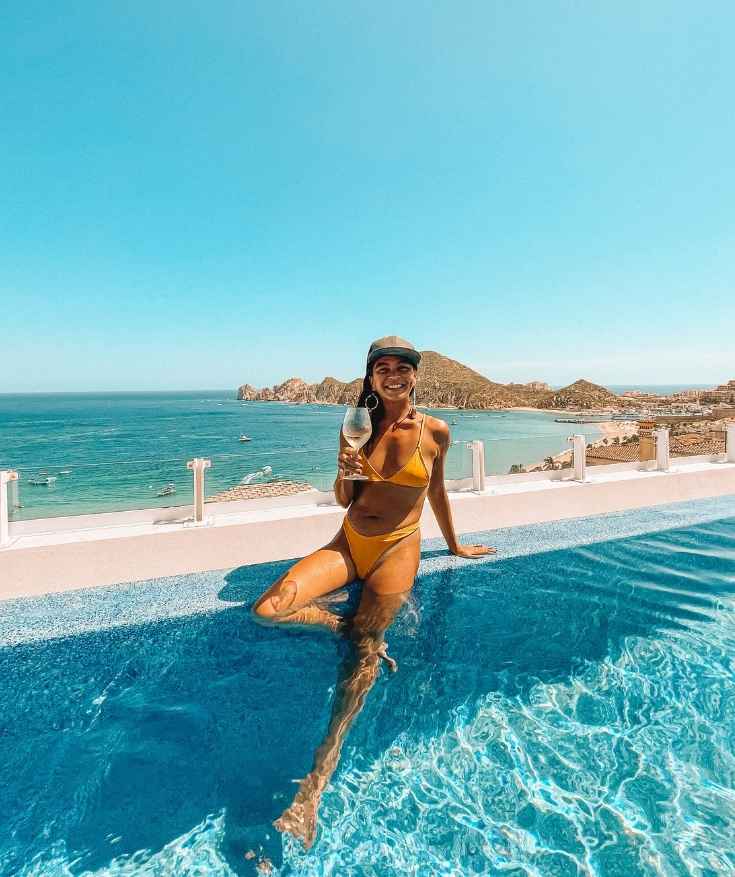 Rooftop 360 has limited slots for the pool club, so you have to secure a reservation by calling +52 624 163 78 60 or sending an email at rooftop360[at]cabovillasbeachresort[dot]com.
✨ Tip: If you secure a reservation, you must come before 11:00 AM to guarantee your pool cabanas.
Corazon Beach Club
Corazon Beach Club is a luxurious and dynamic destination and one of the most chill things to do in Cabo San Lucas. Located on a pristine beach, the club creates an ambience of sophistication and serenity that caters to all your vacation desires.
Its chic design, featuring an infinity pool and comfortable loungers, sets the perfect backdrop for a day under the sun.
Exclusive cabanas provide an intimate space to unwind while sipping on exquisite cocktails or enjoying the culinary delights from their gourmet menu, which artfully combines local ingredients with international flavors.
✨ Tip: The minimum spend in Corazon Beach Club is $25 USD but you can't really reserve a spot. You just have to come by 11:00 AM to secure a cabana or beach bed.
Yoga classes in Cabo
Cabo San Lucas, a beautiful beach city, hosts a variety of yoga studios that blend serenity with wellness. Baja Soul Yoga is one of the town's favourites, known for its diverse range of classes suitable for beginners to advanced practitioners.
Their rooftop yoga with ocean views is a must-try. The studio also offers Kundalini and Restorative Yoga.
Yogalution is another reputable spot, celebrated for its intimate setting and personalized attention. Their beach yoga classes provide a unique experience of uniting with nature.
Yoga Garden, a tropical oasis, provides a calming environment and emphasizes personalized instruction. Private sessions for tailored practice are also available.
Lastly, Manoma Spa & Wellness incorporates yoga as part of their holistic approach to health, with seasoned instructors guiding classes in their peaceful studio.
✨ Tip: You can also hire a yoga teacher to come to your accommodation. Just get in touch with us and we will arrange it for you!
Whale watching in Cabo
Cabo San Lucas is one of the world's premier destinations for whale watching. Each year, between late December and April, thousands of gray and humpback whales migrate from the cold waters of the Arctic to the warm, calm waters of Baja California to breed and give birth.
This makes it a prime time to experience these magnificent creatures up close.
The whale watching tours in Cabo is known for respecting marine life and maintaining safe distances to ensure the whales' wellbeing.
Tours are typically guided by knowledgeable naturalists who provide educational insights about the whales and their behaviors.
Diving in Cabo
Cabo is a renowned diving destination with marine life-rich waters, interesting underwater landscapes, and good visibility.
The best time to dive into Cabo depends on what you want to see. The summer months (June to November) have the warmest water temperatures, making it a comfortable time for diving and an excellent period to see large pelagic species like hammerhead sharks and mantas.
From December to April, while water temperatures are cooler (around 68°F to 72°F), you might encounter sea lions and migrating whales.
The area offers a range of diving experiences. Beginners can explore the local reefs or the Sand Falls, a unique underwater cascading sands phenomenon discovered by Jacques Cousteau.
Experienced divers can head to Gordo Banks or Cabo Pulmo, a marine park, to witness large schools of fish and other marine wildlife.
Go on a booze cruise
Boats, boats, boats – the Cabo San Lucas arch is visited by hundreds of boats everyday and most of them are all-inclusive boat cruises!
There are many types of boats to choose from (catamaran, yacht, or glass-bottom boats) so it all depends on your preference.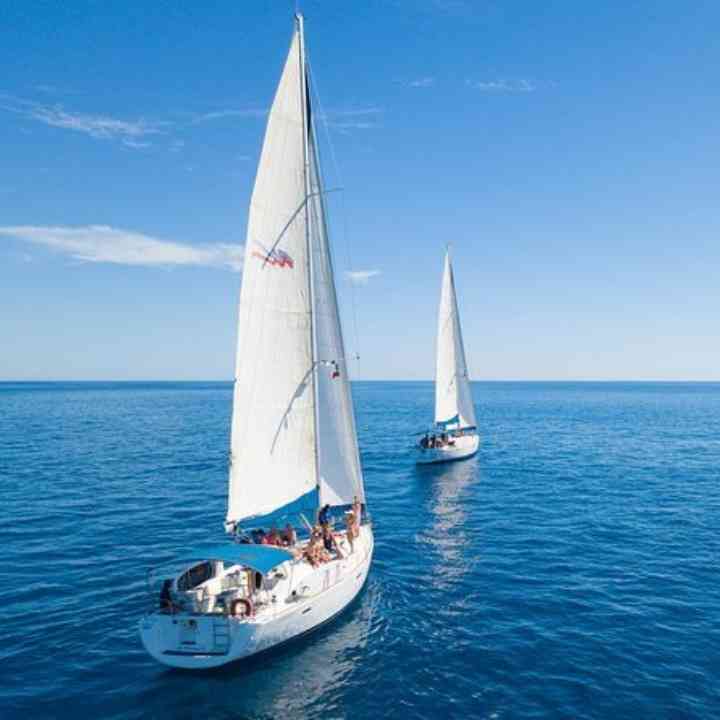 Rent a jetski at Medano beach
Jetski rentals in Los Cabos start at US$80 for 30 minutes. You can visit the Los Cabos Arch with a jetski and wander along El Medano Beach.
The drivers will tell you the distance limit of the jetski ride but some of them are very lenient and will let you drive far. An adult must accompany children under 11 years of age.
Ziplining and UTV Adventures
An activity for everyone, ziplining and UTV adventures in Los Cabos will take you to a Canyon Canopy adventures.
This costs US$129 per person (both adults and kids). There will be a series of ziplines and tree jumps including off-road desert rides at the Boca de Sierra National Park, a UNESCO-protected area.
Beach and desert ATV
Drive an ATV on the beaches and deserts of Los Cabos for 3 hours. This tour takes place on Migriño beach, one of my favorite beaches in Cabo.
The park charges US$20 for the environmental fee, and some ATV tours in Cabo San Lucas don't include it in the tour price. Make sure to ask to know what's included.
Cabo taco crawl
Well, what else did you come to Mexico for? To eat tacos! Los Cabos has many good taco places and you can hire a local guide to take you to them!
This culinary tour lasts for 3 hours where you will get to try Mexican delicacies, tequila, and the best seafood tacos in town. I swear you'll never know these places if you don't know a local guide!
Go horse riding
There is a horse ranch in Cabo San Lucas where you can learn how to ride but if you're only going for the tour, they will also teach you the basics – you don't have to be a pro!
The horse riding tour goes to the beaches of Cabo San Lucas but make sure they take you to the nice and remote ones as the main beach is crowded.
Cooking classes in Cabo
Go to the market in the morning with a local chef who will teach you how to cook Mexican dishes. The menu changes every week so you are free to choose which dish you want to learn!
You will also get to learn how the Mexicans prepare their tortilla (from scratch). Lunch and drinks are included in this cooking class.
Parasailing at Medano Beach
See Medano Beach and the Cabo San Lucas Arch from above by parasailing! The height limit is 182 meters (600 feet) as the speed boat pulls you.
Parasailing in Cabo San Lucas depends on the weather condition so to keep safe, make sure to ask your guide about the daily wind direction. Kids can also do this if accompanied by a guide.
Learn salsa
We live in Cabo San Lucas and every Friday, we have a group of locals who go to a salsa class and then go out to dance at the club together! The salsa class is taught by a local and only costs US$10.
If you're looking for something more local things to do in Cabo San Lucas, you need to meet our salsa instructor because he's the best! Feel free to send us a message if you want to join us on Fridays!
Camel and outback adventure
Yes, there are camels in Los Cabos and this activity is sustainable! The camel outback adventure can be a good alternative if you're not an ATV fan.
This activity is also at the Migriño beach where the ATV activities are so you'll pretty much visit the same place but in a different "vehicle." This also includes tequila tasting after the tour.
Learn how to surf
Los Cabos and Baja California Sur are the best spots to surf in Mexico so this is one of the best things to do here! The minimum age for this activity is 6 years.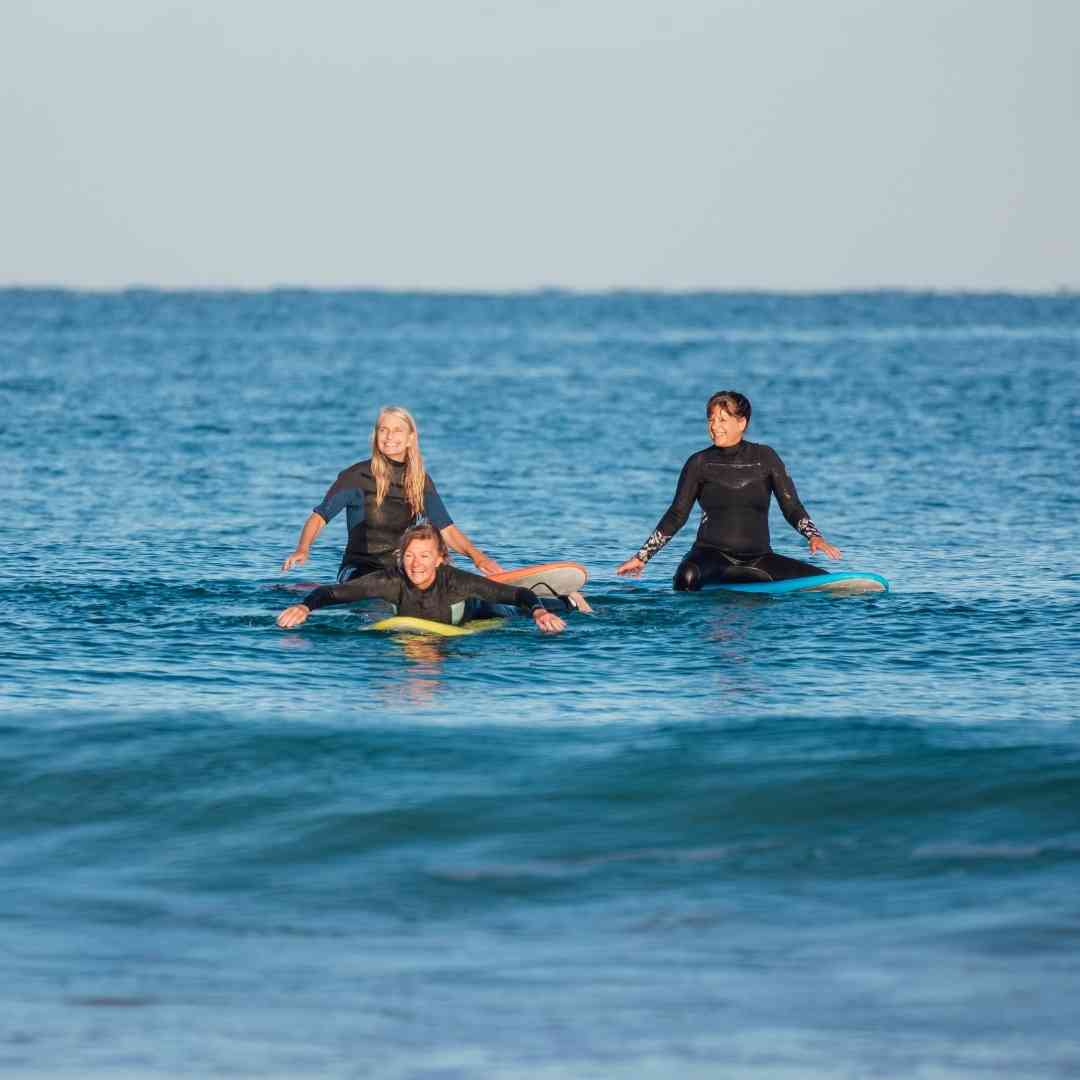 These surfing lessons in Cabo San Lucas take place at the Costa Azul beach.
You will be accompanied, trained, and taught by Baja California Sur pro surfers according to your skill level. Of course, beginners are most welcome!
⁉️ FAQ: Cabo things to do
🇲🇽 Cabo Travel Guide
Trisha traveled to Mexico in 2018 and after a year, she found herself obtaining a 4-year residency visa in Mexico. She is the Editor-in-chief for our Living in Mexico Series which has helped over 3,000 Americans move to Mexico with ease. Trisha currently resides in Cabo San Lucas, Baja California Sur.