There are so many things to do in Playa del Carmen and in this post, we invited a few Playa del Carmen regulars to share their best recommendations.
Playa del Carmen is a favorite destination for travelers to Mexico, especially for those visiting the country for the first time and looking to get an introduction to the culture.
Exploring PDC is pretty easy and despite it being known as a beach destination in the Mexican Caribbean, there's a plethora of incredible things to do in Playa del Carmen beyond sunbathing and swimming.
🌴 Is Playa del Carmen worth visiting?
Yes! Playa del Carmen is a great destination for every type of traveler, be it families visiting with kids, those on a budget, solo travelers, and even those looking to splurge.
The things to do in Playa del Carmen are incredibly varied, which means there's a little something on the menu for everyone. Be it lounging at a beach club or going on a full-on adventure in the jungle, you'll find it at Playa del Carmen!
🏖️ What is Playa del Carmen known for?
Playa del Carmen is known for its palm-fringed white sandy beaches, its party vibes, its great shopping, and for being a perfect getaway to explore the rest of the Riviera Maya.
Aside from that, some of the best things to do in Playa del Carmen include bar-hopping, its young vibe, and its digital nomad scene. Snorkelers flock to Playa del Carmen for its access to one of the largest coral reef systems in the world and history/archeological buffs love it for its close proximity to some of the top Mayan ruins in the Yucatan Peninsula.
You might also like:
🛥️ Things to do in Playa del Carmen
#1: Parque los Fundadores
Parque Los Fundadores, otherwise known as the Founders Park, is a public seaside park located on one of the best beaches in Playa del Carmen. It's one of the first sights you'll see if you arrive in the city from the airport.
Nestled just outside of the ADO Bus Station on 5th Avenue, it's also close to the ferry entrance where regular ferries can take you to nearby islands.
The park is free to visit and home to the famous 52.5-foot Portal Maya Statue, a wonderful arch sculpture portraying two figures reaching to touch each other. Around the area, there is a myriad of street vendors offering unique souvenirs, local foods, and snacks.
Occasionally, there are also public dance performances and the overall vibe here is positive and fun, which encapsulates the nature of the city itself.
Parque Los Fundadores is a fantastic destination for solo travelers, couples, and families alike, and an all-around awesome place representing the fun spirit of Playa del Carmen.
#2: Cirque du Soleil
Submitted by Latoyia from The Impulse Traveler
Aside from the beautiful beaches and nature reserves in Playa del Carmen, visitors can see a show by Cirque Du Soleil. Cirque Du Soleil is an experience where performers combine performing arts and audience interaction to tell an enchanting story.
The 80-minute show tells the story of Joyà and her grandfather, who start a quest to discover the secrets of life. There are twists and turns as Joyà fights off villains to protect their secrets.
Everyone will be in awe as they watch the story unfold and the characters show off their unique skills through theatrical performances of many genres.
This experience is suitable for families, solo travelers, and couples alike. Children ages three and up are permitted to see the show.
Tickets range from MX$1929-MX$5089 (~USD 90 to USD 250) per person, and there are options to upgrade your experience, such as VIP seating and dinner before the show.
#3: Beat the heat at Roof Club at the Palm
Submitted by Ashlea from She Roams About
One of the best kept secrets in Playa Del Carmen is the Roof Club at the Palm, located on Calle 8 Nte, just steps from Quinta Avenida. The Roof Club offers poolside service with a bar and kitchen, pool beds, sun loungers and even an overwater hammock to relax in, not to mention an ocean view.
The hotel and Roof Club are strictly 14+ making it the perfect spot for couples and solo travelers to relax with a cocktail or two. Popular with locals, the Roof Club often hosts events, DJs, and live music, especially on weekends.
Typical day pass entry is $400MXN [$25CAD/$20USD], although this changes depending on events and activities. Entry includes access to the main pool, dip pool, changing facilities, towels, loungers and $300MXN credit to be used on food and drink.
#4: Spend a day at Xcaret
Submitted by Corritta from It's a Family Thing
You cannot visit Playa Del Carmen without stopping at the eco-park Xcaret. Xcaret is to Mexico what Disney World is to Americans. It's a celebration of the Mayan culture. It is the backbone of Mexico's history.
Xcaret is a hybrid water park, amusement park, eco-archaeological site, zoo, and so much more in one place.
You can float in the underground rivers, visit the coral reef aquarium, explore the aviary, walk through the butterfly pavilion, watch shows, learn about ancient ecological sites, and see animals native to Mexico.
There are different ticket prices, depending on the package you choose. The most affordable option does not include food, so plan accordingly.
Kids under four years old are free, so it's a great place to take the little ones while on vacation.
If you want to save money, you can opt to stay at Hotel Xcaret, where guests can take advantage of all the Xcaret attractions, which include Xplor, Xsenses, Xenotes, and Xcaret.
#5: Stroll 5th Avenue
Submitted by Mayuri from ToSomePlaceNew
The Fifth Avenue Promenade is a 5-mile pedestrian walkway that connects the city of Playa del Carmen with Cozumel. It's always packed with travelers from all around Riviera Maya and neighboring Playa del Carmen resorts. The area is quite safe, and it offers something to do at any hour of the day or night.
If you're looking for a place to do some shopping while in Playa del Carmen, 5th Avenue is the place to go. There are a variety of shops, ranging from souvenir shops to high-end fashion stores. You're sure to find something to suit your taste and budget.
It also caters to the tourist's needs, such as bar-hopping, shopping, and tour reservations for excursions like car rentals for road trips in Mexico.
In addition to shopping, 5th Avenue is also a great place to people-watch and soak up the atmosphere of Playa del Carmen. There are often street performers and musicians playing, and the atmosphere is generally festive and lively.
If you're looking for a place to enjoy some shopping and people-watching then do add 5th Avenue to your Playa del Carmen itinerary.
#6: ATV Tour
Submitted by Kerry Hanson from Adrenaline Junkiez
One of the best things to do in Playa del Carmen is to take an adrenaline-fuelled ATV, Zipline and Cenote Tour. There are a few different options to choose from but one of the best areas to do this experience is in Puerto Morelos.
Not only do you immerse yourself in the dense tropics of the Mexican jungle, you also have the natural beauty of an open-air freshwater cenote.
Take to the trees for a fun zipline experience, complete with the thrills of rope bridge walking. When you're not flying through the sky you'll be rallying around the muddy terrain of the jungle tackling lumps, bumps, and all things rocky. Then clean yourself off with a refreshing zipline or dive directly into a natural cenote.
The tour includes travel and will cost approximately $92, or $75 if you share an ATV. While this activity isn't suitable for very young children it is popular with families, groups, and couples alike.
#7: Swim with the sea turtles in Akumal
Submitted by Katie from KatieCafTravel.com
A short half-hour drive from Playa del Carmen lies the sleepy beach village of Akumal. Home to only 2,000 residents, Akumal has become famous in Quintana Roo for one thing – snorkeling with sea turtles!
The famous snorkel spot in Akumal is actually a natural shallow corridor where the sea turtles' favorite meal, seaweed, grows abundantly on the ocean floor.
Tourists can only view from above as the turtles graze, and are not permitted to swim down and touch the animals. Visiting Akumal is the perfect half-day trip from Playa del Carmen for families, couples, friends, and solo travelers alive.
The snorkel tour is incredibly safe, and everyone is given a life vest so they can view the sea turtles grazing on the ocean floor 2-3 meters below.
The best time to go snorkeling in Akumal is early in the morning, tours start around 9:30 AM and go until 4 PM. Snorkeling in Akumal is also a great budget activity, if you book in-person at Akumal beach it's only 500 Pesos ($24) per person for a 2-hour snorkel tour.
#8: Visit Uxmal
Submitted by Amber from Amber Everywhere
If you love visiting archaeological sites and are looking for a unique experience, make a point of visiting Uxmal, a UNESCO World Heritage Site. Set on the western side of the Yucatan Peninsula near Merida, the ruins are the best preserved of all of the Maya sites and receive fewer visitors than nearby Chichen Itza.
The structures are dated between 700 and 1000 A.D., and have been painstakingly restored. As was common in ancient Maya civilization, the buildings indicate deep astrological knowledge.
As a visitor, you'll have a chance to revel in the architectural feats involved in creating extensive stone structures. The ruins are a great activity for couples, families, and solo travelers, though young children might tire quickly walking the grounds in the Yucatan heat.
The entrance fee to visit Uxmal is $495 pesos, or about $24 USD per person. Guides are available for an additional fee.
#9: Coba Ruins
Submitted by Shelley of Travel Mexico Solo
While Chichen Itza has the most name recognition, Coba is one of the coolest Mayan Ruins in Mexico's Yucatan Peninsula. It is located deep in the jungle, about 1.5 hours from Playa del carmen, which is actually closer than Chichen Itza.
Coba Ruins is a large site, and was once among the largest Mayan cities in Yucatan. It also has the tallest pyramid you can climb in the entire Yucatan Peninsula. Nohoch Mul Pyramid has 120 steps, and stands 137-feet-tall (42 m).
The best way to see the entire Coba site is by renting a bike, which you can do at the entrance. Rentals are inexpensive, at about $5 USD for two hours. You can also hire a guide at the entrance who will walk you to see all the highlights, and explain everything along the way.
Besides the Nohoch Mul Pyramid, there's many other structures to see at Coba. It's also just a great experience to wander through the jungle, and you may even see some interesting animals that live there, like the coati.
Coba is open daily, from 9am-5pm, but the last entry is at 3pm. It costs $100 MXN pesos ($5 USD) to get in. Coba is perfect for all types of travelers, so don't miss the amazing archeological site in Mexico.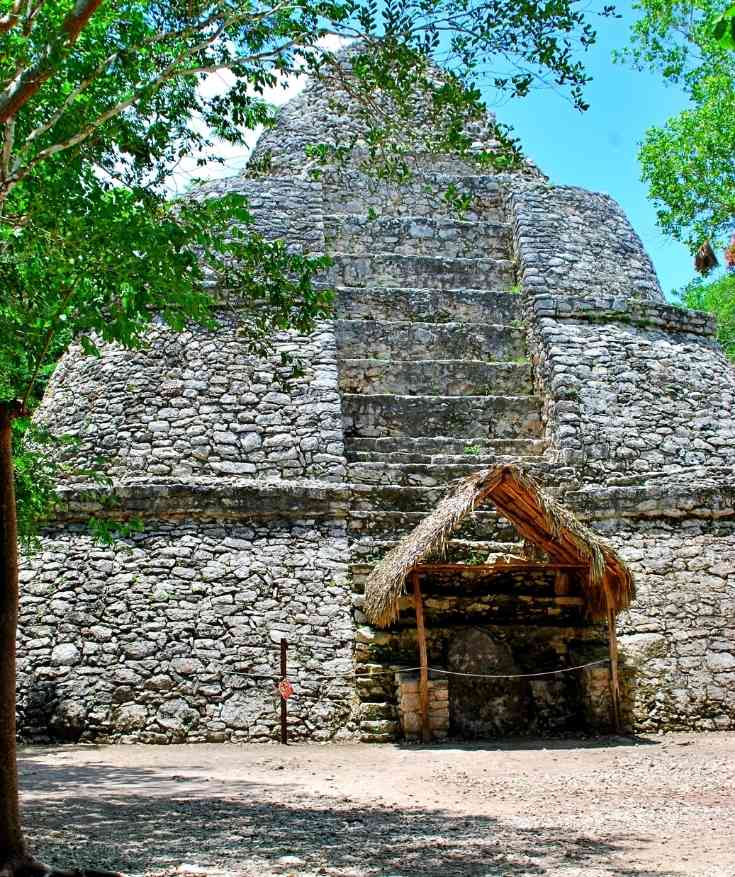 #10: Day trip to Cozumel
Submitted by Paulina from the UK Every Day
One of the best things to do in Playa del Carmen is a day trip to Cozumel. It is an amazing activity that might include exploring Cozumel downtown or snorkeling in one of the best places in the Yucatan Peninsula. On the biggest island of the Caribbean Sea, you can see starfishes, manta rays, and colorful fish.
You can take the ferry from Playa del Carmen to Cozumel which cost $ 10.50 for adults or $ 6.25 for kids. This short trip will take you to one of the most beautiful islands in Mexico. Cozumel is a great place to visit for everyone. Whether you are traveling solo or with your partner.
One of the best places to visit on the island is Playe El Cielo. This beautiful beach with incredibly turquoise water is the perfect spot to see starfish. A boat trip from San Miguel de Cozumel along the coast is an amazing way to explore the most beautiful parts of the island. Moreover, the friendly boat crew will make your day in Cozumel unforgettable.
✈️ Ready for your trip to Playa del Carmen? If you need more information about the best things to do in Playa del Carmen, we'd be happy to update this post – just leave your questions below or join our Facebook community where we answer questions without a cost.
Trisha traveled to Mexico in 2018 and after a year, she found herself obtaining a 4-year residency visa in Mexico. She is the Editor-in-chief for our Living in Mexico Series which has helped over 3,000 Americans move to Mexico with ease. Trisha currently resides in Cabo San Lucas, Baja California Sur.