All the best things to do in Cancun on one page, categorized into food tours, adventure tours, boat tours, and more!
📧 Hello Trisha! I don't know if you remember but you planned our trip to Sayulita 2 years ago. We were very happy with your recommendations and we're also grateful for the many people you introduced to us in Sayulita, so thank you! My family and I are traveling to Mexico again. This time, we are giving Cancun a shot. Can you please give us the best things to do in Cancun? We have 2 teenage boys so I hope you can suggest activities for adolescent kids. Thank you for all you do and I look forward to getting on a call with you next week!

Geraldine Robson, United States
Hola Gary!
Of course, I do remember you guys! I am glad you decided to come back – it's a privilege to plan your trip to Mexico again! Our staff on the ground will be waiting in Cancun for you and I am also excited to talk to you on the phone next week.
A little tip: I know you've already been to Sayulita but Cancun has an extremely different vibe. I would say that it is one of the best destinations in Mexico that are kid-friendly.
But the ages of your children are in the middle (can't drink, can't party, but too old to go snorkelling with mom and dad). I know how that feels so we will also introduce you to families with the same age as your kids!
Here are all the best things to do in Cancun, so read on and see what you like. I will speak to you next week!
Cheers,
Trisha
🧐 Questions about things to do in Cancun? Ask us on Tiktok.
🔗 Things to do in Cancun: quick links
🗺️ Cancun Map
🏖️ Best things to do in Cancun Mexico
1. Snorkel and explore Cancun's underwater museum
⏰ 4 hours
💲 from $77 USD
Experience an opportunity to discover the underwater world of the Caribbean sea as you join a 3-hour snorkeling tour in Cancun.
During the tour, you'll be taken out on a boat to the Underwater Museum, where you can observe coral reefs and colorful fish in their natural habitat and discover some fantastic sculptures left behind by an artist in 2009.
The museum is home to over 500 species of flora and fauna, so you're sure to find something new and exciting every time you visit.
While on the boat, your experienced guide will provide interesting facts about the region's history and culture and share exciting stories about things that can only be seen underwater.
Afterward, you will head to your second stop at the Great Mayan reef barrier. This is the 2nd most significant coral barrier, where you can interact with colorful fish and other marine life in their natural habitat.
2. Discover Nichupte Lagoon, waverunner style!
⏰ 30 minutes to 1 hour
💲 from $60 USD
If you're visiting Cancun, Mexico, one of the things you can do to make your trip memorable is to take a Waverunner in the Nichupte Lagoon.
This tour will allow you to explore the beautiful Nichupte Lagoon excitingly and uniquely. You'll board a waverunner and explore the lagoon while admiring the stunning scenery along its banks.
You'll also be able to jump off your waverunner and swim with dolphins and sea turtles in some lagoon areas.
The rent of the waverunner will take an hour or half an hour, depending on how long you'll learn how to operate the Waverunner.
All equipment will be provided at no extra charge, including life jackets, fuel, and basic instructions on safely handling the waverunner.
3. Jungle touring by speedboat
⏰ 2 hours
💲 from $59 USD
This Cancun Jungle Tour Adventure offers a unique combination of thrilling and relaxing water adventures. Start by riding a speedboat and zip through the Nichupte Lagoon as you view Cancun's lush rainforest.
After the activity, slow down with a relaxing snorkeling activity and see the statues underwater at the Punta Nizuc coral reef.
The whole tour will only take approximately two hours. No worries; a guide will be present throughout the tour to ensure everything goes smoothly.
4. One Day Adventure at Extreme Adventure Eco Park
⏰ 4 hours
💲 from $75 USD
This adventure tour begins as you travel with a small group from Cancun or Riviera Maya, going to the Extreme Adventure Eco Park in Puerto Morales.
On arrival, you'll start soaring through the lush forest on a series of ziplines and balancing your way through hanging bridges.
Extreme Adventure Eco Park also has an ATV ride ready for you to ride. You'll ride through the surrounding jungle terrain just outside Cancun and be given enough time to admire the views and take pictures.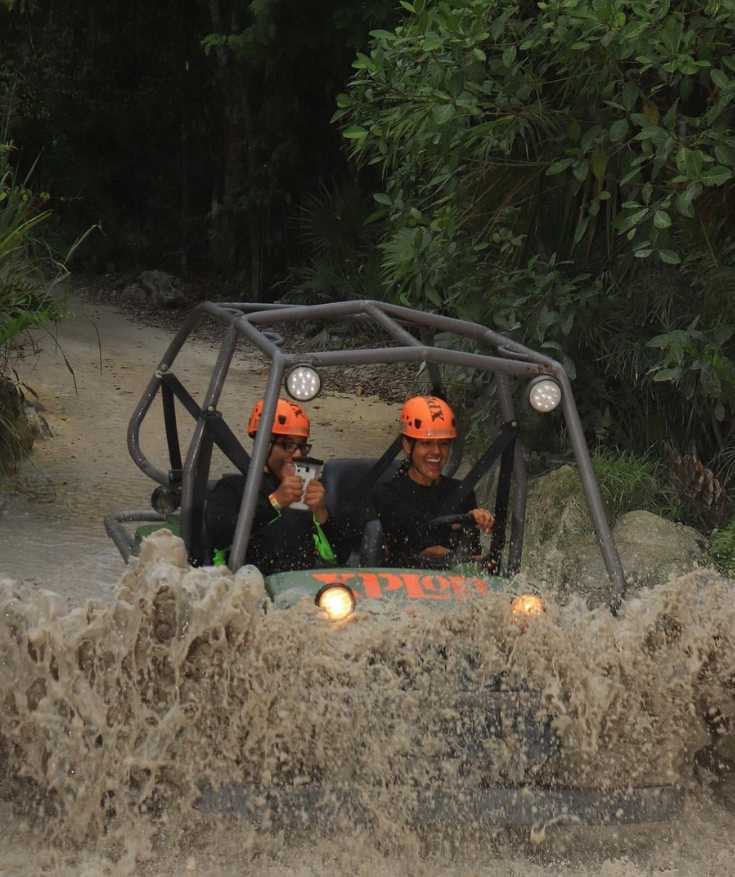 After all the adrenaline rush from the extreme activities, you'll reach a hidden cenote or underwater cave system located deep within the Yucatan jungle.
Here you can cool off and enjoy swimming in clear waters exploring its abundant wildlife, including fish and turtles.
This tour is ideal for small groups or families who want to enjoy an adventurous day together.
5. Explore Shipwrecks and Coral Reefs in Cancun
⏰ 3 hours and 30 minutes
💲 from $70 USD
Explore and immerse yourself in Cancun's stunning underwater worlds as you join this Reef and Shipwreck Snorkeling Tour.
During the tour, you'll be able to explore a sunken shipwreck and coral reefs teeming with hundreds of colorful tropical fish and giant sea turtles.
This is a small-group excursion, so it ensures a more personalized service from your guide. Plus, snorkeling with a small group means you can visit multiple sites quickly, so even hesitant swimmers can feel more comfortable.
So be ready with your equipment (provided during the tour) and enjoy three snorkeling areas to see underwater art galleries, shipwrecks, and rich marine life.
6. Explore Ancient Mayan Mysteries on Tour Cenotes Oasis May
⏰ 9 hours
💲 from $130 USD
The Cenotes Adventure Tour allows guests to explore four cenotes in the Yucatan jungle. Moreover, there will be adventures like kayaking, rappelling, zip-line, and swimming in the crystal clear waters inside each cenote.
The tour begins with an exciting drive through the jungle in a private van. And before arriving at the Xenotes, guests can learn about the history of these unique geological formations and observe some of the local wildlife.
On arrival, participants will first visit the Fire Xenote. It is an open cenote surrounded by jungle and has a beautiful landscape of vertical walls in various shades of green.
The second stop is the Wind Xenote – an ancient cenote where guests can glide on a thin zip-line before splashing in the water. You will also be visiting the Earth Cenote (third stop), a closed cenote where you can descend on it by an assisted rapelling.
The last cenote will be the Water Xenote, which has beautiful aquatic flora and rock formations. This is where you'll get to enjoy a relaxing kayak ride.
7. Dive Into the Spectacular World of Cirque du Soleil
⏰ 1 hour and 20 minutes
💲 from $106 USD
JOYA by Cirque du Soleil is a must-see if you are in Cancun. Allow yourself to immerse in the experience of seeing the story of an alchemist and his granddaughter seeking out the secrets of life in a show of acrobatics, music, art, and theater.
Set in a customized tent in the Vidanta Riviera Maya resort, the show is developed exclusively for the hotel.
Expect to see incredible stunts, including trapeze artists soaring through the air, contortionists bending their bodies unexpectedly, and jugglers spinning multiple objects simultaneously.
Meanwhile, the show's lively soundtrack features traditional Mexican instruments like Mariachi trumpets, vihuela guitars, and modern beats to keep things interesting.
Aside from the impressive feats on stage, you can indulge in delicious Mexican cuisine while watching the show.
8. Discover Sinkholes and Ancient Mayan Ruins in One Day
⏰ 12 hours
💲 from $39 USD
This full-day tour is the perfect way to explore the rich history of the Mayans and go on a daylong adventure in Cancun.
The Tulum, Coba, & Cenote Full-Day Tour begins with a pick-up from your hotel and transport to Coba, an ancient Mayan city filled with ruins and exciting things to see.
You'll see the tallest pyramid in the region and even ride a bicycle to see the lush vegetation on the site.
Your next stop will be the Tulum Archaeological Site. Here, you get to explore the incredible history of this city. Moreover, breathtaking views from its walls and monuments are believed to have been built around 1200 A.D.
After a morning of exploring the ancient ruins, it's time to cool off in the refreshing waters of a cenote.
Experience all these things in Cancun in one full-day tour if you want to experience the history and culture of Mexico and be immersed in the region's natural wonders.
9. Explore Delicious Local Cuisine with a 5-Stop Taco Tour
⏰ 4 hours and 30 minutes
💲 from $85 USD
The 5-Stop Cancun Taco Tour, Local Beer, and Night Market Tour is one of the perfect ways to immerse yourself in this beautiful city's local culture and cuisine.
This Taco Tour will take you to the best spots to try authentic Mexican street food and learn about the culture surrounding it.
You will enjoy taco delicacies at different stops, each with its unique flavor and style, and taste a variety of tacos made with fresh and locally-sourced ingredients.
But the tour isn't just about tacos. You'll also get to try some of the best local beers and learn about the brewing process from expert guides. And to cap off the night, you'll visit a bustling night market filled with vendors selling everything from handmade crafts to delicious desserts.
With this skip-the-line tour, you'll also get a glimpse of the vibrant local culture as your knowledgeable guide leads you around some of their favorite culinary hot spots.
10. Discover the Wonders of the Mexican Caribbean (for Beginner Divers)
⏰ 6 hours
💲 from $162 USD
If you are an adventurer and love to try out new things, in this diving tour package, you'll learn the basics of scuba without the hassle of a lengthy experience course.
The tour is designed for beginners who want to experience the beauty and excitement of scuba diving in a safe and controlled environment. Every activity is supervised by experienced instructors who will be teaching you the basics of scuba diving.
You will be given time to practice in a pool before you go on the first 10-meter dive at the MUSA or underwater museum.
Once you get the hang of it you will move to the second dive site, a natural reef up close and personal with colorful tropical fish, vibrant coral reefs, and even the occasional sea turtle or stingray.
11. Explore Ancient & Magical Cenotes at Casa Tortuga
⏰ 6 hours to 7 hours
💲 from $66 USD
The 4 Cenotes at Casa Tortuga tour takes you to four different cenotes (natural swimming holes) in the Casa Tortuga area, each with unique features and attractions.
Among the cenotes you get to visit include Wisho, Zapotes, Cueva de las Tres Campanas and Jaguar. You will be allowed to swim and snorkel in these cenotes with a small tour group.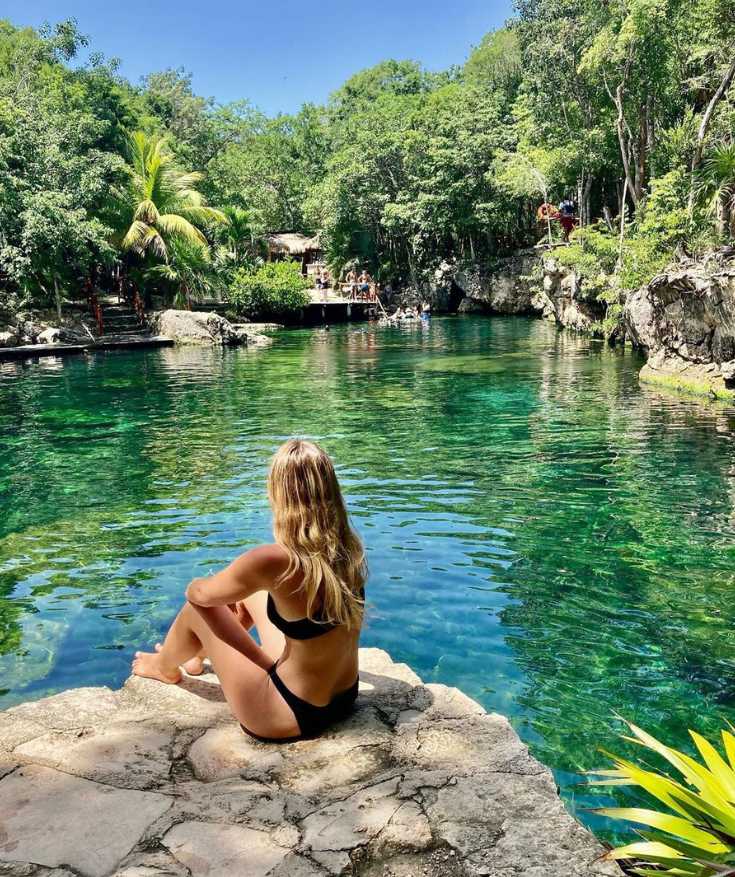 Throughout the tour, you'll be accompanied by a knowledgeable guide who will provide you with information about the history and geology of the cenotes, as well as valuable tips for snorkeling safely in the cenotes.
12. Cruise with a 46 FT Yacht in Cancun Bay
⏰ 2 hours to 6 hours
💲 $560 USD
If you're looking for a luxurious and personalized experience on the waters of Cancun, you can consider chartering the spacious and private 46 FT Yacht from Cancun.
This day tour takes you on a private yacht charter, where you can enjoy Cancun Bay's stunning scenery and crystal-clear waters in style and comfort.
The navigation route will depend on the duration of your rental – 2, 4, or 6 hours.
The 46 FT yacht has modern amenities such as air conditioning, a kitchenette, and comfortable seating. You can relax on the deck while soaking up the sun or enjoy a refreshing swim in the bay's warm waters.
The tour is available year-round so that you can plan your visit according to your schedule, but the best time to try it out is during the dry season or summer months when the weather is at its best, and the waters are calm and clear.
13.Experience thrills in Cancun's wild canopy
⏰ 4 hours and 30 minutes
💲 from $116 USD
The Cancun Extreme Zipline Canopy Tour is an exhilarating, adventurous way to explore the lush Mexican jungle of Cancun.
This experience allows participants to soar through the treetops and see stunning views of the Caribbean Sea below through several ziplines of varying lengths and heights. Plus, it is home to the longest zip line in Latin America, a must-try during the tour.
As you return to land, you will climb aboard an army truck that will tour you around the ancient Mayan jungle in search of a secretive grotto. You'll also have ample opportunities to spot exotic wildlife and learn about the Mayan culture.
14. Discover authentic recipes in a local cooking class
⏰ 4 hours
💲 from $99 USD
Experience cooking and preparing a 4-course Mexican menu at a cooking class in Cancun where you will be taught to use traditional techniques by a Mexican Chef.
You will start by shopping for ingredients in a local market, together with ten other individuals to join the class. Then, you will be taught how to use stone mortar, girdle, and clay pots, which are traditional cooking utensils in a Mexican households.
Sample menus you might be asked to prepare are guacamole, refried beans, handmade tortillas, and enchiladas. All these you can feast on when done with the class.
15. Experience ultimate fun with priority access to Xplor Park
⏰ 6 hours
💲 from $160 USD
Head off on an adventure to the Xplor Adventure Park. The park features more than seven thrilling activities and attractions, ranging from zip-lining across stunning trails over the jungle canopy to driving through a massive underground terrain in amphibious vehicles.
You can also opt to swim and paddle through crystal blue cenotes and experience an exciting array of challenging obstacles in Xplor.
Experience all these with a full-day admission Priority Access ticket to Xplor Adventure Park. This is a hassle-free way to enjoy the outdoor adventure park 50 miles from Cancun, as it offers door-to-door pickup and drop-off from most Cancun hotels already.
Aside from the exciting and thrilling rides, you will also be given a ticket to a food buffet (with vegetarian options) and access to rest areas (hammocks and lockers included).
16. Explore magical Xochimilco Park
⏰ 5 hours
💲 from $130 USD
Xoximilco Cruise in Cancun is a Mexican cultural fiesta that is an unforgettable experience for travelers. The cruise is modeled after an ancient Aztec city and is a modern replica of a UNESCO World Heritage site.
The attraction is in the Riviera Maya, just thirty minutes south of Cancun. On board, you will participate in a traditional mariachi-style celebration aboard the colorful trajineras or gondolas.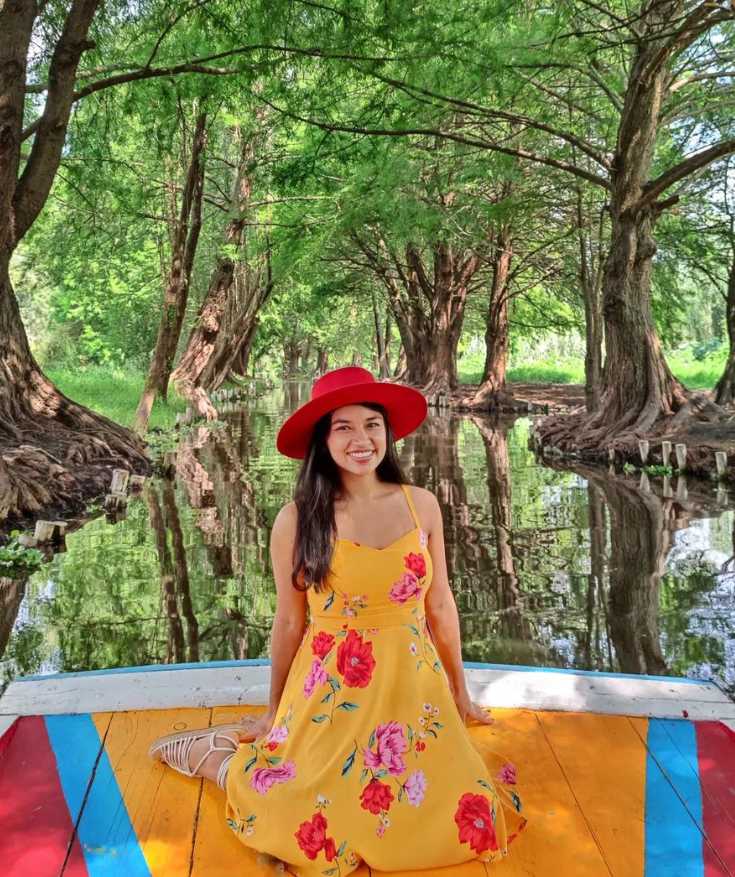 As you cruise around the lagoon, there will be Mexican food and drinks and access to activities such as tequila tasting, trivia quizzes, and more!
This small-group tour is only limited to 20 people, making the dinner cruise more intimate yet fun.
17. Riviera Maya Sunset Luxury Cruise
⏰ 2 hours
💲 from $89 USD
Experience the beautiful Caribbean sunset while sailing on a luxury yacht in Riviera Maya. During the two-hour cruise, you can relax, unwind, and enjoy the stunning views of the picturesque sunset coastline.
The tour will begin at the marina with champagne and welcoming drinks before you board a luxurious catamaran. This tour includes an open bar service for wine, beer, cocktails, water, and soda that you can enjoy as you sail through the coast of Riviera Maya.
The tour already includes a pickup and drop off service to your hotel for a less hassle trip.
18. Explore open waters of Cancun: jet Ski, Snorkel and Parasail
⏰ 4 hours and 30 minutes
💲 from $179 USD
Go on an exciting excursion in Cancun as you take on a Jet-ski Ride, Snorkeling, and Parasailing.
In this tour package, you'll spend your day on the water to experience riding a jet ski on the coastline of Cancun. Moreover, you'll be given time to go snorkeling with turtles and brightly colored fish.
Another activity included in the package is parasailing. Here, you get to experience the incredible sights and sounds of Cancun from a unique vantage point as you'll soar through the sky and take in the views of the Cancun's city skyline.
19. Experience Mexico at Xcaret Park with night show
⏰ 6 to 12 hours
💲 from $94 USD
Xcaret is one of the most popular adventure parks in Cancun. It offers guests a combination of experiences showcasing Mexico's history, culture, and cuisine.
During this tour, you will be enjoying the eco-archeological park. Swimming, snorkeling in the underground rivers, and also experience strolling through the park's Tropical Jungle Trail.
Later at night, you will be allowed to see a night-time equestrian show. It will be a musical spectacle of light and color that will take you on a journey through the history of Mexico since pre-Columbian times.
20. Experience the best of Cancun on a city tour and shopping spree
⏰ 5 to 6 hours
💲 from $39 USD
Go on a Cancun City tour from Riviera Maya as you visit different destinations in the city. On this tour, you will go sightseeing and have the chance to shop in Cancun's local markets and shopping areas.
The tour begins at your hotel in Riviera Maya and then takes you on a journey through downtown Cancun where you can view some of the city's iconic monuments and attractions like El Rey Ruins or the Kukulkan Pyramid.
You will also be taken to an artisanal craft market and the Celso at Market 28 to shop for gifts and souvenirs. This tour package includes Avenida Tulum, Mercado 28, Avenida Kukulkan, Playa Delfines, and La Isla Shopping Village.
21. Capture your vacation moments in Cancun
⏰ 1 hour
💲 from $435 USD
Cancun is one of the most picturesque cities in Cancun, and for you to capture your time there, the unique thing to do is have a private photo shoot with your friends and family.
This private photoshop allows you to create beautiful photographs you can look back on as a souvenir from Cancun.
In this package, you can choose the location of your shoot within the area of Riviera Maya, Playa del Carmen, and Puerto Aventuras.
A professional photographer will ensure that each shot you take will be as perfect as possible. He will also help you develop fun poses—from a romantic couple photos to family portrait shots.
Once the shoot is done, you'll receive an email within five days, including all your photos taken at Cancun.
22. Cancun's wildest boat party: Rockstar Booze Cruise
⏰ 3.5 hours
💲 from $103 USD
The Rockstar Boat Party is one of the most popular things to do in Cancun. This 3-hour boat party takes place every Saturday, only available for adults (18 years old and above).
You can party from 4:00 PM to 7:30 PM as you enjoy live music, dancing, and singing with friendly locals eager to show you their culture and customs.
The boat party also includes an all-you-can-drink open bar with rum, tequila, vodka, beer, soda, and juice available.
Once on board, you can swim, snorkel, and even fish during stops at various points along the cruise route. At nightfall, guests are invited to enjoy dinner prepared by professional chefs as they continue admiring views of the lagoon at sunset.
23. Jet-set to a tropical adventure aboard a speedboat
⏰ 2.5 hours
💲 from $71 USD
Enjoy Cancun's Nichupte Lagoon as you get on a 2-hour speedboat ride. In this speedboat experience, you will drive the boat independently and make your way through the green mangrove channels in Nichupte Lagoon.
You will also embark on a trip to the snorkeling spot in Punta Nizuc, where you can expect to see various marine life, like sea turtles, dolphins, manta rays, and other exciting attractions like the Cancun Underwater Museum.
A guide will provide insights into the area's unique ecosystem and historical information about local points of interest.
24. Experience the coast on a private boat tour
⏰ 6 hours
💲 from $617 USD
The Beach and Water Sports Private Boat Tour is a personalized tour that you can take along the coast of Cancun's Caribbean Sea. Depending on your liking, you will be cruising from Cancun to the Great Mayan Reef or the Isla Mujeres during the 6-hour duration.
The tour starts as you hop on board at the Marina del Rey. As the captain sets out, you will be speeding away to Cancun's lagoons and coastal waterways. A knowledgeable guide will highlight some of the area's most breathtaking sights and share information about these spots.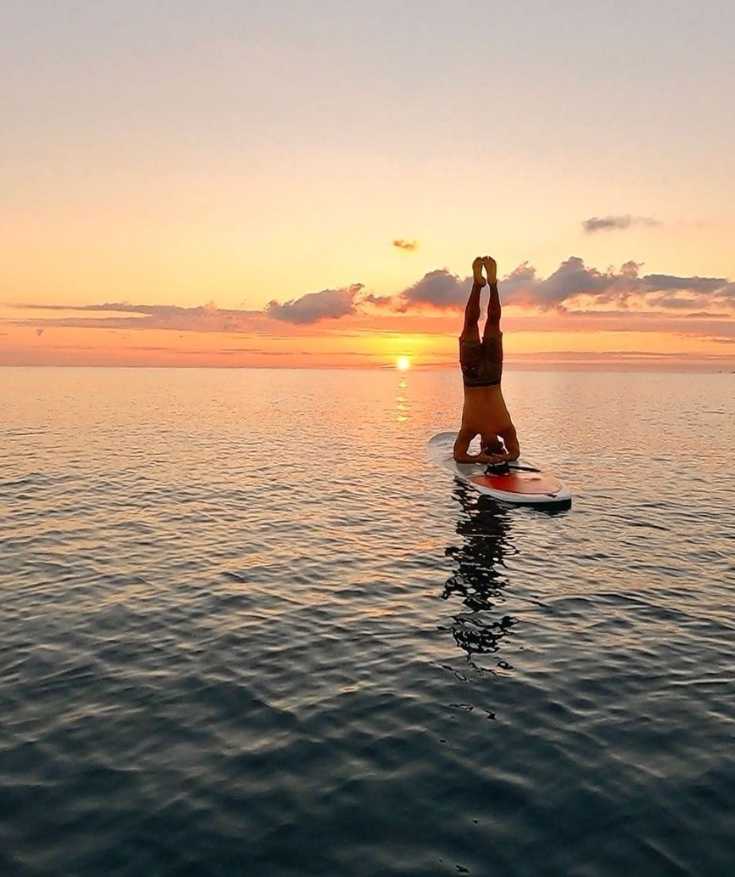 Once your boat has reached the private beach, you can use all the amenities available, including kayaks, stand-up paddleboards, snorkels, masks, fins, and even an inflatable trampoline included in the package.
25. Feel the thrill: seabreacher ride in Cancun
⏰ 15 minutes
💲 from $167 USD
If you are ready for an adrenaline-pumping experience in Cancun, it's time to get on Seabreacher Ride!
This is one of the most popular things to do in Cancun, which allows you to explore the beautiful Caribbean Sea from a unique vantage point – inside an agile and powerful speedboat-like craft that can dive underwater and race across the surface.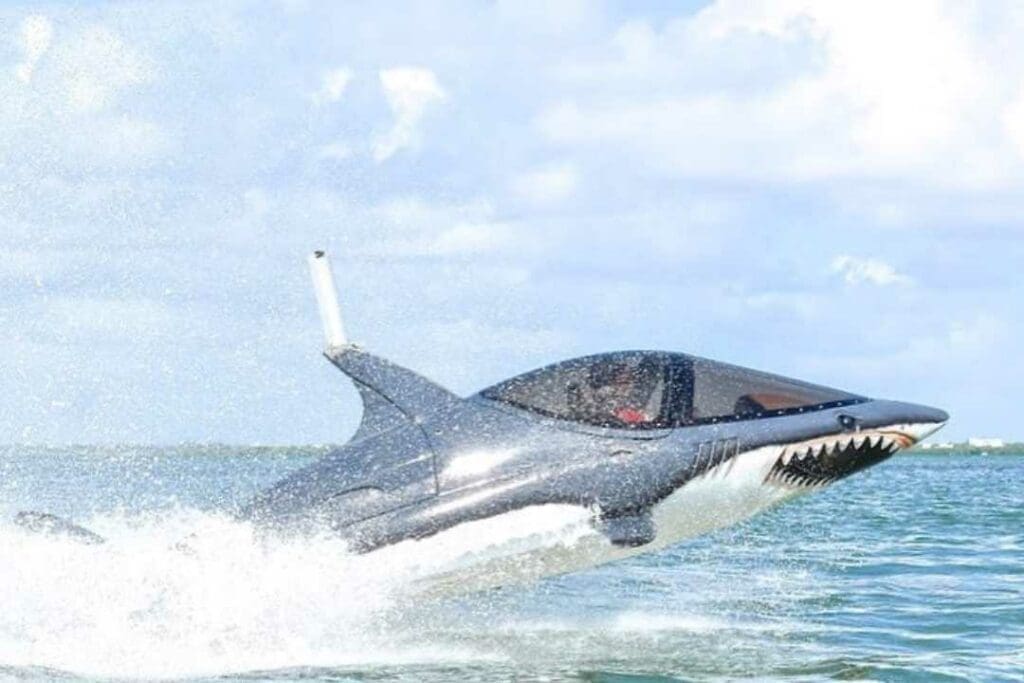 The Seabreacher can reach speeds up to 50 knots and make sharp turns, allowing you to perform breathtaking stunts like barrel rolls and other acrobatic maneuvers.
During this experience, you will see the underwater view and spot exotic marine life while out at sea, including dolphins, reef sharks, sea turtles, and more.
26. Take a ride on the waves in Cancun
⏰ 30 minutes to 1 hour
💲 from $79 USD
One of the most exciting things to do in Cancun is to take a waverunner ride. For those unfamiliar, wave runners are motorized water scooters that allow you to explore ocean waters while seated atop the vehicle.
But before starting your ride, you will learn from an expert guide how to manage your watercraft.
While in the water on your waverunner ride around Cancun, you'll be able to experience the speed and adrenaline of flying through the waters of the Caribbean Sea.
You can head to the lagoon and explore the mangroves for a more peaceful nature trip. You may also spot dolphins and sea turtles as you dart across the waves.
27. Revel in the thrill of a hhigh-speed boat adventure in Cancun
⏰ 30 minutes
💲 from $62 USD
Cancun High Speed Boat Adventure is one of the best ways to explore the stunning coast of Cancun and get up close and personal with the area's many attractions.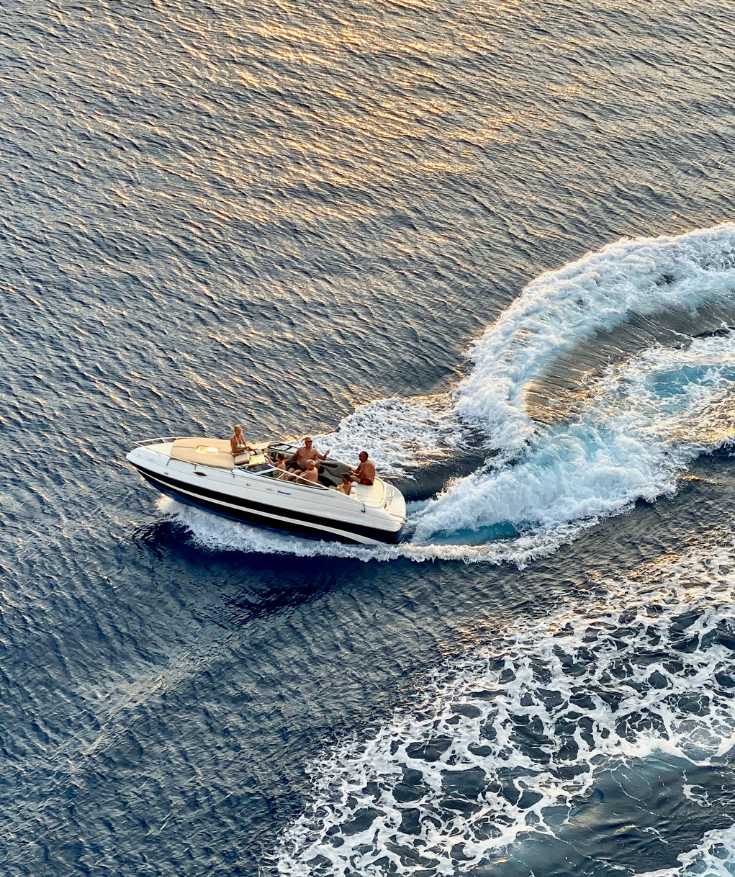 On this tour, you will embark on a high-speed adventure through the Nichupte Lagoon and see the fantastic view of the Mexican coastline.
You will surely experience an adrenaline rush aboard the Aquatqister as it speeds up to 90 kilometers per hour. You can also avail of seating for the best viewing experience (if you can keep your eyes open).
28. Luxury fishing trip in Cancun
⏰ 6 hours to 10 hours
💲 from $1,297 USD
In this Luxury Fishing Experience, you get to spend a day fishing the waters of Cancun. This is an excellent experience for anglers, allowing them to explore the water of Cancun freely.
In this guided tour, you will be hopping aboard a 42-foot sportfishing Hatteras equipped with Garmin GPS and fishfinder, VHF radio, and lots of valuable equipment for fishing.
The boat also has a luxury living and dining room and a well-equipped kitchen. The best part is you can choose from over 20 rods utilized on board and get to choose on targets like sailfish, marlin, mahi, wahoo, and a lot more.
Your experienced captain will show you the best techniques for catching these local fish species and provide helpful tips for improving your success chances. During breaks, they'll even serve refreshments and snacks onboard.
29. Explore Cancun's magnificent Playa Norte Beach
⏰ 6 hours
💲 from $205 USD
Through this tour, you can experience a once-in-a-lifetime opportunity to swim with whale sharks in Cancun. You will also be guided by an experienced local marine biologist who will take you to the world's largest gathering of whale sharks off of Playa Norte Beach.
Start your adventure at the marina in Cancun, where you will be served some coffee and bread. At the same time, there will also be a brief safety meeting with the boat crew before you hop aboard.
After that, you will take a boat trip to Contoy Island, where you will experience swimming with the sharks. During this tour, there will be two immersions per person, always with two people and one guide at a time.
Once back on dry land, you can relax or enjoy snacks at Playa Norte beach in Isla Mujeres.
30. The best things to do in Cancun with one affordable pass
⏰ N/A
💲 from $122 USD
The Cancun Explorer Pass is the perfect way for travelers to explore all Cancun, Mexico, offers. With this pass, you can access up to 10 attractions in the area, allowing you to experience various things without breaking your budget.
You can choose between 3,4,5,7 or 10 attractions or tours from 40 experiences, including cruises, parasailing, and food tastings. The pass is already valid for two months upon purchase.
Some of the attractions included on this pass include Xcaret Park, an eco-archaeological park with many things to do. You can also see El Rey Ruins, home to one of the oldest Mayan settlements in Cancun.
Other activities include taking a Catamaran Cruise around the Nichupte Lagoon and swimming in natural cenotes.
The islands of Isla Mujeres are also accessible with this pass, as well as world-class restaurants, bars, and nightclubs.
🇲🇽 Cancun Travel Planning
✈️ Flights to Cancun
Use Kiwi.com to find the cheapest flights to Cancun. This is our favorite booking engine because they compare prices across all airlines for your route. The airport that serves Cabo is San Jose del Cabo Airport.
🛏️ Hotels and resorts in Cancun
Budget travelers can use HostelWorld to find cheap accommodations for as low as $25 USD per night. Resort vacationers, the best deals for all-inclusive stays in Cancun are on Booking.com!
🚑 Mexico Travel Insurance
Be prepared for the possibility that something can happen to you while traveling abroad. Do not travel to Cancun without travel insurance! We recommend SafetyWing (for digital nomad and entrepreneur trips) and Ekta Travel for comprehensive medical insurance starting at $0.99 USD!

Trisha traveled to Mexico in 2018 and after a year, she found herself obtaining a 4-year residency visa in Mexico. She is the Editor-in-chief for our Living in Mexico Series which has helped over 3,000 Americans move to Mexico with ease. Trisha currently resides in Cabo San Lucas, Baja California Sur.