La Paz is the capital city of Baja California Sur and is the fourth-largest municipality in Mexico. The coastal community is known for silver mining, agriculture, fishing, pearls, and world-class beaches. It is home to Isla Espíritu Santo Small, a popular destination in Baja California.
We've listed down some of the best things to do in La Paz Mexico in this article which also includes day trips from La Paz and La Paz tours.
You might also like:
Super Winter Sale on things to do in La Paz Mexico!
10% off
MXINSIDER10
Don't miss this sale! Snag your stuff now through
January 29, 2023 @ 11:59PM (CDT)
🗺️ La Paz Mexico Map
📍 Where is La Paz Mexico?
La Paz Mexico is part of the state of Baja California Sur, located in northwest Mexico. It is about a 2-hour drive from Cabo Mexico and a 21-hour drive from the border of Tijuana and San Diego, USA.
The airport that serves La Paz is La Paz International Airport also known as General Manuel Márquez de León International Airport.
Did you know?
The capital city of Bolivia is also called La Paz. It is a popular tourist destination so don't confuse these two cities. When researching for your trip, it is better to write "La Paz Mexico" so you can get the right information about the correct destination.
At the time of the writing of this article, the only known direct flight from the US to La Paz Mexico is from Phoenix via American Airlines (2 hours flight duration).
To get to La Paz Mexico from the US, Canada, UK, Australia, or Europe, you need to book a flight to Mexico City International Airport, stop there for 4 hours, and then fly to La Paz.
⭐ What is La Paz Mexico known for?
La Paz Mexico is known for its stroll-worthy Malecon and the Espiritu Santo Islands. Compared to all the destinations in Baja California Sur, La Paz still preserves a strong Mexican culture.
This Mexican city is also blessed to share the Sea of Cortez with Baja California so expect a lot of water activities when you visit La Paz Mexico. It is a destination for outdoor enthusiasts and is a cheaper alternative to Los Cabos.
⁉️ Is La Paz Mexico worth visiting?
ABSOLUTELY! La Paz is definitely one of the best destinations in Baja California Sur although most tourists prefer to visit Los Cabos or Todos Santos.
The type of travelers that visit La Paz are mostly Latinos and Mexicans. Very few tourists choose La Paz which makes it one of the most unique places to visit in Mexico.
⏰ How do I spend my day in La Paz?
You can spend a day in La Paz without actually availing of tours or paying for any activity. Stroll the Malecon, visit the beautiful La Paz beaches, people watch, and explore the cuisine of La Paz.
📅 How many days do you need in La Paz Mexico?
You can easily spend a weekend in La Paz Mexico if you are not doing deep marine activities like diving or whale expeditions. These activities usually require days.
If you are only after knowing the city of La Paz, rent a bike and stroll around for a full-day. This is more than enough to get to know the major landmarks and attractions in La Paz Mexico.
🏆 Best things to do in La Paz Mexico
#1: Visit the La Paz Serpentarium
📍Brecha California, Blvrd Margarita Maza de Juárez s/n
Serpentarium de la Paz is an ecological park that conserves and protects more than 150 species of reptiles, birds, and other rescued animals, such as snakes, turtles, iguanas, lizards, crocodiles, etc.
Visiting this park will help you learn about different animal species, why they are endangered, and how you can help in the conservation effort. It is a great place to take your children as it has areas where they allow interaction with some animals.
#2: Take photos at the La Paz Sign
📍La Paz, Baja California Sur, Mexico
This is La Paz's city landmark sign that is a popular tourist attraction. One of the best and most fun ways to remember your trip to La Paz and let everyone know you've been there is by posing and taking photos at the La Paz sign. For amazing photos, head there during the sunset.
#3: Visit Marina Cortez
📍Marquez de Leon, Topete 2415, Zona Comercial, 23060 La Paz, B.C.S., Mexico
Marina Cortez is a marina with more than 50 slips that accommodate boats cruising the Sea of Cortez. It has a residential area and a commercial center.
It's a good place to have a stroll, enjoy the view of the boats and the sea, eat in restaurants, and check out other businesses in the area.
#4: Kiosco del Malecón
📍Paseo Álvaro Obregón, Zona Central, 23000 La Paz, B.C.S., Mexico
Malecon Kiosk is a tourist wharf on the esplanade of La Paz boardwalk. It was once used for the arrival of small-draft ships. Today, the site is considered an emblem of the city and is used as a venue for festivals and other events.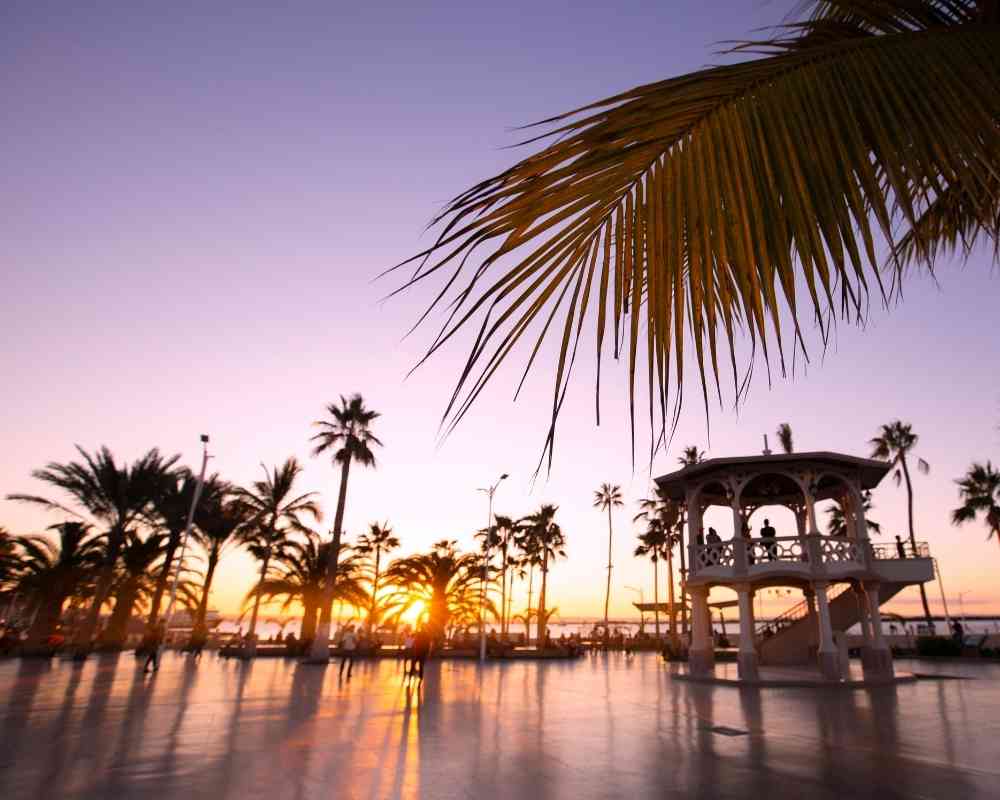 Take a leisurely walk on the beautiful walkway, catch the sunset, dine in one of the restaurants, and check out the large sculptures found on the site.
#5: Stroll through the Malecon
Malecon is a coastal boardwalk lined with beautiful palm trees and numerous multiple contemporary sculptures.
This spot is famous to tourists and locals alike. You may come here to watch the sunset, roller skate, take a leisure walk, check out interesting large sculptures scattered about the area, and enjoy the views.
#6: Cactus Sanctuary La Paz
📍México 1, Baja California Sur, Mexico
The Cactus Sanctuary in La Paz Mexico is a 6-hectare Cactus Sanctuary along San José del Cabo Transpeninsular Highway. It has more than 50 species of cacti and other kinds of fauna, some as old as 500 years.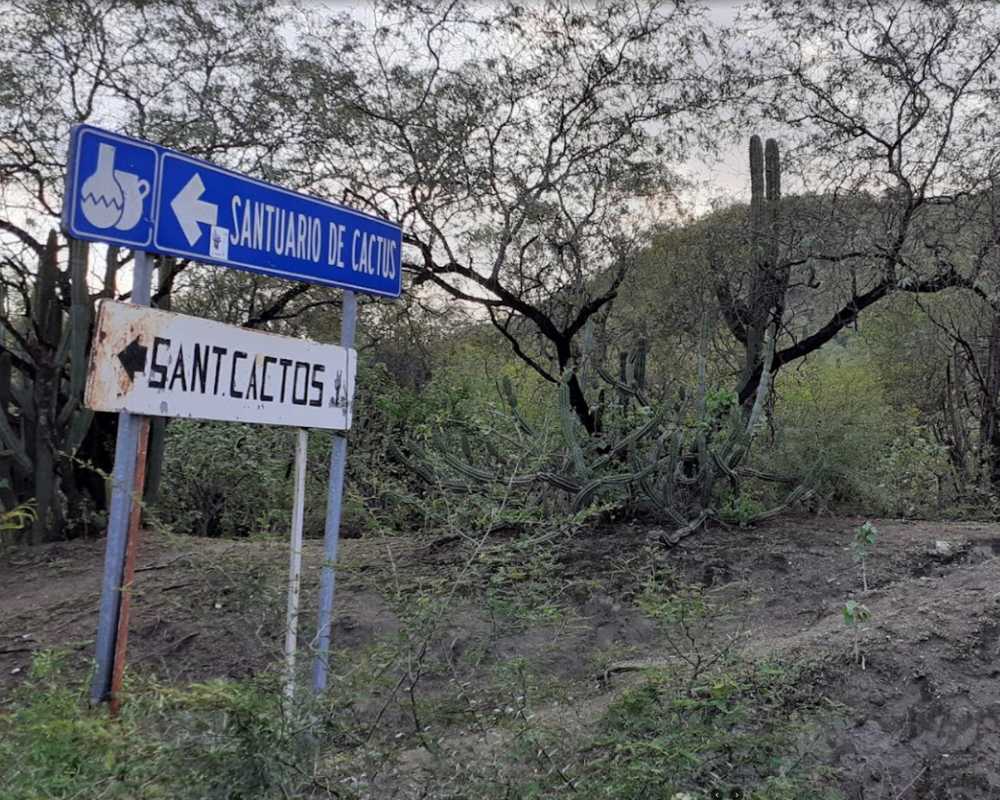 Take a leisurely walk along the trails while gazing at different varieties of cacti. You may also see various animals, such as birds, lizards, and insects all over the fauna.
#7: Visit Nuestra Señora Cathedral
📍Revolución de 1910 S/N, Zona Central, 23000 La Paz, B.C.S., Mexico
Nuestra Señora Cathedral is a Catholic church built in the 19th century. The church was made of quarry with neo-classical architecture.
Stroll around this beautiful cathedral and check out the antique baroque altarpieces and paintings from the missions of Jesuit friars from the 18th century.
#8: Rent a bike in La Paz Mexico
La Paz Mexico is a bike city and there isn't any other city that is super pedestrian-friendly! There are bike lanes in all of La Paz Mexico and this is actually a destination that travelers bring their bikes to.
You don't necessarily have to bring your own bike for an expedition. There are many shops in La Paz where you can rent a bicycle and these are pro bikes.
#9: La Paz street art tour
La Paz Mexico has many arts and murals. This is a city full of massive art on the streets and there is a particular route to do this street art tour, led by locals.
This is a great way to get to know the city of La Paz as this is a walking tour. The guide will explain to you all the history and background of each mural that you will visit.
#10: Spend a day on Espiritu Santo Island
💲 from $140 USD per person
Espiritu Santo Island (Isla Espiritu Santo) is one if not the most popular destination in La Paz found on the Sea of Cortez (Mar de Cortés). It's a cluster of small scenic islands known for beautiful, secluded beaches, impressive rock formations, as well as exciting hiking trails and camping spots.
Espiritu Santo Island has been a UNESCO Heritage Site since 2007. It means the area is protected and remains largely unspoiled, so you will definitely enjoy nature in all its pristine glory.
You will also have a rare opportunity to spot the blue-footed boobies, a unique bird specie known for their blue-colored webbed feet.
#11: La Paz whale watching
💲 from $500 USD per group
Every year, gray whales travel from Alaska to Bering in search of warm waters to give birth. You will have an opportunity to observe these gentle giants en route along the Magdalena Bay (Bahía de Magdalena).
Whale watching is an experience like no other. You can go snorkeling or diving in the area and get the opportunity to interact and touch the whales with the help of your guides.
If you're lucky, there's a possibility you'll see other sea creatures, such as blue whales, humpbacks, fin-back whales, whale sharks, and dolphins.
#12: Visit paradisiac Islands in La Paz
💲 from $315 USD per person
This is a two-day excursion that will take you to some of the most scenic islands of La Paz; ideal for adventurous travelers who want to discover the off-the-beaten side of Baja California Sur.
Discover the islands of San Francisquito, El Pardito, and San Jose. You'll be able to hike, snorkel, paddleboard, kayak, and camp if you take this tour.
#13: Visit the Manglar El Conchalito
Manglar El Conchalito is a mangrove ecosystem in the middle of the city of La Paz. This place is perfect for recreational activities. You can go for a walk or a run, spend some time with your family and friends, enjoy the beautiful scenery, and even go bird-watching.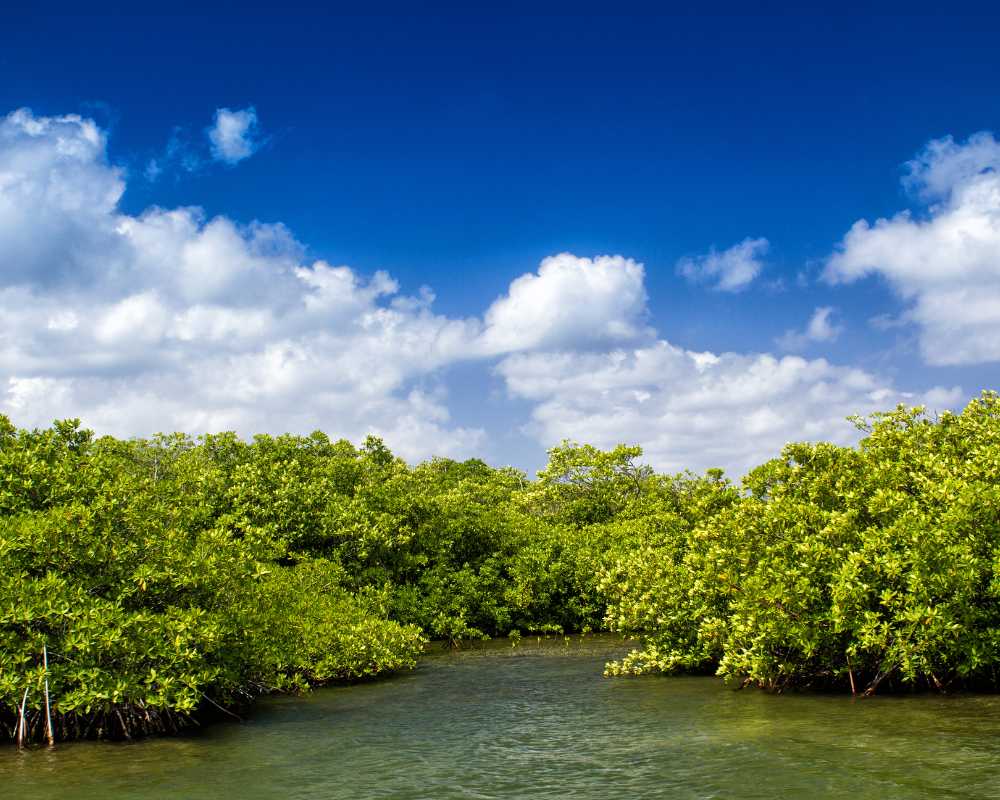 🧭 Local things to do in La Paz Mexico
#14: La Paz Photo Session
This La Paz Photo session will give you a chance to take your photos taken by professionals at some of the most popular attractions in La Paz.
You should book this session if you want better photos during your La Paz vacation. The guide will take you to the best spots in La Paz, including some historical sites, hidden gems, and beautiful beaches, to serve as the perfect backdrop for your photoshoot.
#15: Rent a scooter
Some operators offer scooter rentals to tourists who want to find a convenient way to explore La Paz. If you want to get around La Paz freely, go shopping, and discover more of the city, renting a scooter is one of the best and cheapest ways to do it. The rental fee includes using a scooter, helmet, goggles, and a full gas tank.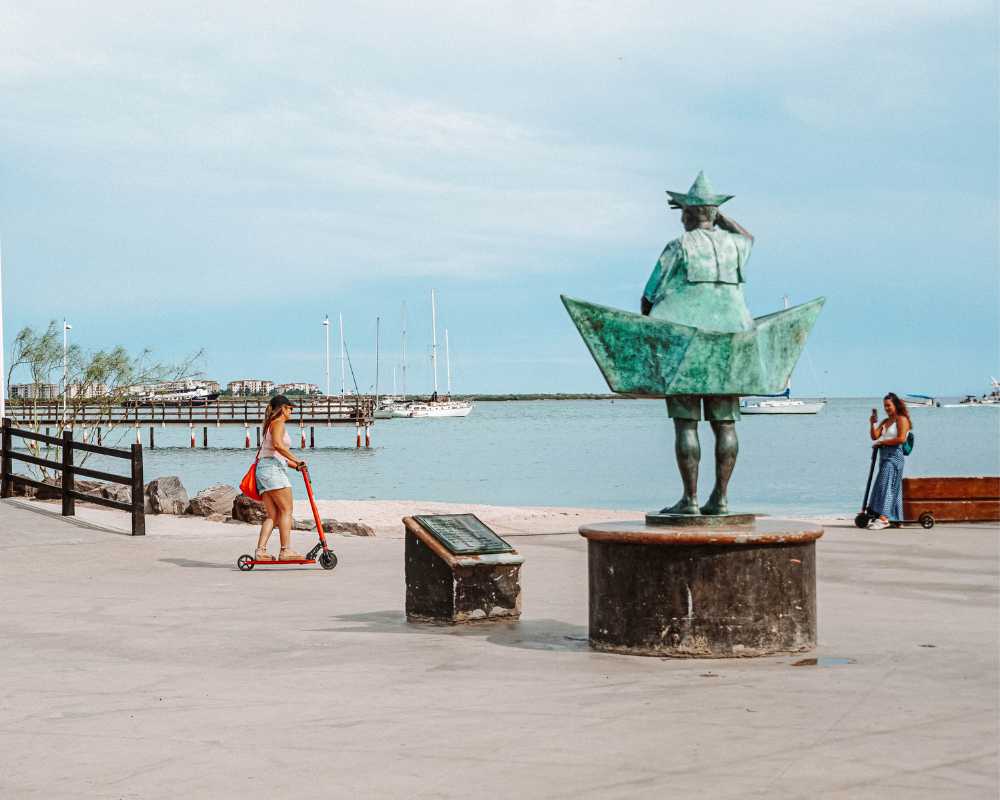 #16: Dine in at Mariscos El Molinito
📍Colina del Sol, 23010 La Paz, Baja California Sur, Mexico
Mariscos El Molinito is a restaurant that serves delectable Mexican, seafood dishes. If you're craving seafood, look no more. Mariscos El Molinito is a popular dining spot on Colina del Sol. Enjoy the splendid view of the sea while filling your tummies.
#17: Go to a mezcaleria
📍 Belisario Domínguez, Zona Central
A mezcaleria is a place where you can try different mezcal and eat finger food. Our favorite mezcaleria in La Paz Mexico is called La Miserable.
La Miserable is a local hangout with great music (on weekends), finger food, and of course, mezcal! You can even come here alone and make some friends – we are so fond of the bartenders and waiters here!
#18: Docecuarenta Cafe: digital nomad hang out
DoceCuarenta Cafe is one of the best bakeries in La Paz Mexico that serves good coffee. The space is also fit for digital nomads with lots of outlets, plugs, and tables to work on.
La Paz is becoming a digital nomad destination and this is probably the only cafe that has a layout for remote workers. Even if your purpose is not to work, just come here for brunch – their coffee and food are the best in La Paz!
#19: La Paz Farmer's Market every Tuesday
📍 Constitución 224-120, Zona Central
The La Paz Farmer's Market happens every Tuesday from 8:00 AM – 2:00 PM (during the winter season).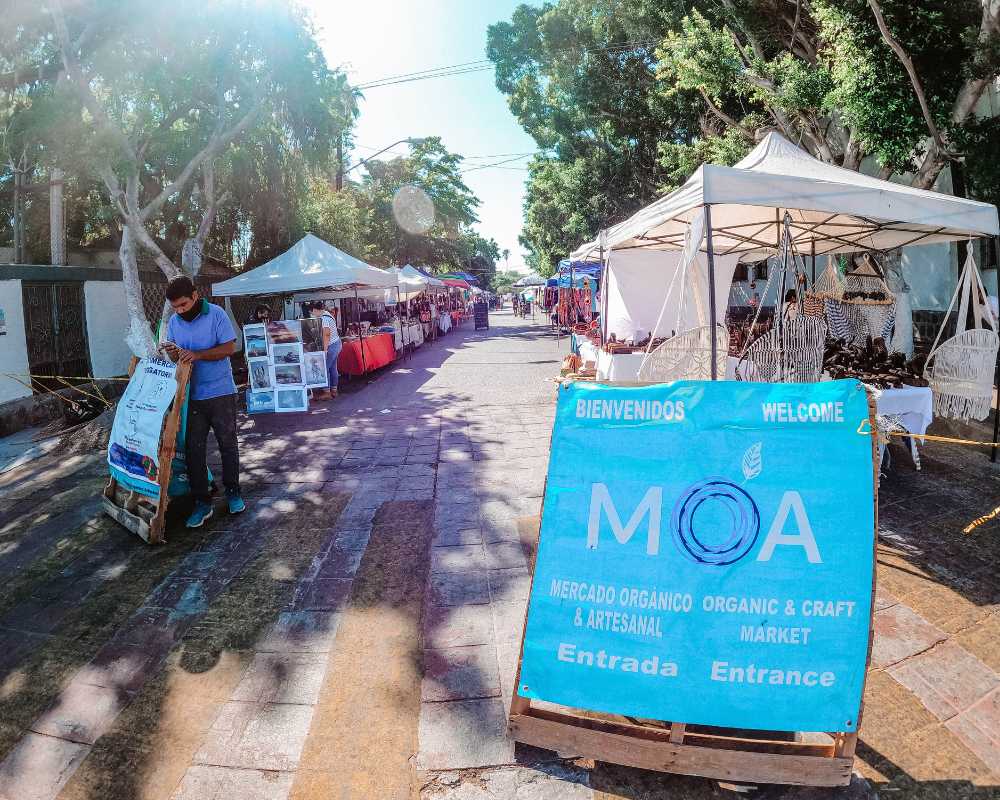 This is a local and expat's favorite as you can buy organically (and sustainably) sourced vegetables and fruits from real farmers in the area.
You won't really cook for your vacation in La Paz Mexico but if you want to try some good street food, local cheese, Mexican snacks, there are many food stalls here every Tuesday!
#20: Local hangout: Mucho Gusto
Mucho Gusto is another mezcaleria in La Paz Mexico that is frequented by locals. It is located in an alley by the Malecon and you won't really notice this place unless you know someone who lives in La Paz.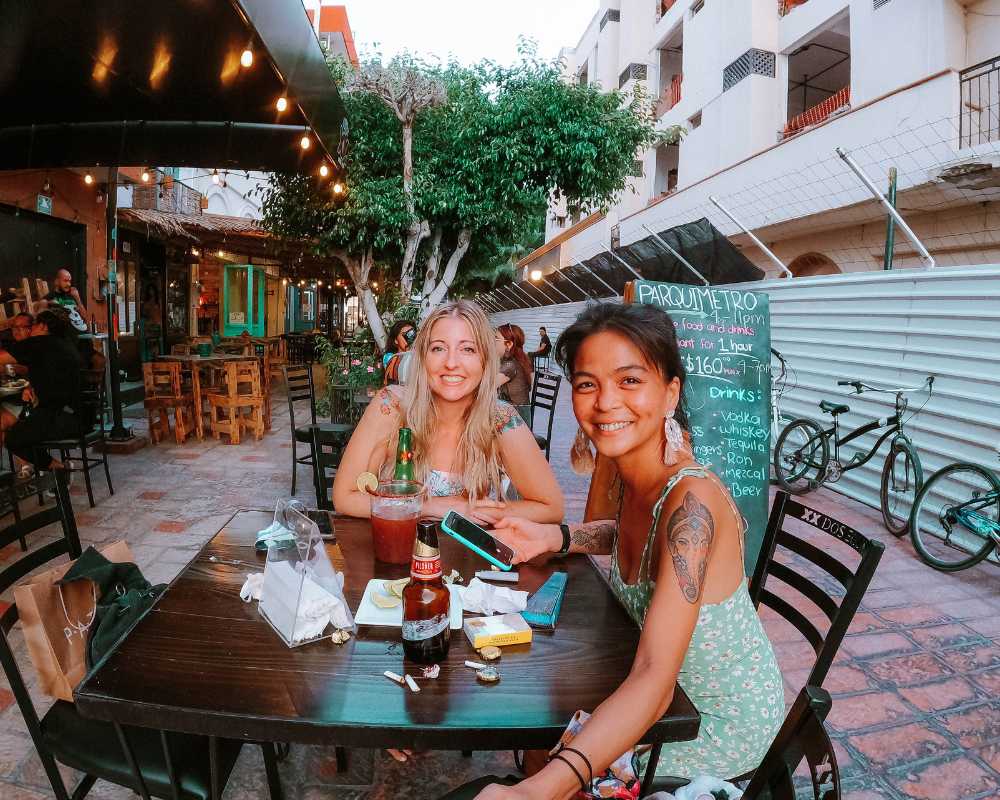 La Paz is not big on nightlife but whenever you feel like having a drink or two, you can go to Mucho Gusto by yourself – everyone is super friendly and you will meet a lot of friends here!
💨 Rent a car in La Paz Mexico
Get a rental car in La Paz Mexico for as low as $35 USD per day. Check out 👉🏽 Discover Cars La Paz for the best deals!
⛪ Cultural things to do in La Paz Mexico
#22: Visit Baja California Sur Regional Museum
📍Calle Ignacio Altamirano s/n, Zona Central, 23000 La Paz, B.C.S., Mexico
The Baja California Sur Regional Museum is an anthropology museum established in 1981. Check out the museum's great collection of fossils and other archaeological objects that date back to 40 thousand years, and learn about the history and evolution of Las Palmas culture.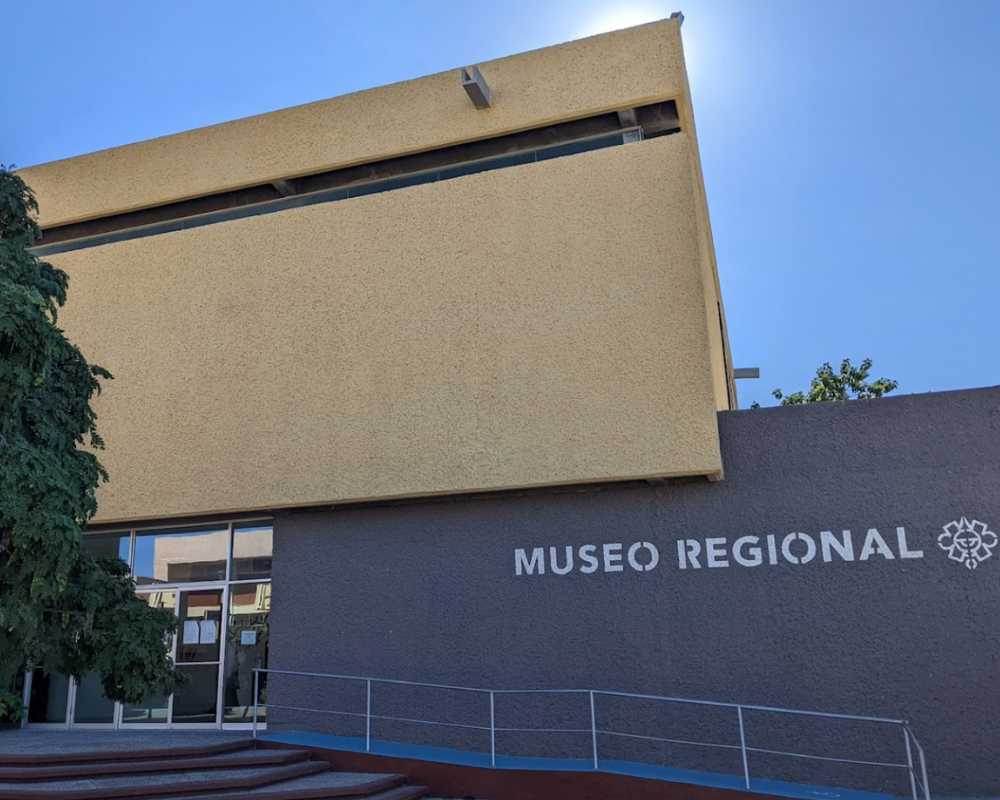 #23: Visit the Whale Museum
📍Antonio Navarro & Calle Ignacio Altamirano, Zona Central, 23000 La Paz, B.C.S., Mexico
The Whale Museum (Museo de la Ballena) is an educational and cultural institution that supports research and preservation of cetaceans. It is founded the Baja California Sur Whaling Museum, Civil Association, built in 1995.
Learn about the theory of the evolution of whales, their classification, hunting history, feeding and distribution, and mating, and see actual whale bones in person.
You will also learn about other sea animals, such as sea lions, turtles, dolphins, and sharks, among others when you visit this museum.
#24: Museo de Arte de Baja California Sur
Cl. 5 de Mayo SN-S"BANCO VITAL", Zona Central, 23000 La Paz, B.C.S., Mexico
The Museum of Art of Baja California SUR (MUABCS) is an art museum with a collection of contemporary and traditional artwork such as photography, paintings, and murals. ​​
If you like or appreciate art, you shouldn't miss this museum. The staff can speak in English and are eager to help visitors. You can also have some drinks and food in their in-house cafe and buy souvenirs from their shops.
#25: Check out the Sea Paradise Sculpture
📍23000, Paseo Álvaro Obregón 670, Zona Comercial, La Paz, B.C.S., Mexico
Sea Paradise Sculpture (Escultura Paraíso del Mar) is a sculpture by Mexican artist, Octavio Gonzales Gutierrez. The huge dolphin and mermaid art piece can be seen along Paseo Alvaro Obregon in La Paz Mexico.
The Escultura Paraíso del Mar is a popular landmark in La Paz that perfectly captures the spirit of the seaside town. Take the opportunity to check out and take a photo with this work of art.
🏖️ La Paz beach activities
#26: Paddleboard and Snorkel on Saltito Beach
💲 from $100 USD per person
El Saltito Beach is a quiet and obscure beach in La Paz. The tour will begin with a road trip and a photo shoot of the sea and the fauna. You will then head over to Saltito beach by paddleboarding. The rest of the day you can spend swimming or snorkeling.
#27: Hang out at El Tecolote Beach
📍23000 La Paz, Baja California Sur, Mexico
El Tecolote is a long sandy beach on the north of the Bay of Bahia Puerto Balandra. The beach is surrounded by hotels and resorts and other establishments.
Enjoy this family-friendly beach where you can go swimming, snorkeling, bird-watching, or spend the day enjoying the beautiful sea view. You may rent umbrellas and chairs from nearby restaurants or hotels and eat at different restaurants and cafes.
#28: Punta Arena de La Ventana
📍Cueva de León, Baja California Sur, Mexico
Punta Arena de La Ventana is a point in Baja California Sur with a beautiful, unspoiled beach and a lighthouse. Enjoy frolicking in the sand, swimming on the beach, snorkeling, or camping in this secluded spot.
#29: Ensenada Grande Beach
📍Golfo de California, 23010 La Paz, B.C.S., Mexico
Ensenada Grande is a lovely stretch of beach on Partida Island. The place is untouched and can only be reached by boat.
If you want to enjoy a quiet beach with incredibly clear and calm waters, this is the place for you. You can go swimming and snorkeling here or spend time appreciating the peace and quiet in beautiful surroundings.
#30: El Coromuel Beach
📍Carr Escénica 38, 23019 B.C.S., Mexico
Playa Coromuel is a popular beach among the locals of La Paz because of its proximity to the city. It earned the Blue Flag Badge, a prestigious award given by the Foundation for Environmental Education (FEE) to the best beaches, marinas, and sustainable boating tourism operators in the world.
The place is developed and has facilities for the convenience of visitors. There are free parking, bathrooms, restaurants, and palapas (open-sided dwellings with roofs made of dried palm leaves). You will enjoy hanging out on this beach alone or with your friends and loved ones.
#31: Hang out at El Mogote Beach
📍La Paz, Baja California Sur, Mexico
El Mogote is a sand-barrier peninsula about 40 minutes away from La Paz city. It has clusters of mangroves and dunes.
You will have a great time with your family or friends at El Mogote, as it's an ideal spot for swimming, sunbathing, and even fishing. If you visit when it's low tides, you may even get to experience shellfishing.
#32: Visit El Tesoro Beach
📍Calle, Bahía Pichilingue Km 7.5, Lomas de Palmira, 23010 La Paz, B.C.S., Mexico
Playa El Tesoro (Treasure Beach) is about a kilometer away from the Pichilingue port. This beach has crystal clear, shallow water and fine sand.
You may enjoy your time with your family on this beach doing fun activities, such as kayaking, beach bumming, swimming, and eating at restaurants.
🏄‍♀️ Adventure La Paz things to do
#33: Go hiking on Cerro de la Calavera
📍La Paz, Baja California Sur, Mexico
Cerro de la Calavera, also known as Mount Calavera, is an ancient plug dome volcano at about 513 ft (156 m). It is said that it last erupted 22 million years ago.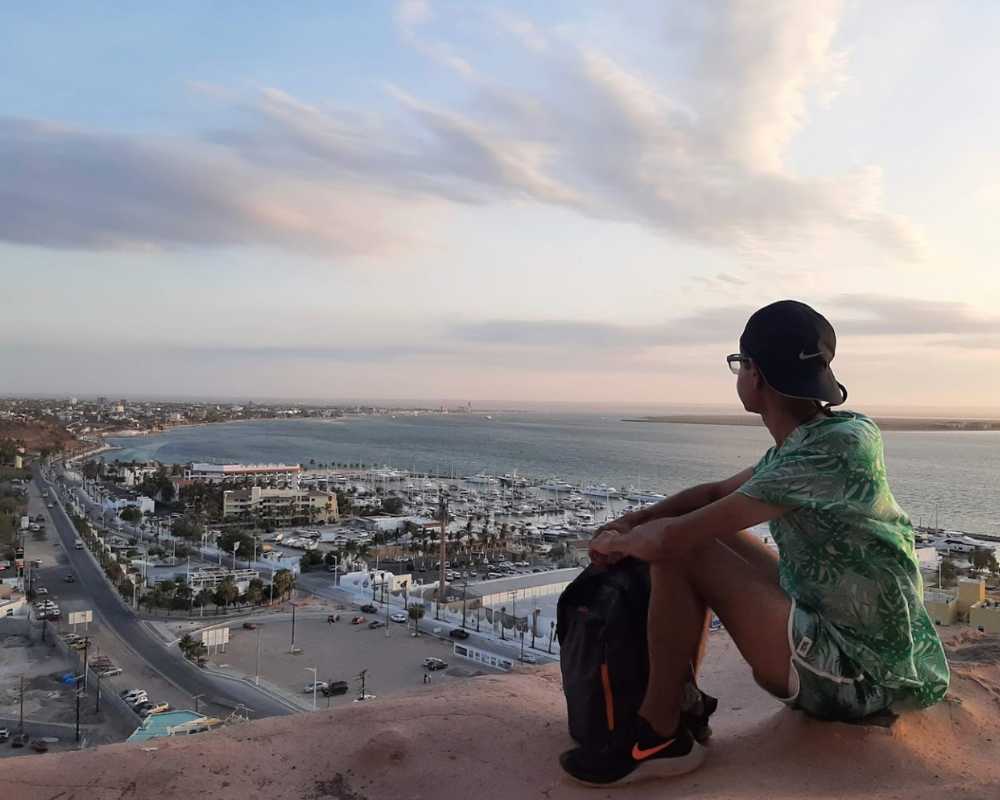 It's one of the three volcanic plugs in Southern California and is located within the Lake Calavera Preserve. You may go hiking at Cerro de la Calavera and enjoy the spectacular views of the gulf and the azure sea from the top.
#34: Early morning hike to Balandra beach
If you didn't make it to Balandra Beach itself because of limited capacity, there is a trail in La Paz Mexico where you will see the whole Balandra Beach and the cove!
This hike is easy and is best to do during sunrise. The path is not that rocky or dusty but you still need to wear shoes. At the top, you will see breathtaking views of Balandra Beach and the whole of La Paz Bay.
#35: Check out Sierra de La Laguna Biosphere Reserve
📍Cabeza Blanca, 23300 Todos Santos, Baja California Sur, Mexico
Sierra de La Laguna Biosphere Reserve is the only forest in Baja California Sur where you can find pine and oak forests, diverse plant species, and semi-desert zones.
If you are into outdoor sports and activities, then you are bound to have a great time at the reserve. Some of the best adventures to do in this area are hiking, horseback riding, biking, rock climbing, riding ATVs, and canyoneering.
🚘 Day trips from La Paz Mexico
#36: Day Trip to Los Cabos from La Paz
💲 from $97 USD per person
Los Cabos is a municipality in Baja California Sur, Mexico. It includes the towns of Cabo San Lucas and San José del Cabo, connected by a 32-kilometer Resort Corridor of beach-front properties and golf courses.
Meet a small group of fellow travelers and together, you will discover the beautiful municipality of Los Cabos from La Paz on this day trip. You will be able to visit Hotel California in Todos Santos, the historic center of San José del Cabo, the Cape Arch, and El Chileno Beach.
#37: Visit Baja Sur mining towns
💲 from $321 USD per group
Baja Sur used to have mining towns founded by Gaspar Pisón in 1756. Today, the place is one of the best-preserved 19th and 20th-century mining communities in North America.
Get a dose of history when you visit the forgotten mining towns of Baja Sur. You will be taken to El Triunfo, where gold and silver used to come aplenty, and Los Barriles, a fishing village in Las Palmas Bay.
#38: 7-Day Journey to the Sea of Cortez
This is a 7-day cruising adventure through the Sea of Cortez.
If you want to enjoy the Sea of Cortez to the fullest, you should join this cruise. The tour is packed with fun activities such as swimming, snorkeling, birdwatching, visiting mangroves, a chance for wildlife encounters, and even land adventures.
✈️ Ready for your trip to La Paz Mexico? If you need more information about the best things to do in La Paz Mexico, we'd be happy to update this post – – just leave your questions in the comment box below or join our communities where we answer questions for FREE.
Trisha traveled to Mexico in 2018 and after a year, she found herself obtaining a 4-year residency visa in Mexico. She is the Editor-in-chief for our Living in Mexico Series which has helped over 3,000 Americans move to Mexico with ease. Trisha currently resides in Cabo San Lucas, Baja California Sur.