Here's a list of the best Cancun excursions curated by our travel experts in Cancun. We also customize excursions in Cancun, so please get in touch with us! For now, read on and find which excursion suits your trip to Cancun.
📧 Hi Mexico Insider! We are a family of 6 from San Diego, California and we want to see if you can suggest some Cancun excursions that suits all ages? We will be staying in Cancun for 5 days and want to see what kinds of activities we can do. Many thanks for your blog! We look forward to traveling with you guys in Mexico!

Tatiana Hernandez, United States
Hola Tatiana, welcome to Mexico!
We are glad you decided to visit Cancun for your vacation. There are many excursions in Cancun and most of them fit families! Just watch out for those excursions that say "adults-only" so you'd know if your kids are allowed to go or not.
Other things to note when booking Cancun excursions: you can choose group excursions if you want to meet people or opt for a private one if you want your tours to be exclusive to your family.
In this article, we put together all the best Cancun excursions for you to choose from and we can also customize/add activities that are not in this post – just let us know and we will design your trip!
Have a great vacation, and we hope to travel with you to other parts of Mexico!
🧐 Questions about excursions in Cancun? Ask us on Tiktok.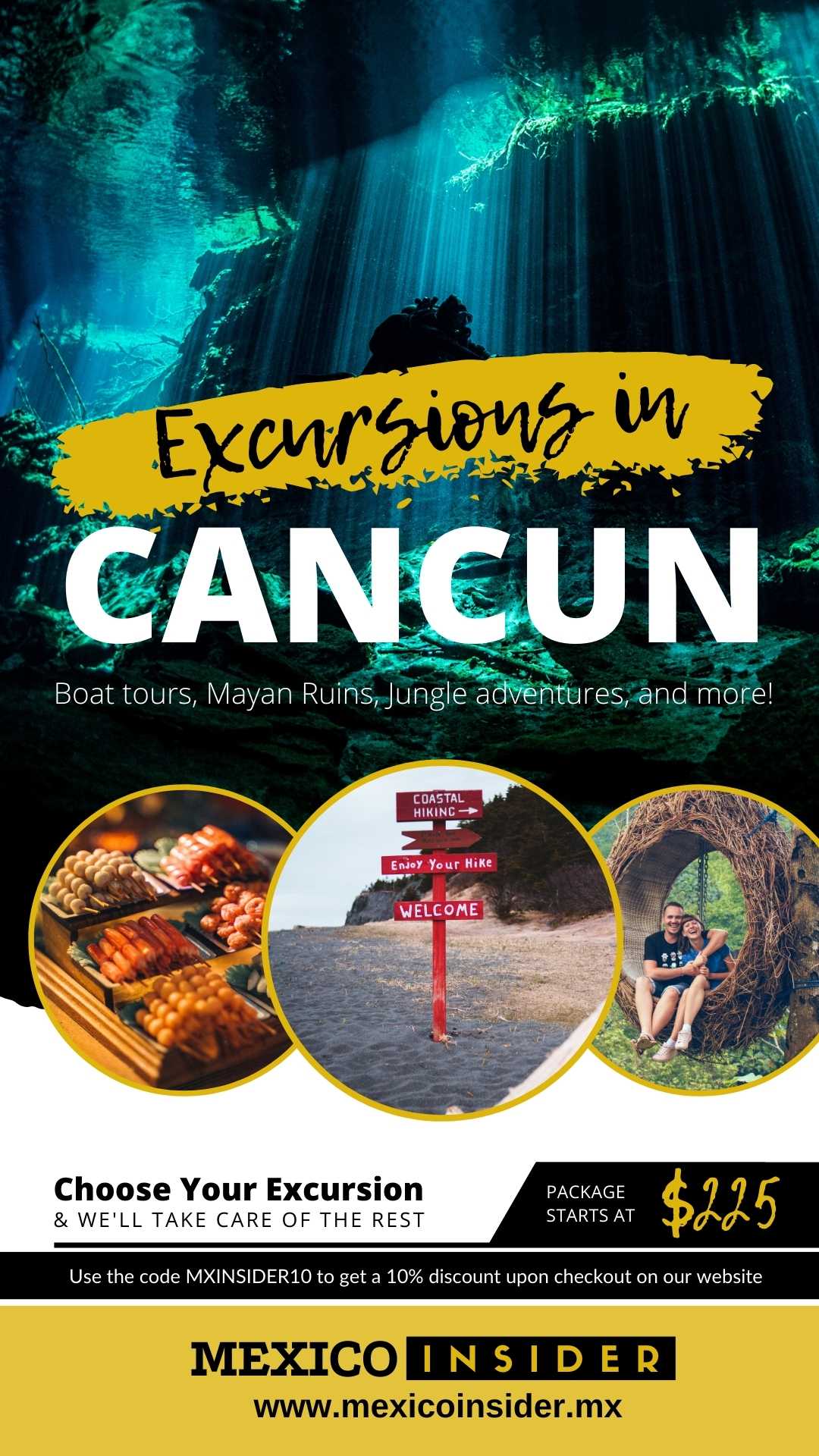 🔗 Cancun excursions: quick links
⛵ What kind of excursions are there in Cancun Mexico?
Cancun is a popular tourist destination with a wide range of exciting excursions and activities to suit any traveler's interests. You can do a Mayan ruins excursions from Cancun.
Cancun is located near several ancient Mayan ruins, such as Chichen Itza, Tulum, and Coba. These ruins offer a fascinating glimpse into the history and culture of the Mayan civilization.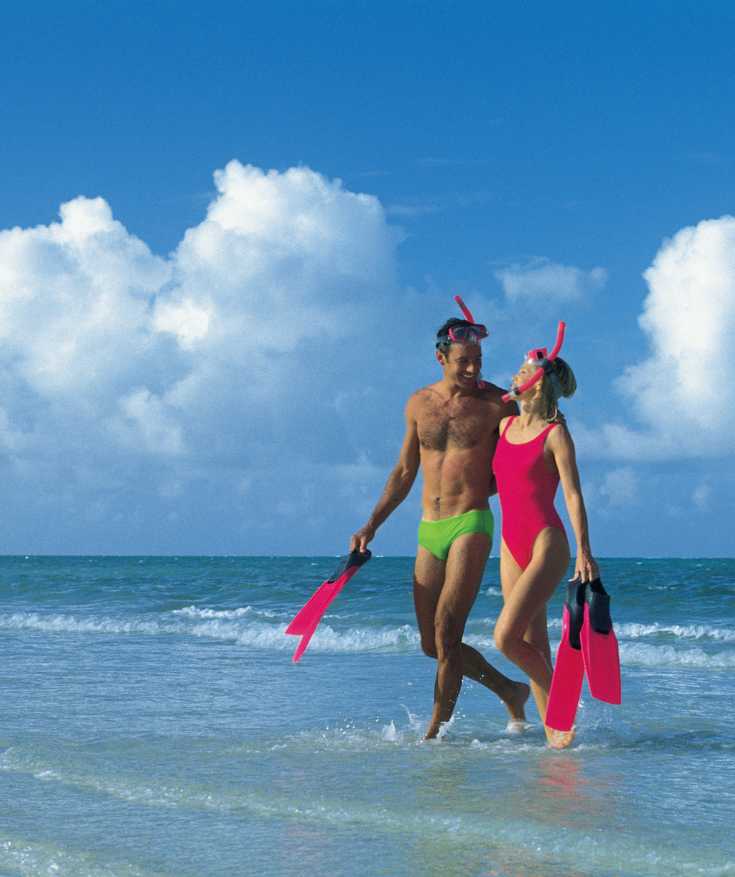 Cancun has some of the best snorkeling and diving spots in the world. You can explore the beautiful underwater world of the Mesoamerican Reef, which is home to various marine life, including colorful fish, sea turtles, and coral reefs.
It is also located in the jungle so you can explore the lush jungles of Cancun through zip-line tours, hiking, or ATV tours. You'll get to see the region's exotic wildlife and tropical plants up close.
There are many categories for Cancun excursions so read on our best recommendations in this article.
📅 Is it better to book Cancun excursions in advance?
It is generally recommended to book Cancun excursions in advance, especially if you have specific activities or tours that you want to do during your trip.
Some of Cancun's most popular excursions and activities, such as visiting the Mayan ruins or swimming with dolphins, can have limited availability, especially during peak tourist seasons.
Booking in advance can often help you find better deals and discounts on tours and activities. Many tour companies and excursion providers offer early booking discounts, which can help you save money on your trip.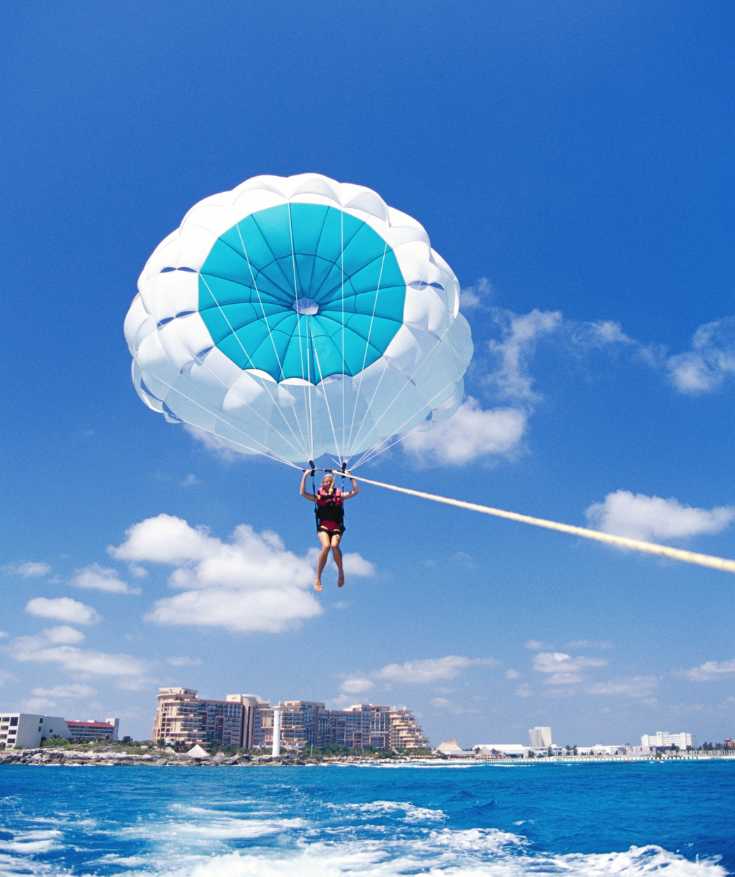 Advanced booking also lets you plan your itinerary better and ensure you have time to do all the activities you want to do during your trip. You can also provide enough time to relax and enjoy your vacation without feeling rushed or stressed.
Knowing that your excursions are booked and confirmed in advance can give you peace of mind and help you avoid last-minute stress and hassle. You can relax and enjoy your trip, knowing everything is handled.
We customize Cancun excursions based on your liking so again, feel free to get in touch and let's talk about your dream trip to Cancun!
🧭 Best Cancun excursions
1. Touring Ancient History: All-inclusive Trips to Mayan Sites
⏰ 12 hours
💲 from $59 USD
This all-inclusive full-day tour will take you to explore three of the most impressive Mayan archaeological sites: Chichen Itza, Cenote, and Valladolid.
During your tour, you will discover firsthand how the ancient Maya site Chichen Itza was preserved and, simultaneously, see the incredible architecture in Valladolid.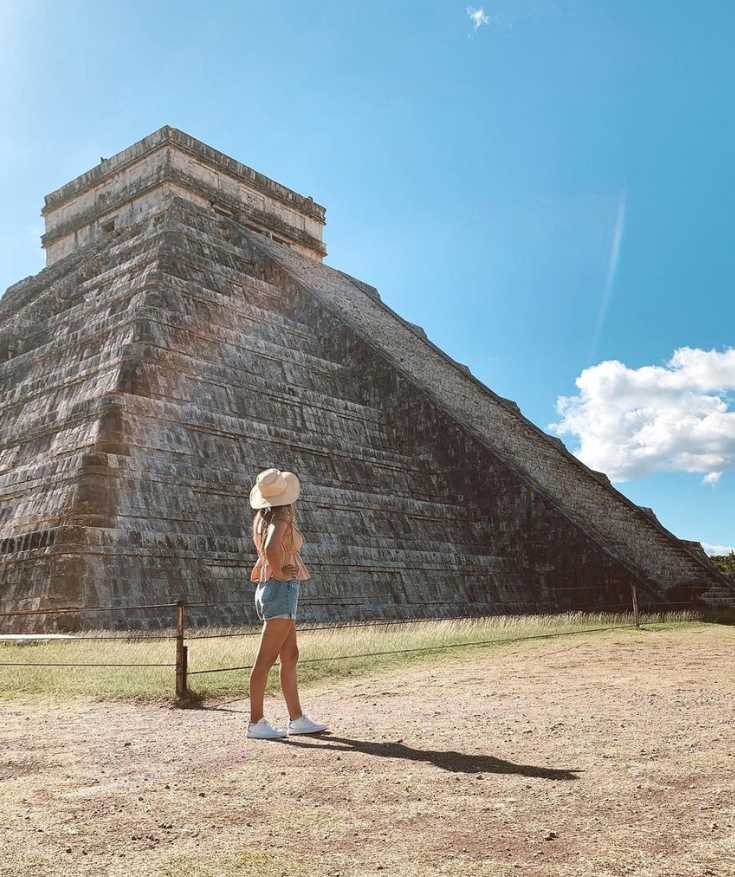 After spending the day touring, refresh yourself in the waters of the cenotes in Saamal and cap it off with a buffet meal.
In this tour, hotel pick-up and drop-off are already provided (from Cancun, Playa del Carmen, and Riviera Maya).
2. Explore Mesmerizing Subterranean Wonders in Tulum
⏰ 9 to 10 hours
💲 from $29 USD
Another great Cancun excursion is a day trip to visit the best Tulum cenotes. Here you will explore two most popular destinations, the Tulum Archaeological Site and Cenote Chen Ha and Mariposa from Cancun.
This guided tour gives visitors a comprehensive overview of the ruins of Tulum, its history, and the stories around it.
You'll also have plenty of time to snap pictures, take incredible views, and learn about the local customs behind these historic sites.
After touring around Tulum Ruins, you'll be treated to a refreshing time as you visit the Cenote Chen Ha and Mariposa. You can laze around upon arrival and relax on your own before heading back to your hotel.
3. Explore Tulum Ruins and Crystal Caves of Rio Secreto River Tour
⏰ 3 to 8 hours
💲 from $92 USD
Get to explore the Rio Secreto Nature Reserve outside of Cancun in this Secreto Underground River Tour with Crystal Caves tour.
You will be taken to see spectacular underground caves and get to swim and wade in them. There will be a network of underground rivers and crystal formations that you can explore in the park.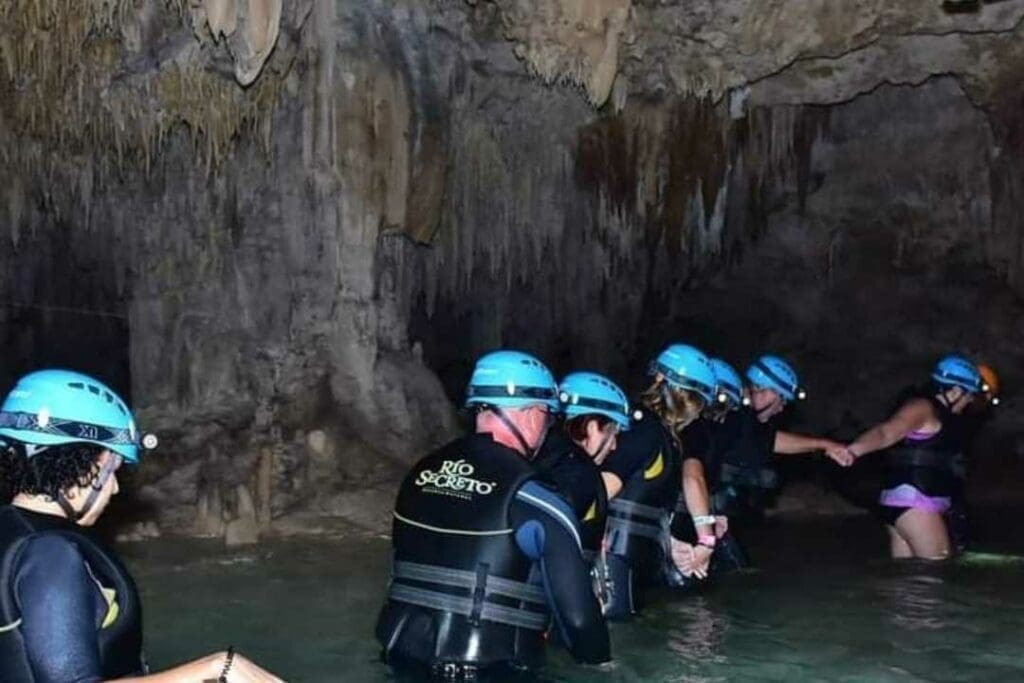 And with experienced guides joining you, you will also be able to spot various fascinating wildlife living within the ecosystem.
This will be a day tour from Cancun to Riviera Maya National Park, so you will travel for a few hours before you meet your guide at the Rio.
But, you also have the option to upgrade for a door-to-door pick up for a less hassle visit.
4. Swim with Turtles, Reef, Musa, Shipwreck and Cenote
⏰ 3 hours and 30 minutes
💲 from $70 USD
This 5-in-1 Cancun Snorkeling Tour is the perfect way to experience Cancun's incredible underwater world. Not only is this for adults, but it is also kid-friendly, ideal for first-time snorkelers and swimmers.
During this snorkeling tour, you'll explore five of Cancun's best snorkeling locations. First off, you'll board a boat to your first stop, where you will snorkel on a coral reef full of fish and marine life in an 8 to 12 feet depth.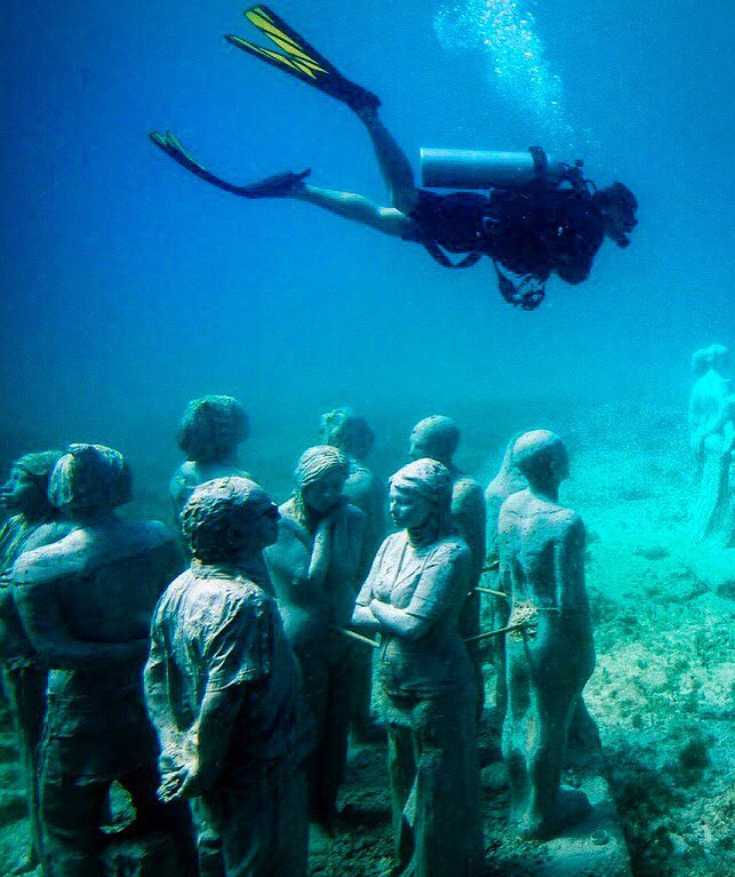 Next, you'll head to an area to see statues from 2 MUSA underwater art galleries, the Blessings and Vestiges. In your third area, you'll experience swimming with turtles and, if lucky, maybe see some rays along the way.
You will then explore an area of shipwrecks for your fourth stop and cap off your tour by swimming and diving in a natural turquoise pool – a cenote!
5. Puerto Morelos catamaran secret sandbar sail with lunch and drinks
⏰ 4 hours
💲 from $85 USD
On this 4-hour tour, you'll get the chance to experience sailing through the Caribbean waters of the Puerto Morelos lagoon on board a luxurious catamaran.
The tour starts with checking in at Marina La Bonita and boarding the Catamaran Adelita. The catamaran then takes you sailing in Puerto Morelos National Park, leading you to a secret sandbar.
There, you'll have the chance to jump into the crystal-clear water, swim or snorkel, and participate in various activities such as snorkeling, kayaking, swimming, and paddle boarding.
On board, you'll be treated to a delicious meal included with your tour ticket before returning to port.
6. Tulum day trip Mayan Ruins with cenote swim
⏰ 8 hours
💲 from $29 USD
Cancun offers a wealth of things to do for visitors of all ages and interests. And one of the best ways to enjoy Cancun is with a Tulum Day-Trip Mayan Ruins With Cenote Swim.
The full-day excursion will first take you to Tulum's archaeological ruins. Located on the Caribbean coastline, Tulum was one of the last cities that was built by the Mayans before they abandoned their civilization in 1550 AD.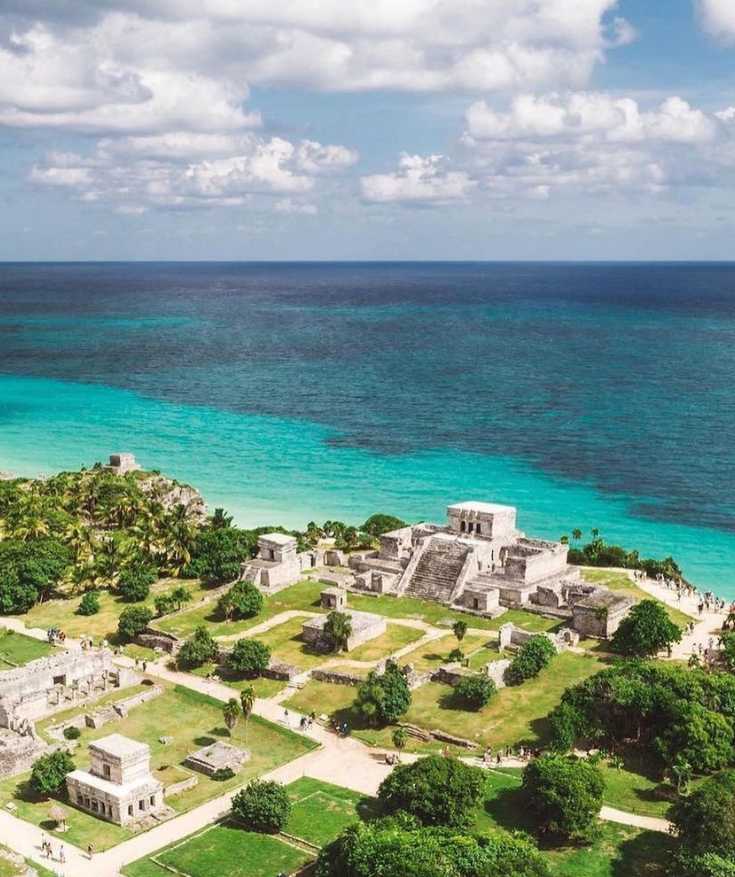 After exploring the ruins, you will be taken to the Cenotes Casa Tortuga Tulum. Here, you can swim, snorkel, or relax by the cenote while surrounded by the Yucatan Peninsula's natural beauty.
The tour is also led by knowledgeable and friendly guides who will make the experience fun and informative. They'll share interesting facts and stories about the Mayan civilization and the region's natural wonders, making the trip even more enjoyable.
7. Hidden Cenote Swim, Snorkeling With Sea Turtles and Beachside Lunch
⏰ 4 hours and 30 minutes
💲 from $149 USD
The Hidden Cenote Swim, Snorkeling with Sea Turtles tour in Cancun, is an experience that combines adventure and relaxation. The tour takes you to the hidden gems of Tulum, where you can swim in a pristine cenote, snorkel with sea turtles and enjoy a delicious lunch on a beautiful beach.
On this tour, you will be guided to float through caverns and rock formations together with the waters of an ancient cenote.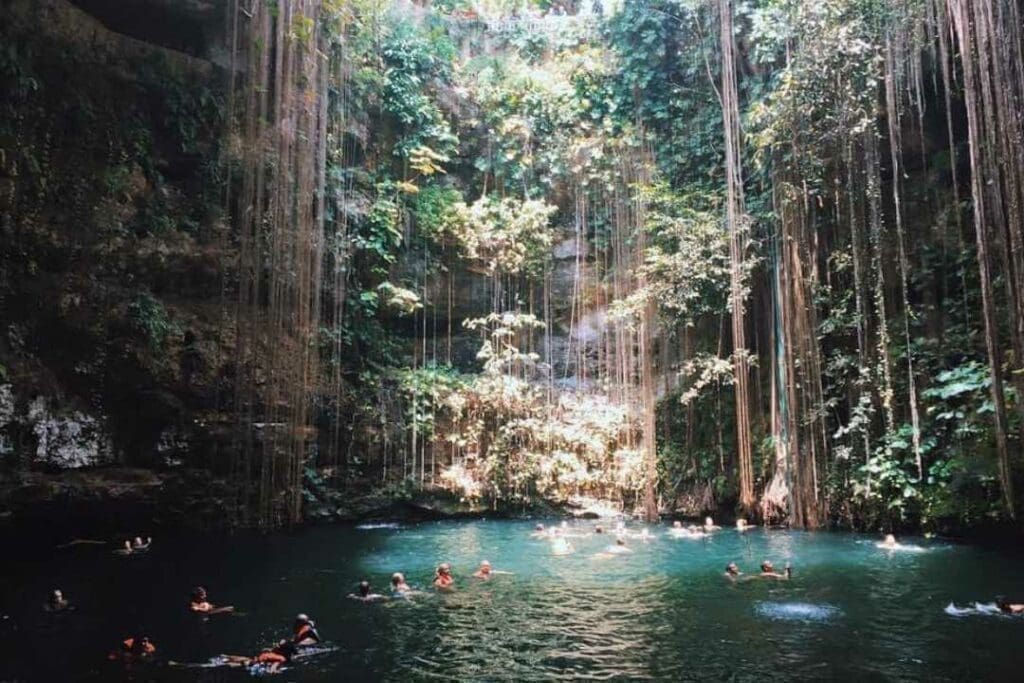 Afterward, you'll enjoy seeing the picturesque Akumal Beach, where you can snorkel with sea turtles. An informative guide will join you to help you discover the home of turtles and the underwater world.
In addition to exploring cenotes and Akumal Beach, you will also have the opportunity to visit Punta Venado Beach Club. In this exclusive beach hideaway, you will enjoy a beach lunch and some time to relax.
8. 3-in-1 Street Food Tour
⏰ 3 hours and 30 minutes
💲 from $75 USD
Suppose you're looking for an immersive experience to taste authentic Mexican street food, explore a local market, and admire colorful murals in Cancun. In that case, the 3-in-1 Street Food Tour is a great option.
On this tour, guests can explore some of Cancun's most typical food spots and experience the authentic culture that makes up this vibrant city.
The tour begins with a pick-up from your hotel in Cancun with guided transportation. From there, you will be driven directly to Mercado 23 and then visit different food stalls to sample typical Mexican street food.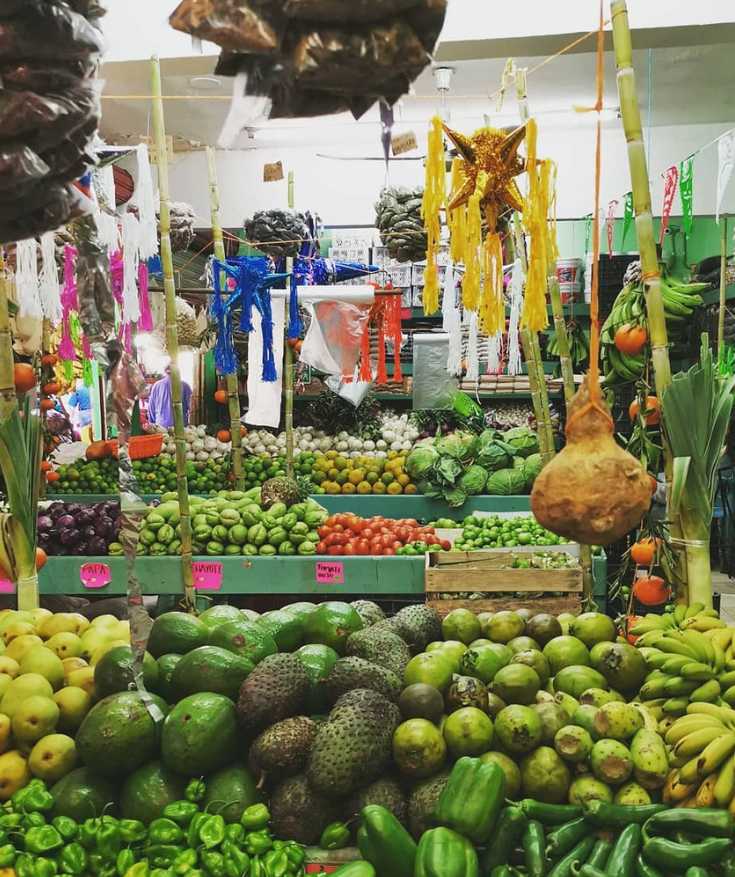 In each food stall, you'll get to try traditional tacos, tamales, tacos al pastor or quesadillas de chicharrón, and other delicious dishes unique to Mexico. To make it more immersive, the tour guide will explain the history and culture behind each dish.
Moreover, you will also learn about traditional cooking techniques as you watch a local chef prepare dishes like pozole or tamales for lunch.
After the food tour, you will see some of the most beautiful murals in Cancun and admire the vibrant colors and intricate designs that tell the stories of the local community.
9. Private Customizable Sailing Tour in Cancun
⏰ 4 hours to 8 hours
💲 from $550 USD
Get to customize a private sailing tour in Cancun as you get aboard the luxury Bavaria boat. This sailing tour takes travelers around the bay of Cancun and Isla Mujeres for a day to relax on the water or maybe go deep-sea fishing.
You can customize your itinerary based on your liking during the private tour. It begins with a pickup from your hotel and a drive to the marina, where you will board the boat.
Once onboard, you can sit back and enjoy being on the open waters of Cancun Bay. Once you stop off at Isla Mujeres, you can enjoy activities like swimming and snorkeling.
You can also explore the whole island and reserve a delicious Mexican lunch to complete the experience.
10. Riviera Maya Luxury Catamaran and Snorkeling
⏰ 4 hours
💲 from $129 USD
This Luxury Sailing and Snorkeling in Riviera Maya tour allows you to explore the beauty of the Mexican Caribbean through sailing, snorkeling, and sightseeing.
This full-day experience offers plenty of things to do, including swimming in an underground cave and observing exotic fish.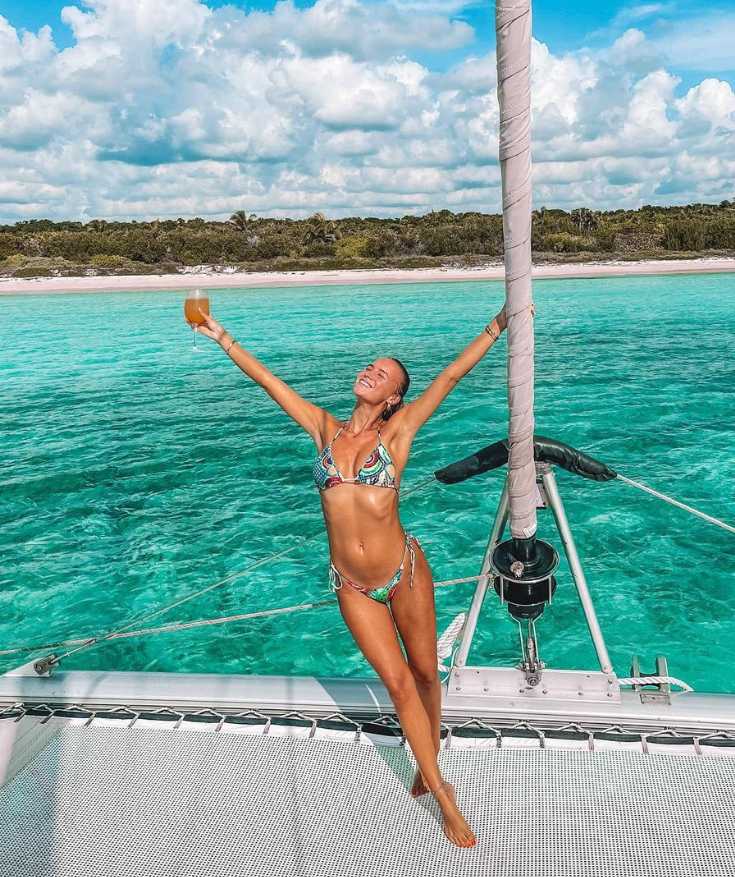 You will set off on a half-day catamaran sailing adventure from Playa del Carmen and enjoy a cruise along the Riviera Maya coastline to the Inah Reef. There you can enjoy paddleboarding or other sports activities.
Inah Reef is known to be the best location for snorkeling. You will discover coral formations and schools of fish, and other sea life there.
After a scenic boat ride and an adventure underwater, you will be served a gourmet lunch aboard and, at the same time, enjoy an open bar exclusive to guests.
11. Xcaret, Xel-Ha, Xplor and Chichen Itzá
⏰ 6 to 12 hours
💲 from $246 USD
With the Cancun Combo Tour, you can experience exploring ancient ruins, swimming in cenotes, visiting incredible wildlife parks, shopping for souvenirs, and more in one day.
This tour takes you to the best attractions around Cancun, including Xcaret, Xel-Ha, Xplor, and Chichen Itza.
Xcaret is an adventure filled with history, culture, and nature. Here you can discover underwater rivers and caves, journey through time at the Mayan Village, or explore natural coral reefs and animal sanctuaries.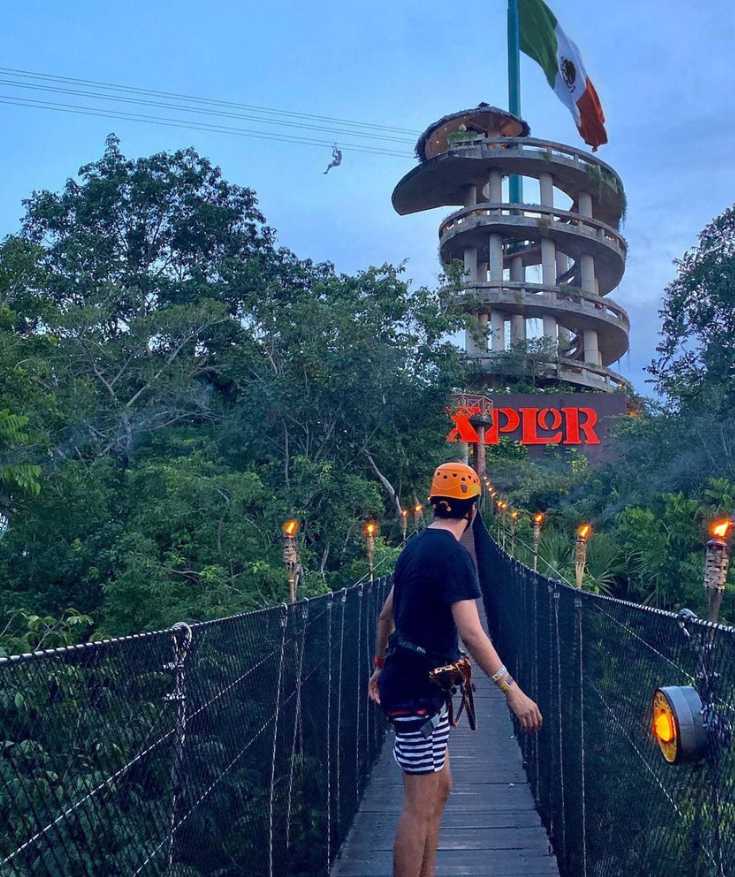 Meanwhile, Xel-Ha is an eco-park with lagoons, rivers, caves, and natural swimming pools connected by underground rivers. You can swim with dolphins, zip lines, snorkel, or even bike around the park.
Another location to visit is Xplor. It is an adventure park where you can drive amphibious vehicles over underground rivers or enjoy zip-lining high above the ground.
The final destination will be the Chichen Itza archaeological site, considered one of the most important Mayan sites. It is home to temples like El Castillo (the pyramid) and a large arena used for sacred ceremonies.
12. Cancun excursions to Las Coloradas & Rio Lagartos
⏰ 12 hours
💲 from $118 USD
Enjoy a full day of adventure as you go on an excursion from Cancun to Las Coloradas and Rio Lagartos.
Las Coloradas is one of the unique areas in all of Mexico. There you will have the chance to experience an array of stunning beaches and lush jungle scenery while learning about local history and culture from their knowledgeable guide.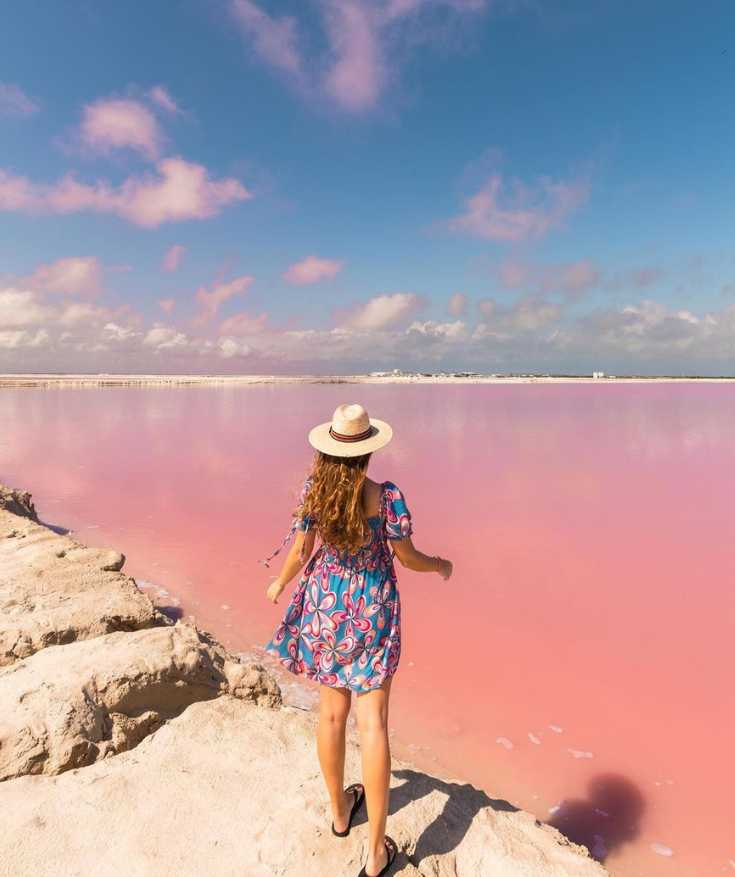 The tour begins with a convenient Cancun or Playa del Carmen pick-up. On arrival, you will see the famous Las Coloradas pink lakes.
The color is caused by high concentrations of plankton that give it its vibrant coloration – a sight that cannot be found anywhere else in the world.
During the tour, you will also ride a boat through the Ria Lagartos reserve, seeing species like flamingos, pelicans, eagles, and crocodiles yourself.
13. Isla Contoy Eco Adventure
⏰ 8 hours
💲 from $122 USD
Get to experience Mexico's wildlife as you visit the Island of Contoy. The island is also full of pristine beaches, crystal clear waters, and diverse ecosystems, providing an ideal environment for observing some of Mexico's most impressive wildlife.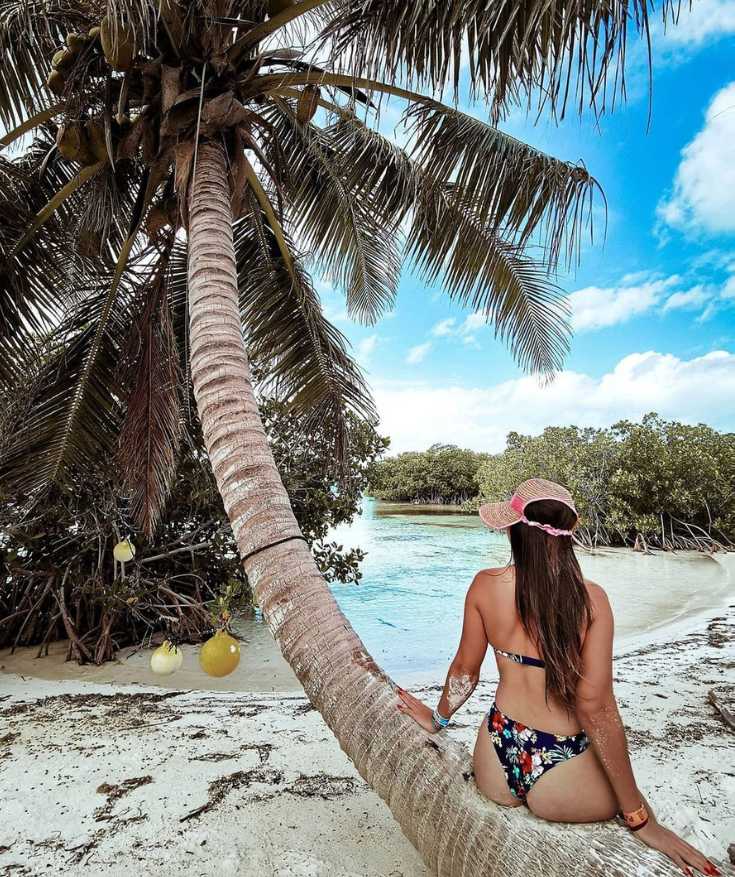 As part of this tour, not only do you get to see different wildlife species, but you'll also be able to enjoy a refreshing swim on its beaches. You can even try out some snorkeling activities during your tour.
This excursion includes round-trip transportation from Cancun hotels and an expert guide who will provide detailed information about the fascinating wildlife found on Contoy Island.
14. Xplor Fuego Nighttime Adventure with Transportation
⏰ 6 hours
💲 from $140 USD
On this 6-hour nightfall excursion from Cancun, you will travel to Xplor and experience the jungle after dark.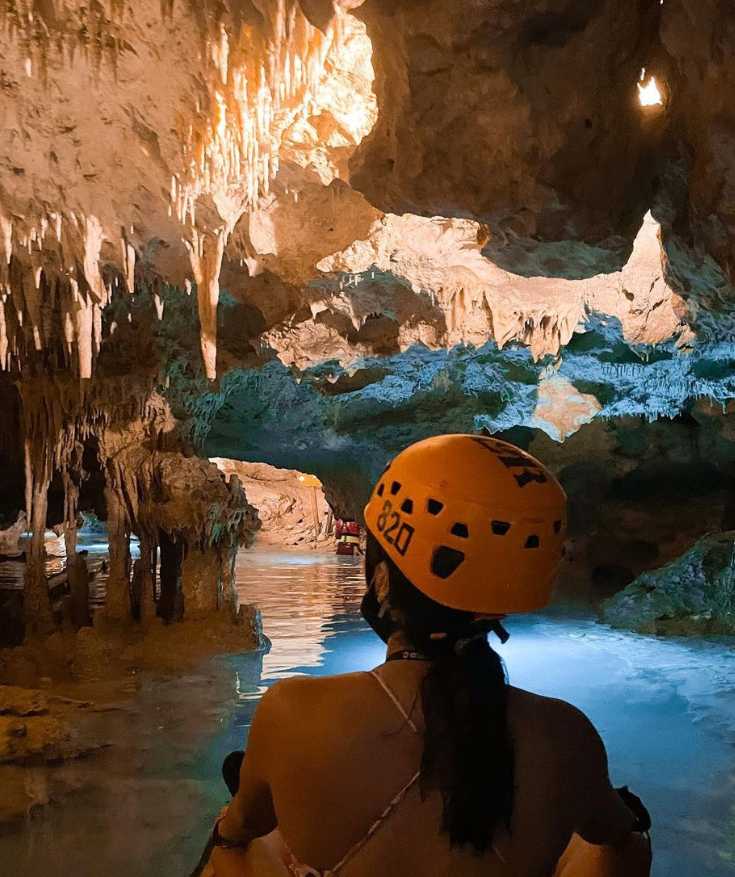 Xplor Adventure Park is located just 15 minutes south of Cancun and encompasses over 6 miles of trails and underground rivers, which can be explored by ziplining, swimming, driving amphibian vehicles, and rafting through the jungle.
During your visit, you will explore the adventure park at night. Nighttime amphibious vehicles, zipline rides, and rafts you can try even at night will be available.
15. Hip Hop Sessions Boat Party Cancun
⏰ 3 hours and 30 minutes
💲 from $95 USD
Cancun is well known for having great boat parties, and one experience that should not be missed is the Hip Hop Boat Party. On this party cruise, you'll experience a day of entertainment that combines enjoying the Caribbean sea with the energy of live Djs and hip-hop music.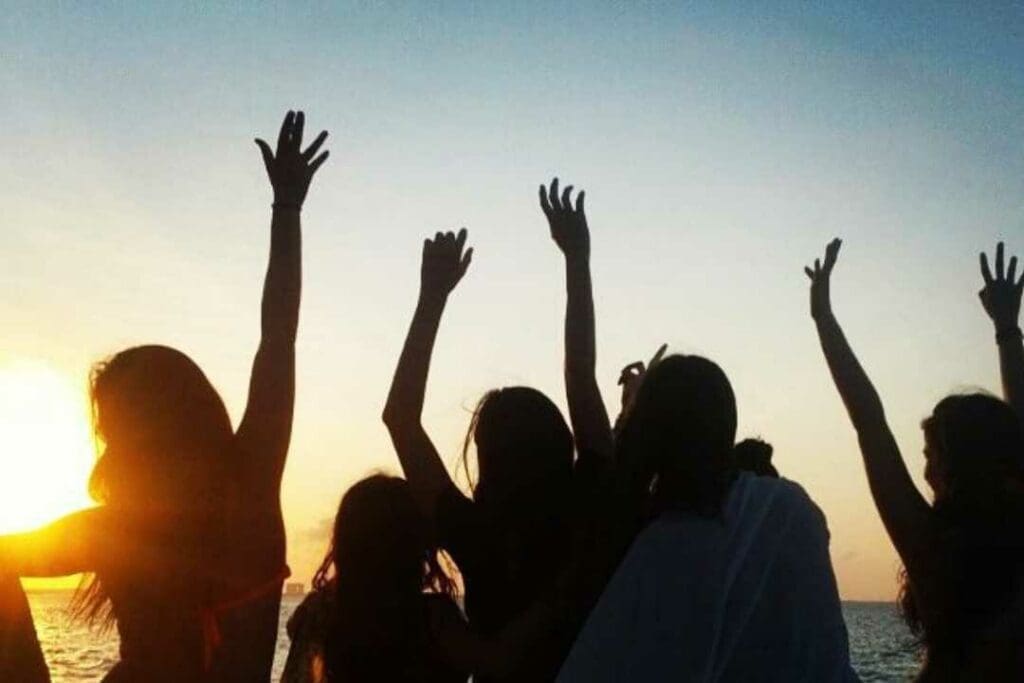 When on board the cruise, you will also get drinks and snacks included in the package. The boat features open-air space, perfect for sunbathing or simply admiring Mexico's breathtaking natural beauty. There is also a fully stocked bar with an extensive list of cocktails throughout the trip.
Although the type of boat may vary depending on the number of joiners, you are promised to enjoy a great time dancing, drinking, and making new friends.
The best time to try the tour is during the summer months (June and August). This way, you'll enjoy the Caribbean Sea on a warm and sunny day.
16. Cobá, Chichén Itzá, Cenote & Valladolid Tour with Buffet Lunch
⏰ 12 hours
💲 from $61 USD
This full-day excursion takes you to Mexico's most awe-inspiring archeological sites: Coba, Chichen Itza, and a cenote.
The tour starts with an early visit to the ancient city of Coba, where guests will climb Nohoch Muul, the tallest pyramid in the Yucatan.
You'll then go to Chichen Itza, another fascinating Mayan archaeological site with a Temple of Warriors, a ball court, and other remarkable structures, such as El Castillo—the iconic stepped pyramid at its center.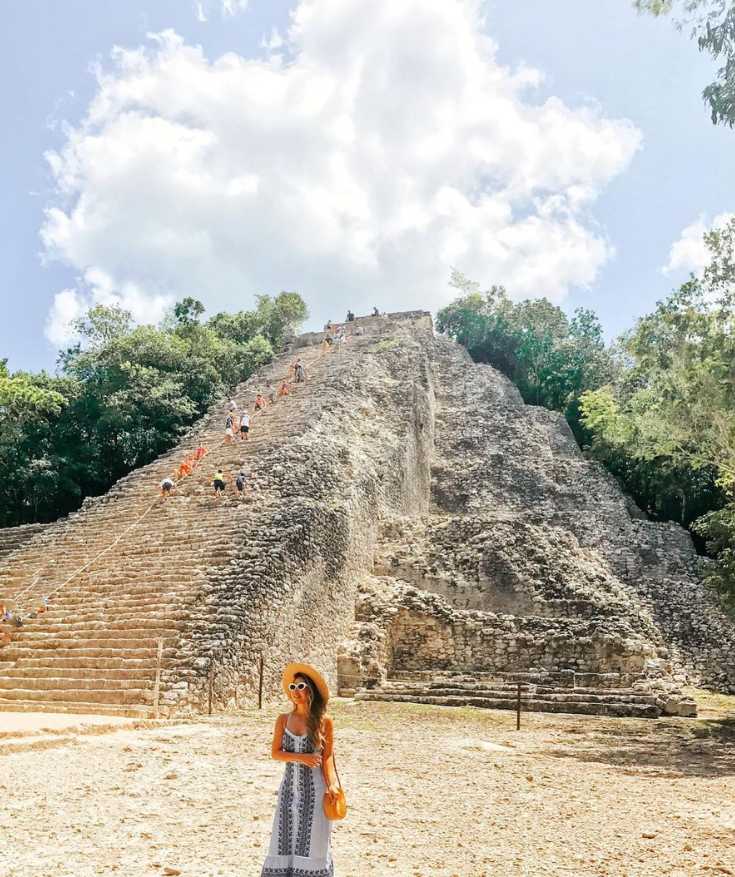 After exploring these archaeological gems, you'll head to Cenote Saamal for lunch and a refreshing dip in its crystal-clear waters.
Finally, the trip will cap off with a visit to Valladolid—a colonial town known for its vibrant colors and lovely architecture.
17. Isla Blanca: 4-Hour Private Expedition Bike & Boat Tour
⏰ 4 hours
💲 from $201 USD
Explore Isla Blanca on this 4-Hour Private Expedition Bike & Boat Tour. This full-day tour will take you to the best spots on Isla Blanca, where you'll enjoy swimming, snorkeling, and kayaking in its crystal-clear waters.
Starting with a pick-up at your hotel, you'll head to your first bike trip destination. After exploring Isla Blanca on your bike, you'll hop onto a boat for an exciting tour around the island.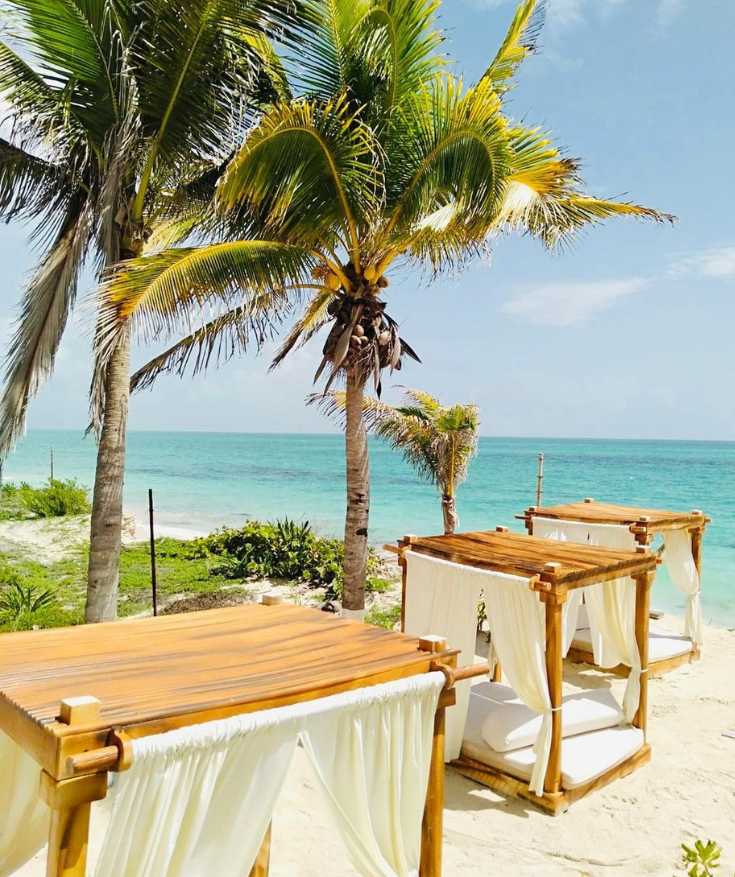 This 1-hour boat tour will take you around to see the lagoon. Make sure to watch out for some dolphins too!
Your private tour guide will already care for you: bikes and helmets are provided, and snorkeling gear, life jackets, and all necessary safety equipment.
18. Selvatica Park: Zip Lines, ATV, Cenote Swim, and Bungee Tour
⏰ 6 hours to 6.5 hours
💲 from $190 USD
Although Cancun is most known for its pristine beaches, there's still much more to that; it is home to various things to do and explore. One activity you can try while in the city is the Selvatica Jungle Adventure Park trip.
Selvatica Jungle Adventure Park offers visitors a full day of thrilling activities and adventures. The park is located in an oasis of lush jungle, allowing travelers to escape into nature for a day away from the hustle and bustle of the city.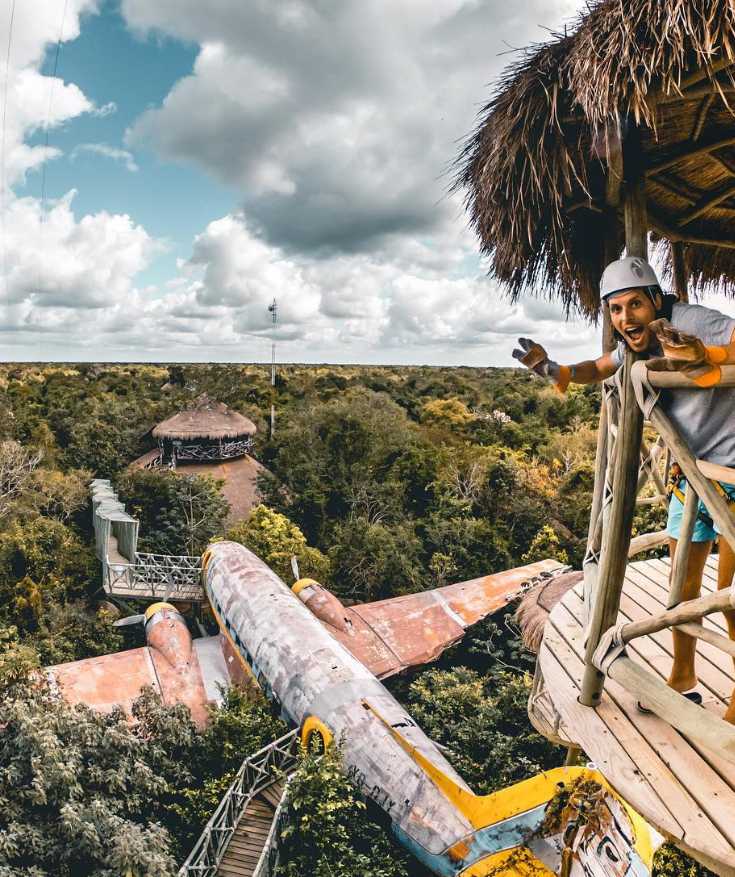 Some things that can be enjoyed here are ziplining, mountain biking, ATV tours, bungee trampoline, and even rappelling down waterfalls.
Also, lunch will be provided in a shaded area where adventurers can take a break from the heat and recharge with energy before continuing the activities.
This excursion is perfect for those looking for an adrenaline rush. Professional guides will accompany you throughout the entire experience, ensuring they have everything they need while providing interesting facts about the region.
19. Experience Diving UnderWater Museum and Reef for beginners
⏰ 5 hours
💲 from $86 USD
One of the most popular activities to do in Cancun is experiencing scuba diving underwater. The Underwater Museum and Reef tour provides an exciting experience, especially for beginners, to explore the coral reef while learning about marine life through the educational displays scattered throughout the museum.
The tour begins with an introduction to the natural marine environment with a theory class in a pool to familiarize yourself with scuba equipment and get an introduction to scuba diving.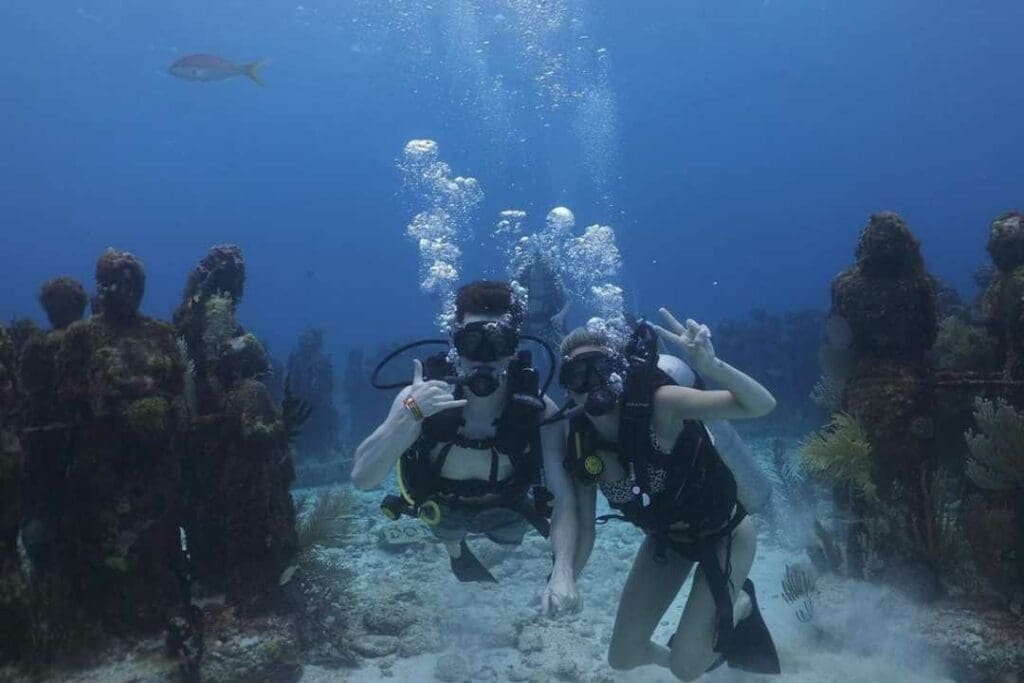 After the lesson, you will board a boat and travel further out into deeper waters as you go to UnderWater Museum and the Manchones Reef.
There you will have a chance to admire colorful varieties of coral formations along with its vast collection of sea life.
Experienced guides are available for assistance throughout the trip, providing safety tips and advice on how to identify different species of fish found in this area.
20. Go to the island paradise of Isla Mujeres on a luxury catamaran
⏰ 5 hours and 30 minutes
💲 from $129 USD
Islas Mujeres is known for having crystal-clear waters, making it a great place to sail, swim and snorkel.
During the Islas Mujeres Luxury Sailing tour, you will be experiencing a luxurious experience sailing along the waters of Cancun's Caribbean coastline going to Islas Mujeres.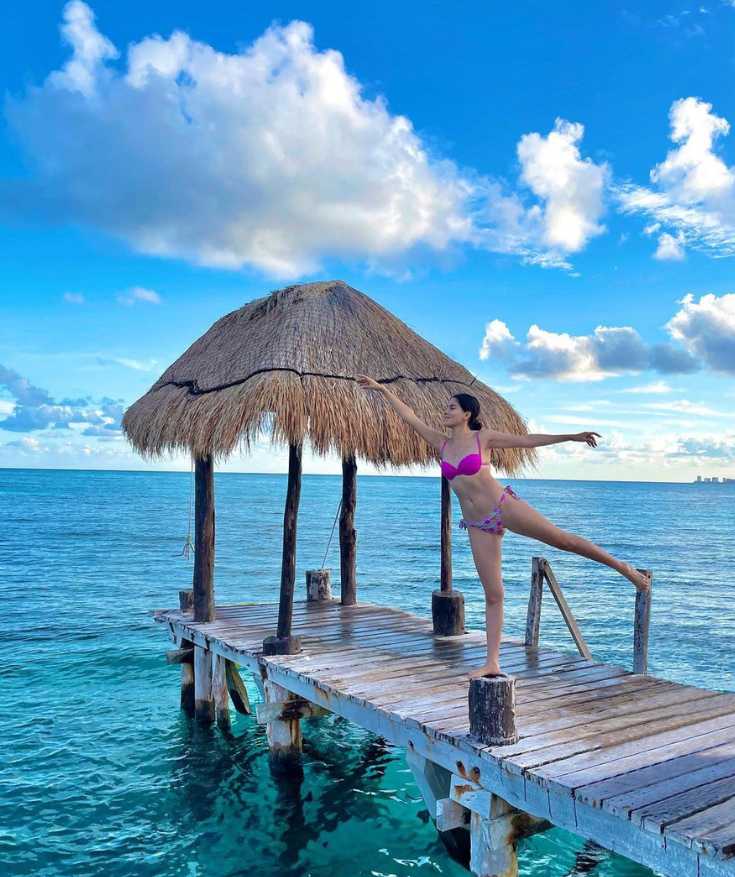 On board the Catamaran cruise, you'll be able to relax and see the scenery of the Caribbean sea. You can also stop and snorkel in the water to explore underwater life, such as vibrant coral reefs or majestic sea turtles.
This experience highlights when guests can disembark at one of Islas Mujeres' stunning beaches or bays for sunbathing or beach activities such as beach volleyball and kayaking around mangroves.
To make things even more unique, there is an open bar at the cruise, and local chefs will prepare a gourmet lunch.
⁉️ Excursions in Cancun FAQ
How many days do you need in Cancun?
The ideal length of a Cancun vacation depends on various factors such as your budget, travel goals, and personal preferences. However, a popular recommendation for a Cancun vacation is around 5-7 days.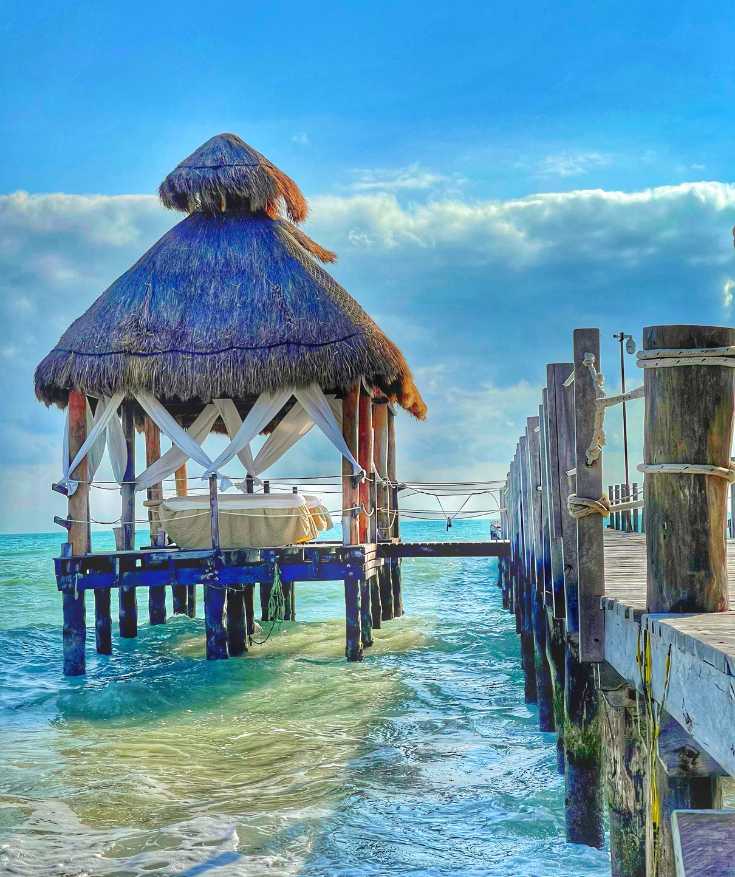 This duration allows enough time to explore the city, enjoy the beaches, and participate in various activities such as snorkeling, scuba diving, visiting the Mayan ruins, and trying local cuisine. Additionally, it also provides time for relaxation and leisure.
Of course, if you have more time and can afford it, you can extend your Cancun vacation to explore other nearby destinations such as Tulum, Playa del Carmen, or Cozumel. Ultimately, the ideal length of a Cancun vacation will depend on your specific needs and interests.
What to do in Cancun for two days?
While two days is a relatively short time to spend in Cancun, you can still do many activities to make the most of your trip. Here are some suggestions for things to do during a 2-day Cancun vacation:
Day 1:
Visit the Mayan ruins: Start your day by visiting the nearby Mayan ruins of Chichen Itza, Tulum, or Coba. These ancient sites offer a fascinating glimpse into the history and culture of the Mayan civilization.
Relax on the beach: After your morning excursion, head back to Cancun and spend the afternoon relaxing on one of the city's beautiful beaches, such as Playa Delfines or Playa Tortugas.
Explore the Hotel Zone: In the evening, take a stroll through Cancun's Hotel Zone, where you'll find a wide range of restaurants, bars, and nightclubs.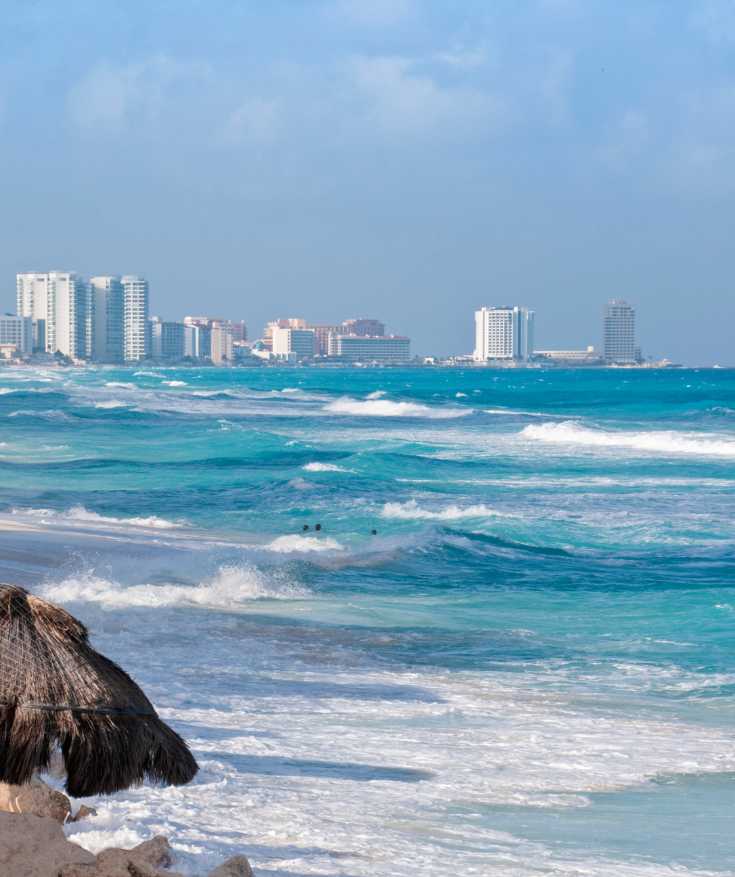 Day 2:
Take a day trip: Spend your second day exploring one of the nearby attractions, such as Isla Mujeres or Cozumel. These islands offer a variety of activities, including snorkeling, diving, and exploring local markets and shops.
Go shopping: If you're not interested in a day trip, spend the day shopping at one of Cancun's many malls, such as Plaza Las Americas or La Isla Shopping Village.
Experience local cuisine: In the evening, sample some of Cancun's delicious local cuisine at one of the city's many restaurants, such as La Habichuela or El Muellecito.
Of course, you could do many more activities during your two-day Cancun vacation, but these should give you a good starting point.
What month is Cancun least crowded?
The peak tourist season in Cancun is from December to April when many travelers visit to escape the colder winter weather in other parts of the world.
If you're looking to avoid crowds, the best time to visit Cancun is during the low season, which generally runs from May to November. Within this period, September and October are typically the least crowded months in Cancun.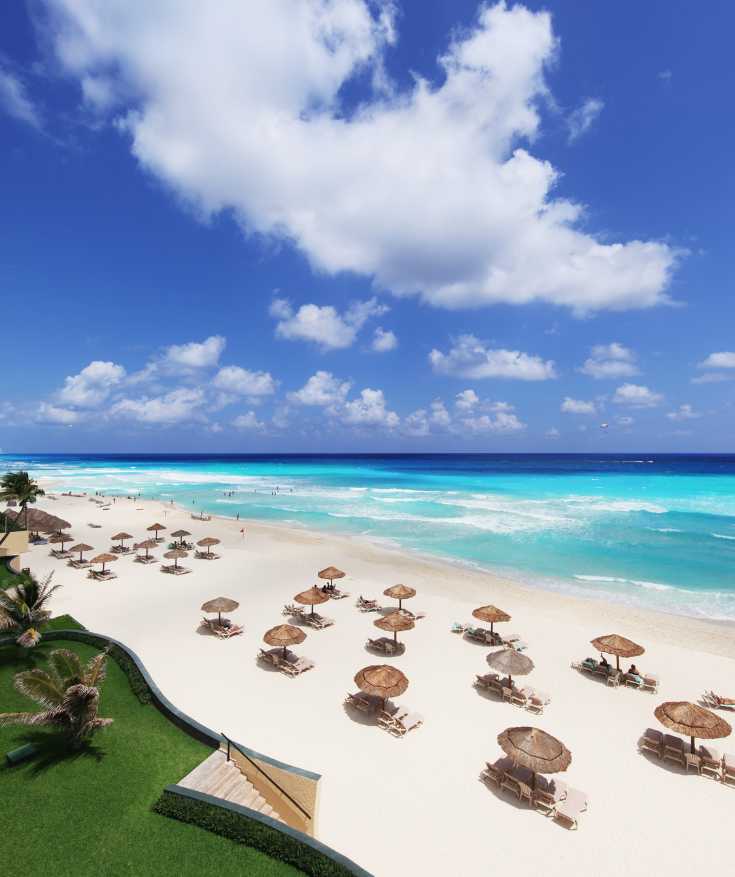 During these months, the weather can be hotter and more humid than in the winter, but the sea is warm and inviting for swimming and water activities.
Additionally, you may find better deals on flights, accommodations, and activities during the low season as compared to the high season.
It's worth noting that the Atlantic hurricane season also occurs during this period, with the highest risk from August to October. However, modern weather forecasting and hotel policies make it easy to keep tabs on any potential storms, and many travelers still choose to visit Cancun during this time.
What is the best month to go to Cancun?
The best month to visit Cancun can vary depending on your preferences, as each season has its own advantages and disadvantages.
However, generally speaking, the best time to visit Cancun is during the winter months, from December to April, when the weather is warm and dry, and there is little to no rain.
During these months, you can expect temperatures to range from the mid-70s to the low 80s Fahrenheit (around 24-28°C), comfortable for outdoor activities such as swimming, snorkeling, and exploring the local attractions.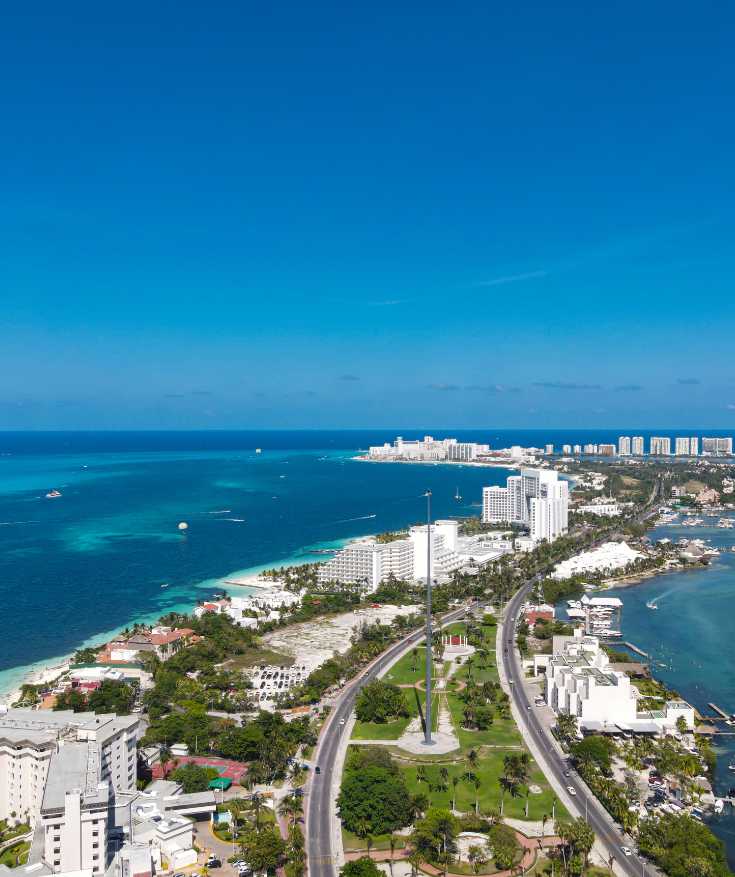 Additionally, this is the peak tourist season, so plenty of events and activities are happening, and most hotels and resorts are open and fully staffed.
If you're looking for a quieter, less crowded experience, you might consider visiting Cancun during the shoulder season, which runs from May to November.
However, remember that this is the rainy season, with higher temperatures and occasional rain showers. If you're willing to take the risk, you can also find better deals on hotels and activities during this period.
How much money do I need in Cancun per day?
The amount of money you will need per day in Cancun can vary widely depending on your travel style, budget, and the activities you plan to do. As a general guideline, here is an estimate of daily expenses in Cancun: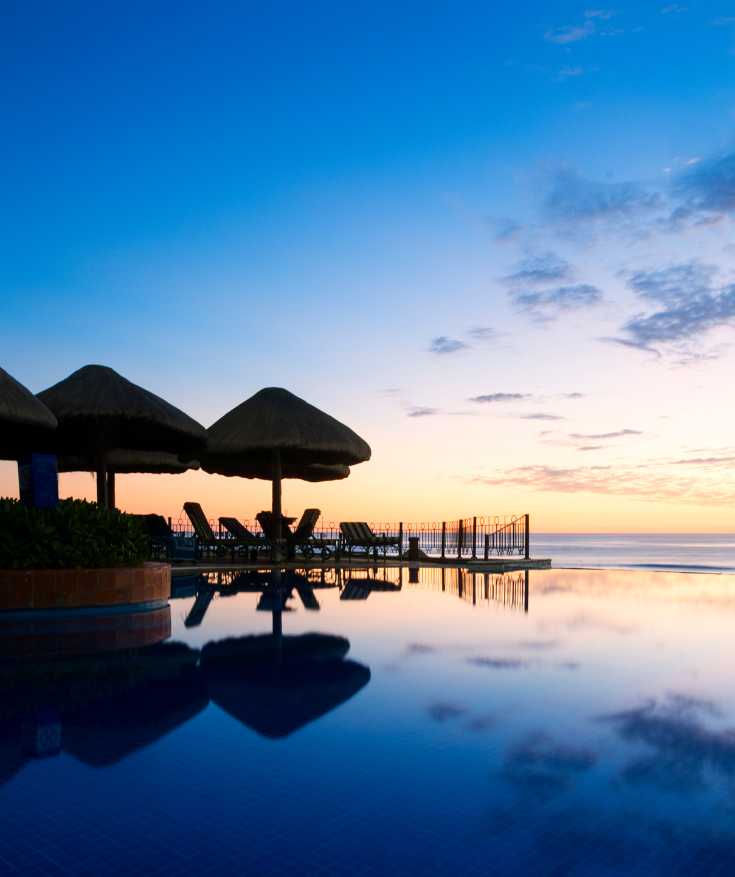 Budget travel: If you are on a tight budget, you can expect to spend around $30 to $50 USD per day on food, transportation, and basic accommodations like hostels or budget hotels.
Mid-range travel: If you prefer more comfortable accommodations and are interested in doing some activities and excursions, you can expect to spend around $80 to $150 USD per day.
Luxury travel: If you are looking for high-end accommodations, fine dining, and luxurious experiences, you can expect to spend upwards of $200 USD per day.
🇲🇽 Cancun Travel Planning
✈️ Flights to Cancun
Use Kiwi.com to find the cheapest flights to Cancun. This is our favorite booking engine because they compare prices across all airlines for your route. The airport that serves Cabo is San Jose del Cabo Airport.
🛏️ Hotels and resorts in Cancun
Budget travelers can use HostelWorld to find cheap accommodations for as low as $25 USD per night. Resort vacationers, the best deals for all-inclusive stays in Cancun are on Booking.com!
🚑 Mexico Travel Insurance
Be prepared for the possibility that something can happen to you while traveling abroad. Do not travel to Cancun without travel insurance! We recommend SafetyWing (for digital nomad and entrepreneur trips) and Ekta Travel for comprehensive medical insurance starting at $0.99 USD!

Trisha traveled to Mexico in 2018 and after a year, she found herself obtaining a 4-year residency visa in Mexico. She is the Editor-in-chief for our Living in Mexico Series which has helped over 3,000 Americans move to Mexico with ease. Trisha currently resides in Cabo San Lucas, Baja California Sur.