There are many ways how to get to Sayulita from Puerto Vallarta Airport and transportation options around the magical Riviera Nayarit. In this post, we will explain that to you all in detail so start browsing your transportation options.
I lived in Sayulita for 2 years and this is the most common question I receive from friends and family: how do I get to Sayulita from the airport? It does seem complicated but in this post, I will share with you everything you need to know about Sayulita airport transfers.
There will also be tips here on where to get a taxi when you are already in Sayulita. Spoiler alert: Uber does not work in Sayulita and that is also discussed in detail in this post.
You can also check our guide on getting around Sayulita which will explain to you the Sayulita layout and transportation options like buses, white taxis, and golf carts.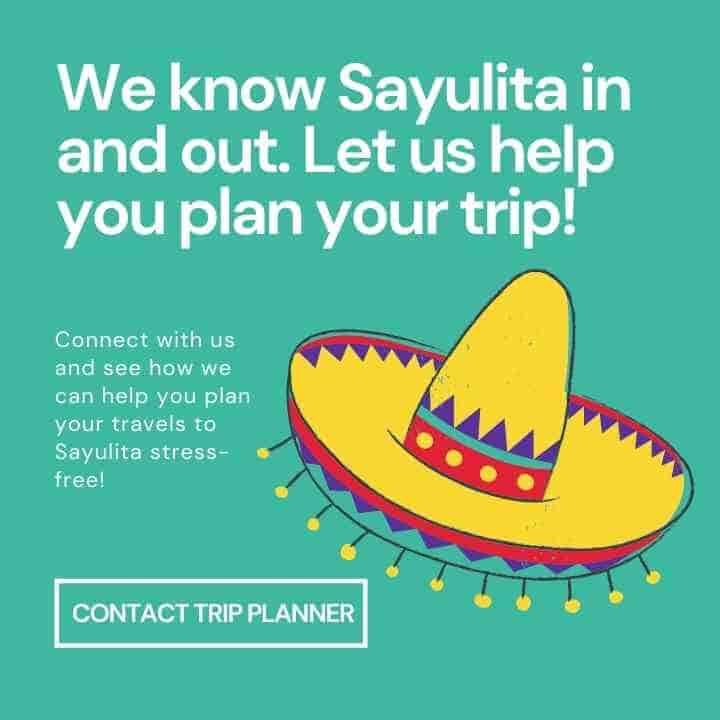 You might also like:
No time to read? Order your Sayulita airport transfer now!
10% OFF
MXINSIDER10
Don't miss this sale! Snag your stuff now through
January 6, 2023 @ 11:59PM (CDT)
📍 Where is Sayulita?
Sayulita is in the state of Nayarit and it's one of the most beautiful beach destinations on the Pacific Coast.
I want to call our home the Nayarit best-seller but I do have high respect for our neighbors like Puerto Vallarta, Nuevo Vallarta, Bucerias, Punta de Mita, and San Pancho.
When you visit Sayulita, you will definitely get to know these small towns as well. Many first-time visitors don't really consider visiting us but there are many reasons to visit Sayulita – you don't need to look further!
✈️ What airport do you fly into for Sayulita?
The airport that serves Sayulita is Puerto Vallarta International Airport (PVR).
🇺🇸 How do you get to the US from Sayulita?
There are many US flights that go straight to Puerto Vallarta. Some popular US cities that fly straight to Puerto Vallarta include Austin, Chicago, Las Vegas, Los Angeles, and San Diego.
🛬 How far is Sayulita from Puerto Vallarta Airport?
Sayulita is about an hour's drive from Puerto Vallarta Airport. There is only one highway that goes from Puerto Vallarta Airport to Sayulita (called KM 300) so these days, traffic is becoming heavier.
I'd usually just go to the airport an hour before departure but now, I am always making sure I leave Sayulita 2.5 hours before the flight.
💲 How much is a taxi from Puerto Vallarta Airport to Sayulita?
The price of a taxi from Puerto Vallarta Airport to Sayulita varies. Remember that all over Mexico, there are certified and licensed taxi operators in airports. Not all transportation services can enter airports in Mexico.
In the case of Puerto Vallarta Airport, the taxi to Sayulita starts at $125 USD (if booking with an authorized taxi service).
💵 How much is an Uber from Puerto Vallarta Airport to Sayulita?
The Uber from Puerto Vallarta Airport to Sayulita costs $40 USD (est) but you have to take them outside of Puerto Vallarta Airport. There are two meeting points for Uber at PVR Airport but the driver will tell you the exact meeting point.
If you decide to take the Uber (since it's cheaper), the walk from the arrivals gate to the meeting point is about 5-7 minutes. Be mindful with walking with your suitcases as this is a federal highway. You don't need to cross but it is still a very busy area for all types of vehicles.
🚖 Is Uber available in Sayulita Mexico?
Within the town of Sayulita, Uber is a hit and miss. Or let's say almost non-existent. If you want to go to neighboring towns like San Pancho and Punta Mita, your best bet is to take the white taxis parked at the Sayulita plaza.
These guys are easy to deal with and you can always haggle. But expect them to charge you ridiculous prices (i.e. $30 USD for a 5-minute drive to San Pancho). Better polish your Spanish before your trip so you can haggle with the taxi drivers easily.
🚖 How do you get from Sayulita to the airport?
Like most airports in Mexico, Ubers are not allowed to enter Puerto Vallarta International Airport. You can get an Uber but you have to go out of the airport and wait for them at the footbridge.
The footbridge is about a 3-minute walk from the departure gate. Once you are at the footbridge, you can order the Uber there and it costs about $20 – $40 USD depending on what time you're calling it.
If you have a lot of things and don't want to walk far, below are some alternatives on how to get to Sayulita from Puerto Vallarta Airport:
✈️ Sayulita airport transfer options
VIP Van service (from $125 USD)
Most airport vans and taxis that are parked by the arrivals gate are companies with permits to operate inside the airport. This permit is not cheap so not everyone has it.
And those who do, charge standard pricing of $125 USD and up to go to Sayulita from Puerto Vallarta Airport. These taxi drivers will wait for you at the arrivals gate holding a sign with your name.
Local taxi driver (from $55 USD)
Mexico Insider's Support Local project helps locals in the Riviera Nayarit area promote their businesses. Right now, we have about 3-4 drivers in the area who can get you at the airport for a lower price.
Their English is not perfect but this is a good chance for you to practice your Spanish! These taxi drivers can also take you from Puerto Vallarta downtown to Sayulita, San Pancho, or Punta de Mita.
💡 We use Whatsapp in Mexico so make sure you have this downloaded and installed on your phone as this is what the drivers use to contact you.
🚌 How to get to Sayulita by bus ($4 USD)
A bus ride to Sayulita costs US$4 and it will take you all the way to the Sayulita bus station. This ride can take up to 1.5 hours since the bus stops a lot in different small towns on the way to Sayulita.
Note that the way to Sayulita is on the other side of the airport so you have to cross the footbridge. At the bottom of this footbridge, you will find busses with 'Sayulita' signs. They come every 30-45 minutes and you can even take them to San Pancho.
🚗 Renting a car at Puerto Vallarta Airport ($25 USD)
I don't really recommend bringing a car to Sayulita because parking is horrible in town but if you have an Airbnb in Sayulita that has a parking space, then you better rent a car.
It will allow you to move around Sayulita and visit nearby towns. This is also advisable for those who are going on surf trips in Sayulita.
💨 Rent a car in Puerto Vallarta
Get a rental car at PVR Airport for as low as $25 USD per day. Check out 👉🏽 Discover Cars Puerto Vallarta for the best deals!
There are no rental car companies in Sayulita so you can only do this at Puerto Vallarta International Airport. The smarter choice is to book it in advance instead of getting it upon arrival as this airport is really busy.
✈️ Ready for your trip to Sayulita? If you need more information about how to get to Sayulita or want to book Sayulita Airport transfers, I'd be happy to update this post – just leave your questions in the comment box below or join our communities where we answer questions for FREE.
🇲🇽 Sayulita Travel Planning
✈️ How do I fly to Sayulita?
The airport that serves Sayulita is Puerto Vallarta International Airport. Our recommended booking platform is WayAway.
🚑 Do I need travel insurance to travel to Sayulita?
YES, YOU DO! do not travel to Mexico without insurance. Check insurance plans on SafetyWing for as low as US$40 for full travel coverage.
🚗 How much is the car rental from Puerto Vallarta Airport to Sayulita?
The normal car rental rate from PV Airport to Sayulita is $25 USD per day. Check prices at Rental Cars Vallarta.
🏨 Where can I get deals on Sayulita hotels?
The best platforms for booking your hotel in Sayulita are Hostelworld (for budget travelers) and Booking.com for boutique hotels. You will find great deals on luxury hotels on Expedia.
🧭 Can you help me plan my trip to Sayulita?
ABSOLUTELY! We have locals on the ground who can plan itineraries with you. Get in touch with us and we will give you the best rates – no hidden fees, just transparent prices.
☕ Readers who support Mexico Insider help us continue bringing you the most honest content about Mexico. Consider donating to our coffee fund if you like the content that we do.
Trisha traveled to Mexico in 2018 and after a year, she found herself obtaining a 4-year residency visa in Mexico. She is the Editor-in-chief for our Living in Mexico Series which has helped over 3,000 Americans move to Mexico with ease. Trisha currently resides in Cabo San Lucas, Baja California Sur.