I live in Cabo San Lucas and my friends always ask me about the process of renting a car in Cabo. In this article, I will tell you everything you need to know about renting a car at Los Cabos Airport, Cabo San Lucas downtown, and San Jose del Cabo.
When I moved to Mexico in 2018, I had never planned to buy a car in Mexico (so far, I bought 2). I come from living in Europe where public transportation is efficient but unfortunately, it is not the same case in Mexico.
Mexico is a car country and the roads here are made for cars. There aren't sidewalks or bike lanes (except in bike cities like La Paz). Pedestrians are the least prioritized here. The layout of Mexico is like the USA – it is made for cars!
From a tourist/traveler point of view, sure, you don't need to drive while you are on vacation. I feel like renting a car in Cabo is only for those who would like to experience the outskirts of Cabo.
Now let's get started to answer your burning questions about renting a car in Los Cabos. Feel free to browse the table of contents above if you want to skip to the information that you are looking for.
You might also like:
🥇 Best Cabo Car rental company
Don't have time to read the whole article? Check out deals on 👉🏾 Discover Cars Los Cabos, our preferred Cabo car rental company.
🙋 Do you need a car in Cabo?
It's totally up to you. There are many places to visit in Baja California Sur that require a drive but these drives are not too far from each other. For example, if you'd like to go to Todos Santos from Cabo, that's a 40-minute drive.
La Paz is about 2 hours and Loreto is about 6 hours. Close to Cabo, there's Cabo Pulmo, Los Barriles, and La Ventana which are more or less 2 hours away from Los Cabos.
In order to know if you need to rent a car in Cabo or not, check your itinerary. If you are only staying in downtown San Jose or San Lucas, don't rent a car.
But if you are planning to visit beaches and other points of interest that are an hour away, definitely consider renting a car at Los Cabos Airport upon arrival.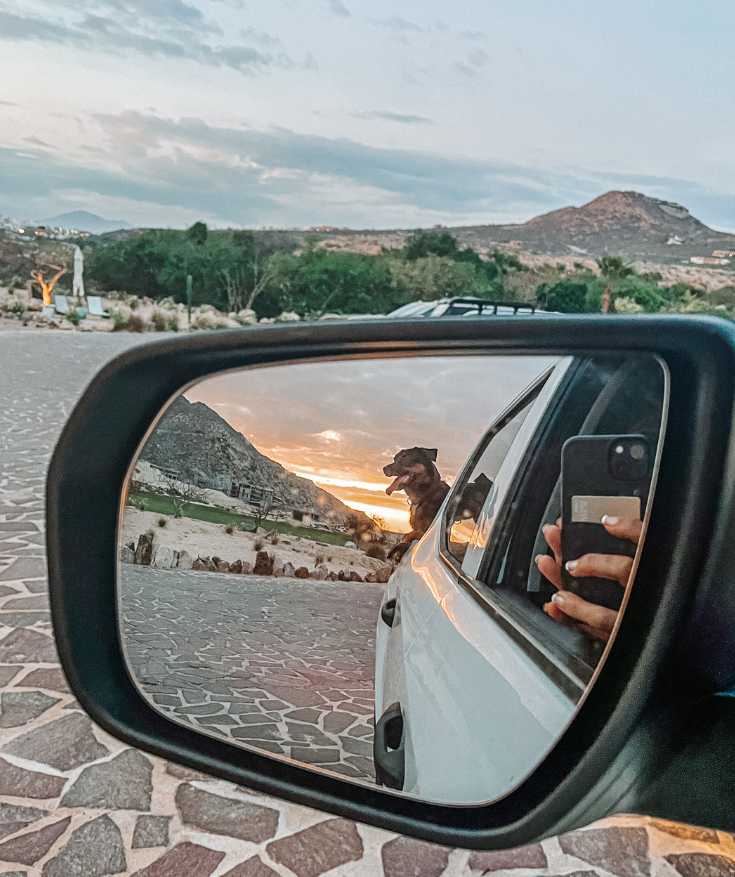 💰 How much is it to rent a car in Cabo?
Renting a car in Cabo is more expensive than renting a car in mainland Mexico (i.e. Mexico City). On the mainland, you can rent a car for as low as $20 USD per day but in Cabo, prices start at $35 USD for small cars.
Of course, this also depends on the car type that you are renting. To have an idea, below are the prices for car rentals in Cabo per car type:
Rental car Cabo airport prices
| | | |
| --- | --- | --- |
| Size | Type/Model | Price |
| Small car | Chevrolet Beat, Nissan March, Kia Rio, or Volkswagen Polo | from $32 USD |
| Medium car | Chevrolet Aveo, Volkswagen Golf | from $38 USD |
| Large car | Changan Sania, Chevrolet Cruze, Chevrolet Cavalier, Volks Jetta | from $35 USD |
| SUV | Kia Soul, Nissan Kicks, Jeep Renegade, Renault Duster | from $53 USD |
| Van | Kia Sedona, Toyota Hiace, Chrysler Town, | from $79 USD |
I actually thought I have something to write here that's why I wrote "from" above. However, upon checking Discover Cars Los Cabos, the prices are as shown on the original booking page – no hidden fees or whatsoever which is amazing!
Some car rental companies in Los Cabos will not be clear about these hidden fees. You will only be surprised when you are already at the counter ready to swipe your credit card.
Often, you don't have a choice but to pay for it because honestly, what can you do? They will ask you if you want to pay for add-ons and below are the usual:
Car rental insurance: $14 USD per day
Additional driver: $4 USD per day
Child seat: $9 USD for the entire trip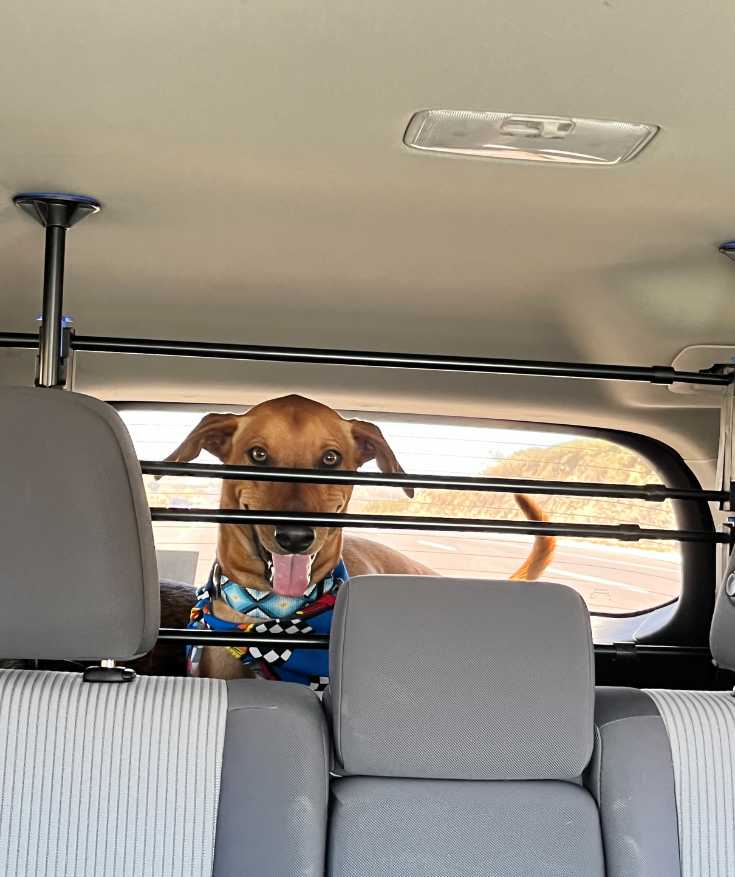 💨 Cabo car rental insurance
Now, many of you also wonder if you need to pay the car insurance separately. The answer is a loud YES. I've had the mistake of not taking car rental insurance (since I have my own car insurance in Mexico for my private car) but that does not apply when renting a car in Cabo.
It's also so funny how you decide not to take insurance and in the end, something happens to the car while you're traveling. I experienced this when I rented a car in Queretaro.
I kept saying that nothing will happen and that I am a good driver. On the first day of my trip to Queretaro, I parked on a narrow street, and guess what? A garbage truck passed by which caused a large, straight, and precise line from the gas tank to half of the passenger's seat's door.
Since I did not avail of the car rental insurance, I had to pay $500 USD extra for the repair and it really sucked to pay extra, especially if the car accident isn't your fault.
✅ Is it easy to drive in Los Cabos?
I live here so I would say it is pretty easy to drive in Los Cabos. I find it easier to drive here than mainland Mexico where streets are narrower, parking is hell, and there's traffic everywhere.
Driving Baja California always guarantees a scenic route. The roads are paved and we have the transpeninsular highways to get to La Paz, Todos Santos, and other parts of BCS from Los Cabos.
Baja California Sur is a loop so you won't get lost – you'll just turn around endlessly but you'll get to your destination at some point.
My brother lives in San Francisco, drives a car in SFo, and when he rented a car here in Los Cabos, he found it very easy to drive around.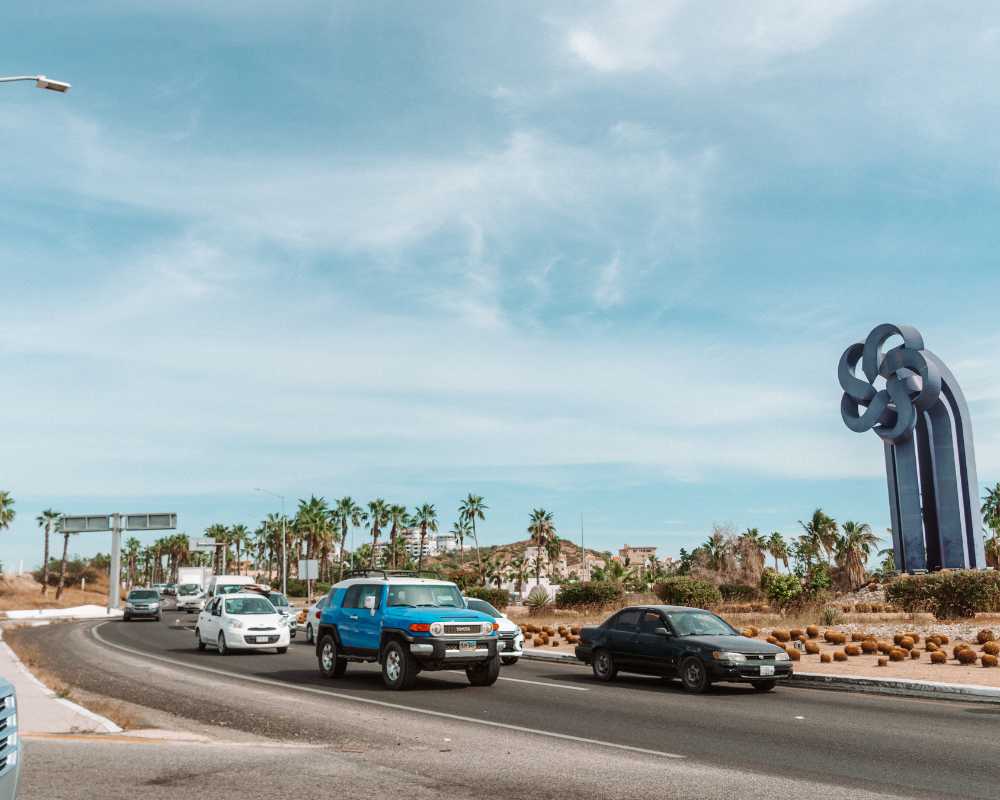 ⛔ Is it safe to drive around Cabo San Lucas?
ABSOLUTELY SAFE! But it all depends on what you really mean by safety. For me, it's always the police that scare me and I share this same sentiment with the Mexicans.
When there are police patrolling around, I feel more uneasy because I don't want to be stopped by them nor I don't want to be in contact with them. It's always difficult to deal with the police in Mexico so do not do anything stupid even as simple as beating a red light.
I learned to drive in another country and North American driving is not very understandable for me. Car accidents in Cabo are caused by people and their driving skills so if you are not confident in driving in another country, do not rent a car in Cabo.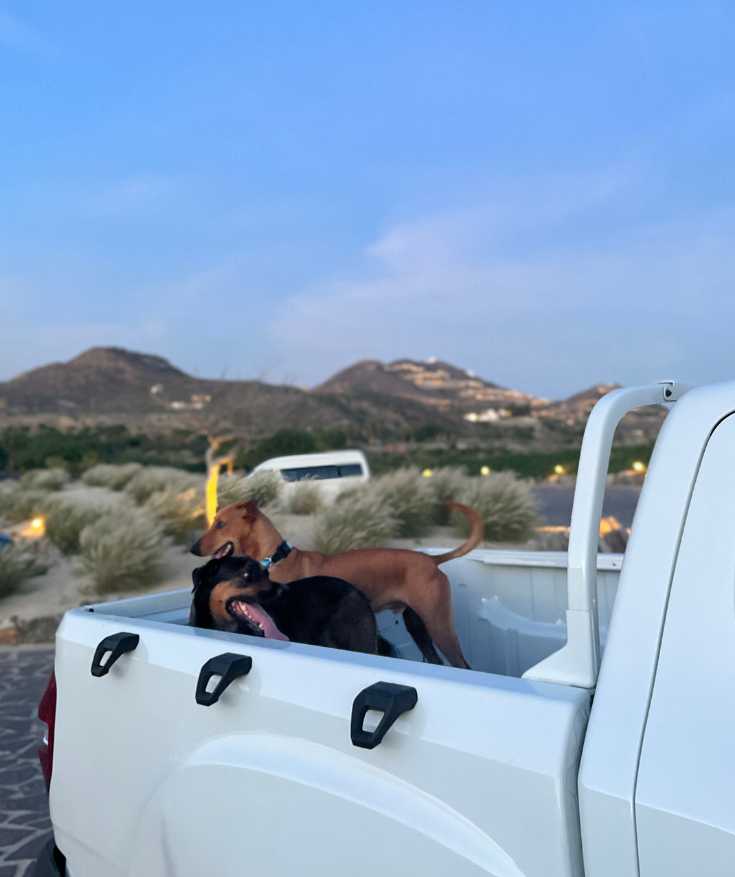 🚖 Is there Uber in Cabo?
Yes, there is Uber in Cabo but no Lyft. If you don't want to drive, you can easily go around Los Cabos via Uber but expect fare prices to be really high for a one-way ride.
If your resort or hotel is in Cabo San Lucas, you don't need a car. Cabo San Lucas is a walking town and if you need to go somewhere 'far,' your resort will provide a service and Ubers are available all the time.
The only thing you have to remember is that Ubers are not allowed to pick up passengers at Los Cabos Airport but they are allowed to drop off passengers.
Meaning, you can take an Uber to the airport but NOT from the airport. This rule applies in all airports in Mexico so keep it in mind for your next trips!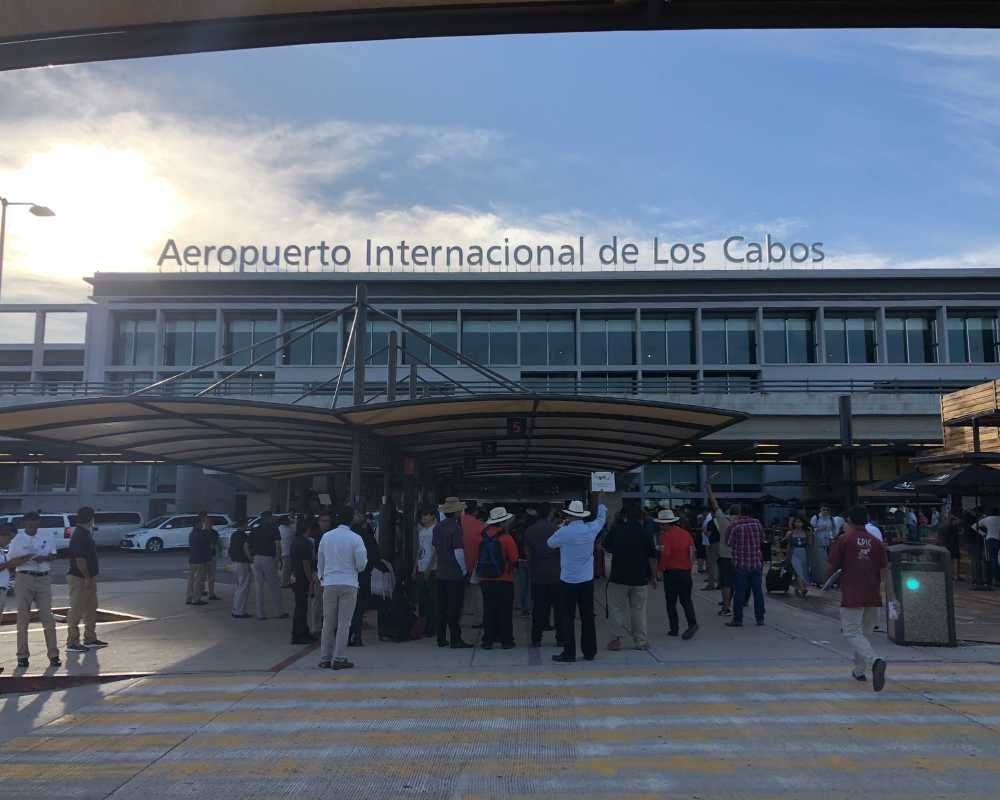 🛂 Requirements for renting a car in Cabo
Driver's license
Your US, Canada, Australia, and UK driver's license are valid for use in Mexico. You do not need an international driver's license to be able to rent a car in Los Cabos. Make sure your driver's license is valid for 6 months.
Security deposit
When renting a car in Cabo, you need to pay a security deposit. The security deposit is calculated by the number of days you will be renting the car. If you are renting a car for 7 days, expect to be charged $100 USD per day.
The security deposit is a floating charge that you will still see on your credit card statement. This 'floating' charge will be canceled when you return the car without damage. It is usually canceled between 3-7 business days from when you returned the car.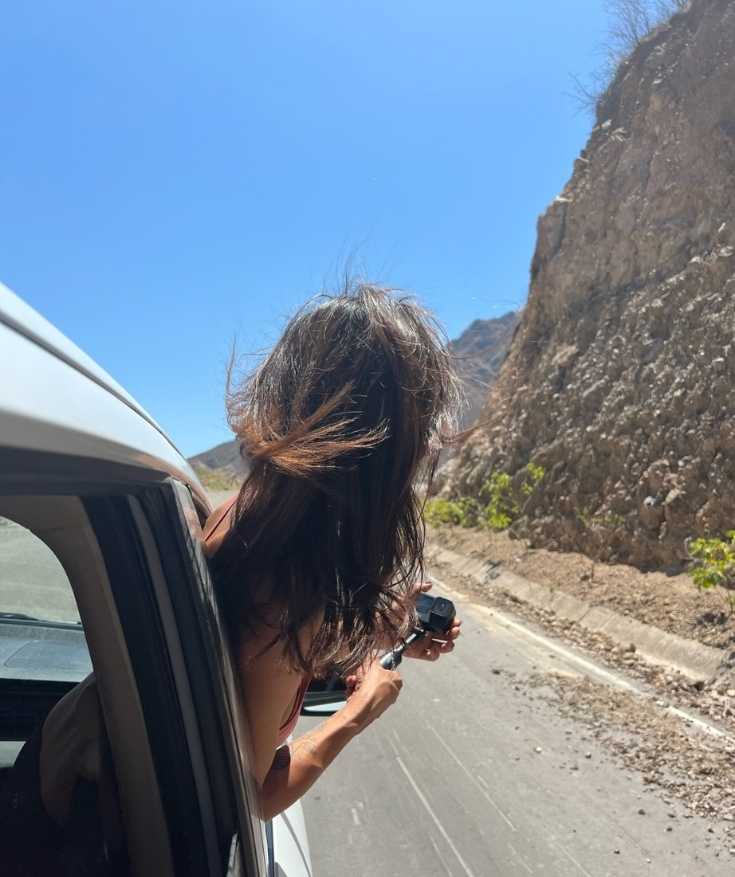 Credit card
Some companies require credit cards from the registered driver while others don't care – they will take any credit card from your group (if you are traveling with a party).
If you do not have a credit card, internationally issued debit cards are considered credit cards in Mexico. I did not understand this logic but this happened to me when I was renting a car at Los Cabos Airport.
I lost my physical credit card so I gave them my Mexican debit card since I saw some Americans in front of me paying with debit card. They told me that I can't pay with a Mexican debit card but I can pay with an International credit card as their terminal will read it as a credit card.
The only downside of using your debit card for the deposit is I am not sure how that floating charge works and I have no idea how many days will your money come back (or if the refund process is simple).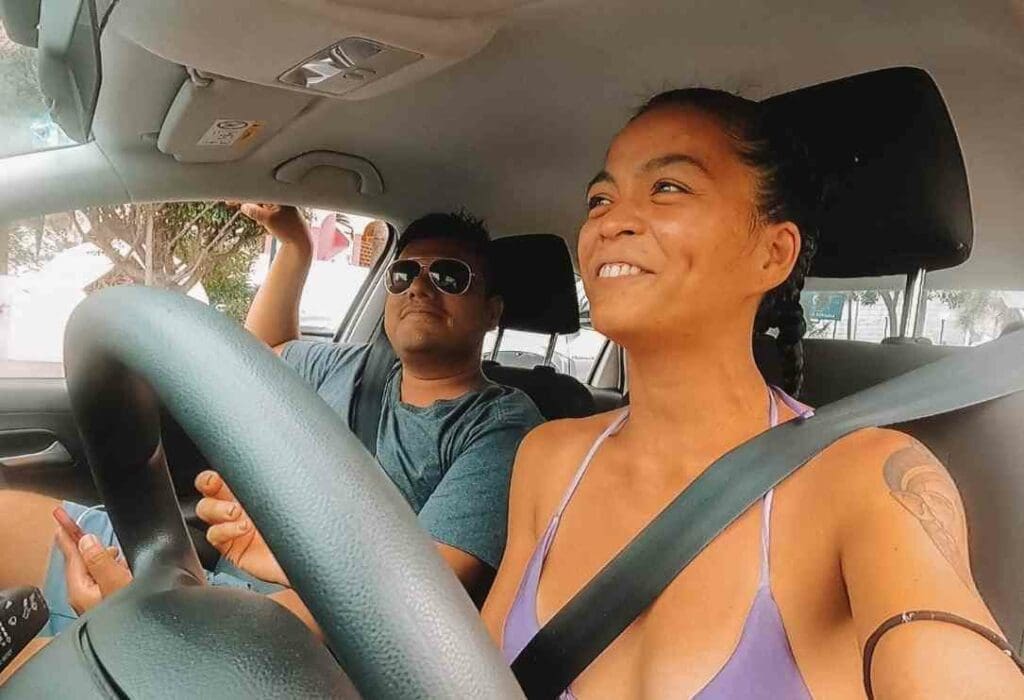 Drop-off fee
Not required if you are returning the car where you picked it up. For example, if you rented a car in Los Cabos Airport and will return it there, you will pay $0 USD for the drop-off fee.
But if you rented the car in Cabo San Lucas downtown and want to return it at the airport before departure, you need to pay the drop-off fee and this cost really depends.
Let's give an exact example: when I rented a car in La Paz and returned it to Los Cabos, they charged me $150 USD for the drop-off fee. These fees vary depending on the destination so make sure to clarify it with the rental car company in Cabo.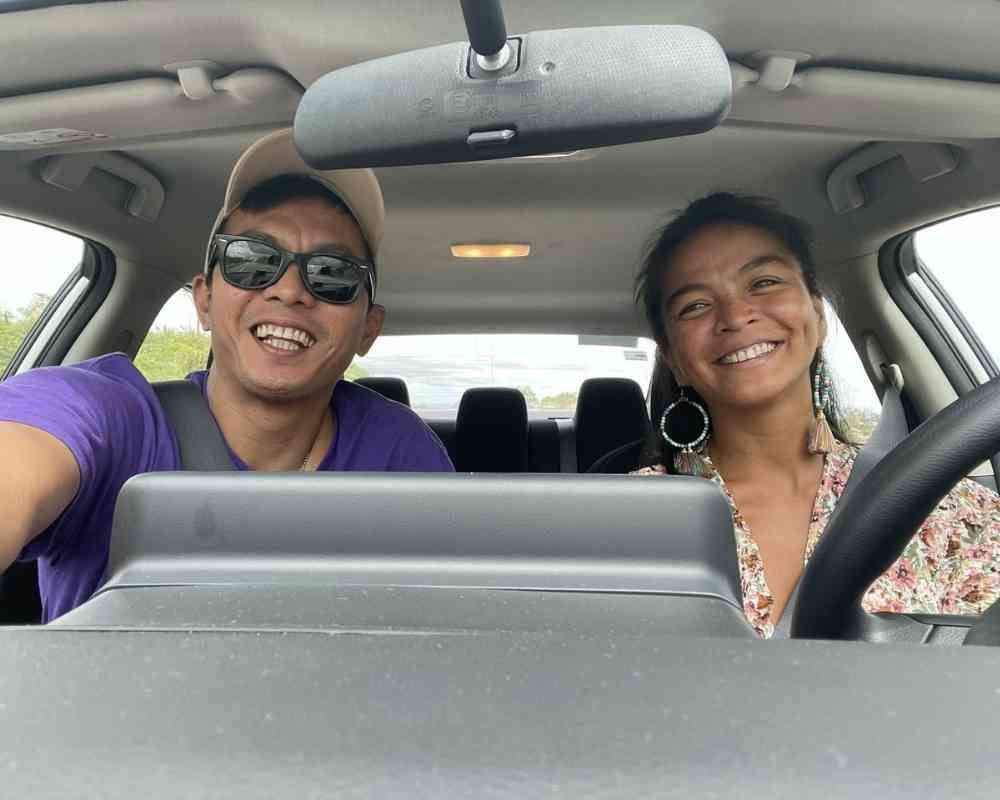 🛬 Rental car Cabo Airport: how it works
After passing by customs, you will proceed to the arrivals gate. Once the first door opens after customs, you will already see a row of rental car companies – they are all in one area.
If you did not book online before your arrival, I suggest you go to all the companies and ask for quotes. I tell you, they always have different prices and the difference is quite big.
Once you've chosen the car rental company at Los Cabos Airport, they won't process your order there. The receptionist will give you an informal sheet of paper stating the car rental price that you both agreed to.
They usually have the power to give discounts in the kiosks at the airport so use your charm with the receptionists! Then, they will order the van service for you to do the process in their main offices, a 3-minute drive from the airport.
The van service is FREE. Once at the rental car office, you will see a big line of people trying to rent cars in Cabo as well. Show the paper that the receptionist at Los Cabos airport gave you so that the teller in the car rental office will understand what price or promo was given to you.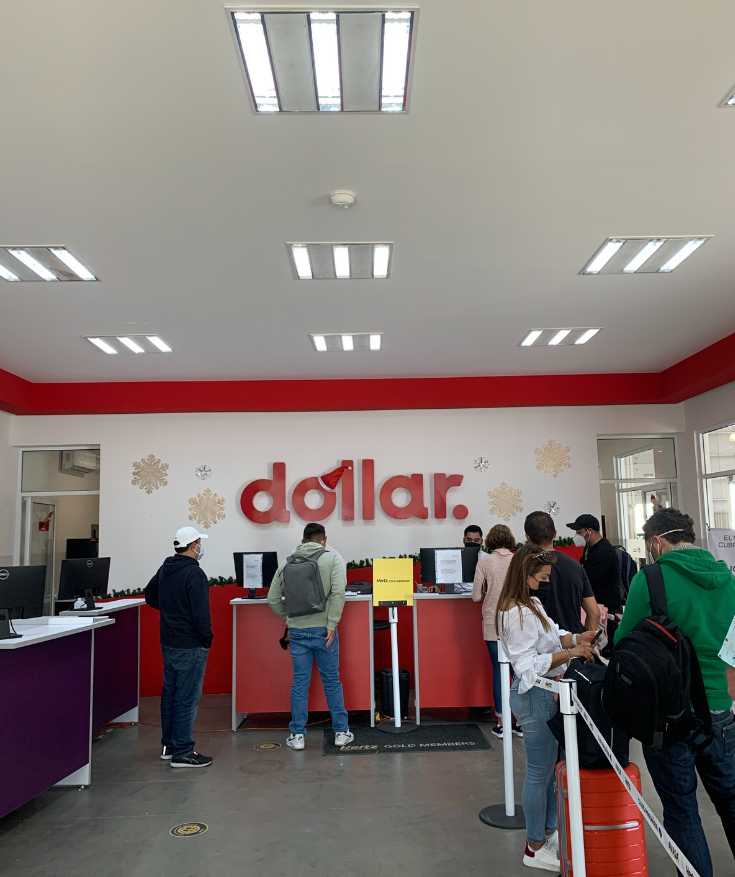 Los Cabos Airport Rental Car Companies
To be honest, I do not have a preferred Los Cabos airport rental car company since I always pre-book ahead with Discover Cars and RentalCars.com. However, if you want to know what options you have upon arrival, below are the official car rental companies at Los Cabos Airport:
Ace Rent A Car
Alamo
America Car Rental
Avis
BBB Rent A Car
Budget
Cactus Rent A Car
Economy
Firefly Car Rental
Fox Rent A Car
Hertz
Mex Rent A Car
National
NU Car Rentals
Payless
Sixt
Ten
Thrifty Car Rental
U-Save
🚗 Rental car in Cabo San Lucas
In the event that you decided to rent a car in Cabo when you are already in town, expect the prices to be higher downtown than in Los Cabos Airport.
Cabo San Lucas rental car companies
Below are some of the trusted car rental companies in Cabo San Lucas together with their addresses/location: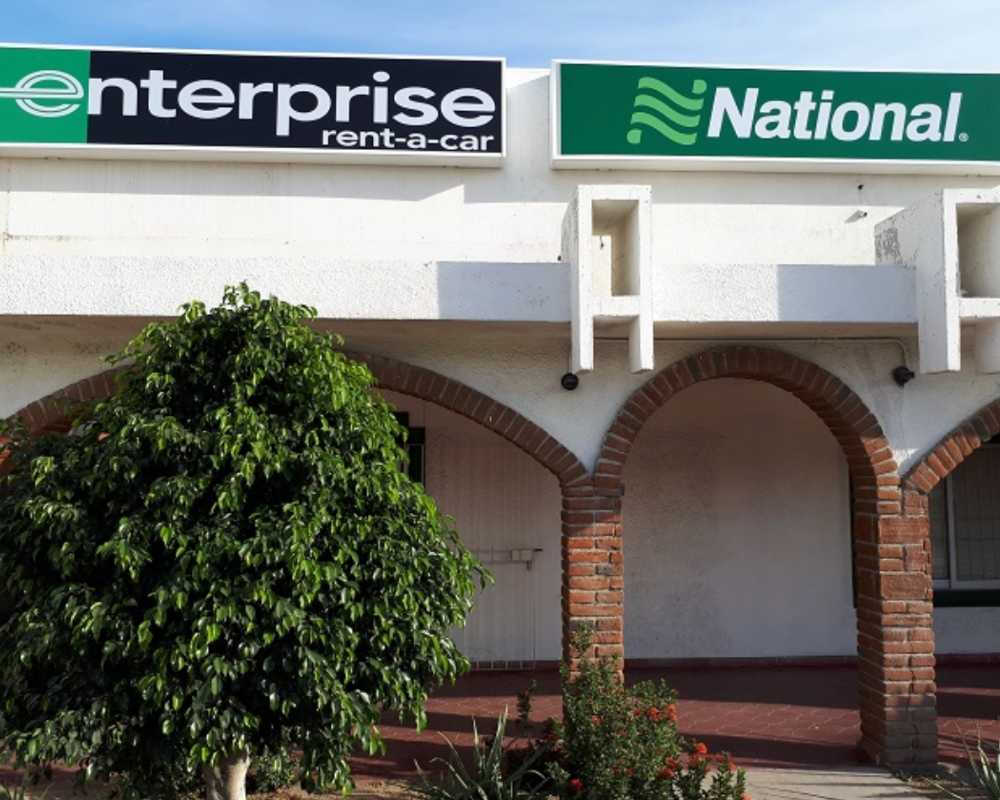 How much does it cost to rent a car in Cabo San Lucas?
When I first rented a car in Cabo San Lucas, they were quoting me $75 USD per day for a Sedan. Then I had to haggle to $55 USD per day since I felt like $75 USD was a lot.
I also realized that it is way cheaper to rent a car at Los Cabos Airport so take this into consideration before arrival because you can save up to 50% off than renting in downtown Cabo San Lucas. The prices here are ridiculously high!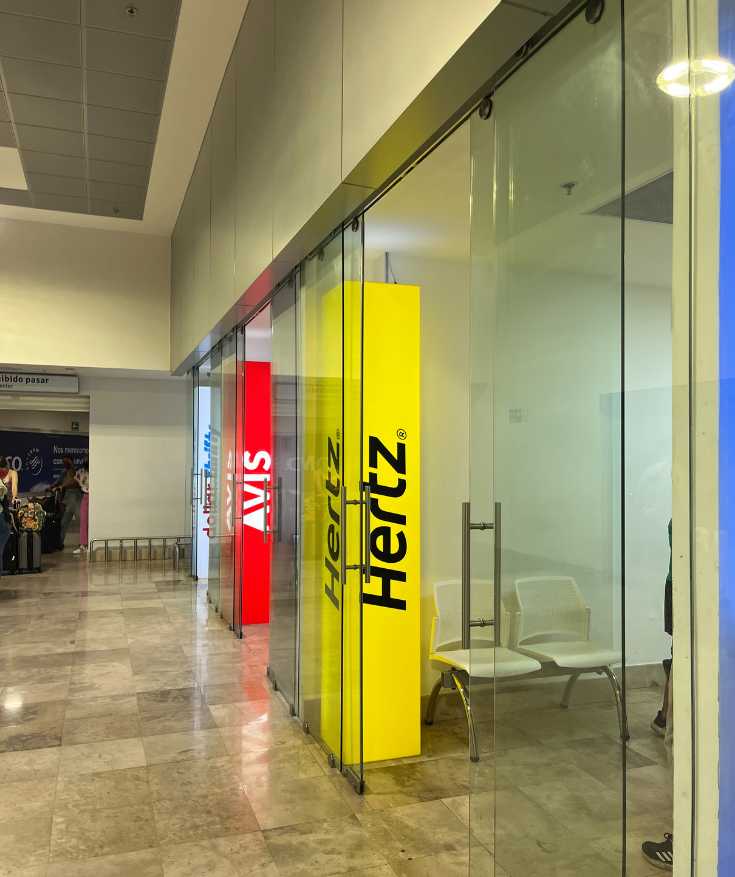 🚙 Rent a car in San Jose del Cabo Mexico
Do you need a car in San Jose del Cabo?
On the other hand, San Jose del Cabo is a walking town but I feel like you need a car in San Jose more than in Cabo San Lucas. The neighborhoods of San Jose are scattered and you can only actually walk downtown.
The rest of the areas like Zona Hotelera, San Jose beaches, and other neighborhoods need a car but you can also take Uber if you don't want to drive.
San Jose del Cabo car rental companies
Below are some of the trusted car rental companies in San Jose del Cabo together with their addresses/location: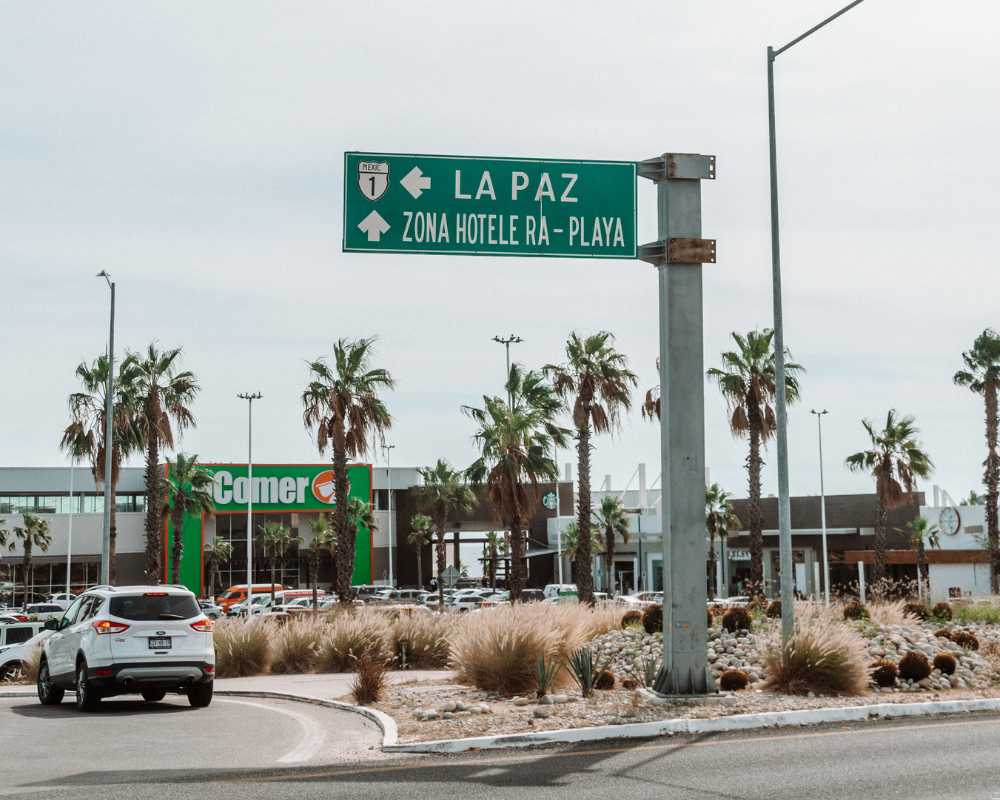 🚕 Los Cabos Airport transfers
After reading this article and you feel like you don't want to go through the process of renting a car in Cabo, you can opt for affordable Los Cabos Airport transfers with our local drivers below:
✨ Renting a car in Cabo tips and tricks
Book before your arrival
Booking online is still the cheapest option when renting a car in Cabo. When you arrive, the car will be ready for you and you won't have to wait long.
When booking online, you don't have to pay the full price. You will only pay for a reservation fee but there is also an option to pay the full price before arrival.
However, I only pay in full if I trust the car rental platform that I am booking with. I only trust Discover Cars and RentalCars.com for renting cars, not just in Mexico but all over the world.
Avoid the police at all costs
Well, you can't really avoid them because they continuously patrol Cabo but what I mean here is that do not give them a reason to stop you. It is very hard to deal with the Mexican police, I promise you so do not engage at all costs.
Follow road signs, do not beat traffic lights, and drive on the right if you are driving slow. Driving rules in Mexico is similar to back home in the US but there are some rules that locals tend to break.
As a foreigner, we don't really have the liberty to break rules so do not attempt it, even with the tiniest traffic rules.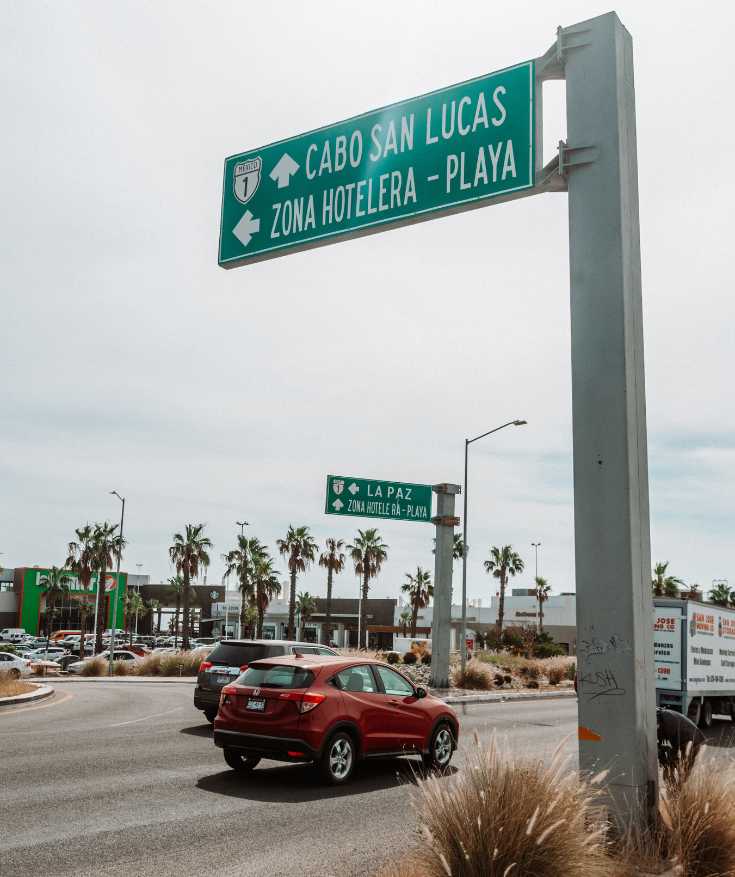 Slow drivers, drive on the right
There are many accidents in Los Cabos as most of our day to day transportation here involve driving through the transpeninsular highway. Heavy traffic and accidents are often caused by slow cars driving on the right.
The left side of the road is for overtaking. If you are driving slowly, drive on the right. I feel like this is an internationally known law for driving but here in Mexico, people don't do it!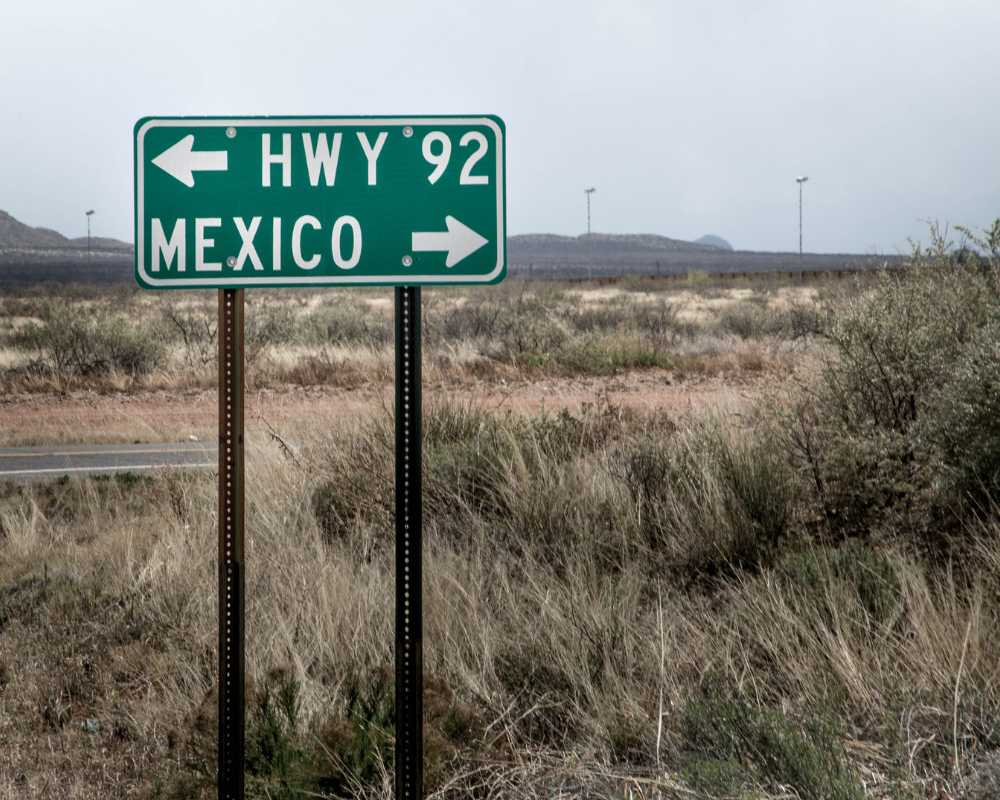 Blinking left signals could mean "overtake"
Many of my Mexican friends say it happens all over the country but I only saw this when I moved to Baja California Sur. Apparently, if the car in front of you has the left signal light blinking, it means overtake. It does not necessarily mean that they are going left.
It is still a case-to-case basis since this often happens on the highways of Baja California Sur but where. I live (in Quivira), and many drivers do it as well!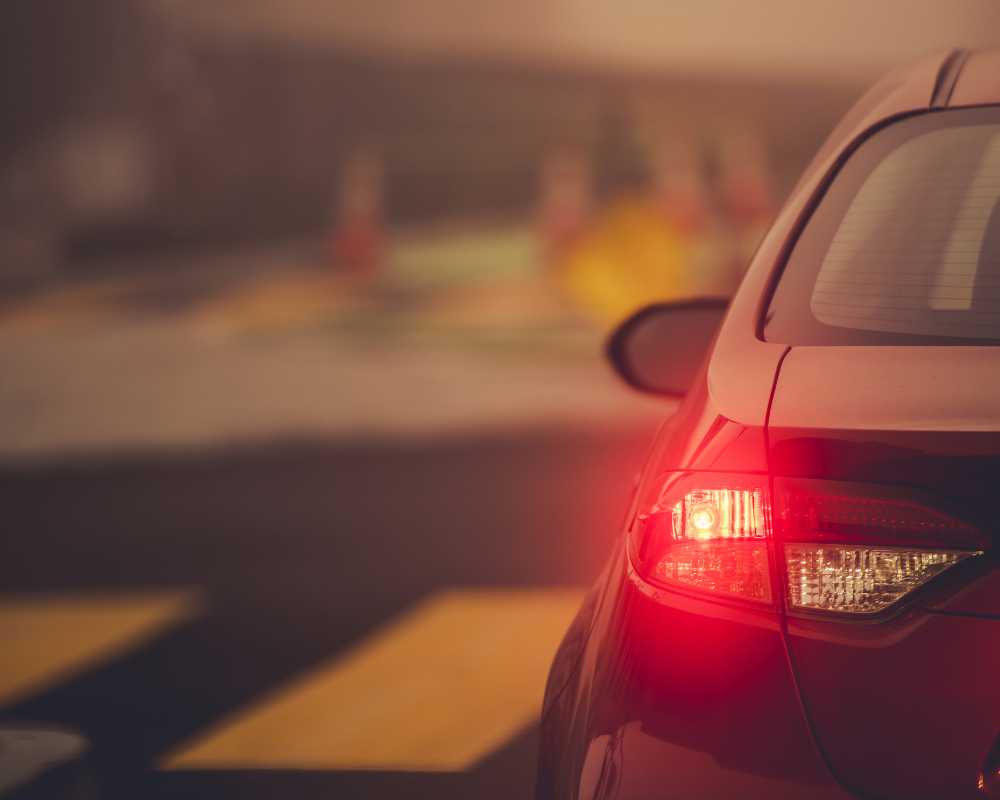 Flat tire and emergency
Well, I hope this does not happen to you but in case of emergency, you can count on Angeles Verdes. All you have to do is dial 078 on your phone and they will come to the rescue!
This service is free because they are a government agency (spearheaded by the Tourism Board) but please give them a tip!
Cabo is a first stop first go
Cabo does not have stop lights so when driving within town, please take note that it is a first-stop-first-go basis.
✈️ Ready for your trip to Los Cabos? If you need more information about renting a car in Cabo, we'd be happy to update this post – – just leave your questions in the comment box below or join our communities where we answer questions for FREE.
🇲🇽 Los Cabos Travel Planning
✈️ How do I fly to Cabo?
The airport that serves Cabo San Lucas is San Jose del Cabo (SJD). Our recommended booking platform for cheap flights is WayAway.
🚑 Do I need travel insurance to travel to Cabo?
YES, YOU DO! do not travel to Mexico without insurance. Check insurance plans on SafetyWing for as low as US$40 for full travel coverage.
🏨 Where can I book the best Cabo resorts and hotels?
The best platforms for booking your hotel in Los Cabos is Booking.com . You will find great deals on Cabo resorts on Expedia.
☕ Readers who support Mexico Insider help us continue bringing you the most honest content about Mexico. Consider donating to our coffee fund if you like the content that we do.
Trisha traveled to Mexico in 2018 and after a year, she found herself obtaining a 4-year residency visa in Mexico. She is the Editor-in-chief for our Living in Mexico Series which has helped over 3,000 Americans move to Mexico with ease. Trisha currently resides in Cabo San Lucas, Baja California Sur.