Welcome to my home in Mexico! Baja California road trip is one of the best road trip routes in North America.
You might be driving from the USA or Canada to go all the way down to Los Cabos and in this itinerary, I will give you a few stops that you need to see in Baja.
⚠️ Baja California road trip safety
You can definitely do it alone without problems. This is a famous road trip route so Mexicans are going to be super helpful during your trip.
Just be mindful of unupdated signs. There are many turns here that has really old signs as some of these roads were already developed. You might end up in very rough roads and get stuck. They really need to update these highway signs!
As for the federal police, they are not here a lot but if you see one, just stop, be polite, and don't argue. They will stop you even if you're not doing anything wrong so don't be confused.
I am usually very scared of the federal so I don't exceed speed limits. Honestly, in Mexico, you can be stopped for many reasons like having a nice car (I know, right), having a US plate, and just being a foreigner.
It's better to take a rental car to avoid attention and don't do anything stupid that the police will put their attention to you. If you're traveling with dogs, make sure they are tied inside as the police can also stop you from it.
My dogs are not leash dogs but we always get stopped because they are not tied inside my car. But no one's ever stopped us if they are in my truck's bed!
Lastly, there will be many areas that won't have a signal so make sure to get a Mexican sim card before starting your Baja California road trip.
There might be dead spots for data/4G but you can always use it for calling in case of an emergency.
Overall, you shouldn't be afraid of doing this road trip because Baja California is safe and tourist-friendly.
🗺️ Baja road trip map
I created a Baja road trip map which you can view by clicking this link. This map is divided into two layers, which are Baja California (starting point is Mexicali) and Baja California Sur which starts in Guerrero Negro.
If your final destination is Los Cabos, this is the best route to follow for seeing the best of Baja California Peninsula as opposed to just driving all the way down.
???? Don't go to Cabo San Lucas without travel insurance. Mexico Insider uses SafetyWing for all our remote workers and travelers from the US, Canada, the UK, and Australia.
🚗 Renting a car in Baja California
If you are bringing your car all the way down to Los Cabos (let's say from Los Angeles or San Diego), you will need to fill out paperwork and it's going to be a long drive to go back up again.
So I suggest renting a car in Mexico for your Baja California road trip. The good thing is you can rent a car in Tijuana and return it to Los Cabos without a problem!
They just charge a drop-off fee if you are returning it in a different location but that should not be more than US$200.
The daily car rental from Tijuana to Los Cabos is at US$20 but you have to put a security deposit that will be returned to you when you give the car back in good condition.
🔻 Find the best rental cars in Tijuana🔻
ℹ️ How to use this Baja California road trip itinerary
This Baja California road trip itinerary is good for one month. In one month, you can visit all these places and routes without rushing. Baja California is beautiful and you will definitely love road-tripping here!
However, if you don't have a month, feel free to skip some places but remember that this Baja California road trip itinerary is in order.
This itinerary in Baja California starts from Mexicali and ends in Los Cabos. In each route/item, I will also give you an insight into the travel time.
I will also suggest places to stay but it's totally up to you if you want to stay in each place for the night. Of course, if you are arriving at a place in the evening, you should definitely stay and continue driving during daylight.
🇲🇽 Northern Baja California road trip itinerary
Start in Mexicali
Start your Baja California road trip in the capital of Baja California Norte, Mexicali. This small town is only very popular to people who are living across the border but it's not actually the first place you'll think about when visiting Baja.
Explore the beautiful colorful town of Mexicali and dive into their world-famous cuisine. If you are staying in Mexicali for a night or two, you can definitely do a day trip to Canon de Guadalupe (east side of the Baja peninsula) since this Baja California road trip is going west.
🛏️ Where to stay in Mexicali: There are big hotel brands in Mexicali such as Holiday Inn and Mariott but if you want equally great accommodation for a lower price, I suggest City Plus Mexicali for US$75 per night for two people. Breakfast is included and they also have a parking spot!
Tecate
🚘 Driving time from Mexicali to Tecate is 1h 45m
The road from Mexicali to Tecate is so beautiful you'll love cruising here! In this route, you will cross the famous La Rumorosa highway, the most scenic drive I've ever done in my life!
There are many points of interest in Tecate such as the Tecate Brewery. If you don't know yet, Tecate is a famous national beer in Mexico and it is from this town!
Other interesting things to do in Tecate include the Zona Arqueologico de Vallecitos which is between Mexicali and Tecate. On Sundays, the admission is free for foreigners and travelers so why not cruise here for a little bit and stretch those legs!
🛏️ Where to stay in Tecate: Hotel Boutique Rancho Tecate is a great accommodation and one of my favorite boutique hotels in Baja California! A deluxe room for two costs US$75 and there are already many things to do inside this hotel.
Tijuana
🚘 Driving time from Tecate to Tijuana is 1 hour
Most Baja California road trip itineraries start in Tijuana since it's very accessible from San Diego, CA. You can definitely start here as you please.
I just added a little bit of the east side to this itinerary since Mexicali and Tecate are not that popular but are worth seeing as well. This is actually a super popular day trip from San Diego, CA.
You might want to stay a few days in Tijuana because this is where all the action is! Most Americans come here for a day trip and/or do their parties here (whatever you are celebrating) because of the vibrant nightlife and affordable food/drinks.
Many would suggest doing day trips for wine tastings but I included Valle de Guadalupe in this road trip route. For now, I suggest you just focus and relax in TJ!
🛏️ Where to stay in Tijuana: I always stay at Hampton Inn whenever I am in the city. The prices here are really not expensive considering the is a Hilton hotel brand! The last time I visited during the high season, I paid US$109 per night for a double room with breakfast.
Valle de Guadalupe
🚘 Driving time from Tijuana to Valle de Guadalupe is 28 minutes
Since this is just close to Tijuana and you only have one option to stay a few days, I suggest you stay in Valle de Guadalupe instead of Tijuana.
Valle de Guadalupe is the wine country of Mexico and I really encourage you to stay here longer. Sure, the accommodations here are more expensive since it's a famous bachelorette party and wedding destination in Mexico but I assure you, Mexican wine is worth knowing!
✨ Tip: On the way to Valle de Guadalupe from Tijuana, stop at La Mision, a small town with beautiful beaches! Who knows, you might end up staying the night here!
Alternatively, you can stay in Tijuana then just do day trips to Valle. It's only a 28-minute drive so that won't be a hassle. This way, you don't have to spend a lot of money on hotels.
🛏️ Where to stay in Valle de Guadalupe: Contemplacion is a sustainable and environment-friendly accommodation in Valle de Guadalupe. I loved staying here because of the great views. Plus their rooms only cost US$100 per night for 2 people, with a good breakfast included.
Ensenada
🚘 Driving time from Valle de Guadalupe to Ensenada is 1h 42m
You probably know Ensenada or have already been because this is such a famous weekend destination for Americans living in the south.
Ensenada is also known for its wine tours but you don't have to do it here if you are already doing it in Valle de Guadalupe. It is also popular for Las Cañadas eco-park where you can have a great outdoor experience.
Do not miss La Bufadora when you go here. It's one of the most spectacular sights in Mexico!
One night is a good time to stay in Ensenada as you will do the same activities along this route. It's just good to know the city and explore.
🛏️ Where to stay in Ensenada: Holiday Inn Ensenada stays are less than US$100 per night. This price is for 2 pax and includes breakfast.
San Quintin
🚘 Driving time from Ensenada to San Quintin is 2h 56m
I love San Quintin and highly encourage you not to miss this in your Baja California road trip! San Quintin is not so popular yet but here, you will get to experience the best valleys of Baja!
Visit La Lobera, a sea lion crater that is iconic of San Quintin. The wetlands of San Quintin Bay (pictured below) is another place you should definitely check out.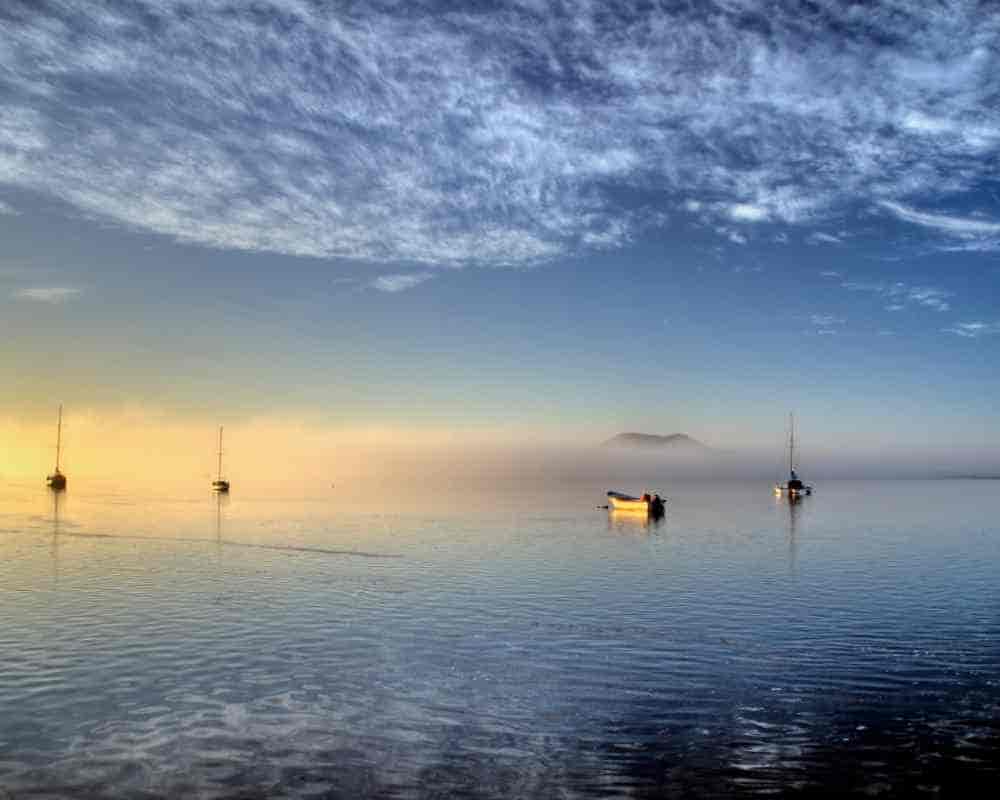 There are also many great food experiences in San Quintin. If you love seafood, the best place to get fresh oysters is at La Ostionera, a restaurant by the sea.
🛏️ Where to stay in San Quintin: I stayed at La Villa de San Quintin and it was really cheap for what it is! I paid US$55 per night for a double room with king bed.
Cataviña
🚘 Driving time from San Quintin to Cataviña is 3h 9m
Cataviña is where you can see the best of the Baja California deserts. I love hiking and short trails and if you do too, Cataviña is a great place. Bonus as it's not that touristy yet!
The best hotel in Cataviña is Hotel Mission Cataviña which is less than US$100 per night. A cheaper option (and a great quick stop) is to spend the night in San Felipe Beach.
I did not spend the night here and went straight to my next destination so I can't really recommend a great hotel. The hotel recommendation above is from a local friend of mine in Cataviña.
End of Northern Baja California road trip
Now, you are on your way to do drive the Baja California Sur route. However, let me just point an important stop from Cataviña. The drive to Bahia de Los Angeles from Cataviña is about 3h.
What I did was go west to Bahia de Los Angeles, an area that is good for kitesurfing, whale-watching, and other aquatic activities.
It's really on the way South so you won't be wasting time if you choose to swing by Bahia de Los Angeles. But I do encourage you to do so, especially if you are not rushing your Baja California road trip.
If you want to skip Bahia de Los Angeles, you can go straight from Cataviña to the first stop in Baja California Sur (which is Guerrero Negro), the driving time is 3h 47m.
🇲🇽 Baja California Sur road trip itinerary
Guerrero Negro
Welcome to BCS! You've now made it south! If you are following the Northern Baja California road trip route I did above, your first stop in the south should be Guerrero Negro (you'll pass by it anyway).
The best thing to explore in Guerrero Negro is the Ojo de Liebre Lagoon where you can go whale watching. If you do your Baja California road trip during the winter, you will see the great migration of whales here!
🛏️ Where to stay in Guerrero Negro: I spent the night in Guerrero Negro as it was quite a drive from Bahia de Los Angeles. I stayed in Hotel Los Caracoles which is a basic bed and breakfast (but really comfortable) for US$34 per night.
San Ignacio Lagoon
🚘 Driving time from Guerrero Negro to San Ignacio Lagoon is 3h 7m
I stopped in San Ignacio Lagoon instead of going straight to Mulege because I always wanted to see this area! Whale watching, biosphere reserve, and many great outdoor activities can be done in this area.
Although I must say it's not a normal stop but if you plan to include this in your Baja California road trip itinerary, it's not a lot of work to swing by – it's still on the way to Mulege!
🛏️ Where to stay in Laguna San Ignacio: I stayed in Rancho Espinoza for one night. They have a pool so it was great accommodation after hours of driving!
Mulege
🚘 Driving time from San Ignacio Lagoon to Mulege is 3h
So, a very good friend of mine whom I met in Sayulita is from Mulege. He wasn't there at the time of my visit but told me that Mulege is a good place to visit in Baja California Sur.
I would say that Mulege is a good day trip from Loreto (or any point of Baja California Sur) but I ended up staying for the night because my friend's family hosted me!
Mulege is a really small town but there are many outdoorsy things to do. Within the town, there is honestly nothing but the missions but the pride of Mulege is the mighty Bahia de Concepcion – a must-do when you are in BCS!
You can spend the night in Mulege and so some 2 to 3 days expeditions. As for the place to stay, there aren't a lot of hotels in Mulege and I can't recommend any since I did not stay in a hotel.
✨ Tip: In between Mulege and Loreto, there are many beaches worth stopping by for an hour or two. The best one I've been to is Playa El Coyote! 🏖️
Loreto
🚘 Driving time from Mulege to Loreto is 2h 13m
I spent a few days in Loreto for work and was able to explore this city that I've been hearing about. Loreto is a resort town and is also a favorite destination of many Americans because of the direct flights from the US.
My best experience in Loreto is sailing for a full day in the Sea of Cortez. We were able to visit many different spots and beaches around the area. I also love that Loreto is not that crowded!
🛏️ Where to stay in Loreto: People who are on a weekend in Loreto opt to stay in resorts but if you are looking for a small hotel for your road trip, I stayed in Hotel 1697 Loreto. Digital nomads or remote workers, their wifi is super-fast here and they also have a beer brewery where locals hang out!
La Purisma
🚘 Driving time from Loreto to La Purisima is 2h 30m
This can easily be a day trip from Loreto as many others do but you would like to stay in La Purisima for at least 2 nights and experience the wilderness!
San Juanico, San Comondu, and La Purism are usually the trio of this route where you will get to experience off-road paths of Baja California Sur.
Just be careful. Signs in this area are not updated. We were lost many times and our other convoy even got stuck in a shitty road for hours!
Including this route in your Baja California itinerary requires more research and of course, for you to be extra adventurous. At this point, I think it's important to disclose to you that the phone signal in La Purisima is super weak.
🛏️ Where to stay: There is only one hotel in La Purisima which is Cabañas La Purisima. For reservations, you can call +52 61 2141 7231.
In San Juanico, we stayed in Cowabunga Hotel. This accommodation is solar-powered and is close to the beach. To reserve at Cowabunga, call +52 61 3140 8569.
La Paz
🚘 Driving time from La Purisima to La Paz is 4h 43m
I lived in La Paz for one month and it's one of the (still) very Mexican destinations in Baja California Sur! You should stay here longer (at least 4 days) because there are so many things to do in La Paz!
Visiting Balandra Beach (the best beach in Mexico) can be quite tricky because of COVID. Many people start falling in line as early as 2:00 AM because of the daily visitor limit!
Even I who stayed here for a month had a hard time going. I had to sign up for tours which is a pain because you can easily visit Balandra on your own.
🛏️ Where to stay in La Paz: I rented an apartment in La Paz for one month but some weekends that I visit, I always stay at Hotel Catedral. They have a pool and is an ocean view property and it's less than US$100 per night!
Todos Santos
🚘 Driving time from La Paz to Todos Santos is 1h 10m
During my 6-month long Baja California road trip, I lived in Todos Santos for one month which was a mistake since you don't really need a month to explore Todos Santos.
It's a small town and most of the things to do here are in a nearby town called El Pescadero. For vacationers, Todos Santos is popular for its super cute hotels but it's way more expensive than other towns in Baja.
If you are a fan of the outdoors, Todos Santos has the most deserted beaches in the Peninsula. My dogs loved the beaches here because often, we are the only ones on them!
🛏️ Where to stay in Todos Santos: Hotel Casa Tota is the most affordable (and great value) if you don't want to spend over US$200 in Todos Santos hotels. I've stayed here many times during my day trips and find it fairly priced. Oh, they have a pool, too!
Los Cabos
🚘 Driving time from Todos Santos to Los Cabos is 1h 10m
Welcome to my current home! Los Cabos has two areas which are Cabo San Lucas (CSL) and San Jose del Cabo (SJC). This is currently where I live and it's more for young/solo travelers who want to be close to the action.
Families traveling with kids prefer San Jose del Cabo (SJC) since it's very quiet. Most of the all-inclusive resorts in Los Cabos are also in SJC. The airport is also here so it's a good weekend getaway for many Americans.
There are many things to do in Cabo and this should be a place where you stay longer. Cabo is beautiful and on the east side of Baja California Sur, there are many other things to explore like Cabo Pulmo and La Ventana.
🛏️ Where to stay in Cabo: I always recommend Hotel Bahia since they have a nice restaurant called Bar Esquina and an oceanfront beach club called SUR. It is centrally located and the prices here are not so bad. One time, I stayed here for only US$160 per night (including a nice breakfast).
⁉️ Baja California road trip FAQs
✈️ Ready for your trip to Baja? If you need more information about this Baja California road trip, I'd be happy to update this post – just leave a comment below or join our Facebook community where we answer questions without a cost.
🔻 Discover things to do in Baja California🔻
Trisha traveled to Mexico in 2018 and after a year, she found herself obtaining a 4-year residency visa in Mexico. She is the Editor-in-chief for our Living in Mexico Series which has helped over 3,000 Americans move to Mexico with ease. Trisha currently resides in Cabo San Lucas, Baja California Sur.