This Baja California road trip route only covers the places I visited in the northern part of the peninsula. I did start this trip in my home in Los Cabos, and you can read that part in my Baja California Sur road trip route.
📧 Hi Trisha! I just watched your reel about your Baja California road trip and also followed your stories! I was quite amazed how you drove far and I want to do the same. Please share your Baja California road trip itinerary. I was following it at the beginning but got lost – there is so many places you've seen! Thank you so much and more power to your work and travels!

Robin Hemenway, United States
Hola Robin!
Welcome to my home in Mexico! Baja California road trip is one of North America's best routes. You might be driving from the USA or Canada to go down to Los Cabos, and in this itinerary, I will give you a few stops that you need to see in Baja Norte.
Please note that I live in Los Cabos, Baja California Sur so if you are starting your Baja California road trip in Tijuana, reverse this itinerary.
There is only one road all throughout Baja California (from South to North and back) so you'll pass by all these areas.
The Youtube episodes will be divided into 16 parts – my team and I are currently in the editing process so you can see road conditions in Baja California!
Good luck, and I hope you push through. I am 100% sure you will have fun and I am now telling all my friends that this is a one-of-a-kind road trip – there is nothing like it!
🧐 Questions about Baja California Mexico? Ask us on Tiktok.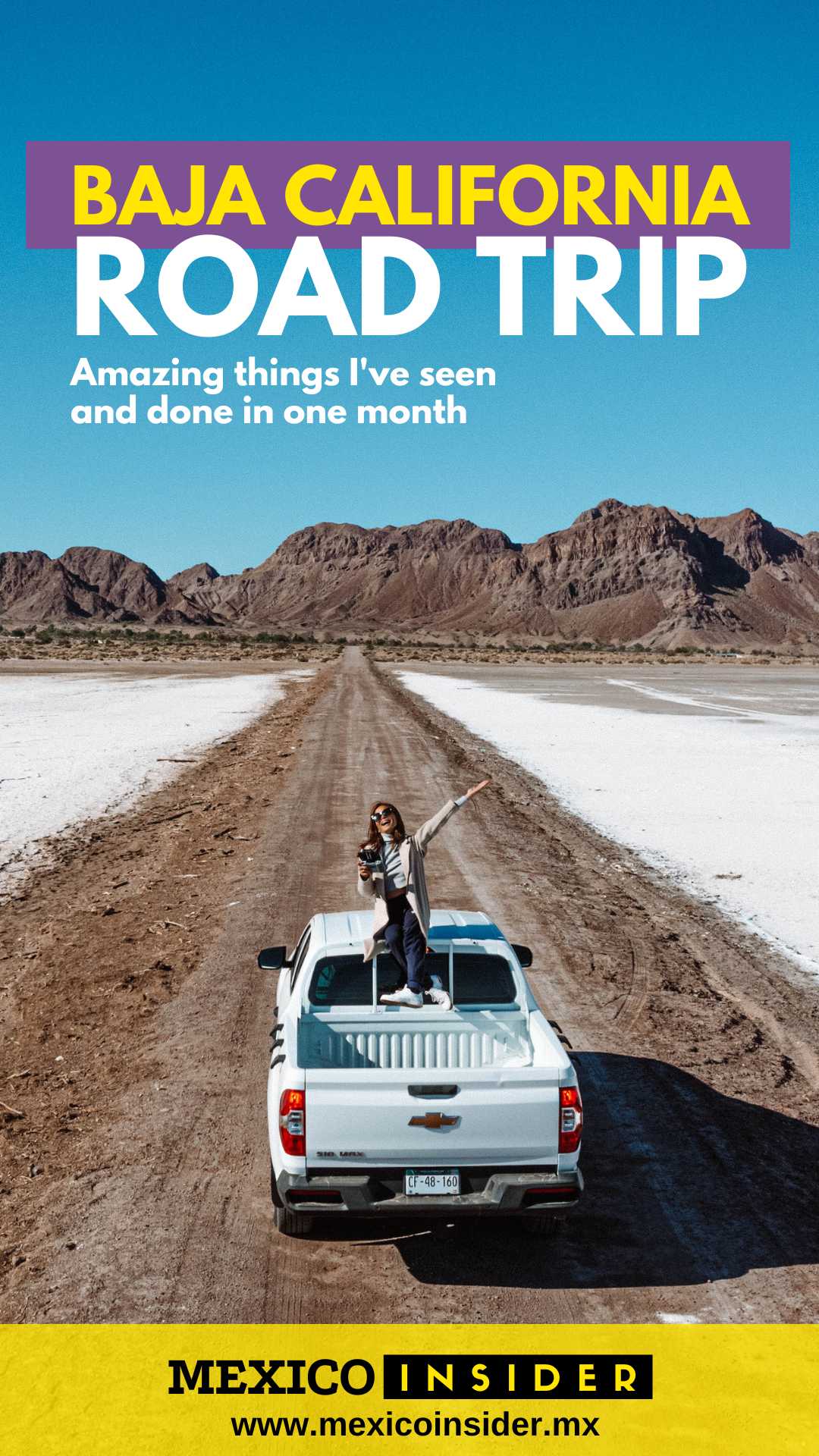 🔗 Baja California road trip: quick links
🗺️ Baja road trip map
I created a Baja road trip map which you can view by clicking the map below. This is the exact route I did from Los Cabos and back. However, this map is only part 2 of the trip.
Go to my Baja California Sur road trip post to see the first part of the drive!
🇲🇽 Baja California road trip itinerary
Again, I just want to remind you that this is part 2 of my Baja California road trip (from Los Cabos and back). The city that borders Baja California Sur and Baja California Norte is called Guerrero Negro.
From Guerrero Negro, I moved on to Catavina.
Cataviña
🚘 Guerrero Negro to Cataviña: 239 KM (148 miles)
📍 Cataviña, Baja California Mexico
This stunning landscape boasts an array of towering cacti that will leave you awestruck. The massive Cardon cacti can grow up to 60 feet tall and have been known to live for over 200 years!
As you drive through the valley, be sure to keep an eye out for other impressive plant species such as agave and ocotillo. The area has also been declared a biosphere reserve by UNESCO due to its ecological importance.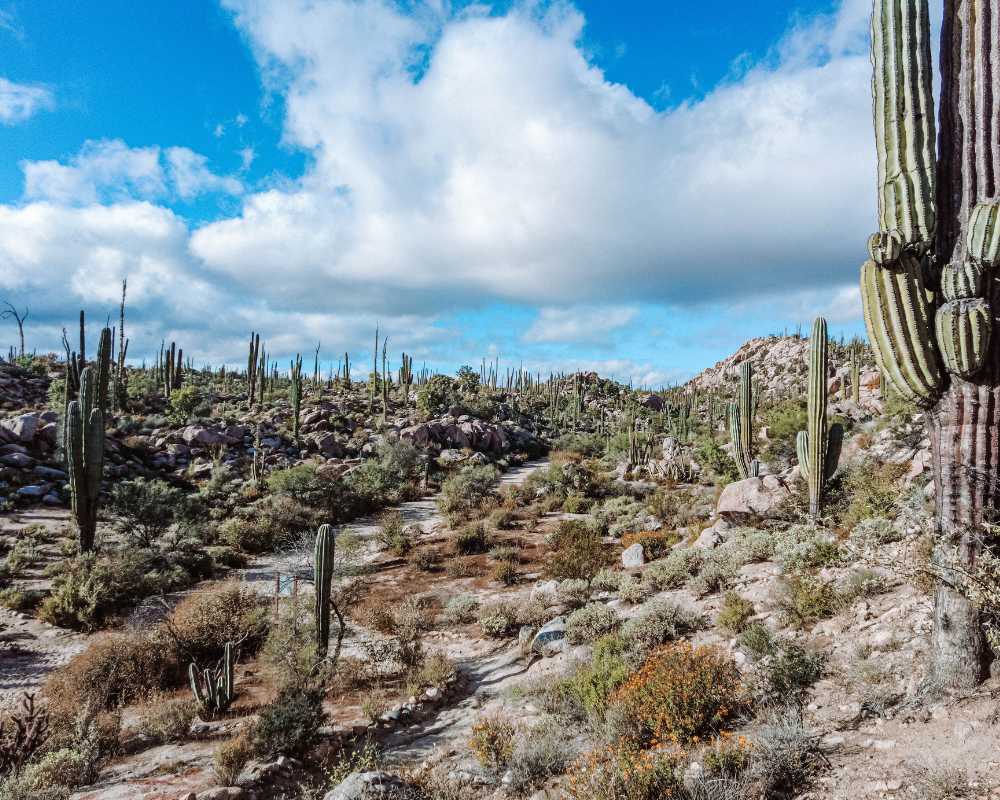 The best hotel in Cataviña is Hotel Mission Cataviña which is less than US$100 per night. Spending the night in San Felipe Beach is a cheaper option (and a great quick stop).
I did not spend the night here and went straight to my next destination, so I can't recommend a great hotel. The hotel recommendation above is from a local friend of mine in Catavi
San Quintin
🚘 Cataviña to San Quintin: 186 KM (115 miles)
📍 San Quintin, Baja California Mexico
San Quintin is one of my favorite places in this Baja California road trip! The area is home to some of the finest seafood restaurants in all of Baja California.
La Lobera is home to one of the most beautiful natural wonders in Mexico: a stunning sea cave that opens up into the crystal-clear waters of the Pacific Ocean.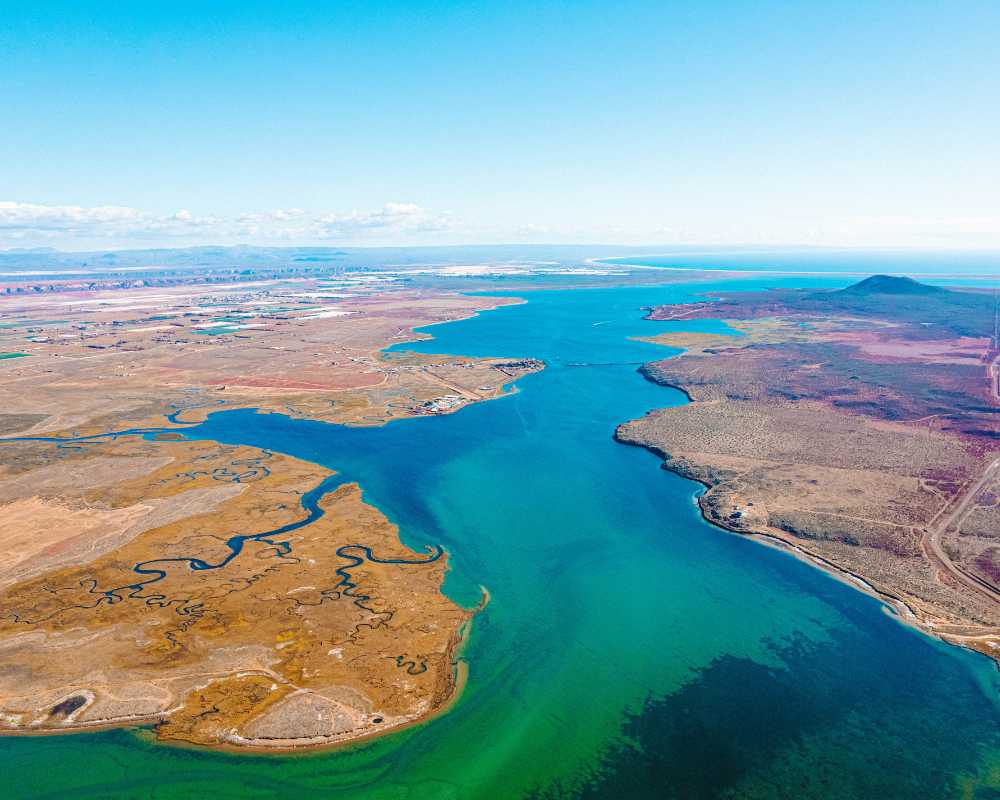 You can explore this cave by swimming, kayaking, or snorkeling, and be rewarded with stunning views of colorful marine life and towering cliffs.
Additionally, this area is known for its impressive whale-watching opportunities between January and April each year when humpback whales migrate through these waters.
I stayed in La Villa de San Quintin, a trucker hotel with strong shower pressure and hot water! They really know what a road tripper needs so it is very decent especially if you are only staying for one night.
Ejido Erendira
🚘 San Quintin to Ejido Erendira: 186 KM (115 miles)
📍 Ejido Erendira, Baja California Mexico
Now this was just a random stop. I didn't expect to spend the night here! From San Quintin, ideally, travelers go straight to Ensenada, but I didn't want to drive at night.
I also wanted to stop in Punta Colonet, which I did and it was a bad idea. I did not realize how off-road the way to Punta Colonet is but I did it anyway!
I wouldn't recommend you to go to Punta Colonet unless you are spending the night. A short trip is not possible because the drive is far.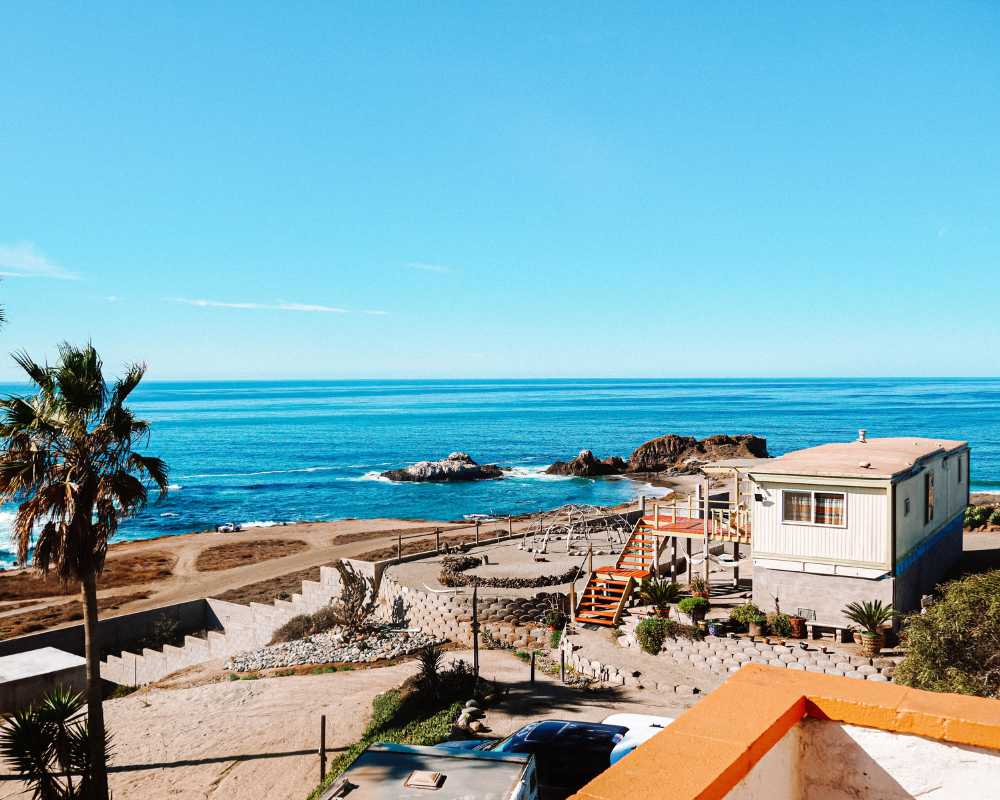 I found out about the surfing town of Ejido Erendira, and I am glad I did! What great timing because when I arrived, the town was celebrating its founding anniversary, so it was louder than usual.
Locals told me that it is quiet there all year round and that I chose the best time to go. I stayed with this American-Thai couple who has a spa and Thai restaurant in their hotel!
They are not on any booking platform, but I can share with you the contact if you need it – just get in touch!
Valle de Santo Tomas and La Grulla
🚘 Ejido Erendira to Valle de Santo Tomas and La Grulla: 47 KM (29 miles)
📍 Valle de Santo Tomas, Baja California Mexico
Nestled in the heart of Baja California's rugged landscape, Santo Tomas Wine Valley has vineyards and wineries dotting the valley's hillsides, you can spend a few hours here sipping on award-winning wines while taking in breathtaking views of the surrounding mountains and valleys.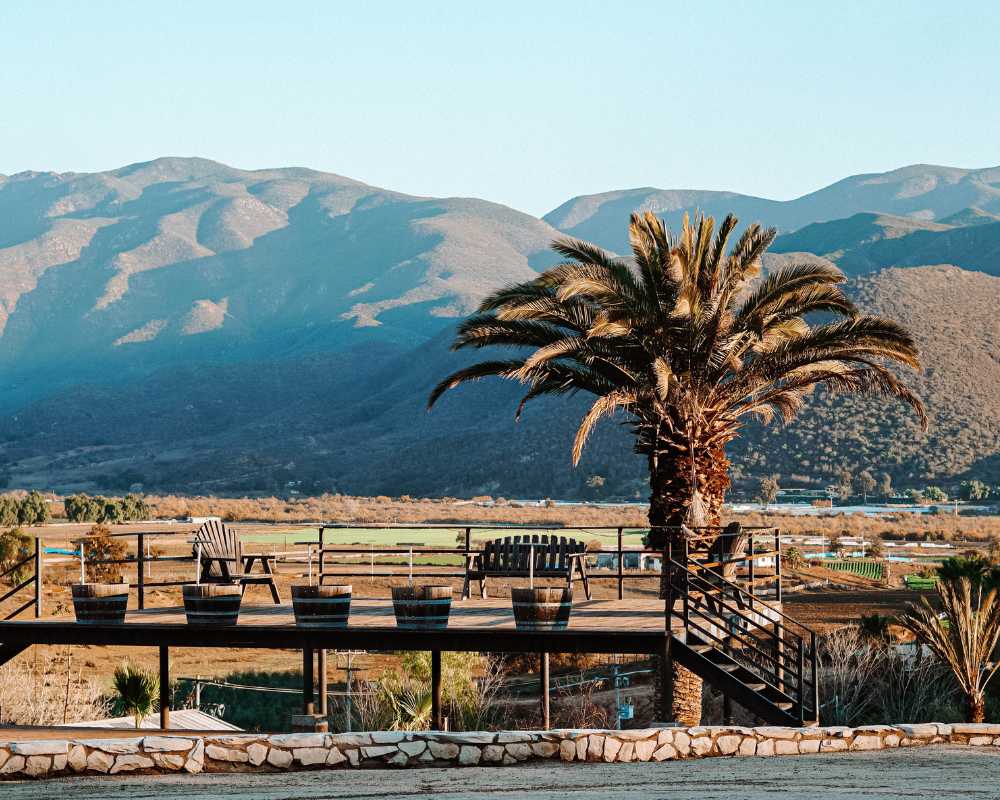 I did not stay the night here as I aimed to arrive in Ensenada that night. I did come here, especially for the Santo Tomas Winery, which is one of the oldest wineries in Mexico.
Then I moved on to another wine country called La Grulla. And I had to rush because wine tastings during low season are only until 4:00 PM.
Ensenada
🚘 Valle de Santo Tomas to Ensenada: 49.7 KM (30 miles)
📍 Ensenada, Baja California Mexico
Ensenada is just 70 miles south of San Diego, Ensenada is an easily accessible destination even if you are not doing a Baja California road trip.
One of the main reasons why travelers should visit Ensenada is its stunning coastline. The city boasts some of the most beautiful beaches in Baja California Sur, with crystal-clear waters perfect for swimming and snorkeling.
In addition to sunbathing and water sports, there are plenty of other activities to enjoy such as whale-watching tours or visiting the nearby Guadalupe Valley wineries.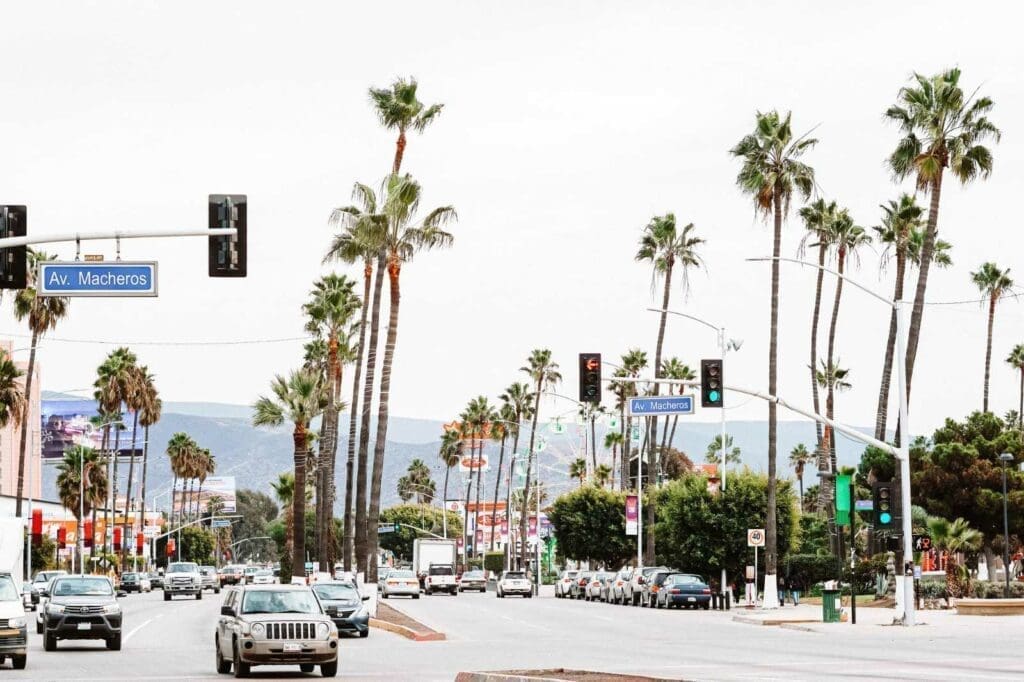 I did not expect to like Ensenada but I was impressed by its nightlife and big Chinese/Asian food culture! Ensenada is actually the first modern city in this road trip leg as all the routes were so rugged and remote.
Since this was almost day 15th of my Baja California road trip, I took advantage of doing mani/pedi and spa treatments in Ensenada!
FYI, I stayed in Ensenada for 2 nights since I wanted to have longer rests and I was kind of getting sick of my car. The hotel I stayed in is called Casa Asturias ($from $85 USD).
Valle de Guadalupe
🚘 Ensenada to Valle de Guadalupe: 43 KM (26 miles)
📍 Valle de Guadalupe, Baja California Mexico
I stayed here for 3 nights because I am a fan of Mexican wine! I have visited all the wine regions of Mexico and I frequent Valle de Guadalupe because it's so near my home in Los Cabos.
With its stunning natural landscapes, exquisite wines, and delicious cuisine, you may want to stay longer here. I even brought outfits for fancy dining!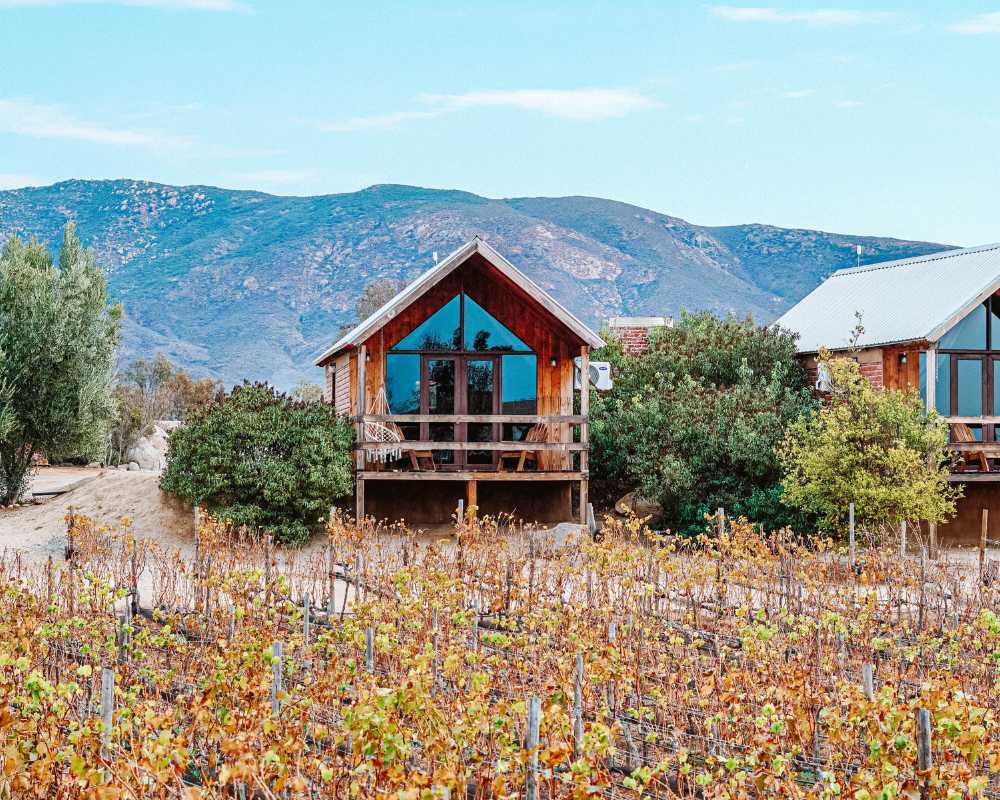 Valle de Guadalupe has hundreds of local vineyards and there are many restaurants in the area. I stayed at Don Tomas Winery and visited many other wineries during the trip.
You can check my Valle de Guadalupe guide in this blog for more ideas, but most vineyards already have hotels and accommodations.
Tijuana
🚘 Valle de Guadalupe to Tijuana: 109 KM (67 miles)
📍Tijuana, Baja California Mexico
Not my first time in Tijuana and this was my favorite stop because I was able to see my friends in TJ! I always go to Tijuana because of culture and the delicious food.
One of the best things about Tijuana is the food! From street tacos to gourmet cuisine, this city has it all. Be sure to try some local favorites like birria (a spicy stew) and ceviche (raw fish marinated in lime juice).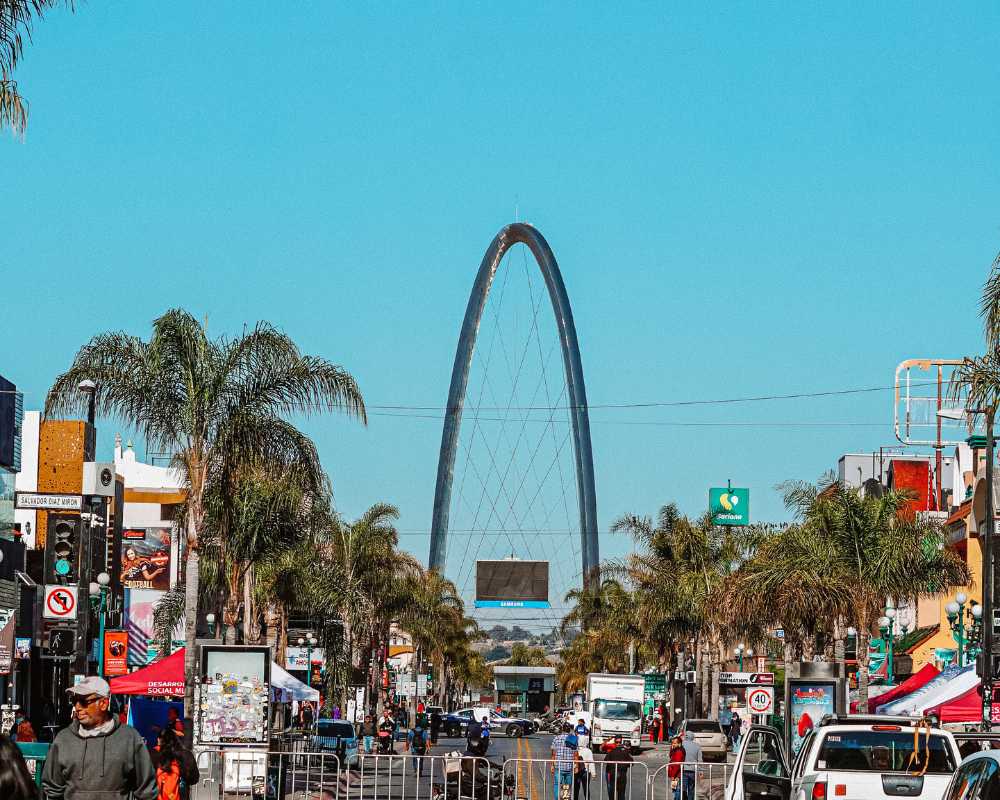 This trip, I also visited Caesar's Restaurant (again), the home of the ceasar salad. Yep, caesar salad was invented in Tijuana!
I speak Spanish and I live in Mexico so I do not feel unsafe in Tijuana. I know you hear a lot about bad things happening in Tijuana but those are not always true.
There are areas to avoid, yes. But don't be so paranoid and overly vigilant. TJ is OK! I stayed in City Express Tijuana (a little bit out of the city center) and paid $75 USD per night.
Tecate
🚘 Tijuana to Tecate: 50 KM (31 miles)
📍Tecate, Baja California Mexico
Tecate is often overlooked by travelers in favor of more popular destinations, but it's definitely worth a visit. I did not stay the night here because I arrived in the morning and have seen the whole town within just 2 hours.
Tecate is known for bread, so I visited the famous bakery called El Mejor Pan de Tecate, a bakery with hundreds of types of bread where I had breakfast and bought snacks for the road.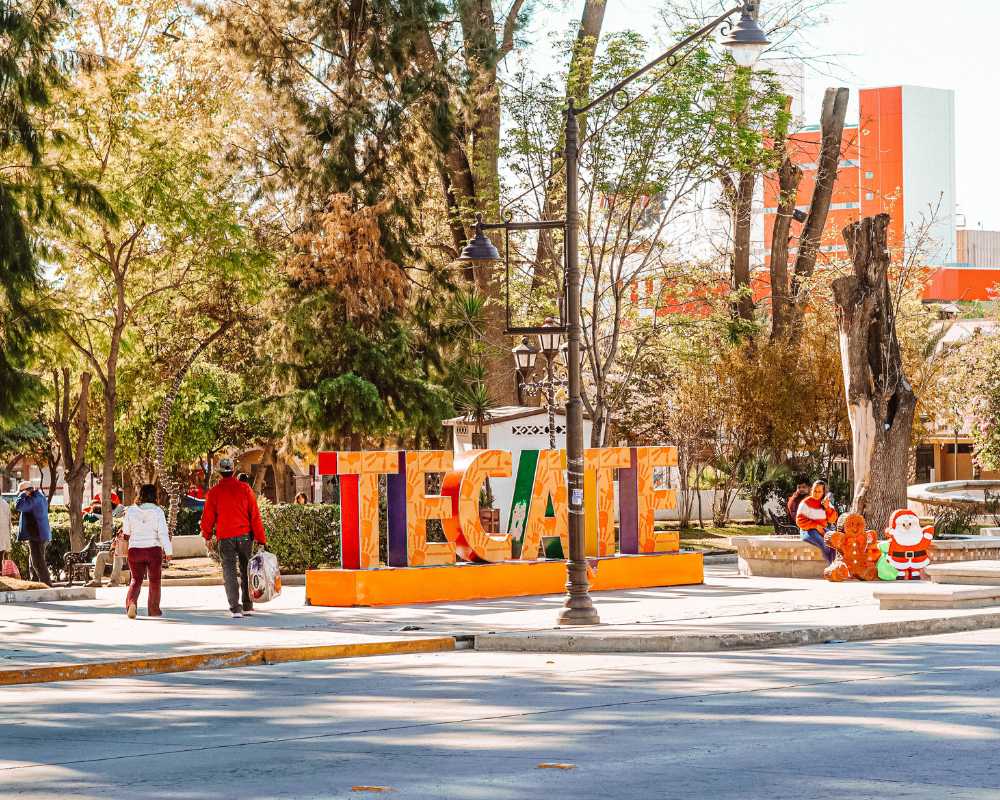 The highlight of my swing-by to Tecate is La Rumorosa, famed to be the most dangerous road in Mexico. With its rocky terrain and stunning views of the Baja California Desert, La Rumorosa offers a one-of-a-kind experience but it was not that scary!
🥘 Tecate to Mexicali quick stops: Before starting La Rumorosa drive, stop at Casa de Piedra, an abandoned rock house. Then have breakfast at La Cabaña Del Abuelo – best breakfast spot in this area!
Mexicali
🚘 Tecate to Mexicali: 135 KM (83 miles)
📍Mexicali, Baja California Mexico
I spend 2 nights in Mexicali because I was heavily drawn to the Chinese culture here. The city center has Chinese pagodas and temples. There are also Chinese restaurants everywhere!
Chinese immigration to Mexicali began in the early 1900s when thousands of workers came from China to help build the railroads that connected Mexico and the United States.
Many stayed and eventually settled in Mexicali, establishing businesses and homes in what would later become Chinatown.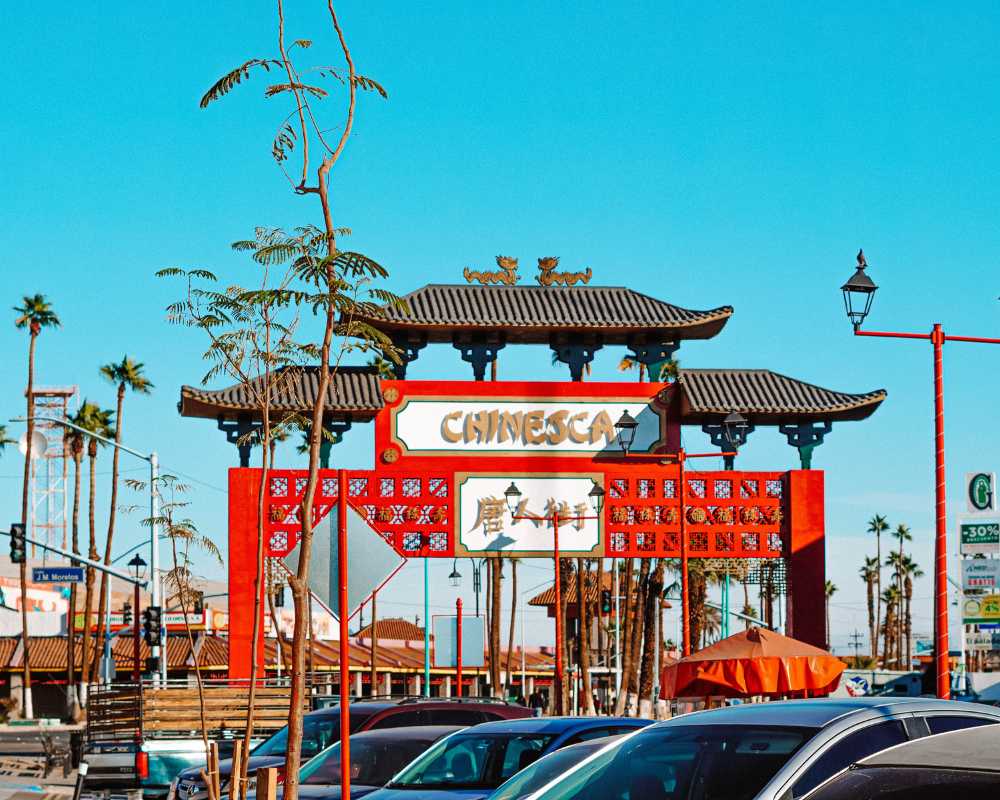 Today, Chinatown is a bustling district filled with shops selling traditional Chinese goods such as tea sets, silk clothing, and herbal remedies.
I also found out that this is the better option to go through the US border compared to Tijuana. The line here is faster and lesser traffic!
I stayed in Real Inn Mexicali and paid $89 USD per night. It's a basic room for business travelers and I still needed to drive or take an Uber to visit the city center.
San Felipe
🚘 Tecate to Mexicali: 135 KM (83 miles)
📍Mexicali, Baja California Mexico
Really really beautiful coastline and is my favorite drive on this Baja road trip! San Felipe is a charming town perfect for those who crave a laid-back vacation filled with sun, sand, and sea.
You can visit San Felipe from the USA even on a day trip but it is more advisable to stay. This town is really pretty and there aren't a lot of tourists.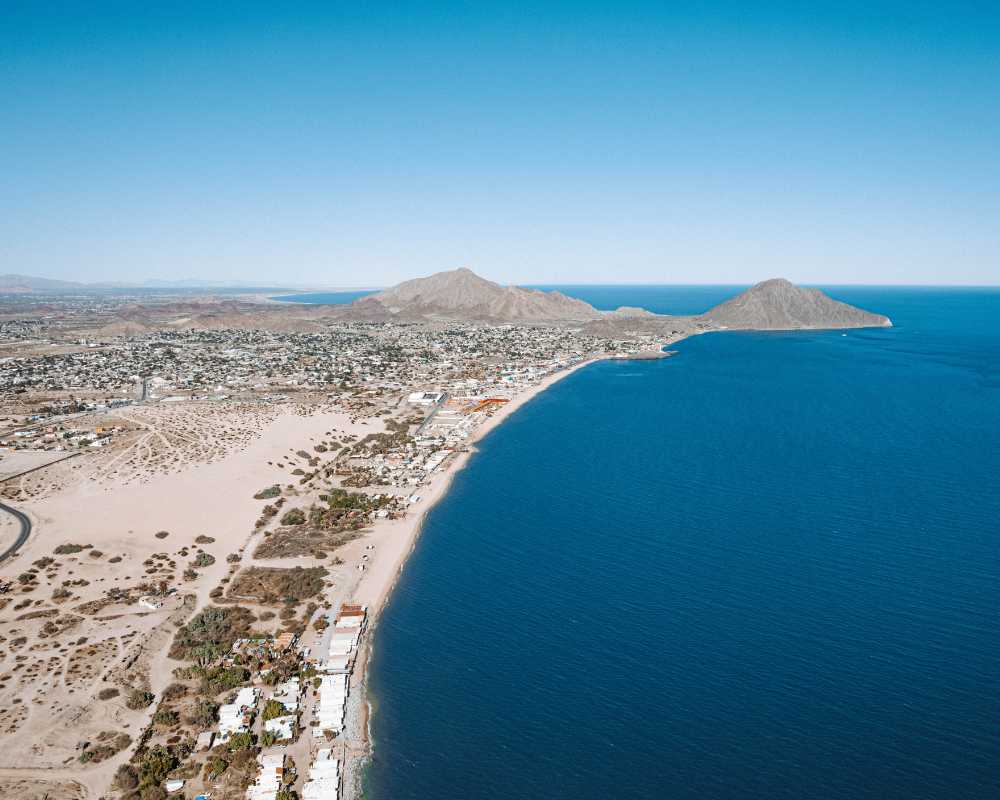 From El Dorado to La Ventana del Mar, each beach boasts crystal clear waters and soft white sand. You can also do water activities such as kayaking or paddleboarding.
I stayed in Hotel Las Palmas and paid $100 USD for the night. There are also many RV parks and camping sites here if you want cheaper accommodation.
⚠️ Baja California road trip safety
You can do it alone without problems. This is a famous road trip route so Mexicans are going to be super helpful during your trip.
Just be mindful of outdated signs. There are many turns here that has really old signs as some of these roads were already developed. You might end up in very rough roads and get stuck. They really need to update these highway signs!
As for the federal police, they are not here a lot but if you see one, stop, be polite, and don't argue. They will stop you even if you're not doing anything wrong so don't be confused.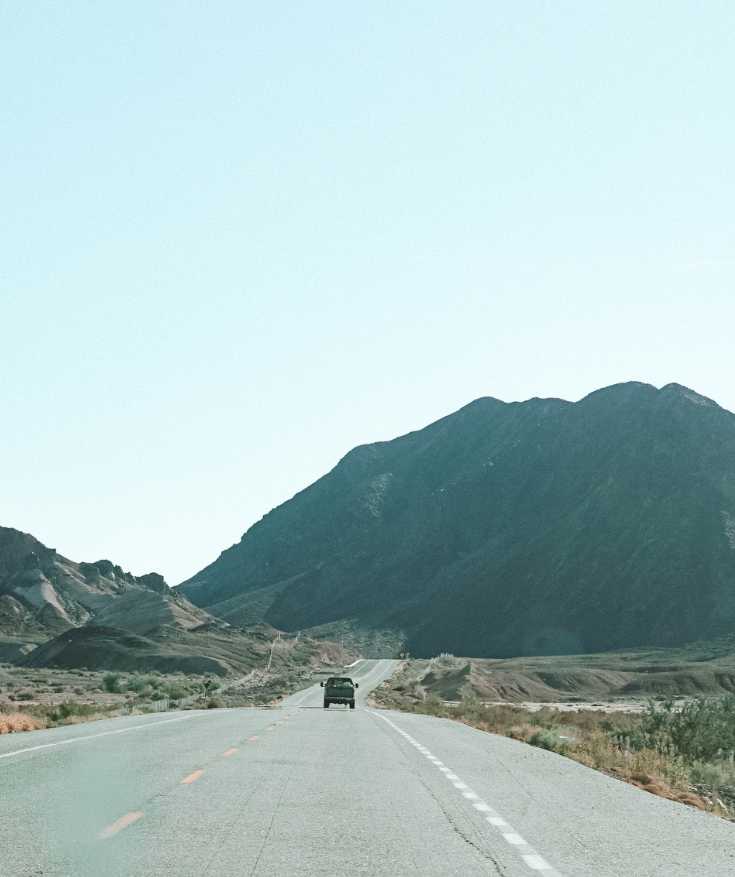 I am usually very scared of the federal so I don't exceed speed limits. Honestly, in Mexico, you can be stopped for many reasons like having a nice car (I know, right), having a US plate, and just being a foreigner.
It's better to take a rental car to avoid attention and don't do anything stupid that the police will put their attention to you. If you're traveling with dogs, make sure they are tied inside as the police can also stop you from it.
My dogs are not leash dogs but we always get stopped because they are not tied inside my car. But no one's ever stopped us if they are in my truck's bed!
Lastly, there will be many areas that won't have a signal so make sure to get a Mexican sim card before starting your Baja California road trip.
There might be dead spots for data/4G but you can always use it for calling in case of an emergency.
Overall, you shouldn't be afraid of doing this road trip because Baja California is safe and tourist-friendly.
🚗 Renting a car in Baja California
If you are bringing your car all the way down to Los Cabos (let's say from Los Angeles or San Diego), you will need to fill out paperwork and it's going to be a long drive to go back up again.
So I suggest renting a car in Mexico for your Baja California road trip. The good thing is you can rent a car in Tijuana and return it to Los Cabos without a problem!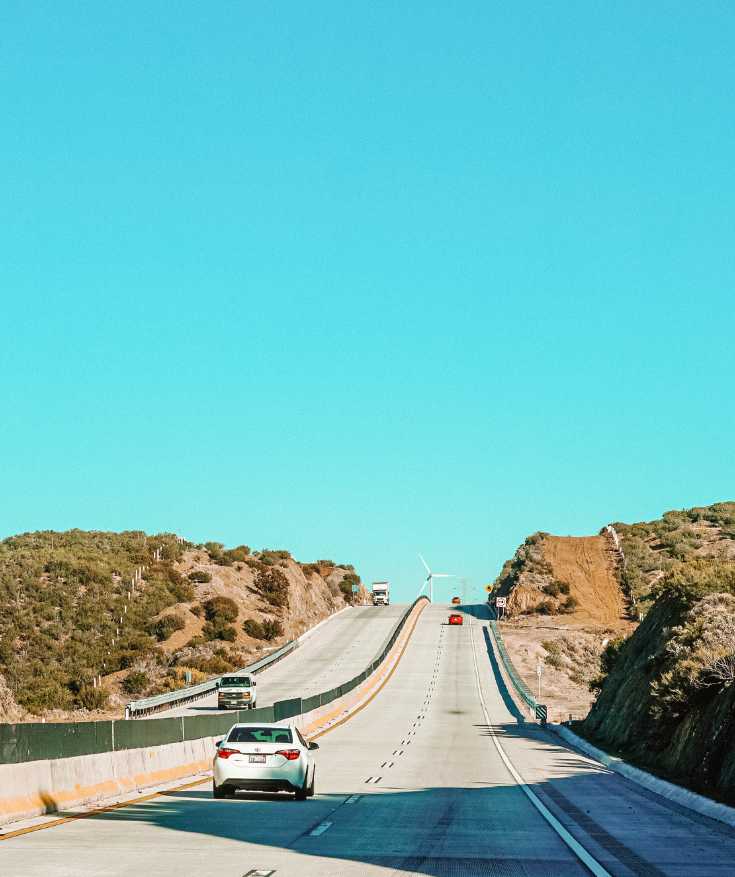 They just charge a drop-off fee if you return it to a different location, but that should not be more than $200 USD.
The daily car rental in Baja California is $75 USD, but you have to put in a security deposit that will be returned to you when you give the car back in good condition.
☀️ The best time to go on a Baja road trip
If are looking for some sun and enjoy warm temperatures, then the best time to do your Baja California road trip is between June and September.
During these months, temperatures average around 90°F (32°C) during the day and cool down to around 70°F (21°C) at night. However, be prepared for high humidity levels during these months as well.
If you prefer milder temperatures and don't mind cooler water temperatures for swimming and surfing, then consider visiting between November and April.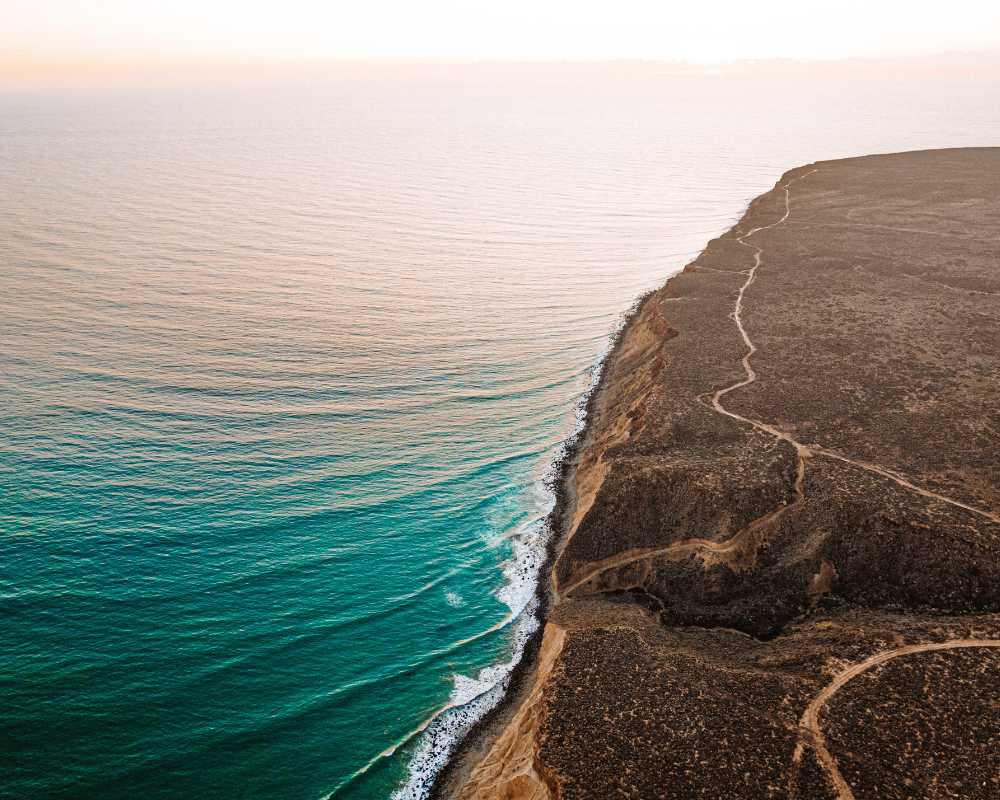 I did not time my Baja California road trip very well. Since I live in Los Cabos, I thought that Baja California and Baja California Sur will have the same weather, so I did this road trip in December.
December is super cold in Northern Baja, so you'll see me wearing a jacket in all my photos in this article. The good thing about doing this Baja road trip in December is that it is low season and there are no tourists!
In most hotels I stayed in, I did not even book in advance. I simply walked in, and everyone said it is low season, so they have availability.
⁉️ Baja California road trip FAQs
Trisha traveled to Mexico in 2018 and after a year, she found herself obtaining a 4-year residency visa in Mexico. She is the Editor-in-chief for our Living in Mexico Series which has helped over 3,000 Americans move to Mexico with ease. Trisha currently resides in Cabo San Lucas, Baja California Sur.