Here are our favorite and most recommended Sayulita cafes that serve excellent coffee and brunch.
Coffee lovers always want great coffee that comes with a nice breakfast when traveling. The culture of Sayulita cafes has grown through the years and believe me, we never lack good coffee!
In this article, we ranked our favorite cafes in Sayulita with detailed information on types of food and wifi connectivity – I know you digital nomads are always looking for a space to work in!
I lived in Sayulita for two years and here are my favorite spots.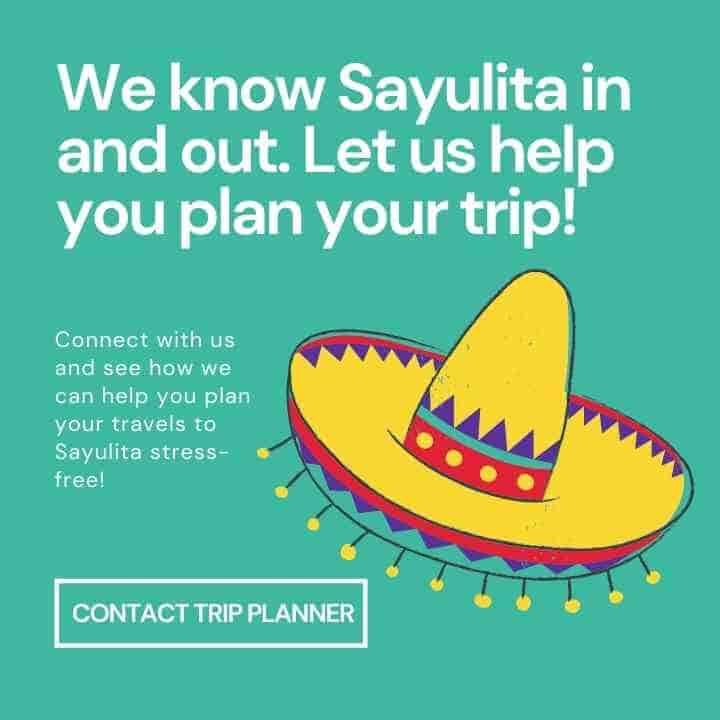 ✨ Where can you get good coffee in Sayulita?
There are a few Sayulita cafes that are owned by families that brew their own coffee, for example, Another One Coffee Roasters.
Fausto, the owner of the coffee shop is super hands-on: you will always see him in Another One. At the cafe, you will also see the coffee roasting machine by the entrance and he can give you a mini intro to his coffee bean business.
I also personally know Maria, the owner of Cafeteria Marias de Astal who also grows their own coffee beans. Maria's coffee brand is also sold in many supermarkets and mini-shops in Sayulita.
📶 Do Sayulita cafes have strong wifi?
The cafe in Sayulita that has the strongest wifi is Yah Yah Cafe which is probably the only one with a fiber optic connection (around 100 MBPS).
You can definitely sit down at Yah Yah and work but make sure to order frequently if you're staying for more than 2 hours.
Sayulita has had a big digital nomad problem through the years where people come to cafes, don't order, and just use the wifi for hours, which has been a big concern of local business owners.
Most cafes in Sayulita are really small and cannot accommodate more than 25 people so if you are not ordering and using their space, the businesses can lose a lot of money.
☕ 15 Sayulita cafes and breakfast restaurants
#1: Anchor Cafe: our top pick
📍 Calle Marlín 45
📞 +52 322 303 5220
Tucked in the famous Gringo Hill, Anchor Cafe is a hidden space where you can definitely guarantee privacy. This is a great spot if you want to get away from the crazy noise in the center, while still being at the center.
Their food menu is small but it is very varied. They have bagel and ciabatta sandwiches varying in sweet and savory flavors. The egg and bacon sandwich is our favorite and for the sweet tooth, we recommend the peanut butter and banana.
If you wake up super hungry, try the Big Breakfast with eggs, panela cheese, bacon, sauteed spinach, tomato, and sourdough bread. For simple, light, and clean food, they have 10 different smoothie bowls.
The Anchor is definitely one of the cafes in Sayulita that has a wide selection of drinks. Traditional, iced, and cold brew coffee (locally sourced) tops to drinks menu with specialty drinks like Vegan Macha Latte and Golden Milk (turmeric powder, coconut oil, honey, almond milk).
#2: Yah Yah Cafe
📍 Niños Heroes #3
📞 +52 322 278 9080
Yah Yah is a digital nomad's favorite because of their fiber optic wifi. It has 2 seating areas (AC area and patio) that have comfortable sofas, chairs, and tables.
The menu is quite varied but people come here for the bagels and croissants. They also serve smoothies. bowls and healthy wraps.
Some of my Yah Yah favorites is Buenos Dias, which is a bagel sandwich with scrambled eggs, bacon, melted cheese, lettuce, tomato, onions, pickles, and alfalfa sprouts. Top this with their best-selling and in-house Chipotle and mango sauces!
You will love Yah Yah's espresso menu because they have different types presented by Mexico's biggest coffee regions like Veracruz and Oaxaca.
#3: Alquimista
📍 Avenida Revolución 89
📞 +52 322 174 3799
The most local cafe in Sayulita, Alquimista is located at the bottom of Libertad Street and is a great spot for people-watching. Their tables and chairs are set outside facing the street – you will definitely love sitting here for breakfast!
The best-seller is the chilaquiles, a popular Mexican breakfast that you need to try when in Sayulita. The chef Javier is really good at making this and it is my favorite chilaquiles place in town.
You can choose different proteins or just simply have it with eggs but I always order it with milanesa. All their sandwiches are great and are very local!
I don't order coffee here quite often as I really love their aguas (infused water). Pineapple and basil water is my favorite but the strawberry is also a contender!
#4: Organi-K
📍 Avenida Revolución 21-B
📞 +52 329 298 8770
You will definitely pass by Organi-K without even knowing you want to eat there because of its prime location. It's right by the Sayulita bridge so you can't miss it!
Organi-K is the go-to place for clean food like smoothies, acai bowls, and superfoods. The majority of their food menu is heavy on raw and organic food.
For as low as US$7, you will get a fresh, rich, and delicious smoothie that will cure your hangover. Organi-K is usually a takeaway place but they also have tables and chairs.
This cafe has branches in Punta de Mita, Nuevo Vallarta, and Bucerias.
#5: Panino's Express
📍 Manuel N. Navarrete 8
📞 +52 322 100 9227
On the go? Panino's Express takeout counter is an in-demand spot for locals on the way for a surf session. The coffee here is actually my favorite and often buy their bread to take home.
Although you can't really sit here as it's a curbside pick-up/takeaway, it's worth falling in line here to get your caffeine dose early in the morning.
The line is always long so expect to make friends with locals, especially if you are alone! This is one of my favorite cafes in Sayulita because I always make friends here!
#6: Miscelanea
Miscelanea is not located on the streets so you won't even know about it if you don't hear it from a local. You have to enter a small alley that leads to their jungle-inspired outdoor and indoor seating – it really is one of the coolest cafes in Sayulita!
It is a little bit more expensive than other Sayulita cafes but it surely is one of the top restaurants in town. My personal favorite here is the hummus and Middle Eastern dishes. Their salads are also very well done!
I wouldn't think about this place first when I want my coffee in the morning but this is definitely THE spot for long brunches with friends.
#7: Cafe El Espresso
📍 Av. Revolución 51
📞 +52 329 291 3440
Most of the Sayulita cafes in this list are what you may consider a specialty coffee places. But if you are interested to know how Mexicans eat breakfast, Cafe El Espresso is the most local and is an institution in Sayulita.
Many argue that the chilaquiles here is the best but I still vote for Alquimista. Other Mexican breakfasts they serve that you should try is the juevos divorciados (divorced eggs) topped with a delicious homemade Mexican salsa.
Cafe El Espresso is located right in front of the plaza and the restaurant layout is so open that you'd see everything that's happening in the town's center.
#8: Chocobanana
📍 Delfines 14
📞 +52 329 291 3051
For those who only want to eat breakfast food, Chocobanana serves breakfast meals at any time of the day! This is located in the plaza and you will always see this place full. The location always draws people in!
Chocobanana has been operating in Sayulita for 16 years so this is also an institution in town. Obviously, they are famous for their chocolate-coated bananas but tourists come here for a variety of breakfast options (American, Continental, etc), not limited to Mexican dishes.
This is one of our favorite Sayulita breakfast restaurants because of the many options on the menu, plus you can eat breakfast here all day!
#9: El Fortin
📍 Calle Miramar 18
📞 +52 322 230 0249
El Fortin prides itself on good quality coffee. This is where you go when I need a strong dose and they also sell their own coffee brand that I also order regularly to take home. Espresso is always good here!
Although I won't necessarily go here for food, they also have a great menu of Mexican breakfasts (savory) and their fruit bowls are also the town's favorite.
They were originally located in the center of town with a smaller space but now they moved to the northside and I actually love this location better because it's on the quietest street in town.
#10: Another One Coffee Roasters
📍 Av. Revolución 15-Local 4
📞 +52 322 373 2446
Really good coffee and is also a social spot in town. It's right next to the Friday Market so this is sort of a pre-party venue before shopping in the market where people have breakfast, coffee, and chat.
I come here when I am craving their vegan bagels (with hummus, veggies, and berries). Their outdoor seating is facing the streets so this is a good spot for people-watching!
#11: El Original Cafe Sayulita
📍 Av. Revolución 22
📞 +52 322 117 2155
Right across from Another One Coffee is El Original Cafe, a very Mexican place and is one of the oldest Sayulita breakfast restaurants. I particularly come here for their chilaquiles because it's my number 2 favorite chilaquiles (after Alquimista).
What you'll also love here is their breakfast combo that comes with a juice and Mexican coffee called cafe de olla. The combo is only US$5 and it's available every day.
#12: Northside Cafe
📍 Calle Miramar 36
📞 +52 322 121 1668
If you plan to venture to the northside beach of Sayulita where there aren't many people, grab brunch at Northside Cafe first as it is conveniently located on a street with beach access.
It is also in the quieter part of town and has good food. I go here when I want banana pancakes – theirs is really good! You can also try their Express Menu if you want to bring your breakfast to the beach.
For families traveling with kids, Northside Cafe has a kids menu so you won't have to think about what your kids will eat for breakfast!
#13: Bonito Cafe
Walk a little further and explore the northside, the quietest part of town where you can enjoy a peaceful breakfast in the jungle.
Bonito Cafe has one of the coolest spaces in Sayulita with rustic tables and spaces surrounded by plants. Digital nomads, this is a great place to work because of the quiet environment and not everyone comes here.
Coffee is really good and their food menu is packed with healthy options!
#14: Con Canela
One of the newest breakfast restaurants in town is Con Canela, a unique concept dining in Sayulita. Calle Playa Azul is the street for food trucks so this is a great area to do a food crawl!
Crepes and waffles are this food truck's specialty and their coffee is also good! If you are going to have an event in Sayulita (like weddings), this will be a unique addition to your concept!
#15: Cafeteria Marias de Astal
My friend Maria owns this place. She used to be selling ground coffee from her home and I am so proud that last year, she was able to open her own cafe in Sayulita!
Support this woman-run business by buying her locally-grown coffee and take it home. If you plan to sit and dine here, try the banana bread and the cakes!
#16: Pakeke
Pakeke is a new cafe in Sayulita that specializes in your morning breakfast favorite: pancakes. Whether you want to have it fresh and clean (with fruits) or savory (with bacon and eggs), this place can personalize your pancakes according to your preference.
They also have great coffee and their location is very local. I love the design of this place, they really did a good job in making it the new brunch hotspot in town.
✈️ Ready for your trip to Sayulita? If you have any questions about cafes in Sayulita, I'd be happy to update this post – just leave a comment below!
🇲🇽 Sayulita Travel Planning
✈️ How do I fly to Sayulita?
The airport that serves Sayulita is Puerto Vallarta International Airport. Our recommended booking platform is WayAway.
🚑 Do I need travel insurance to travel to Sayulita?
YES, YOU DO! do not travel to Mexico without insurance. Check insurance plans on SafetyWing for as low as US$40 for full travel coverage.
🚗 How much is the car rental from Puerto Vallarta Airport to Sayulita?
The normal car rental rate from PV Airport to Sayulita is $25 USD per day. Check prices at Rental Cars Vallarta.
🏨 Where can I get deals on Sayulita hotels?
The best platforms for booking your hotel in Sayulita are Hostelworld (for budget travelers) and Booking.com for boutique hotels. You will find great deals on luxury hotels on Expedia.
☕ Readers who support Mexico Insider help us continue bringing you the most honest content about Mexico. Consider donating to our coffee fund if you like the content that we do.
Trisha traveled to Mexico in 2018 and after a year, she found herself obtaining a 4-year residency visa in Mexico. She is the Editor-in-chief for our Living in Mexico Series which has helped over 3,000 Americans move to Mexico with ease. Trisha currently resides in Cabo San Lucas, Baja California Sur.