When you think of Mexican wine countries, you wouldn't really expect that Guanajuato wine is on the front line of wine producers in the country. This is an extremely unique activity in Guanajuato so read on if you want to try this experience!
Very few travelers know this but Guanajuato is also known for wine production. Dolores Hidalgo, in the state of Guanajuato is historically significant primarily as the cradle of Mexican independence.
It's where Miguel Hidalgo y Costilla issued the Grito de Dolores, initiating the war of independence from Spanish rule in 1810.
The emergence of viticulture in Dolores Hidalgo as a notable wine-producing area is more recent, having gained more recognition and development in the late 20th and early 21st centuries.
This period saw an increase in investment, knowledge, and technology in the area, leading to the production of higher-quality wines and the establishment of several vineyards and wineries.
In this Guanajuato wine tour, I had the chance to visit the small town of San Felipe, close to the border of the state of San Luis Potosi where vineyards in the region are located.
You might also like:
🍷 History of Guanajuato Wine
Guanajuato's historical tapestry is intricately woven with threads of winemaking traditions that have evolved over centuries.
In the embrace of its rolling hills and under the watchful eye of its vibrant skies, vineyards have flourished, narrating tales of ancient cultivation practices, the influence of Spanish conquistadors, and the continuous innovation that defines the region's contemporary wine industry.
Guanajuato has a relatively young but thriving wine industry. Although there were periods of winemaking in the region in the past, dating back to the colonial era when the Spanish conquistadors brought viticulture to Mexico, the modern wine industry in Guanajuato began to take shape in the late 20th and early 21st centuries.
In the past couple of decades, Guanajuato has seen a resurgence in winemaking, with several vineyards and wineries establishing themselves and contributing to the diversification and growth of the Mexican wine industry.
The state has started gaining recognition for its unique terroir and the quality of wines it produces, becoming a notable wine destination in Mexico.
🍾 Unique climate in Guanajuato for wine production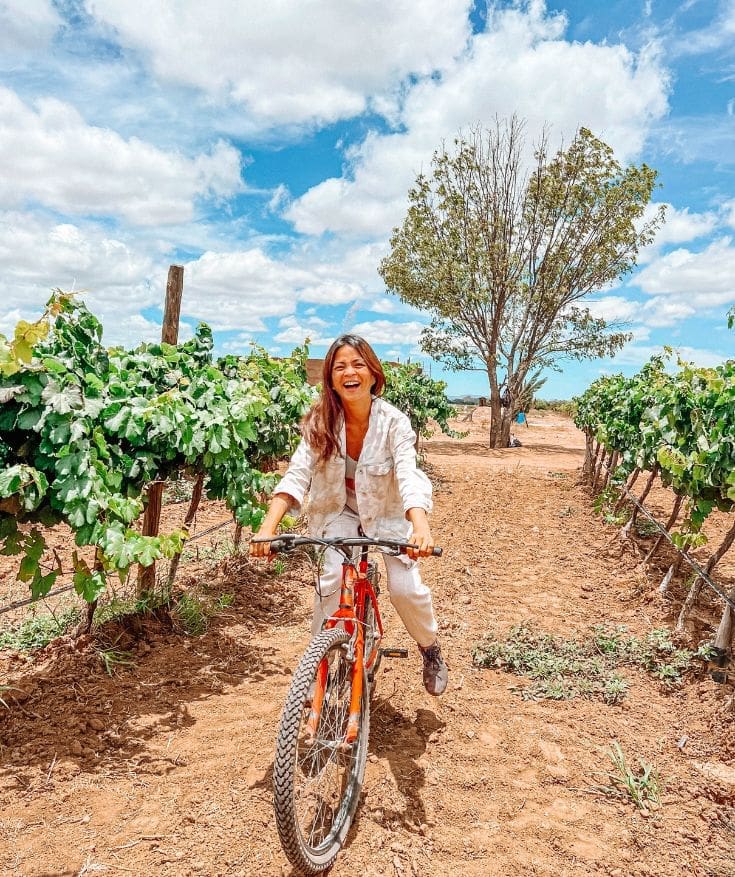 Nature generously endows Guanajuato with a confluence of climatic wonders and a distinctive terroir that collectively cultivate the vineyards' thriving biodiversity.
The synergy of warm days bathed in ample sunshine, cooled by gentle breezes, and embraced by chilly nights, creates a nurturing environment where grapes unfold in a vibrant spectrum of colors and flavors.
The varied topography and the rich soil compositions paint each vineyard with unique characteristics, allowing wine lovers to embark on an exploration where each glass resonates with the whispers of the land's unique essence.
🍇 What wines are made in Guanajuato Mexico?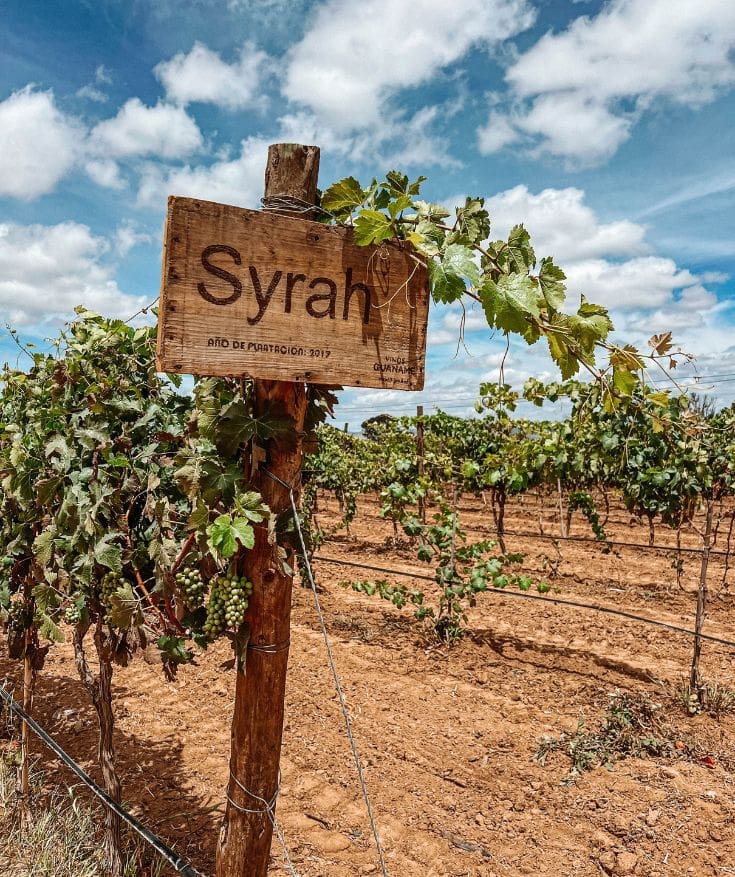 Guanajuato's vineyards enjoy a diverse range of microclimates and soils, allowing for the cultivation of various grape varieties, both red and white. Here are some of the types of grapes that are commonly produced in Guanajuato:
Red Varieties
Tempranillo: A popular Spanish variety that adapts well to the Guanajuato terroir, producing wines with rich flavors and a smooth finish.
Syrah/Shiraz: Known for producing wines with deep colors and bold flavors, often with spicy and fruity notes.
Merlot: Produces soft, medium- to full-bodied wines with juicy fruit flavors.
Cabernet Sauvignon: A robust variety resulting in wines with deep color and complexity.
Malbec: Produces wines with dark fruit flavors, velvety texture, and an inky dark color.
White Varieties
Sauvignon Blanc: Known for producing fresh and crisp wines, often with high acidity and aromatic notes.
Chardonnay: Versatile grapes producing wines that can range from fresh and fruity to rich and buttery.
Viognier: Produces aromatic wines with high alcohol content and notes of peaches, apricots, and floral aromas.
Chenin Blanc: Adapted to various winemaking styles, often resulting in wines with high acidity and well-defined fruitiness.
Rosé and Sparkling
Some vineyards also specialize in rosé and sparkling wines, utilizing a combination of different grape varieties to achieve distinct styles and flavor profiles.
Experimental and Unique Varieties
Certain vineyards in Guanajuato also experiment with other, less common varieties and blends, continuously exploring new potentials in winemaking.
📅 Best time to go on a Guanajuato Winery Visit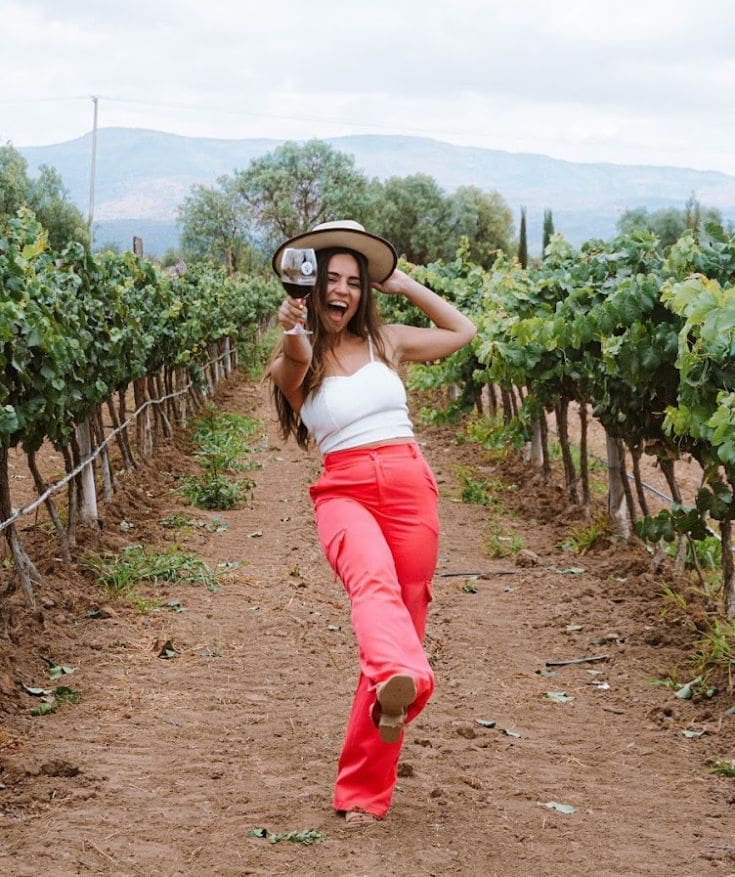 The wine harvest season, or "vendimia," in Guanajuato typically occurs from July to September, although the exact timing can vary based on the specific grapes and the microclimate of each vineyard.
The vendimia is a celebratory time in the vineyards, often marked by festivals and special events that invite visitors to participate in the harvest experience, offering grape stomping, special tastings, tours, and other cultural activities.
🥂 Book Guanajuato Wine Tour
We offer this wine tour from Guanajuato City and San Miguel de Allende. It will be a full-day visit to San Felipe including a tour with mezcaleria, a cheese factory and an old hacienda lunch in the city.
The tour duration is about 8 hours and we only take private tours as this has limited availability. Get in touch with us to see how to book this Guanajuato wine tour!
Trisha traveled to Mexico in 2018 and after a year, she found herself obtaining a 4-year residency visa in Mexico. She is the Editor-in-chief for our Living in Mexico Series which has helped over 3,000 Americans move to Mexico with ease. Trisha currently resides in Cabo San Lucas, Baja California Sur.