Take a look inside Ta Hotel Queretaro, an elite design hotel in the city of Santiago de Queretaro.
Welcome to another segment of our hotel reviews in Mexico! Last July, we visited Ta Hotel Queretaro, a hotel in the city that is well-known for its design – a unique approach like no other.
Queretaro may not be the first thing you think of if you're planning a vacation in Mexico but we highly recommend this to city escape lovers as this is still the most Mexican destination that is not westernized (yet).
Queretaro is also very cheap so if you are looking for a vacation destination in Mexico that won't break the bank, this city is a great choice!
Read on and see our review about Ta Hotel Queretaro with photos that will make you book immediately.
🪅 Editor's Note: Our stay at Ta Hotel Queretaro was complimentary but all opinions are our own. Our sponsored partners do not tell our Editors what to publish as all are based on our experiences. Check prices and availability for this hotel here.
You might also like: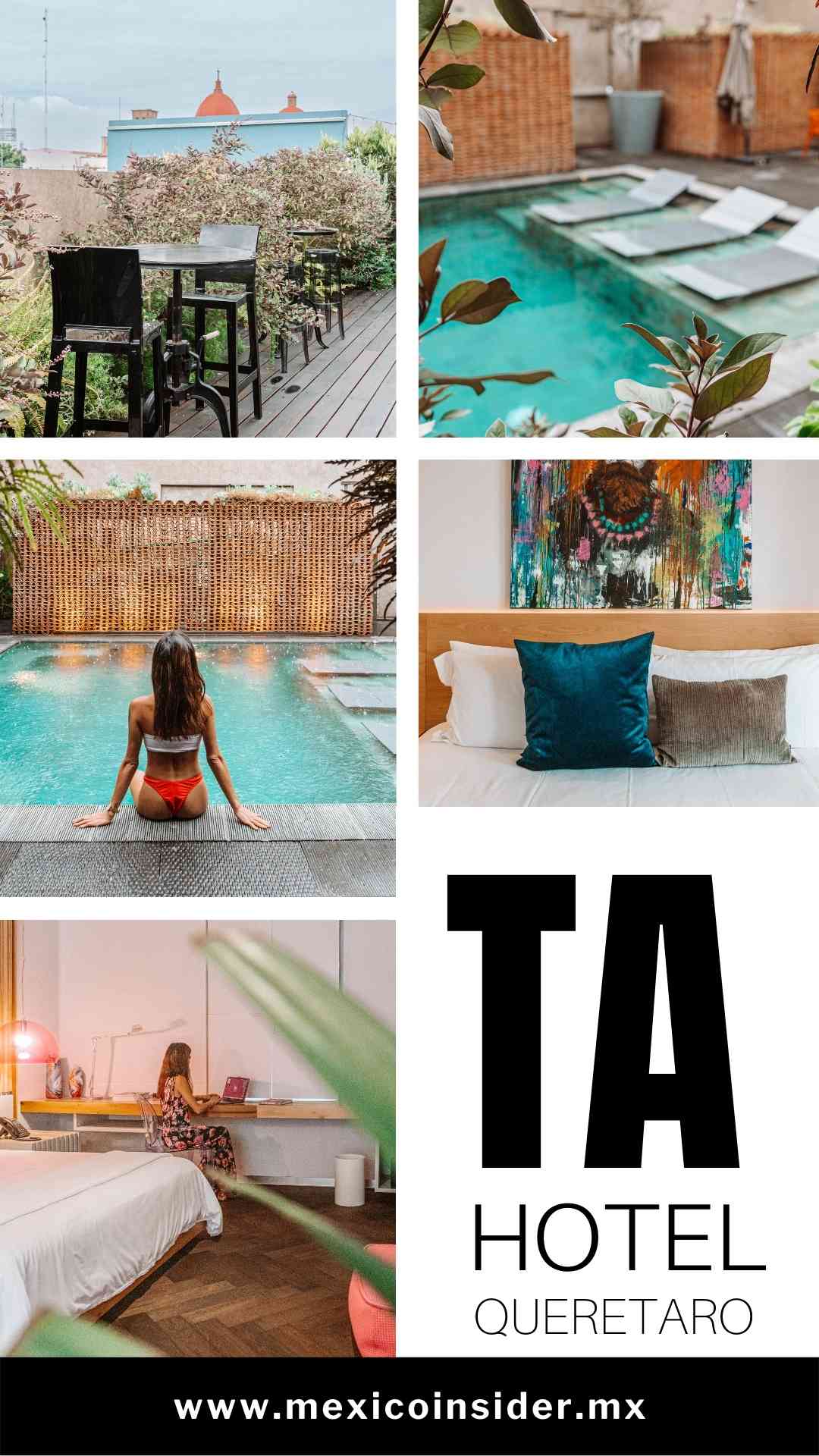 🌟 Ta Hotel Queretaro Review
The location
Ta Hotel Queretaro is located in the center of Queretaro City, about 2 minutes from important landmarks. The street of Ta is also wider than any other street in Queretaro City so parking is easy.
There are actually NO ISSUES with Ta Hotel Queretaro location so I'll keep this short. It is near everywhere and has everything that you need.
To have an idea about the distance and surrounding areas, see quick info below:
from Queretaro Intercontinental Airport: 40 minutes
from Guanajuato/Leon/Bajio Airport: 1 hour 43 minutes
from Mexico City International Airport: 2 hours and 38 minutes
from Guanajuato City: 2 hours
from Dolores Hidalgo: 1 hour 52 minutes
from San Miguel de Allende: 1 hour 21 minutes
The rooms
Note that Ta Hotel Queretaro is a design hotel so they have different room types designed differently. Design hotels usually have consignments from artists (sculpture, paintings, etc) and you will see this at Ta Hotel. It's like a hotel with an art gallery!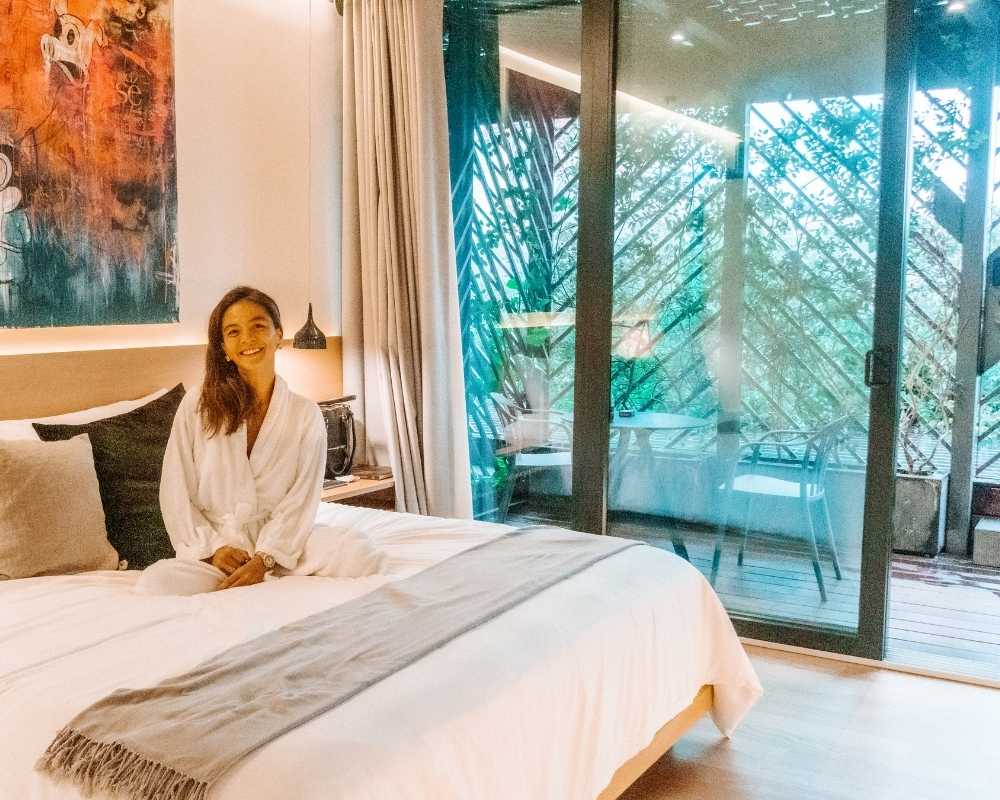 The basic rooms are on the second floor and they all look the same. Imagine small studio units lined together but being very spacious inside.
I've been to many hotels in Queretaro and they are really small but Ta Hotel did not only prioritize design but the functionality was highly considered and prioritized.
The first-floor rooms are a different story. They are larger and have a more different style but I want to start with the pink room, which is ideal for couples or even business travelers.
The pink room is the largest with a king bed, long office table, and an open bathroom with a bathtub. Shades of Moroccan blue are prominent on the bathroom tiles and they were also able to add plants to the equation.
While this room is on street view, the windows of Ta Hotel are accordion doors (not curtains) that you can completely close if you want privacy.
When the windows are open, people passing by can actually see you from inside so I am really impressed by this design idea (as opposed to using curtains). When this is closed, it will feel like this room has now windows at all.
The amenities
Please note that Ta Hotel is not a resort but a small design hotel. However, they don't lack the amenities you need to have a great city escape in Santiago de Queretaro.
If you've seen this city's layout, it is really small with narrow streets so you might wonder, which hotel has a pool?! To tell you the truth, it is not pretty common to have one because of space issues but Ta Hotel Queretaro made sure that they have a big outdoor space with a pool!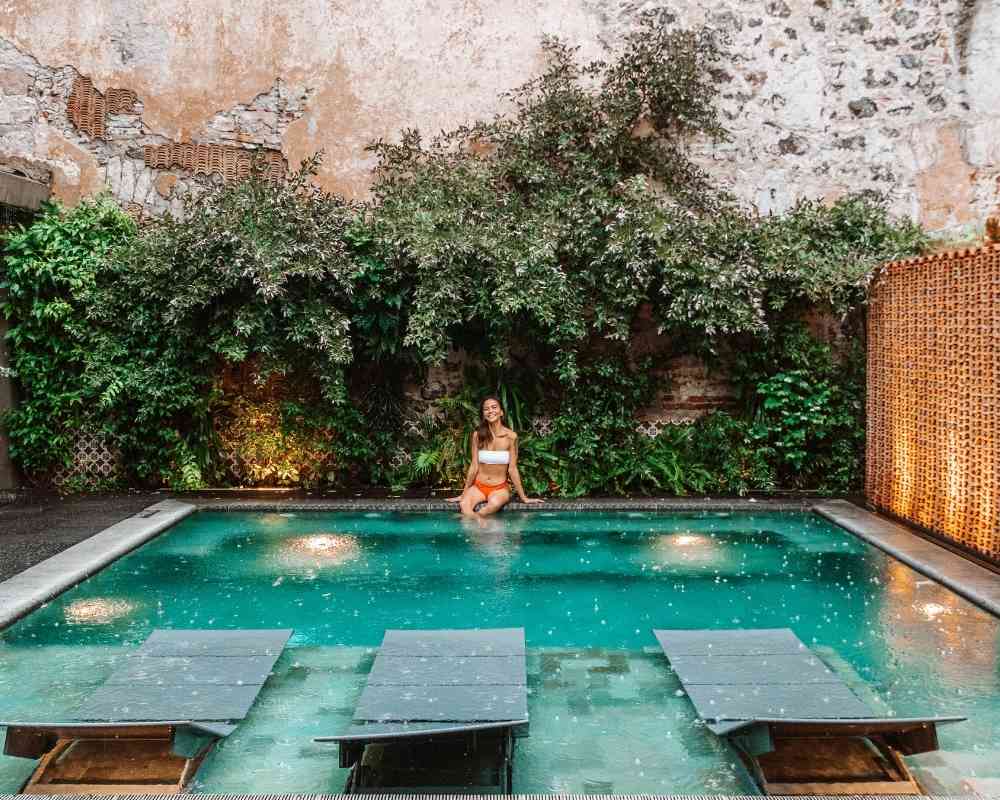 Weather in Queretaro is not like what you are used to in Cancun, Tulum, or Los Cabos. Central Mexico has the opposite where they experience heavy rains and cold winters.
But the best thing about Ta Hotel is they have a pool and mind you, it's not a small pool and it's heated! We went in July which was the rainy season in Central Mexico.
The first time we saw the pool, we thought it wouldn't work but then the manager told us that they can change the temperature of the pool (to our liking) and we were able to use it even if it was raining!
In the same area, they also have a bar with a wide selection of drinks so order a bottle before you dip in the pool. Ta Hotel Queretaro does not have a restaurant inside but they are close to the center so food will not be a problem.
Lastly, there is one room in the pool area (literally in front) that has a door to the pool. This is the only room on this side of the hotel so you can book this for guaranteed privacy.
The staff
Now this was a different experience because of low season. We were able to hang out and talk to the staff of Ta Hotel Queretaro and get to know about their different Mexican backgrounds.
Even without knowing them prior, the staff are super-friendly and are helpful. We arrived at this hotel around 10:00 PM and there wasn't any parking slot.
The hotel manager was leaving to go home but he waited for us to arrive since he was worried that we went into trouble from our drive from San Miguel de Allende.
He was already doing overtime and when I arrived, he moved his car and offered me his sweet parking space, helped with my luggage, and in no time, I was checked in!
As artists ourselves, we also related well to the staff of Ta Hotel Queretaro since most of them have backgrounds in video and photography, which is the bulk of what we do on Mexico Insider. Plus, they are our age so the conversation flow was natural.
🏨 Book your stay at Ta Hotel Queretaro
Our editors and producers independently selected Ta Hotel Queretaro for this segment. However, when you book something through our links, we may earn an affiliate commission at no extra cost to you.
A basic room at Ta Hotel starts at US$125 (for two) while bigger rooms can range from US$250.
✈️ Ready for your trip to Queretaro? If you have any questions about Ta Hotel Queretaro, leave a comment below or join our Facebook community where we answer reader questions free of charge!
🇲🇽 Queretaro Travel Resources
Trisha traveled to Mexico in 2018 and after a year, she found herself obtaining a 4-year residency visa in Mexico. She is the Editor-in-chief for our Living in Mexico Series which has helped over 3,000 Americans move to Mexico with ease. Trisha currently resides in Cabo San Lucas, Baja California Sur.