These are the best Mexico City Historic Center hotels that reflect the city's blend of colonial charm and modern convenience, catering to the highest comfort and luxury standards.
A testament to the city's rich history and culture, Mexico City Historic Center hotels provide an unparalleled portal to an array of architectural gems, fascinating museums, and iconic landmarks.
You can have the unique opportunity to stroll through the cobblestone streets, taste authentic Mexican cuisine at local eateries, and enjoy the lively atmosphere of bustling markets.
The awe-inspiring Zócalo, the charmingly antique Metropolitan Cathedral, or the ancient Aztec ruins of the Templo Mayor, are all close to these Mexico City historic center hotels.
Plan your trip to Mexico with us! Get expert travel advice and customized trip-planning itinerary from our local experts on the ground.
🏆 Top 3 picks for Mexico City Historic Center Hotels
🗺️ Map of Mexico City Historic Center hotels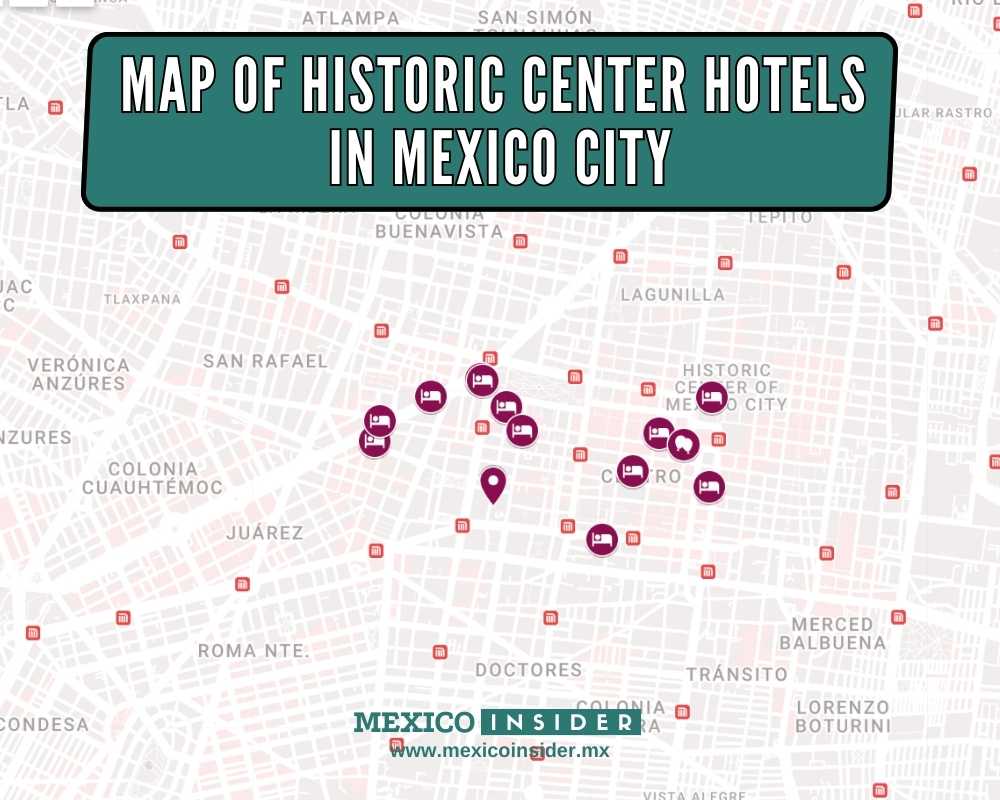 🏨 Best Mexico City Historic Center Hotels
1. City Centro by Marriott
📍Republica de Uruguay No. 45 Col Centro
💲from $103 USD
➡️ Book it here

City Centro Ciudad de Mexico offers accommodation with an ambiance of mixed modern and traditional architecture. You'll see different colors at every corner of the hotel, from monochromes to colorful ones.
The hotel has premium amenities and services, including an outdoor swimming pool, a fitness center, a rooftop restaurant, and free Wi-Fi.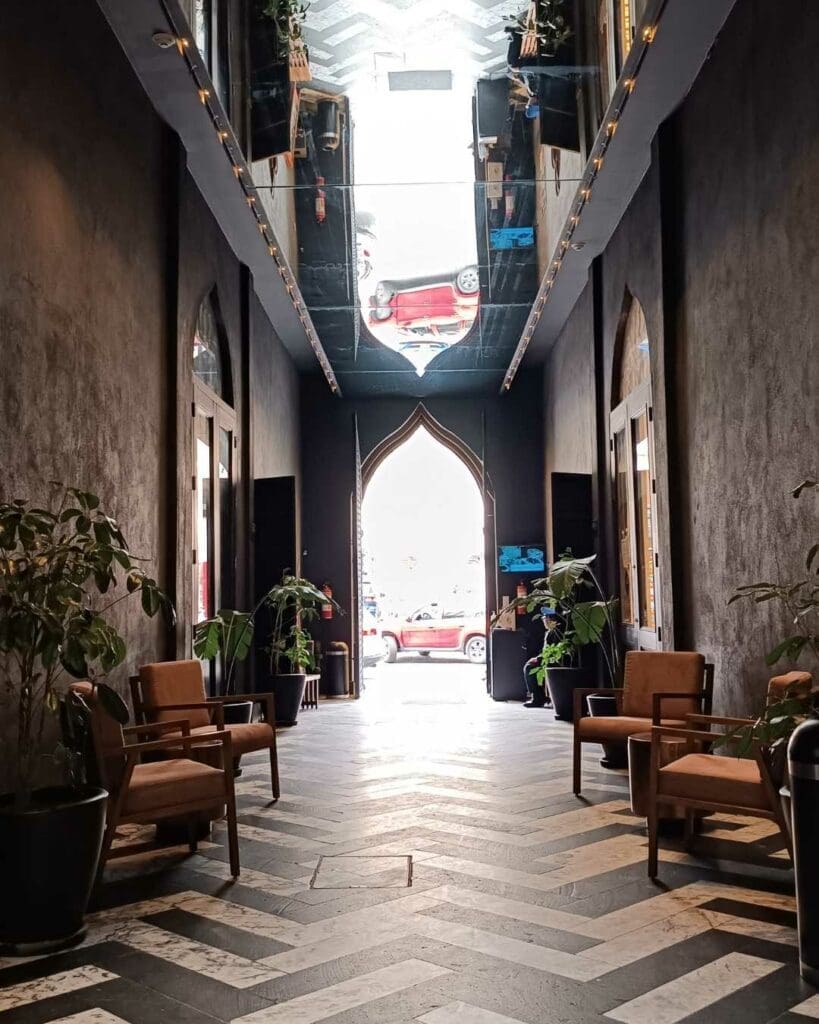 "The location was great and easily walkable to many places in the city center. It was also close to several metro stops."

Rachel [Read more reviews]
But one of the standout features of City Centro Ciudad de México is its rooftop terrace, which offers stunning views of the city skyline.
It serves as the hotel's restaurant in the morning, and in the evening, it turns into a night bar.
In terms of locations, City Centro Ciudad de Mexico is also near famous tourist spots such as Plaza Regina and the Musem of the City of Mexico.
2. Downtown
📍 Isabel la Catolica 30, 06010 Mexico City, Mexico
💲from $284 USD
➡️ Book it here

Downtown Mexico is an elegant hotel occupying a restored 17th-century palace. It is located two blocks from the central square, making it a convenient and accessible accommodation for travelers.
The hotel offers guests a wide range of facilities and services, such as an outdoor pool, a roof terrace, a fitness center, a spa, a business center, and a courtyard garden for guests to relax in.
It also has an in-house restaurant and bar with a terrace, perfect for seeing the city view and bustling streets of Mexico.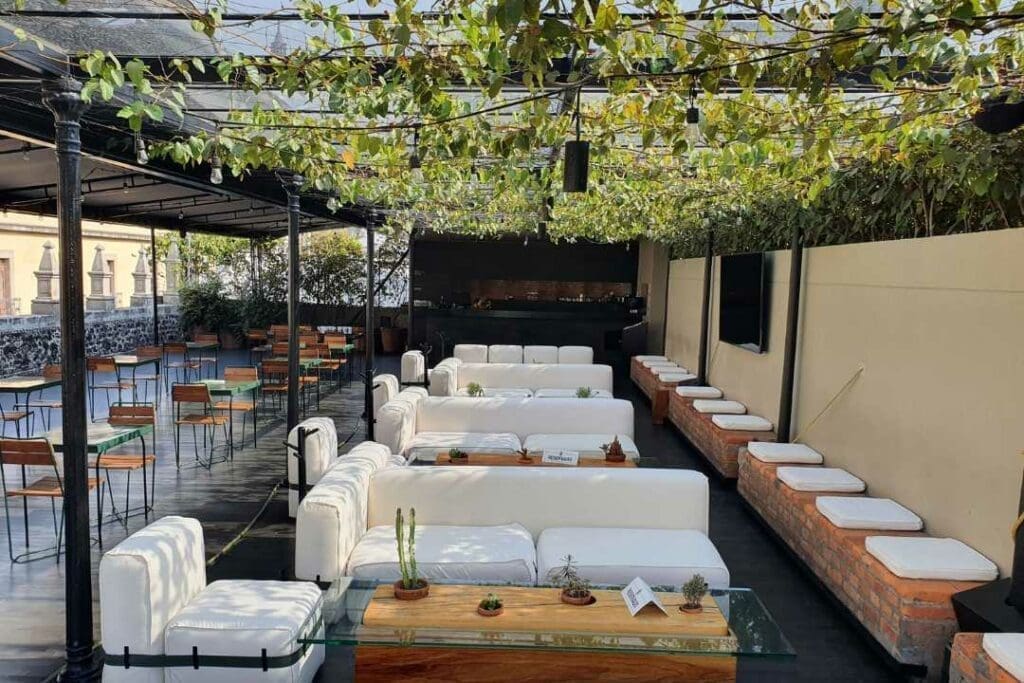 "Loved the design mix of old and new – the architecture was beautiful! large rooms and our terrace had a fantastic view. rooftop bar & pool had a great vibe."

Cheryl [Read more reviews]
Rooms at Downtown are elegantly decorated, with high ceilings and tiled floors, and complete with amenities such as free Wi-Fi, a private bathroom, and a flat-screen TV.
3. Circulo Mexicano
📍 20 República de Guatemala Centro Histórico
💲from $238 USD
➡️ Book it here

Circulo Mexicano is a hotel boasting beautiful Renaissance architecture, occupying a renovated 19th-century townhouse at the Centro Historico of Mexico City.
This five-star hotel has world-class facilities and amenities, including an outdoor pool, rooftop terrace, a sauna, and an in-house fine dining restaurant.
Additionally, they offer rooms with balconies or patios, which give a great view of the streets and city.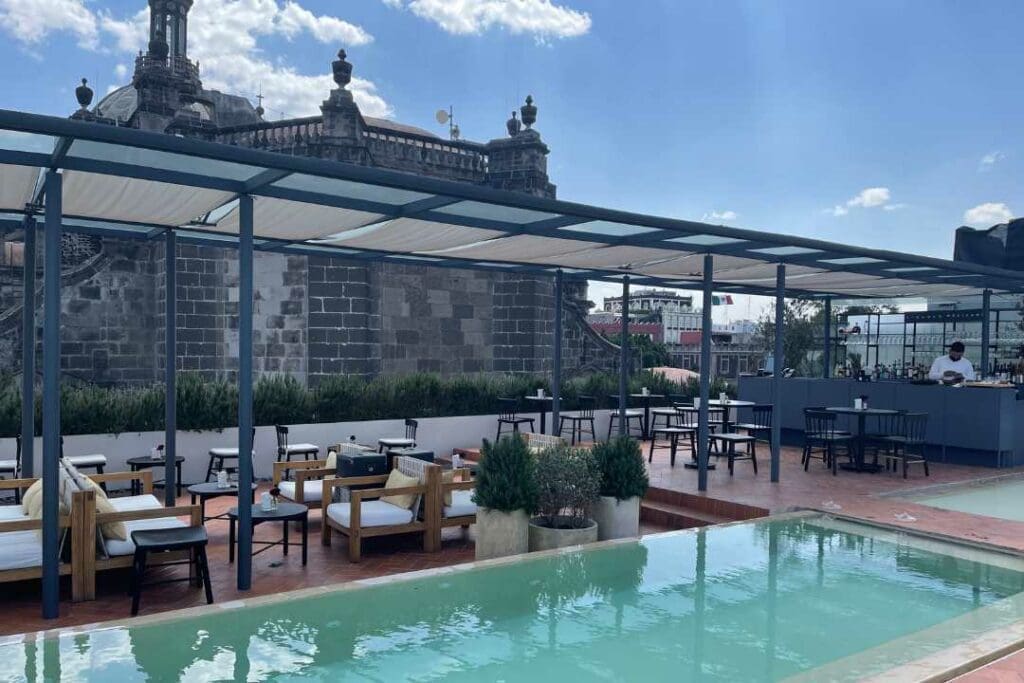 "Beautiful property, steps away from everything in the historic district. MUST do experience. The rooftop was divine! The views, just unreal. Beautiful staff, breakfast, good value for price for things."

Shanul [Read more reviews]
These rooms are all equipped with air-conditioning, a minibar, and a flat-screen TV. And for a higher price, you can even have your hot tub in your room.
Moreover, the hotel has been famous among couples and friends who want to stay somewhere convenient.
Circulo Mexicano is a few minutes from the National Palace of Mexico and Plaza del Zocalo.
4. Gran Hotel Ciudad de Mexico
📍 Avenida 16 de Septiembre 82, 06000 Mexico City, Mexico
💲from $176 USD
➡️ Book it here

This luxury 5-star hotel is perfect for travelers seeking a unique and upscale experience in Ciudad de Mexico.
The property where Gran Hotel Ciudad de Mexico used to be a department store back in 1899, and since then, it has been preserved and restored to serve as a hotel in the Zocalo.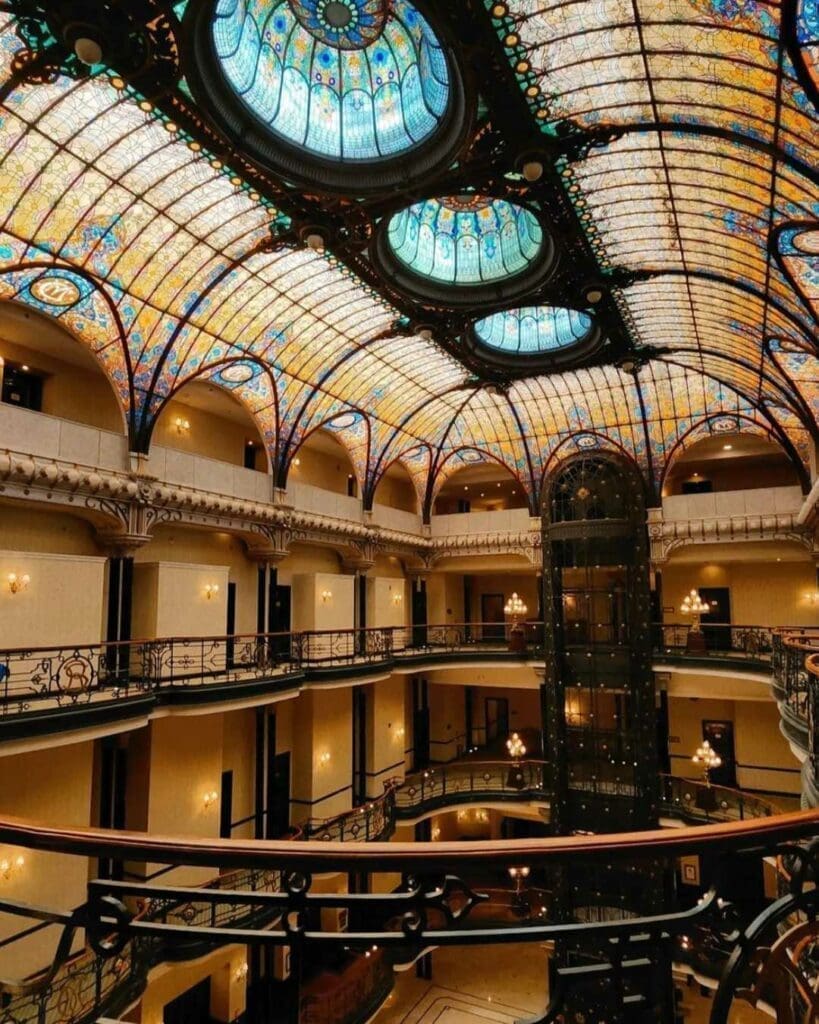 "Such a beautiful and romantic place to celebrate our honeymoon. The staff were so pleasant and made us feel very special. Our room had an incredible View. The hotel restaurant boasts a wonderful staff, food and views tambien. We look forward to celebrating an anniversary here in the future."

Christina [Read more reviews]
Aside from its excellent architectural design, the property also features various facilities and services, including a high-end restaurant, conference and event spaces, private dining rooms, and luxurious suites.
Moreover, Ciudad de Mexico is also home to an antique elevator made of iron and concrete, which was the first of its kind in the City.
5. Hilton Mexico City Reforma
📍 Avenida Juarez, 70, 06010 Mexico City, Mexico
💲from $170 USD
➡️ Book it here
Hilton Mexico City Reforma is a high-rise hotel tucked between the opposite sides of Alameda Central Park and Palacio de Bellas Artes.
The property offers spacious and luxurious accommodations and an impressive array of amenities and services, such as an in-house high-end restaurant and a two-story convention center.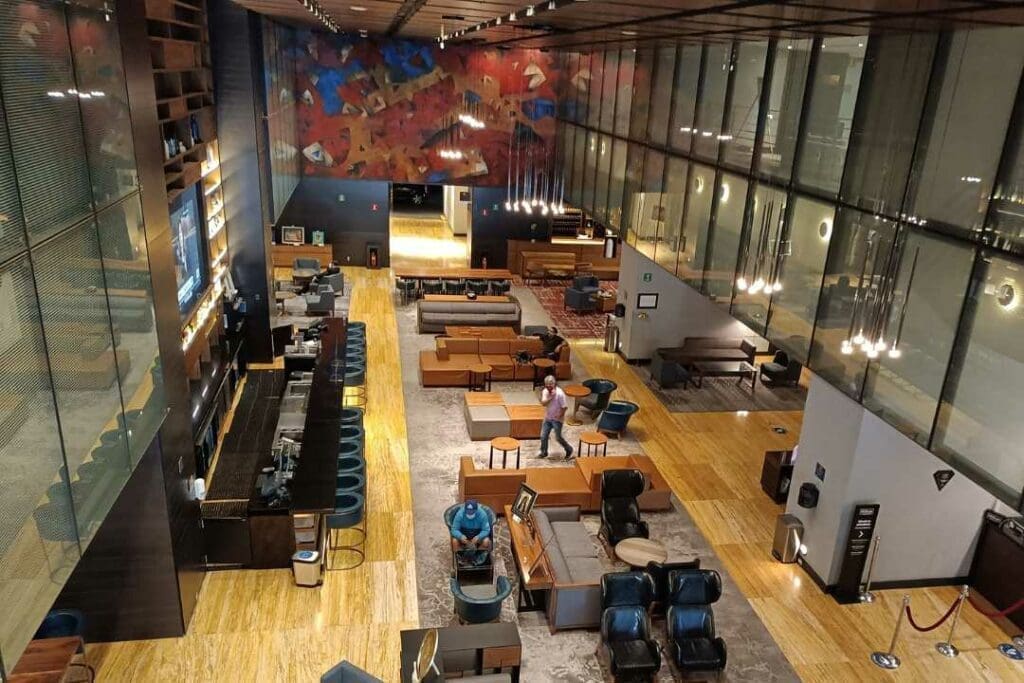 "The Hilton MC Reforma is beautiful, wonderfully laid out and centrally located. The standard rooms are not like any I have seen before; spacious, with wall in closet, desk and coach, separate tub and shower. The room service was outstanding!"

Tanja [Read more reviews]
Many customers return to Hilton Mexico City Reforma because of its sophisticated atmosphere.
Whether you are traveling for business or leisure, you'll be able to enjoy the hotel's amenities, especially their famous rooftop pool and terrace, offering a stunning view of the city.
7. Casa de La Luz Hotel Boutique
📍Rinconada de Jesús, 06000 Mexico City, Mexico
💲from $150 USD
➡️ Book it here
Casa de La Luz Hotel Boutique is a hotel that offers elegant lodging with modern amenities inside a restored building. It features a bar and a terrace overlooking the city's skyline and has a range of facilities and amenities.
The property where the Hotel is located belonged to a wealthy conqueror back in 1582. Later on, it was given the name Plaza Licenciado Primo de Verdad.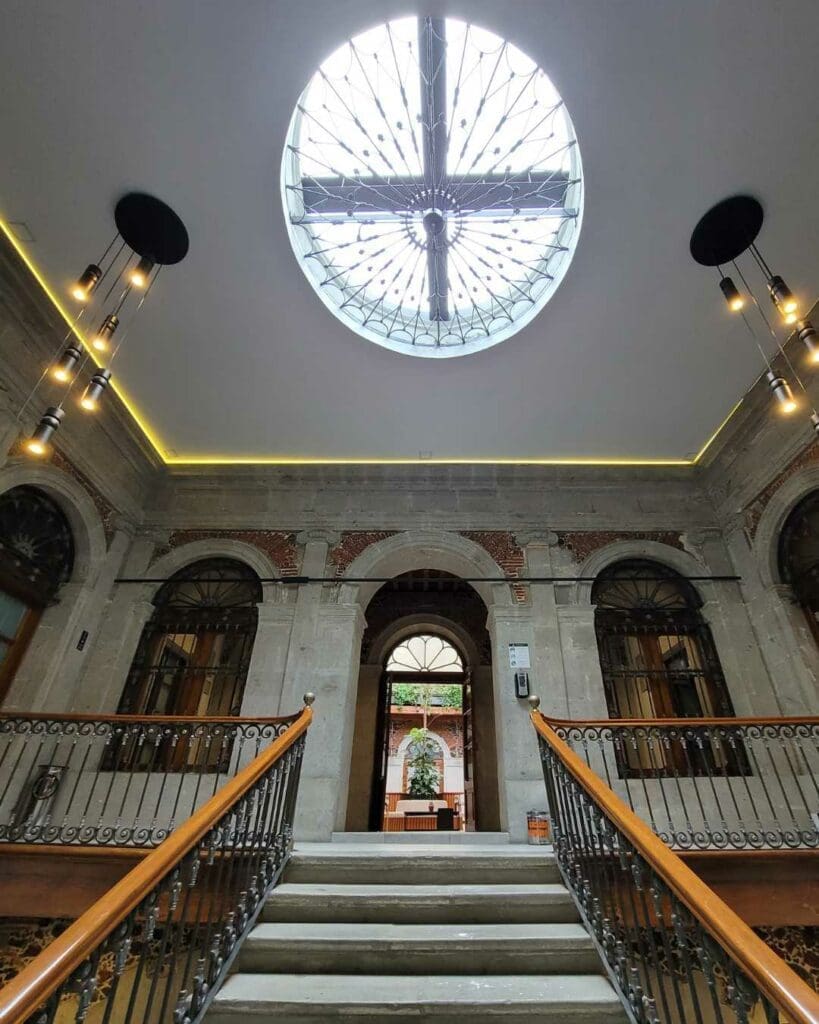 "The staff were very helpful and attentive. My room was cleaned daily with fresh towels and the bed made. The room came with unlimited bottled waters. The bed was super comfy. I also loved the full sized mirror in my room."

Barbara [Read more reviews]
Casa de La Luz Hotel Boutique's rooms make the hotel stand out. They are spacious and elegantly appointed, with various amenities designed to make your stay comfortable.
In addition, each of their room features air conditioning, a flat-screen TV, a minibar, a safe, and free Wi-Fi access.
8. Barcelo Mexico Reforma
📍Paseo de la Reforma # 1, Col. Cuauhtémoc
💲from $148 USD
➡️ Book it here
Barcelo Mexico Reforma is another city hotel conveniently situated at the center near tourist spots, cultural areas, and leisure spots.
Aside from its excellent location, the hotel offers an elegant and luxurious architectural design, providing an impressive range of modern amenities.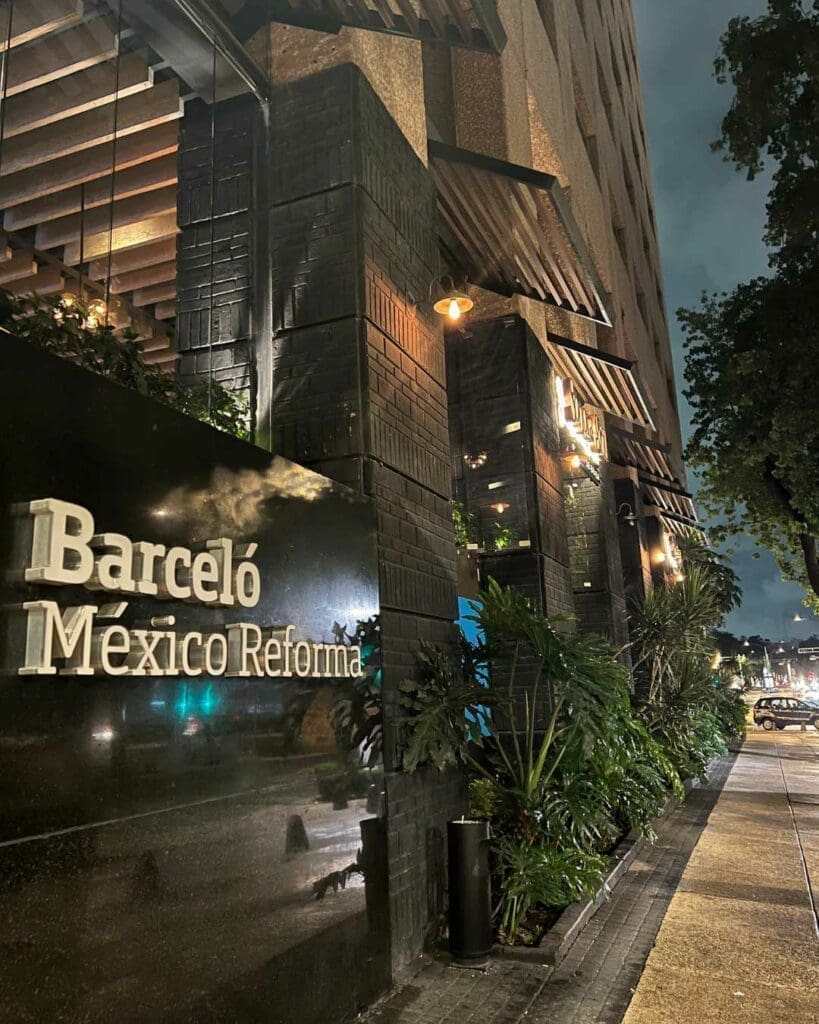 "Room was very big and clean. Hotel has good gym and nice little pool to relax. It was very near historical centre and quite walkable area. Area seemed to be quite safe and we walked there during the night."

Kaisu [Read more reviews]
Each of their rooms has access to the view of the city, standing tall at almost 20 floors with 505 guest rooms.
The hotel also offers a heated pool, spa center, fitness center, bar, and a la carte restaurant on site. With all these, Barcelo Mexico Reforma has been an excellent spot for all ages.
9. Fiesta Americana Reforma
📍Paseo de la Reforma 80 Colonia Juarez
💲from $101 USD
➡️ Book it here
Fiesta American Reforma is another high-rise building that offers over 616 luxurious and spacious rooms to travelers and visitors. The hotel has several modern amenities, such as an on-site spa and a gym.
They also have various dining options, with two restaurants serving international cuisine and Mexican specialties. And for a night out, you can enjoy their lounge bar with cocktails and light bites.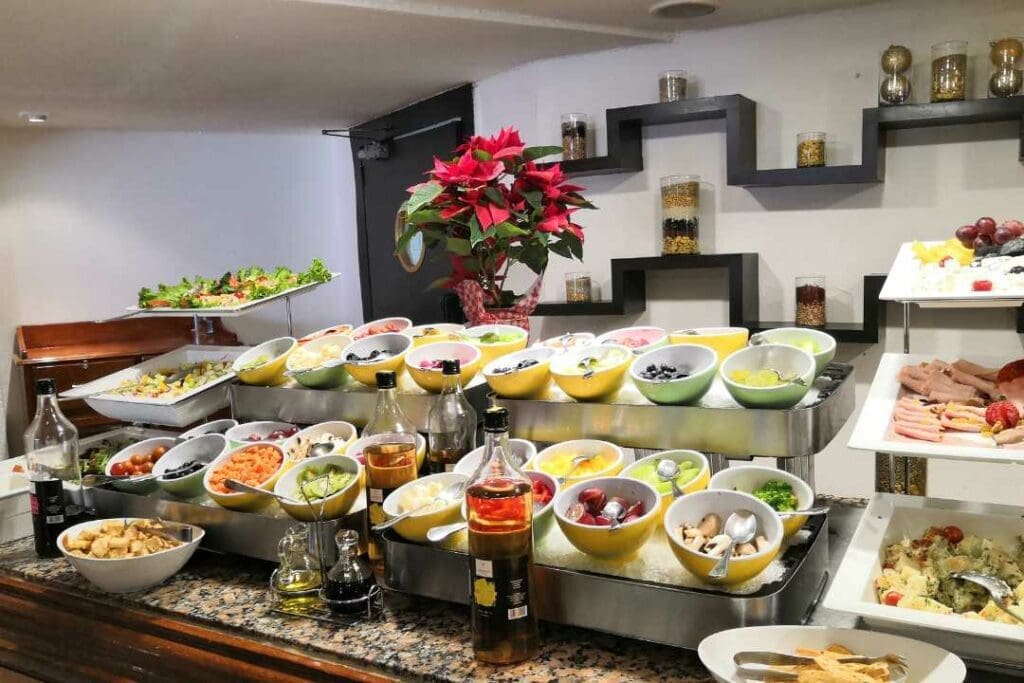 "Loved the location of this hotel. We stayed for two nights, coffee shops nearby. Not too far from the airport and so easy to get an Uber. Lots of places within walking distance, cafes, bars and restaurants. Used the gym a couple of times too."

Karen [Read more reviews]
The hotel boasts of its Fiesta Kids program, which is great for families traveling to Mexico. Parents can make use of this when they need time together and need to leave their kids at the hotel.
Overall, for only $101 USD, this is one of the best in value Mexico City Historic Center hotels.
10. Le Meridien Mexico City
📍Paseo de la Reforma #69 – Colonia Tabacalera
💲from $289 USD
➡️ Book it here

To enjoy modern amenities and stay at a hotel with stunning architecture, you must consider Le Meridien. Regarded as one of the best hotels in the City, this hotel has almost all the facilities you will look for in accommodation.
The location is near many restaurants, shopping centers, and famous landmarks, including the historic center. They have an indoor pool, fitness center, and conference rooms for business meetings.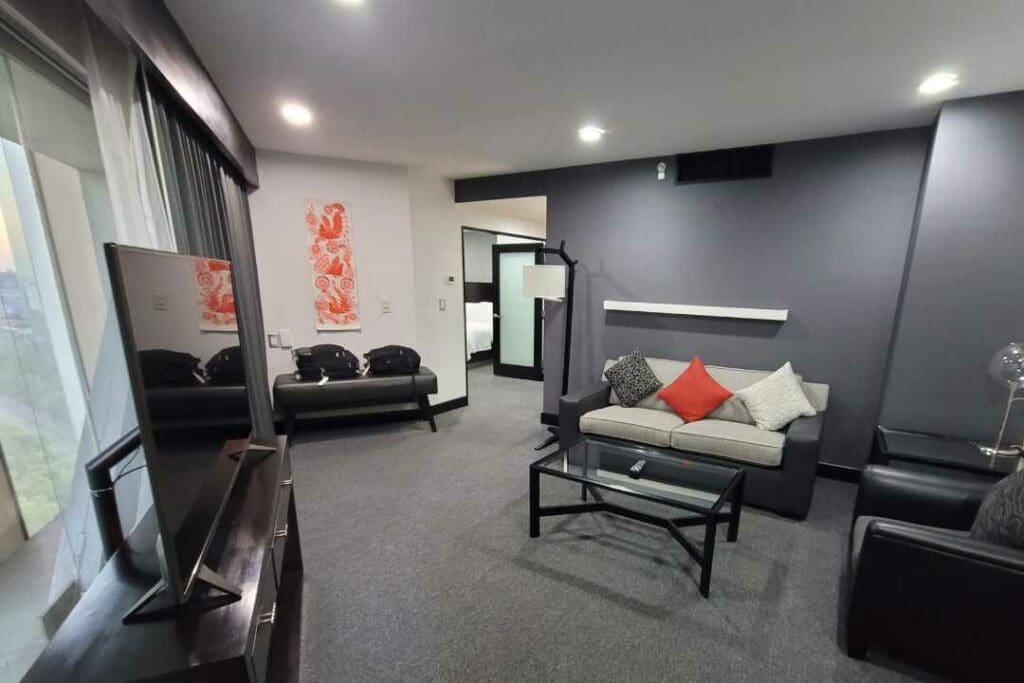 "I appreciate the warm welcome that I received. I was pleasantly surprised to receive an upgraded room. Thank you for the complimentary cocktails. Delicious food at the restaurant. Restaurant service is awesome and pleasant.

Dennis [Read more reviews]
Besides these facilities, Le Meridien's rooms are equipped with full amenities and are decorated with modern interiors.
This adds to the elegant and sophisticated vibes of the hotel. So, from its location to its amenities, you'll get your money's worth here.
🛏️ Mexico City Historic Center hotels under $100 USD
11. Hotel B Urban Xaman
📍Avenida Paseo de la Reforma 24 Colonia Centro, Cuauhtémoc
💲from $70 USD
➡️ Book it here
Hotel B Urban Xaman is one of the newest boutique hotels in the city. But with its modern, stylish, and excellent facilities and services, it already is a 5-star hotel. The hotel offers a fitness center, free WiFi, and a terrace.
One of the highlights of Hotel B Urban Xaman is its rooftop lounge with access to the city. In the morning, there are yoga sessions held on the rooftop, and you can enjoy a drink of your choice during the night while watching the city skyline.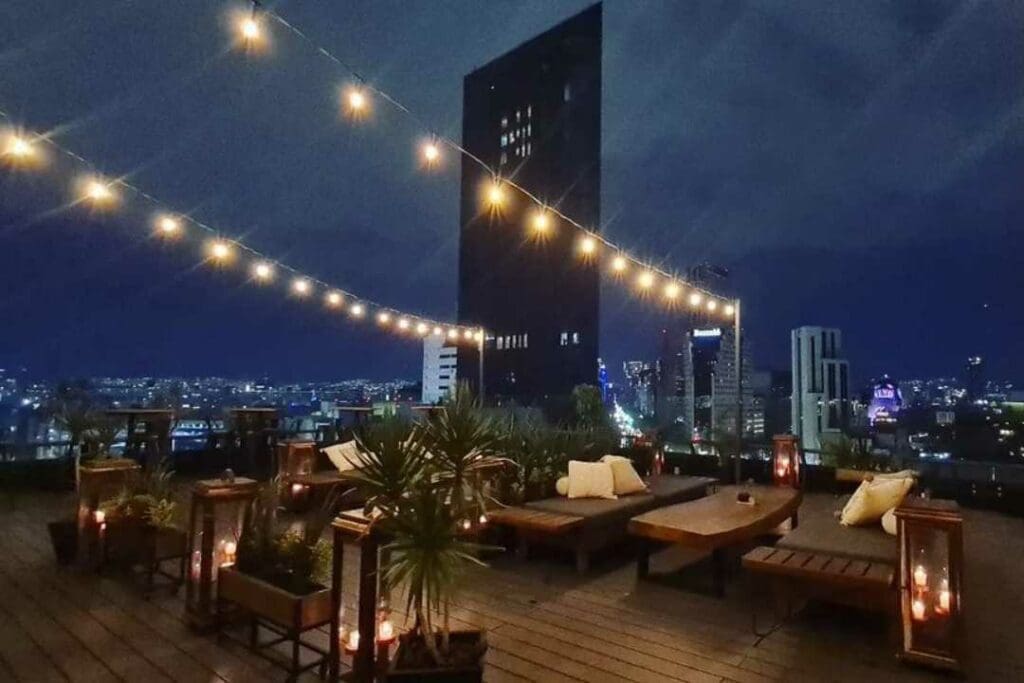 I really loved it here – we arrived in the middle of the night and someone straight away met us from the taxi to collect our bad. The roof terrace is incredible and the breakfast is delicious.

Olivia [Read more reviews]
Their rooms here are fully airconditioned with a terrace. Now if you want to dine in without leaving the hotel, you'll also have access to a restaurant.
And for only $70 USD, you can already have access to all these amenities. Plus, you won't have to worry about being away from the historic center and other landmarks as everything is within walking distance.
12. Hotel Fontan Reforma
📍Paseo de la Reforma Numero 24 Colonia Centro
💲from $70 USD
➡️ Book it here

Hotel Fontan Reforma is a modern boutique hotel surrounded by contemporary decor. The hotel's ambiance is laid-back and casual, making it comfortable for guests to enjoy their stay.
Plus, the hotel's location is convenient as they are near many of the city's most important tourist attractions.
One main feature that sets Hotel Fontan Reforma apart from other hotels is its commitment to sustainability.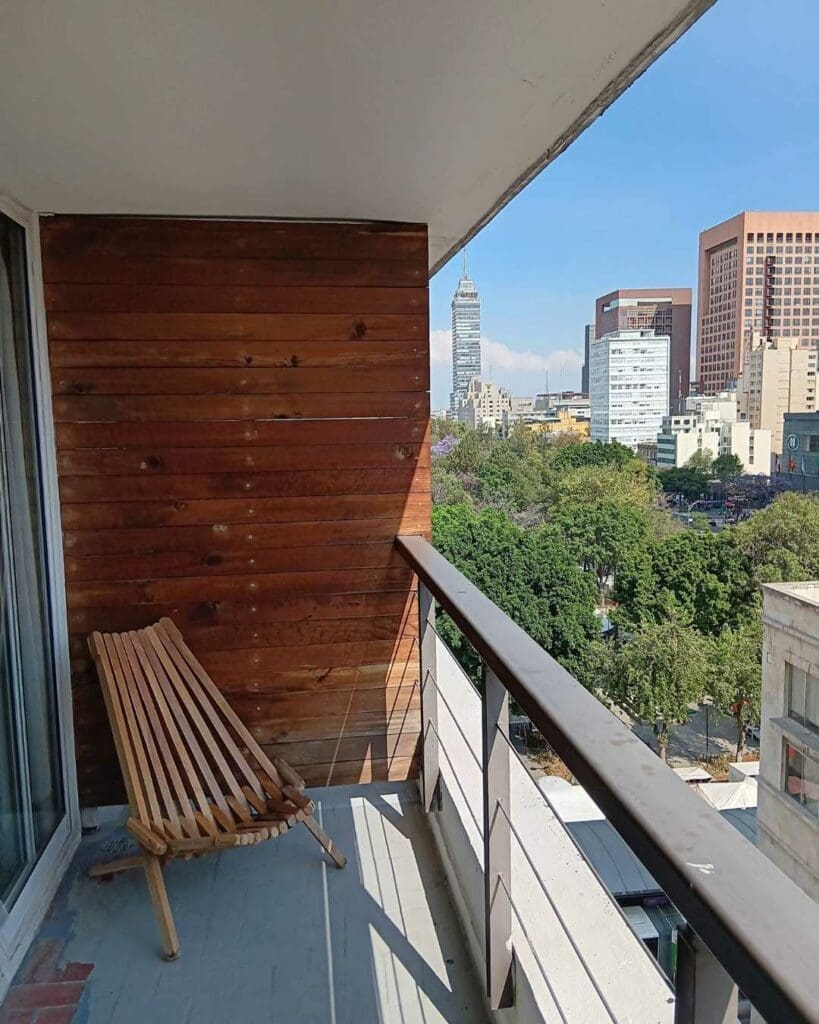 "I enjoyed the centralized location of the hotel. It was close to everything whether you wanted to walk or take an uber. The metro was also right across the street, which was a positive."

Cynthia [Read more reviews]
The hotel has implemented various eco-friendly practices, such as using energy-efficient lighting and water-saving systems, recycling waste, and using environmentally friendly products.
And for less than $100 USD, you can enjoy a fully airconditioned room, a garden, and an indoor pool. They even have an on-site restaurant serving Mexican and International cuisine.
13. Cadillac Hotel Boutique
📍José María Izazaga 35, 06000 Mexico City, Mexico
💲from $60USD
➡️ Book it here
If you are looking for an affordable place yet want to experience what it's like to stay in an elegant boutique hotel, you should consider Cadillac Hotel Boutique.
They offer guests exceptional service and amenities like free bike use and parking.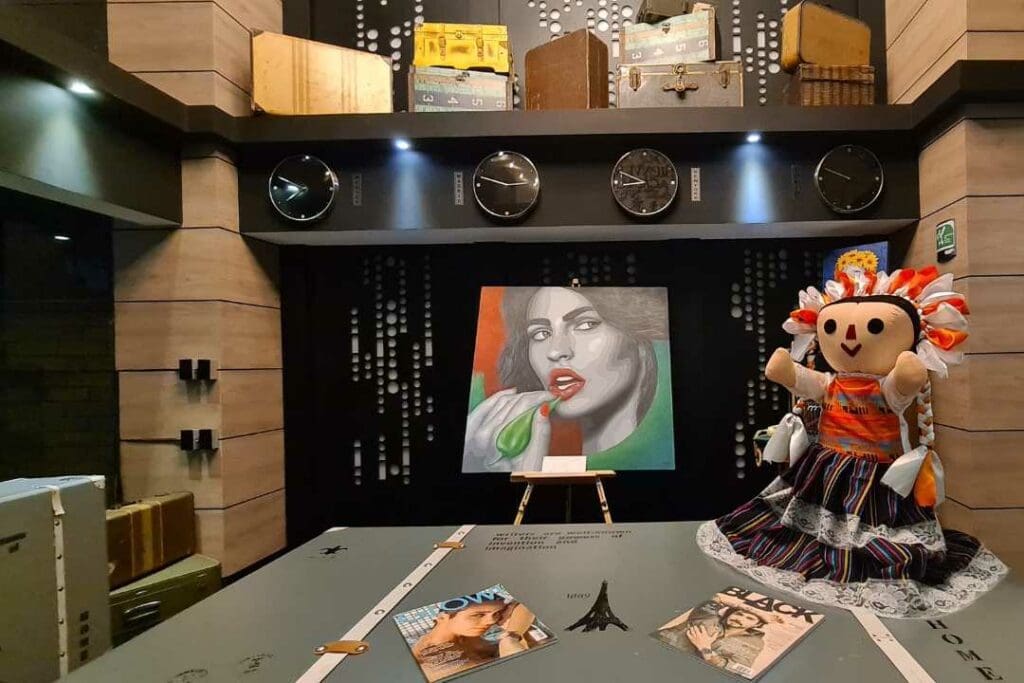 "It's very clean and has a good location. provides comfort. they had different options for breakfast and the staff was very nice and helpful."

Marissa [Read more reviews]
While the area is not as spacious as other hotels, many guests feel comfortable here as their rooms are cozy and complete with all the amenities you need – a private bathroom, free Wi-Fi, a wardrobe, and complete bedding.
This place has been a hotspot among young travelers who want to explore the city without the need to travel far.
14. Hotel Metropol
📍 Luis Moya 39 Col. Centro, 06050 Mexico City, Mexico
💲from $57 USD
➡️ Book it here
Hotel Metropol is one of Mexico's most affordable hotels that lets you have a private room and bathroom. The hotel also has complete modern amenities, such as an outdoor swimming pool, a fitness center, and a spa.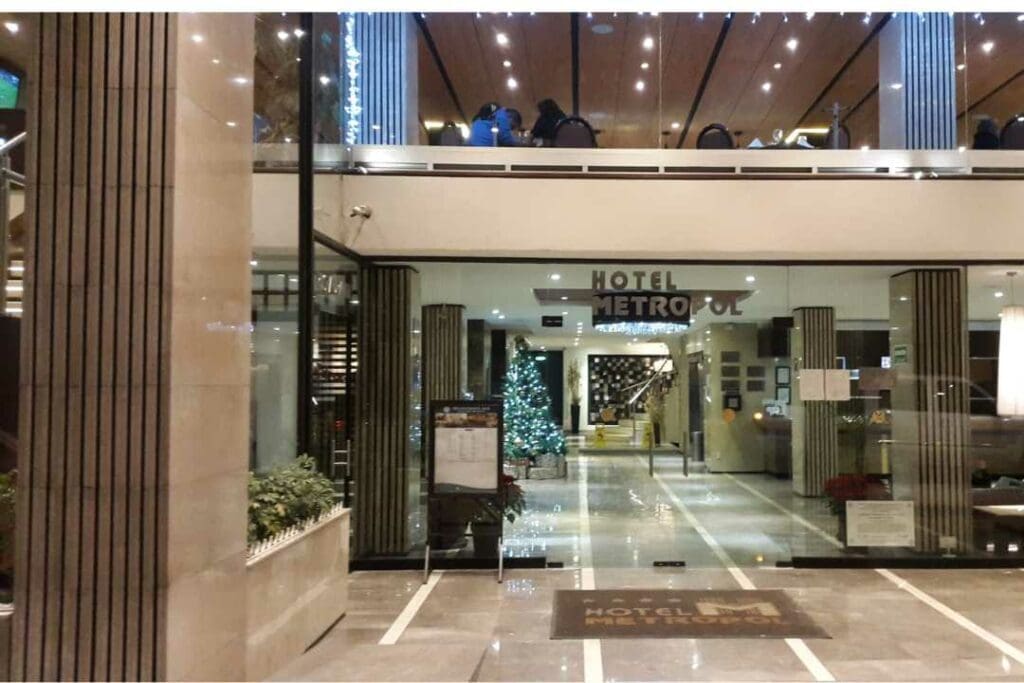 "The location was excellent. The Central Park and China Town both a block away. Bellas Artes a block more. The Zocolo easy walking distance. The staff helpful and cheery."

Barbara [Read more reviews]
With over 150 guest rooms, each room is tastefully decorated with warm colors and comfortable furnishings, creating a cozy and welcoming atmosphere for guests.
In addition, Hotel Metropol boasts of its commitment to providing affordable accommodation without compromising quality or service.
Overall, Hotel Metropol is an affordable yet excellent accommodation, especially near the city's top attractions.
15. Kali Ciudadela Mexico City
📍Revillagigedo 92 Colonia Centro
💲from $65 USD
➡️ Book it here

Tucked inside a pink building on the city's busy streets, Kali Ciudadela is a luxury boutique hotel offering guests an exclusive experience with its services and amenities.
Its ambiance is inspired by the beauty of Mexico City's historic center architecture and a touch of modernity.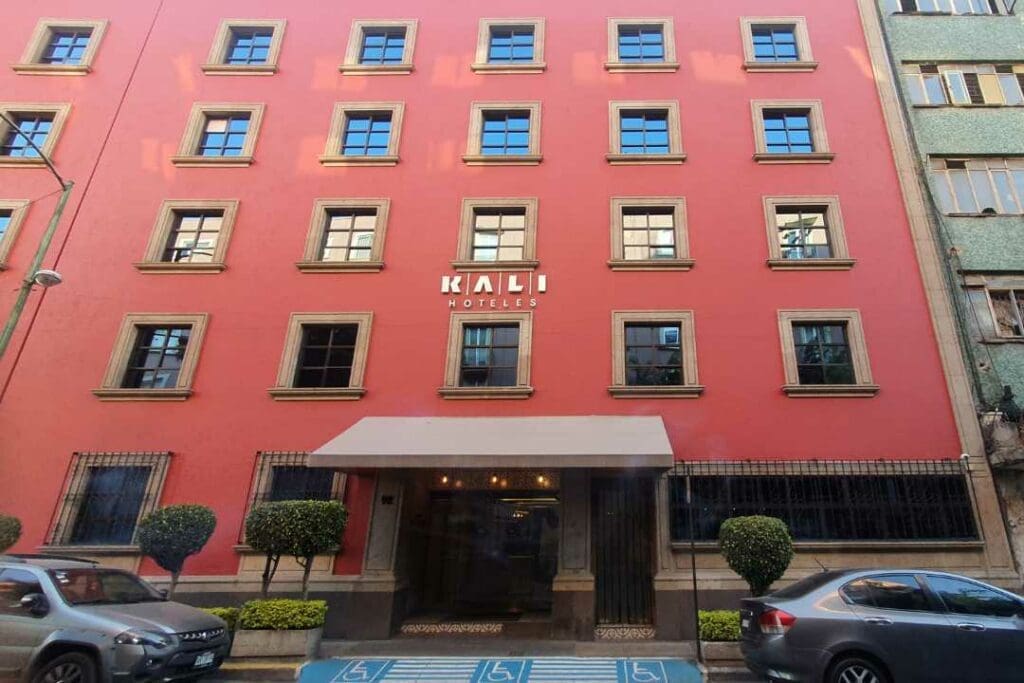 "Nice clean hotel, friendly staff. The surrounding area is not the best however appears to be safe and walkable distance to the centro. The breakfast was decent. A plus for having such a large car parking garage. The water refills are great, a bit of cost savings on water when heading out for a long day."

Max [Read more reviews]
The rooms at Kali Ciudadela are decorated with modern and contemporary decorations, each with its air conditioner, tv screen, and private bathroom. The hotel is located near Alamesa Central Park and other landmarks as well.
For the price of $65 USD, you'll surely see how Kali Ciudadela Mexico is an excellent accommodation for families and budget travelers.
Trisha traveled to Mexico in 2018 and after a year, she found herself obtaining a 4-year residency visa in Mexico. She is the Editor-in-chief for our Living in Mexico Series which has helped over 3,000 Americans move to Mexico with ease. Trisha currently resides in Cabo San Lucas, Baja California Sur.