The curation of this content is at the discretion of the author and is not necessarily reflective of the views of Mexico Insider or its editorial staff.
Looking for a great brunch spot in Mexico City? Get to know our favorite Toledo Rooftop – one of the best breakfast restaurants in CDMX.
Toledo Rooftop may be known as one of the coolest places in Mexico City for a night out any other day of the week, but if you're more in the mood to relax and eat delicious food with fresh cocktails in hand, it can very well be that as well!
For years now, Toledo Rooftop has been our Editor's Daniela's favorite place to hang out on any Friday or Saturday night and a place she recommends to anyone visiting the city.
With that said, we recently got the chance to visit Toledo on an unlikely day – a Sunday. Let us tell you something: We've officially made it our favorite Sunday brunch spot in town!
You might also like: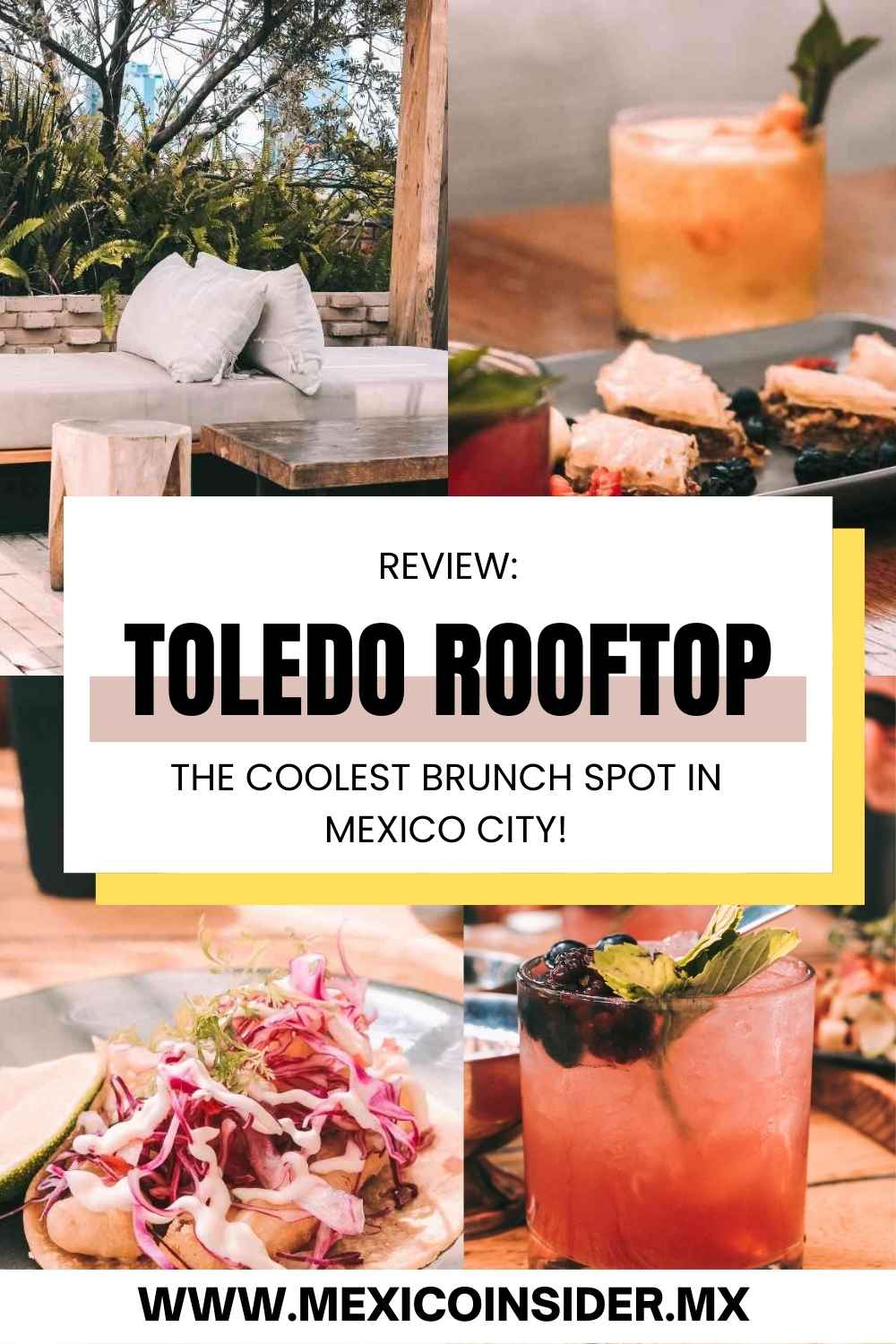 🌟 Toledo Rooftop Mexico City Review
The menu
Created by chef Oscar Valdez, Toledo Rooftop's menu executes the "Baja Med" cuisine, a fascinating fusion of Asian, Mediterranean, and coastal Mexican gastronomy.
Baja Med cuisine originated in the state of Baja California. Seafood is, of course, a heavy influence on most recipes with an added element of Mediterranean leverage thanks to the use of wine, olive oil, and arugula. All flavors thrive in Baja's climate.
Baja Med also boasts an oriental influence in its spices and cooking techniques – this comes from the Asian communities that immigrated to certain parts of the peninsula such as Mexicali.
Kitchen takeovers
Aside from its regular menu, Toledo Rooftop shares its kitchen with some best chefs from all over Mexico regularly.
Every month, you'll find a different takeover menu here. During our visit last July 2022, we got to sample dishes crafted by chef Naguib Kuri from Casa Kuri – a traditional Lebanese restaurant in Condesa.
Other names who have taken over Toledo Rooftop include Joaquin Cardoso from Loup Bar, Lula Martín del Campo from Marea, Gerardo Vázquez Lugo from Nicos, Pedro Martin from Bula, Germán Caraballo from Kyu, Josefina Santa Cruz from Sesame, and many more!
This makes brunching at Toledo Rooftop an incredibly well-rounded experience. If you live in Mexico City permanently or are staying long-term, you could virtually visit once every month and never get to have the same culinary experience twice (not to mention you can sample some of the best menus in the city in one single place!).
The space
Perched on the top floor of a building in the bustling area of Juarez, Toledo Rooftop's space feels like an oasis perfect to escape the city if only for a while.
Surrounded by greenery and a rustic-yet-chic vibe, Toledo's design screams for you to relax drink in hand. Choose from the many tables available or, better yet – grab yourself a seat at the terrace where you'll find comfy couches and expansive views of the Mexico City skyline.

Sundays are dog-friendly
On Sundays, Toledo Rooftop is a place where you can come and share an afternoon with your furry friends.
While Toledo is known for being a bit of a party hot spot, especially on Fridays and Saturdays, Sundays are pretty quiet and chilled out at this emblematic Mexico City rooftop.
You don't have to feel guilty about leaving the pups at home to go out all day because you'll be able to bring them along (and they'll love sunbathing for a few hours at the terrace!)
The Location
Toledo Rooftop is located in the Juarez neighborhood right in the heart of Mexico City. As you approach the place, it looks like any other building in the city – there is no signage that says you're at Toledo Rooftop but you're at the right place!
You will need to enter and let them know you're visiting Toledo Rooftop at the reception – it's located on the 6th floor and there's an elevator available.
✨ Insider Tip: The exact address is Calle Toledo 39, Juarez, CDMX. When you look it up on Google, the address will show you a different location, so make sure you type in the exact one on Uber.
Opening hours
Monday and Tuesday: 1 PM to 12 AM
Wednesday through Saturday: 1 PM to 2 AM
Sunday: 1 PM to 12 AM
Reservations are done via DM on their Instagram and are highly recommended.
✈️ Ready for your visit to Toledo Rooftop in Mexico City? If you need more information about Toledo Rooftop, we'd be happy to update this post – just leave your questions below!
🇲🇽 Mexico City Travel Planning
🛫 Where can I book cheap flights to Mexico City?
Use the code MXINSIDER to get cheap flights to Mexico City upon checkout on WayAway.
🚑 Do I need insurance to travel to Mexico City?
Yes, you do! This is the number one requirement when traveling to Mexico. I use SafetyWing and I only pay $40 USD per month for my digital nomad travel insurance!
🛏️ Where can I find cheap hotels in Mexico City?
Budget travelers, use Hostelworld when looking for accommodations in Mexico City. A bed in a hostel dorm starts at $25 USD per night. Booking.com is best for boutique hotels while sustainable Airbnbs can be booked with Casai.
Daniela is a Mexican travel blogger who has been traveling the world for the last 7 years. She contributes content on Mexico Insider to showcase her beloved hometown, Mexico City.