Alongside its wine, the region is recognized for its enchanting landscapes, exceptional culinary scene, and burgeoning luxury hospitality industry. Here are our top picks for the best luxury hotels in Valle de Guadalupe, Mexico.
Nestled in the heart of Baja California, Mexico, Valle de Guadalupe has been christened as the "Napa Valley of Mexico". Best known for its thriving viticulture, the valley's wine country offers an impressive tapestry of vineyards, producing some of the finest Mexican wines.
The melding of these distinct elements makes Valle de Guadalupe an irresistibly attractive destination for luxury travel, offering an escape where relaxation, fine wine, and gourmet dining converge in a symphony of sensory pleasures.
When planning a luxury vacation to Valle de Guadalupe, the budget is an essential consideration that encapsulates several factors.
Accommodation rates for high-end hotels and boutique resorts generally range from $200-$500 USD per night, offering amenities such as private vineyard views, wellness centers, and exquisite on-site dining.
Adding in the costs of gourmet dining experiences, vineyard tours, and wine tastings, you might anticipate a daily budget of around $600-$1,000 USD per couple for a weekend getaway in Valle de Guadalupe.
Of course, this figure may vary depending on personal preferences, activities chosen, and the time of the year, but rest assured, every penny spent promises an unforgettable experience in this Mexican paradise.
Below are our top recommendations for the best luxury hotels in Valle de Guadalupe with prices and brief reviews.
Plan your trip to Mexico with us! Get expert travel advice and customized trip-planning itinerary from our local experts on the ground.
🗺️ Map of Valle de Guadalupe luxury hotels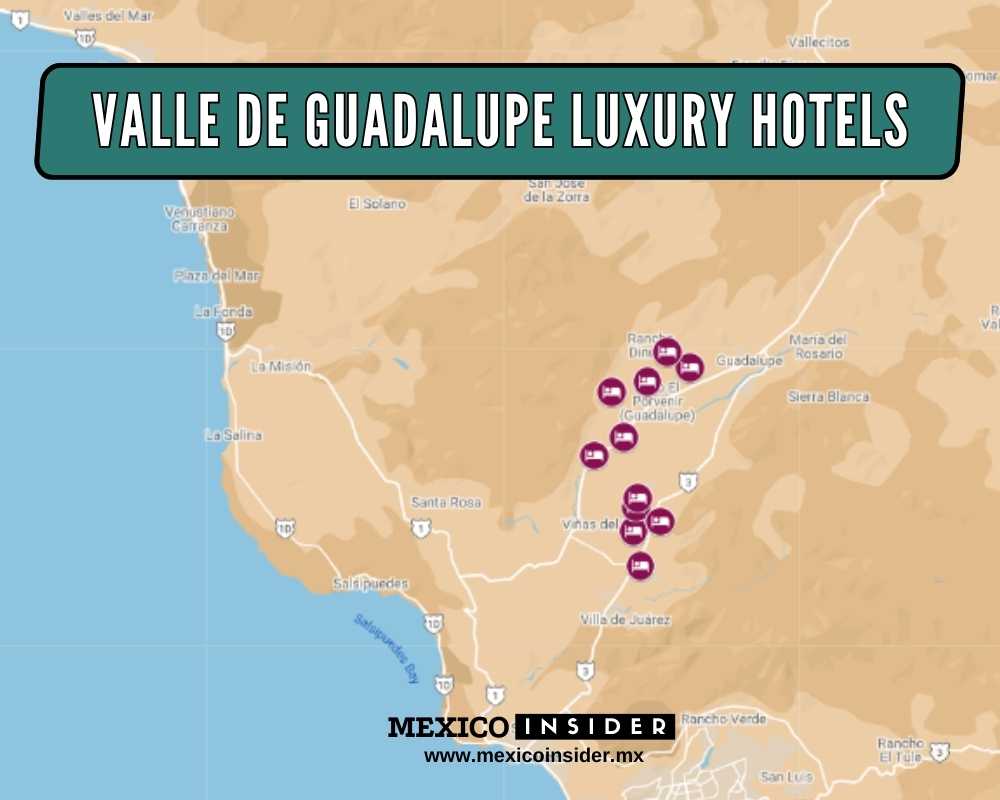 ⭐ Top-rated luxury hotels in Valle de Guadalupe
El Cielo Resort: our top pick
💲 Master suite with living room from $623 USD per night
👍🏼 Biggest luxury resort in Guadalupe
👎🏽 Transportation might be challenging if you don't have a car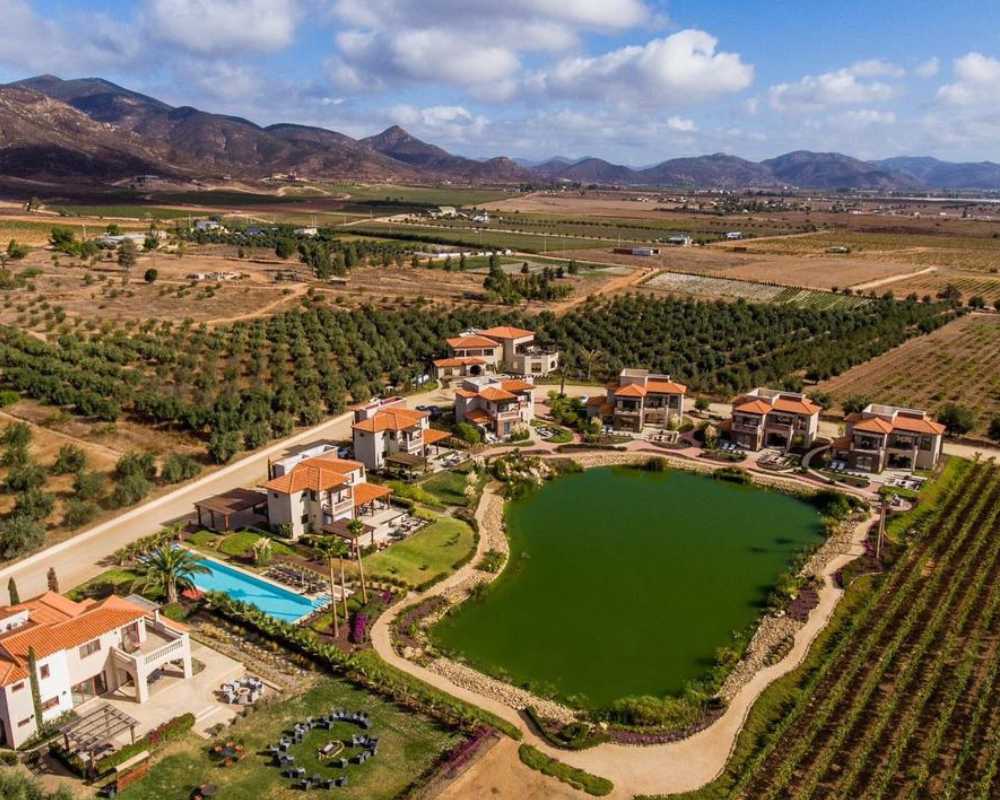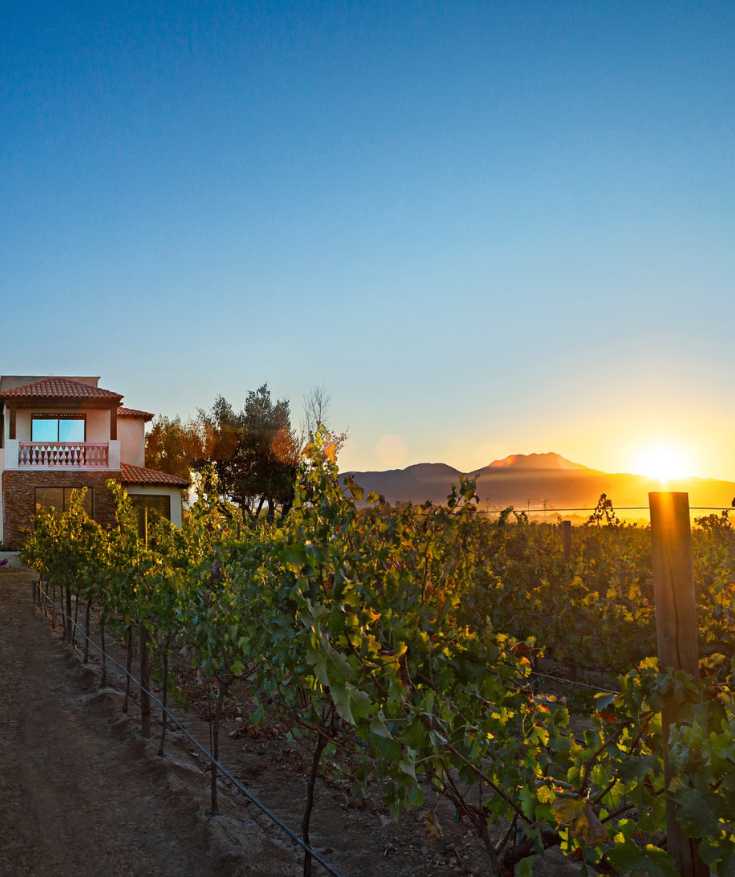 El Cielo Resort is a magnificent property that offers comfort and luxury. The rooms, with tasteful decor and plush amenities, provide breathtaking views of the surrounding vineyards.
Enjoy the outdoor pool, fitness center, on-site restaurant, and bar serving delicious dishes and drinks. El Cielo has the best wine-tasting program in Guadalupe – their wines are superb!
Entrevalle Hotel: best boutique hotel
💲 Grand deluxe villa with 1 king bed from $601 USD per night
👍🏼 Very comfortable beds
👎🏽 Rooms are not well-heated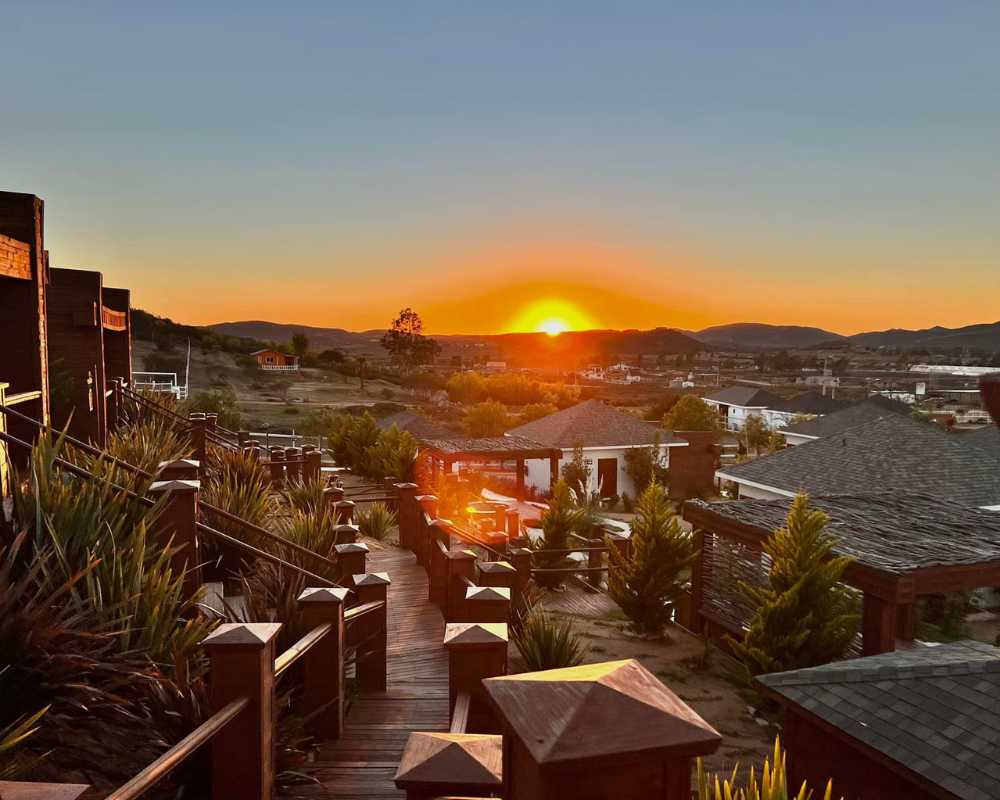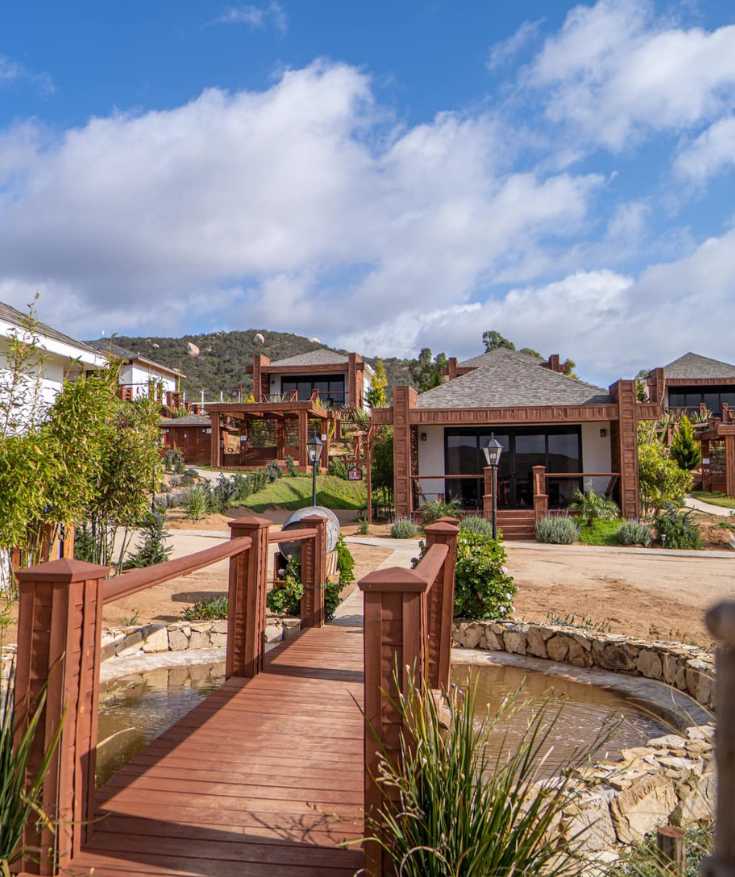 Nestled in the heart of Valle de Guadalupe, Entrevalle Hotel Boutique is the epitome of luxury and elegance. State-of-the-art amenities like the outdoor pool complement its lavishly furnished rooms with vineyard views.
Dining at Entrevalle is a gastronomic delight, with an onsite restaurant that serves a mix of traditional Mexican and international cuisines. You can also dine here if you are not a guest in the hotel.
Don Tomas Viñedo Cabañas: best cozy hotel
💲 Double room with balcony from $268 USD per night
👍🏼 Comfy beds and extreme privacy
👎🏽 Hot water and water pressure is not good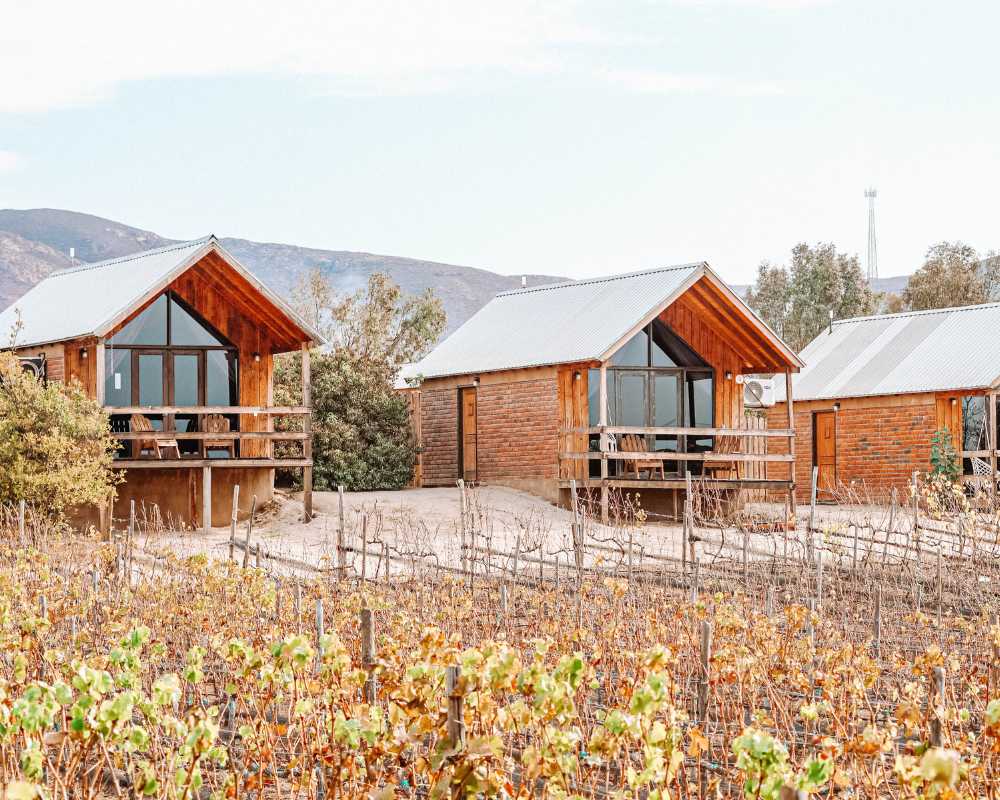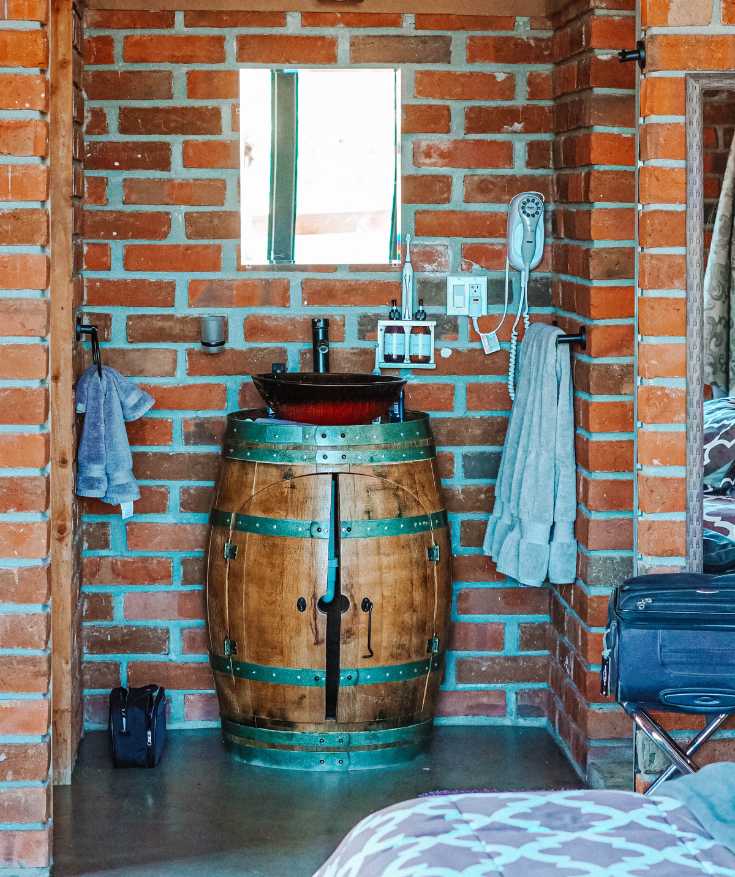 Don Tomas Viñedo Cabañas provides a serene, luxury experience among the vineyards. The rustic-chic cabins have comfortable amenities like plush beds, Wi-Fi, and private terraces overlooking the vineyard.
You can partake in wine-tasting tours and relax in the outdoor pool. The dining experience, featuring Mexican cuisine and wines from their own vineyard, is truly exceptional.
Contemplacion: sustainable luxury
💲 Suites from $345 USD per night
👍🏼 Biggest luxury resort in Guadalupe
👎🏽 Transportation might be challenging if you don't have a car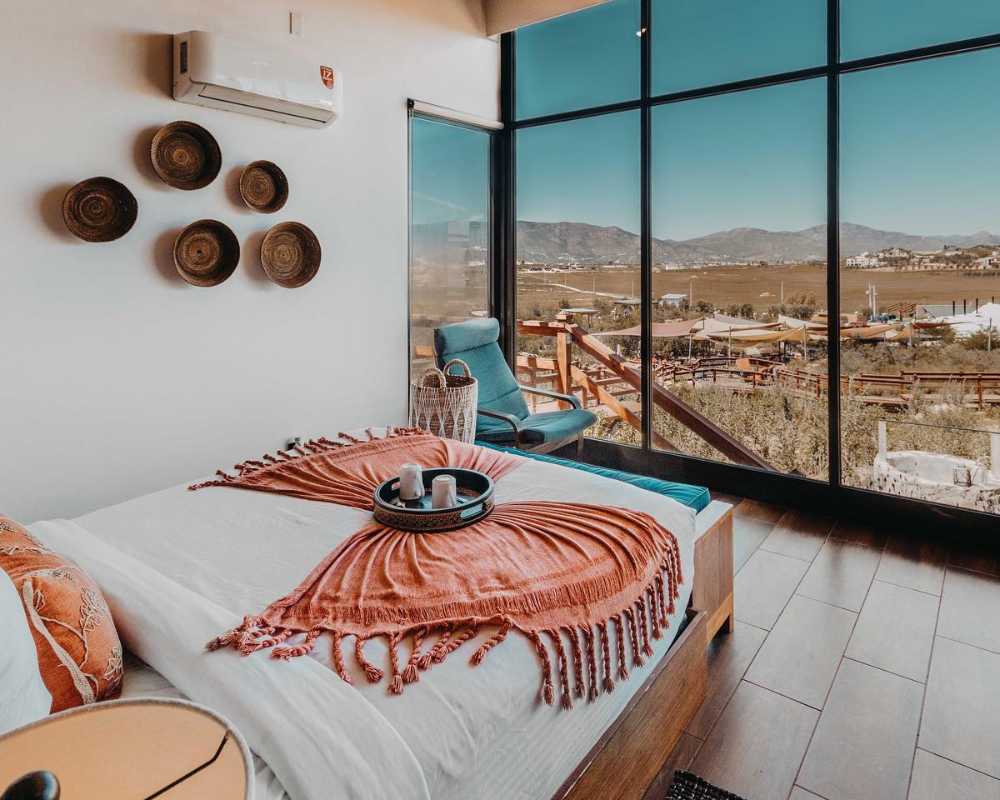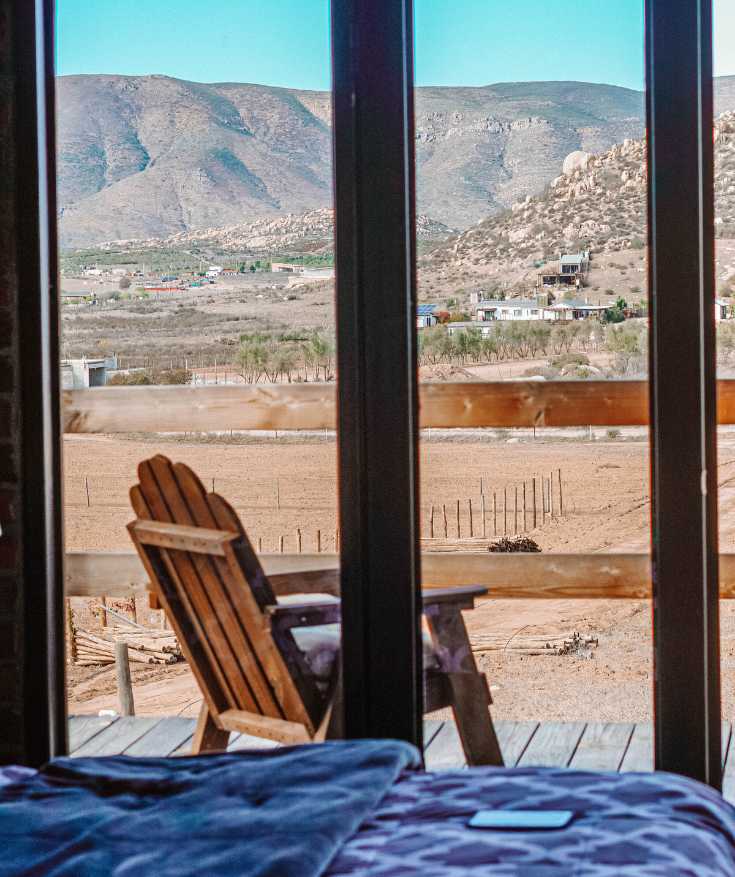 Contemplacion, as the name suggests, provides a serene ambiance amidst beautiful landscapes. With a minimalist design, the rooms boast panoramic views and a private pool.
It also has a fitness center, a garden, and a shared lounge. It's a 5-star establishment that also provides room service. An exciting feature of this hotel is its winery, where you can book a local tasting for $20 USD.
Hotel Otero Valle de Guadalupe: best for groups
💲 Two-bedroom house from $515 USD per night
👍🏼 Great comfortable suites and rooms
👎🏽 Not enough amenities for a weekend vacation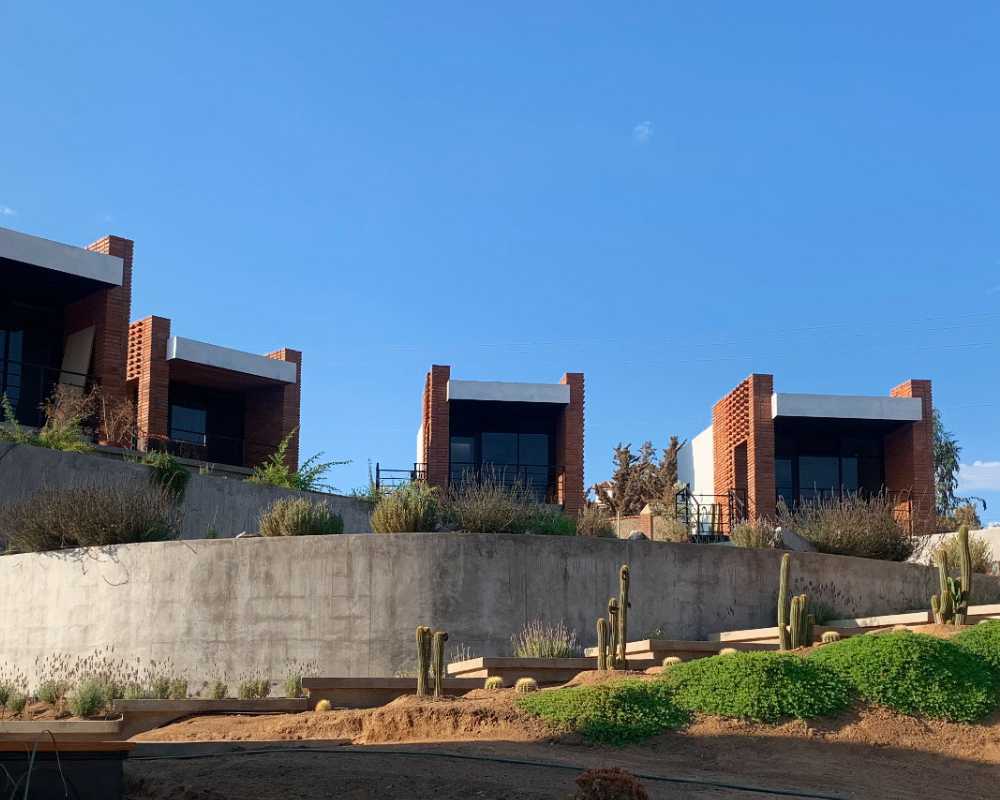 Hotel Otero seamlessly blends modern luxury with traditional Mexican style. The rooms feature cozy, rustic decor, and private terraces.
They don't have a lot of amenities; you will just sleep here. Sure, you must leave the property for tasting and meals, but the price is great if you are looking for an affordable luxury hotel in Valle de Guadalupe.
Luxury Tree Houses Hotel: best unique experience
💲 King room with balcony from $369 USD per night
👍🏼 It's a real treehouse and is one of the most unique experiences in Guadalupe!
👎🏽 Not enough hot water. Shower quick!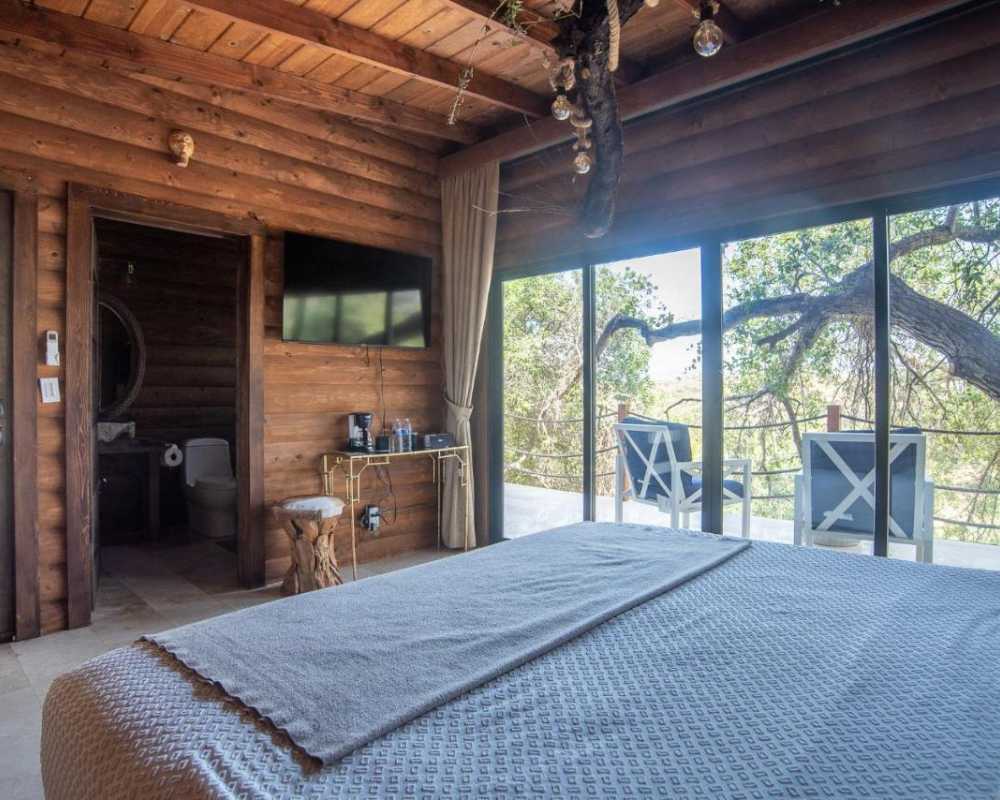 Offering a unique accommodation experience, Luxury Tree Houses Hotel has lavish tree houses with modern amenities, hot tubs, and balconies with scenic views.
The property offers outdoor activities and an on-site restaurant serving various cuisines made from locally sourced ingredients.
Ojo Azul Resort: best for parties
💲 Deluxe king room from $408 USD per night
👍🏼 Great food at the restaurant
👎🏽 Noisy and loud music in the area
Ojo Azul Resort is a luxury paradise in Valle de Guadalupe. The rooms are elegantly designed with comfortable amenities, private balconies, and an outdoor pool.
The resort offers a variety of amenities designed to make your stay as comfortable and enjoyable as possible. Among these are an outdoor swimming pool, a well-maintained garden, a terrace, and a restaurant that serves delicious Mexican cuisine.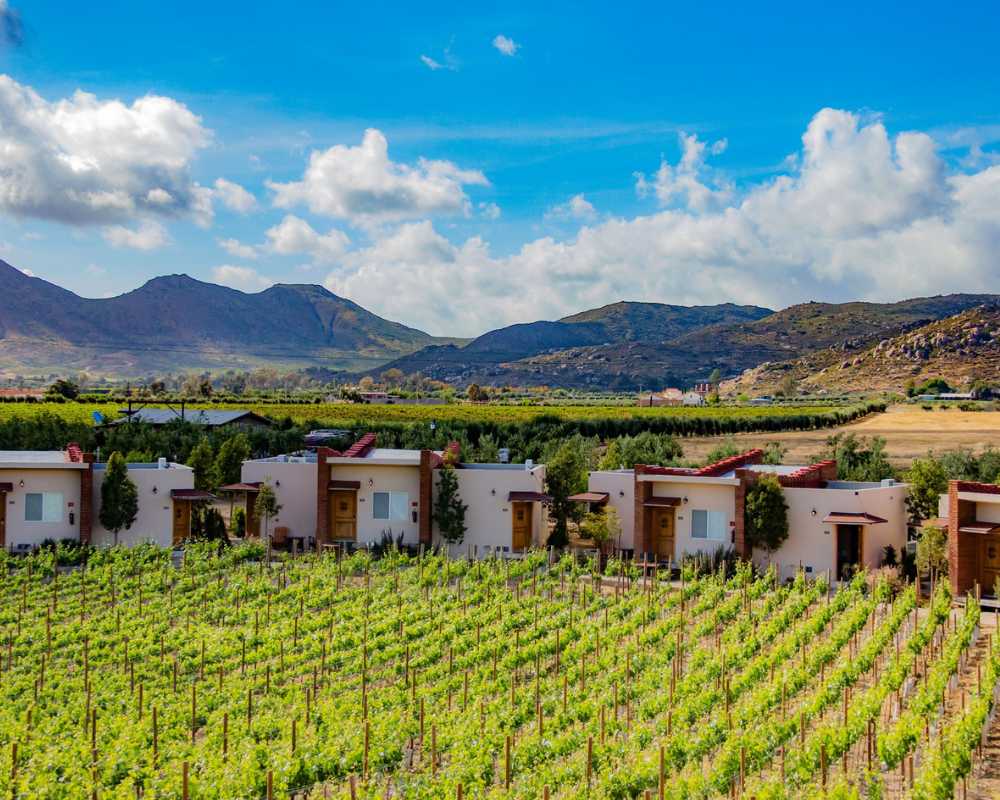 The resort also offers room service, allowing guests to enjoy their meals in the comfort of their own rooms.
In addition to its hotel services, Ojo Azul Resort is also known for being a unique destination for fine dining and wine tasting. The resort hosts a boutique winery where guests can savor the flavors of local wines.
Mexico En La Piel: minimalist design
💲 Superior suite from $327USD per night
👍🏼 Very spacious cabins
👎🏽 No lighting in the property at night; dusty roads
One of the most scenic luxury hotels in Valle de Guadalupe, Mexico En La Piel celebrates Mexican heritage encapsulated in a luxury setting. Each room resonates with Mexico's cultural richness, offering modern amenities, private balconies, and stunning views of the vineyard landscape.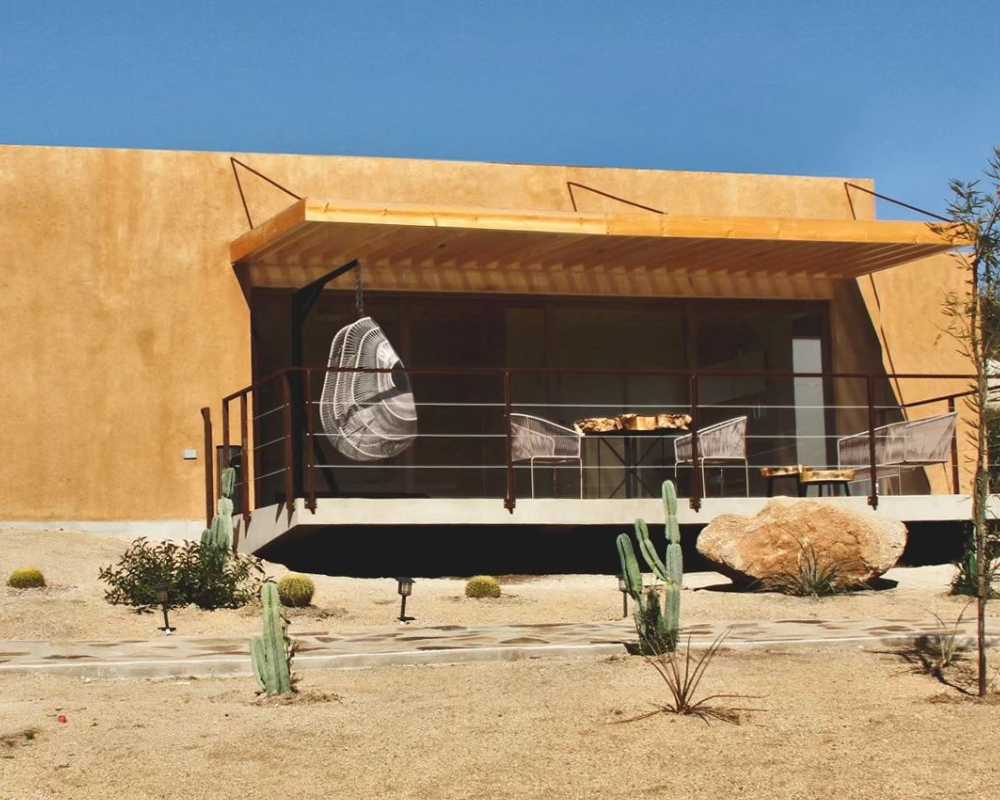 The hotel boasts a wellness center, an outdoor pool, and a dedicated concierge service. Mexico En La Piel offers an exceptional dining experience for the culinary explorer.
The on-site restaurant serves many authentic Mexican dishes prepared by experienced chefs using locally-sourced ingredients. It's an immersive cultural and culinary journey that embodies the true spirit of Mexico in every aspect.
Trisha traveled to Mexico in 2018 and after a year, she found herself obtaining a 4-year residency visa in Mexico. She is the Editor-in-chief for our Living in Mexico Series which has helped over 3,000 Americans move to Mexico with ease. Trisha currently resides in Cabo San Lucas, Baja California Sur.