Discover the Puerto Vallarta beaches with complete information on how to get there, what to expect, things to do, and more!
The vibrant city of Puerto Vallarta is nestled along the Pacific coastline of Mexico, in the heart of the stunning Bay of Banderas. Renowned for its breathtakingly beautiful natural scenery, Puerto Vallarta boasts a picturesque blend of lush mountains, azure waters, and an almost continuously sunny sky.
The coast where Puerto Vallarta is located is a veritable paradise, offering a diverse range of landscapes from idyllic sandy beaches to rugged, rocky outcrops.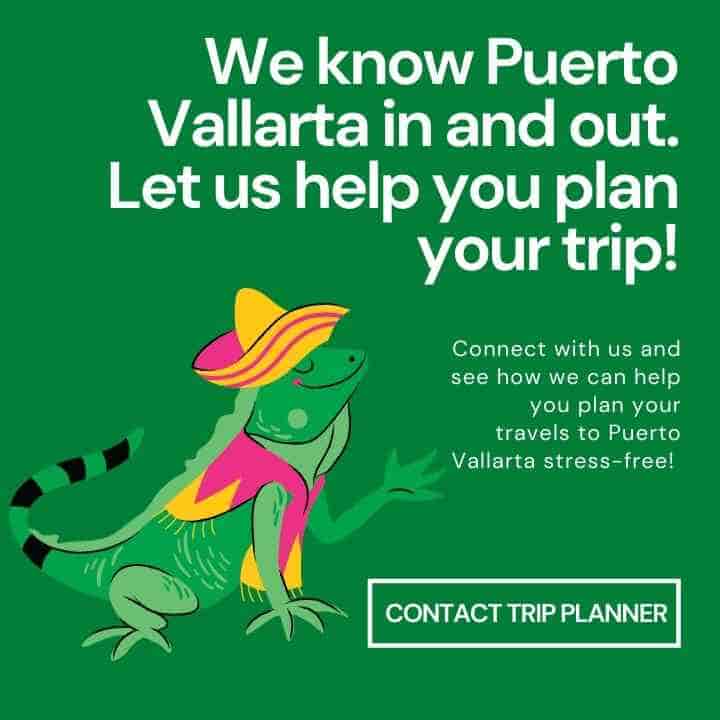 👉🏽 See also: The first-timers guide to Puerto Vallarta
This captivating coastal city, steeped in traditional charm and modern luxuries, serves as a gateway to some of Mexico's most exquisite beaches, each with unique allure and appeal.
Welcome to our sun-soaked journey as we venture into the world of Puerto Vallarta's finest beaches. With its golden sands caressed by the warm, turquoise waves of the Pacific Ocean, Puerto Vallarta has a beach to suit every type of traveler.
From secluded sanctuaries that offer a tranquil escape, to bustling strips lined with restaurants and lively bars, this city's coastline has it all.
For the sun worshippers, the adventurous, the foodies, and the seekers of tranquility alike, Puerto Vallarta's beaches promise a slice of paradise.
🧐 Questions about Puerto Vallarta beaches? Ask us on Tiktok.
🔗 Puerto Vallarta beaches: quick links
🌴 Does Puerto Vallarta have good beaches?
Yes, Puerto Vallarta is known for its beautiful and pristine beaches! Some of the most popular beaches in Puerto Vallarta are Playa del Oro, Playa de Los Muertos, and Banderas Bay.
With crystal-clear waters and soft, white sand, Puerto Vallarta's beaches are perfect for swimming, sunbathing, snorkelling, and other beach activities.
Whether you're looking for a quiet spot to relax or a lively beach with plenty of water sports and activities, you're sure to find what you're looking for on the beaches of Puerto Vallarta.
🗺️ Puerto Vallarta Beaches Map
🏖️ Best Puerto Vallarta beaches
Playa Amapas
📍Carretera Barra de Navidad K.M. 2.5 s/n, Conchas Chinas
Playa Amapas is one of the small beaches in the city. It is situated in Zona Romantica, a few minutes away from Playa Los Muertos. You'll need to hike over a trail to the El Pulpito rock formation from Los Muertos to reach Playa Amapas.
Unlike other crowded beaches in Puerto Vallarta, Playa Amapas offers a serene and calm atmosphere, which is perfect if you want a beach relaxing day. Coming from the name of the beach itself, you will be surrounded by a few Amapas trees when in the area.
In addition, the water at Playa Amapas is usually calm, so you can easily enjoy swimming or snorkeling without worry.
Playa Caballo
Playa Caballo's the place to be in if you're looking for a pristine beach off the beaten path. Playa Caballo, also known as Horse Beach, is an isolated (in a good way) beach located south of Puerto Vallarta.
Because the beach is relatively isolated, it can only be reached via a water taxi or a coastal hiking trail. This trail goes through a jungle, where you can also see a view of the coast of Banderas Bay, which includes Playa Colomitos, Playa Madagascar, and Playa Escondida.
Meanwhile, the waves at Playa Caballo are strong daily but are still safe to swim at. Plus, the seclusion and privacy at the beach make it a lot more special, with only a few available accommodations available on the beach.
Playa Camarones
Playa Camarones is just one of the most famous beaches in Puerto Vallarta. It stretches over 2100 ft long and 90 feet wide from the breakwater. The location of Playa Camarones is accessible to most travelers. And while it is just a few minutes away from downtown, it is still less crowded than Los Muertos Beach.
Playa Camaores has multiple resorts, beach bars, and restaurants along the coast. There are also available sport equipment rentals, perfect for when you want to play in the water. On top of all that, it is considered the cleanest beach in Puerto Vallarta, with low pollution levels.
Playa Conchas Chinas
Another favorite beach in Puerto Vallarta is Playa Conchas Chinas. It stands out from other beaches because of its geographical highlights – nestled between the Sierra Madre and the coast of the Pacific Ocean. With this, lots of locals and tourists alike come to see the stunning view it offers.
Conchas Chinas also comprises a series of smaller beaches separated by rocky terrains. You can enjoy several natural spots at this beach and, at the same time, relax at natural pools in the area.
Moreover, getting to Conchas Chinas is relatively easy. You can take the car, ride public transport, or walk through the beach from Los Muertos and pass through Las PIlitas, El Pulpito, and Las Amapas.
Playa Colomitos
Playa Colomitos is a beach tucked between the Sierra Madre Mountains and the shore of Banderas Bay. It only has a short stretch of sand lying on a rocky cove and is backed by a lush jungle terrain.
Over time, Colomitos Beach has become famous among tourists. But despite that, it still remains secluded and peaceful. The place is maintained in a natural setting, with few to no beach umbrellas and lounger chairs.
You can get to Playa Colomitos either by hiking from Boca de Tomatlan or joining a boat tour that stops at several different remote beaches along the coasts of Banderas Bay.
Playa De Oro
Playa de Oro is one of the safest beaches in Puerto Vallarta to swim and enjoy water sports activities. The waves here are usually gentle, so it is preferred for jet skiing, kayaking, and parasailing.
Aside from the water sports activities in Playa de Oro, the beach is also conveniently located near shopping centers, restaurants, grocery stores, and other services. It is just situated in the North Hotel Zone of Puerto Vallarta.
Playa Mismaloya
Although many know Mismaloya as one of Puerto Vallarta's small beaches, it is actually also a small fishing village in the city. It is 1,000 feet long, with a few basic amenities such as palapa-style restaurants and beach huts at the beach.
Misamaloya is also great for enjoying water activities such as swimming, paddleboarding, and kayaking. The water at the beach also offers an opportunity for snorkeling and scuba diving, especially when the waves are calm and gentle.
Garza Blanca
Playa Garza Blanca is a beach located south of Puerto Vallarta. The beach is most known for the boulders and rocks in the waters, a sign of the rich marine life in the area.
If you are in the mood to do some snorkeling while in Playa Garza Blana, you can head to the boulders and check out the natural habitat of marine life, but aside from that, you can also do some sunbathing or just a stroll at the stretch of the beach. Meanwhile, you can get some drinks or food at the Garza Blanca resort next to the beach.
Playa Los Muertos
Playa Los Muerto is one of the most famous beaches in Puerto Vallarta. It is usually packed with people, especially during peak season.
Located near the downtown of Puerto Vallarta, Los Muertos has become one of the go-to beaches of locals and tourists alike. Here, you will find many activities that will keep you entertained.
The beach is filled with restaurants, bars, and resorts and offers accessibility to water sports activities such as jet skis, banana boat rides, kayaking, parasailing, and more. But of course, Playa Los Muertos is also suitable for relaxing and chilling at the beach.
Playa Las Animas
Situated in the quaint little village of Las Animas, Playa Las Animas is a beach stretching for about two miles at the Bay of Banderas shores. The beach features a sandy and rocky beach with relatively gentle waves.
To reach Playa Las Animas, you must get on a water taxi from Puerto Vallarta or Boca de Tamatlan. Another way to reach the beach is through hiking. The trail starts from Boca de Tomatlan, and you'll need to pass by several other beaches like Playa Clomitos, Madagascar, and Caballo.
Once you arrive at Playa Las Animas, you can find amenities like beach resorts, restaurants, and souvenir shops. There are also lots of water activities that you can enjoy in the area.
Playa Las Gemelas
📍Manzanillo – Puerto Vallarta 2354
If you want a beach in Puerto Vallarta that offers a spot to unwind and recharge away from the city's downtown area, you should consider visiting Playa Las Gemelas. Although it gets pretty crowded during the high season and weekends, the crowd is usually a few to none during the weekdays.
Playa Las Gemelas is a pair of small beaches located 9 kilometers away from the city's main square. Despite being away from the center, it can easily be accessed, especially if you stay at the Grand Park Royal Resort. But if you're coming from the nearby beaches, you must climb through rocks to reach the beach.
Playa Las Caletas
📍Guatemala 560, 5 de Diciembre
Playa Las Caletas is a secluded beach cove with four small beaches. These beaches are nestled between rocky terrains and lush tropical jungles bordering the ocean.
You can only access Playa Las Caletas through a boat tour that you can book in Puerto Vallarta. And with several catamarans and water taxis available in the city, it would be relatively easy to get there.
One thing you can enjoy while in Las Caletas is kayaking between islands or simply unwinding in their famous shaded hammocks. You can also try paddle boarding and snorkeling along the beach.
Boca de Tomatlan
Boca de Tomatlan is a small fishing town located a few kilometers south of Puerto Vallarta. Getting there is relatively easy, as it is accessible by car and public transport.
You'll find the Boca de Tomatlan beach in the village, with a great ocean view. Most of the time, it also serves as a starting point for water taxis that will take tourists to tour beaches such as Playa Las Animas, Colomitos, QUimixto, and Yelapa.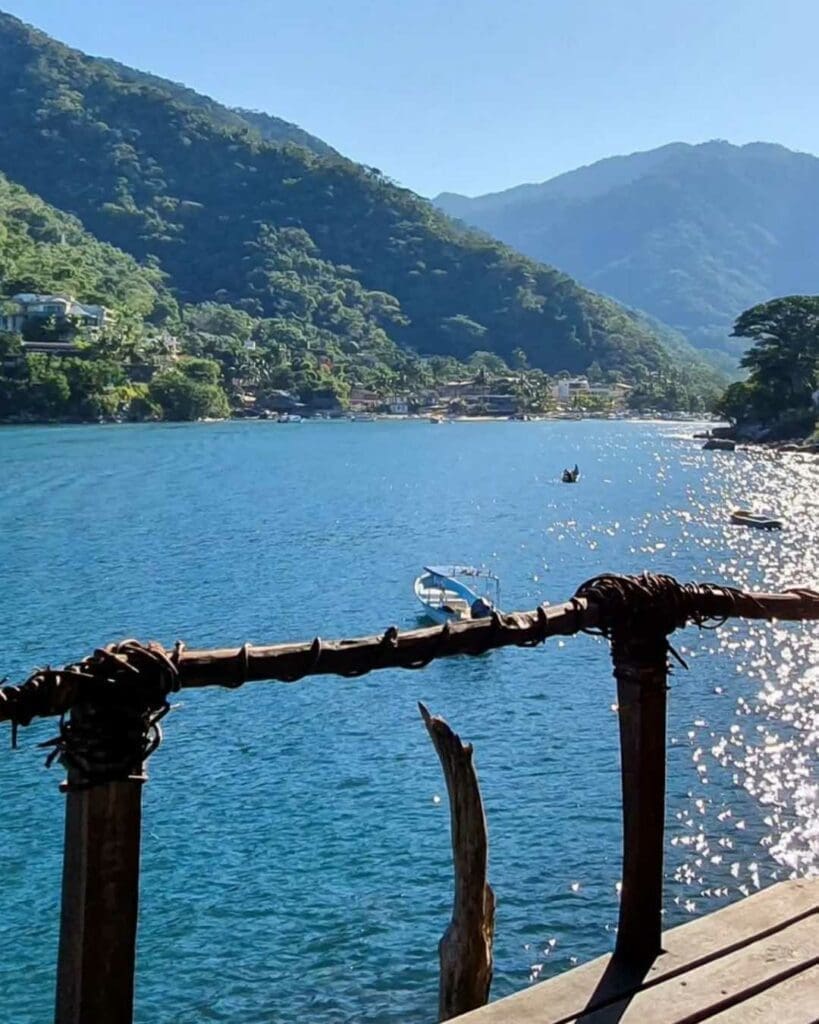 Several hiking paths from Boca de Tomatlan will lead you to other beaches. But aside from all that, you can also enjoy swimming and other water activities here.
Boca de Tomates
Boca de Tomates is the farthest beach north of Puerto Vallarta. It is a popular spot for nature lovers where you can enjoy bird-watching and even visit a crocodile habitat in the area.
Although Boca de Tomates is also a beach of its own, it's not recommended to do some water activities in the area because of its terrain. But as mentioned, Boca de Tomates is a place to enjoy nature.
Moreover, foodies will enjoy a visit here as several palapa-like eateries are located on the beachside. Here you can try some of the region's famous ceviche or enjoy a cold beer while enjoying the stunning ocean views.
Yelapa
Located just a short boat ride from Puerto Vallarta, Yelapa is a beach in a lush bioregion surrounded by tropical rainforests.
The bohemian vibe of Yelapa adds to its unique appeal. Here you can find family-run guesthouses and even a waterfall in the area. The water at the beach is mostly gentle, making it a perfect place for you and your loved ones to do water activities.
Quimixto
Playa Quimixto is located in a small village in Jalisco, just a few miles away south of Banderas Bay. This is another beach that you can visit located outside of Puerto Vallarta.
To get to Quimixto, you will have to go on a 45-minute boat ride that will pass through several beaches on the shore of the Pacific Ocean. Once you reach Playa Quimixto, you can enjoy other activities like snorkeling and kayaking.
And since you are already at the beach, you can also explore the rest of the village and go horseback riding or hiking to reach the famous Quimixto waterfalls.
Bucerias Beach
📍63732 Bucerías, Nayarit, Mexico
Another beach outside of Puerto Vallarta that you can check out is Bucerias Beach. This is one of Nayarit's famous beaches, located about 20 kilometers from Puerto Vallarta.
Buerias Beach is a pristine beach famous for having several beachfront restaurants and bars. It also offers the experience of swimming alongside sea turtles and going on humpback whale-watching tours.
You can easily reach Buerias Beach by car or public transport. The trip usually takes between 25-30 minutes, depending on traffic and the mode of transportation you choose.
⁉️ FAQ: Puerto Vallarta Beaches
What is the nicest beach in Puerto Vallarta?
While Puerto Vallarta Beaches are all known to have their own beauty, Los Muertos Beach is by far one of the best beaches in the city. Los Muertos Beach is nestled on the southern end of Puerto Vallarta's downtown at the Zona Romantica area.
Many local and foreign travelers come to visit Los Muertos Beach for its soft sand and crystal-clear waters. It is also a bustling area where most beach clubs, restaurants, and resorts are located.
Meanwhile, if you prepare for the serenity of a secluded cove, you can also visit the Playa Mismaloya, Playa Garza Blanca, or Conchas Chinas.
Are there swimmable beaches in Puerto Vallarta?
Yes, there are several swimmable Puerto Vallarta beaches. The most popular ones include Playa Mismaloya, Playa Palmares, Playa Yelapa, and Playa Camornes. These areas are perfect for swimming and other water activities, such as snorkeling, scuba diving, and kayaking.
And while beaches at Puerto Vallarta are swimmable and safe, you should always exercise caution and be aware of the water conditions.
Before diving in, check for any posted safety advisories or lifeguard instructions. Moreover, don't forget to follow the local beach guidelines to ensure a safe and enjoyable swim.
Are the beaches nice in Puerto Vallarta Mexico?
Absolutely! The beaches in Puerto Vallarta are a must-see for anyone visiting the city. Puerto Vallarta is situated along the coast of the Pacific Ocean, offering great crystal-clear water and stunning views along the ocean.
These beaches are also known for their accessibility from downtown Puerto Vallarta and complete amenities such as restaurants, bars, and resorts.
In addition, Puerto Vallarta has several beaches that you can visit. Whether you're seeking a tranquil and secluded spot to relax and unwind or a bustling beach to enjoy water activities, there's a place for you.
What beach has the clearest water in Puerto Vallarta?
The water on most of the beaches in Puerto Vallarta is clear and pristine, but a few stand out for their exceptional clarity. Playa de Los Muertos is one of the most popular beaches in Puerto Vallarta and is known for its crystal-clear waters are perfect for swimming and snorkeling.
Playa Las Gemelas, located south of Puerto Vallarta, also boasts some of the most transparent waters in the region. Additionally, the beaches in the Banderas Bay area, such as Playa Punta Mita and Playa Sayulita, are known for their clear waters and beautiful scenery.
Ultimately, the clarity of the water may vary depending on the weather conditions. Still, these beaches are great options for a refreshing dip in the crystal-clear waters of Puerto Vallarta.
Which beach is better: Cancun or Puerto Vallarta?
Cancun and Puerto Vallarta both offer beautiful beaches. Now, the better choice will vary depending on your personal preferences. Both destinations have their particular draw, but their main difference is the location – Cancun has Caribbean beaches, while Puerto Vallarta is on the Pacific Ocean coast.
So, if you weigh out the two, Cancun is a perfect choice for those who seek white sand beaches. With the Caribbean's calm and turquoise waters, alongside the vibrant nightlife and bustling neighborhood, Cancun is ideal for those who prefer a lively beach setting.
On the other hand, Puerto Vallarta's beaches have a more relaxed and laid-back vibe. Most beaches are nestled in lush tropical surroundings and are generally less crowded than in Cancun.
If you prefer a quieter, more secluded beach vacation, you should head to Puerto Vallarta instead. The choice between Cancun or Puerto Vallarta's beaches comes from personal preferences.
Trisha traveled to Mexico in 2018 and after a year, she found herself obtaining a 4-year residency visa in Mexico. She is the Editor-in-chief for our Living in Mexico Series which has helped over 3,000 Americans move to Mexico with ease. Trisha currently resides in Cabo San Lucas, Baja California Sur.