Traveling alone? Hostels are the best way to meet people! Here are some of our favorite Puerto Vallarta hostels with complete location overviews and pricing details.
Many travelers think of Puerto Vallarta as a resort area so budget travelers tend to shy away from this destination. But the truth is you can travel to Puerto Vallarta on a budget.
The best thing about hostels in Puerto Vallarta is that they are located in the center of town where the Malecon is. You don't need to pay for a taxi to get from point A to B.
These Puerto Vallarta hostels are well-located and are less than US$25. Let's get started with the list.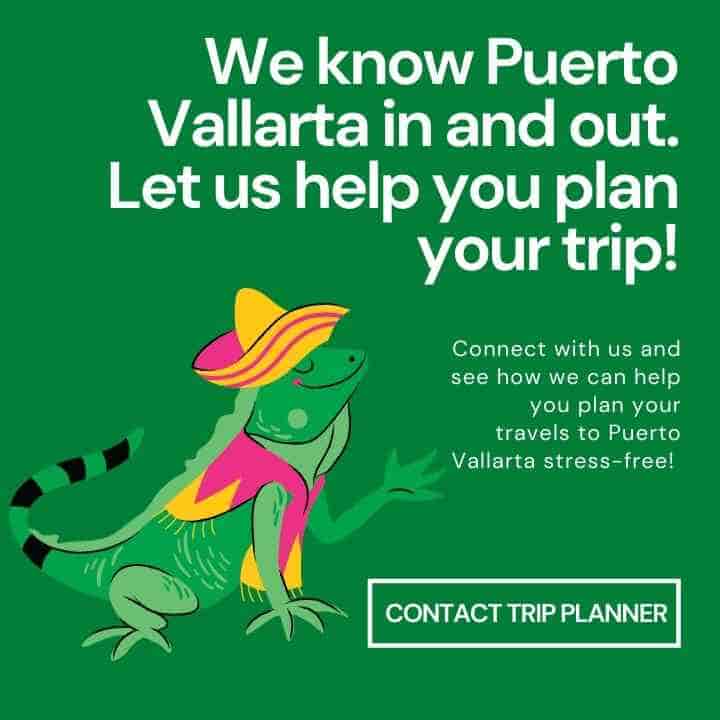 ℹ️ Puerto Vallarta hostels: quick info
This hostels in Puerto Vallarta list covers properties in the four prime areas of Puerto Vallarta: downtown PV, 5 de Diciembre, Zona Romantica, and Versalles. All are within close proximity to the Malecon.
The prices in this article are estimates but are checked in the shoulder seasons of November and December (first weeks).
Puerto Vallarta hostels are recommended to those who are traveling alone or groups traveling on a budget.
🛏️ Top affordable hostels in Puerto Vallarta
#1: Casa Kraken Hostel
📍 C. Juárez #386
💲from US$11
What to love: Only those ages 18 to 50 are permitted to stay at this establishment, which has three dorms in total: an eight-bed female dorm and two ten-bed mixed dorms, one of which has air conditioning and the other doesn't.
They have a rooftop bar, no curfew, free breakfast, assigned lockers (with a padlock) inside the dorms for each guest, and an absolutely stunning ocean and city view from the rooftop terrace. They are also conveniently located in the heart of downtown.
Value for money: This hostel is ideal for you if you're a traveler who enjoys adventure and a good time. A night at Casa Kraken starts at US$11 per night to reserve. They provide free everyday events like tours of the town, parties, hikes to scenic beaches and waterfalls, and more!
#2: Chanclas Hostel
📍 C. Juárez 793
💲from US$11
What to love: With communal facilities, comfy mixed-gender dorms, and a female-only dorm, Chanclas Hostel provides free WiFi, free security lockers, and free luggage storage in addition to the usual linens and towels. Private rooms are available as well.
A sunny terrace, full kitchen, laundry and dryer, and TV room are available for guests to use. Only two blocks separate Chanclas Hostel from the renowned Malecon and the beach, and it is a short stroll to a large number of pubs, restaurants, nightclubs, and retail establishments.
Value for money: A dorm bed costs US$11 per night. You can, however, book a private room for US$32 if you prefer to be by yourself.
They currently feature a rooftop bar with a spectacular view of the Bay, cold beer, delectable cocktails, and your favorite shots, along with live streaming of music and sports.
A wonderful staff, a welcoming environment, a complimentary breakfast, and daily city tours are also offered.
#3: Hostel Vallarta
📍 C. Juárez 535
💲from US$12
What to love: This charming, peaceful, and vibrant hostel enjoys a prime location in Puerto Vallarta's cultural district.
With brand-new comfortable mattresses, fast WiFi that reaches every bedroom, a terrace with a big TV and Netflix to unwind, and communal areas with Ping Pong and table soccer to meet people and have fun, the hostel has everything you need to make it feel like your home away from home.
It stands out from other hostels in the area due to its unmistakable Mexican décor, which includes painted murals, rooms named after well-known Mexicans, and, of course, Mexican cuisine and activities held at the hostel.
Value for money: For as little as USD$12.41 a night and USD$32.27 for a private room, you can enjoy all of them by making reservations at this hostel. This hostel also accepts volunteers in exchange for free accommodations.
#4: Oasis Hostel
📍 Av.Luis Donaldo Colosio #222
💲from US$11
What to love: The first hostel in Puerto Vallarta, Oasis Hostel, currently has four levels with dorms, private rooms, showers, and a number of "chill" areas.
It is conveniently located in a traditional Mexican neighborhood, just five minutes by bus from all the tourist attractions, including the well-known beaches. This hostel has a fully functional kitchen, round-the-clock security, and a welcoming, fun staff.
Value for money: You can stay at this roomy hostel with a ton of extras, including breakfast, filtered water, language exchange, multilingual book exchange, on-site parking, WiFi, and computer use, for as little as US$11 per night. The private quarters have their own bathrooms. It also has no curfew.
#5: El Sunset Hostel
📍 Lucerna 146
💲from US$8
What to love: El Sunset offers traditional Mexican architecture and convenient walking access to the city's beaches, bars, restaurants, and entertainment.
It is situated in Versalles, a safe Mexican neighborhood in the middle of the city. The kitchen is available to you 24 hours a day, and the rooms are very roomy and comfortable.
Additionally, the hostel does not have a curfew, does not allow pets, and only accepts visitors who are 18 years of age or older.
Value for money: This must be the hostel for you if you're searching for the least expensive lodging in Puerto Vallarta. A bed in a dorm can be had for around US$8 per night.
Private rooms are also offered at a cost of US$22. Everything can be reached on foot, including the beach, the boardwalk or sea walk, restaurants, and nightclubs.
#6: Ten To Ten Puerto Vallarta
📍 C. Juárez 467
💲from US$15
What to love: Young tourists, backpackers, and large groups of travelers are all welcome at this establishment. In addition to wifi and air conditioning in every room, there are common areas where you can socialize with lots of interesting individuals from across the globe.
There are also 10 private rooms and 2 dorms available, although none of the rooms have a private bathroom. The beach, the town, and the restaurants were all within easy walking distance of this hostel.
What to love: This mixed-dorm room sleeps 12 people in bunk beds with curtains for about US$15 each night. All are private and have ports for your laptop and phone.
Also available for US$39 per night are private rooms without windows, but do have a communal balcony where you can catch some fresh air. The hostel features a friendly staff, easy check-in, a great location, an internet café, tea and coffee-making equipment, and a ramen restaurant in the lobby area.
#7: Los Muertos Hostal
📍 Manuel M. Dieguez 138D
💲from US$13
What to love: Los Muertos Hostal is a small, quiet hostel in the European style that exudes genuine Mexican charm. It is located in an unbeatable location, just half a block from the beach.
Every room has air conditioning, a ceiling fan, free WiFi, comfortable bunk beds with a safety drawer for each bed, a private bathroom, a private shower, and blackout curtains.
Pets are not permitted, but guide dogs are, and external, non-hosted individuals are not allowed inside the rooms. Customers under the age of 18 are not accepted.
What to love: Smoking is not permitted inside Los Muertos Hostal or anywhere else on the property. With just USD$12.49 per night, you can find the ideal place to sleep, keep your belongings safe, enjoy clean amenities, and meet people from all over the world.
Additionally, guests are welcome to use the kitchen and the beverage and food storage, as well as to label goods.
#8: Hostel Boutique Vallarta
📍 Colombia 1413
💲from US$15
What to love: The hostel can accommodate 50 guests and has 8 full toilets and 9 rooms with air conditioning. They offer a lovely terrace with seating for 60 people and a breathtaking view of the sea.
Additionally, they offer a boat that can accommodate up to 10 people for a reasonable price for the visitors. The hostel has no curfew, no pets or children are allowed, and guests under the age of 18 are not admitted.
Value for money: A night at this hostel starts at US$15 per night. They offer free city maps, reading lights, hot showers, microwaves, secure lockers, hot water, and towels.
Additionally, you can use their concierge service, which will be available to you round-the-clock to make sure your stay is memorable and secure.
✈️ Ready for your trip to Puerto Vallarta? If you need more information about the best Puerto Vallarta hostels, we'd be happy to update this post – just leave your questions below or join our Facebook community where we answer questions without a cost.
Trisha traveled to Mexico in 2018 and after a year, she found herself obtaining a 4-year residency visa in Mexico. She is the Editor-in-chief for our Living in Mexico Series which has helped over 3,000 Americans move to Mexico with ease. Trisha currently resides in Cabo San Lucas, Baja California Sur.