Destinations > Baja California Sur > Todos Santos
This Todos Santos travel guide will take you to the captivating 'pueblo mágico' in Baja California Sur, known for its vibrant art scene, historic charm, untouched beaches, and outdoor adventures.
Todos Santos Travel Guide: Quick Info
🇲🇽 State: Baja California Sur
⏰ Timezone: Mexican Pacific Standard Time (GMT-7)
✈️ Airport: San Jose del Cabo International Airport (SJD)
💲 Currency: Mexican peso (MXN)
✈️ Cheap flights: Kiwi.com
🕝 Average Trip Length: 3-5 days
🛃 Visa: 180 days
🚑 Travel Insurance: Ekta
📲 Best Sim Card: Telcel
🔌 Power plug: Type A (US, Canada)
🚕 Taxi app: Normal taxi (no Uber)
🚌 Best Bus Company: ADO
🚗 Best Car Rental: Discover Cars
💵 100 pesos in USD: $5.86 USD
🚰 Tap water: Not drinkable
👩‍🎨 Visitors per year: Unknown
🏨 Best hotels: Booking.com
💳 Credit cards: Some establishments
💵 Cashless: No, still uses cash
When to travel to Todos Santos
The best time to visit Todos Santos, Mexico, largely depends on what you're looking to get out of your trip. However, generally speaking, the months from November to April are considered the best for traveling to Todos Santos. Here are some factors to consider:
Best time to visit for good weather
The best time to visit Todos Santos, Mexico for ideal weather is between November and April, during the dry season. Temperatures during these months range from 25-30°C (77-86°F), making it perfect for outdoor activities like hiking, surfing, and beach lounging. The sea conditions are also calmer, suitable for various water sports.
Cheapest months to visit
The cheapest months to visit are usually between May and October, coinciding with the wet season. This is considered the low season, with higher humidity, occasional tropical storms, and temperatures above 32°C (90°F). Some businesses may be closed, but accommodation tends to be cheaper.
High season
High season in Todos Santos runs from December to March. This period draws the most tourists, especially those looking to escape the northern winter. While the weather is excellent, prices for flights and accommodations spike, and attractions can be crowded.
Low season
The low season in Todos Santos typically spans from May to October, aligning with the region's wet season. During this period, the area experiences higher humidity, warmer temperatures that can go above 32°C (90°F), and the possibility of tropical storms. Due to the less-than-ideal weather conditions, tourism decreases, leading to lower prices for accommodations. This is the best time to visit if you're looking to save money.
Shoulder season
The shoulder seasons, particularly November and late April to early May, offer a balance. The weather is still generally good, and crowds are less intense than in the high season. These months provide a nice compromise between weather and affordability, making them an attractive option for many travelers.
TODOS SANTOS TRAVEL PLANNING
Plan your trip to Todos Santos with us!
Get expert advice for your trip, custom itinerary planning, travel concierge, and more! Get on a call with us to learn more!
Todos Santos is located on the Pacific Ocean side of the Baja California Peninsula, about an hour's drive north of Cabo San Lucas and an hour's drive southwest of La Paz, the state capital.
The closest international airport to Todos Santos is the Los Cabos International Airport (SJD), situated in San José del Cabo. This airport is approximately 80 miles (about 130 km) away from Todos Santos and serves as the primary gateway for international travelers heading to southern Baja California.
Another option is Manuel Márquez de León International Airport (LAP) in La Paz, which is roughly the same distance away but is generally less busy than Los Cabos International Airport.
From either airport, you can reach Todos Santos by car, shuttle service, or public bus, though a rental car provides the most flexibility for exploring the area. If you're not comfortable driving in Mexico, various transportation companies offer shuttle services from the airports to Todos Santos.
How much is a taxi from Cabo to Todos Santos?
The taxi from Cabo to Todos Santos is around $125 USD (one-way). You can pre-book this or go to Cabo Land parking lot where you will find all the regular taxis lining up. You can also deal with the price up front but drivers will always start at $125 USD. If you book a 2-way transportation (and know Spanish well), you can probably get a cheaper price.
To make it easier, you can get in touch with us and we can arrange this transportation service for you (door-to-door, to and from your accommodation). We also offer day trips from Cabo to Todos Santos.
Is there a shuttle from Cabo San Lucas to Todos Santos?
Yes, there is a shuttle from Cabo San Lucas to Todos Santos but you can only take that from the airport and costs around $55 USD per person. It only runs from 1:30 – 5:30 PM. If you are already in downtown Cabo San Lucas or San Jose del Cabo, your only option is to take the bus at the bus station which costs around 40 pesos ($2 USD approx).
Getting around Todos Santos
Todos Santos is a walking town, especially the downtown area where many of the town's attractions are located. The central district is compact and easily navigable on foot, making it convenient to explore its art galleries, shops, cafes, and historic sites without the need for a car.
If you're looking to explore beyond the downtown area, such as visiting nearby beaches or other attractions outside the town center, these are the ways to get around Todos Santos:
By taxi: You will find the color blue van taxis in front of the bus station in Todos Santos (Terminal Turistica). It's right by the plaza! Depending on where you are going, you can have a deal with them about the prices.
By rental car: The most convenient and actually the cheapest way is to rent a car in Cabo to get around Todos Santos. This way, you will have the opportunity to explore on your own. It's only around $65 USD per day and a full tank gas around 800 pesos ($40 USD) for a Sedan.
Things to do in Todos Santos
Todos Santos offers a diverse range of activities to suit all types of travelers, from beach lovers and adventure seekers to culture enthusiasts. Here are some of the activities you can enjoy:
1. Hike the Sugar Port Trail
This trail offers a perfect blend of nature and history. Named after the old sugar port, the trail leads you through picturesque landscapes while offering panoramic views of the Pacific Ocean. This is an easy hike from Punta Lobos.
2. Punta Lobos Beach
Punta Lobos beach is a less-crowded alternative to more touristy beaches, Punta Lobos is excellent for swimming and picnics. It's also a local fishermen's landing site, offering a slice of authentic Baja life.
3. Cielito Lindo Market
Cielito Lindo Market is a vibrant hub for artisans, this market is a treasure trove of handmade crafts, jewelry, and local produce. It's the perfect spot to pick up unique souvenirs and gifts.
4. Walk around town
Strolling the quaint streets of Todos Santos exposes you to its rich history, architecture, and local charm. The town is compact, making it easy to explore on foot. You can explore the whole town within 20 minutes!
5. Todos Santos Art Galleries
Known for its art scene, the town boasts a plethora of galleries showcasing local and international talent. It's a must-visit for art enthusiasts.
6. Dine with a view at El Mirador
This restaurant offers not just mouthwatering cuisine but also breathtaking ocean views. The experience marries fine dining with natural beauty, ideal for romantic outings.
7. Eat oysters at Oystera
For seafood lovers, Oystera offers freshly harvested oysters in a cozy, rustic setting. It's a culinary experience you shouldn't miss! Oystera has oysters from the different seas of Mexico including Sea of Cortes, Pacific Coast, San Quintin, and more!
8. Surfing in Cerritos Beach
Popular among surfers, Cerritos Beach offers waves for all skill levels. Its sandy bottom and consistent swell make it ideal for both beginners and experts. Cerritos Beach is about 10 minutes away from Todos Santos town (by car). You can also enjoy this beach as a non-surfer.
9. Amaya Beach Club
Amaya Beach Club is an off-road beach club next to Cerritos Beach. It is secluded and is only known to few travelers. Every weekend, they hold music events with live music or DJ sets.
10. Yoga Retreats in Todos Santos
Whether you're a beginner or seasoned yogi, the yoga retreats offer a rejuvenating experience amid stunning natural surroundings, complementing your holistic well-being. We also offer yearly retreats in Todos Santos so get in touch!
Where to stay in Todos Santos
Accommodations in Todos Santos are not in one area so it's still better if you have your own rental car. Just remember that the center of town is your main point of reference if you want to be near restaurants and bars.
In Todos Santos, you'll find a rich tapestry of accommodation options to suit various tastes and budgets. For those seeking luxury and top-notch amenities, the town boasts high-end hotels complete with swimming pools, fitness centers, and on-site dining options.
If you're looking for something smaller and more personalized, boutique hotels are a fantastic choice. These offer a unique, local atmosphere and are usually characterized by attentive, personalized service.
Below are our best recommendations for hotels in Todos Santos with nightly prices and star ratings:
Best restaurants in Todos Santos
Accommodations in Todos Santos are not in one area so it's still better if you have your own rental car. Just remember that the center of town is your main point of reference if you want to be near restaurants and bars.
1. El Mirador Oceanview Restaurant
Set on a cliff overlooking the Pacific, El Mirador offers more than just panoramic ocean views. The restaurant specializes in seafood and Mexican cuisine, with dishes artfully presented. The ambiance is romantic, making it ideal for special occasions.
2. Dum
A modern eatery with a casual vibe, Dum serves a fusion of Mexican and Asian flavors. The sushi rolls and ramen bowls are particularly noteworthy, offering a unique twist on traditional recipes.
3. Oystera
True to its name, Oystera is a haven for seafood aficionados. The restaurant excels in serving freshly harvested oysters, prepared in various styles. The rustic interior adds to the cozy atmosphere.
4. Fish Taco Santo Chilote
A laid-back spot that specializes in fish tacos. Freshly caught fish, crispy batter, and vibrant salsas make this a go-to for casual, authentic Mexican street food.
5. La Catrina Cantina
A lively bar and restaurant, La Catrina offers an array of Mexican and international dishes. The atmosphere is buzzing, often featuring live music and a diverse crowd.
6. Santos Pecados Todos Santos
This restaurant offers a farm-to-table experience with a focus on organic ingredients. The menu includes Mexican classics and contemporary dishes, served in a relaxed, open-air setting.
7. Restaurante La Generala
Known for its upscale Mexican cuisine, La Generala serves dishes that are both traditional and innovative. The restaurant's elegant ambiance makes it a prime spot for fine dining.
8. Los Adobes De Todos Santos
Situated in a historic adobe building, this restaurant serves classic Mexican fare in a charming garden setting. The mole dishes are especially popular, combining complex flavors and textures.
9. Cafelix
A coffee shop and eatery, Cafelix is beloved for its artisanal coffee and hearty breakfast options. The relaxed vibe and eclectic decor make it a popular choice for both locals and tourists.
10. La Esquina
Offering a mix of Mexican and international cuisine, La Esquina is a versatile dining option. The restaurant features an outdoor seating area, adding a relaxed, communal atmosphere to the dining experience.
Todos Santos Travel Costs
The cost of traveling to Todos Santos can vary widely depending on your travel style and preferences. However, in general, it is safe to say that Todos Santos is more expensive than other small towns like Sayulita or Tulum.
Here's a breakdown of some of the costs for one person. Please note that this is only an example and is based on our personal trips.
| Item | Price |
| --- | --- |
| Taxi from Los Cabos to Todos Santos | $50-$100 one way |
| Car rental per day | $40-$80 |
| Luxury hotel | $200-$500 |
| Mid-range hotel | $80-$200 |
| Budget hotel or hostel | $20-$60 |
| Vacation rental | $50-$300 |
| Fine dining | $30-$100 |
| Casual restaurant | $10-$30 |
| Street food | $3-$10 |
| Surfing lesson | $40-$100 |
| Bar or Cantina | $5-$30 |
| ive music or cultural events | $10-$50 |
| Sim card | $15 (30 days unlimited) |
| Travel Insurance | $40 |
Why is Todos Santos so expensive?
Todos Santos is expensive because of its rising popularity. As Todos Santos gains more attention as a must-visit destination, demand for accommodations, dining, and activities can drive prices up. Quality often comes at a price, and this is reflected in the cost of many goods and services in Todos Santos.
Todos Santos has started to attract a more affluent tourist crowd looking for high-quality experiences, from luxury hotels to fine dining to specialized tours. Businesses set their prices according to this demographic.
The town's idyllic weather and surfing conditions make it a popular winter getaway, leading to increased demand and, consequently, higher prices. Being somewhat isolated, many goods have to be imported into Todos Santos, which adds to the overall cost of food, drink, and retail items.
As the area becomes more popular, real estate prices have gone up, affecting the cost of accommodations, dining, and shopping, as businesses adjust prices to offset their higher operating costs.
ATM/banks in Todos Santos
These ATMs are generally the most reliable for withdrawing money in Todos Santos:
Bancomer (BBVA): One of the largest banks in Mexico, Bancomer ATMs are commonly used and fairly reliable. They often have higher withdrawal limits and offer a wide range of services through their ATMs. The user interface is also available in multiple languages.
Banorte: Another popular bank, Banorte ATMs are frequently found in Todos Santos. These machines are generally dependable and offer a variety of banking services. They are also known for having multiple language options.
Travel Safety in Todos Santos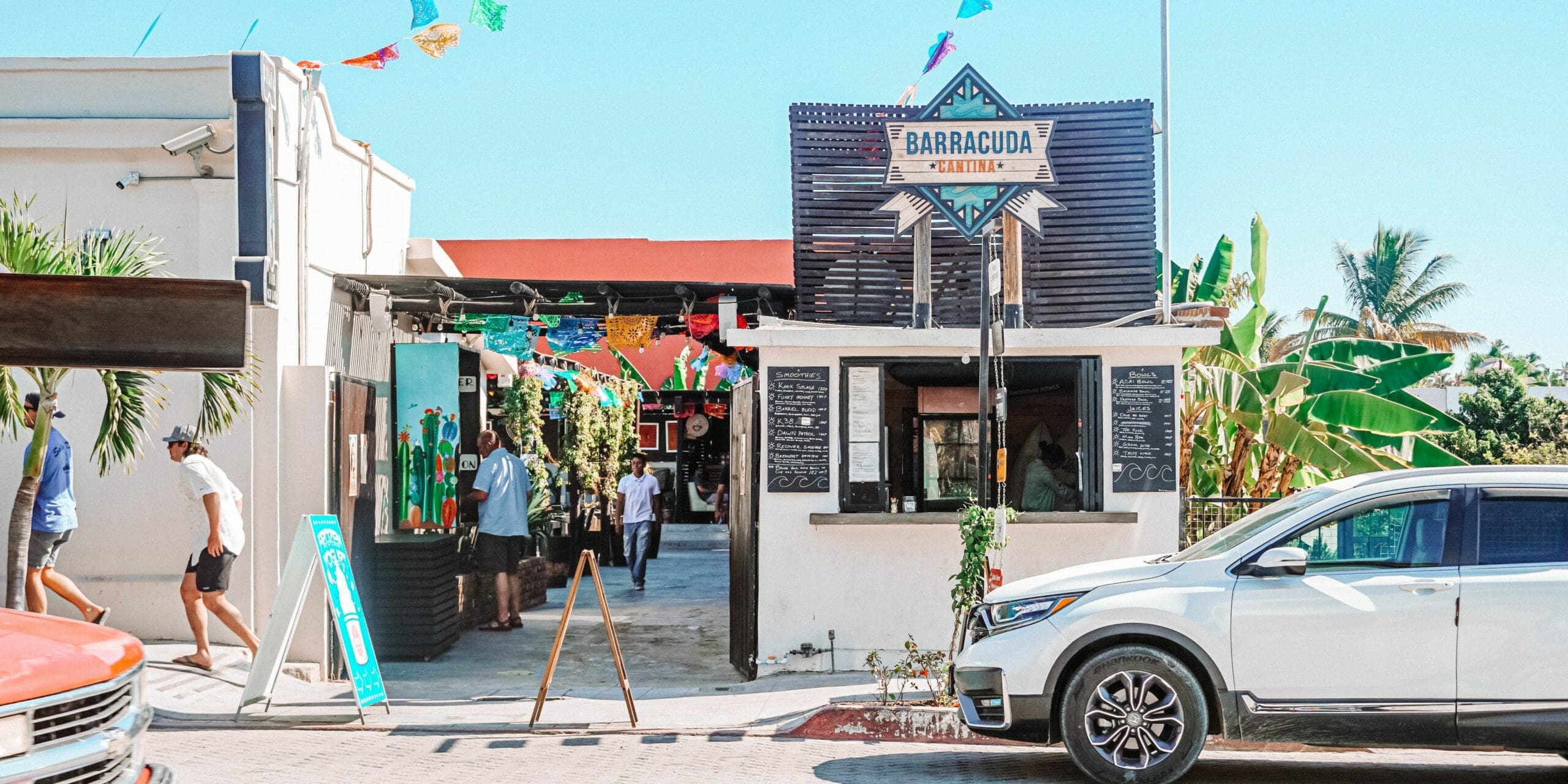 Todos Santos is a safe destination for travelers. It's a small town known for its artistic community, natural beauty, and laid-back atmosphere, and it doesn't have the high crime rates associated with some larger cities. However, like any travel destination, it's important to take certain precautions to ensure your safety.
Local Laws and Customs: Make sure you're aware of local laws and customs, especially those related to drug use and public behavior, as violations could result in severe penalties.
Daylight Activities: Try to complete most of your activities during daylight hours. If you're out at night, stay in well-lit areas and consider taking a taxi rather than walking.
Beach Safety: Be cautious when swimming or participating in water activities. Strong currents and rip tides can be dangerous, so it's advisable to swim in designated swimming areas and heed local warnings.
Alcohol and Drugs: Be cautious with alcohol consumption, and avoid illegal drugs altogether. Overindulgence can make you an easy target for crime.
Public Transportation: Public transportation is generally considered safe, but always be aware of your surroundings, especially at night.
Petty Crime: Like any tourist destination, petty crime like pickpocketing can be a concern. Always keep an eye on your belongings and be cautious in crowded areas.
Local Contacts: Have the contact information for local emergency services, as well as your country's nearest consulate or embassy.
Travel Insurance: It's always a good idea to have comprehensive travel insurance that covers health care and any activities you plan to engage in, like hiking, surfing, or other outdoor activities.
FAQ: Todos Santos Travel Guide