From street food staples like tlayudas and memelas to rich, flavorful moles and succulent barbacoa, here are the best Oaxaca restaurants.
Oaxaca City, the capital of the Mexican state of Oaxaca, is a thriving culinary destination renowned for its vibrant restaurant scene. This culturally rich city boasts diverse dining options, ranging from traditional family-owned establishments to contemporary eateries.
Oaxaca's culinary identity is deeply rooted in its indigenous heritage and strong agricultural traditions, which are showcased through its innovative and flavorful dishes.
The city's thriving gastronomy scene attracts locals and visitors alike, eager to explore the depth and complexity of Oaxacan cuisine. The fusion of age-old recipes and contemporary culinary techniques makes Oaxaca City a true epicenter for food lovers.
The types of restaurants in Oaxaca City are as diverse as the city's rich culinary history. Local markets and street food vendors offer authentic, regional fare, such as tlayudas, memelas, and delicious Oaxacan-style tamales.
Family-owned restaurants and fondas serve traditional Oaxacan dishes like mole, barbacoa, and chiles rellenos. For a more upscale dining experience, there are contemporary restaurants that reinterpret classic Oaxacan dishes with modern twists, often using locally sourced and organic ingredients.
International cuisine is also well-represented in Oaxaca City, with establishments serving Italian, Japanese, and other global flavors. This fusion of traditional and contemporary, local and global, makes Oaxaca City's restaurant scene a genuine culinary adventure for anyone who appreciates exceptional food.
🧐 Questions about Oaxaca restaurants? Ask us on Tiktok.
See also:
🔗 Oaxaca Restaurants: quick links
🗺️ Oaxaca Restaurants Map
👉🏽 Open this Oaxaca restaurants map in full view
🍲 27 essential Oaxaca restaurants
Casa Oaxaca
📍 C/ de la Constitución #104-A, RUTA INDEPENDENCIA, Centro
💲 from $9 USD
Owned by the critically regarded chef Alejandro Ruiz, Casa Oaxaca is a restaurant at a hotel in the city's center. It is famous for its food and beautiful indoor and outdoor space, surrounded by art decor and good music. And suppose you wish to dine at Casa Oaxaca, you should book a reservation in advance on their rooftop terrace because the restaurant gets fully booked quickly.
One of their specialties includes crispy duck tacos in red mole and oregano-scented rabbit. They also have an extensive list of wines known to be Mexican vintages.
You'll need at least a budget of $30 USD per person when dining at Casa Oaxaca. With this, you can already have a complete set meal, including an appetizer, main dish, and a dessert or drink.
Los Danzantes
📍 C. Macedonio Alcalá 403-interior 4, RUTA INDEPENDENCIA, Centro
💲 from $3 USD
Los Danzantes Oaxaca is a fine-dining Mexican restaurant in an old converted monastery near the Museum of Cultures. The restaurant has earth-tone walls, which reach three stories in height and are made up of triangular columns of rough stone, making the place look spacious and airy. It's usually packed, so booking beforehand is best if you want to dine here.
Their menu consists of classic Mexican dishes recreated to appeal to a wide range of palates. Plus, the seven have vegetarian options and words catering to gluten intolerances. It would help if you got their Crab tostada for your appetizer, Shrimp Tlayuda for the main, and a chocolate cascade for dessert.
The restaurant accepts reservations and payments made with cards and cash. Drinks here start at $3 USD, while food begins at $8 USD.
El Destilado
📍 5 de Mayo 409, RUTA INDEPENDENCIA, Centro
💲 from $4 USD
El Destilado is a contemporary Mexican restaurant owned by Americans who fell in love with Oaxaca's rich culinary history. It is an indoor restaurant decorated with classic wooden furniture and earthy tones.
Their menu consists of ala carte specialties that the owners came up with. They even have tasting menus that offer dynamic flavors to those wanting to immerse in a rich Oaxacan culinary experience. You can choose from three options; a 6-course meal, a 9-course meal, and a 12-course "Chef's Menu," which I highly suggest if you visit for the first time.
You can get something as cheap as $4 USD for their ala carte menu. Meanwhile, the tasting menu varies depending on the course meal you will avail.
Criollo
📍 Francisco I. Madero 129, Santa María del Marquesado, Centro
💲 from $50 USD
Criollo is a casual eatery offering local dishes from locally sourced ingredients. The restaurant is located in a UNESCO heritage house just outside the city center but accessible by foot. Guests can dine in a courtyard where you can see the staff prepare fresh ingredients. They also have a patio and an indoor room where large groups can stay; this is the best place to view their open kitchen.
The restaurant has an a la carte menu, a tasting menu, and drink pairing (local beer, Mexican wine, and mezcal cocktails). One dish that stood out was their chilaquiles. In addition, it's a must that you avail of their drink pairing alongside your meal.
The price at Criollo is entirely on the expensive side. You'll need to spend at least $50 to $60 USD per person to enjoy a tasting menu. Meanwhile, this can increase if you offer a course meal at around $90 USD.
Ancestral
📍 C. José López Alavez 1347, Barrio de Xochimilco
💲 from $4 USD
Ancestral Cocina Tradicional is another casual eatery in Oaxaca. It has garden and indoor seats, with rustic and earthy decorations. They even have a bar inside where your beverages are made. Lots of locals and travelers because of its convenient location, even without the need to book in advance.
The restaurant is most known for its wood-cooked foods. Some of their best-sellers include the chilaquiles in the green sauce and the Chamorro with chinchilla sauce and risotto. For your drink, order their best-selling mezcal tamarindo cocktail.
The prices of food and drinks at Ancestral Cocina Tradicionla start at $4 USD.
Gozobi
📍 C. de Manuel García Vigil 504, RUTA INDEPENDENCIA, Centro
💲 From $3 USD
Gozobi is a rooftop restaurant that gives its customers a place to watch the sunset and the city & mountain views while eating food. It has a sophisticated and elegant setting, ideal for an intimate dinner.
Their menu includes Mexican food such as ceviche, mole, and tacos. They also have mezcals that come from El Jolgorio. It would be best to try their enchiladas en mole del valle de zaachila and the sandwich de la casa. You can pair these with a refreshing mezcal drink if you feel like it.
Gozobi accepts cards and cash for payment. Their price point ranges from $3 USD to $10 USD, and a budget of at least $15 USD each is recommended.
Vaca Marina
📍 C. de Ignacio Allende 109, RUTA INDEPENDENCIA, Centro
💲 from $5 USD
Vaca Marina is a terrace restaurant with an excellent view of Plaza de Santo Domingo. In the morning, it has a fresh and easygoing vibe; at night, it gets dressed up with lights and music for a romantic night or a relaxing time alone.
Its international food menu has everything from Prime cuts to the best and freshest seafood, and it even serves pasta and rice dishes baked in charcoal ovens. One of their best-selling menus is their soft shell crab tacos and the ribeye steak taco. Their citron mezcal is also something worth trying.
The food at Vaca Marina starts at $10 USD, while drinks start at $5 USD.
Zandunga
📍 Manuel García Vigil # 512-E, Centro
💲 from $3 USD
Zanduga is a little cafe-style restaurant tucked into a corner of the Historical Center in Oaxaca. It has a colorful interior, with small square tables covered with brightly colored cloths that look like bandanas. The seats are benches or simple chairs, and they need to be more elegant to attract a sophisticated crowd looking for gourmet food.
Among their best sellers are the granachas and pico de gallo. They also have great tasajo, which is great to pair with a bottle of local beer.
Zanduga offers relatively cheap food, starting at $8 USD per dish. Meanwhile, the drinks here start at $3 USD.
Teocintle Tikaaya
📍 Primera Priv. de, Independencia 12, Centro
💲 from $17 USD
Teocintle Tikaaya is one of Oaxaca's well-known fine dining restaurants with a relatively small staff and available tables and chairs. They are a fixed-price restaurant that serves high-end indigenous food in a rustic and industrial area. So, book ahead of time to catch a table in Teocintle Tikaaya.
The tasting menu of meals changes daily based on what the chef finds in the market. This sets them aside from other restaurants because of their 'innovate' menu, which you can customize based on your dietary requirements.
A five-course meal at Teocintle costs $17 USD per person. They are open daily, except Sundays, from 1 PM to 10 PM.
Origen
📍 Miguel Hidalgo 820, Centro
💲 from $10 USD
The Origen restaurant is an inventive global restaurant owned by Chef Rodolfo Castellanos. He is known for making the flavors of the food go well with the restaurant's atmosphere. In addition, the restaurant is located in a subdues, timber-ceilinged townhouse that has been converted into a quick lunch restaurant, a culinary class workshop area, and a formal evening dining room (on the second floor).
One of their best sellers is the plantain dumplings for an appetizer. They also have great grilled octopus stew with a mezcal cocktail. Meanwhile, tasting menus are also available, with varied dishes depending on the season.
The meal here is costly, but every dollar is well spent. Food ranges from $20 USD to $50 USD, while drinks start at $10 USD.
Crudo
📍 Av Benito Juárez #309, RUTA INDEPENDENCIA, Centro
💲 from $71 USD
Crudo is a Japanese restaurant situated on a vast old building in Oaxaca. The restaurant only houses six guests at a time, who will be seated at a wooden and marble counter. And in this intimate and private setting, customers must comply with the chef's omakase menu, which translates to "I leave it up to you." Thus, it's a must to book ahead to get a seat.
Nevertheless, the flavor journey in Crudo is predetermined. Their Japanese dishes are made from family recipes passed down through the generations. Plus, Crudo collaborates with nearby fishermen, farmers, and cooperatives to procure regional ingredients.
With this, the food here is entirely on the expensive side. The omakase menu price is worth $71 USD, which you should pay in half when making a reservation. This serves as a downpayment for your seat.
Sirilo
📍 C. Amapolas 400, Reforma
💲 from $3 USD
Sirilo is located in the city center of Oaxaca, yet it gives off tropical vibes. Chef Rene Saynes operates the vibrant, trendy, hip restaurant, serving different seafood dishes from Oaxaca's early recipes.
With an extensive food selection, you must order their best-selling fish tacos and towering agua chile. You should also try the La Chula, a popsicle created with mezcal and seasonal fruits served in a michelada with your preferred beer.
Food at Sirilio starts at $3 USD, which is reasonably cheap and affordable, given that you can dine at a great restaurant.
Boulenc
📍 C. Porfirio Díaz 207, RUTA INDEPENDENCIA, Centro
💲 from $1 USD
If you're looking for a change from the Mexican cuisine you've been enjoying during your stay in Oaxaca, Boulenc is a must-visit. This is a European-style bakery housed in an old building in Oaxaca, boasting a rustic industrial atmosphere that leaves a lasting impression on its customers.
Bolenc's menu boasts diverse highlights, from traditional French pastries to unique Oaxacan-inspired dishes. One of their best-sellers is the Kale Croissant Sandwich. You should also get a burger, especially if you want to be full after the meal.
The price point per person here starts at $1 USD. Food ranges from $4 USD to $10 USD, while drinks range from $1 USD to $5 USD.
Pan Con Madre
📍 C. de Quetzalcóatl 205-D, RUTA INDEPENDENCIA, Centro
💲 from $1 USD
Pan con Madre is the perfect place to try out pastries if you are in Oaxaca. It opened in 2012 at Querétaro and then moved to Oaxaca in 2015. With that, it is now a formally established bakery in the neighborhood. It also has available seats and tables both indoors and in a courtyard.
The most delicious items on the menu are freshly baked English muffins and croissants. Their coffee is also a popular choice for many guests.
Pastries and bread sold at Pan con Madres start at $1 USD.
Tierra del Sol
📍 Reforma 411, RUTA INDEPENDENCIA, Centro
💲 from $9 USD
Tierra del Sol is a rooftop restaurant located at the center of Oaxaca. Accordingly, it got its name from a Mixtec song that later became an Oaxacan hymn and used the same melody. And although they have a spacious area full of tables and chairs, as soon as they become prevalent, it's a must to book tables ahead of time so you don't have to wait on a list.
The executive chef of Tierra del Sol is responsible for the restaurant's commitment to utilizing authentic Mixteca ingredients and culinary methods. With this, lots of people come to try their best-selling grasshopper tamales. Meanwhile, you should get the green mole if you want to try mole.
The prices at Tierra del Sol are pretty pricey compared to other Oaxacan restaurants. Because they use their dish's freshest and most quality ingredients, food and beverages start at $9 USD and can get as high as $30 USD.
La Popular
📍 Jesús Carranza 110, RUTA INDEPENDENCIA, Centro
💲 from $2 USD
La Popular is a local casual restaurant and mezcal bar at the intersection of Manuel Garcia Vigil and Jesus Carranza. The restaurant can accommodate around 30 people at a time in a modest room with three huge doors that provides access to natural light and ventilation.
The menu of La Popular is diverse, where you may have soups, appetizers, local tacos, tlayudas, and much more. But, among the most recommended dish in La Popular is their Tlayudas (Oaxacan-style pizza) and pozole.
The food and drinks at La Popular are affordable, starting at $2 USD.
La Atoleria Masea
📍 Reforma 411, RUTA INDEPENDENCIA, Centro
💲from $3 USD
La Atolería Masea is a restaurant specializing in Atole, a hot corn-based beverage generally mixed with various flavors. It is great for cold mornings or chilly evenings because it is healthy, filling, and delicious. While inside the restaurant, you will see burners that continuously warm pots containing Atole, readily available sampling throughout the day.
As mentioned, La Atoleria has several Atole available for customers to try. You can also pair them with French pastries that the bakery sells in the next room.
The price of Atole starts at $3 USD. They also accept the card as a form of payment aside from cash.
Levadura de Olla
📍 C. de Manuel García Vigil 304, RUTA INDEPENDENCIA, Centro
💲 from $5 USD
Levadura de Olla is a restaurant that offers classic Oaxacan dishes but puts a modern spin on them. Their menu is primarily healthful and accommodating to most dietary preferences. The restaurant is currently housed in a large building with an outdoor space in Oaxaca's center.
Their rib with dark mole is a crowd favorite, which is highly suggested, especially if you are a first-time diner in Levadura de Olla. They also have excellent cheese squash blossom enchiladas, perfect for those looking for a vegetable-focused meal.
Starting price of food and drinks is $4 USD. Meanwhile, you'll need at least $12 USD as a budget per person when dining here.
Terraza Istmo
📍 Av. José María Morelos 400, RUTA INDEPENDENCIA, Centro
💲 from $6 USD
Terraza Istmo is another famous rooftop garden restaurant in Oaxaca. It is atop Hotel Casa Abeula Maria, just one block from the ancient Plaza de la Danza. Its open air and the breathtaking panorama of the surrounding city and mountains add to the Oaxacan cuisine experience foodies are looking for.
You can find sumptuous Garnacha- corn patties topped with salsa, pickled onion, beef, and cheese. This is one of their best-selling dishes. You should also try their minilla empanadas, which have an intense flavor. For your drink, the mandarin mezcal cocktail is a must.
The price of food at Terraza Istmo starts at $7 USD. Meanwhile, drinks range from $6 USD to $8 USD.
La Cocina de Humo
📍 Murguía 304, RUTA INDEPENDENCIA, Centro
💲 from $66 USD
La Cocina de Humo serves traditional Oaxacan food. Their changing menu depends on the ingredients they harvest in San Mateo Yucutindoó and other communities in Oaxaca. In addition to the experience, inside the restaurant, you will have your own comal and stove as you get a chance to create your dish or have the chef serve your plates full of food to share.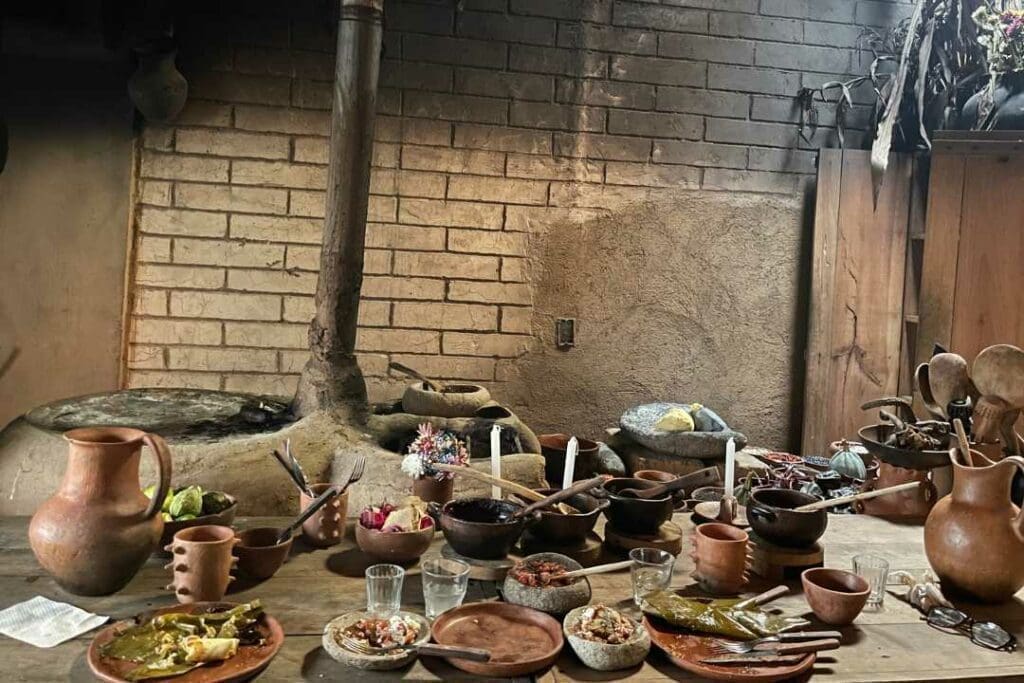 The tastes used in La Cocina de Humo are different, and you won't find them used in any other restaurant in the city. The utilization of seasonal ingredients in the preparation of its dishes helps to ensure that the restaurant's menu is always current. They offer a wide range of variations on the classic cocktails of Oaxaca.
For $66 USD per person, you are paying for the entire experience, including interaction with the family, who is also your cook, and at the same time, the quality of food.
Restaurante Alfonsina
📍 C. García Vigil 183, 71232 San Juan Bautista la Raya
💲 from $5 USD
Tucked twenty minutes from Oaxaca, Alfonsina is a restaurant in Chef Jorge Leon's family house. Adobe bricks frame the entrance, and a metal-rock roof protects the building from the hot sun. Here you can sit in either the house garden or indoors, depending on your preference.
Alfonsina does not have a set menu. The food they make daily depends on what they find at Oaxaca's Supply Center, which they can change to meet the needs of their customers. But one of their staple dishes is the madre mole.
The food at Restaurant Alfonsina is pretty priced, ranging from $5 USD to $25 USD. A budget of $35 USD is enough for one person.
La Cocina de Frida
📍 71510, C. Pueblos Unidos 104, Centro
💲 from $1 USD
Tucked inside Mercado Morelos, you'll see Frida's kitchen, which has been open for more than 80 years already. Frida's kitchen was built by Beatriz Vásquez Gómez, also known as the Oaxacan Frida. They serve traditional Oaxaca dishes like classic moles, stew, and coloradito.
One of the local's recommendations from Frida's menu is their tasajo (salted beef). They also have a roasted prickly pear menu, which carries veggies inside, such as onion, tomato, avocado, and coriander.
The food here is worth the money and is cheap for the serving you get. You can already get a drink starting at $1 USD, while the fare starts at $4 USD.
Pasillo de Humo
📍 20 De Noviembre, 68000, Miguel Cabrera 116, Centro
💲 from $6 USD
Usually, each market in Oaxaca has what's known as a pasillo de humo, or smoke aisle — a smoke-filled alley where meat is sold and grilled by the kilo. The main pasillo de humo is located inside the 20 de Noviembre Market, next to the Zocalo. Many locals and tourists flock here to have their meat grilled and cooked in one stall.
Customers of the pasillo de humo can also wander around the market and pick up a few garnishes and sides — avocados, green onions, a variety of salsas, fresh tortillas — and make it a meal.
Depending on how much you will spend buying meat and fresh ingredients, you'll need at least $6 USD to enjoy a meal here.
Tomas Inn Cantina
📍 Cosijopí 217, RUTA INDEPENDENCIA
💲 from $3 USD
Tomas Inn Cantina is a small local eatery that locals usually go to. They sell homey Oaxacan food alongside local beers, Mexican wine, and cocktails. The atmosphere here is chill, with minimal decors and white and brown tables and chairs. They even have a terrace in the area.
Make sure to order their Mexican platter with different kinds of Mexican snacks and meat. This is good for sharing, best paired with your choice of wine.
The food and drinks at Tomas Inn Cantina are pricey. The price of food starts at $7 USD, while glass begins at $3 USD.
Restaurante Catedral
📍 C. de Manuel García Vigil 105, RUTA INDEPENDENCIA, Centro
💲 from $8 USD
Restaurante Catedral is a local restaurant that blends traditional and international cuisine. Conveniently located just one block from the Zocalo, the restaurant is housed in an old building that goes way back to the Porfiriato era. Ideal for families, leisure, and work gatherings, the restaurant provides a warm and inviting atmosphere with a scarlet-hued facade and an open rooftop section.
Their menu features regional specialties such as plantain molotitos, a nest of grasshoppers with olive, and the seven moles of Oaxaca, as well as local and international breakfast options and a Sunday buffet. But one of their best-sellers is the plantain molotitos, which you should take advantage of.
You'll need a budget of at least $20 USD to $40 USD for each person when dining at Restaurante Catedral.
Asador Bocanora
📍 5 de Mayo 519, Barrio de Jalatlaco
💲 from $5 USD
Asador Bacanora is a fine dining restaurant in the neighborhood of Jalatlaco. They offer a fusion of gastronomic elements, a new concept in mixology, and a wide variety of spirits, cocktails, and national and foreign wines. As you enter the restaurant, you will see yourself inside a courtyard filled with natural lighting, plants, and trees surrounded by yellow and orange stone pillars.
With their wide range of dishes available, you must order the Ensalada Bacanora for your appetizer and Picaña beef for your main dish.
Food entrees start at $8 USD and can get expensive at $30 USD, while beverages start at $5 USD. The prices are reasonable given that Asador Cobanora is a fine-dining restaurant.
Itanoni
📍 Av Belisario Domínguez 513, Reforma
💲 from $2 USD
Itanoni is a staple Mexican restaurant that started as a small tortilla restaurant in 2001 by the husband and wife tandem of Amado Ramirez Leyva and Gabriela Fernandez Orantes. The restaurant is airy and colorful, keeping alive what a traditional Mexican restaurant looks like.
Itanon's menu is based on Mexican and Indigenous corn meal dishes. One of the highlights from the menu includes bean and cheese-topped memelas and triangle-shaped tetelas that ooze salt and gooey queso fresco. There are also larger dishes like pozole, made with hominy, chicken, lime juice, and onions.
Most dishes at Itanoni are below $10 USD, starting at $1 USD. This is relatively cheap and affordable compared to other restaurants.
⁉️ FAQ: Oaxaca Restaurants
🥙 What food is Oaxaca Mexico famous for?
Oaxaca is known for its rich and diverse cuisine, considered one of Mexico's most varied and delicious. And as diverse as it can get, they have lots of food available that cannot be found anywhere else in the world.
From exotic foods like chapulines (fried grasshoppers) and chica tanas (flying ants) to Mexican staples including tlayudas, quesillo, and tasajao, all these makeup Oaxaca's food scene.
And ultimately, one of the most popular Oaxacan food is the Mole Negro, a complex sauce made with chocolate, cinnamon, and various chiles and spices for an unforgettable taste.
Aside from those mentioned, the other noteworthy dishes include tamales, memela, and specialties like the caldo de piedra (stone soup) and pozontle.
Why is Oaxaca so special?
Oaxaca is a special place for various reasons. One of the most notable is because of its rich cultural heritage – with over 16 indigenous groups, each with its unique traditions, languages, and customs; it is evident that Oaxaca has something special to offer.
This diversity is reflected in Oaxaca's local handicrafts and textiles, vibrant festivals, and celebrations throughout the year and through its cuisine and art.
Oaxaca is also known for its many important archeological sites and national museums, which shows that it has a long and exciting history that goes back to pre-Columbian times.
Aside from those, Oaxaca is home to breathtaking landscapes, including gorgeous beaches, dense jungles, and towering mountains. It also has been hailed as Mexico's culinary capital, known for its tasty food created by many different cooking styles, including the special ingredients and cooking methods that make Oaxacan cuisine special.
Oaxaca's diverse blend of cultural, culinary, and natural attractions makes the city extraordinary. The state's rich history and various traditions helped shape its identity and create special destination unlike any other in Mexico.
Does Oaxaca have the best food in Mexico?
Oaxaca certainly has some of the best food in Mexico! The city is rich in traditional cuisine, utilizing ingredients like chilies, beans, corn, tomatoes, and spices to create flavorful dishes. There are also many less-known regional traditions worth discovering.
A few popular dishes include tamales wrapped in banana leaves; chicken tlayudas layered with fresh guacamole and salsa ranchera and grasshopper tacos! No matter your taste preferences, you'll surely find something unique and delicious in Oaxaca.
What drink is Oaxaca known for?
Oaxaca is known for mezcal, a distilled alcoholic beverage from the agave plant. Mezcal has become increasingly popular recently, with artisan producers offering unique flavors and aromas.
It is said to have originated in colonial Mexico when the indigenous population mixed native wild agave with sugar and fermented it over time. A sip of mezcal will transport you to the heart of traditional Mexican culture!
Do you tip waiters in Oaxaca?
Absolutely! Tipping is commonplace in Oaxaca, just as in the rest of Mexico. It's customary to tip between 10-20% of the total bill at restaurants, but you can choose to leave more or less depending on your preference and how satisfied you are with the service.
Remember that tips make up a large portion of waiters' income, so you're showing appreciation for their hard work by tipping generously.
🇲🇽 Mexico Travel Planning
✈️ Where can I book cheap flights for Mexico?
The best platform for finding cheap flights to Mexico is Kiwi.com. Another option is WayAway, a platform that gives you cashback for every booking.
🏥 Do I need travel insurance to go to Mexico?
YES, YOU DO. Do not travel to Mexico without insurance. SafetyWing and Ekta Traveling are the best insurances for Mexico (from $0.99 USD per day).
🧭 What's the best tour booking platform for Mexico?
Check out our curated tours and see unique excursions that you won't find somewhere else! Our itineraries are original and we did these tours ourselves. Our tours also support local communities in Mexico.
🚙 Is it safe to rent a car in Mexico?
YES, IT IS SAFE! Just make sure you book with trusted rental car platforms in Mexico like Discover Cars and Rentalcars.com.
🚗💨 I'm moving to Mexico. Can you help me with my move?
ABSOLUTELY! Our local immigration experts on the ground can help you move to Mexico with ease, at any location that you please! See our Mexico relocation services for more details.
Trisha traveled to Mexico in 2018 and after a year, she found herself obtaining a 4-year residency visa in Mexico. She is the Editor-in-chief for our Living in Mexico Series which has helped over 3,000 Americans move to Mexico with ease. Trisha currently resides in Cabo San Lucas, Baja California Sur.