Generally, March in Cancun is usually sunny and warm and marks the early days of spring. In short, it is one of the best months to visit Cancun for great weather. In this post, we will explain what to expect for Cancun in March.
📧 Hola Mexico Insider and Trish! Love all your posts and would love to ask what is the weather in Cancun in March? Is this a good time to visit Cancun? What about the seaweed? I am traveling with 2 teenagers and I was hoping to bring them for their Spring Break in March. Any tip or info would be much appreciated. As always, thank you for all your helpful blogs!

Ollie Roberts, United States
Hola Ollie!
Thanks for reaching out to us! We get a lot of questions about traveling to Cancun in March and glad you chose to travel with your kids! Spring Break in Cancun also falls in March so your daughters will definitely have a lot to do during this month.
In this March travel guide for Cancun, we will give you everything you need to know about traveling to Cancun during the semi-shoulder season.
We'd be happy to update this posts should you have any questions! Best of luck to you and your daughters, and let us know if we can help you plan your trip!
🧐 Questions about traveling to Cancun in March? Ask us on Tiktok.
🔗 Cancun in March: quick links
Generally, March in Cancun is usually sunny and warm and marks the early days of spring. In short, it is one of the best months to visit Cancun for great weather.
But before you book your plane tickets, knowing EXACTLY what weather conditions you can expect in this coastal paradise is essential.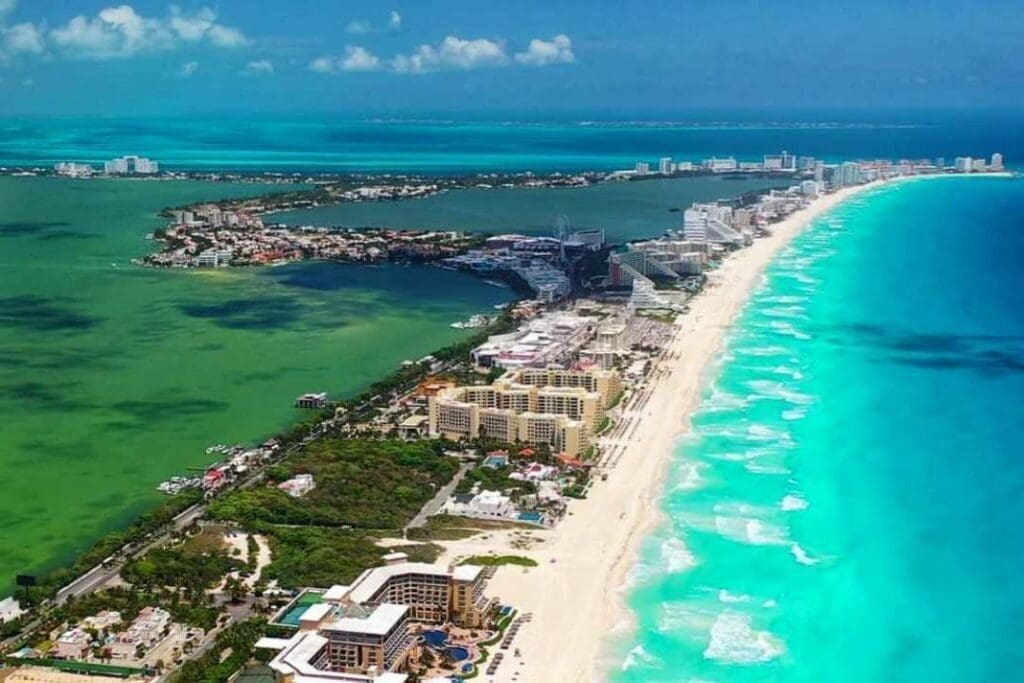 When you arrive in Cancun, everything you could want in a vacation will be there – from pristine beaches and crystal-clear waters to ancient ruins and vibrant nightlife. There are also plenty of activities for visitors – from swimming with dolphins or snorkeling trips out on the Caribbean Sea to exploring Mayan ruins inland.
Knowing how the March weather will affect your travel plans is essential. Let's get to it!
🌡️ Weather in Cancun in March
If you plan to visit Cancun in March, you can expect plenty of sunshine and warm temperatures. The temperature in Cancun during March ranges from 21°C (70°F) to 30°C (86°F), with an average temperature of around 25°C (77°F).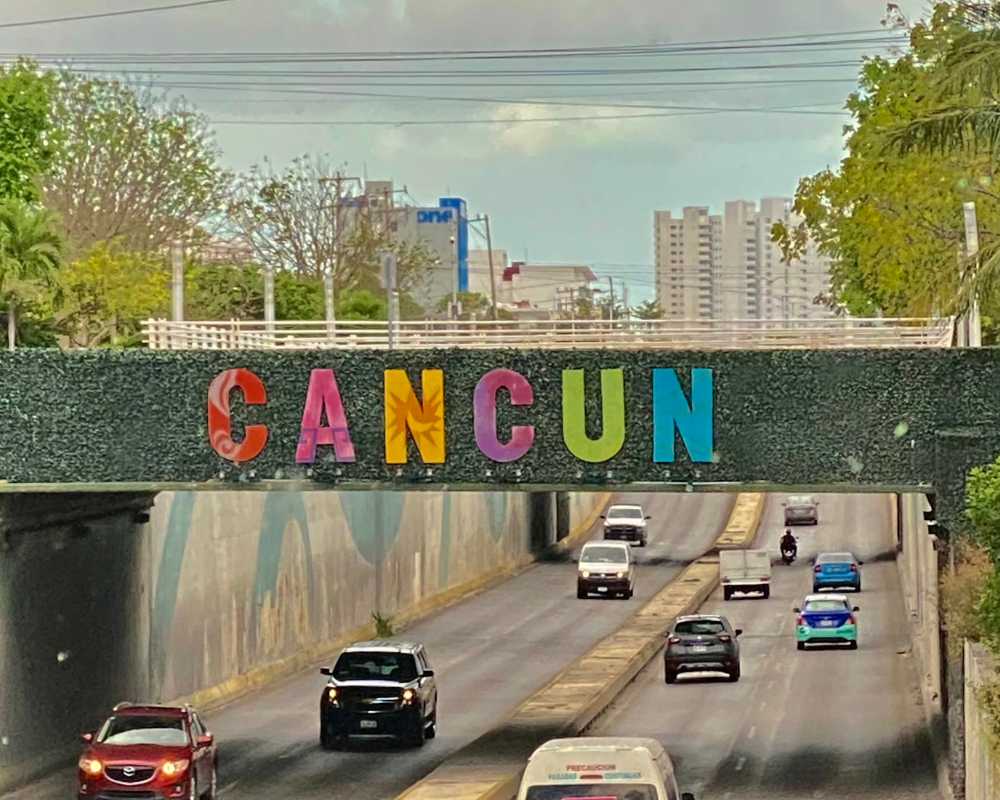 Generally, you will experience pleasant and comfortable weather, with low humidity and cool ocean breezes. But still, there may be occasional rain showers (usually brief), so be sure to pack an umbrella or two just in case.
☁️ Humidity in Cancun in March
Humidity in Cancun during March is generally lower than in other months.
Although humidity in Cancun is already part of it all year round (as it is located in the Caribbean), the average humidity level in Cancun in March is lower than the humidity levels experienced in the summer months.
This means that while it may feel warm outside due to the sun and heat, the air won't be as muggy or oppressive as in other months of the year in Cancun.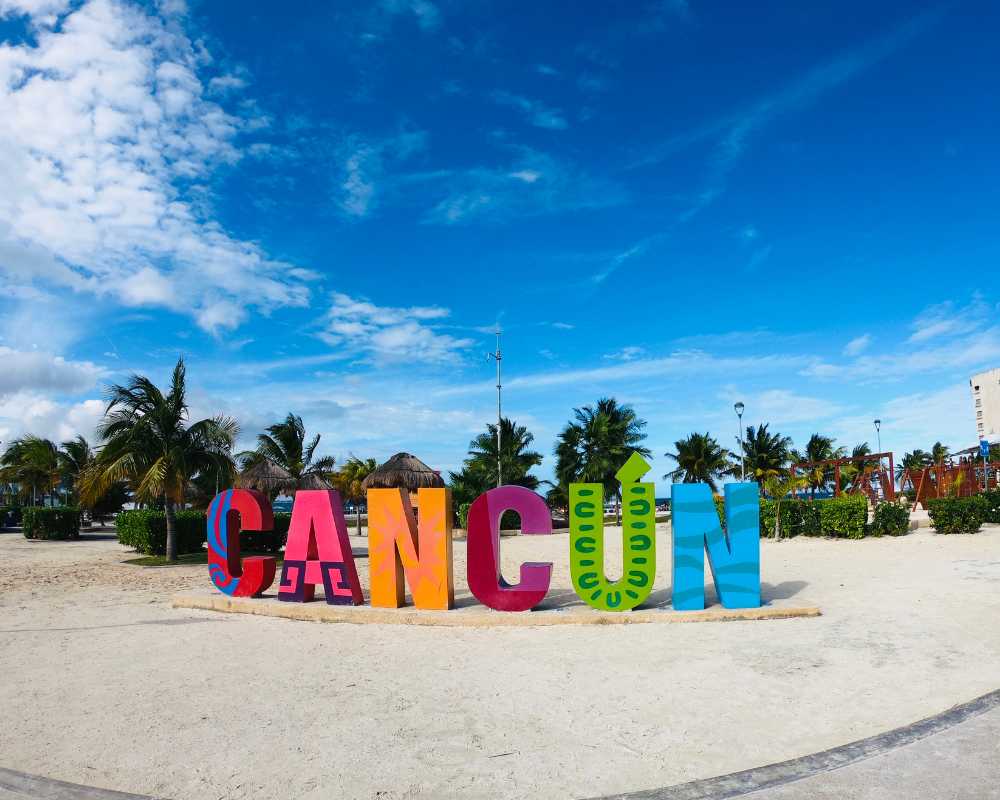 Low humidity is favorable for visitors traveling around Cancun as they will experience less sticky and oppressive weather than high humidity can bring.
However, note that humidity levels can vary daily, so it's always best to check beforehand.
🌊 Water temperature in Cancun in March
The warm weather in Cancun makes the water temperature of the Caribbean Seas friendly all year long. Temperature averages between 25°C (77°F) and 29°C (84°F), which are already regarded as warm.
Although, of course, the water temperature in Cancun can also vary depending on the specific location and the time of day, with some areas being warmer or cooler than others. So make sure to always check before you enjoy the beach.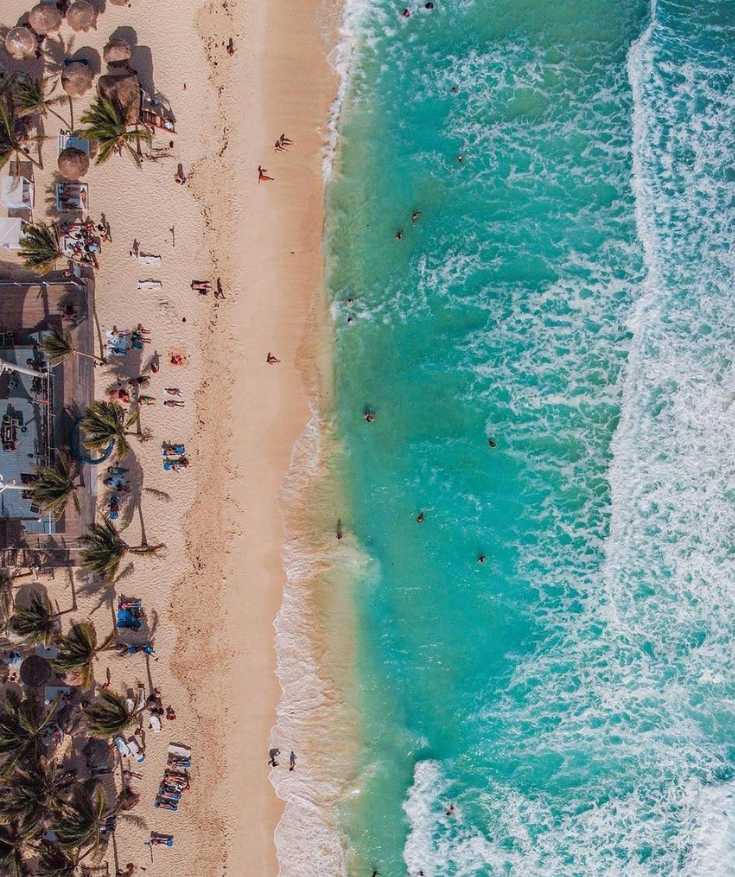 But overall, water temperatures at this time will be comfortable enough for swimming without feeling too chilly, which is perfect for snorkeling, kayaking, or just basking in the sun.
So if you're hoping to spend your days lounging on the beach and swimming in warm beach waters, mid-March is an ideal month to visit Cancun.
🌿 Seaweed in Cancun in March (Sargassum)
While seaweed can sometimes be an issue in Cancun, it's not always present. The amount of seaweed varies depending on several factors, including water temperature, ocean currents, and weather patterns.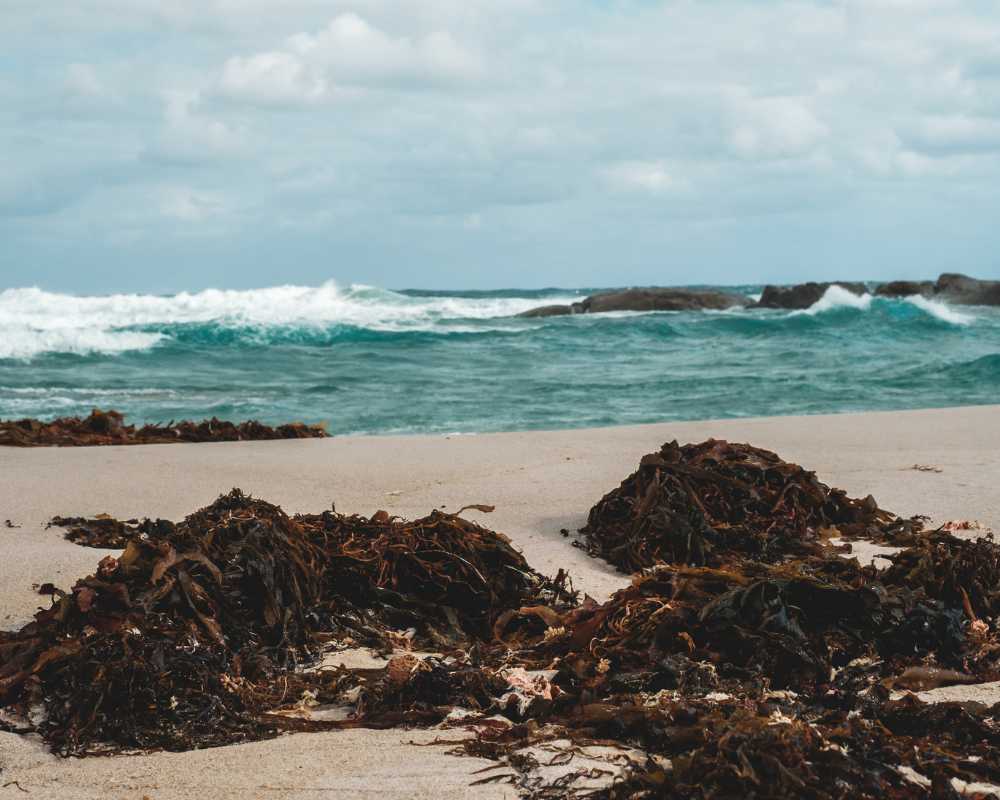 However, March is typically a good time to visit as it falls during the dry season with less rainfall and wind. This means the chances of encountering large amounts of seaweed are lower than during other times of the year.
🏨 Cancun in March Resorts: where to stay
Hotel Casa Maya
💲 from $131 USD
Situated on the beautiful Yucatan Peninsula, this hotel offers breathtaking views of the Caribbean Sea and easy access to some of Mexico's most popular attractions.
With various room options available, including suites and apartments, there is something for everyone at Casa Maya. Each room is decorated uniquely and blends traditional Mexican decor with modern amenities such as air conditioning and Wi-Fi.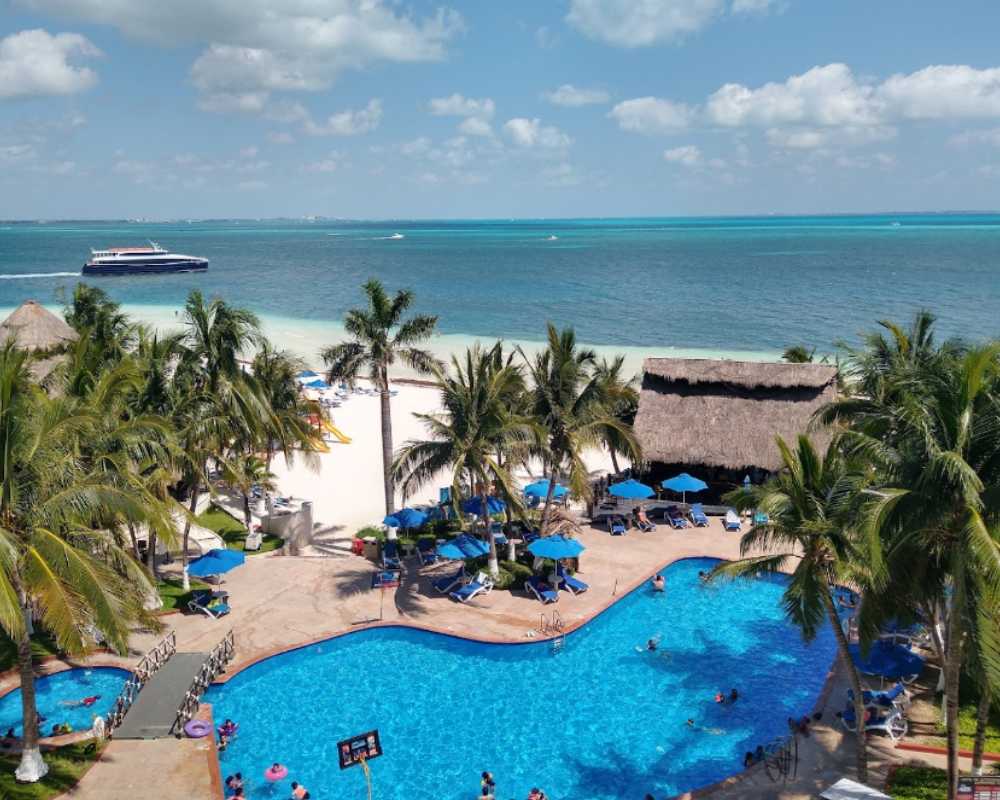 Guests can also enjoy complimentary breakfast each morning before heading out to explore all that Mexico has to offer.
But it's not just the accommodations that make Casa Maya stand out – it's also the staff. From check-in to check-out, guests are treated like family by friendly and attentive employees who are always happy to help with anything they need.
Wyndham Garden Cancun Downtown
💲 from $110 USD
This beautiful hotel offers incredible amenities and a prime location, making it an ideal choice for any traveler.
The hotel boasts a stunning outdoor pool with lounge chairs and umbrellas for ultimate relaxation. Whether you want to dip or soak up some rays, this is the place to do it.
In the rooms, guests will find a comfortable retreat with all the modern conveniences needed for an enjoyable stay.
From plush bedding to high-speed internet access, every detail has been carefully considered to ensure guests have everything they need and more!
Beachscape Kin Ha Villas & Suites
💲 from $175 USD
Are you in dire need of a vacation? Look no further than the Beachscape Kin Ha Villas & Suites in beautiful Mexico!
This stunning resort offers everything you need for the ultimate getaway, from breathtaking views to luxurious accommodations. Let's take a closer look at what this tropical paradise has to offer.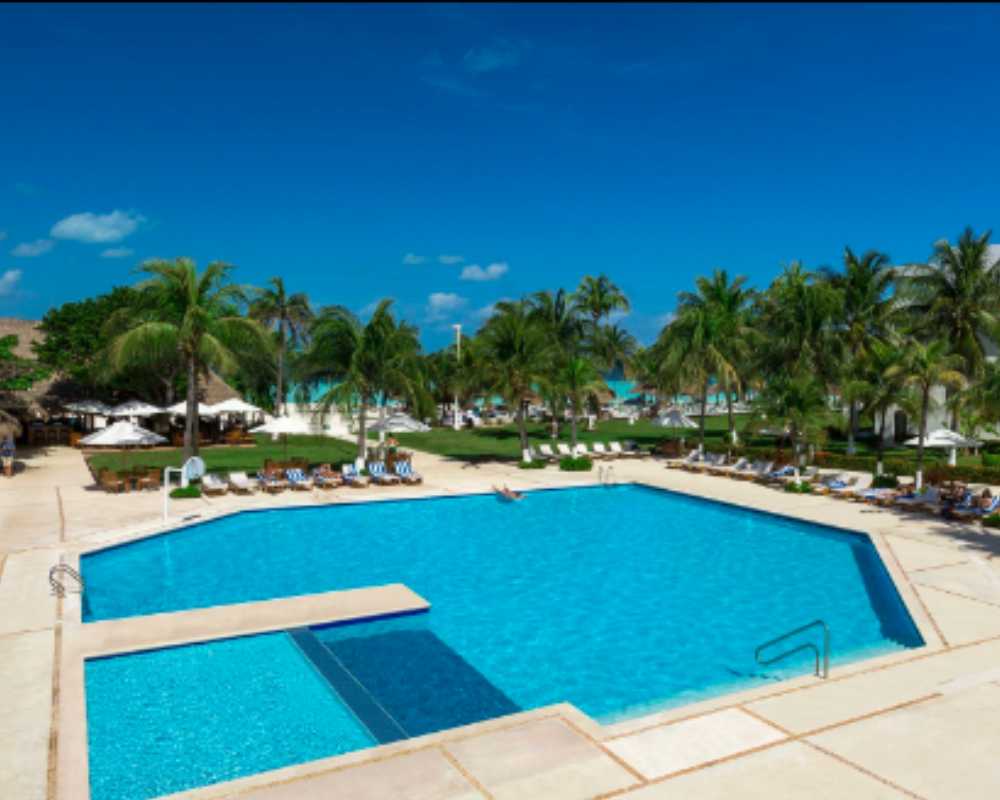 First and foremost, let's talk about the rooms. The Beachscape Kin Ha Villas & Suites offers a variety of accommodations to fit your needs, whether you're traveling solo or with a group.
From cozy studios to spacious villas with multiple bedrooms, each room is thoughtfully designed with comfort and style in mind.
Plus, many rooms feature private balconies or terraces with stunning ocean views that will leave you feeling relaxed and rejuvenated.
But that's not all – the resort also boasts an impressive array of amenities for guests to enjoy.
🏝️Things to do in Cancun in March
Explore Tulum's ancient ruins and majestic caves
🕒 8 hours
💲 from $109 USD
In this Cancun full-day adventure combo tour, you will be going on to explore the ancient ruins of Tulum, discover the colorful marine life of the Mayan Beach Barrier Reef, and swim in the crystal-clear waters of a cenote and underground cave.
The tour begins with a visit to the Tulum Ruins, where you'll learn about the history of this ancient Mayan city and marvel at the impressive architecture of the structures that still stand today.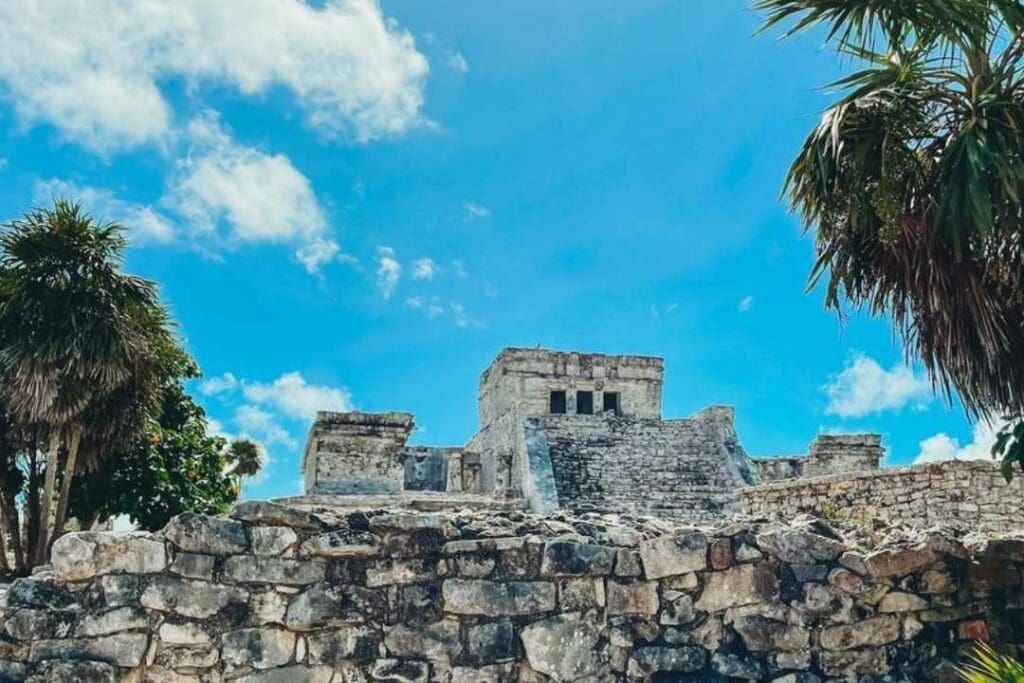 From there, you'll head to the nearby beach, where you'll have the opportunity to snorkel in the turquoise waters of the Mexican Caribbean Reef, explore the vibrant coral gardens, and encounter a variety of marine creatures.
The next destination will be a cavern. Here you will have time to relax and swim in the clear waters of the cenote and, at the same time, take great pictures while discovering the stalagmites and stalactites that surround the cenote.
Throughout the tour, a guide will be with you to provide insight into Tulum's history, ecology, and ecosystem conservation efforts.
Encounter amazing wildlife while snorkeling and dining by the ocean
🕒 4 hours and 30 minutes
💲 from $149 USD
If you are looking for a tour combining both times for exploring a cenote and swimming with the turtles, then this one's for you.
During this tour, you'll start your time by exploring a stunning underground cenote, where you'll learn about its importance to the Mayan people before refreshingly swimming in its calm waters.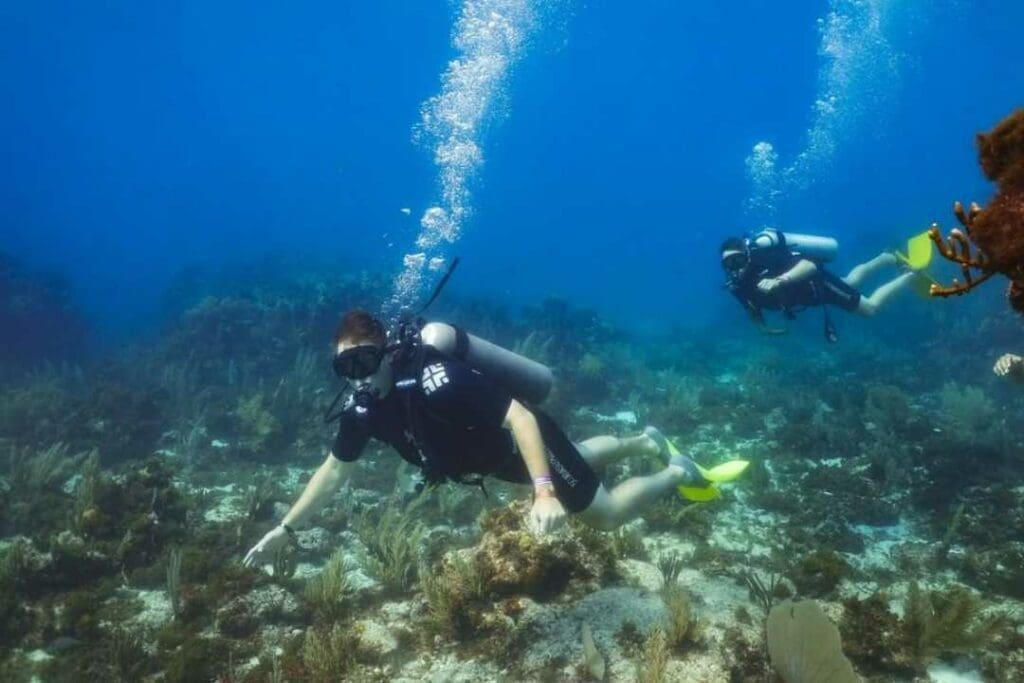 Afterward, you'll be heading to Akumal Beach for snorkeling. This is the opportunity to experience swimming with turtles and other sea creatures.
After spotting these gentle creatures, finish the day with a free lunch by the beach, and spend the rest of your day relaxing in an exclusive beach club!
Discover Mexico's Xcaret from day to night
🕒 6 to 12 hours
💲 from $140 USD
On this full-day adventure tour, spend your day immersed in the culture, ecology, and activities that Xcaret offers. Xcaret is one of Mexico's most famous ecological and archeological parks in Riviera Maya.
In this tour, you will go on a trip to discover archaeological sites, swim in underground rivers, ride inner tubes along an underground river and snorkel in a fantastic coral reef aquarium in Xcaret.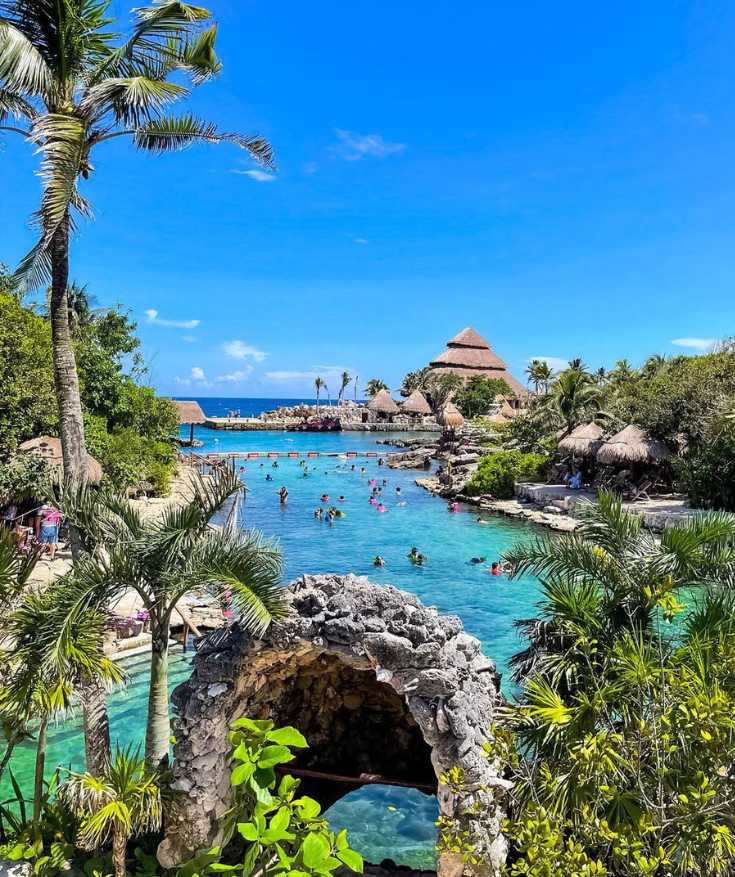 You will also have the chance to participate in regional folklore shows, explore the rich flora and fauna Xcaret Park offers, and learn more about Mexico's history in the Museum. There is also a night show you should look forward to on this excursion.
Cruise to Isla Mujeres for an adult-only boat party
🕒 7 hours
💲from $80 USD
This 7-hour cruise from Cancun to Isla Mujeres is perfect for partygoers. Travelers looking for a unique way to enjoy an excursion and at the same party will enjoy this tour.
First, you will go to Cancun Marina, where you will climb aboard the cruise ship. On the cruise, you can relax and enjoy a few drinks with friends in an open bar while taking in stunning views of the Caribbean Sea.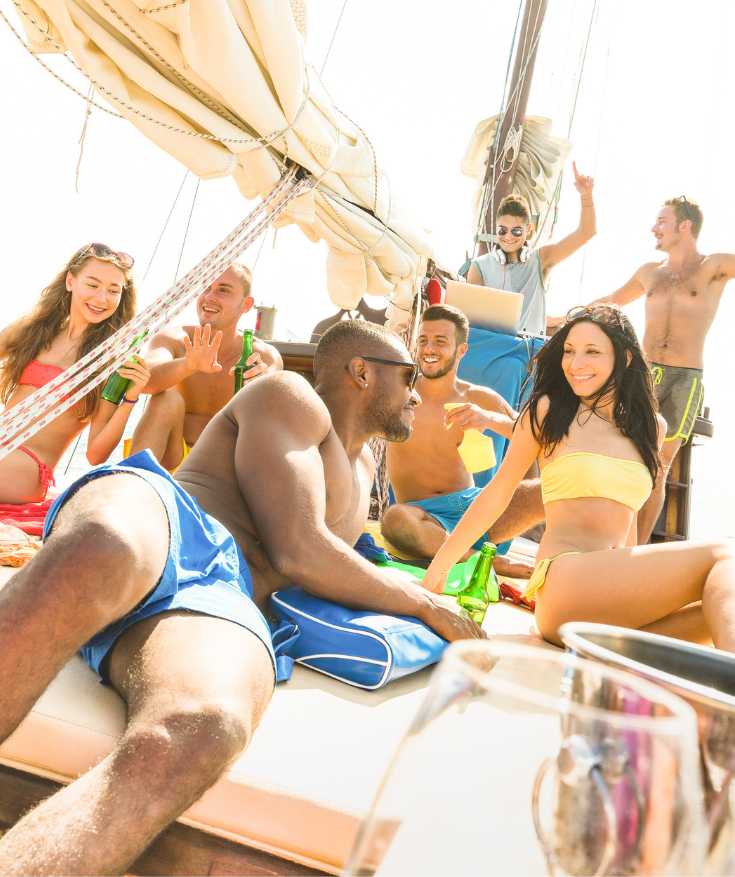 The cruise's first stop is at one of the region's best reefs, where you can enjoy snorkeling with friends. You will then return to the boat to dry off and enjoy a buffet lunch prepared by a professional chef.
Afterward, the cruise will drop anchor at Isla Mujeres, where guests can explore the island on foot, grab a bike, and ride around town.
From there, guests will board a boat and sail off into the sunset, stopping further down at some of Mexico's best beaches for swimming and snorkeling before returning to Cancun.
Speed boat and snorkeling tour
🕒 2 hours and 15 minutes
💲 from $46 USD
Enjoy Cancun's beautiful natural scenery and experience some of the region's best adventure activities in this Speed Boat and Snorkeling Tour.
Get to drive your speedboat (for two) through the mangrove jungle of Cancun and discover some of the species living in the area.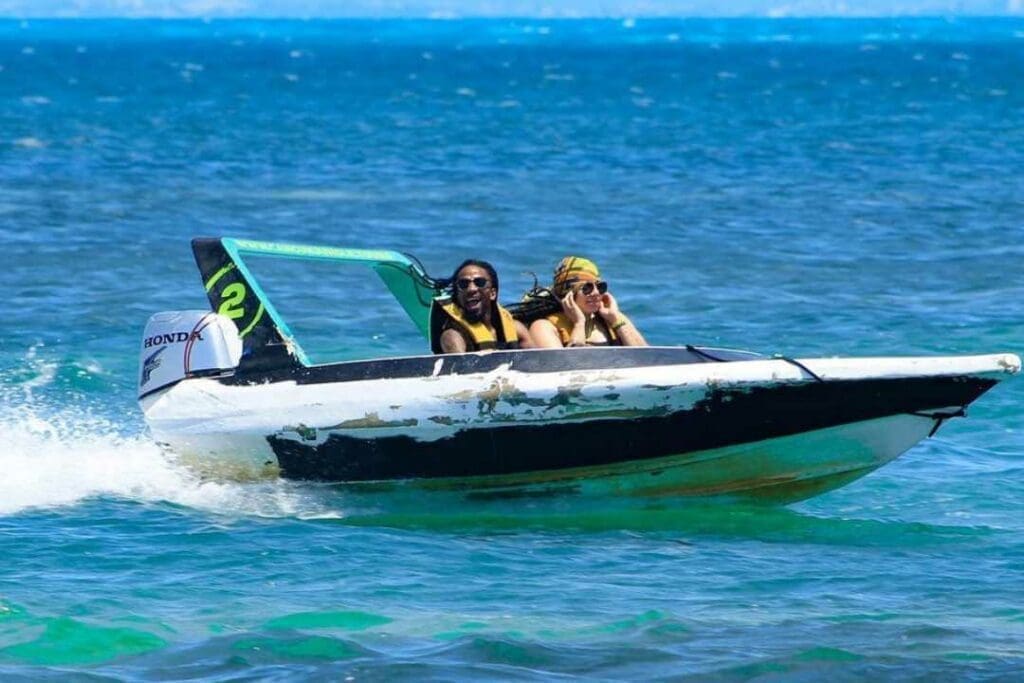 Afterward, you will be given time to swim and snorkel at Punta Nizuc to admire fishes, corals, and other sea life.
And if you're a beginner at the two activities, there is no need to worry! A guide will help you along the way and provide complete instructions on what you must do.
🌆 Events and festivals in Quintana Roo and Cancun in March
Traditional Mayan Festival
📍 Tulum, Quintana Roo
The Traditional Mayan Party is a party that shows the customs, dances, and languages of the Mayan Culture.
It takes place at the Ceremonial Center, and different products, such as food and handicrafts, made by the Mayan community are sold. The festival is celebrated twice a year, during March and October.
🙋 Is March a good time to visit Cancun?
Definitely, YES! March is a good time to visit Cancun, as it is during the dry season with relatively low humidity and plenty of sunshine.
And since Cancun is rich with warm beaches, stunning views, and plenty of activities, you'll enjoy the city and what it offers during March.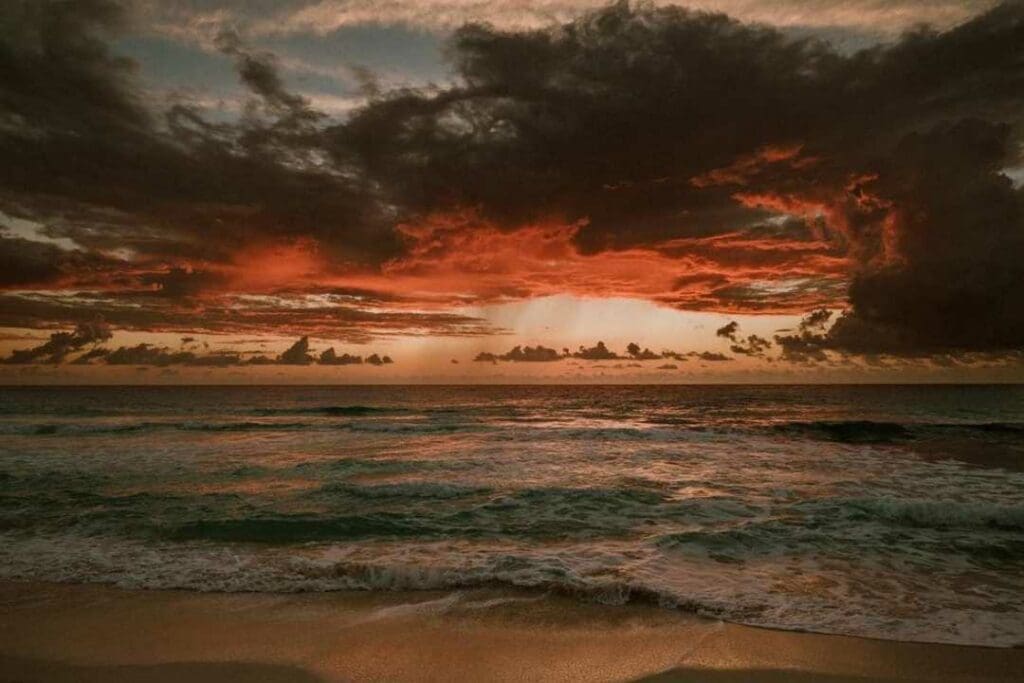 However, it is essential that you also note that March is the start of Spring Break. This means Cancun gets a little more crowded and expensive than usual. So, if you want a more relaxed vacation, consider visiting outside the peak spring break season.
Overall, if you are okay with the crowds and want to enjoy the warm weather doing lots of adventurous activities, then March is a good time to visit Cancun.
🥵 Is Cancun hot in March?
Yes, Cancun is typically hot in March. March is in the middle of Cancun's dry season, meaning the weather is generally sunny, warm, and dry.
The average temperature in Cancun during March ranges from around 24°C (75°F) to 29°C (85°F) , with average daily highs of around 29°C (84°F).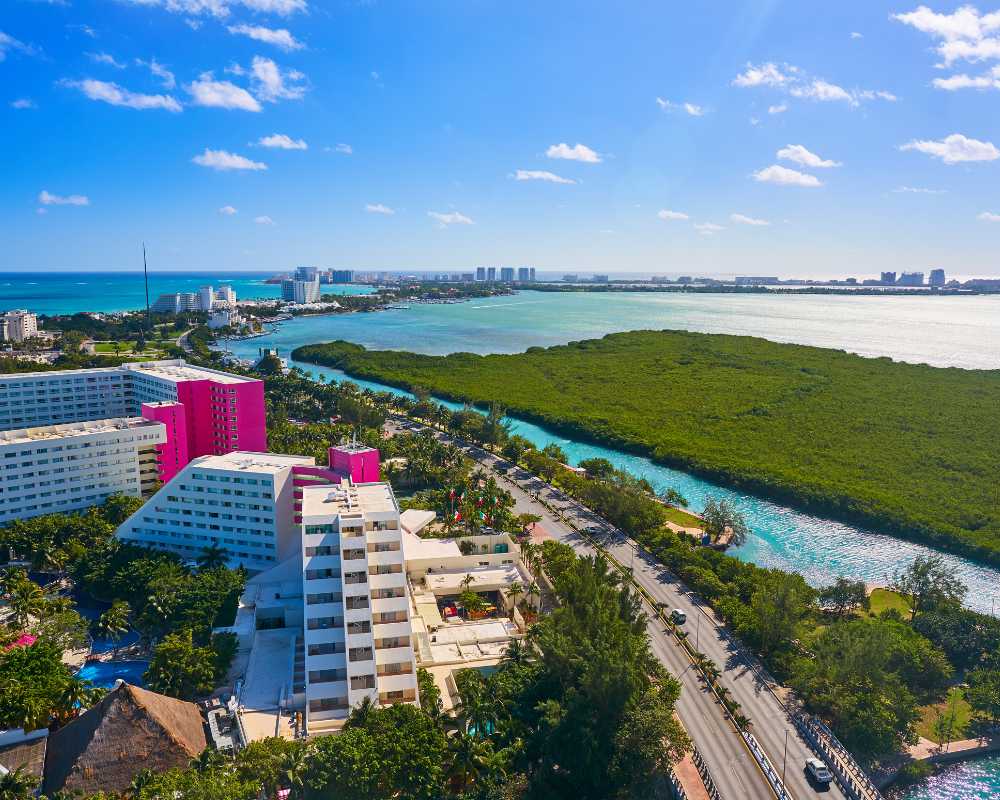 But since Cancun is a popular Mexican beach destination, it is an excellent option for those who like warmer climates as temperatures don't dip below 20°C (68°F) at night.
It's also worth noting that there are plenty of other activities beyond lounging on the beach – such as exploring ancient Mayan ruins or swimming with dolphins, which are perfect for taking part in the said weather.
🥶 Is it too cold to swim in Cancun in March?
No, it is not too cold to swim in Cancun in March. It is the best time to swim in Cancun as the water temperature is warm and comfortable for swimming and other water activities.
Accordingly, the average water temperature in Cancun in March is around 26°C (78°F), which is warm enough for most people to swim comfortably.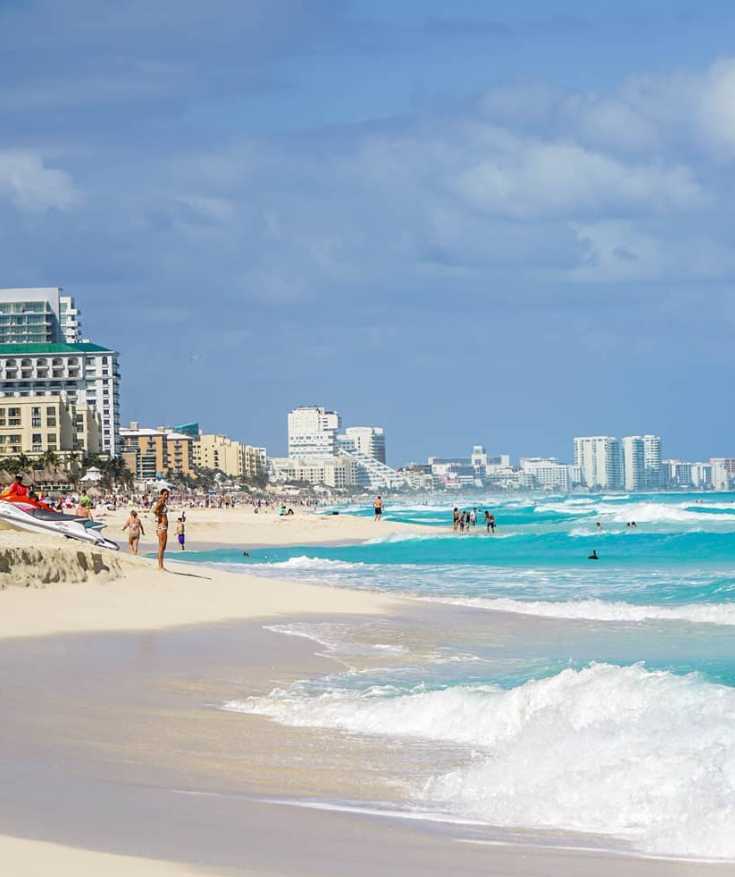 However, it's worth noting that the water temperature can vary depending on the specific day and location. If you are sensitive to colder water temperatures, check the water temperature before swimming.
Additionally, it's always a good idea to pay attention to local weather and water conditions, as there may be times when swimming is unsafe due to strong currents or other hazards.
⛈️ Does it rain in Cancun in March?
March is in the middle of the dry season in Cancun, so there is typically less rainfall than at other times. However, there is still a chance of rain, as Cancun is in a tropical region and can experience brief rain showers or thunderstorms throughout the year.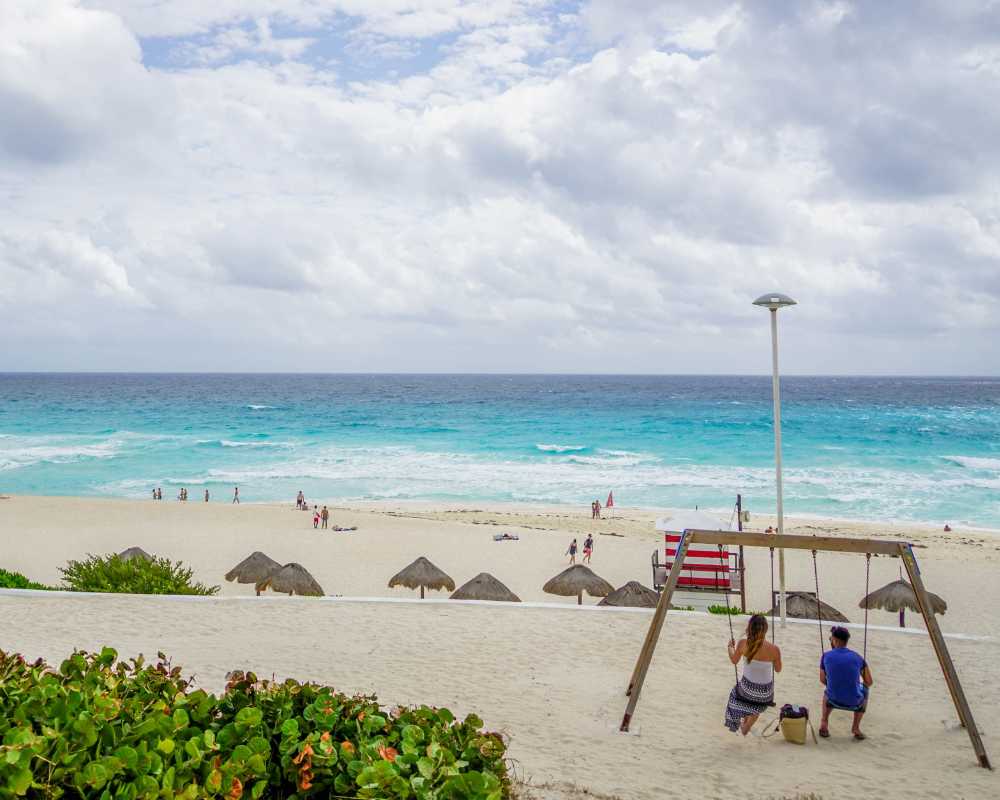 Cancun receives about 2 inches (50 mm) of rainfall in March, with an average of around six rainy days. These rain showers are usually brief and occur in the afternoon or evening, leaving plenty of time for outdoor activities during the day.
So if you're heading down to Cancun for a sunny beach getaway in March, remember your umbrella. It's always good to be prepared.